The 10 Best Boutique Hotels in Puglia, Italy
This includes Paragon 700, Don Totu, Borgo Egnazia, Hotel Masseria San Domenico...
A Sustainability Ranking in partnership with ETIC Hotels
You're planning a trip to Puglia this Summer?
niood lists you the 10 best boutique hotels in Puglia, Italy:
1. Paragon 700 Boutique Hotel & Spa
Ostuni, Italy
From $330 per night

ETIC Hotels Green Score: 7.2/10
A unique decor, down to the smallest detail, repurposed monumental lighting fixtures, South African custom-made sofas and headboards, gazebos from India turned into bathtubs, closets and night-stands from antique fairs from all over the world. The creative association of old and new art, objects and furnishings in a head-spinning and very personal mix is Pascale's trademark (www.idliving-pl.com). Her keen sense of observation was sharpened during a lifetime of travel, countless visits to international art and trade shows, but also at the local antique markets. Her vision made of worldly elegance is multicultural and original down to the smallest detail. The unique result, coherent, deeply modern and stimulating at the same time is at the root of the exceptional atmosphere that permeates every room at Paragon 700.
2. Don Totu – Dimora Storica
San Cassiano LE, Italy
From $280 per night

ETIC Hotels Green Score: 7.2/10
Welcome in a secret 18th century palazzo in the heart of San Cassiano, a small Salento town. Its owner was Don Totu, the land steward of the Cito family, the lords of San Cassiano. Like all secret palazzos in Salento, it is in a central position, has a small façade, very large indoor spaces and large terraces: the privileges of the land steward.
3. Borgo Egnazia
Savelletri BR, Italy
From $600 per night

ETIC Hotels Green Score: 7.2/10
Borgo Egnazia is located in Savelletri di Fasano, where the hills of the Itria Valley gently fall away to the Adriatic Sea, and the property itself is inspired by the shapes, materials and colours of a typical Puglian village. This authenticity was conceived to bring a fresh and original feel that is found 'nowhere else', alongside impeccable service.
It is a miniature world of homemade breakfasts prepared by Puglian Massaie, delicious food experiences both gourmet and traditional that are strongly related to the Mediterranean Diet and then Vair, the poetic Puglian Spa, two beautiful private beaches (Cala Masciola and La Fonte) and the scenic San Domenico Golf surrounded by ancient olive trees with views that stretch to the sea. And then there's the service; tailored, friendly and caring, a dedicated team always available to guests (the Local Advisers).
4. Hotel Masseria San Domenico
Fasano BR, Italy
From $380 per night

ETIC Hotels Green Score: 7.2/10
Against the backdrop of the blue Mediterranean sky and sea, Masseria San Domenico lies only 500 metres from the Adriatic coast in the Italy's Puglia region, its whitewashed building standing amidst centenarian olive groves. The building itself dates back to the 15th century, when it was used by the Knights of Malta as a watch-tower.
After a careful restoration, completed respecting the old shapes and the original building materials, the tower was converted into a 5 star deluxe resort whose charm recalls the history of the region, a land where Eastern and Mediterranean cultures have flourished together.
Masseria San Domenico offers boutique-style intimacy bound with first class facilities such as a magnificent outdoor free-form swimming pool, a state-of-the-art Thalassotherapy Spa, a lovely beach, two tennis courts, a modern gym and a challenging 18-hole golf course.
5. Masseria Lamacoppa
Ostuni BR, Italy
From $32,000 per week

ETIC Hotels Green Score: 7.2/10
This stunning 17th-century family estate lies in the tranquil Puglian countryside, 10 minutes from the charming hillside town of Ostuni.
Beautifully restored, the Masseria combines sumptuous comforts with historic architecture and character, including walled gardens, open fireplaces, and an intimate private chapel.
The homestead sits at the heart of 120 acre of ancient olive groves, lemon groves, and orchards. Meals are prepared with organic produce fresh from our vegetable garden and fruit trees. The property includes several shady terraces, an indigenous flower garden, and an expansive pool, which connects to a large jacuzzi. The adjacent pool house is equipped with a full kitchen, alfresco dining area, gym, hammam, changing rooms, and shower area.
6. Mantatelurè Dimora Esclusiva
Lecce LE, Italy
From $180 per night

ETIC Hotels Green Score: 7.2/10
Mantatelurè Dimora Esclusiva is located in one of the most romantic corner of Lecce old town. A few steps away from the accommodation, guests can enjoy the church of Santa Croce, Sant'Oronzo and Duomo squares, the shopping streets and the best restaurants and clubs of the city.
Mantatelurè is an elegant and refined palace as the original and successfully restored residence dating back to 1550. Mantatelurè offers an impeccable and high quality service and houses only 6 rooms and moreover 2 apartments. It has cozy common areas as the living room, the winery, the garden with a small whirlpool and terrace with solarium area.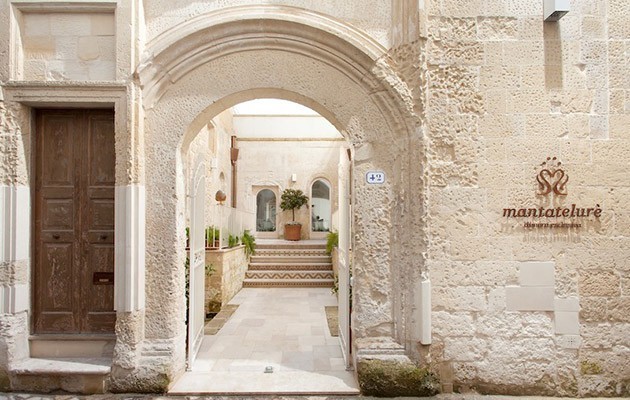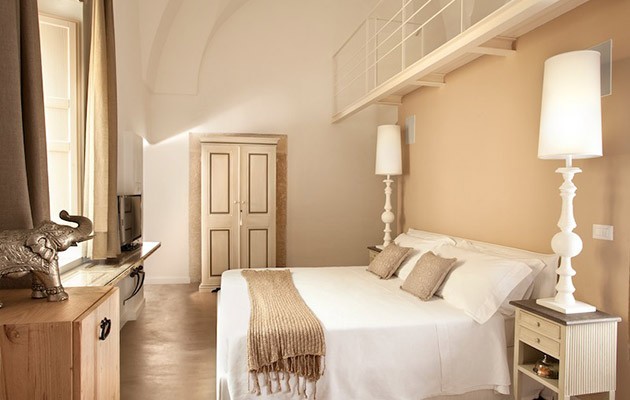 7. Palazzo Ducale Venturi – Luxury Relais & Wellness
Minervino di Lecce LE, Italy
From $500 per night

ETIC Hotels Green Score: 7.2/10
Each room of Palazzo Ducale Venturi has been completely renovated under the supervision of the Authority for Cultural Heritage. Our high standard of rooms includes Suites, Junior Suites, Deluxe Rooms or the unique-in-its-kind Abbess' Room.
8. Locanda Don Ferrante
Monopoli BA, Italy

From $250 per night

ETIC Hotels Green Score: 7.2/10
Don Ferrante's Luxury Guest House is ideally located between the Castle of Charles the 5th and the Adriatic sea in the heart of the beautiful old town of Monopoli.
At just 160 meters from Don Ferrante's main building, along the sea front promenade, 3 unique rooms with a style that combines tradition to the latest home furniture design make up the Don Ferrante's Luxury Guest House. Prestigious and elegant rooms that have been conceived to shelter in an almost unreal dimension against the backdrop of a bright blue sky and equally blue sea.
9. Masseria Torre Maizza
Savelletri BR, Italy
From $600 per night

ETIC Hotels Green Score: 7.2/10
Masseria Torre Maizza is located in the most glamorous destination on the Italian Adriatic coast. Inspired by the sensational landscapes of Puglia and the ethos of Rocco Forte Hotels, it exquisitely blends local heritage with contemporary luxury and unparalleled service.
Surrounded by ancient olive groves, the renovated 16th century masseria is filled with thoughtful design accents and details to create a unique sense of place, from the stunning Olga Polizzi-designed rooms and suites to the romantic sunset rooftop bar and elegant restaurant overlooking the swimming pool. The resort also features a 9-hole executive golf course, a private beach club and an indulgent spa.
10. Masseria Torre Coccaro
Savelletri di Fasano BR, Italy
From $250 per night

ETIC Hotels Green Score: 7.2/10
Torre Coccaro is a 16th century farmhouse, a few Km away from the sea, surrounded by olive trees, almond trees and carobs. It is 5 km away from Fasano.
The tower, originarily built for defensive purposes against the Saracens excursions, is now part of an elegant 5 stars resort which keeps intact the capacity of enjoying the simple and refined pleasures of country life. In the courtyard there is still an ancient consecrated chapel of 1730. The Farmhouse disposes of a gorgeous swimming pool with beach-effect.