The 10 Best Luxurious Hotels in Corsica
For Your Upcoming Stay in the Luxurious Corsican Island.
A Sustainability Ranking in partnership with ETIC Hotels
Corsica, known as the "Isle of Beauty" (Ile de Beauté in French), is a small but gorgeous island in the Mediterranean Sea, in between France and Italy, and north of Sardegna. If a few spots in Corsica are widely known – such as Bonifacio, Porto-Vecchio or Calvi, Corsica is also the land of many different beautiful landscapes, places and hotels.
You're planning a trip to Corsica this Summer and you're trying to be as ethical and sustainable as possible? niood lists you the 10 best luxurious hotels in Corsica:
1. Hôtel U Capu Biancu
Bonifacio, Corsica
From $500 per night

ETIC Hotels Green Score: 9.2/10
U Capu Biancu opens its doors and the soul of an island is revealed: an island they call Corsica. Or Corse. Or even Kallistê, the very beautiful. An island rising up like a bright frontier facing the world. An ardent land, raw and wild, where life is dreamt and where life is breathed in deeply. A country whose impetuous character is reflected, just as fiery, in the men and women who inhabit it. A nature that forged temperaments, modeling them after the proud and arrogant mountains, after the chaotic thrusts of the coastline, after the sea by turns serene and tormented. An island whose beauty has always enticed covetousness, all the more for her place at the heart of the Mediterranean. Today still Corsica resists: a piece of paradise, a heritage to protect.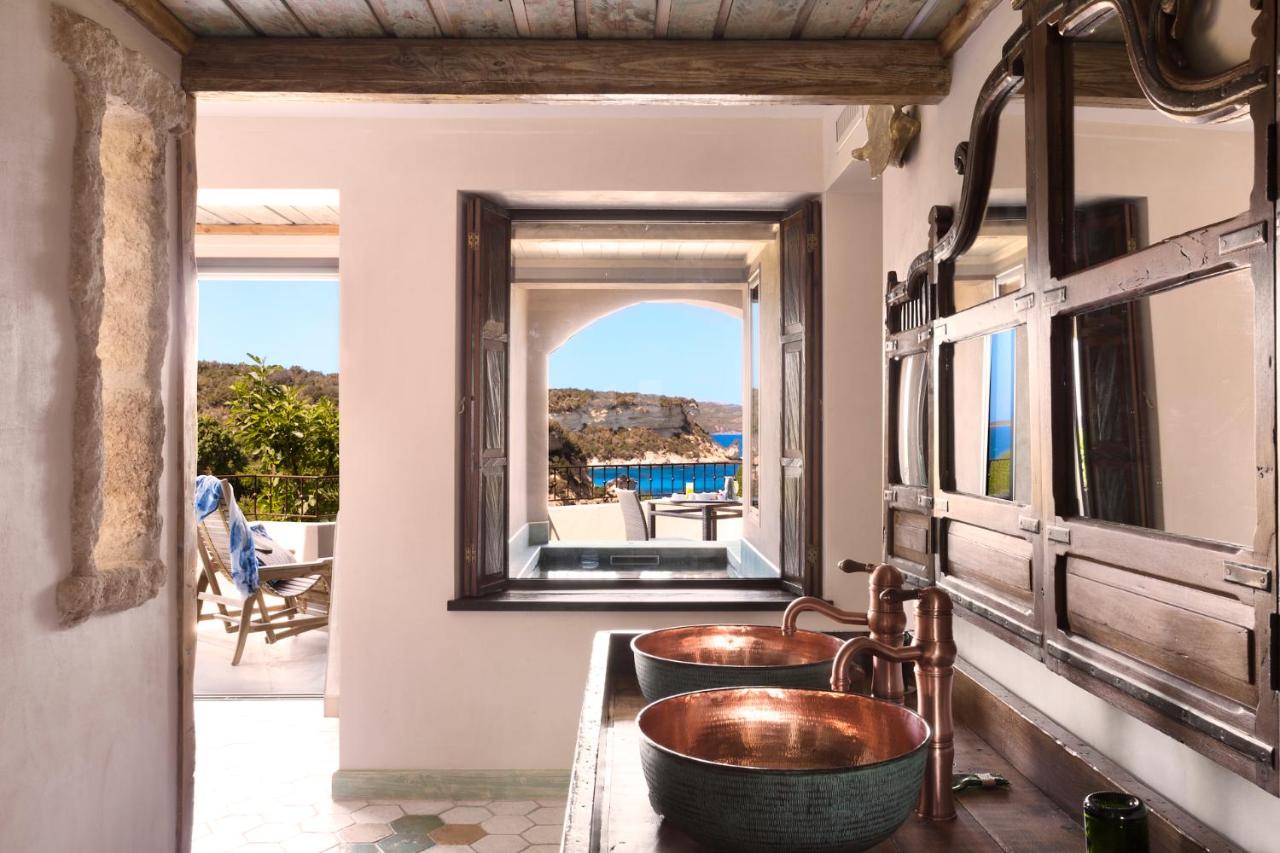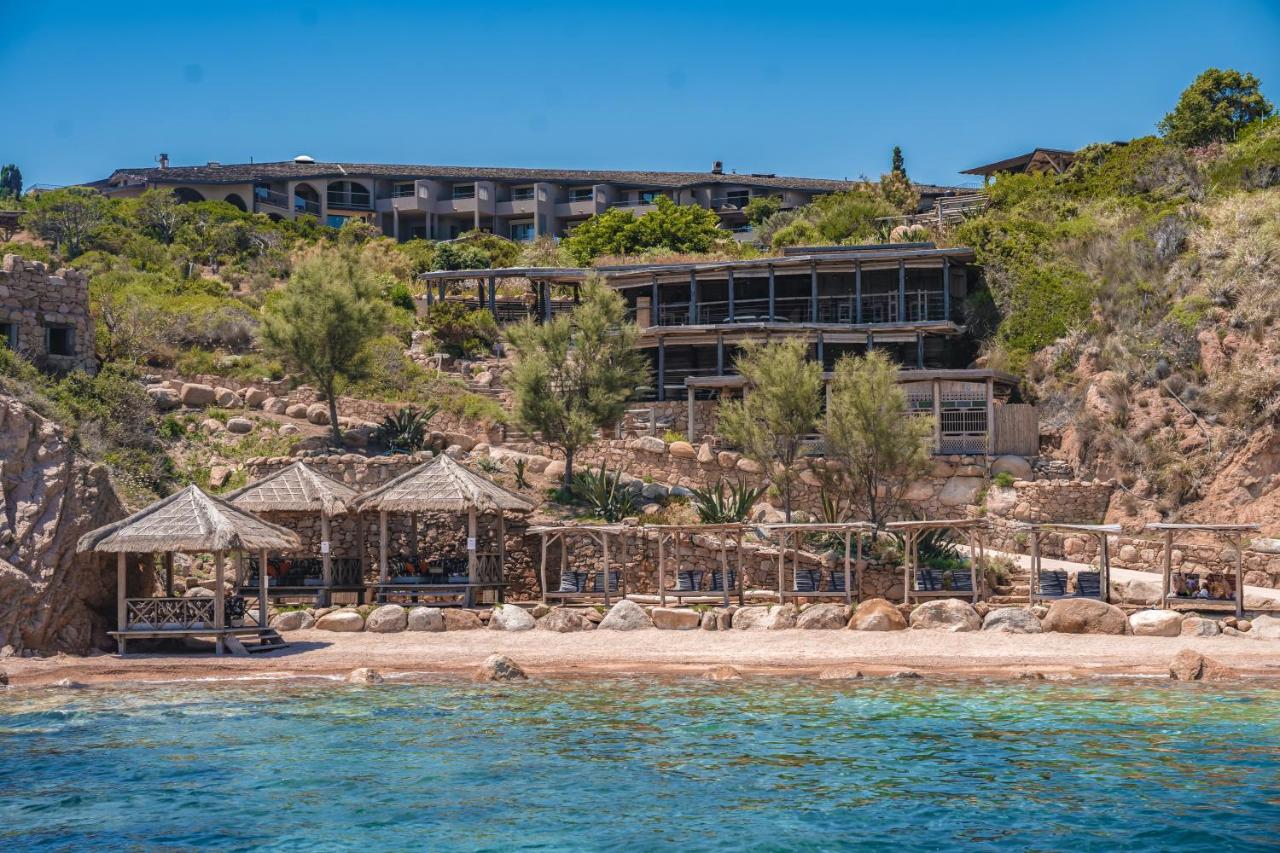 2. Grand Hôtel De Cala Rossa & Spa Nucca
Porto-Vecchio, Corsica
From $350 per night

ETIC Hotels Green Score: 9.2/10
A beautiful family-owned hotel that stands on the Cala Rossa peninsula, with the sea lapping at its feet along a vast sandy beach.
A timeless fairy-tale setting with a warm atmosphere that wonderfully combines letting go, relaxing, and regenerating.
A select address right on the bay of Porto-Vecchio, owned by the same family and handed down from generation to generation.
A charming location to rediscover how to "take the time to live", while enjoying an exceptional property.
3. Hôtel Cala di Greco
Bonifacio, Corsica
From $250 per night

ETIC Hotels Green Score: 9.2/10
Perched above the historic city of Bonifacio, the stunning suites in this luxury Corsican hotel all enjoy uninterrupted views of the citadel and sea. On the horizon, Sardinia sparkles seductively in the Mediterranean. Breathe in the heady fragrance of the native trees and the myriad flowers that included Southern Corsica's maquis. In this haven of untouched nature, the days pass serenely and peacefully. The Cala di Greco Hotel is just five minutes from Bonifacio and the first of its many fine sandy beaches: La Tonnara, Piantarella, Sant'Amanza, etc. Venturing a little further, you come to Porto Vecchio and its magnificent Palombaggia, Santa Giulia and Pinarello beaches. From this luxury hotel in Corsica, discover the wild untamed beauty of this incredible region. Marvel at world-renowned sites, including the Sperone Golf Course, the Domaine de Murtoli and the surrounding areas, such as Cavallo Island and the Lavezzi Archipelago.
4. Hôtel Version Maquis Citadelle
Bonifacio, Corsica
From $250 per night

ETIC Hotels Green Score: 9.2/10
Located at a stone of Bonifacio marina, the Hotel Version Maquis Citadelle is nestled in a green setting over the famous City of Cliffs, at 10 minutes from Sperone Golf sublime « SOUTH CORSICA », 20 minutes from Porto Vecchio; as well as 25 kms from Figari airport.
You will be immediately undercharmed by the ambience of 5 stars refine decor, where wood & stone mixed lengthen to the lush surroundings countryside.
In 2020, this discreet luxury 5* hotel will be rediscovered in a new light with decor changes, surprises and lots of little touches to always satisfy you even more: a new Restaurant, new Lobby, a new Identity Spa and 8 new rooms!
From the restaurant terrace, the infinity pool overlooks the Citadelle. You can relax in our 20 rooms and 2 Master Suites, furbished with modern and cozy furniture. They all have a panoramic terraces to enjoy quiet and peaceful landscape. For dining, the restaurant will awake your senses with bold and fine cuisine. At your disposal during your stay, the team will surround you to make your stay a unique and unforgettable experience.
5. Hôtel Casadelmar
Porto-Vecchio, France
From $900 per night

ETIC Hotels Green Score: 9.2/10
At Casadelmar, the sea belongs to everyone. A paradise regained, guests come here to recharge their batteries, just like the salamander that appears here and there, a mythical, mischievous creature that can withstand the sun's rays without burning.
All rooms and suites open out onto magnificent terraces with commanding panoramic views of the bay.
Architect and interior decorator Jean-François Bodin designed the furniture and positioned the beds to face the sea. Light wood, white walls and grey Bateig stone floors create a bright, airy feel that sets the tone for each space, filtered and diffused by softly coloured hangings.
6. Aethos Corsica (U Palazzu Serenu)
Oletta, Corsica
From $300 per night

ETIC Hotels Green Score: 9.2/10
Located in Haute-Corse, U Palazzu Serenu, a 17th century palace near Saint Florent, was recently completely restored to its former glory and has been relaunched as Aethos Corsica as part of Aethos Hotels. The palace sits atop the spectacular village of Oletta, one of the most beautiful villages in Corsica, with views sweeping across the entire northern bay of Saint-Florent and its beaches. Aethos Corsica brings charm and tranquility to those wishing to experience understated luxury in an historic natural frame.
Like all of Aethos Hotels, the garden and swimming pool is at the heart of a relaxing stay, and the palace offers up the most stunning experience with its 20 meter lap pool which is perfectly suited to both exercise and relaxation. With expansive views of the surrounding mountains and sea, the pool and gardens offer our guests the perfect place to relax and unwind on the sunbeds whilst also enjoying a cocktail and food from the restaurant.
7. La Signoria
Calvi, Corsica
From $500 per night

ETIC Hotels Green Score: 9.2/10
Down a bucolic path lined with cypress trees, welcome to La Signoria, a true paradise at the gates of Calvi. This magnificent 18th century manor is nestled in a green spot between the sea and mountains. In the heart of maquis shrubland, it has all the charm of a family home. A member of the Relais & Châteaux and Cercle des Grandes Maisons Corses networks, La Signoria is a characterful property where the Corsican spirit can be felt at every turn, from its rooms and suites, to its personalised lounges and "casetta" outhouses…
10 minutes from the centre of Calvi and 5 minutes from the sea and the hotel's private beach, La Signoria is your gateway to discover all the beauty of Corsica and the area of La Balagne.
8. Hotel & Spa Des Pêcheurs
Cavallo Island, Corsica
From $600 per night

ETIC Hotels Green Score: 9.2/10
The deep blue sea and the magic of colors on an enchanted island. A dreamlike atmosphere: Hôtel & Spa des Pêcheurs represents beauty and sustainability.
The flagship of the hotel is its refined taste of the restaurant's dishes that are a combination of the Italian tradition and French nouvelle cuisine. The Beach Bar is the perfect mix of natural elements and casual elegance, the best place to enjoy excellent drinks and cocktails and for great social relations.
Hôtel & Spa des Pêcheurs is the finest and the most exclusive luxury, ensuring the perfect harmony between physical and mental relax.
9. Les Bergeries de Palombaggia
Porto-Vecchio, Corsica
From $500 per night

ETIC Hotels Green Score: 9.2/10
Treat yourself to a unique site in Corsica, in the middle of the lush vegetation of the maquis facing the sea, the Cerbicales Islands and Palombaggia Beach. Refinement and modernity join forces with great success in this building of character which houses the rooms. Ideally located in a 2-hectare park, it is surrounded by 7 seaview suites each of which is built separately.
The 14 rooms and 7 suites at Les Bergeries de Palombaggia offer top-of-the-range comfort and a stylish and refined interior design for a completely private stay. Harmony and elegance are on the programme at our establishment of character, which is both welcoming and authentic.
10. Hôtel-Demeure Les Mouettes – Chateaux et Hotels Collection
Ajaccio, Corsica
From $250 per night

ETIC Hotels Green Score: 9.2/10
A member of the Les Collectionneurs, Hôtel Les Mouettes****, is an authentic 19th century waterfront villa surrounded by palm trees, and eucalyptus – some centuries old. It has been welcoming clients, guests and friends for almost a century.
Close to Ajaccio's lively city centre but a world away from its hustle and bustle, the beachfront Hôtel Les Mouettes**** boasts the best location in the region. It is also just a few minutes from Ajaccio's international airport.
Each of its 27 elegantly decorated rooms and suites is different from the next, making this hotel a stylishly beautiful waterfront residence.