The 10 Best Luxurious Hotels in Santorini, Greece
For Your Upcoming Stay in the Beautiful Island of Santorini.
A Sustainability Ranking in partnership with ETIC Hotels
You're planning a trip to Santorini and you're trying to be as ethical and sustainable as possible?
niood lists you the 10 best luxurious hotels in Santorini:
1. Andronis Luxury Suites
Oia, Santorini
From $350 per night

ETIC Hotels Green Score: 9.5/10
Santorini is an island blessed by the gods, a place where dreams come true. The island is the perfect destination when you are looking for more than just romance, luxury and beauty. Breathtaking scenery and unique culture add something truly memorable. A volcanic eruption thousands of years ago gave Santorini its distinctive crescent shape, which has entranced visitors and locals alike ever since. Unwind in the serenity of your suite, high on the crest of the cliffs with panoramic views of the shimmering sea.
Andronis Luxury Suites is renowned for its tranquility and unique sense of elegance. The 29 award-winning luxury suites and villas in Santorini are built in traditional style within the picturesque jigsaw of houses in Oia,Santorini. Private infinity pools, cave pools and heated Jacuzzis are the perfect places to relax and enjoy the deep blue Aegean and the volcanic caldera that frames the spectacular view. Relax and rejuvenate in the Mare Sanus Spa with its exclusive therapies before dinner in Andronis Luxury Suites' Lycabettus, voted one of the most beautiful restaurant locations in the world.
2. Katikies Santorini
Oia, Santorini
From $350 per night

ETIC Hotels Green Score: 8/10
Inspiring deep emotions of enchantment and fascination, Katikies luxury hotel in Oia Santorini is renowned for its unparalleled services, warm atmosphere and sense of romance uniquely combined in an exceptional setting and natural environment, inviting its guests to experience moments of pure luxury at one of the best luxury hotels in Santorini.
The legendary Katikies Hotel, an emblem of Santorini's mythical beauty, invites world-class travellers into an intimate atmosphere of total discretion, stunning architecture and premier service.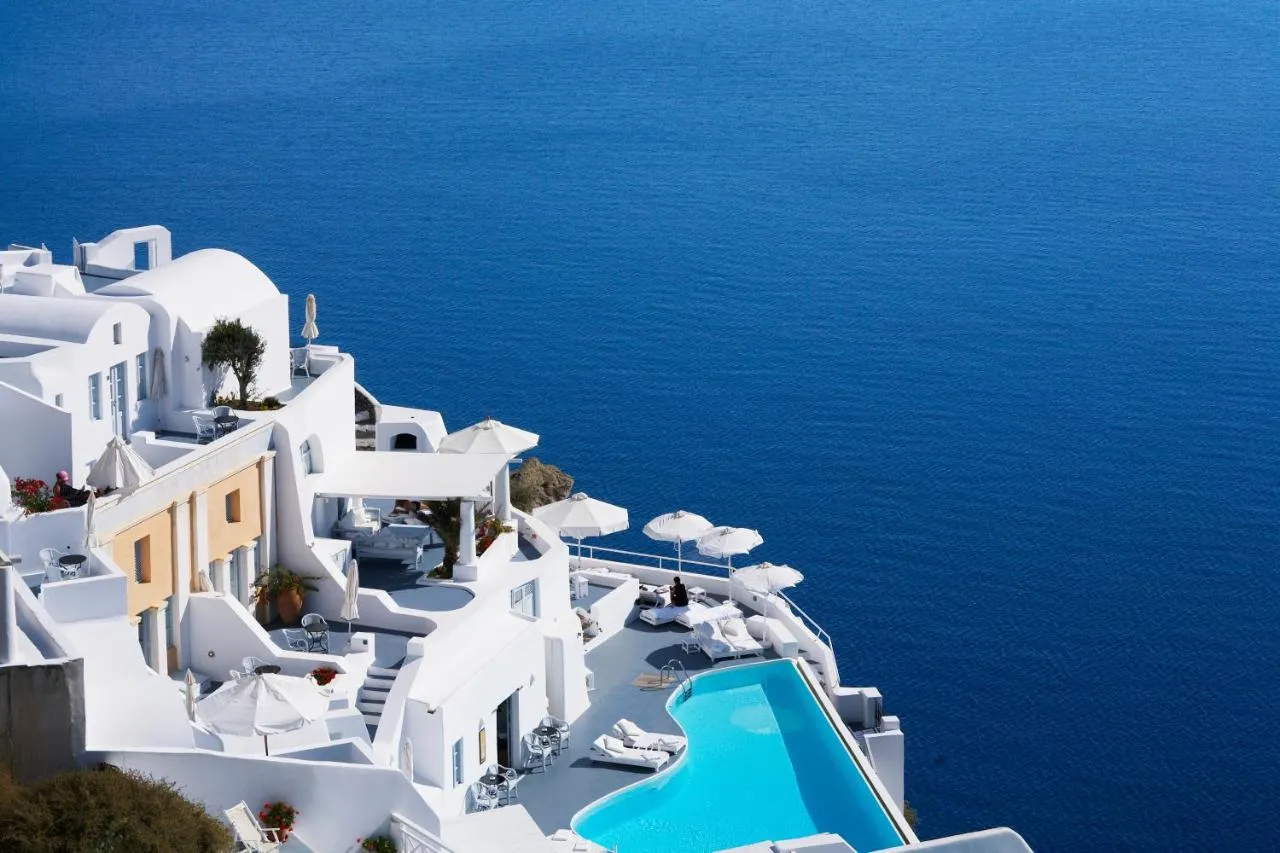 3. Mystique, a Luxury Collection Hotel, Santorini
Oia, Santorini
From $450 per night

ETIC Hotels Green Score: 7/10
Mystique is an exclusive hideaway in a natural world that perfectly lends itself to wider exploration, offering guests a tantalizing insight into the captivating island of Santorini and its unique traditions, romance and wild beauty.
Masterfully combining elegance, tradition, high-end service, authentic local experiences, world-class culinary experiences with unique Santorini flavors and, above all, relaxation.
4. Canaves Oia Suites
Oia, Santorini
From $450 per night

ETIC Hotels Green Score: 8/10
Canaves Oia Suites invites guests seeking luxury accommodation in Oia Santorini to relish in the elegance of a most cherished holiday retreat.
Enveloped by the emerald Aegean and the awe-inspiring dramatic beauty of Santorini, Canaves Oia Suites welcomes guests to a world of exquisite elegance. Blending spectacular vistas of the charming Caldera with over the top accommodation and impeccable service, those luxury suites in Oia, Santorini will charm even the most eclectic guests.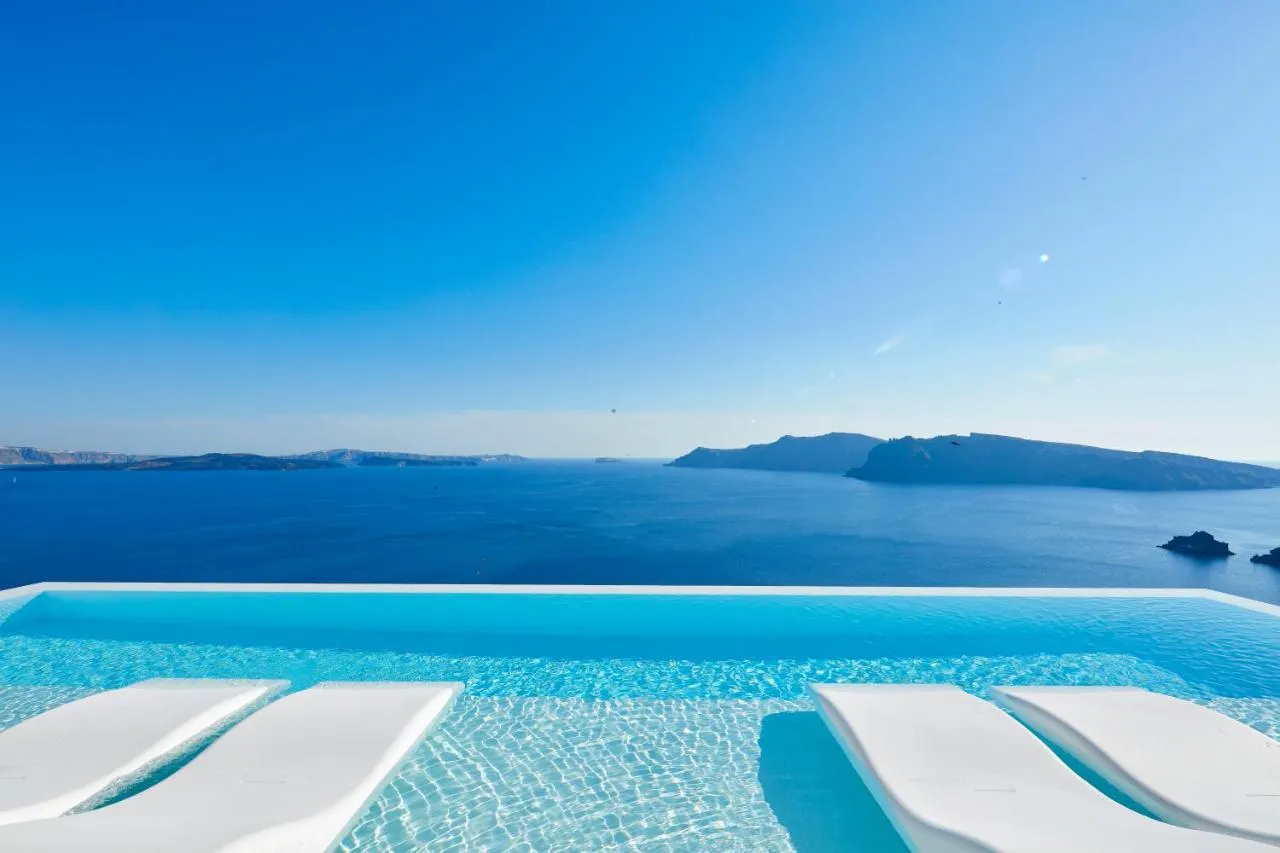 5. Canaves Oia Epitome
Oia, Santorini
From $450 per night

ETIC Hotels Green Score: 7/10
In May 2018, Santorini welcomes a new kind of luxury in form of Canaves Oia Epitome. Perched above the picturesque fishing town of Ammoudi, the property is inspired by traditional Cycladic architecture, combining natural and earthy materials with modern design and style.
It is the only property on the island that offers both sea and sunset views from the privacy of each of the 24 luxury villas. Canaves Oia Epitome invites you to experience life's finest things.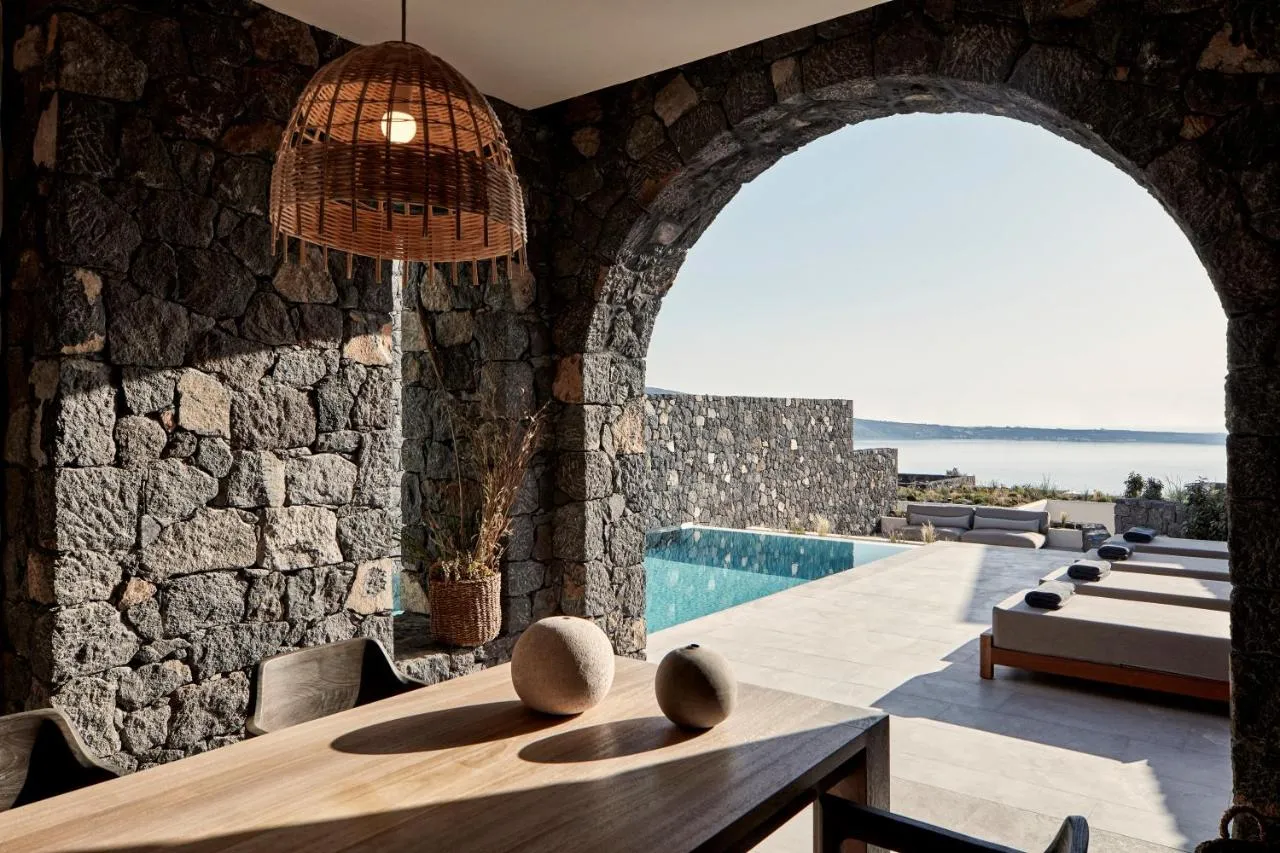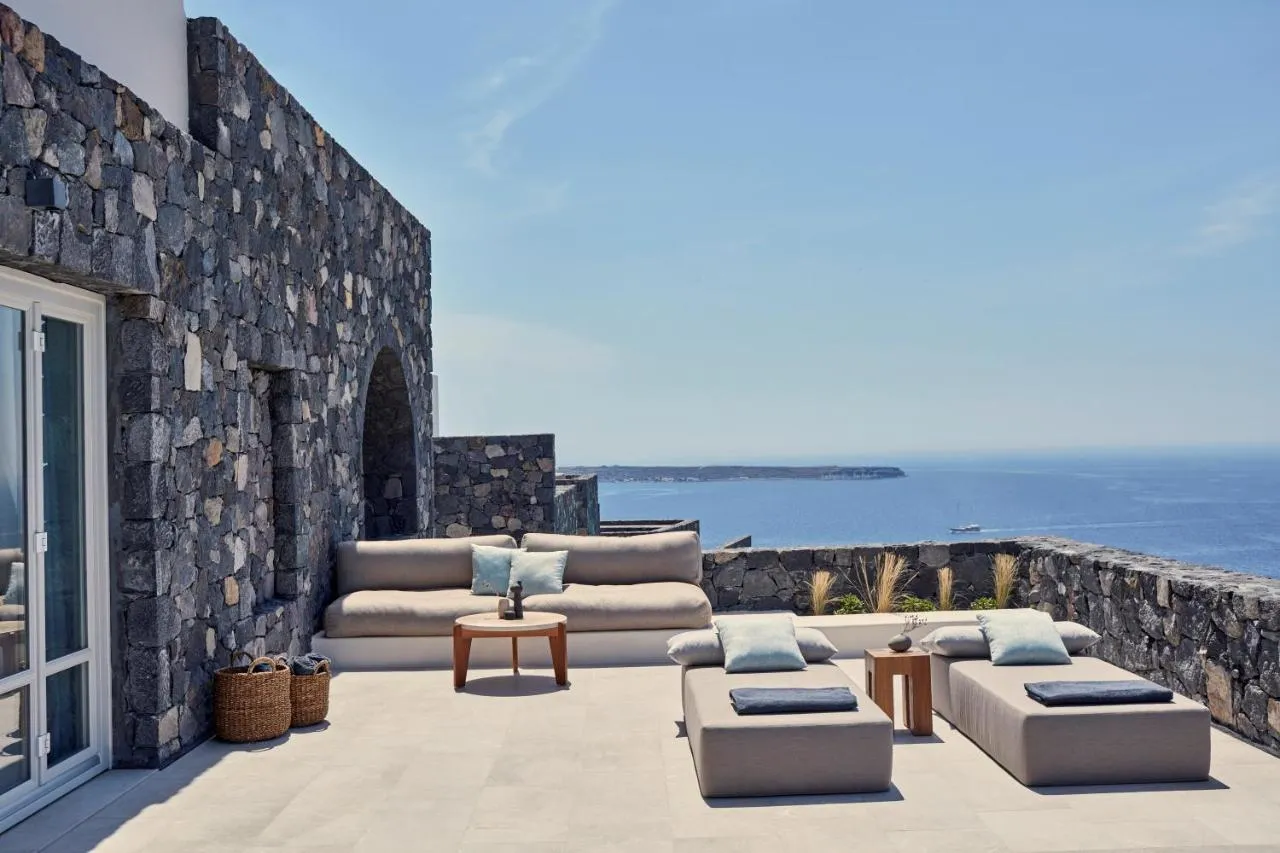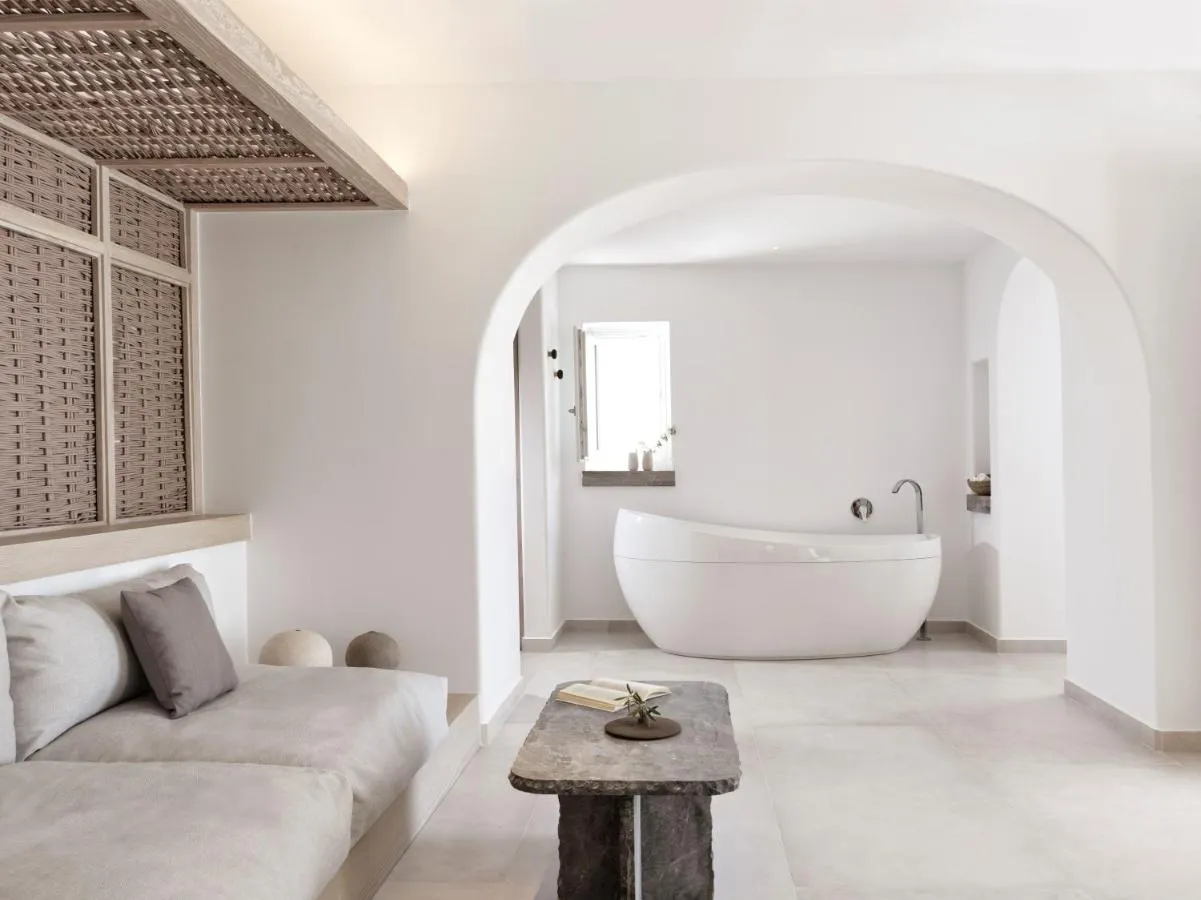 6. Grace Hotel, Auberge Resorts Collection
Imerovigli, Santorini
From $450 per night

ETIC Hotels Green Score: 9.5/10
Whitewashed abodes, cobalt-domed churches, and black- and red-sand beaches mark the isle of Santorini, an alluring Mediterranean oasis mired in mythology. Believed to be the remaining link to the Lost City of Atlantis, rest in splendor during a luxurious stay in our clifftop retreat in Imerovigli, a village home to Santorini's most emblematic views. Legend has it Euphemus, son of Poseidon created the island following a dream where he made love to a nymph – and after you enjoy your first sumptuous sunset from our infinity pool overlooking the Caldera, you will experience for yourself how easy it is to become entangled in the spell of Santorini.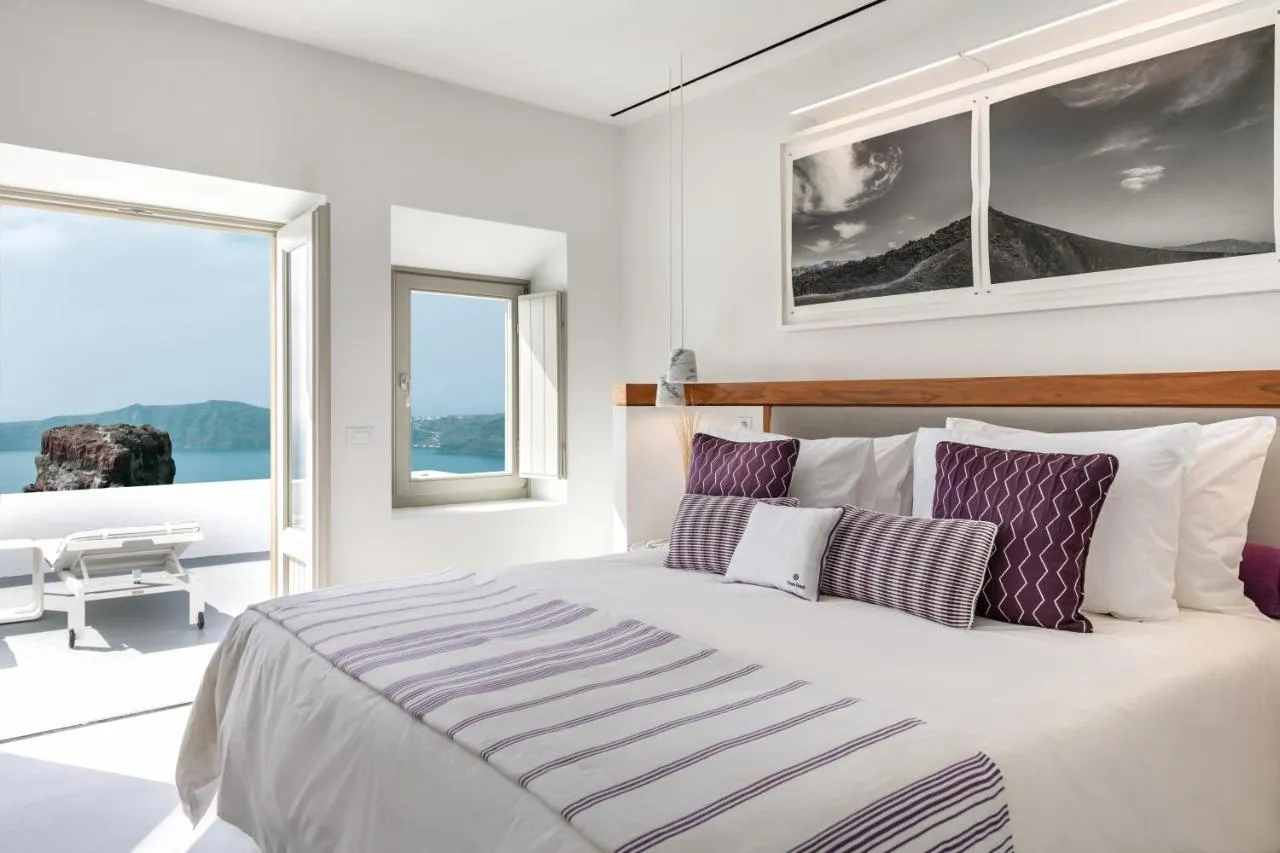 7. Perivolas
Oia, Santorini
From $520 per night

ETIC Hotels Green Score: 8/10
This 5-star hotel, offering an infinity pool with magnificent sea view, is situated on the cliffs high above the Aegean Sea, a short walking distance from the picturesque Oia. The hotel boasts 22 private houses in restored 300 year-old caves. Each suite enjoys free Wi-Fi internet access and a comfortable seating area.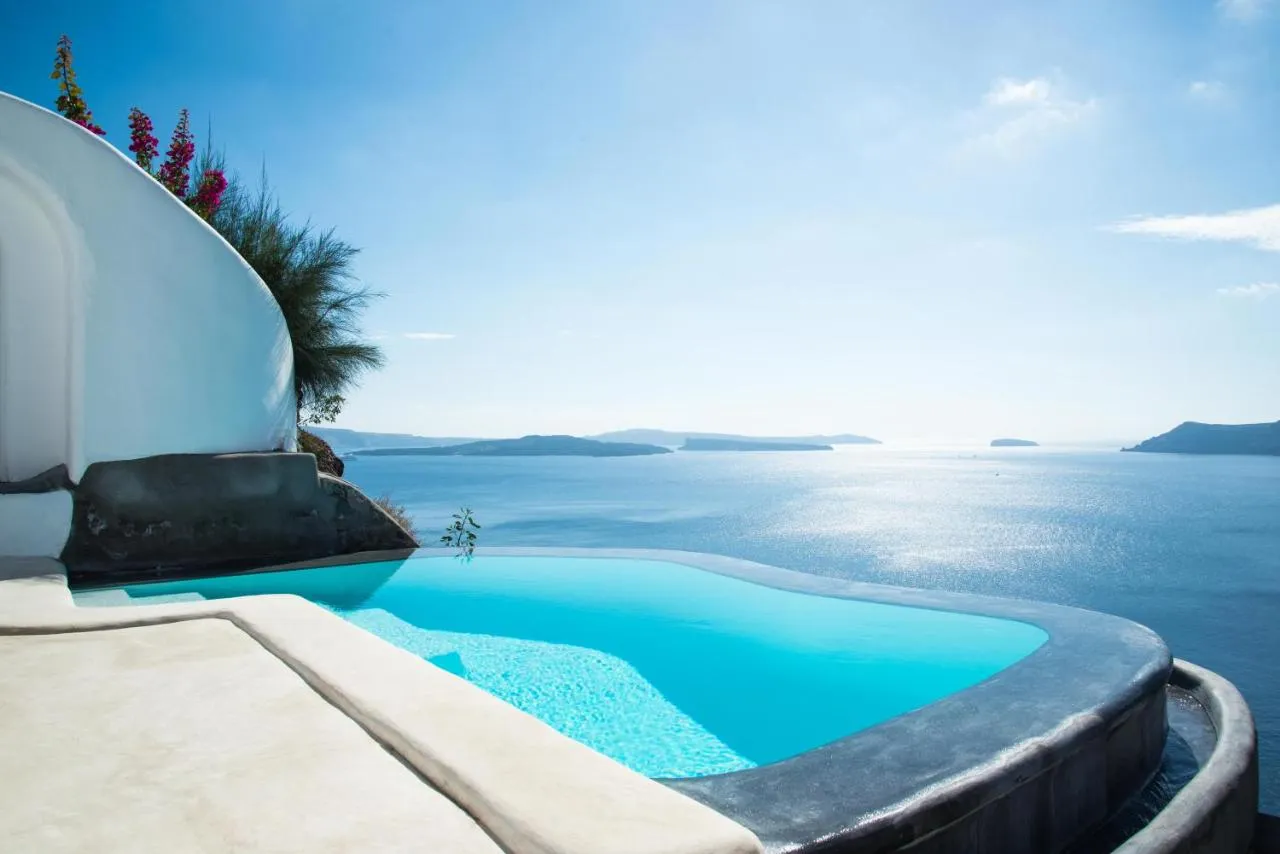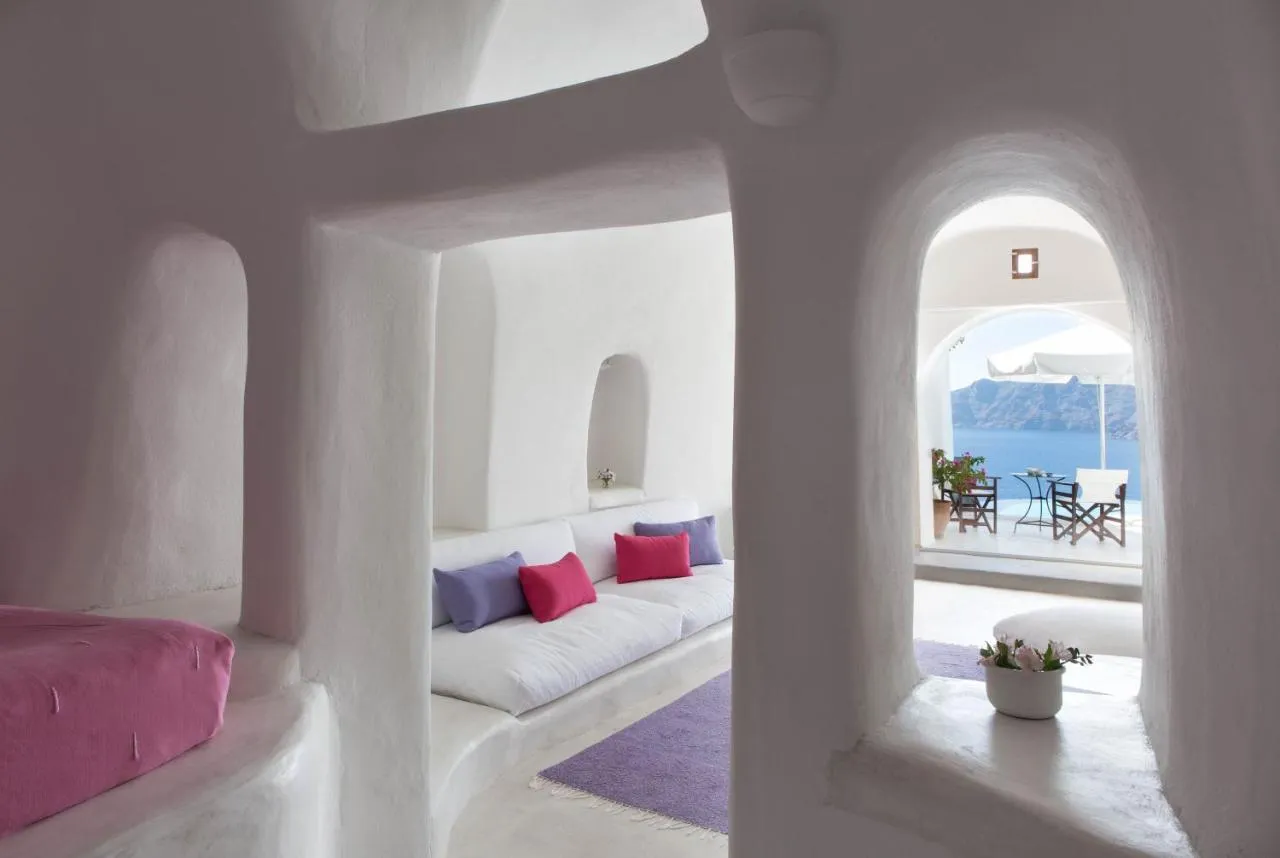 8. Vedema, a Luxury Collection Resort
Santorini
From $350 per night

ETIC Hotels Green Score: 8/10
Tucked away within the medieval village of Megalohori, the enchanting Vedema, a Luxury Collection Resort has evolved from a 400-year-old wine cellar and a 100-year-old mansion into an authentic, Cycladic-styled property. Dedicated to the needs of seasoned travellers, Vedema houses 59 spacious suites and villas, all with their own terraces and many with jacuzzis or private pools.
9. La Perla Villas and Suites
Oia, Santorini
From $350 per night

ETIC Hotels Green Score: 8/10
La Perla Villas & Suites is a luxurious boutique hotel located in the heart of the prestigious village of Oia, Santorini. Its complex of elegant cave houses and villas is built on the famous caldera of Oia and offers stunning unobstructed views of the volcano and the Aegean Sea, coupled with top-of-the-notch service.
Officially characterized as "traditionally built" by the Greek National Tourism Organization (GNTO), La Perla Villas & Suites harmonically blends old and new architectural elements, in a modern decor with luxurious amenities.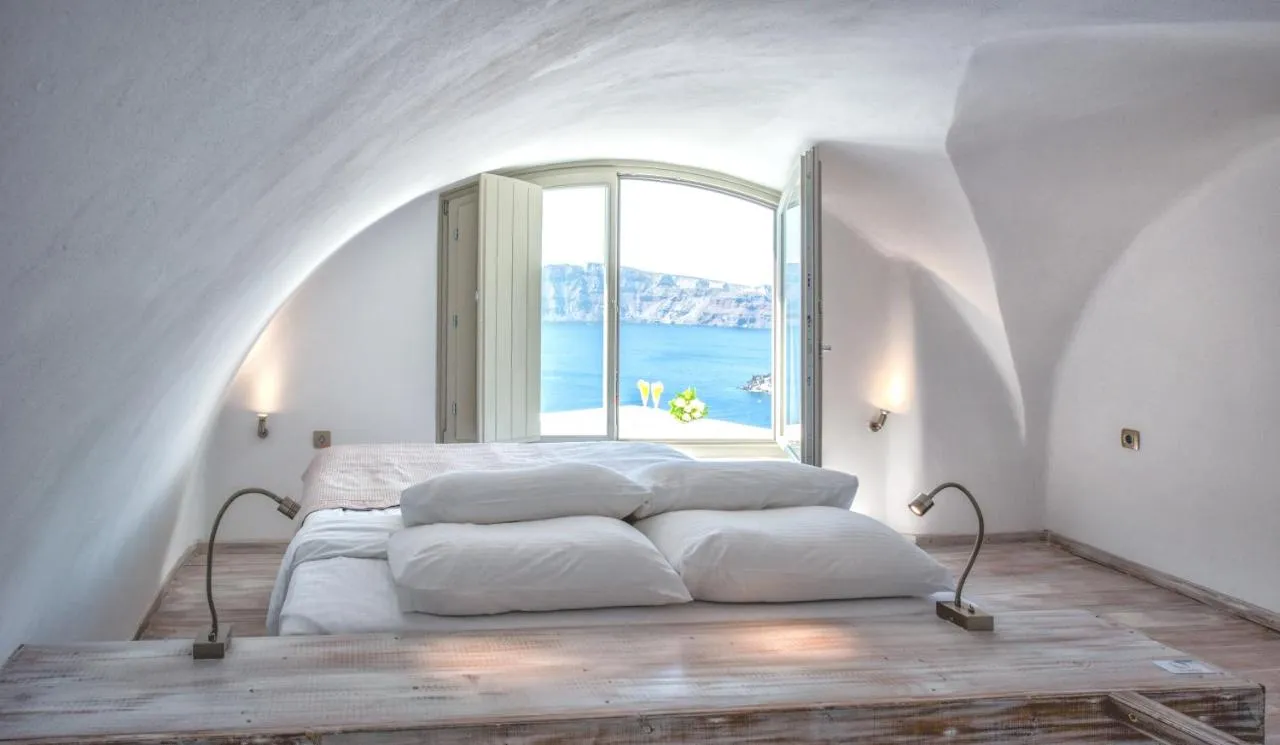 10. Istoria Hotel
Perivolos, Santorini
From $300 per night

ETIC Hotels Green Score: 7/10
At the sublime junction where the black volcanic sand of Perivolos Beach meets the midnight blue waters of the Aegean Sea, one finds Istoria, a 12-suite retreat, where a unique blend of classic and contemporary aesthetics animates a next-generation social hub, while embracing all the needs of modern and sophisticated travellers, for an experience that is wholly and authentically Greek.
As if sculpted from the hand of some chthonic deity and bathed in bright Cycladic sunshine, Istoria's 12 idyllic suites are impressively arched towards the privacy of verdant terraces, crowned, in most cases, with private outdoor hot tubs or pools, offering an additional layer of refuge to this resplendent haven.