The 15 Best Luxurious Hotels in the Maldives
For Your Upcoming Stay in the Luxurious Maldives.
A Sustainability Ranking in partnership with ETIC Hotels
You're planning a trip to the Maldives and you're trying to be as ethical and sustainable as possible? niood lists you the 15 best luxurious hotels in the Maldives:
1. Gili Lankanfushi Maldives
Lankanfushi Island, North Malé Atoll Republic of Maldives, Maldives
From $1,500 per night

ETIC Hotels Green Score: 7/10
Designed in an authentic style, built using eco-friendly materials and blended seamlessly into the remarkable landscape of a natural environment, our over water villas creates a sophisticated and intimate ambiance where guests are able to feel truly at home.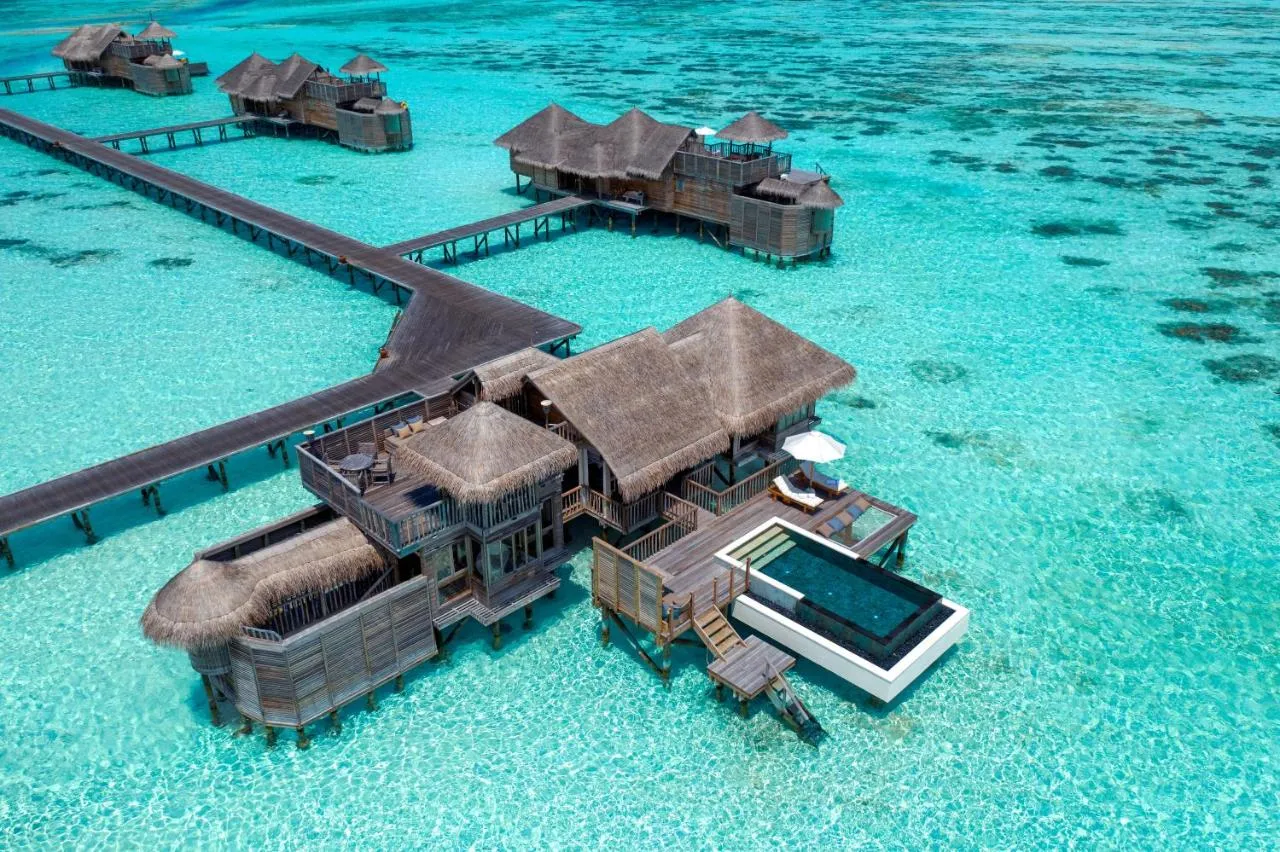 2. Fairmont Maldives Sirru Fen Fushi
Sirru Fen Fushi SHAVIYANI ATOLL, 20209, Maldives
From $1,300 per night

ETIC Hotels Green Score: 7/10
Located on the Shaviyani Atoll, which boasts one of the country's largest resort lagoon, Fairmont Maldives, Sirru Fen Fushi is more than just your personal hideaway. Our "secret water island" as dubbed by the locals glistens like a pearl. Poster white sand beaches fringed with swaying palms, kissed by the turquoise waters of the 600-hectare lagoon that gives way to the tranquil blues of the Indian Ocean and a never-ending horizon.
3. Milaidhoo, Maldives
From $1,600 per night

ETIC Hotels Green Score: 7/10
Come, kick off your shoes and let us tell you a story . . . once upon a time there was a tiny tropical island, an emerald drop of paradise wrapped in soft white sands, surrounded by a vibrant coral reef, lapped by warm turquoise waters and hidden in the heart of a UNESCO biosphere reserve. Milaidhoo is that island. That time is now and this is our story.
Not just another five star resort in the Maldives, at Milaidhoo, we like to do things differently: it's called reinvented luxury. We don't think of our guests as holidaymakers but as storywriters, crafting their dream holiday, and this is where your story of a small island begins. Opened in November 2016, Milaidhoo is a boutique luxury resort in the Baa Atoll UNESCO biosphere reserve, close to Hanifaru Bay, 126km north west of Male. We're perfect for nature lovers as our own coral reef, which encircles the island, is a protected area and noted as an outstanding snorkelling and diving site in its own right. Our tiny beautiful island, abundant with tropical greenery, measures just 300m by 180m and is fringed by soft deep white sand beaches.
Designed for couples seeking peace and privacy, we welcome guests aged nine and above, and have a strict no drone policy on the island.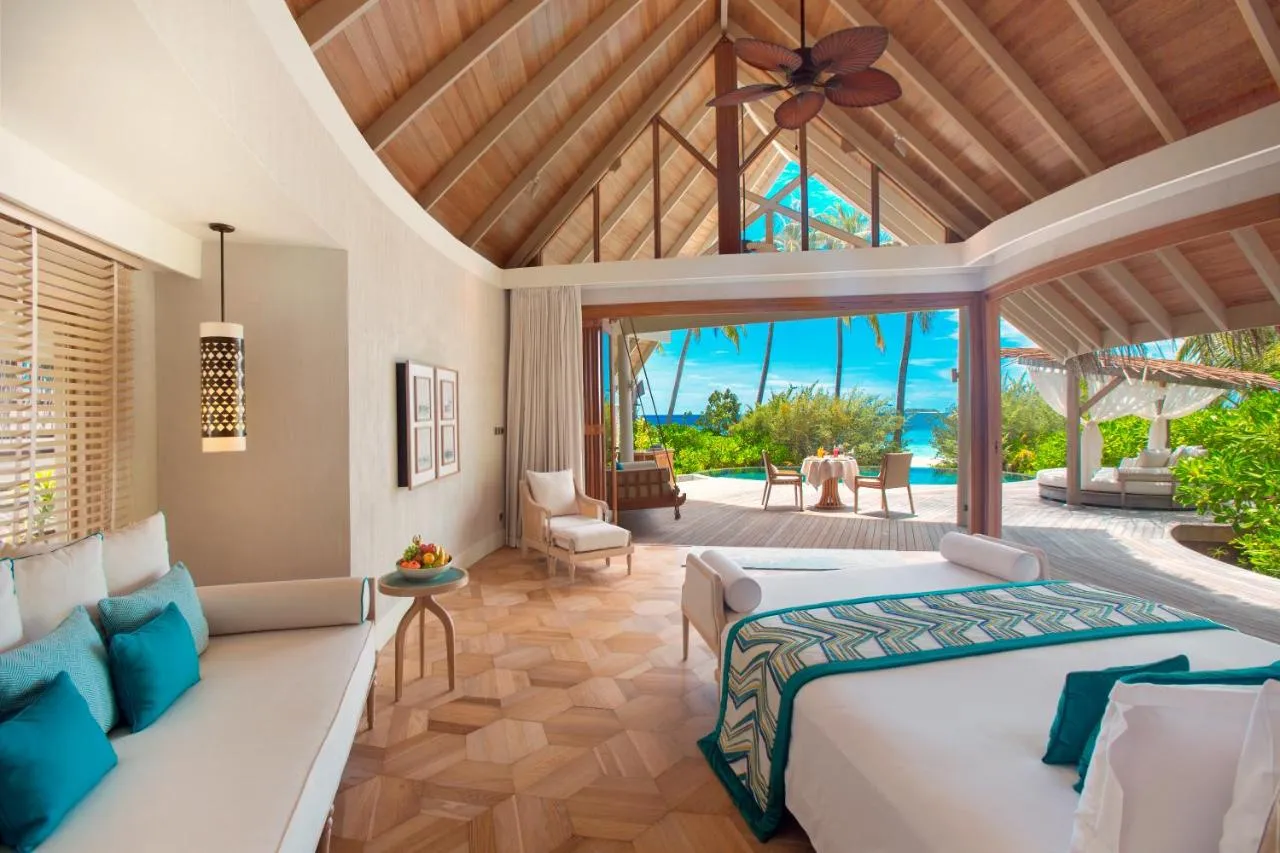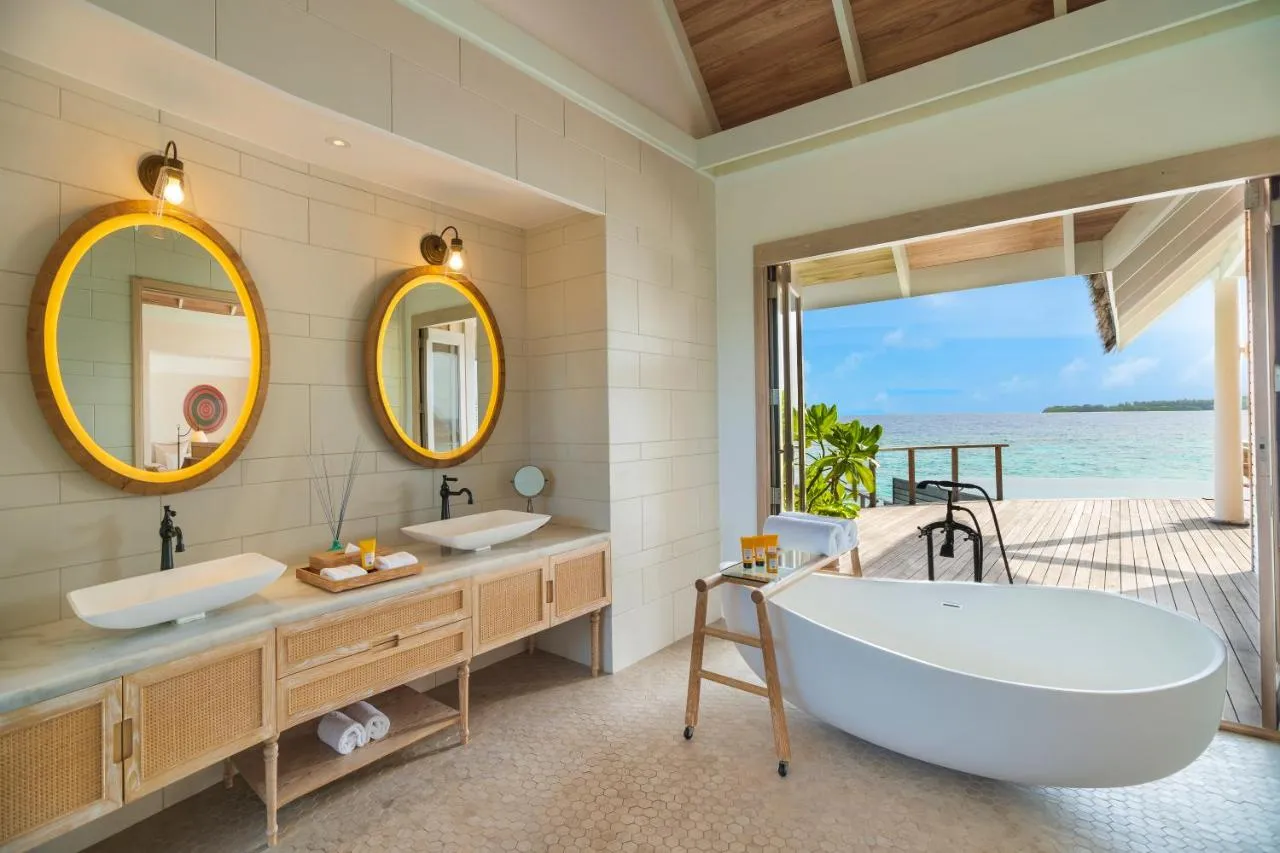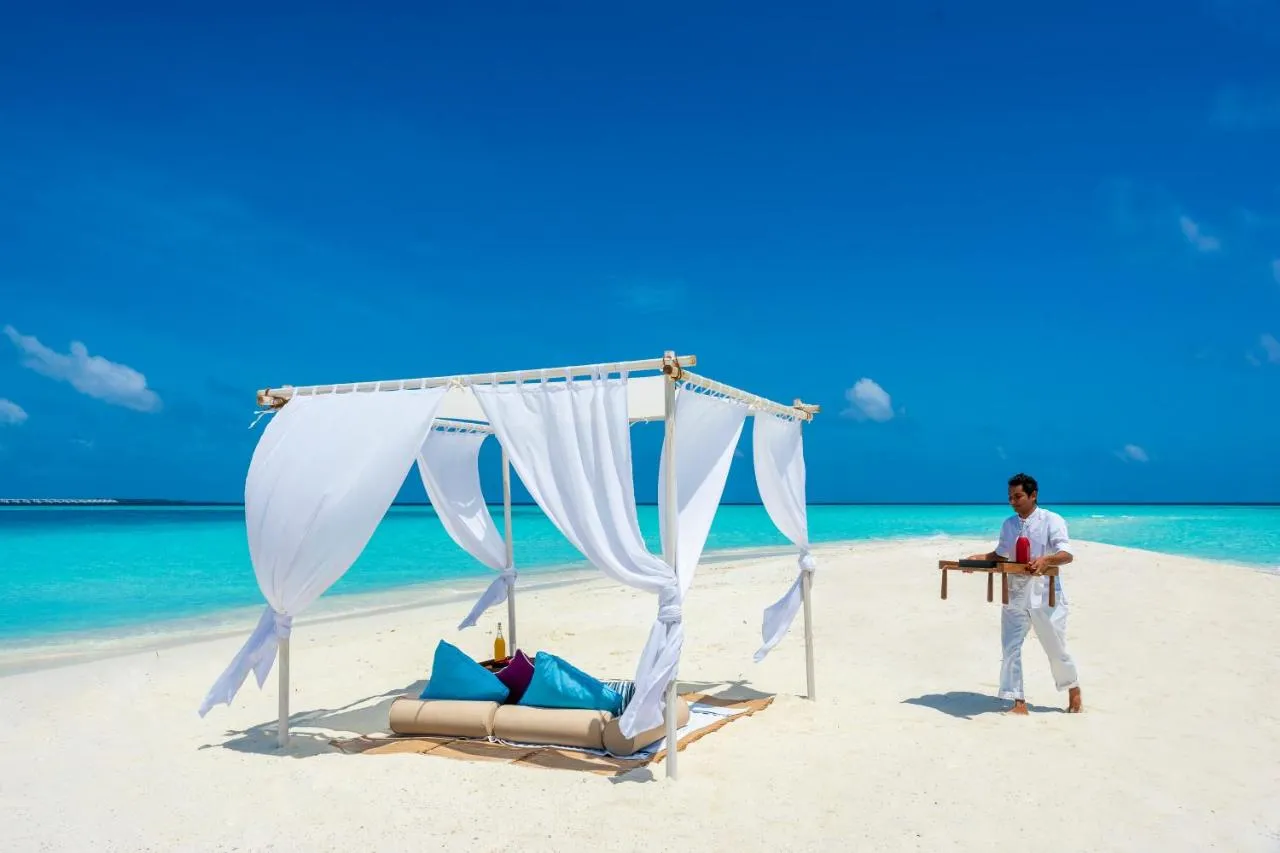 4. JOALI Maldives
Muravandhoo Island Raa Atoll, Maldives
From $1,700 per night

ETIC Hotels Green Score: 7/10
Located on Muravandhoo island on the Raa Atoll in the northern Maldives, JOALI features 73 private beach and water villas and residences. Each villa is inspired by individual stories and designed to evoke this sensibility throughout. JOALI Spa by Espa is inspired by the tropical surrounds and offers indulgent treatments. A fitness center offers expert trainers and expansive views of the turquoise hued blue ocean and deep green flora and fauna.
There are four restaurants that provide inventive fusion cuisine. Vandhoo Restaurant – a specially designed dining experience spanning tastes from across South-East Asia, China, the Mediterranean and the Levant, Gourmet gallivants will indulge in experiential dining choices, superlative breakfast spreads and an impressive cellar of hand-picked wines and vintages to match. Her Kitchen – a personalised culinary experience for guests to learn how to cook (and enjoy) local Maldivian recipes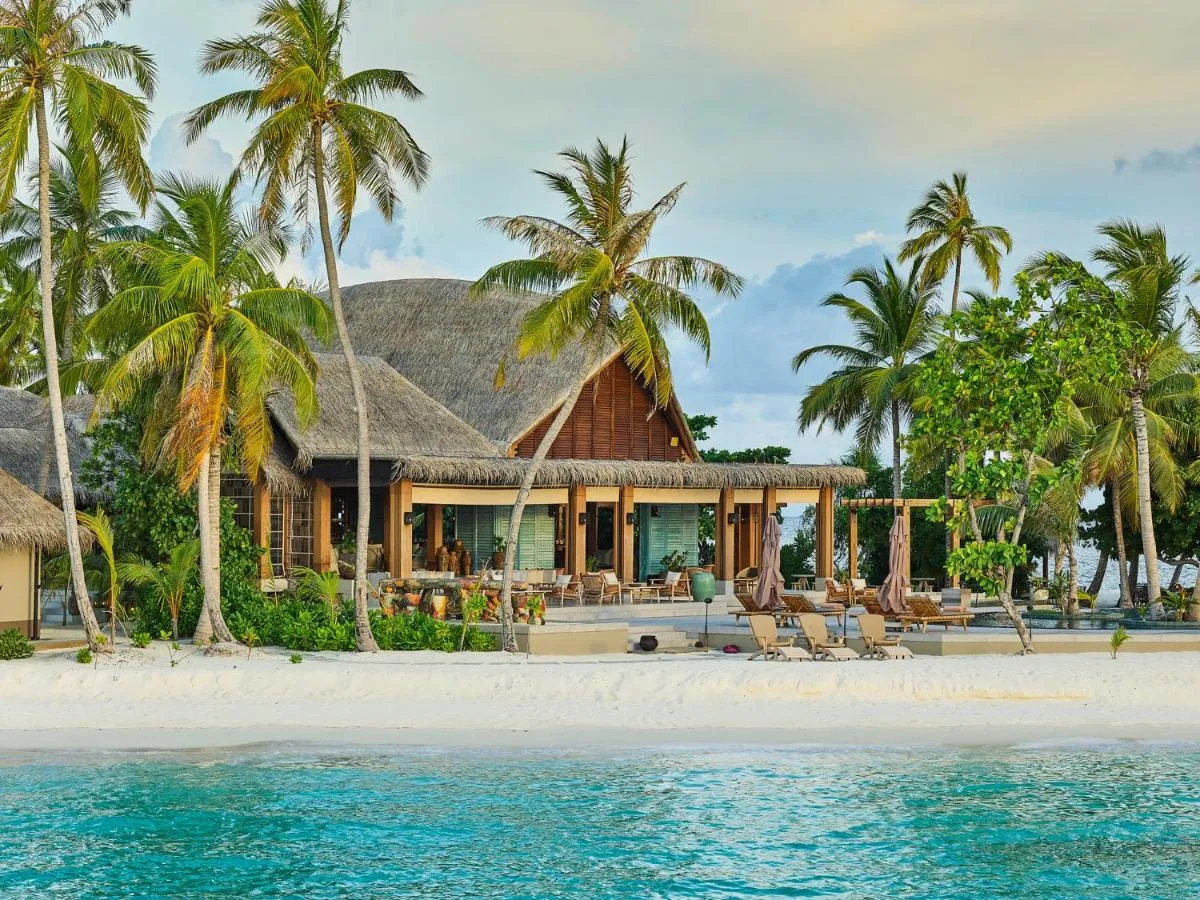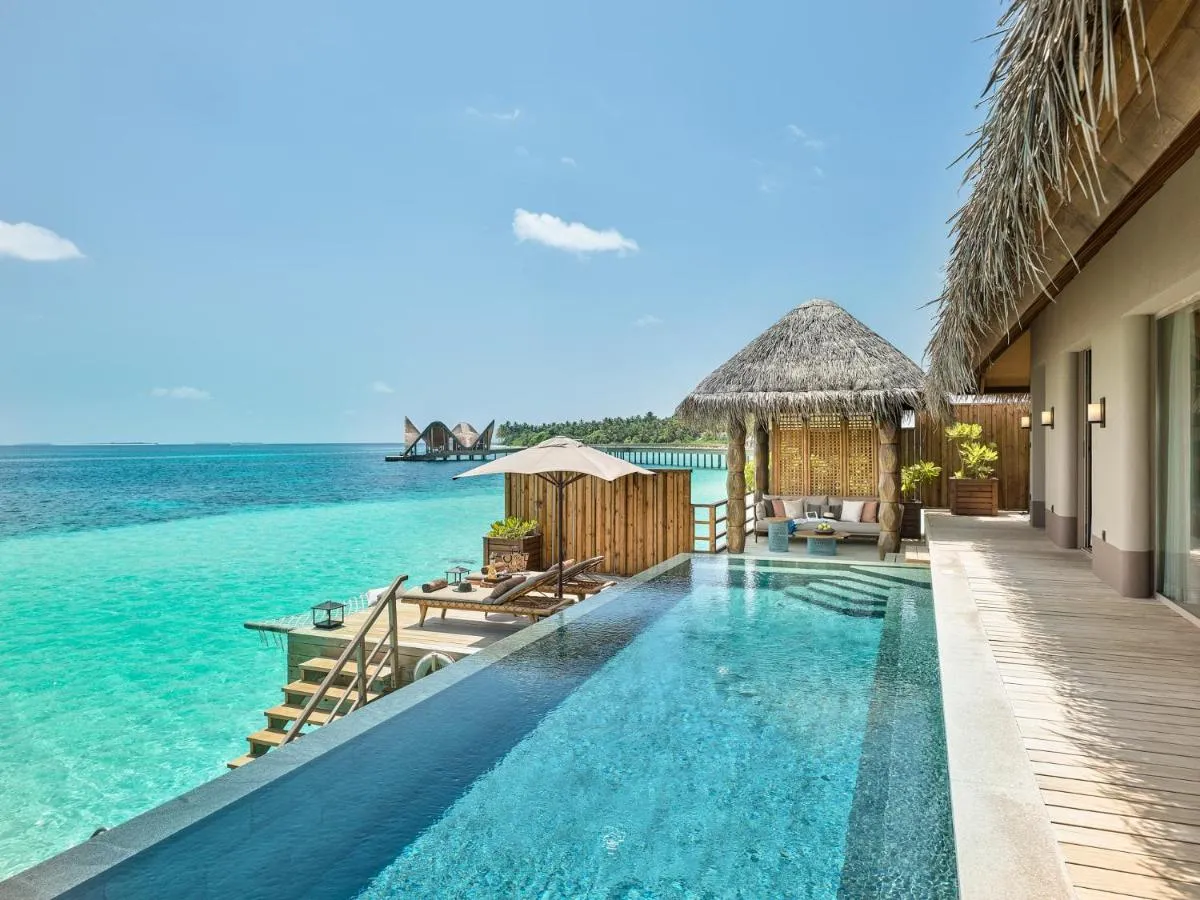 5. The Westin Maldives Miriandhoo Resort
Miriandhoo Island Baa Atoll, 06060, Maldives
From $650 per night

ETIC Hotels Green Score: 7/10
Expect an extraordinary experience at The Westin Maldives Miriandhoo Resort. Beautifully situated on the Unesco Biosphere Reserve in Baa Atoll, surrounded by the Indian Ocean, our stunning overwater resort offers an incomparable setting for your visit to the Maldives. Your adventure in luxury begins as soon as you step foot onto our resort, whether from sea, plane or boat. Retreat to your secluded villa, where you will be greeted by unbroken ocean views, a private deck and, in select accommodations, a private pool. When you are ready to leave your paradise, we invite you to sample delicious dining in our restaurants, relax poolside or on the beach, indulge at our wellness spa, play tennis or explore the resort grounds. Our expert staff awaits to ensure your stay is perfect in every way, whether you are spending your honeymoon on Baa Atoll, celebrating a special family event or enjoying time with a loved one.
6. Heritance Aarah, Maldives
Raa Atoll, Republic of MALDIVES Raa North MV, Maldives
From $850 per night

ETIC Hotels Green Score: 7/10
Escape to Heritance Aarah… Wake up in paradise to the sound of the sea, dive amidst exotic underwater marvels and dine under a majestic star-studded sky over one of the finest Maldives luxury resorts.
7. One&Only Reethi Rah, Maldives
Reethi Rah, North Malé Atoll, Malé 08440, Maldives
From $1,700 per night

ETIC Hotels Green Score: 7/10
Surrounded by the wonders of the Indian Ocean, One&Only Reethi Rah makes its home on one of the largest islands in North Malé Atoll. A jewel among a string of coral atolls, lagoons and white sands, it is about 700km (430mi) southwest of Sri Lanka.
Let us take care of you from the moment you land in the Maldives. Our expert team is on hand to plan your transfers to the resort, by sea or by air.
An iconic part of Maldives heritage is the "Bodu Beru", which literally translates from the local tongue Dhivehi as 'Big Drums'. Carved from coconut wood, with a goat skin drum head, their beating sound echoes throughout local ceremonies, a sign of celebration and a reminder of the Maldives' strong East African roots.
8. Amilla Maldives Resort and Residences
From $900 per night

ETIC Hotels Green Score: 7/10
Amilla embodies a philosophy and lifestyle. Here's why the Amilla experience stands out among other Maldives 5 star resorts.
Explore 23.5 hectares of space to play, roam and relax. We're one of the largest and most spacious Maldives resorts. With only 67 spacious Villas and Residences; 70% of the island is untouched. Leafy cycle tracks. Secret beaches. Unparalleled freedom.
Stand by for unexpected treats and indulgences. Delighting and surprising you is our hallmark. Your Katheeb (guest experience) personalises your guest journey. Tailored to your fancies; exceeding expectations. The sky is the limit.
Feast upon nutritious Homemade@Amilla and Homegrown@Amilla cuisine. Cultivated metres from your table, on your plate in minutes. Healthy and immunity-boosting food and drinks. Plus homemade treats – you deserve it.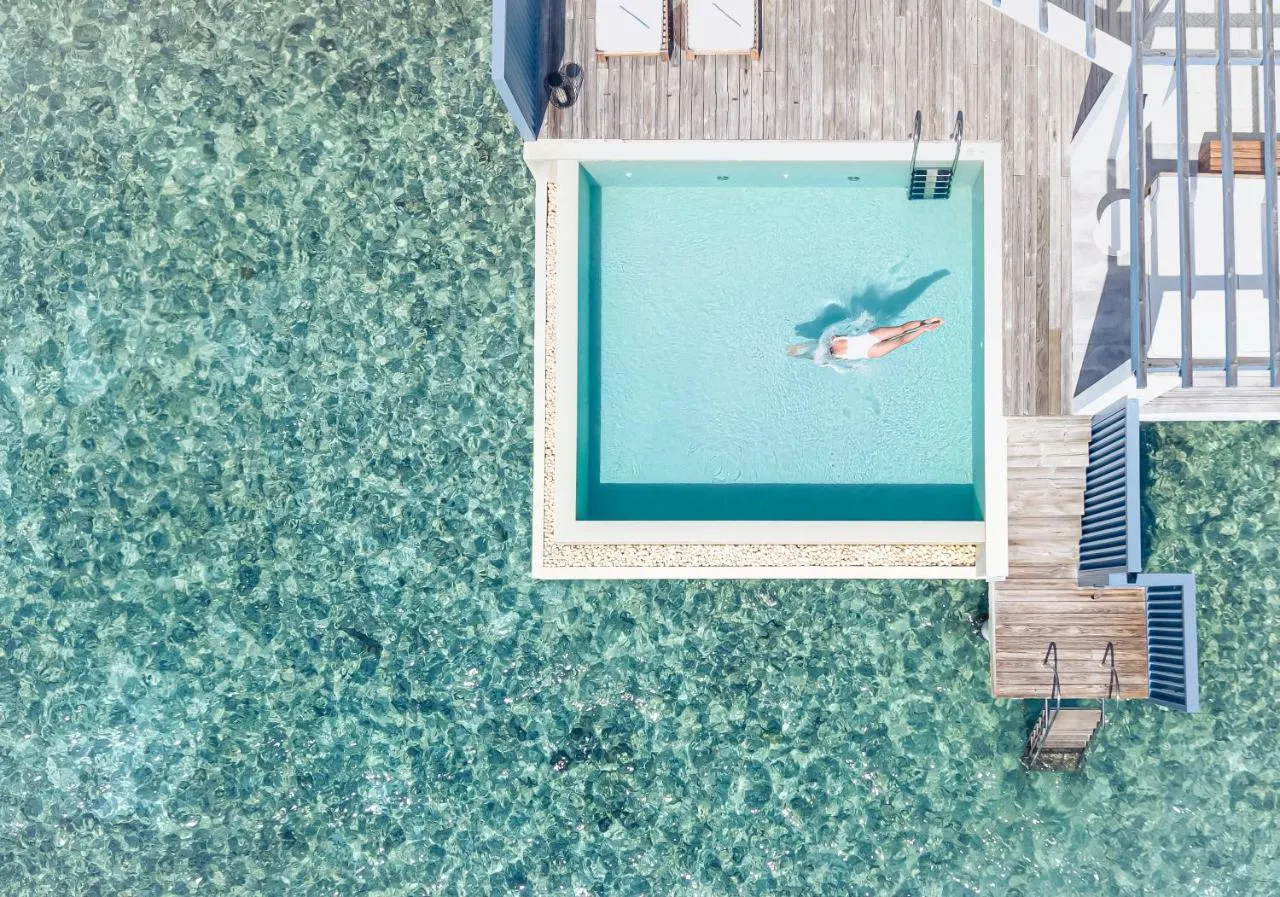 9. LUX* North Male Atoll Resort & Villas
Olhuhali, North Male Atoll Maldives, 00000, Maldives
From $900 per night

ETIC Hotels Green Score: 7/10
Dotted around the island are gorgeous contemporary, two-storey overwater and beach villas, each decked with a private rooftop and a pink-rimmed infinity pool that blends seamlessly with the warm pale-blue waters. Here days are spent under the Maldivian sun, drenched in luxury. Extraordinary service, a breathtaking dose of design, innovative dining concepts, and all the details that take a holiday from good to perfect: LUX* North Malé Atoll defies all norms and stereotypes. This is the Maldives, elevated.
10. Anantara Kihavah Maldives Villas
Kihavah Huravalhi Island, 20215, Maldives
From $1,300 per night

ETIC Hotels Green Score: 7/10
Surrounded by nothing but turquoise lagoon which melts into sapphire blue, the Maldives luxury resort island of Anantara Kihavah and its pure white sands rise up out of the ocean like a mirage.
For centuries, this was where Arab traders sailing to the Far East took shelter; a lush paradise blessed by coconut, papaya and mango trees. Navigating archipelago to archipelago by the stars, the seafarers were also drawn by the riches of the ocean surrounding the island – where a prehistoric volcano sank back into the depths, leaving blooming corals within a house reef and a wealth of lagoon fish.
Wishing to keep the pristine nature of the island intact, not one tree has been moved – as evidenced by the villas growing up around them. The design pays homage to the seafarers of old, fusing Indian Ocean, Arab and Portuguese motifs with indigenous materials.
Located on the Baa Atoll in a UNESCO Biosphere Reserve, Anantara Kihavah Maldives Villas invites you to imagine your own barefoot luxury paradise. Savour the luxury of space in your private pool beach villa or over water villa. Snorkel with mantas and Hawksbill sea turtles. Stargaze into the night. Dine on a deserted sandbank or beneath the ocean's surface at this enchanting sanctuary.
11. Four Seasons Resort Maldives at Landaa Giraavaru
Baa Atoll, Maldives
From $1,800 per night

ETIC Hotels Green Score: 7/10
Welcome to one of the world's most beautiful islands: a natural UNESCO Biosphere Reserve wilderness where iridescent blues, jungle greens and dazzling whites meet innovation, conservation and wellness with equal, vibrant intensity. Soar through the skies in our Flying Triggerfish seaplane; swim with the country's largest known population of manta rays; rehabilitate sea turtles in our Marine Discovery Centre; connect to the buzz of Blu Beach Club, and discover the life-changing benefits of Ayurveda and Yoga Therapy at The Spa & Ayurvedic Retreat – named "Most Meaningful Experience" in the Condé Nast Traveller Spa Awards 2020. Committed to conservation, transparency and planetary well-being, Landaa Giraavaru partnered with The NOW Force For Good Alliance and EarthCheck on Earth Day 2020 as part of its ongoing pledge to advance sustainability in all of its forms.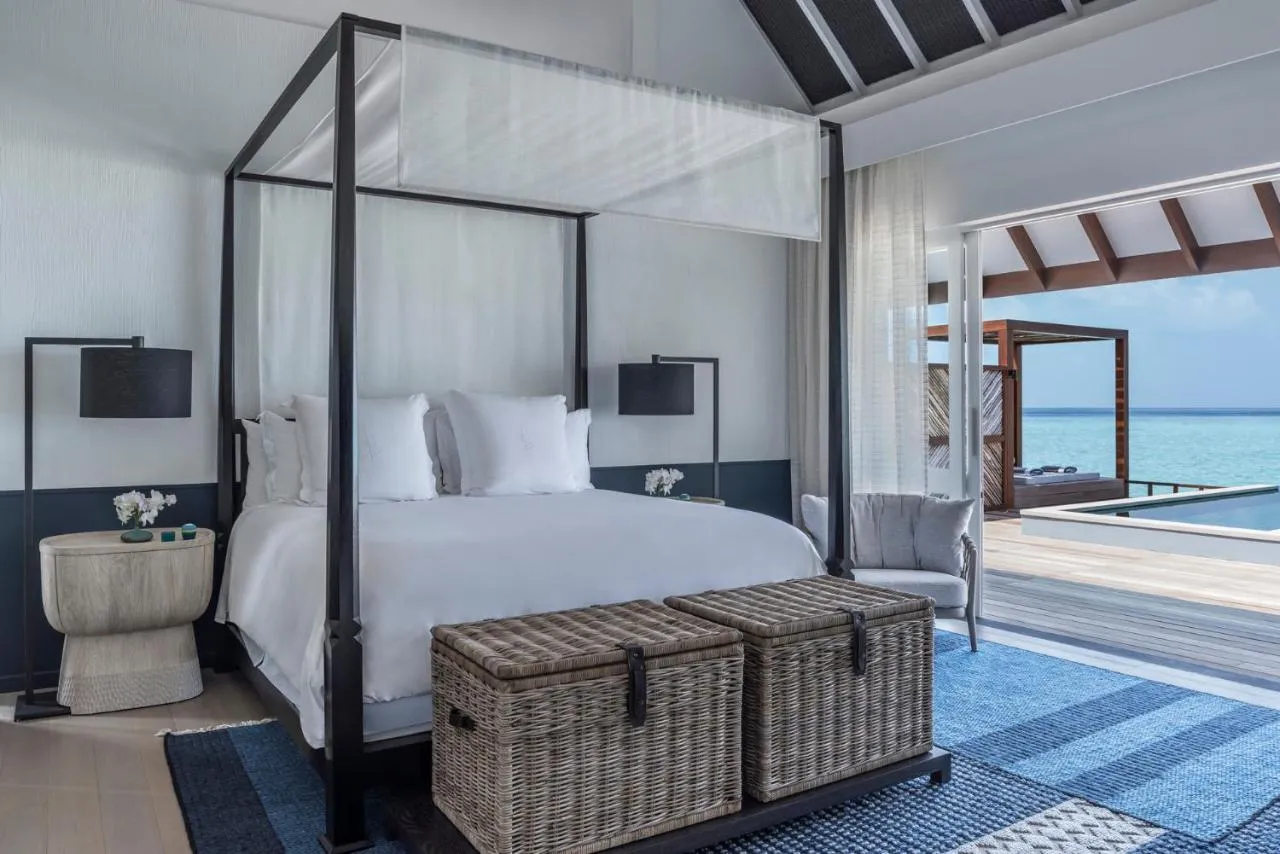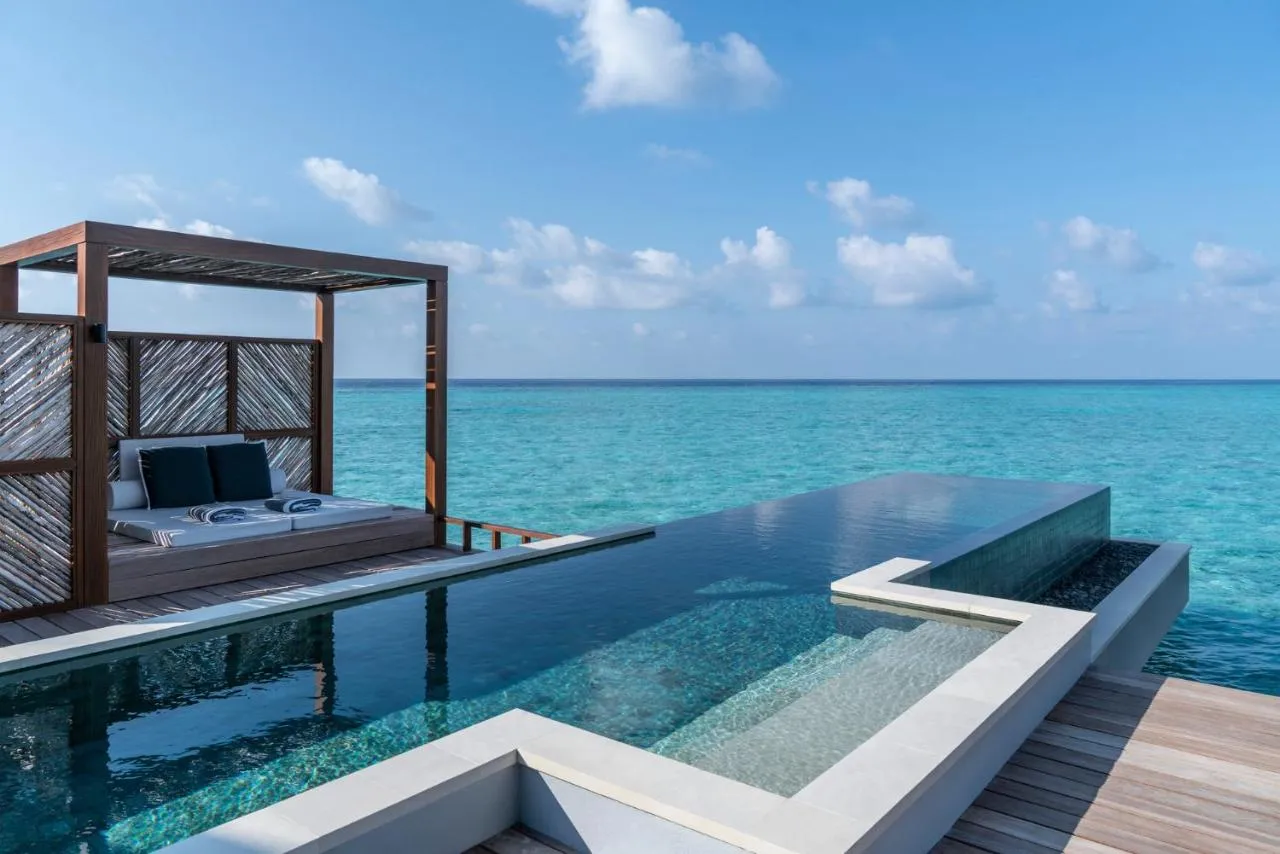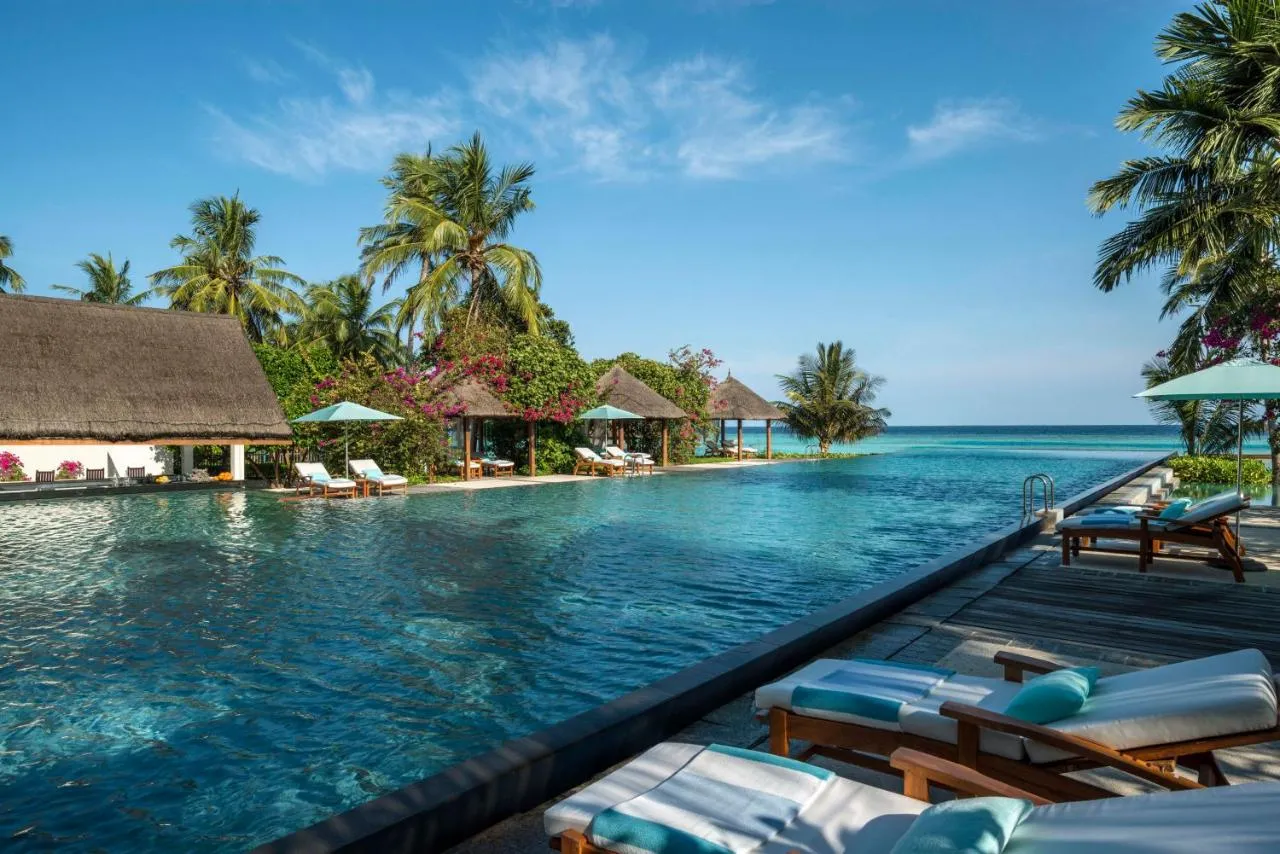 12. Soneva Fushi, Maldives
Kunfunadhoo Island, Eydhafushi, Maldives
From $1,300 per night

ETIC Hotels Green Score: 7/10
The original desert island hideaway in the Maldives. Soneva Fushi inspires the imagination with 63 beachfront villas and eight Water Retreats, ranging in size from one to nine bedrooms.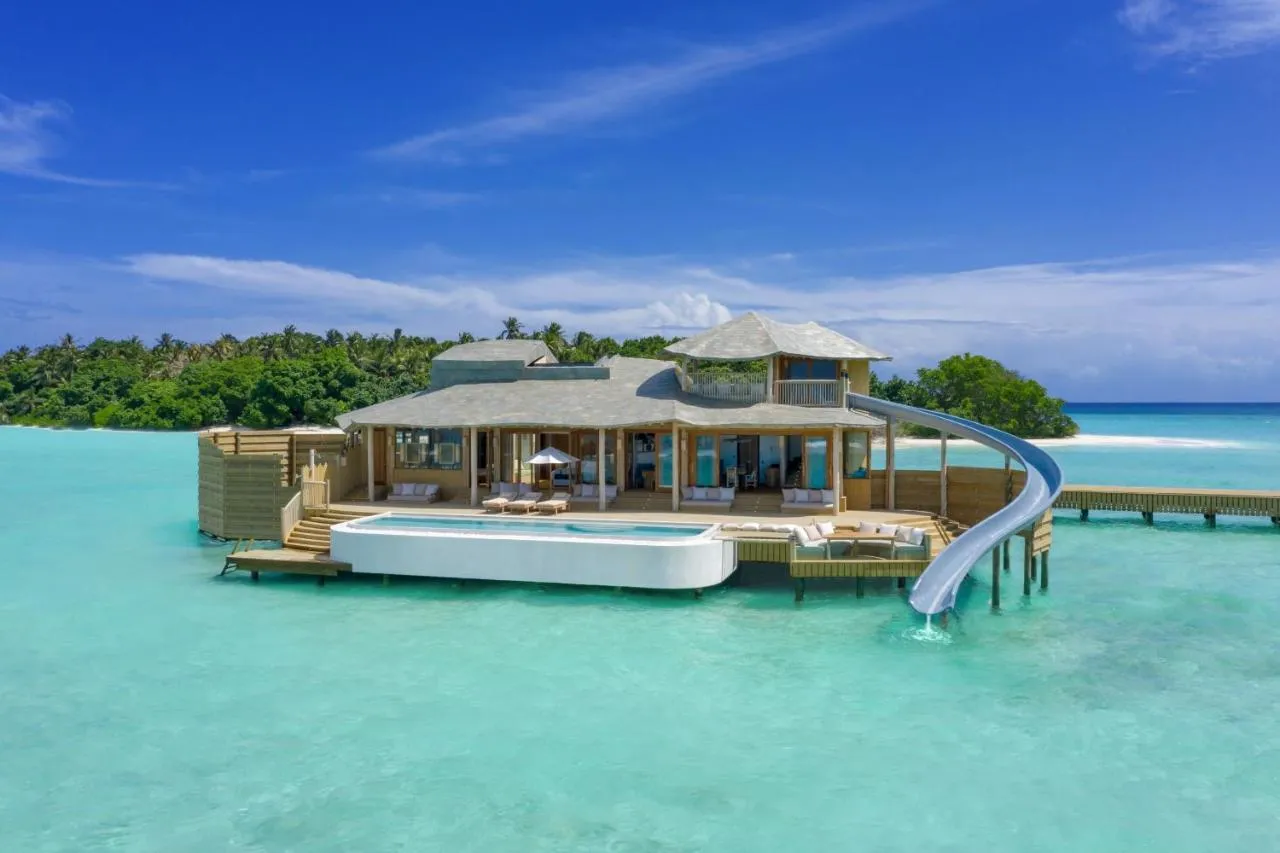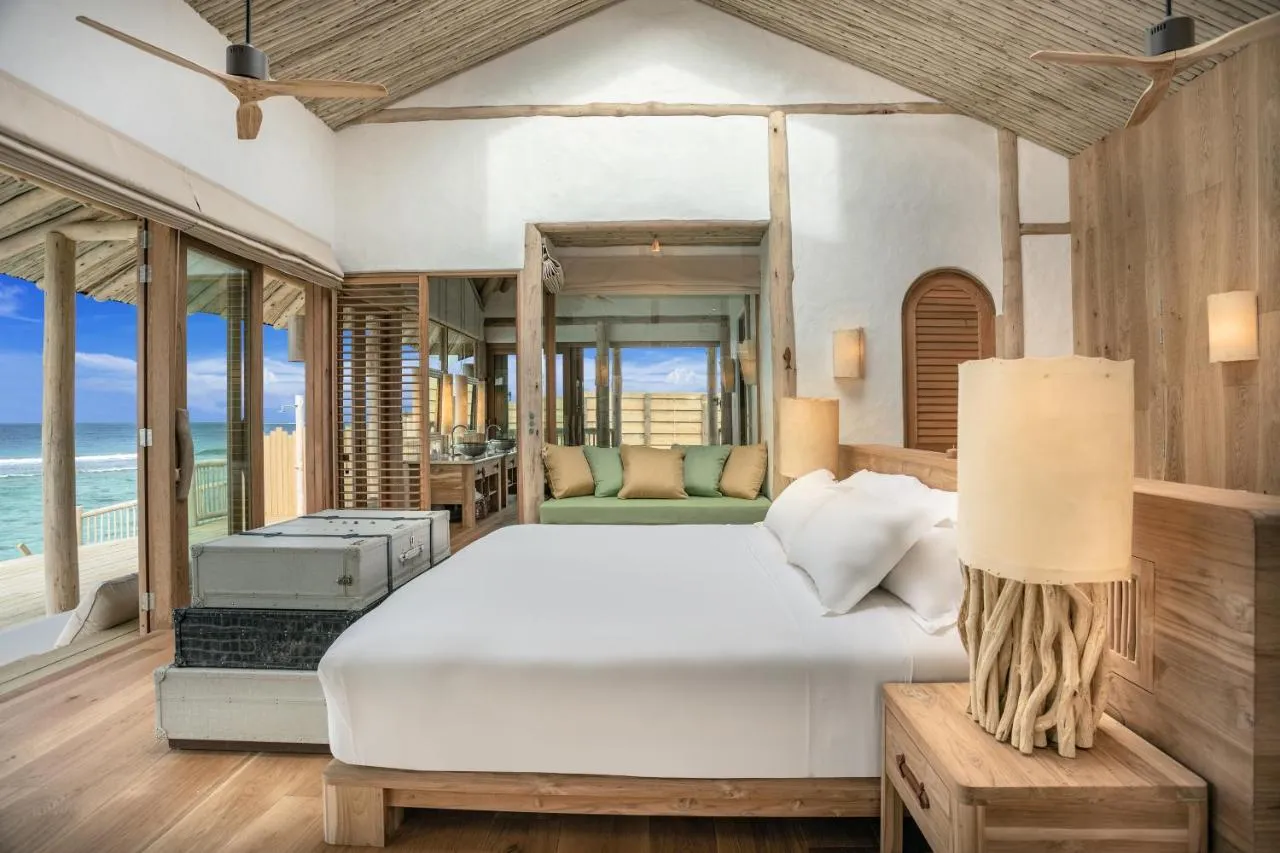 13. The Nautilus Maldives
Thiladhoo, Baa atoll 20066, Maldives
From $2,600 per night

ETIC Hotels Green Score: 7/10
A tantalising slice of freedom in the Maldives' stunning Baa Atoll, a UNESCO Biosphere Reserve, The Nautilus Maldives 5 star resort offers life unbound. Every visitor to our shores discovers life's rarest treasures. Gifts that money cannot buy – time, freedom, refuge.
This collection of 26 immensely private beach and ocean houses exists beyond the bounds of time. Our private Villas in the Maldives is a place where nothing is fixed, and anything is possible. Where you are free to set your own beat. Free to do – and to be – as you please.
14. Niyama Private Islands Maldives
Olhuveli, Kudahuvadhoo Dhaalu Atoll, 13080, Maldives
From $750 per night

ETIC Hotels Green Score: 7/10
Find a very private setting for intimate, one-of-a-kind experiences. With twin islands Play and Chill, Niyama Private Islands Maldives offers up the luxury of choice.
At Play: Frolic in the treetops. Rush into the infinite horizon. Kick things up a notch in villas set on white sands and tailored to adventurous honeymooners, active couples and style-savvy families.
At Chill: Revel in a peaceful moment within the cocoon of Drift Spa. Explore culinary heaven offshore. Soothe your soul to the slow rhythms in over water villas. Lounge against the flowing oceanscape in an underwater playground.
Discover your island niche and settle in, or jump back and forth between high-energy indulgences and cool serenity. Rated #4 in the 'Best Resorts in the World' category of the Condé Nast Traveler Reader's Choice Awards, and #2 'Top Resorts in the Indian Ocean', Nature's Playground beckons.
15. Soneva Jani, Maldives
Medhufaru Island, Manadhoo, Maldives
From $1,900 per night

ETIC Hotels Green Score: 7/10
The Soneva Jani is located on Medhufaru Island, part of an uninhabited chain of islands on the Noonu Atoll. The ultra-luxurious resort is bordered with pristine beaches, lush tropical jungles and surrounded by 3.5 miles of crystalline waters with 360° views of the Indian Ocean.