The 10 Best Luxurious Hotels in Zanzibar, Tanzania
For Your Upcoming Stay in Beautiful Zanzibar.
A Sustainability Ranking in partnership with ETIC Hotels
You're planning a trip to Zanzibar and you're trying to be as ethical and sustainable as possible?
niood lists you the 10 best luxurious hotels in Zanzibar, Tanzania:
1. Zuri Zanzibar
Kendwa Zanzibar, 73107, Tanzania
From $350 per night

ETIC Hotels Green Score: 9.5/10
Owner's Introduction
THE BEACH was the reason why I bought the land many years ago. Unlike most Zanzibar beaches where one must walk 500m to swim at low tide, our beach, settled in the large lagoon, is always perfect. I have travelled the world and stayed in the most exclusive sea-front properties, but I still consider Zuri's beach as one of the best on Earth. It is not just the white sand and the incredible color of the turquoise Indian Ocean, but also the local way of life, which is so cheerful and optimistic. When you see the dhows (the traditional wooden sailing boats) at a distance during the spectacular sunsets, you do not need to practice mindfulness or meditation training to enjoy the present moment and understand the power of now.
THE HOTEL is not made up of rooms; just villas, and bungalows. Each separated from one another to attain absolute privacy, and all of them outfitted with outdoor showers and large terraces. The size of our plot could easily accommodate twice as many houses, but we decided to build only 56 of them. Nestled on a west-facing slope, most of the units enjoy direct sea-views. And our ceilings reach for the sky: African-style roofing delivers a breathtaking cathedral-like feeling over your bed and cannot be compared to anything you would find in busy Western cities. On the other hand, being so far away from civilization, we did not want to compromise the quality of your connection with the rest of the world, which is why we have built our own dedicated fast internet line to the mainland – the only hotel in Zanzibar to date!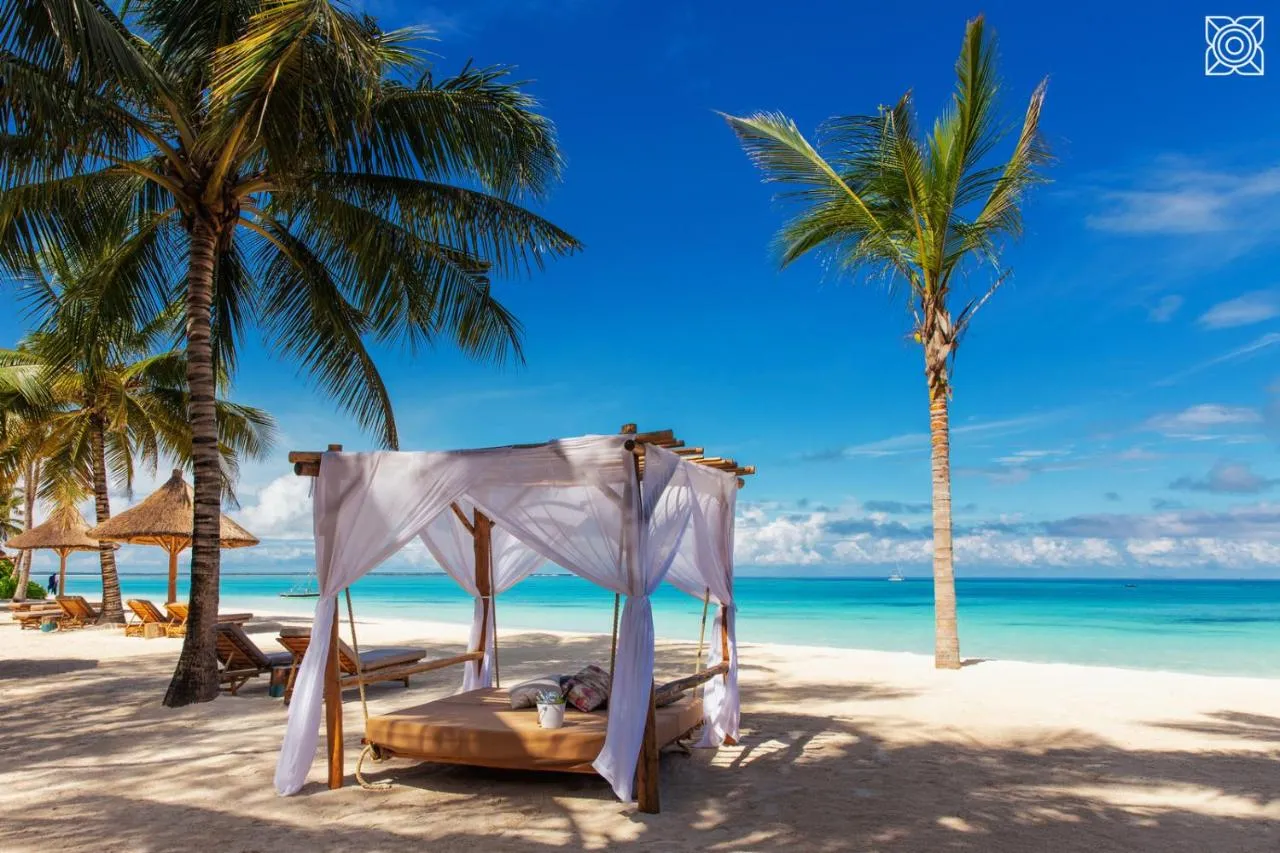 2. The Residence Zanzibar
From $450 per night

ETIC Hotels Green Score: 8/10
Cocooned among 32 hectares of tropical gardens, fringed by a pristine mile-long beach, The Residence Zanzibar immerses you in the splendour of a secluded hideaway. Teeming with natural beauty, explore the treasures of the wild on discovery of the rare Red Colobus Monkey, indigenous to Zanzibar or indulge your senses on a spice plantation visit to uncover the secrets of Zanzibar's spices. At this luxurious villa only resort on Zanzibar Island, just off the coast of Tanzania, retreat to a world of divine relaxation, bespoke hospitality and enchanting elegance inspired by the island's African, Omani and European heritage.
3. Park Hyatt Zanzibar
Shangani Street Stone Town Zanzibar TZ, 4255, Tanzania
From $350 per night

ETIC Hotels Green Score: 7/10
Sitting majestically on the beachfront in the heart of Stone Town, a designated UNESCO heritage site, Park Hyatt Zanzibar is the quintessential destination from which to experience the idyllic East African island of Zanzibar and embrace the rich culture, heritage, and historical significance of the hotel's location. The hotel provides the ultimate haven amongst Stone Town's labyrinth of winding alleys, bustling markets, mosques, and famed Zanzibari doors, featuring magnificent ornate wooden carvings. The town's key attractions are easily accessible by foot including Forodhani Gardens, the Old Fort, the Old Dispensary, the Peace Memorial Museum, the Palace Museum, and the House of Wonders.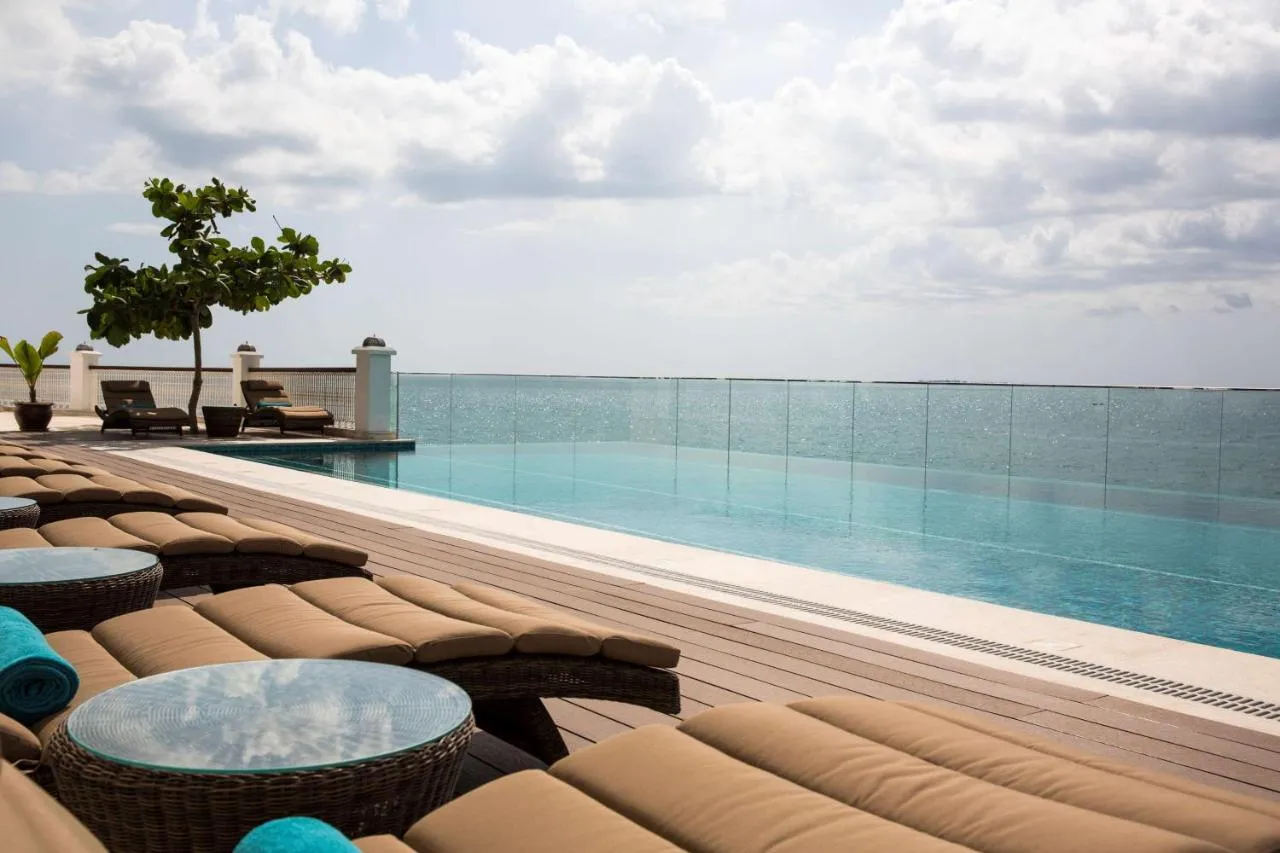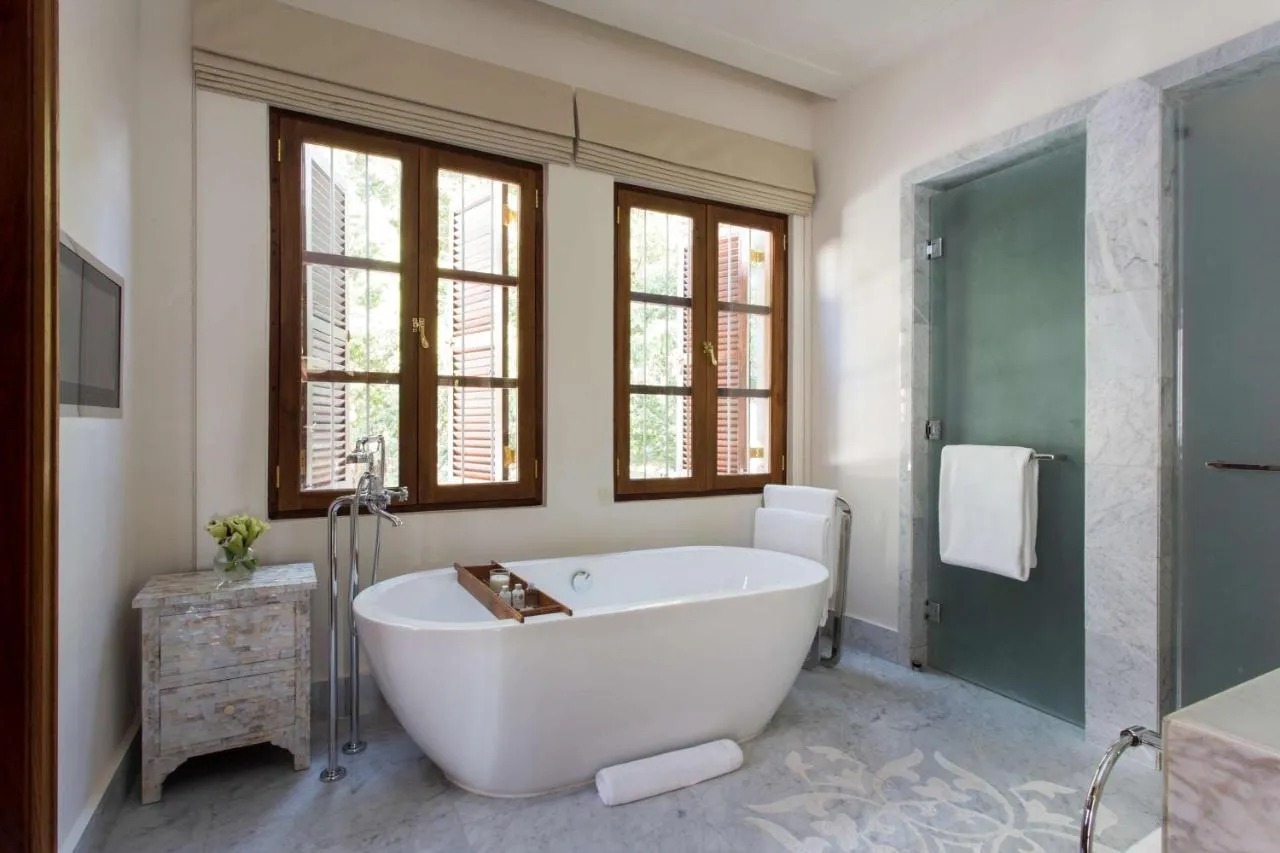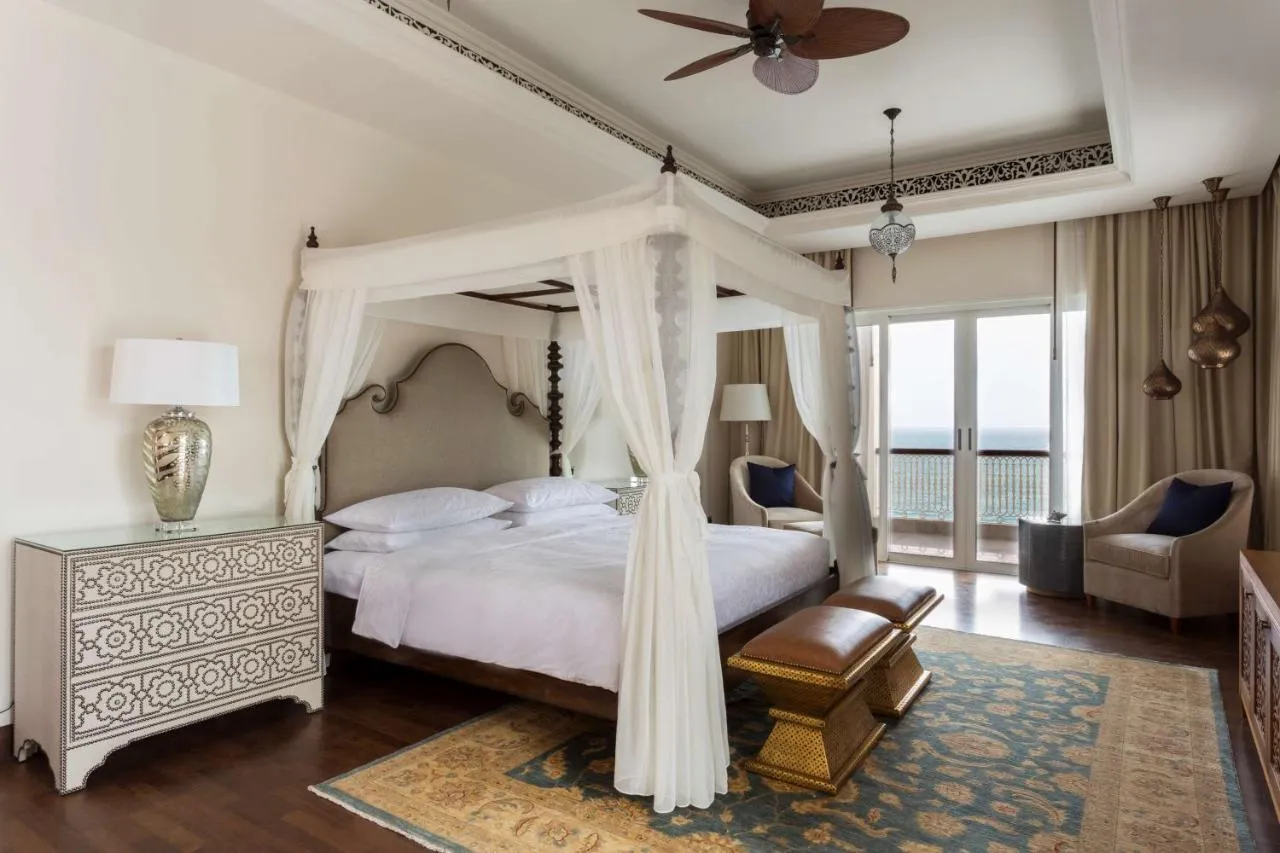 4. Xanadu Villas & Retreat, Zanzibar
Zanzibar, Dongwe, Tanzania
From $700 per night

ETIC Hotels Green Score: 8/10
Xanadu exceeds tranquility, luxury and expectation. Eight uncompromising villas, surrounded by lush vegetation along a stretch of pristine white sand beach, Xanadu was conceived and crafted by her owners Eileen and Marcus out of a desire to breathe.
An hour's drive from exotic Stonetown, Xanadu offers guests what few can – an experience that endures.
At Xanadu our philosophy is simple and focused – celebrate life! Here guests enjoy exceptional cuisine prepared by our resident chef, hand picked wines from around the world, a pool area so magical it excites images of African and Arabian folklore, and a private beach with the warm Indian Ocean a few short steps from each villa. For the adventurous, Xanadu's helpful staff can arrange a variety of excursions around the island.
5. Meliá Zanzibar
Kiwengwa Zanzibar TZ, 00200, Tanzania
From $350 per night

ETIC Hotels Green Score: 7/10
Meliá Zanzibar is a luxury beach all inclusive resort situated on the north-east coast of the exotic island of Zanzibar, in Tanzania, also known as the "Spice Island".
Meliá Zanzibar is built on a 40 acre estate with a beautiful beach of pearlescent white sand lapped by warm ocean waters, 300 meters long, situated at the very end of the property to procure the perfect combination with nature.
The resort is ringed by a natural coral reef, making bathing a relaxing and safe experience.
The hotel is around 45 minutes from the international airport of Zanzibar, and the capital city Stone Town, a Unesco World Heritage site.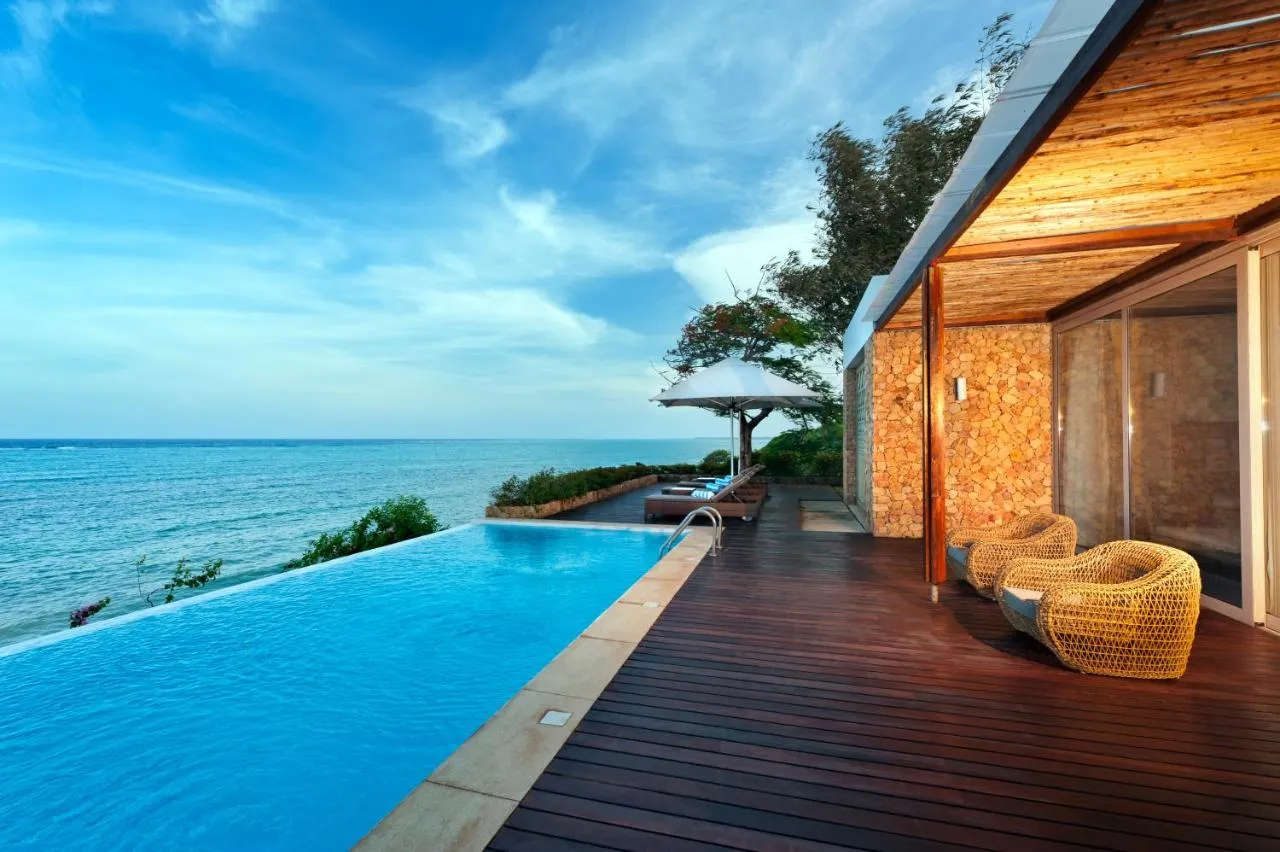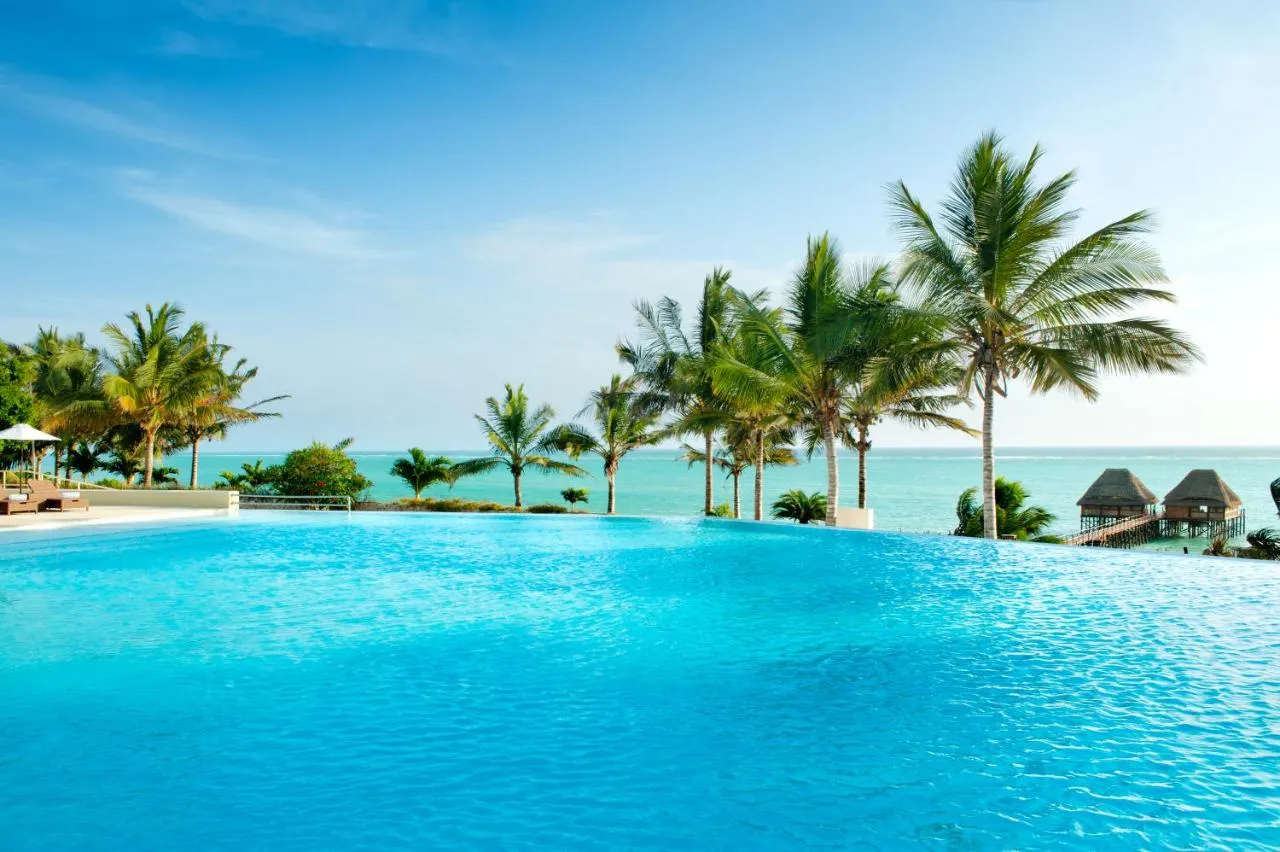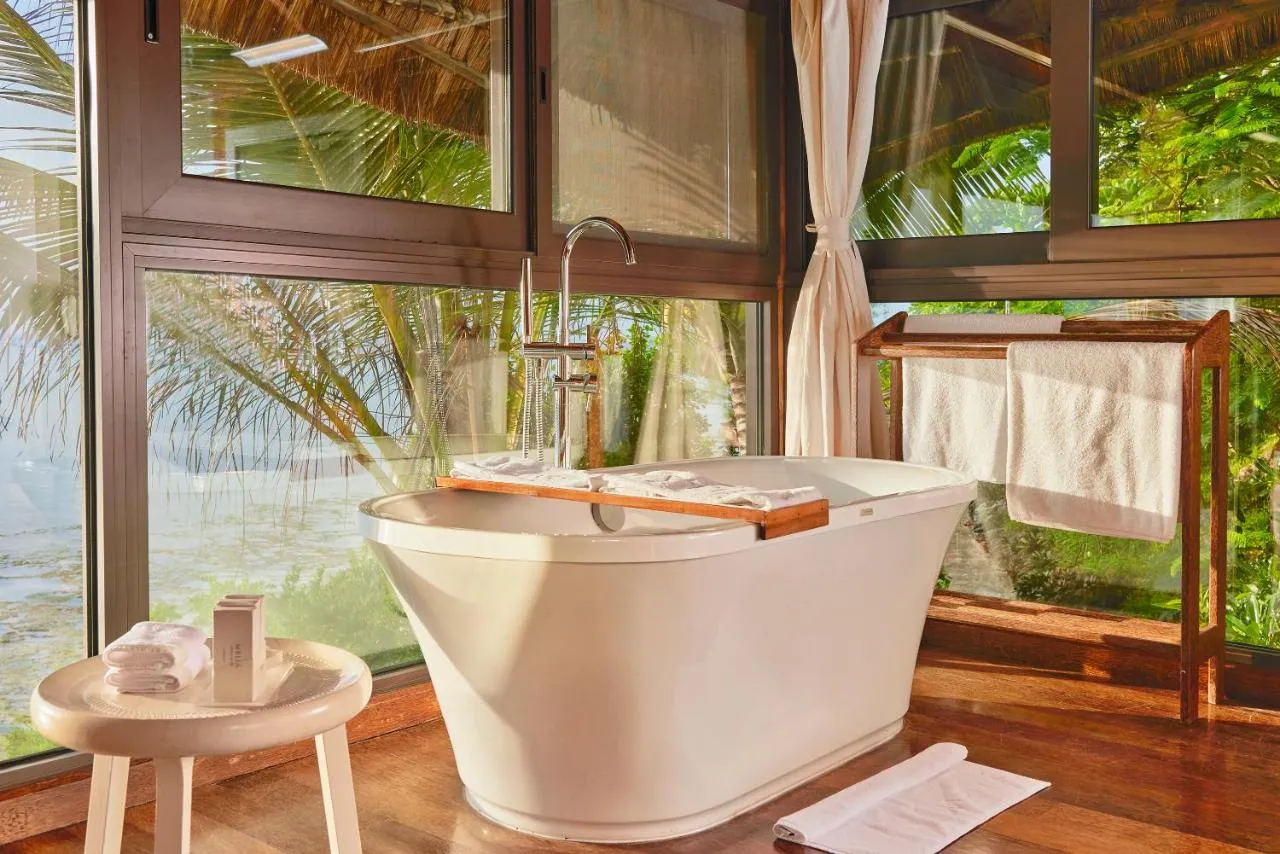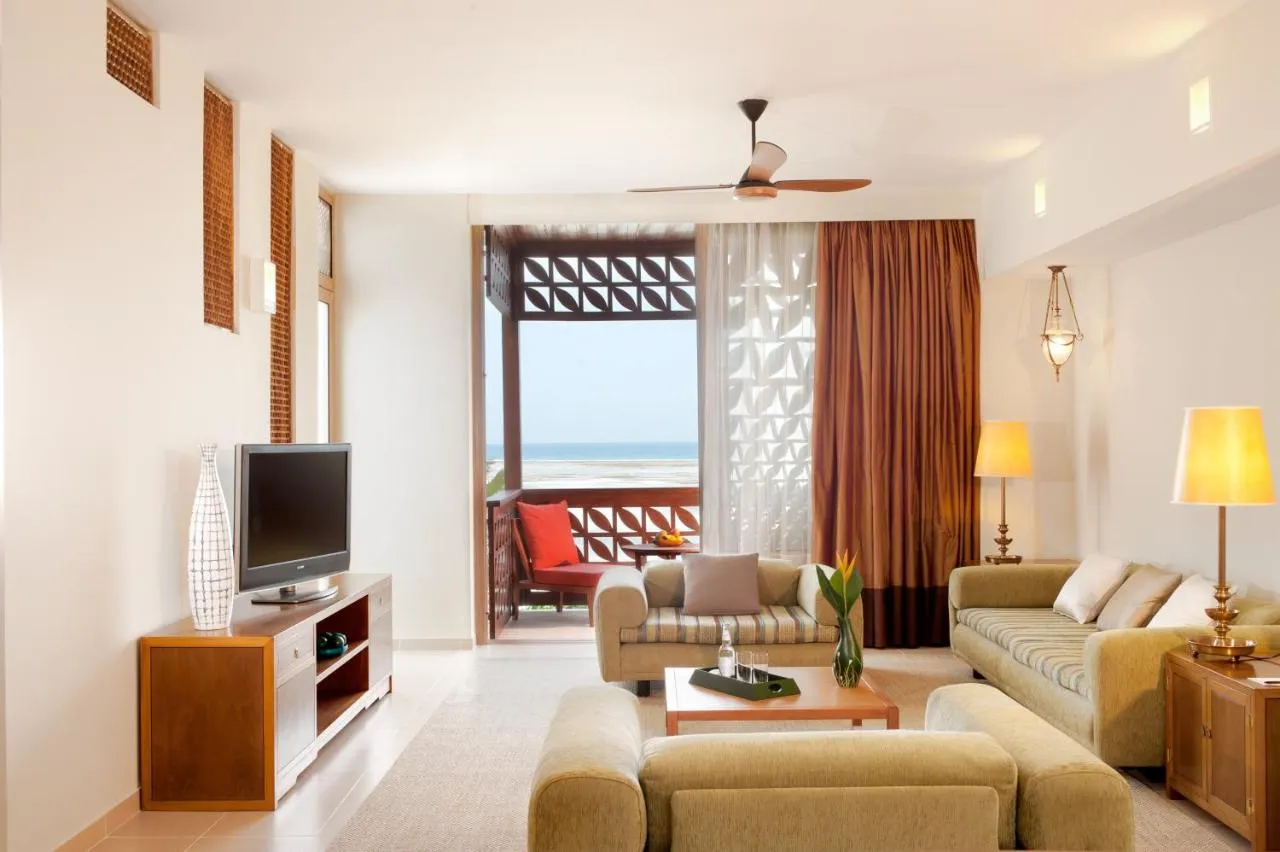 6. Unguja Lodge, Zanzibar
Kizimkazi street 1, Kizimkazi Mkunguni, Tanzania
From $450 per night

ETIC Hotels Green Score: 9.5/10
When we built Unguja we wanted to create an experience unlike that of staying in a 'normal' hotel. So we built spacious self contained cottages that we call 'villas'.
Everything is made from scratch, even the crisps and the bread rolls. Being so close to the sea his specialty is obviously fish and sea food. But if you are not a big fan, you can also choose meat or a vegetarian meal.
Unguja Lodge is situated at the Southern tip of Zanzibar, near Kizimkazi Mkunguni. It is a very quiet part of the island with pristine beaches and lush green surroundings. We love it and we protect it.
Perfect for sunbathing, exploring rock pools and for a walk to the neighbouring fisherman village of Kizimkazi.
7. Green & Blue Ocean Lodge, Zanzibar
From $220 per night

ETIC Hotels Green Score: 8/10
8. Essque Zalu Zanzibar
Nungwi Village Zanzibar, 3151, Tanzania
From $350 per night

ETIC Hotels Green Score: 8/10
Essque Zalu Zanzibar bucks the trend of competing resorts who aim to blend in with their local environment. Instead, big and bold form a consistent theme, from the highest makuti thatched roof on the island, to the two roomy restaurants, three well stocked bars, and sprawling lagoon-style pool.
Essque Zalu features 40 Suites as well as 8 Residences ranging from three to four bedrooms to choose from, all of which boast views of the Indian Ocean or the lush tropical gardens. The Resort itself has been carefully constructed to make the most of these breathtaking views: an idyllic turquoise lagoon, the tranquil ocean, and the expansive flourishing gardens.
Throughout the property, there is an abundant use of the neutral color scheme and traditional artwork, embracing the simplicity and serenity of an island lifestyle.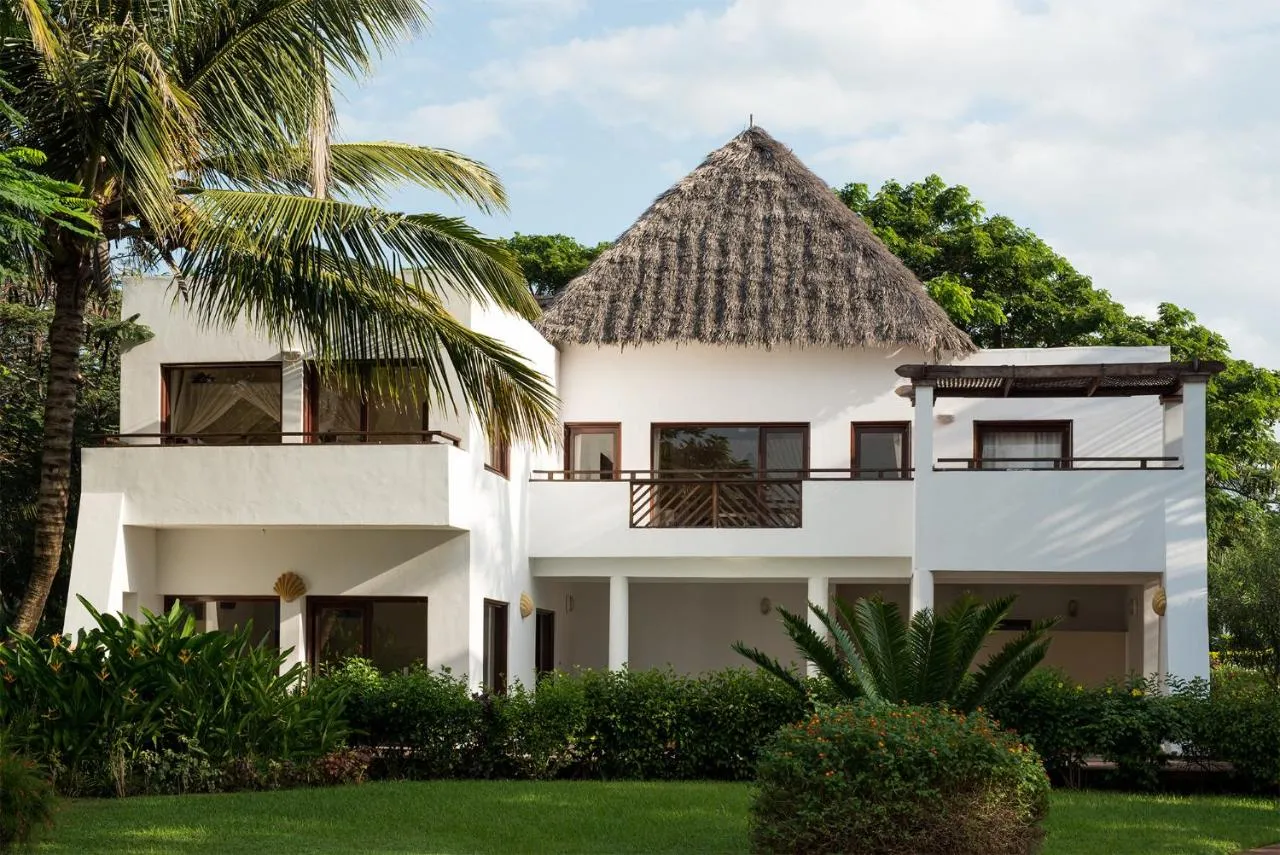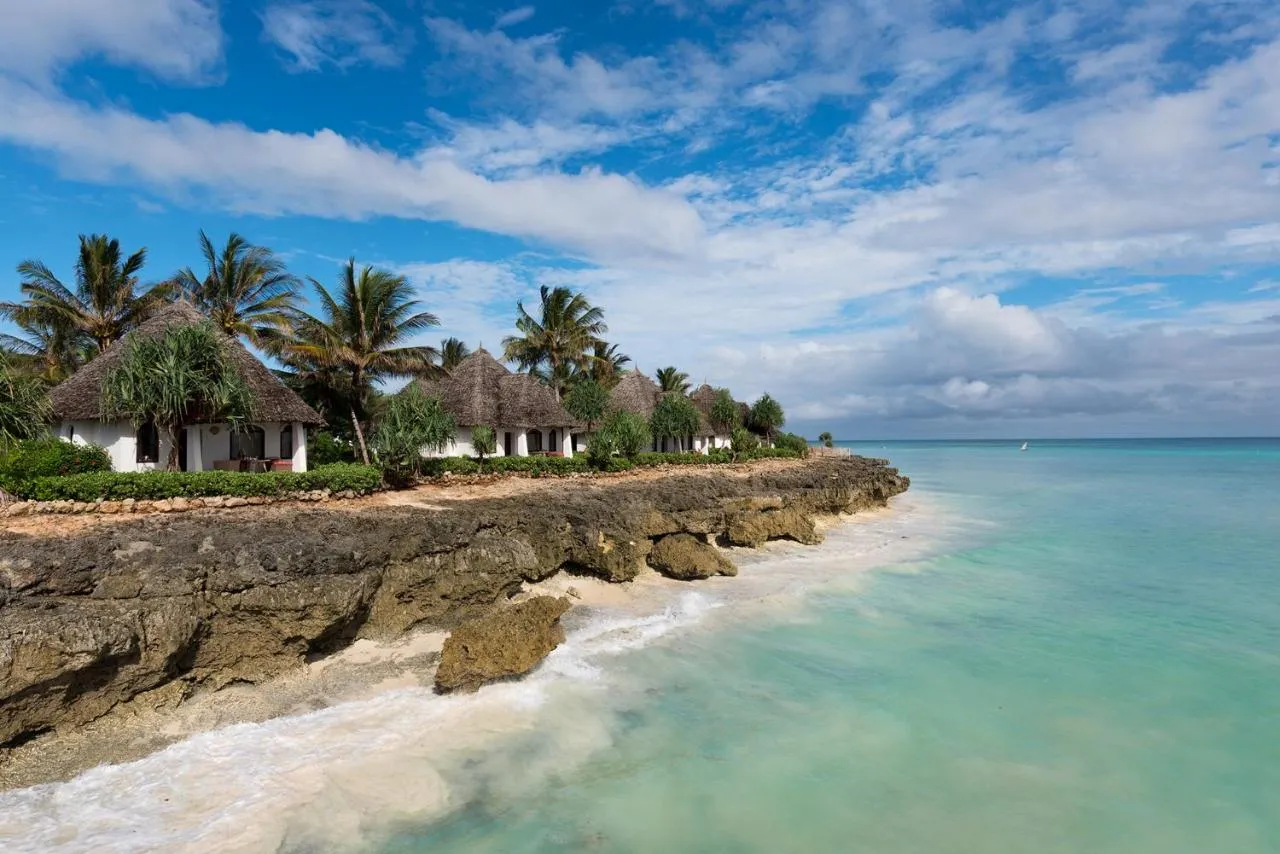 9. Matemwe Lodge, Zanzibar
Along Matemwe Beach, Matemwe, Tanzania
From $350 per night

ETIC Hotels Green Score: 8/10
Perched on an outcrop overlooking a shallow, coral-fringed lagoon on the quiet northeastern coast of Zanzibar Island,
Matemwe Lodge's blissful location and famously relaxed atmosphere make it the ideal place to unwind. Whether you take a break in a hammock or dive the depths of the Indian Ocean, Matemwe Lodge provides an unbeatable island escape.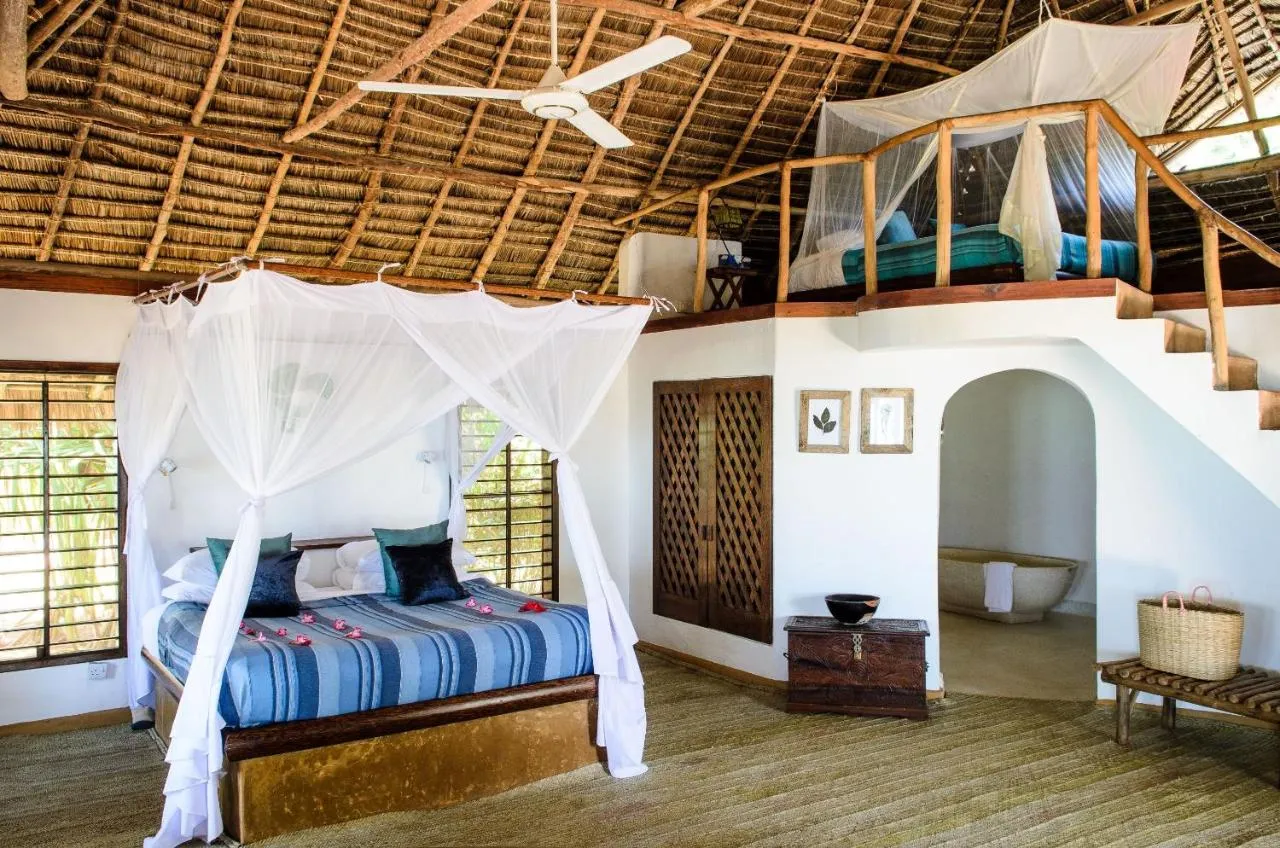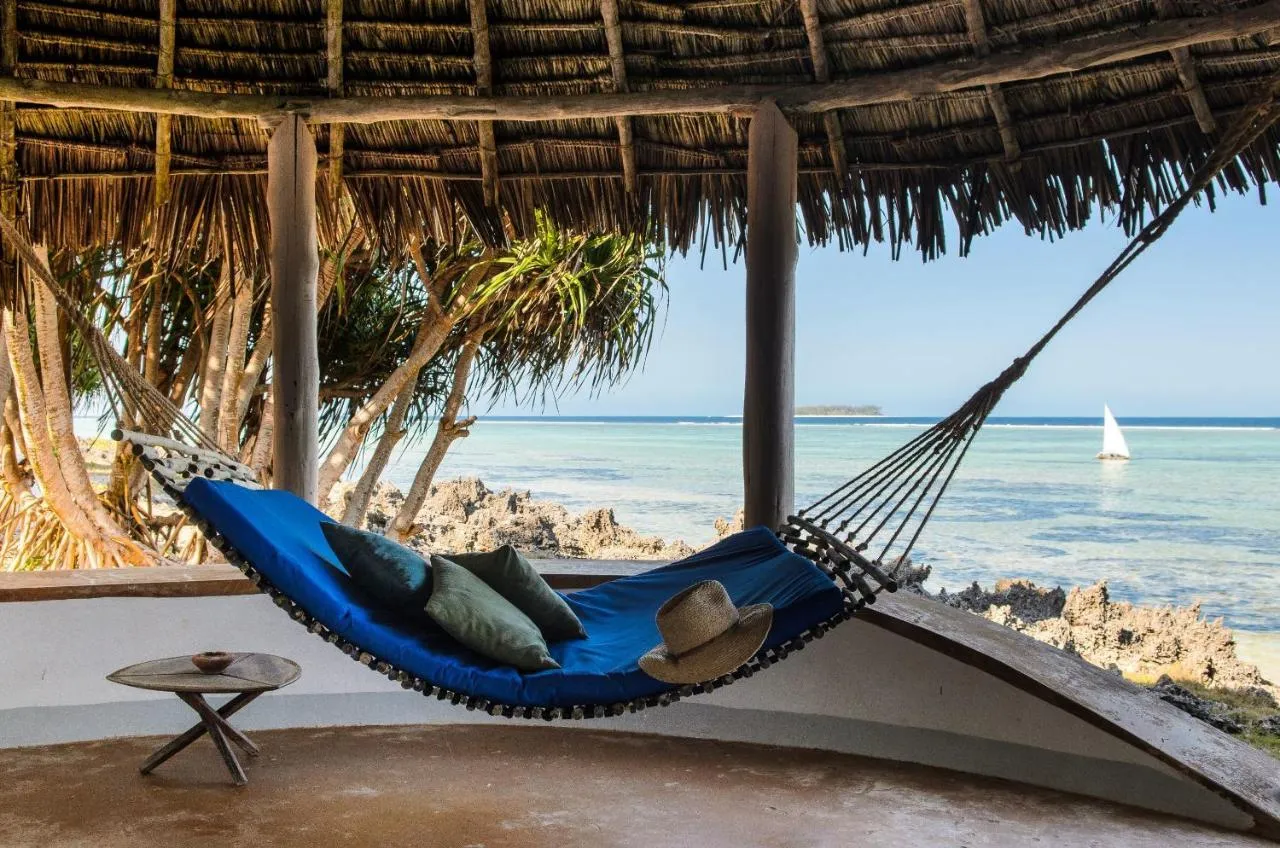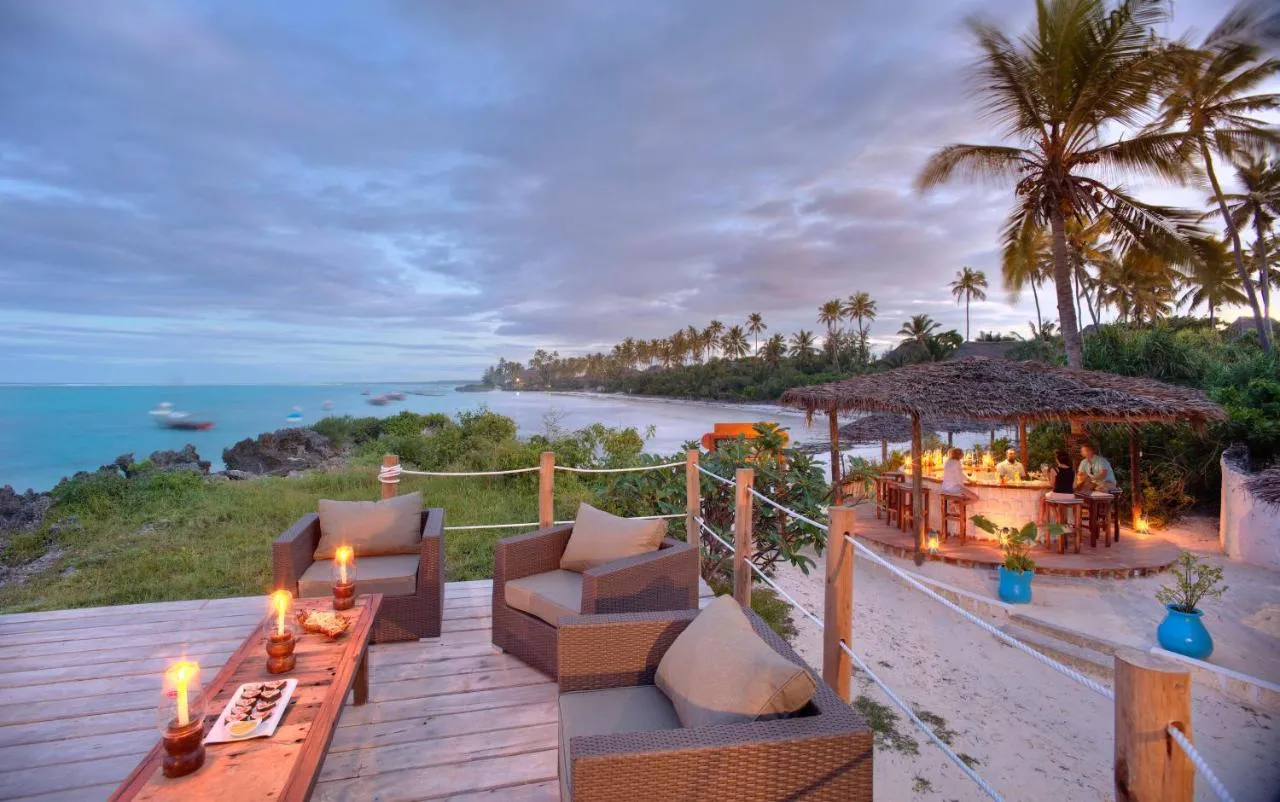 10. Bluebay Beach Resort & Spa, Zanzibar
Kiwengwa Beach Kiwengwa, 00000, Tanzania
From $230 per night

ETIC Hotels Green Score: 7/10
A luxury beachfront resort with traditional Swahili charm, Bluebay Beach Resort & Spa is situated on the finest white, sandy beach on the east coast of the island of Zanzibar. Set in 30-acres of tropical gardens with over 1,000 palm trees, the resort is one of Zanzibar's most prestigious properties offering the ultimate in beach comfort: excellent accommodation; fine wining and dining; a host of sports and leisure facilities; the famous Oasis Spa; and our award-winning service. Free WiFi is also available throughout the Resort.
As well as being a magical destination for holidaymakers wishing to soak up the sun and the enchanting culture of Zanzibar, the resort also offers excellent facilities for meetings, conferences and group incentives. Our weddings and events team can also plan your private party, your wedding ceremony and reception and, of course, your honeymoon.