The 10 Most Expensive Hotels in the World in 2021
The Official List Of All Dream Hotel Rooms...
A Sustainability Ranking in partnership with ETIC Hotels
niood lists you the 10 most expensive and luxurious hotels in the world:
1. Lover's Deep Luxury Submarine, St. Lucia
Up to $150,000 per night
Utilising a specially adapted leisure submarine, interior designed and furnished to the individual customer's specification, the vessel, nicknamed Lovers Deep, is the latest holiday destination to be added to more than 1,500 other handpicked holiday villas on Oliver's Travels website, each selected for their quirky or unique character. The Mile Low Club, launched in time for Valentine's Day 2014, delivers a world-class service that leaves couples able to relax, unwind and enjoy the secluded isolation that the ocean puts between them and the rest of the world.
Staffed by an on-board crew of three; consisting of the Captain, chef and personal butler (who share separate, sound-proof living accommodation at the other end of the craft to ensure guest privacy), Lovers Deep has the unique capability of being moored at a location chosen by the customer, whether that be a stunning coral reef off the coast of St. Lucia or a sunken battleship in the Red Sea. With private speedboat transfers as standard, the service can also be customised with optional extras including helicopter transfers with a beach landing, free rose petal scattering service or champagne breakfast in bed – all booked through the Oliver's Concierge service.
2. Hotel President Wilson Royal Penthouse Suite, Geneva, Switzerland
Up to $80,000 per night
From heads of state and foreign dignitaries to VIPs and celebrities, our most distinguished guests have enjoyed the premier accommodations of the Royal Penthouse Suite. Full panoramic views of Lake Geneva and the majestic Swiss Alps are visible from the balcony and throughout the suite.
Regal hues of warm orange and bold wood create the ideal background for rich textiles, plush velvet, and satin. Art Deco vases, paintings, and Persian carpets complement such elegant furniture as richly upholstered sofas, chairs, and lacquered wooden tables.
The first installation of its kind in Europe, a 103-inch Bang & Olufsen LCD flat screen TV—the brand's largest—commands attention. Three 55-inch TVs are located in additional living areas. Musical and recreational entertainment options are provided by a Steinway grand piano and a Brunschwig billiards table. A private fitness room is equipped with a Technogym® treadmill, a stationary bike, and a cross-trainer.
Two dining rooms offer exquisite settings for hosting memorable receptions: one seating up to 16 people and the other accommodating up to 26. Both kitchenettes are equipped with a refrigerator, a microwave, and a Nespresso® coffee machine. A personal assistant, a chef, and a butler are available to address the needs and special requests of every guest.
A dozen spacious sleeping quarters are appointed with flat screen TVs and king-size or twin beds topped with plush duvets. Each bedroom is accompanied by its own private bathroom featuring Hermès bath amenities, bathrobes, slippers and a hairdryer—some with a combination bathtub and shower, others with separate walk-in rainforest shower. Two oversized master bathrooms boast a lake view, a glass-enclosed steam/rainforest shower, a hammam, a Jacuzzi, and two washbasins.
To prioritize safety and security, the entire floor is equipped with cameras, alarm buttons, and bulletproof windows. The Royal Penthouse Suite includes access to a secured private elevator.
3. Four Seasons Hotel Ty Warner, New York, USA
Up to $50,000 per night
Recognized as "a visual tour de force of volumetric flourishes and crafted surfaces" by Architectural Digest magazine, the Ty Warner Penthouse is a seven-year collaboration between I.M. Pei, Peter Marino and visionary hotel owner, Ty Warner. The architectural and artistic masterpiece soars 52 storeys into the sky, offering four cantilevered, glass balconies – the highest in the world.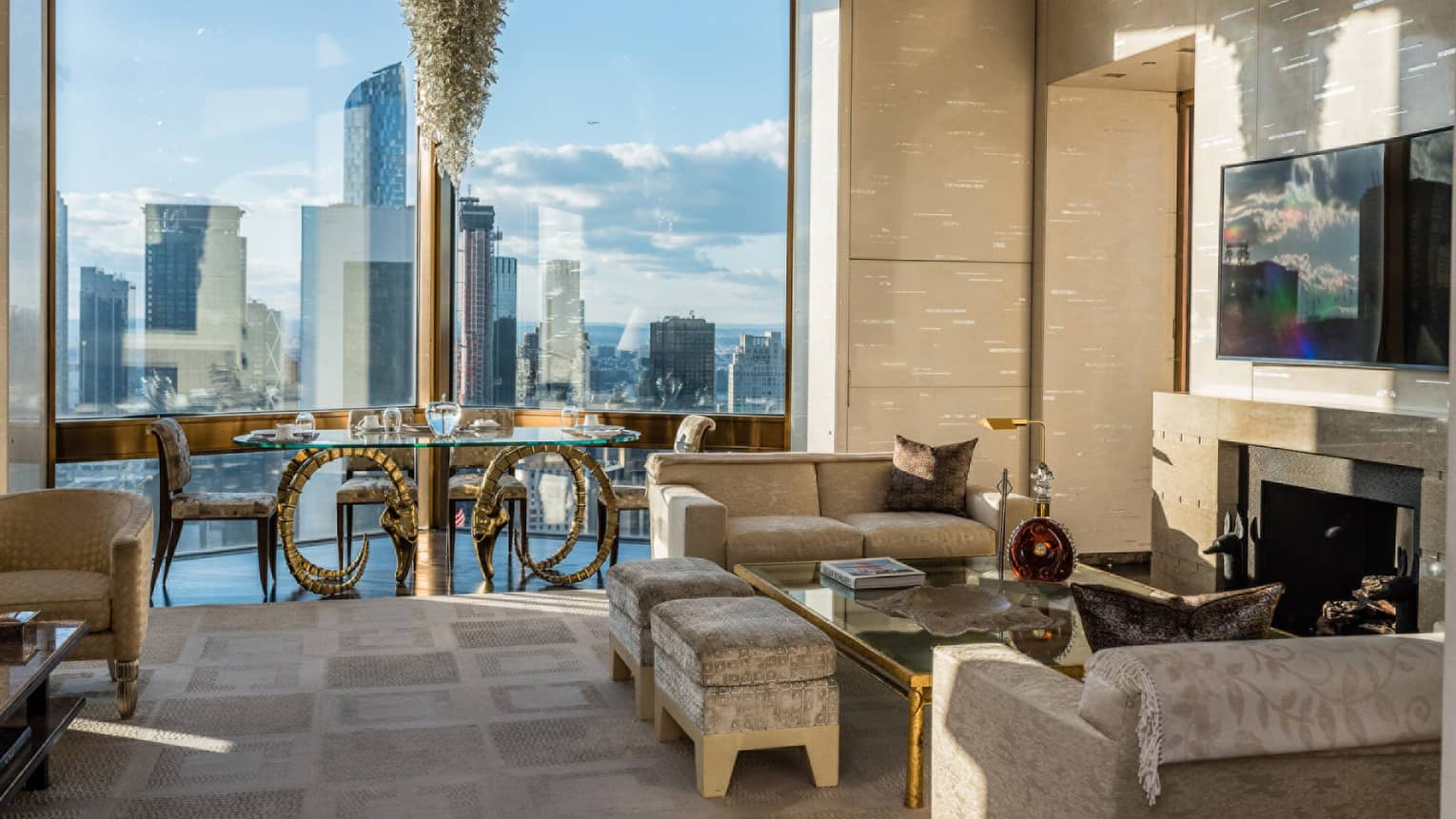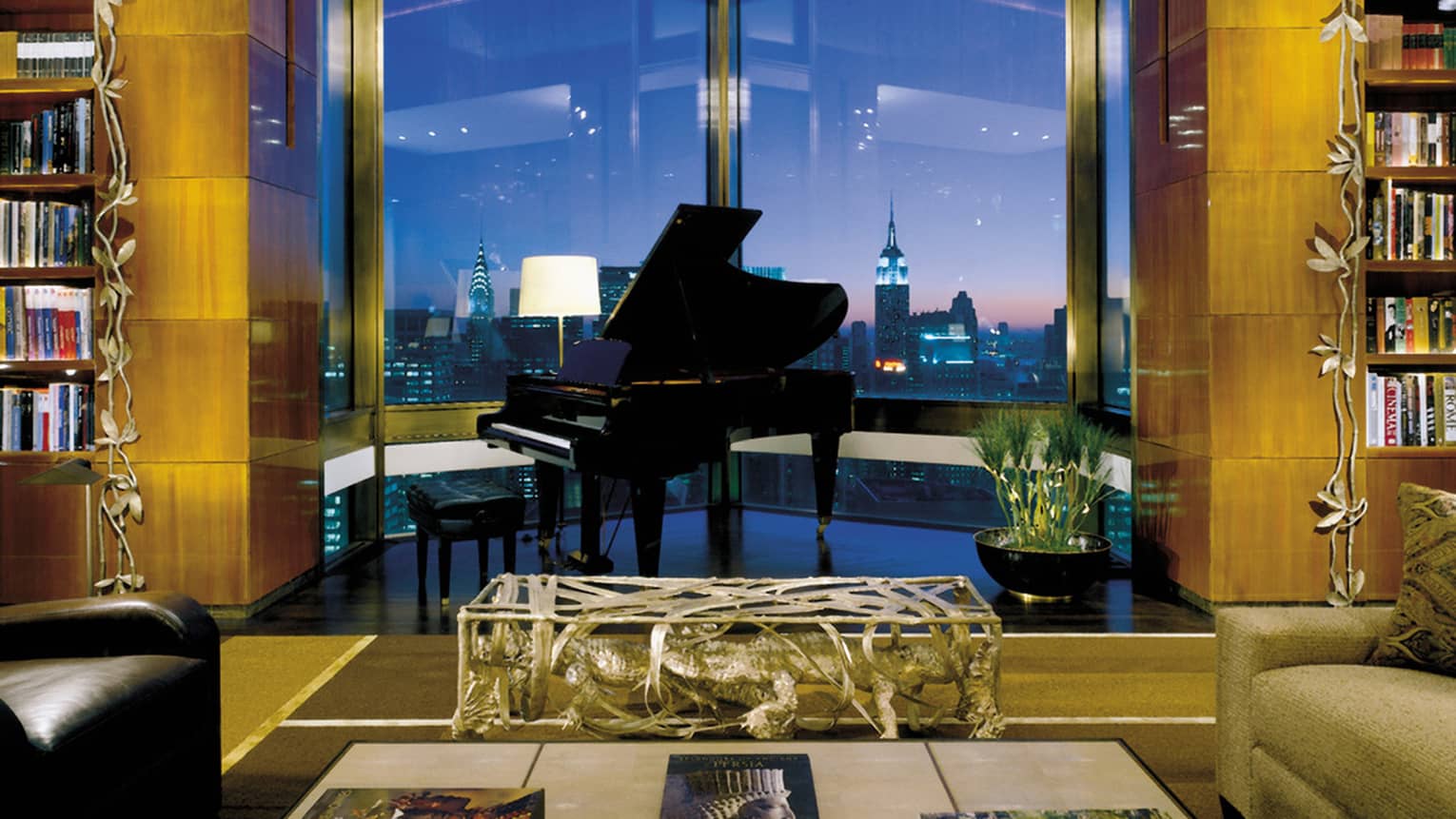 4. Presidential Suite at Raj Palace Hotel, Jaipur, India
Up to $43,000 per night
The Presidential Suite is a four floor apartment with a private entrance through the Charbagh and the victory corridor.
The Pavilion has a private elevator connecting all four floors with a total area of 16000 sqft and has four bedrooms with a private roof top terrace with panoramic view of the city and a Jacuzzi.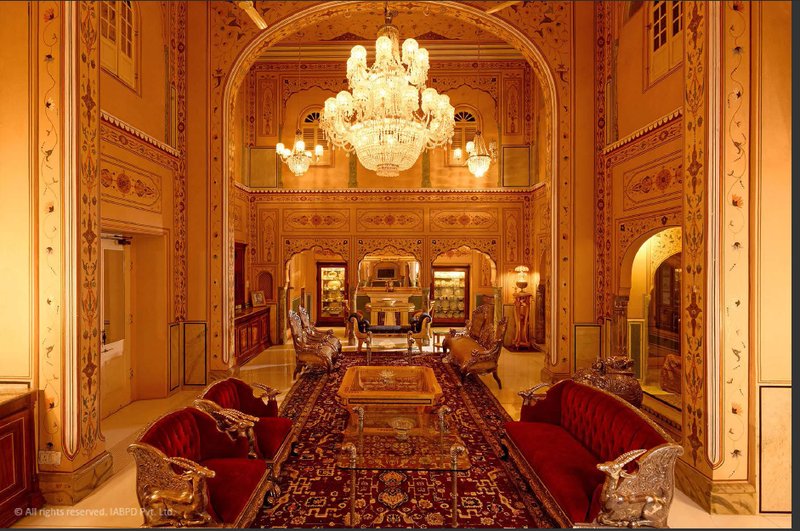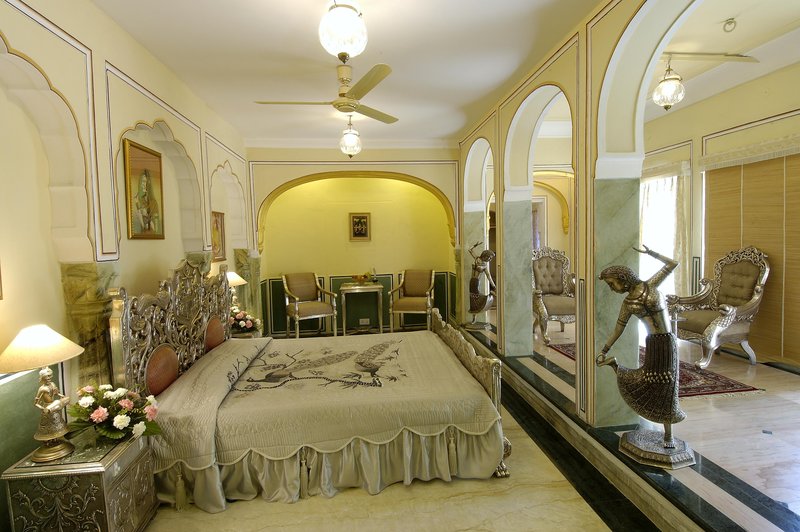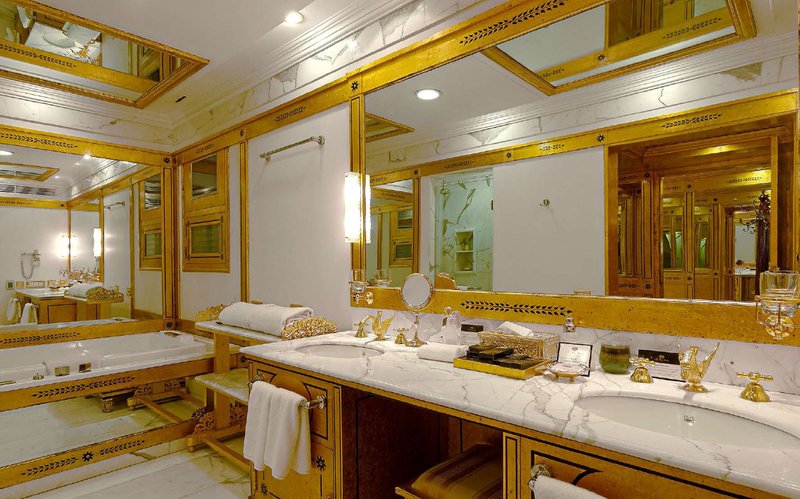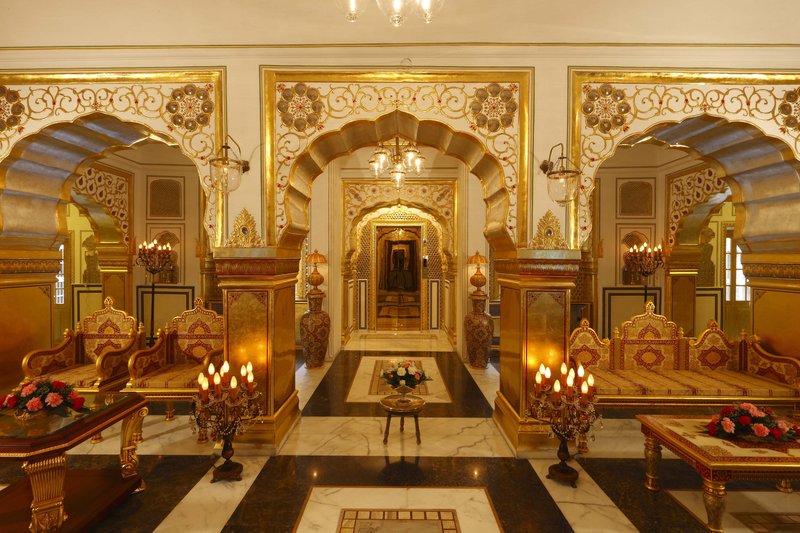 5. Hilltop Villa at Laucala Island Resort Hilltop Estate, Fiji
Up to $42,000 per night
Laucala's 25 villas, all glamorous versions of traditional Fijian dwellings, each offer unparalleled exclusivity and privacy in dramatic, and very different, locations around the northern coast of the island.
Eleven Plantation villas are set amid a coconut grove beside a private beach; four Plateau villas perch atop Nawi Mountain at the heart of the island, ringed by rainforest and offering unbroken views of the sea; seven Seagrass villas line a powder-white beach; the Peninsula villa hugs a cliff and crescent-shaped beach; the Overwater villa is set above an emerald-green lagoon; and the Hilltop Estate sits at one of the island's highest points, commanding views of the Fijian archipelago.
6. Grand Resort Lagonissi Royal Villa, Athens, Greece
Up to $40,000 per night
Designed for royal and prestigious guests, the Royal Villa encapsulates the essence of luxury in its splendidly appointed interior and exterior spaces welcoming esteemed guests to experience the epitome of luxury living. The Royal Villa features two master bedrooms with king size beds, a spacious living room with a fireplace and dining table, a fully equipped business corner, a fully fitted kitchen and grill as well as outdoor BBQ facilities. The villa comes complete with an indoor and an outdoor heated pool, a fully equipped gym and steam bath, a private massage area with a massage-table, two oversized marble lined bathrooms and a guest bath. Furthermore there are the Butler's quarters with a separate entrance and a bathroom. Privileged guests are welcome to sunbathe on the spacious outdoor terrace, dive in the crystalline waters of the pool, maintain their work out routine while on holidays and follow their own private path to the dazzling shore of the bay.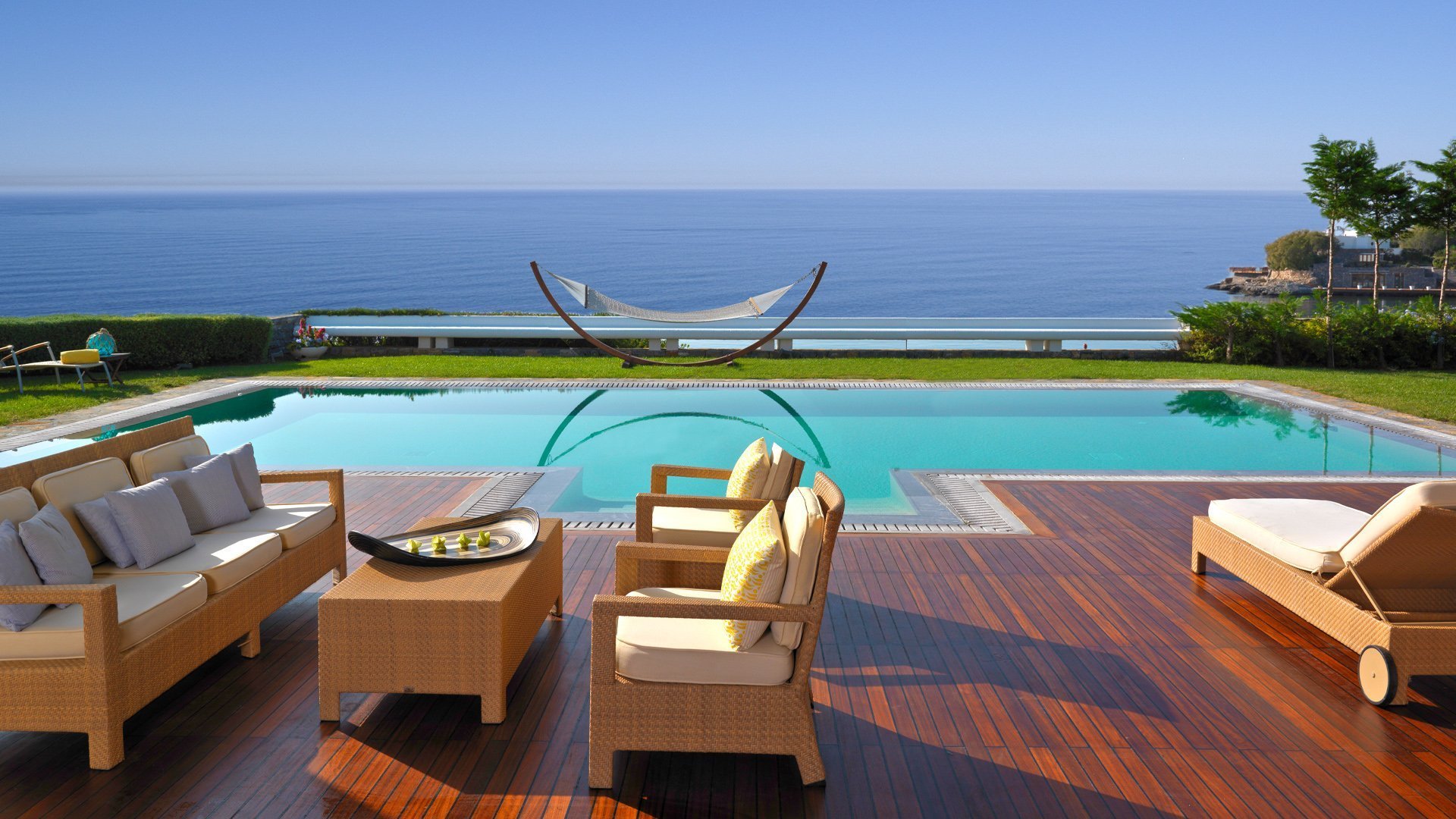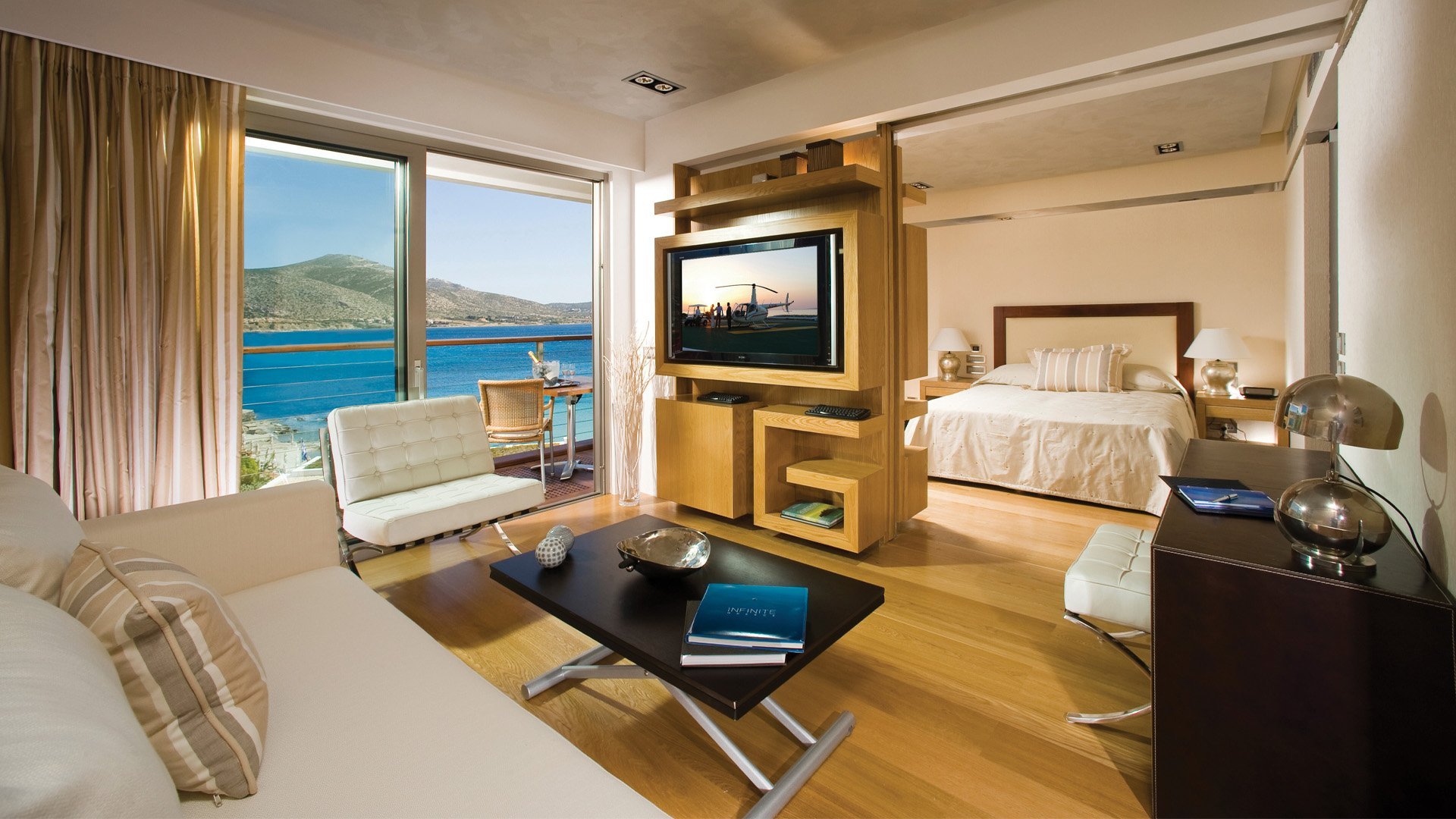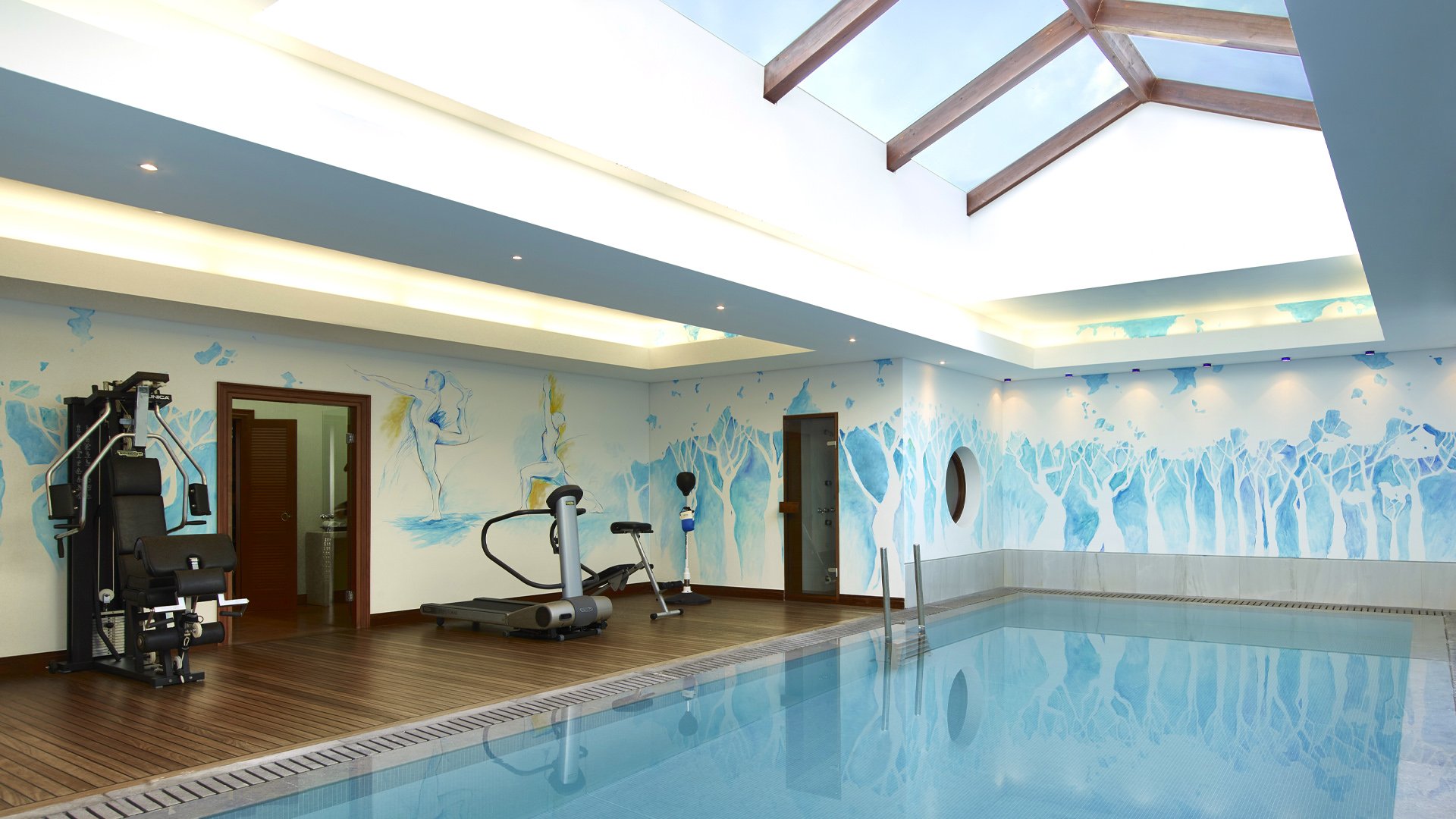 7. Grand Hyatt Cannes Hotel Martinez, Cannes, France
Up to $38,000 per night
Discover this prestigious renovated panoramic Suite with a new universe dedicated to a cinematic art designed by Pierre-Yves Rochon. With its 1 125 sqm, this Suite can boast of being one of the largest Suites in Europe.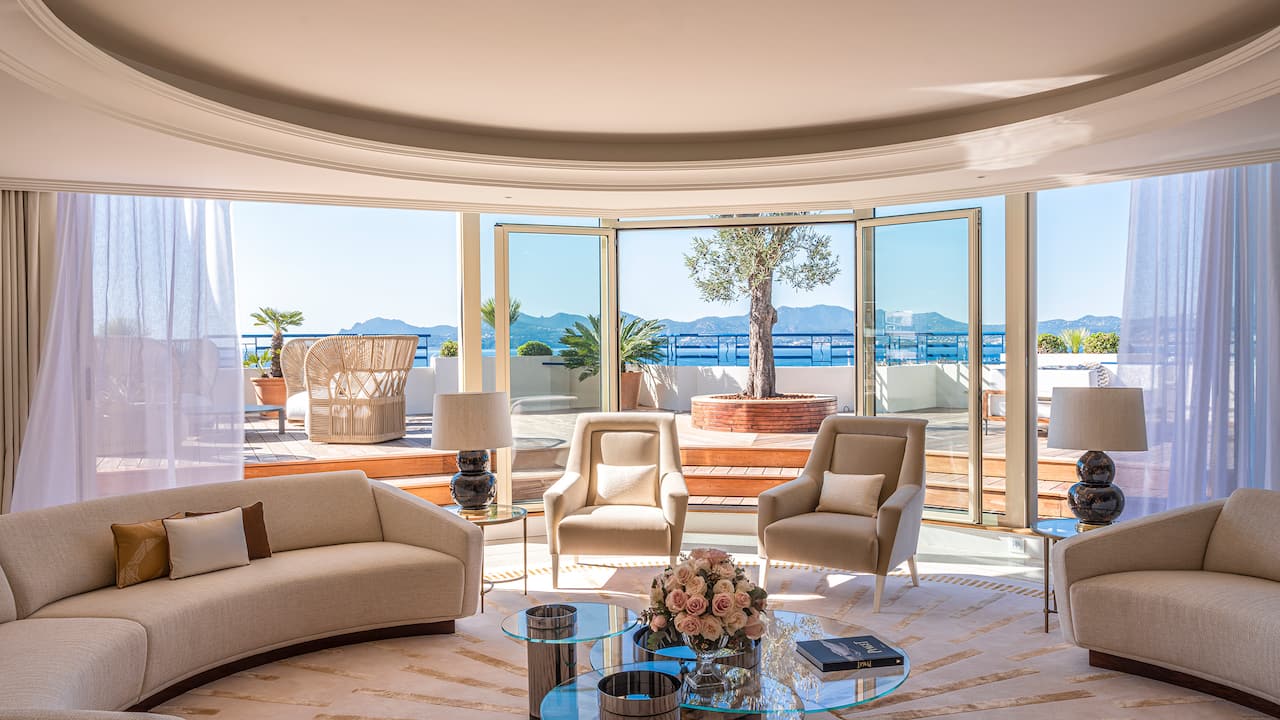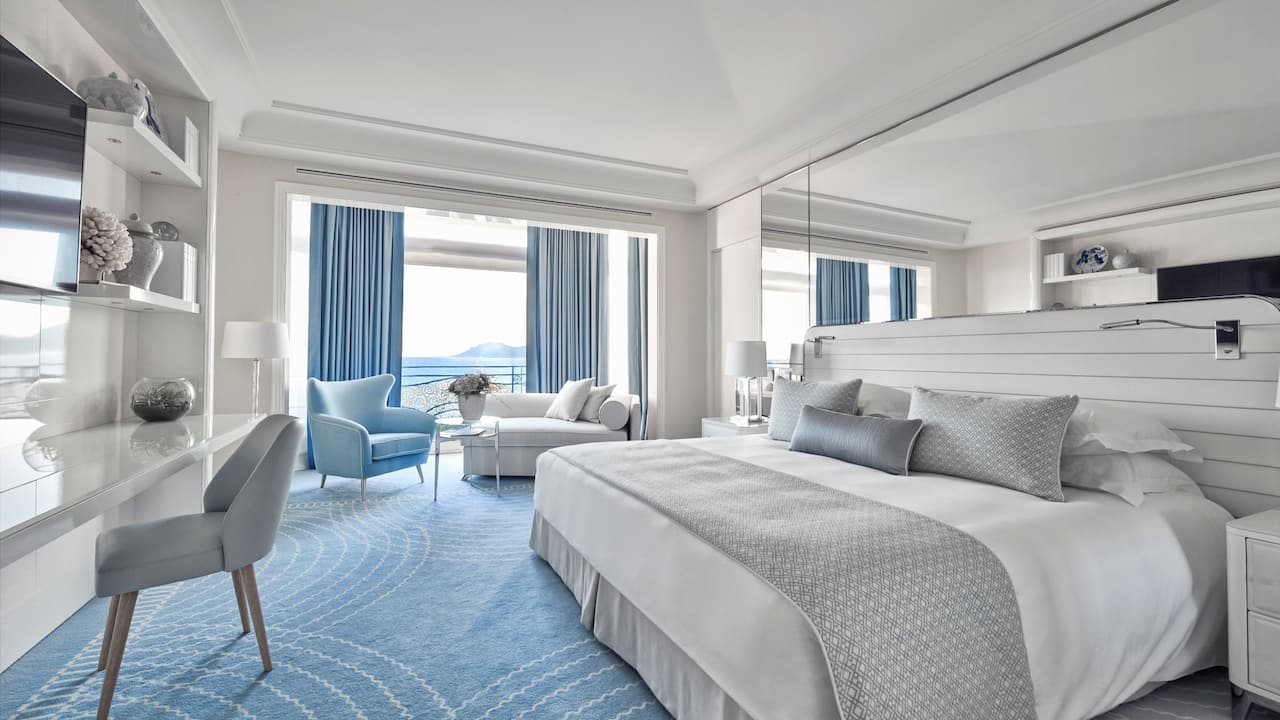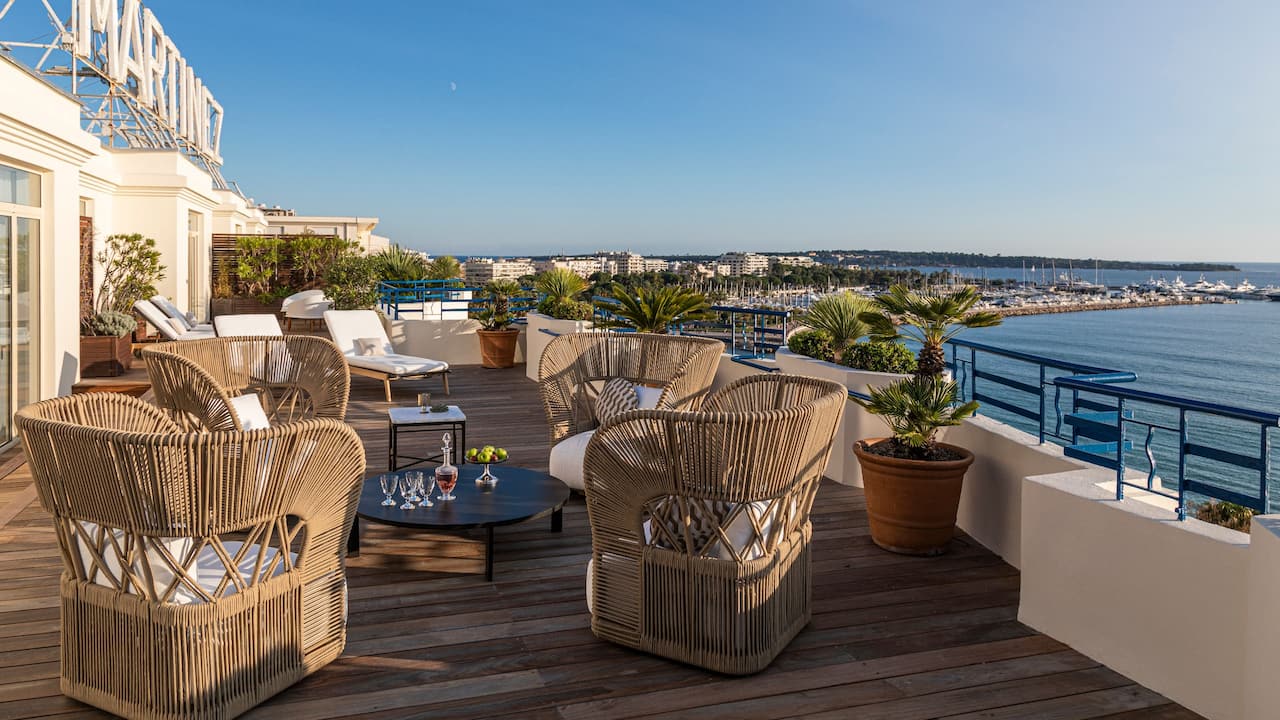 8. Empathy Suite at Palms Casino Resort, Las Vegas, Nevada, USA
Up to $35,000 per night
9. Presidential Suite at Hotel Plaza Athenée, Paris, France
Up to $27,000 per night
Pure splendour introduces your Parisian apartment with its outstanding level of refinement. The interiors, crafted by Marie-José Pommereau, combine couture-house fabrics with eclectic, vintage finds to capture the very essence of French elegance.
Full design consideration has focused on our guests' needs and created a suite of beautiful rooms that can divide your own private space away from the elegant rooms suited to entertaining friends and family. Enjoy every aspect of your stay to the fullest, without compromise.
The Presidential Suite has an elegance that illuminates every detail, and the bathroom is no exception. Shining 'Calacatta' grey-veined white marble gleams in these luxurious spaces. Fragrant sophistication comes in the form of toiletries from the traditional French house of Guerlain. And the beautiful lighting has been designed to show you at your very best.
10. The Royal Suite at Burj Al Arab, Dubai, UAE
Up to $24,000 per night
This palatial suite includes two lavish bedrooms, an extensive living room, a cinema, fitness room and a tranquil outdoor space with a landscaped garden. As a Royal Suite guest, you unlock another world of comfort and privilege with additional suite benefits.