The 10 Most Famous Artworks of Andy Warhol
From Marilyn Diptych to the Campbell's Soup Cans...
You can also read this article in French or in Spanish.
Andy Warhol was one of the most prolific and popular artists of his time, using both avant-garde and highly commercial sensibilities.
In the late 1950s, Warhol began devoting more attention to painting, and in 1961, he debuted the concept of "pop art" — paintings that focused on mass-produced commercial goods. In 1962, he exhibited the now-iconic paintings of Campbell's soup cans. These small canvas works of everyday consumer products created a major stir in the art world, bringing both Warhol and pop art into the national spotlight for the first time. Warhol's other famous pop paintings depicted Coca-cola bottles, vacuum cleaners and hamburgers.
niood lists the 10 Most Famous Artworks of Andy Warhol:
1. Marilyn Diptych, 1962
Warhol made his first paintings of Marilyn Monroe soon after the actor died of a drug overdose on 5 August 1962. Warhol used a publicity photo for her 1953 film Niagara as the source image. The use of two contrasting canvases for Marilyn Diptych illustrates the contrast between the public life of the star, who at the time was one of the most famous women alive, and her private self. This was not necessarily Warhol's intention. He created this work when the art collectors Burton and Emily Tremaine visited Warhol's home. They suggested that two canvases he had already made be presented as a diptych, to which Warhol responded, 'gee whiz yes'.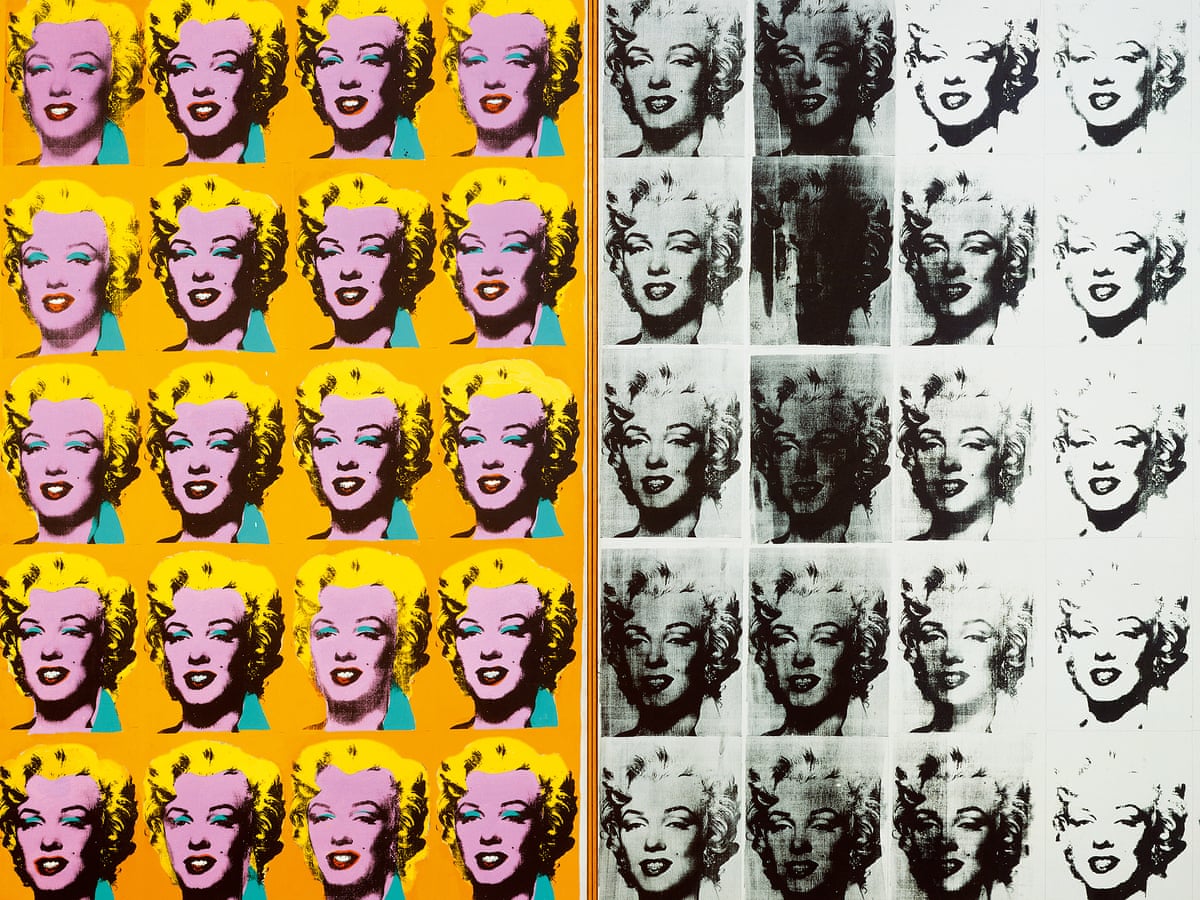 2. Campbell's Soup Cans, 1962
Andy Warhol famously appropriated familiar images from consumer culture and mass media, among them celebrity and tabloid news photographs, comic strips, and, in this work, the widely consumed canned soup made by the Campbell's Soup Company. When he first exhibited Campbell's Soup Cans in 1962, the canvases were displayed together on shelves, like products in a grocery aisle. At the time, Campbell's sold 32 soup varieties; each one of Warhol's 32 canvases corresponds to a different flavor. (The first flavor the company introduced, in 1897, was tomato).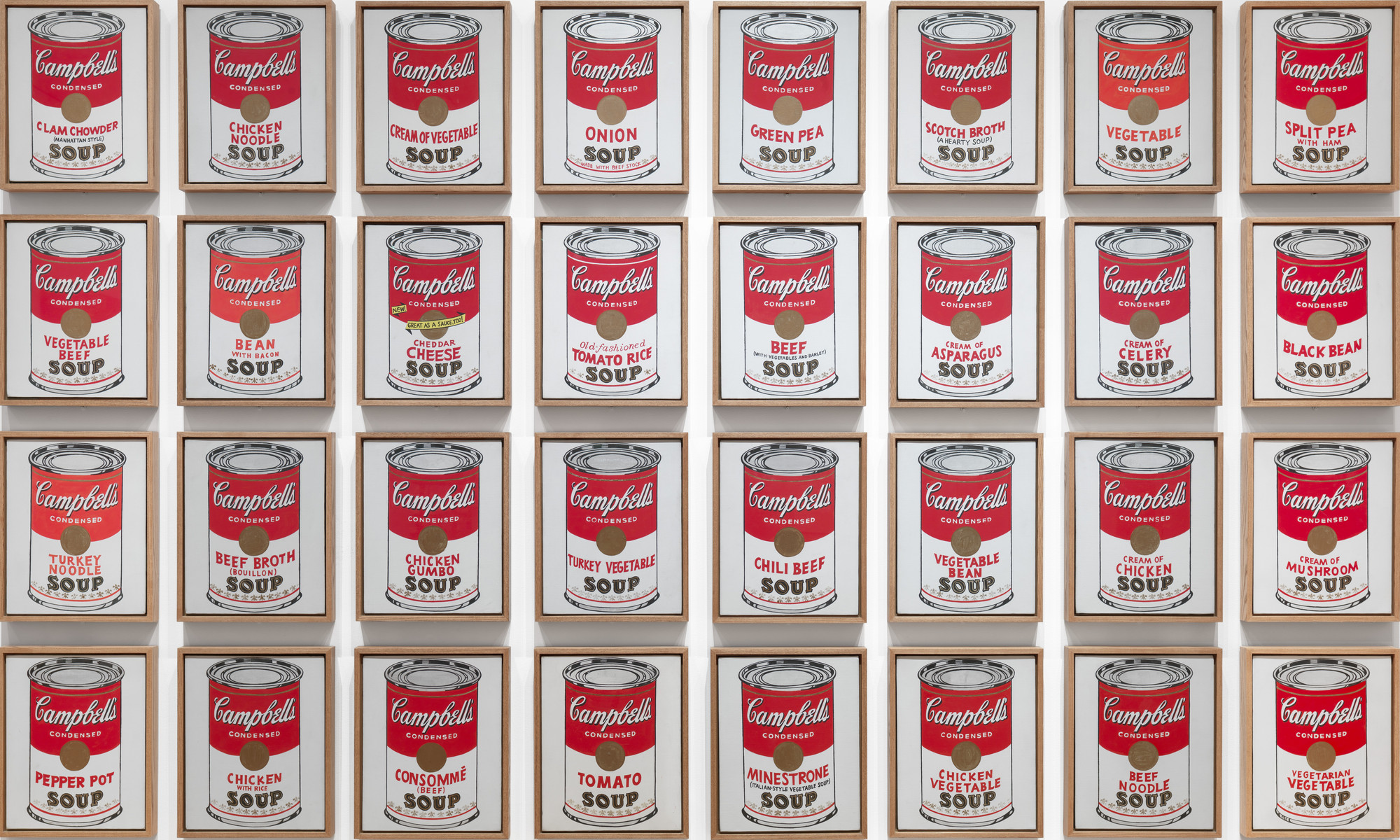 3. Cow Series, 1966
"Why don't you paint some cows" was the suggestion of art dealer Ivan Karp. Consequently Warhol began his series of cow screenprints. Warhol recalled that "when he [Ivan] saw the huge cow heads – bright pink on a bright yellow background – that I was going to have made into wallpaper he was shocked". This was the first of several wallpaper designs that Warhol created. The repetition in wallpaper is an extension of his fascination with the repeated image in his paintings. Warhol hung paintings on his vibrant cow wallpaper at his 1970 retrospective at the Whitney Museum of American Art: an idea he would continue with in exhibitions such as his 1974 Paris exhibition of Chairman Mao portraits on Mao wallpaper.
4. Mao Series, 1972
Andy Warhol's interpretation of Mao resulted in developing a portfolio containing 10 brightly colored portraits that illustrated Warhol's deep fascination with the clash of images between communist publicity stunts and American kitsch. By creating a glammed-up version of Mao, Warhol could transform an otherwise intimidating and mysterious image of a powerful political figure into a glamourized pop icon of the 1970s, which was reminiscent of Warhol's previous works.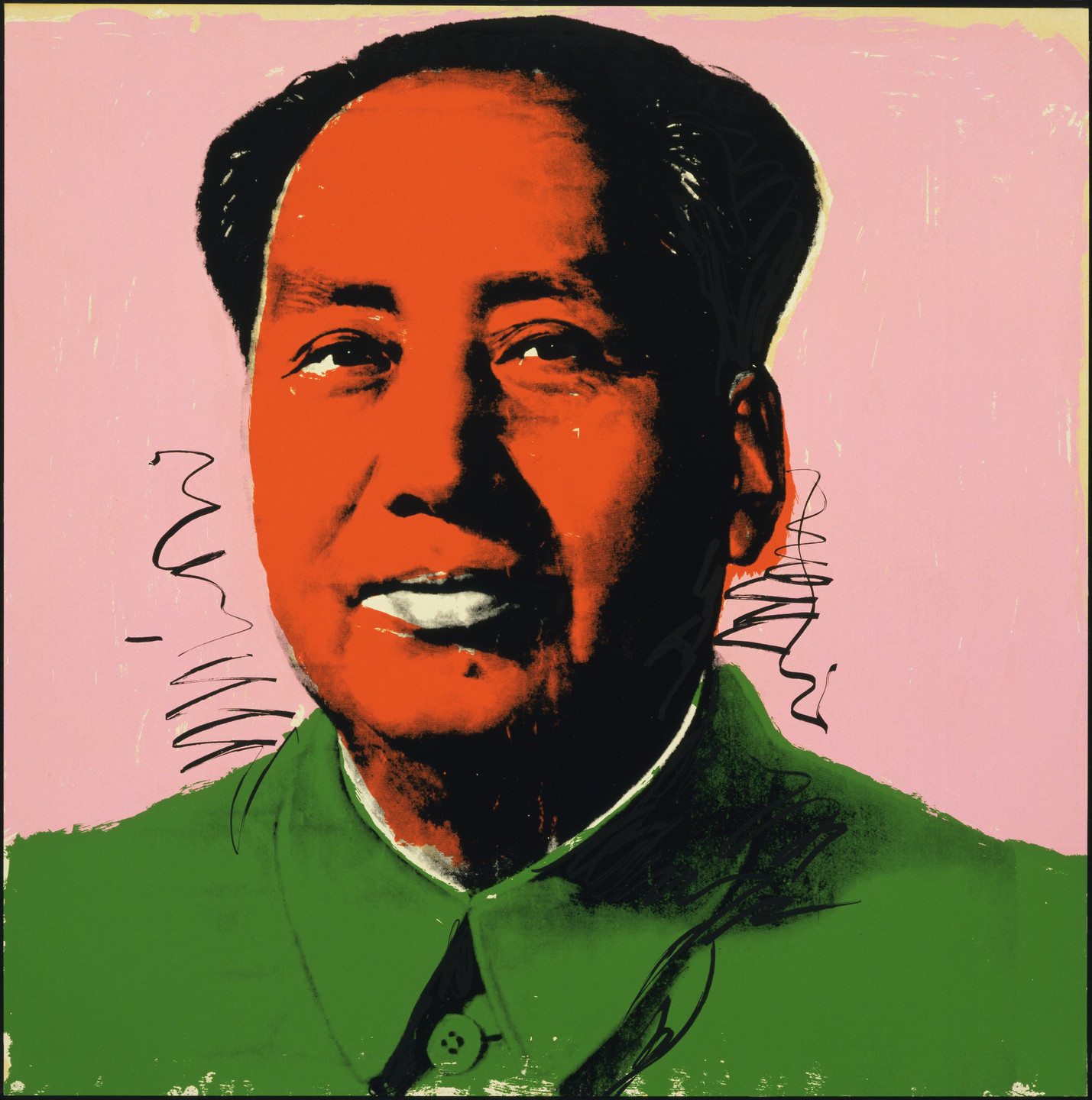 5. Dollar Sign, 1981
Not only did Warhol openly acknowledge that he loved money (having come from a poor family in industrial Pittsburgh), but he loved drawing and painting it as well. In the early 1960s he depicted one-dollar bills and then in 1981 he returned to the imagery and completed a whole series of drawings and paintings of the dollar sign. This is one of the largest of these paintings. The image is screenprinted on to the stark white canvas, but it is based on a marker pen and ink drawing that Warhol himself had made. Even the splatters of the ink have been retained.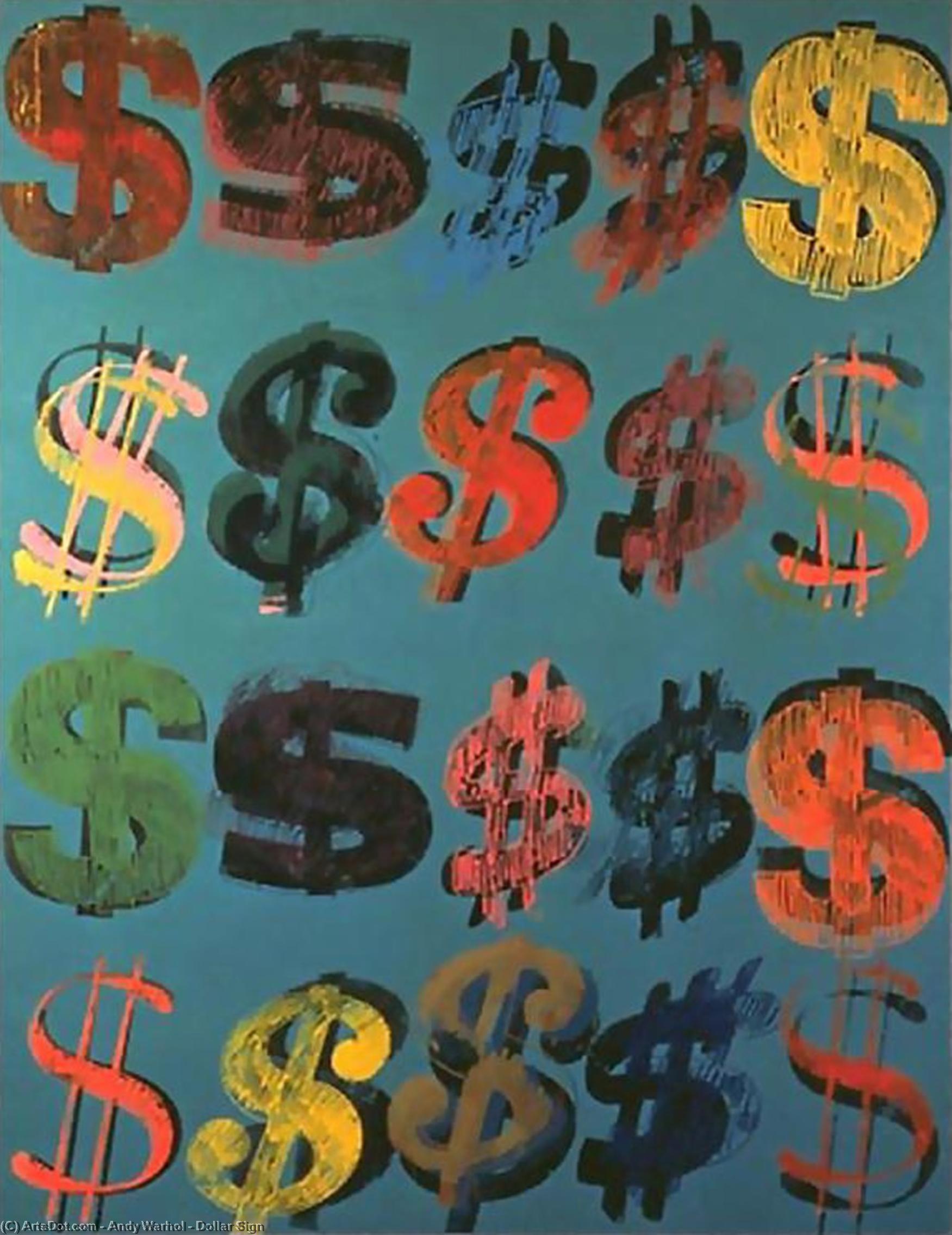 6. Flowers Series, 1964
Warhol began work on his Flowers series in the summer of 1964, soon deciding that it would be the focus for his first show with Leo Castelli in the fall of that year. For the Castelli show, he worked on 48- and 24-inch square canvases. For his following show, at the Sonnabend Gallery in Paris in the spring of 1965, he included additional sizes – 14-, 8-, and 5-inch squares. The square format allowed Warhol complete freedom with orientation. For the first time, his works had no fixed upright, allowing the Flowers to be installed in a variety of ways. Another unique aspect to this series is the different techniques and media he explored, including silkscreen, pencil, hand painted acrylics, and fluorescent Day-Glo paint. Eykyn Maclean included examples of each of these sizes and techniques to better trace the nuances of development within this important series. Also included was the only surviving banner (a Flowers painting on red fabric) that Warhol made for the 1965 opening of New York City's Peace Eye Bookstore.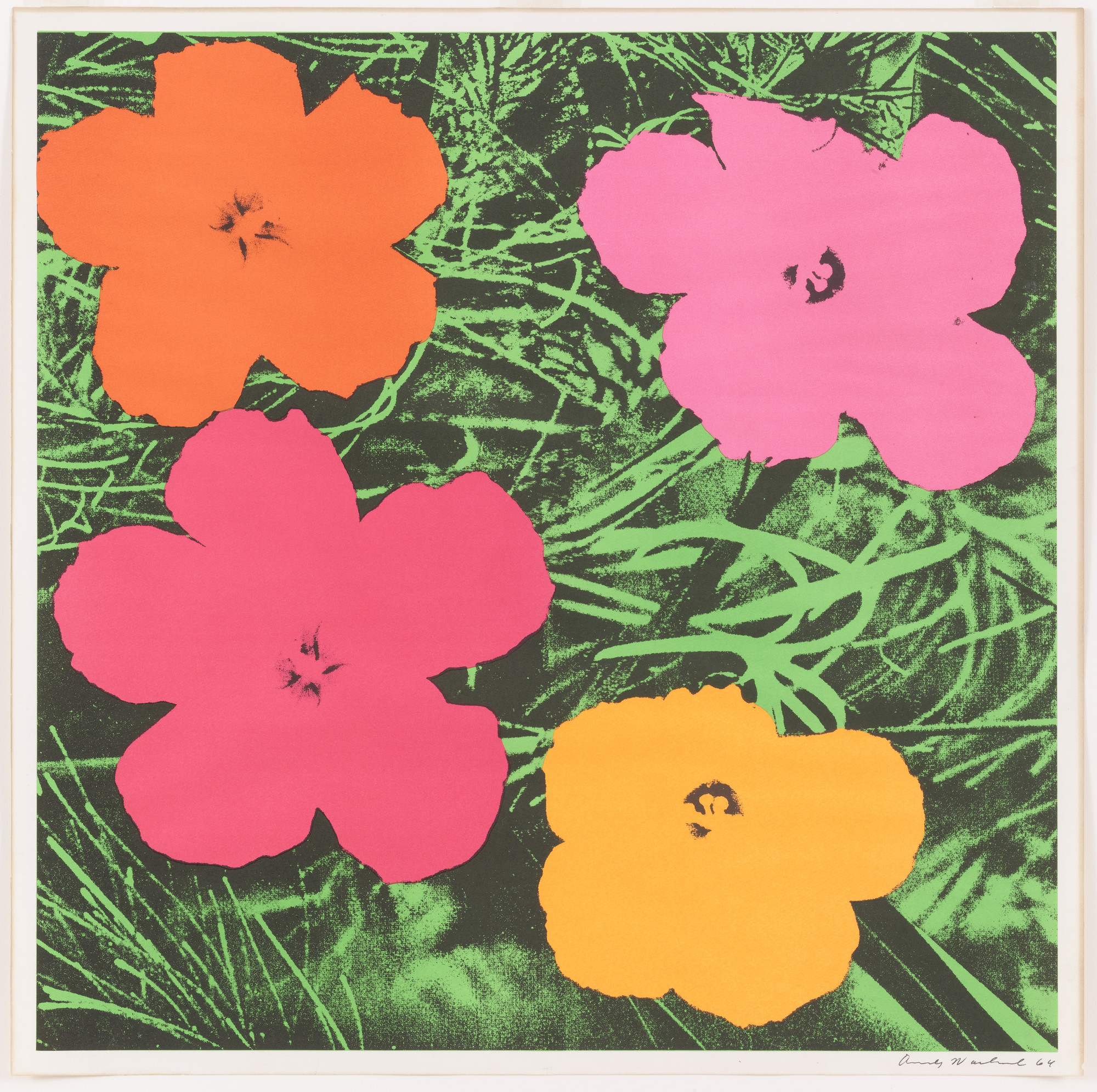 7. Camouflage Series, 1986
Camouflage is specifically designed to blend into its environment, but the pattern is also strongly associated with the armed forces. The paradox of a disguise which is also a recognisable emblem may have appealed to Warhol's concern with brands and logos. Reproducing the non-representational pattern also connected with his long-held interest in Abstract Expressionist painting. In this series of colourful reworkings, the function of camouflage is obliterated. On the furthest right panel, the pattern becomes mock-patriotic, in red, white and blue.
8. Banana, 1967
In March 1967 the Velvet Underground released their debut album, The Velvet Underground and Nico, featuring on its cover Andy Warhol's Banana. In March 2012 the Banana itself became the subject of a legal battle as to whether the image was more synonymous with the artist or with the Rock group. Forty five years after its first appearance the Banana remains one of the artist's most popular and now controversial images. Warhol himself executed two versions of the Banana; one as the 11 x 11 in. LP cover, the first release of which had a peel-able yellow skin overlaid on top of a pink banana accompanied by the phrase 'Peel slowly and see'. Warhol also produced Banana (1966) a larger scale editioned screenprint (see Feldman and Schellman II.10), also with a removable skin.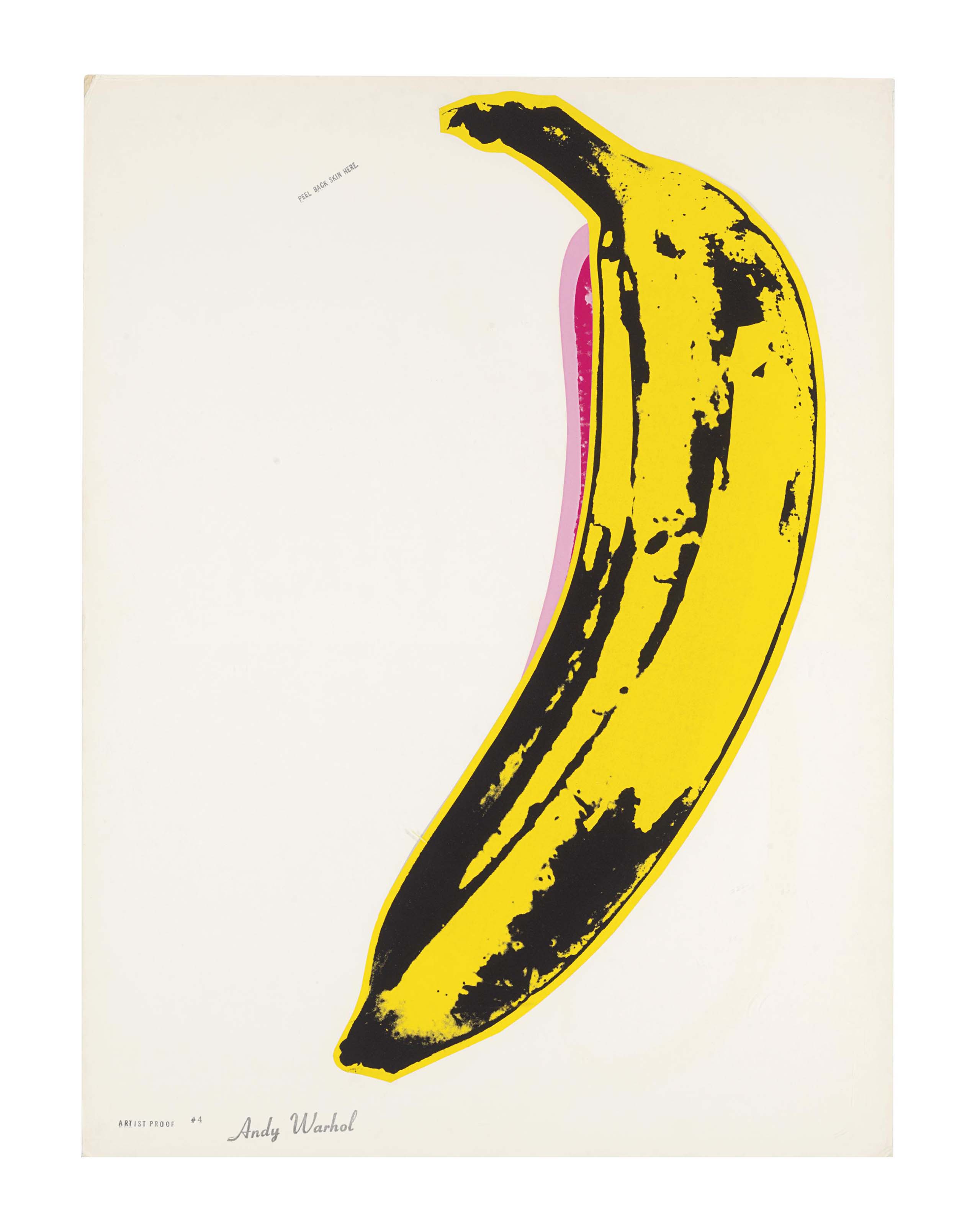 9. Gun, 1981-1982
Death emerged as a distinctive theme in Warhol's work in the 1960s, with his Marilyn Monroe portraits and the 'Death and Disaster' series. His fears about dying were heightened in 1968 when he was shot and critically injured by Valerie Solanas. The gun depicted here is similar to the .22 snub-nosed pistol that she used. At around the same time as he was painting guns Warhol was also doing a series of knife pictures. Indeed, the first idea was to show them together, along with some dollar-sign paintings, at the Leo Castelli Gallery in New York in January 1982.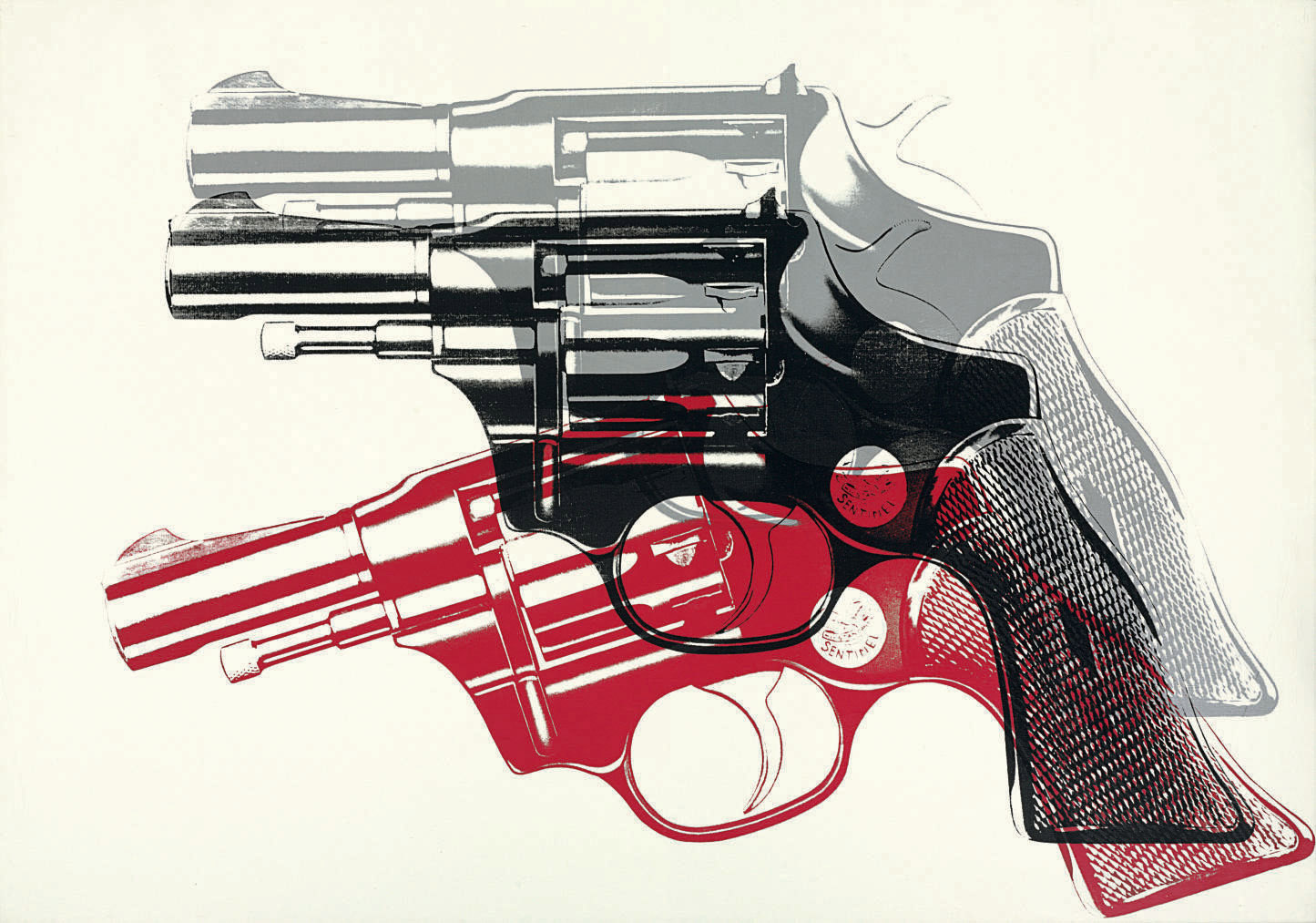 10. Green Coca-Cola Bottles, 1962
Green Coca-Cola Bottles was created the year that Andy Warhol developed his pioneering silkscreen technique, which allowed him to produce his paintings through a mechanical process that paralleled his use of mass culture subjects. Here, the image of a single Coca-Cola bottle is repeated in regular rows, seven high by sixteen across, above the company's logo. The repetitive imagery and standardized format evokes the look of mechanical reproduction, but the black outlines were probably stamped by hand from a single carved woodblock onto green areas printed in a grid pattern. This engenders subtle differences in the work's pattern; each of the bottles differs in both the evenness of the green underpainting and in the clarity of its stamped profile. The bottles are also often slightly askew, disturbing the overall regularity of the grid and making them appear simultaneously handmade and individualized, streamlined and mass-produced. In his deadpan and ironic way, Warhol at once criticized and glorified the consumerist idols and surface values of America's media-saturated postwar culture. "A Coke is a Coke," he explained, "and no amount of money can get you a better Coke than the one the bum on the corner is drinking."