The 10 Most Famous Artworks of Frida Kahlo
From Self-Portrait with Thorn Necklace and Hummingbird to The Two Fridas...
You can also read this article in French and in Spanish.
Magdalena Carmen Frida Kahlo y Calderón (6 July 1907 – 13 July 1954) was a Mexican painter known for her many portraits, self-portraits, and works inspired by the nature and artifacts of Mexico. Inspired by the country's popular culture, she employed a naïvefolk art style to explore questions of identity, postcolonialism, gender, class, and race in Mexican society. Her paintings often had strong autobiographical elements and mixed realism with fantasy. In addition to belonging to the post-revolutionary Mexicayotl movement, which sought to define a Mexican identity, Kahlo has been described as a surrealist or magical realist. She is known for painting about her experience of chronic pain.
Kahlo's work as an artist remained relatively unknown until the late 1970s, when her work was rediscovered by art historians and political activists. By the early 1990s, she had become not only a recognized figure in art history, but also regarded as an icon for Chicanos, the feminism movement and the LGBTQ+ movement. Kahlo's work has been celebrated internationally as emblematic of Mexican national and indigenous traditions and by feminists for what is seen as its uncompromising depiction of the female experience and form.
niood lists the 10 Most Famous Artworks of Frida Kahlo:
1. Self-Portrait with Thorn Necklace and Hummingbird, 1940
Kahlo's identification with indigenous Mexican culture affected her painting aesthetic. By using powerful iconography from indigenous Mexican culture, Kahlo situates herself in a tradition of rebellion against colonial forces and male rule. The dead hummingbird which hangs around her neck is considered a good luck charm for falling in love in Mexican folklore. An alternative interpretation is that the hummingbird pendant is a symbol of Huitzilopochtli, the Aztec god of war. Meanwhile, the black panther is symbolic of bad luck and death and the monkey is a symbol of evil. The natural landscape, which normally symbolizes fertility, contrasts with the deathly imagery in the foreground.
The thorn necklace could allude to Christ's crown of thorns, thus likening herself to a Christian martyr, and representing the pain and anguish she felt after her failed romantic relationships. In line with this interpretation, the butterflies and dragonflies could symbolize her resurrection.
2. The Two Fridas, 1939
This painting was completed shortly after her divorce with Diego Rivera. This portrait shows Frida's two different personalities. One is the traditional Frida in Tehuana costume, with a broken heart, sitting next to an independent, modern dressed Frida. In Frida's diary, she wrote about this painting and said it is originated from her memory of an imaginary childhood friend. Later she admitted it expressed her desperation and loneliness with the separation from Diego.
3. Self Portrait with Cropped Hair, 1940
In this self-portrait, Kahlo has cast off the feminine attributes with which she often depicted herself—such as traditional embroidered Tehuana dresses or flowers in her hair—and instead sports a loose-fitting man's suit and short-clipped haircut. Her high-heeled shoes and one dangling earring remain, however, along with her characteristic penetrating outward gaze. Locks of hair are strewn across the floor, a severed braid lies next to her chair, and the artist holds a pair of scissors across her lap. This androgynous persona may refer to Kahlo's own bisexuality, while the lyrics of a popular Mexican song that appear at top suggest the address of a lover: "Look, if I loved you it was because of your hair. Now that you are without hair, I don't love you anymore." Kahlo and her husband, the artist Diego Rivera, had divorced in late 1939, and the painting indicates both the violence of separation and a newfound autonomy: Kahlo vowed to support herself financially after her divorce by selling her own work.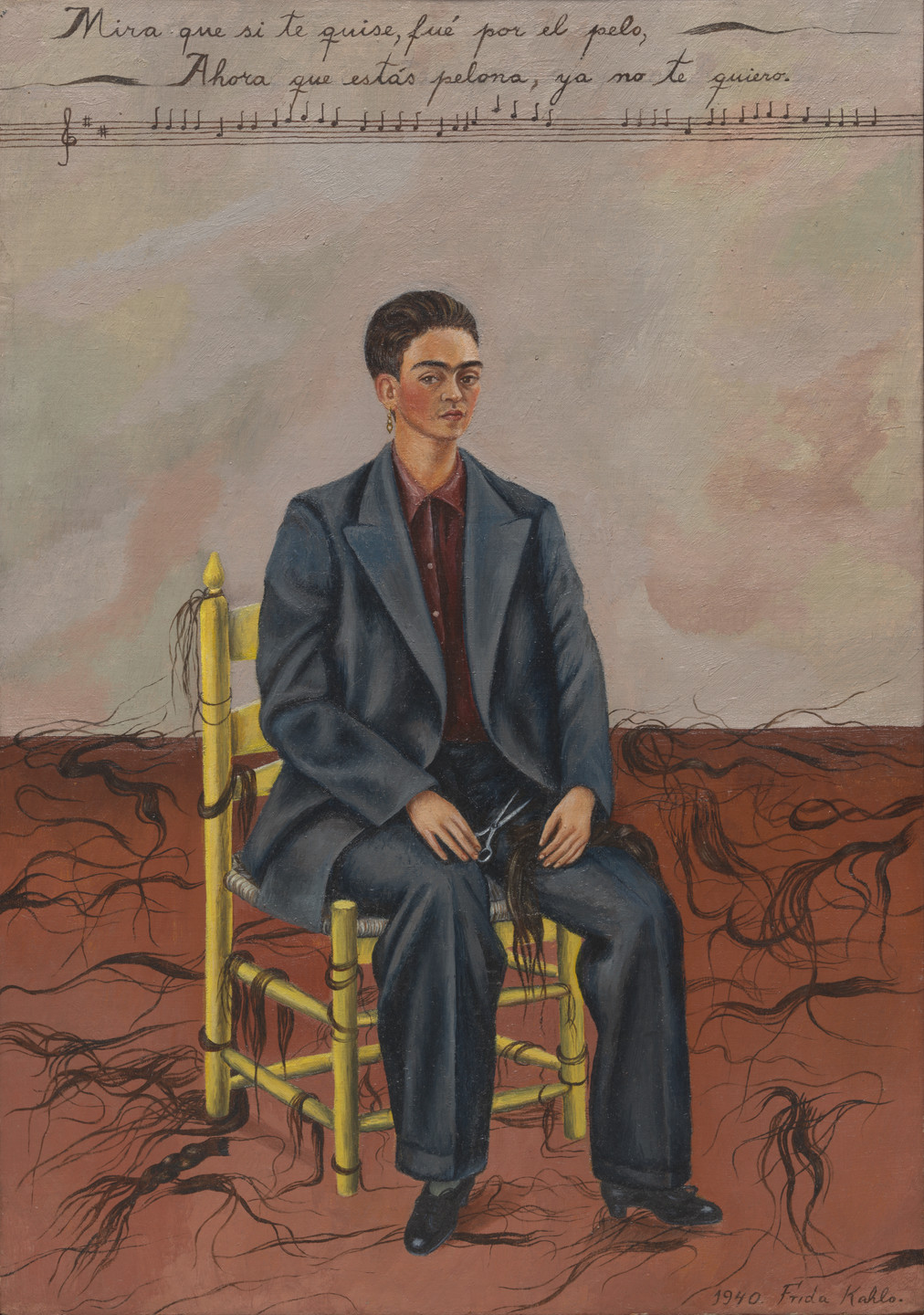 4. Broken Column, 1944
The Broken Column was painted shortly after Kahlo underwent spinal surgery. She depicts herself bound and constrained by a cage-like body brace. A cavern of missing flesh violates the integrity of her body, exposing a broken column in place of her spine. The column appears to be on the verge of collapsing into rubble. Metal nails pierce Kahlo's face, breasts, arms, and torso, as well as her upper thigh, hidden behind a swath of cloth. Tears stream down her face. Set in an open landscape, the artist-sitter is exposed in more ways than one. The terrain on which she stands appears barren and cleaved.
5. The Wounded Deer, 1946
In 1946 Frida Kahlo had an operation on her spine in New York. She was hoping this surgery would free her from the severe back pain but it failed. This painting expressed her disappointment towards the operation. After she went back to Mexico, she suffered both physical pain and emotional depression. In this painting she depicted herself as a young stag with her own head crowned with antlers. This young stag is pierced by arrows and bleeding. At the lower-left corner, the artist wrote down the word "Carma", which means "destiny" or "fate". Just like her other self-portraits, in this painting Frida expressed the sadness that she cannot change her own fate.
6. My Grandparents, My Parents, and I, 1936
This dream-like family tree was painted on zinc rather than canvas, a choice that further highlights the artist's fascination with and collection of 18th-century and 19th-century Mexican retablos (devotional folk paintings using iconography derived from traditional Catholic church art). Kahlo completed this work to accentuate both her European Jewish heritage and her Mexican background. Her paternal side, German Jewish, occupies the right side of the composition symbolized by the sea (acknowledging her father's voyage to get to Mexico), while her maternal side of Mexican descent is represented on the left by a map faintly outlining the topography of Mexico.
7. Self-Portrait on the Borderline Between Mexico and the United States, 1932
In 1930, Kahlo followed her husband to San Francisco; they packed their things and moved from Mexico to the United States. In this scene, Frida painted herself in between these two homes; on the right, an exaggerated industrial view of the US,  the Ford smokestacks emitting a cloudy American flag and on her left, a pre-columbian view of Mexico, with a temple and native plants. This dichotomy is also reflected in what she holds in her crossed arms, she has a cigarette in her right hand, and a Mexican flag in her left. Homesick for Mexico, she portrays the U.S. as an unfriendly place full of machinery and smog, and romanticizes her indigenous roots–which are quite literally present under the surface on which she stands.
8. Frieda and Diego Rivera, 1931
The painting shows Kahlo standing next to her husband and fellow artist, Rivera. Rivera, portrayed as a painter, holds a palette and four brushes in his right hand while Kahlo tilts her head towards him. Both are looking out toward the viewer, unsmiling. The pigeon in the upper-righthand corner carries a banner that reads: "Here you see us, me Frieda Kahlo, with my dearest husband Diego Rivera. I painted these pictures in the delightful city of San Francisco California for our companion Mr. Albert Bender, and it was in the month of April of the year 1931."
Hayden Herrera, author of Frida: A Biography of Frida Kahlo, interprets the work simply as Kahlo depicting herself as the wife of the great artist, Rivera.
9. Without Hope, 1945
In this painting, Frida Kahlo, depicts what she went through with the "forced feeding" diet. The disgusting food with animals and skulls was held by the wooden structure which used to hold her canvases for painting. It seems her arms are pinned underneath and cannot help with the situation. The background is a deserted Mexican landscape showing both the sun and the moon. The situation seems to be Without Hope.
10. Self-Portrait as a Tehuana, 1943
This painting expresses Firda's desire to possess Diego Rivera, who continues betraying her with his affairs with other women. But she cannot stop thinking about him. She painted a miniature portrait of him on her brow which indicating the obsessive love she has for the famous Mexican artist.
In this self-portrait she is wearing Mexican traditional Tehuana costume that Diego Rivera is obsessed for. On her head she was wearing leaves and the root resembles the pattern of spider's web. It might be her thoughts that she had Diego trapped in.