The 10 Most Famous Artworks of Jackson Pollock
This includes Number 5, Number 11, One: Number 31 and Convergence...
You can also read this article in French or in Spanish.
Paul Jackson Pollock (January 28, 1912 – August 11, 1956) was an American painter and a major figure in the abstract expressionist movement. He was widely noticed for his "drip technique" of pouring or splashing liquid household paint onto a horizontal surface, enabling him to view and paint his canvases from all angles. It was also called all-over painting and action painting, since he covered the entire canvas and used the force of his whole body to paint, often in a frenetic dancing style. This extreme form of abstraction divided the critics: some praised the immediacy of the creation, while others derided the random effects.
niood lists the 10 Most Famous Artworks of Jackson Pollock:
1. Number 5, 1948
Date: 1948
Style: Abstract Expressionism
Period: Drip period
Location: Private collection
No. 5, 1948 is a painting by Jackson Pollock, an American painter known for his contributions to the abstract expressionist movement. It was sold in 22 May 2006 for $140 million, a new mark for highest ever price for a painting, not surpassed until April 2011.
Using his entire body to paint in a method called "action painting," Pollock dripped and splattered layer upon layer of paint to create his chaotic patterns.
2. Number 11, 1952 (Blue Poles)
Location: National Gallery of Australia
Created: 1952
At the time of the painting's creation, Pollock preferred not to assign names to his works, but rather numbers; hence, the original title of the painting was simply Number 11 or No. 11 for the year 1952. In 1954, the new title Blue Poles was first seen at an exhibition at the Sidney Janis Gallery and reportedly originated from Pollock himself.
According to art historian Dennis Phillips, the specific rather than ambiguous title "limits our field of comprehension and does the painting a singular disservice. Because we look for the poles and miss much of the rest, the name is simply too distracting."
3. One: Number 31, 1950
Created: 1950
Genre: Abstract art
Owner: The Museum of Modern Art
One: Number 31, 1950, one of Pollock's largest paintings, exemplifies his "drip" technique, in which he dropped, dribbled, or threw paint onto a canvas laid on the floor. His looping cords of color accordingly register force and speed yet are also graceful and lyrical, animating every inch of the composition. On the floor, Pollock said, "I am more at ease. I feel nearer, more a part of the painting since this way I can walk around it, work from the four sides and literally be in the painting." Pollock's process has been compared to the movements of a dance.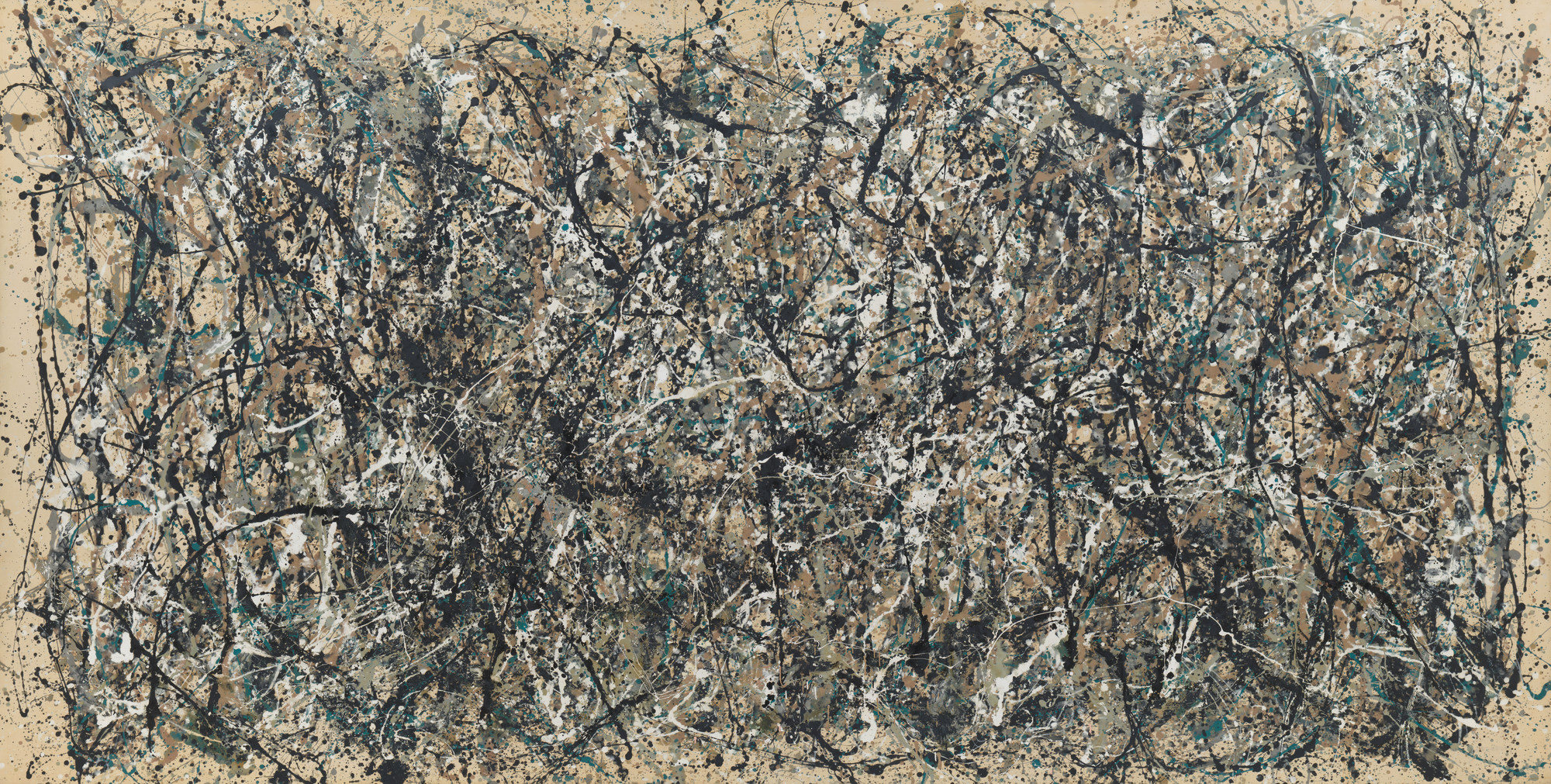 4. Number 1, 1950 (Lavender Mist)
Location: National Gallery of Art – East Building
Created: 1950
Genre: Abstract art
For Pollock, who admired the sand painting of the American Indians, summoning webs of color to his canvases and making them balanced, complete, and lyrical, was almost an act of ritual. Like an ancient cave painter, he "signed" Lavender Mist in the upper left and right corners with his handprints.
Though the work contains no lavender, the webs of black, white, russet, orange, silver, and stone blue industrial paints in Lavender Mist radiate a mauve glow that inspired Greenberg, Pollock's stalwart champion, to suggest the descriptive title, which Pollock accepted. Pollock's canvases from this decisive phase of his career are considered to have transformed the experience of looking "at" a work of art into one of being immersed, upright, in its fullness. His mastery of chance, intuition, and control brought abstract expressionism to a new level.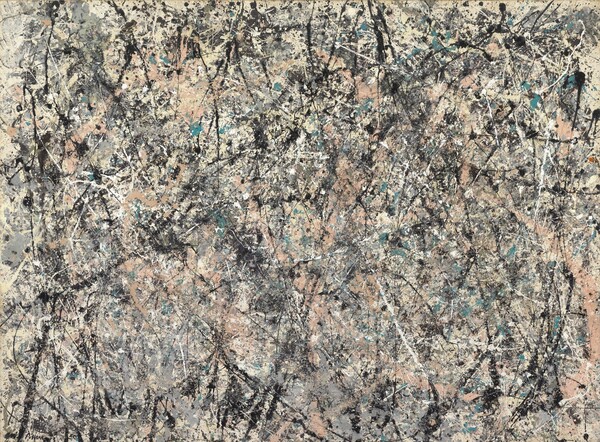 5. Convergence, 1952
Location: Albright-Knox Art Gallery
Created: 1952
Genre: Abstract art
These lines, spots, circles splattered on a canvas unintentionally convey the artist's emotions. The painting was made during the Cold War with Russia, and it is considered that the painting represents the idea of freedom of speech.
Other scholars, including Yve-Alain Bois, have posited that this type of individualistic interpretation fails to account for how Pollock allowed the forces of gravity and fluidity–not his own hand–to direct the pooling and mixing of the paint.
6. Mural, 1943
Location: University of Iowa Stanley Museum of Art
Period: Abstract expressionism
Created: 1943
Mural was Pollock's first commission. Guggenheim first considered asking for a mural to be painted on the wall, but Marcel Duchamp suggested that it should be painted on canvas so it could be moved. Guggenheim bought an oversize canvas of Belgian linen and gave it to Pollock, but otherwise gave him no direction or instructions, and Pollock was simply asked to paint whatever he wished. A wall had to be removed to allow the large canvas to be installed.
The mural was intended to be completed before a planned exhibition of his works opening in November 1943, but according to Lee Krasner, he continued to stare at a blank canvas, saying he was "blocked". Eventually, it was conventionally said, around 1 January 1944, he began frenetic work, completing the entire work in one day. It appears that in reality the painting was finished earlier than that and was not done in one day.
7. Autumn Rhythm (Number 30), 1950
Year: 1950
Medium: Enamel paint on canvas
Movement: abstract expressionism, action painting
The Met acquired this monumental "drip" painting by Pollock in 1957, the year following the artist's unexpected death—a sign of how quickly his reinvention of painting was accepted into the canon of modern art. However revolutionary in technique, Pollock's large-scale work was rooted in the muralism of the 1930s, including the art of Thomas Hart Benton (see America Today, MMA 2012.478a–j) and David Alfaro Siqueiros, both of whom he had worked alongside. Pollock proclaimed in 1947: "I intend to paint large movable pictures which will function between the easel and the mural. . . . the tendency of modern feeling is towards the wall picture or mural." This work's title suggests not only the month in which he painted it (October), but also an alignment with nature's constant flux.
8. The Deep, 1953
Year: 1953
Type: Oil and Enamel on canvas
Location: Centre Georges Pompidou, Paris, France
Pollock here uses a combination of dripping black and white paints, only to break it down with touches of yellow. There are many interpretations on the meaning of the painting, and the painting's name, most often as a deep and profound void or hole, a viscous cut, or a dying man.
9. The She Wolf, 1943
Created: 1943
Period: Abstract expressionism
Genre: Abstract art
In the early 1940s Pollock, like many of his peers, explored primeval or mythological themes in his work. The wolf in this painting may allude to the animal that suckled the twin founders of Rome, Romulus and Remus, in the myth of the city's birth. But "She-Wolf came into existence because I had to paint it," Pollock said in 1944. In an attitude typical of his generation, he added, "Any attempt on my part to say something about it, to attempt explanation of the inexplicable, could only destroy it." The She-Wolf was featured in Pollock's first solo exhibition, at Art of This Century gallery in New York in 1943. MoMA acquired the painting the following year, making it the first work by Pollock to enter a museum collection.
10. Full Fathom Five, 1947
Medium: Oil Paint
Created: 1947
Genre: Abstract art
Full Fathom Five is one of Pollock's earliest "drip" paintings. While its lacelike top layers consist of poured skeins of house paint, Pollock built up the underlayer using a brush and palette knife. A close look reveals an assortment of objects embedded in the surface, including cigarette butts, nails, thumbtacks, buttons, coins, and a key. Though many of these items are obscured by paint, they contribute to the work's dense and encrusted appearance. The title, suggested by a neighbor, comes from Shakespeare's play The Tempest, in which the character Ariel describes a death by shipwreck: "Full fathom five thy father lies / Of his bones are coral made / Those are pearls that were his eyes."