The 10 Most Famous Artworks of Jean-Michel Basquiat
From the Hollywood Africans to the Collaboration with Andy Warhol
You can also read this article in French or in Spanish.
Basquiat first achieved fame as part of SAMO, a graffiti duo who wrote enigmatic epigrams in the cultural hotbed of the Lower East Side of Manhattan during the late 1970s, where rap, punk, and street art coalesced into early hip-hop music culture. By the early 1980s, his paintings were being exhibited in galleries and museums internationally. At 21, Basquiat became the youngest artist to ever take part in documenta in Kassel. At 22, he was the youngest to exhibit at the Whitney Biennial in New York.
Basquiat's art focused on dichotomies such as wealth versus poverty, integration versus segregation, and inner versus outer experience. He appropriated poetry, drawing, and painting, and married text and image, abstraction, figuration, and historical information mixed with contemporary critique. He used social commentary in his paintings as a tool for introspection and for identifying with his experiences in the Black community of his time, as well as attacks on power structures and systems of racism. His visual poetics were acutely political and direct in their criticism of colonialism and support for class struggle.
Since Basquiat's death at the age of 27 from a heroin overdose in 1988, his work has steadily increased in value.
niood lists the 10 Most Famous Artworks of Jean-Michel Basquiat:
1. Untitled Skull, 1981
Many of Jean-Michel Basquiat's paintings are in some way autobiographical, and Untitled may be considered a form of self-portraiture. The skull here exists somewhere between life and death. The eyes are listless, the face is sunken in, and the head looks lobotomized and subdued. Yet there are wild colors and spirited marks that suggest a surfeit of internal activity. Developing his own personal iconography, in this early work Basquiat both alludes to modernist appropriation of African masks and employs the mask as a means of exploring identity. Basquiat labored over this painting for months — evident in the worked surface and imagery — while most of his pieces were completed with bursts of energy over just a few days. The intensity of the painting, which was presented at his debut solo gallery exhibition in New York City, may also represent Basquiat's anxieties surrounding the pressures of becoming a commercially successful artist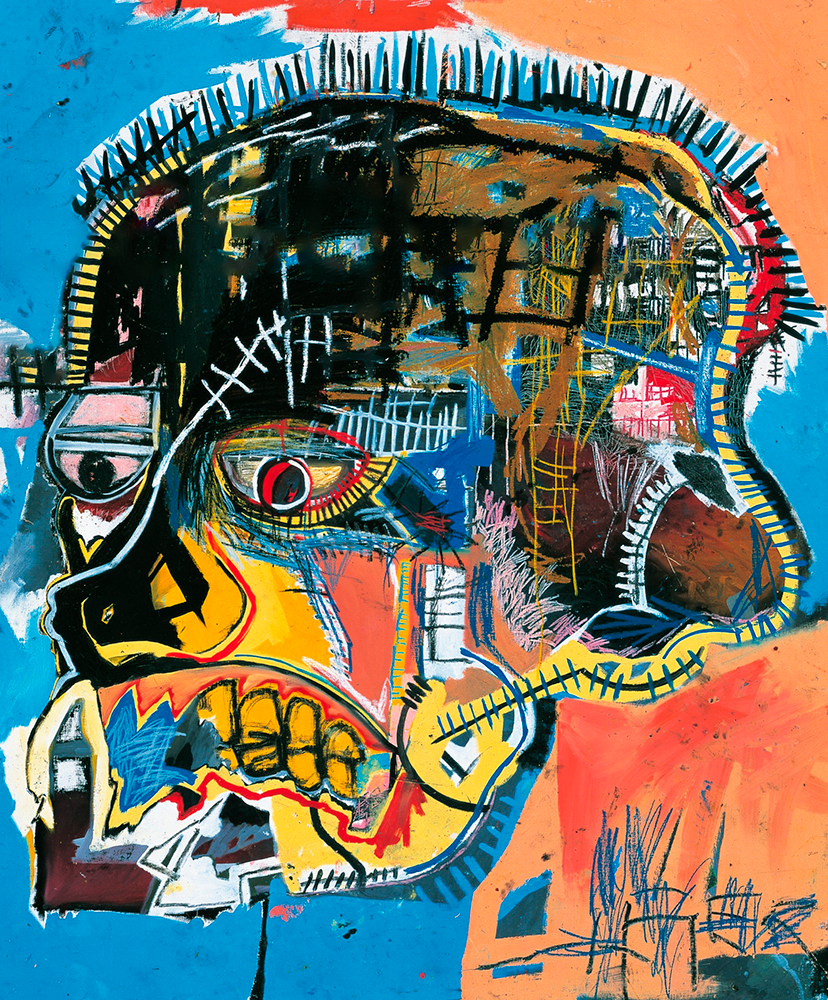 2. Untitled Skull, 1982
Untitled was executed by Jean-Michel Basquiat in 1982, which is considered his most valuable year. A majority of the highest-selling Basquiat paintings at auction date to 1982. Untitled depicts a skull, composed of black brushstrokes with red, yellow and white rivulets against a blue background. It originally sold for $4,000 in 1982. It was owned by the Annina Nosei Gallery in New York, before being sold to Phoebe Chason, who sold it to Alexander F. Milliken in 1982. It hadn't been shown in public since it was auctioned at Christie's in 1984 to Jerry and Emily Spiegel for $20,900.
3. Dusthead, 1982
The piece shows two stick-like figures against a black background, a few lines hint at a possible sidewalk. One figure dominates the picture, painted in bright red, waving his hands and arms above his head.
The figure's eyes are like saucers and filled with concentric circles that make the eyes appear as if spinning. It appears to be grinning. The second figure appears less animated, yet its eyes are also enlarged with the concentric circles. Both faces appear mask like overall.
The use of vivid colours, bold brushstrokes and confusing lines give the painting a sense of chaos, urgency and movement. According to fellow artist and close friend of Basquiat, "Toxic", Basquiat painted situations, conversations and things that were going on around him.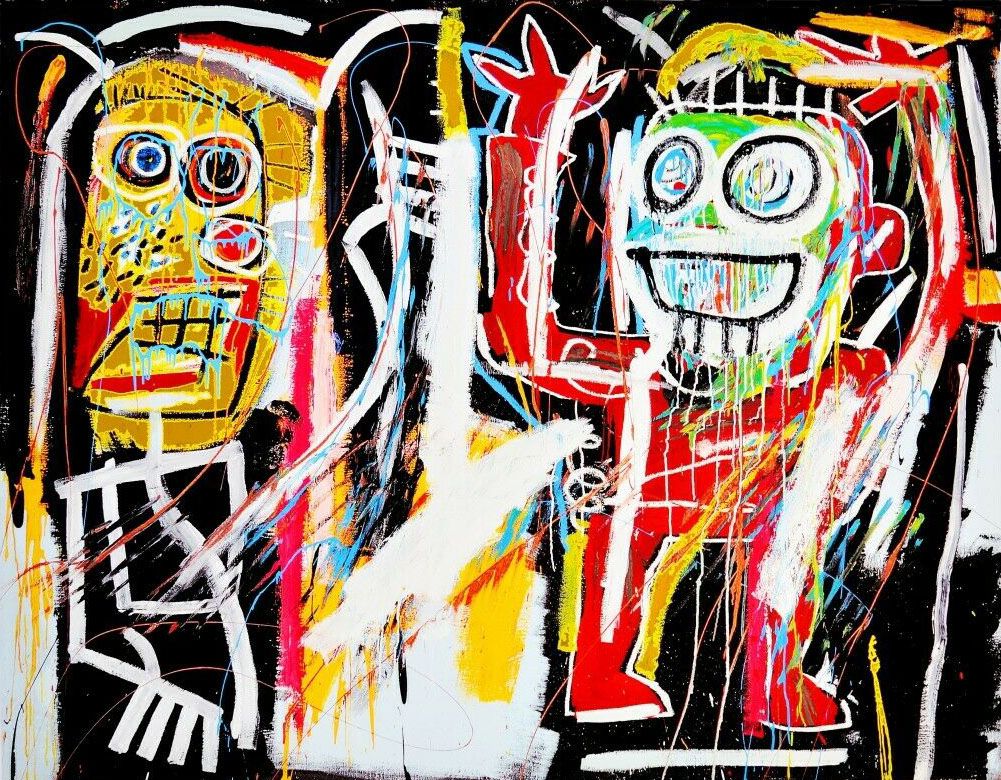 4. Irony of a Negro Policeman, 1981
Basquiat's Irony of Negro Policeman is a sharp critique on members of his own race. By depicting a Negro policeman, he is making a conscious effort to show how African-Americans are controlled by the white majority in America. Basquiat found it utterly ironic that any African-American would be a policeman, working to enforce rules that were meant to enslave themselves. The figure in the paintings is a totalitarian black mass, with a mask-like face and hat resembling a cage. On the right of the painting are the words "Irony of Negro Policeman," and to the bottom right of the panting is the word "Pawn," clearly stating Basquiat's opinion on the ridiculous position of a Negro Policeman.
5. Untitled (Boxer), 1982
Boxer is a painting that depicts a huge, hulking boxer. The huge, black body of the boxer fills the page and his hands are raised in victory. This is an art work that clearly depicts the triumph of physical strength.
Abstract, geometric shapes on the boxer's body and (in particular) on his face, also give him a somewhat inhuman look. Has he, in cultivating strength and the ability to fight, lost something of his humanity?
Basquiat has picked out the boxer's muscles in dazzling white strokes, and the bold lines and vivid sense of energy in this art work are typical of Basquiat's neo-expressionist style.
6. Hollywood Africans, 1983
Hollywood Africans is one of a series of Jean-Michel Basquiat's paintings that feature images and texts relating to stereotypes of African Americans in the entertainment industry. It was painted while Basquiat was on an extended visit to Los Angeles, California, in 1983. Several of the work's notations are autobiographical: the trio of figures on the right depicts the artist with the rap musician Rammellzee and the painter Toxic, who had traveled with him from New York, and he includes the digits of his birth date: 12, 22, and 60. Other notations are historical: phrases such as "Sugar Cane," "Tobacco," "Gangsterism," and "What is Bwana?" allude to the limited roles available to black actors in old Hollywood movies. The notion of exclusion or excision is reiterated in the way that Basquiat often crossed out words or phrases in his works. The technique, he explained, was actually meant to direct attention to them: "I cross out words so you will see them more; the fact that they are obscured makes you want to read them."
7. In Italian, 1983
Done in 1983, In Italian used a collection of symbols that Jean-Michel loved using in several of his work. However, the genesis of the word In Italian is not drawn in this painting. Jean-Michel used only one Italian word 'Sangue' which mean blood. However, he closed the Italian word 'Sangue' out and replaced it with a Latin word 'Sangre'.
Consequently, the word 'crown of thorns' is another standard reference that appears in several works done by Jean-Michel. To express an incident, he encountered during his childhood, Jean-Michel uses the word corpus and a heart diagram with blood. In the background, Jean-Michel uses several larges patches of pink, mint green, and blue. He demonstrated the paint like layers of old colours peeling off the wall of a building. As a result, the combination of these colours gave In Italian an epic and fascinating piece of work. Jean-Michel uses a combination of various theme when working on In Italian. These themes are religion, relationships and culture. Even without formal training, Jean-Michel demonstrated his closeness to the Caribbean and African-American culture. He then used bright colours to position his paint to fit an urban context.
8. Win $ 1'000'000, 1984
"It was like some crazy art-world marriage and they were the odd couple. The relationship was symbiotic. Jean-Michel thought he needed Andy's fame, and Andy thought he needed Jean-Michel's new blood. Jean-Michel gave Andy a rebellious image again."
– Ronnie Cutrone, Warhol's long-time studio assistant
Basquiat was deeply engaged in the New York cultural scene of the 1980s and participated in a number of collaborative projects with musicians, filmmakers and artists. Andy Warhol was a veteran of the art world and one of Basquiat's favourite artists. At a time when fame and fortune had made friendships difficult and isolation a reality, Basquiat found in Warhol a trusted advisor, confidant and equal. In turn, Warhol was inspired by Basquiat's immense energy and exuberant creativity.
In 1984 and 1985, the two collaborated on a series of works that combine their distinctive styles in silkscreen and painting. This partnership of art titans was as prolific as it was innovative: their collaborations make up one-tenth of Basquiat's total body of work.
9. Dos Cabezas, 1982
The Dos Cabezas (Spanish for Two Heads) is an acrylic and oil stick piece created on canvas and mounted on wood supports, which features Basquiat and Andy Warhol. In the initial years of the 1980s, when Basquiat met with his long-time idol, a pop artist from America, Andy Warhol, Basquiat was an upcoming artist. On October 4, 1982, after a meeting over lunch between the two spectacular artists organised by the art collector, Bruno Bischofberger, it was hastily drawn. Basquiat was so fascinated that he raced home after their encounter, created the painting, and sent it as a present to Warhol. Basquiat got the wet canvas shipped to Warhol within two hours after they'd met. This portrait of the two of them was the start of a legendary relationship.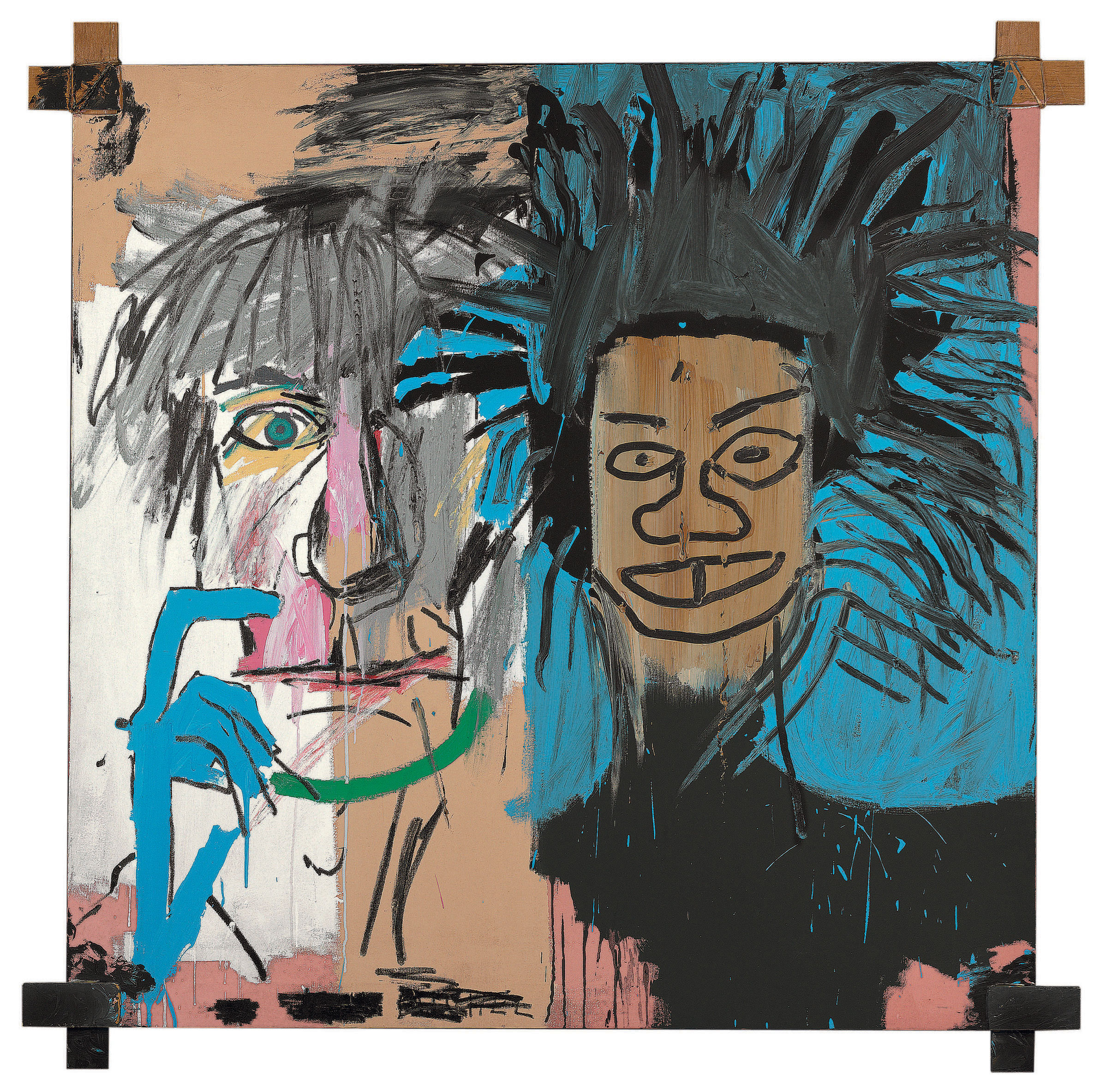 10. Riding With Death, 1988 (his last work)
Riding with Death is one of Basquiat's final paintings, completed before his death in 1988. In a relatively sparse and simple composition compared to the frenetic, colorful explosions he is most known for, he depicted an African-American figure riding a white skeleton against a textured beige background. As with all of Basquiat's works, this relatively simple composition is layered with symbolism and references to culture, history and society.
Against a flat, brown background, Basquiat has painted a dark-skinned male figure, who sits on top of a skeleton on all fours. The skeleton's head is turned to the viewer and its empty, crossed out eyes seem to pierce straight through us. The figure on top seems to be decomposing, part outline, part stick figure, in agitated movement.
This unsettling image is full of racial undercurrents, social references and sarcasm. The composition itself is thought to be inspired by a drawing by Leonardo da Vinci titled Illustration for his thoughts on Virtue and Envy in which he depicted a naked woman sat on a skeleton on all fours. Basquiat's style was often described as "primitive" and "naive" by critics and here he seems to be playing to the stereotype by creating an image that resembles cave paintings or African tribal art more than the Western definition of figurative painting. In doing so he fills this painting with nuanced references to race, racism and society, opening up a dialogue between the historical and the contemporary.