The 10 Most Famous Artworks of Joan Miró
This includes The Farm, The Harlequin's Carnival, The Hunter, Painting (Blue Star)...
You can also read this article in French or in Spanish.
Joan Miró i Ferrà was a Spanish painter, sculptor and ceramicist born in Barcelona.
Earning international acclaim, his work has been interpreted as Surrealism but with a personal style, sometimes also veering into Fauvism and Expressionism. He was notable for his interest in the unconscious or the subconscious mind, reflected in his re-creation of the childlike. His difficult to classify works also had a manifestation of Catalan pride. In numerous interviews dating from the 1930s onwards, Miró expressed contempt for conventional painting methods as a way of supporting bourgeois society, and declared an "assassination of painting" in favour of upsetting the visual elements of established painting.
niood lists the 10 Most Famous Artworks of Joan Miro:
1. The Farm, 1922
Catalan Title: La Granja
One of the works that most perplexed people was The Farm, that Miró made during 1920-1 and would always consider his first masterpiece. It is now in the National Gallery of Art in Washington (which is also the final venue of this exhibition) as a gift of the widow of the American writer Ernest Hemingway.
While Miró's friendships among the Surrealists in Paris are well-known, it is perhaps a little more unexpected that he was close to Hemingway and knew a cross-section of the famous British and American ex-patriates. He boxed with Hemingway as well as having him to stay at Mont-roig, the place outside Tarragona depicted in astonishing detail in The Farm. Miró told a journalist in 1928, 'The Farm was a résumé of my entire life in the country.' It shows the outbuildings at Mont-roig, with domestic animals, crops and equipment. The dog barks at the moon in a way seen in a later painting. Miró's great achievement is to make this detail succinct and absolutely clear. It is not an impression of this well-loved place, but something more like a condensed version.
2. The Harlequin's Carnival, 1925
Spanish Title: El Carnaval de Arlequín
When Miro moved into the studio of Pau Gargallo on the rue Blomet in Paris, he came in contact with the poets and artists belonging to a group that had arisen from Dadaism. In 1924, this became the Surrealist group centered on the poet Andre Breton. Miro was never an orthodox Surrealist. However, the movement legitimized the use of dreams and the subconscious as artistic raw material. It thus offered him the possibility of liberating his own pictorial style by allowing him freely to combine the earthly and the magical elements seen in his "detailist" period. Harlequin's Carnival is good example of this change. The world of the imagination and subconscious, rather than being an end in itself, was for Miro a way of giving shape in his paintings to his lived experiences and his memories. Harlequin's Carnival is seen by art critics as an account of the human subconscious mind. It is considered the highest point in Miro's personal surrealist style. Along with Persistence of Memory by Salvador Dali, Harlequin's Carnival has become the most iconic image of the Surrealism Movement.
3. The Hunter (Catalan Landscape), 1924
Catalan Title: Paisatge català (El caçador)
Joan Miró's The Hunter (Catalan Landscape) may seem abstract, but a closer look reveals a landscape populated with a rich assortment of human and animal figures and natural forms that together comprise an iconography of the artist's life. The hunter, standing at the left side of the composition, has a stick figure body and a triangular head. A pipe protrudes just to the right of his bushy mustache, and his heart floats near his chest. In one hand he holds a freshly killed rabbit, in the other, a gun still smoking from the kill. This hunter figure is a stand-in for Miró, and it appears in many of his other works.
4. Painting (Blue Star), 1927
Delicate linear forms float on the open blue that Miro associated with dreams. With Andre Masson, Miro was the first to create imagery using automatic techniques in which forms seemed to emerge directly from the unconscious. From this he developed his own personal sign language, which simplified familiar things such as stars, birds and parts of the body.
5. Bleu II, 1961
French Title: Bleu II
Miro's three large-format paintings Blue I – III are part of a series of triptychs which he painted at the beginning of the 1960s in his new studio in Mallorca.
In 1961, after three trips to the United States and exhibitions at the Galerie Maeght in Paris and Pierre Matisse Gallery in New York, Miro began further purifying the deepening of his earlier discoveries. This development had been heralded by Blue I, II, III. It reflects, above all, the supreme confidence the artist had attained in composing and coloring his paintings. The style is unmistakable. Miro was playing with codes that describe the movement of objects in a uniquely simple way. For example, a certain trajectory might be represented by a line, generally a thin one, ending in a dot or in a pair of parentheses. This latter symbol was often used by Miro as a kind o container, to keep energy from escaping. What is more, they look in two different directions, referring back to Miro's last pictures of the 1950s – full of sudden movements and primeval symbols – while at the same time looking forward to a completely new artistic freedom, a spontaneous attitude towards the material and colors, in a hitherto unprecedented way.
6. The Escape Ladder, 1939
Spanish Title: Escalera de escape
As German occupying forces threatened France, Miró took his family to live into the relative haven of Palma on the island of Mallorca. It was here that he made his Constellations series in 1940-1941. Miró had spoken of the "deep necessity that makes him take part in social upheavals, that attaches him and his work to the heart and flesh of his neighbour and makes the need for liberation in all of us a need of his own".
These musical all-over paintings have textured smoky backdrops on which shapes are drawn from Miró's repertoire of symbolic forms dance and move about. Art historian tracks the complexity of their genesis and how they are connected to Miró's wartime experiences – in The Escape Ladder, 1940, the swooping birds symbolic of bombers over Spain and the desire to escape.
7. Still Life with Old Shoe, 1937
Spanish Title: Bodegón del zapato viejo
Miró created Still Life with Old Shoe in Paris over a four-month period of intense concentration, working from life for the first time in many years. The painting eschews simple categorization. It is both a still life and a landscape: the irregular back edge of the tabletop can be read as a horizon line. The objects are not to scale, and they are isolated in discrete cells, creating a formal rupture that calls to mind Miró's work in collage. The color is acidic, highly saturated, and dissonant. For Miró this painting captured a "profound and fascinating reality."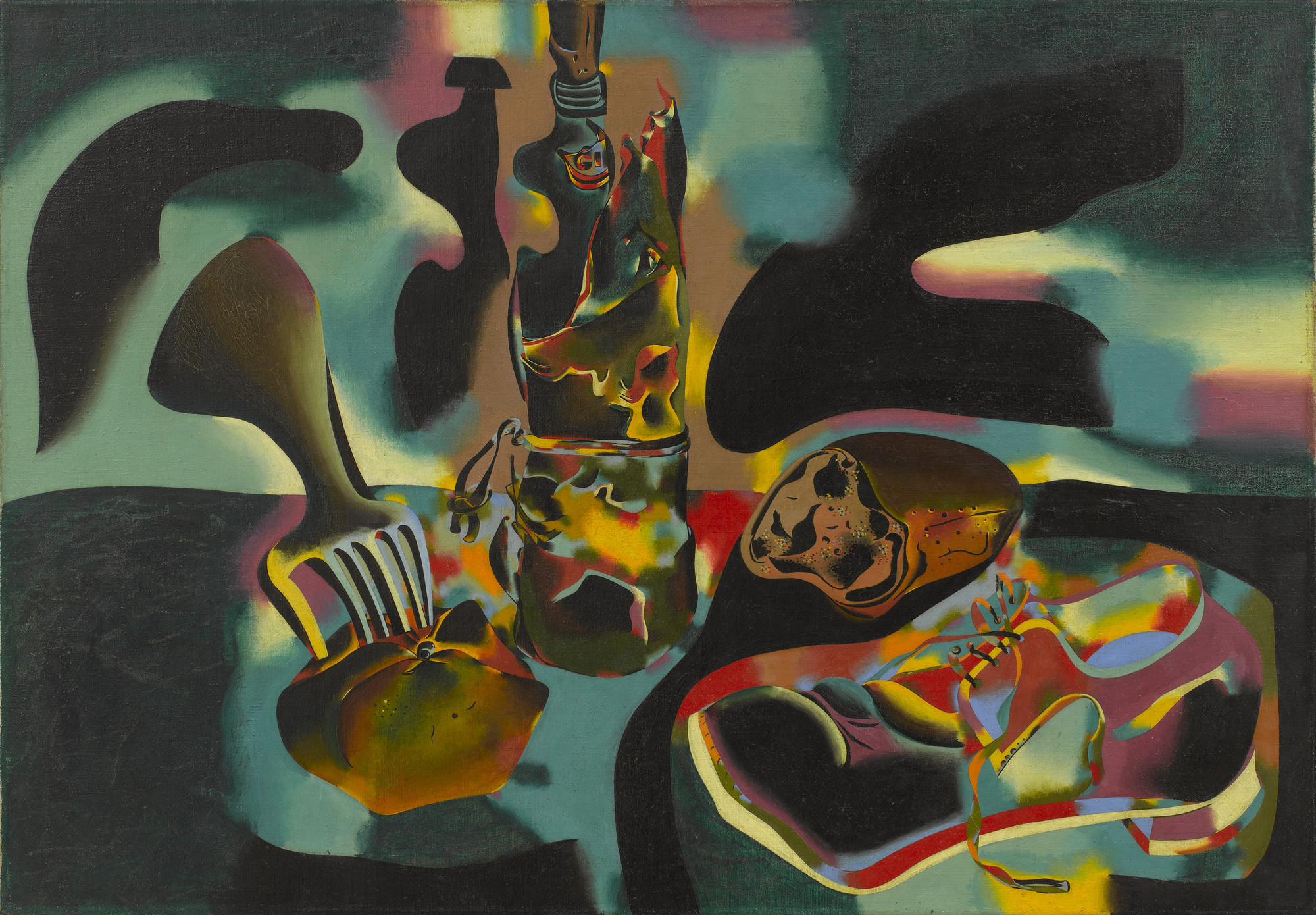 8. May 68, 1973
French Title: Mai 1968
In the spring of 1968 students from the universities of Sorbonne and Nanterre revolted in continuing demonstrations that lasted almost a month and a half. This revolt inspired the workers to strike. It was known as the French May and May 68. Joan Miró sympathized with the movement and made this work, a wall where the vitality and prints are ideal for those events.
9. The Tilled Field, 1924
Catalan Title: Terra llaurada
During the summer of 1923 Joan Miró began painting The Tilled Field, a view of his family's farm in Montroig, Catalonia. Although thematically related to his earlier quasi-realistic, Fauvist-colored rural views, such as Prades, The Village, this painting is the first example of Miró's Surrealist vision. Its fanciful juxtaposition of human, animal, and vegetal forms and its array of schematized creatures constitute a realm visible only to the mind's eye, and reveal the great range of Miró's imagination. While working on the painting he wrote, "I have managed to escape into the absolute of nature." The Tilled Field is thus a poetic metaphor that expresses Miró's idyllic conception of his homeland, where, he said, he could not "conceive of the wrongdoings of mankind."
10. Portrait of Vincent Nubiola, 1917
Spanish Title: Retrato de Vicenç Nubiola
This is one of the well-known works from Miró's early period when he experimented with a mixture of both Cubism and Fauvism. At this time he made several landscapes and portraits, such as Portrait of Enric Cristòfol Ricart also from 1917 and now in the Metropolitan Museum of Art in New York. Several authors comment that this work could be influenced by the style of Van Gogh for whom Miró always felt admiration. The Nubiola portrait is signed Miró in the lower left margin.
The painting shows Nubiola sitting in a chair beside a table on which there are fruit, a porró (typical Catalan wine vessel for drinking directly without a glass), and a potted plant. The flat backdrop behind the figure is decorated with triangles and arcs. The red of Nubiola's open collar shirt indicates his political radicalism; Miró painted himself wearing an identical shirt in a later self-portrait. This work was later acquired by Picasso.