The 10 Most Famous Artworks of Keith Haring
This includes Radiant Baby, Ignorance = Fear, Crack is Wack, Free South Africa...
Keith Allen Haring (May 4, 1958 – February 16, 1990) was an American artist whose pop art emerged from the New York City graffiti subculture of the 1980s. His animated imagery has "become a widely recognized visual language". Much of his work includes sexual allusions that turned into social activism by using the images to advocate for safe sex and AIDS awareness.
Haring's popularity grew from his spontaneous drawings in New York City subways—chalk outlines of figures, dogs, and other stylized images on blank black advertising spaces. After gaining public recognition, he created colorful larger scale murals, many commissioned. He produced more than 50 public artworks between 1982 and 1989, many were created voluntarily for hospitals, day care centers, and schools. In 1986, Haring opened the Pop Shop as an extension of his work. His later work often conveyed political and societal themes— anti-crack, anti-apartheid, safe sex, homosexuality and AIDS—through his own iconography.
niood lists the 10 Most Famous Artworks of Keith Haring:
1. Radiant Baby (from Icons series), 1990
In the 1980s, Keith Haring turned the New York City subway into his art studio, using chalk to etch his now-famous designs wherever he could find space. One of these designs was a crawling child or "Radiant Baby," which Haring called "the purest and most positive experience of human existence." Haring often used the infant to represent Jesus in nativity scenes or alongside crosses. Over time, the "Radiant Baby" gained darker significance through Haring's depictions of nuclear proliferation, in which the baby appears inside atomic mushroom clouds and scenes of war and violence. While "Radiant Baby" can be interpreted in several ways, the design was Haring's personal favorite among his iconic creations and is now cherished as the artist's signature tag.
2. Ignorance = Fear, 1989
On behalf of the New York-based AIDS activist group AIDS Coalition to Unleash Power (ACT UP), Keith Haring designed and executed this poster in 1989 after the artist had been diagnosed the previous year. Haring's imagery here references the 'three wise monkeys' that, "see nothing, hear nothing, say nothing". Within this illustration Haring refers to the public's ignorance with respect to Aids and calls for critical awareness of the 'facts'.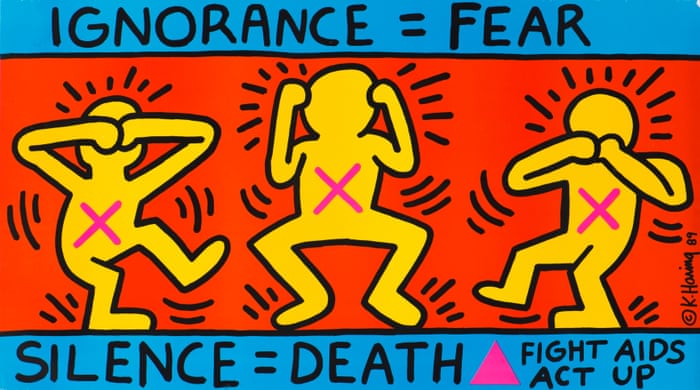 3. Crack is Wack, 1986
Haring's anti-crack mural emerged during a period of intense political tension in the United States due to widespread illegal drug use. Crack cocaine became popular in poor and working-class neighborhoods in major U.S. cities like New York during the 1980s. The number of regular crack users nationwide spiked from approximately 4.2 million to 5.8 million from 1985 to 1989. As public concerns over this 'crack epidemic' grew, President Ronald Reagan strengthened drug prohibition policies and the severity of their penalties in accordance with the government's so-called 'war on drugs'. Crack Is Wack thus functions as a public announcement to warn New Yorkers against the physiological and legal repercussions of crack cocaine. 
4. Free South Africa, 1985
Depicted in the artist's instantly recognisable style, the Free South Africa series is an example of how Keith Haring's used his playful figurative drawings to tackle social injustices around the world, notably racism and apartheid in South Africa. Printing and distributing around 20,000 Free South Africa posters in New York City in 1986, Haring worked tirelessly to mobilise support against apartheid.
Each print in the series features two stick figures in a struggle with one another, and as the series progresses, we see this struggle unfold. Using his bold, linear style, Haring represents the relationship between the black majority and white minority in South Africa during years of institutionalised racial segregation. The black figure on the left is rendered much larger than the white figure, symbolising the substantial disparity between the black majority and the few white people that had political and social power at the time. Haring clearly conveys this inequality of the white man's power by showing the white figure with a rope around the black figure's neck. 
5. Montreux, 1983
The first official exhibition of Keith Haring's work was held in 1982 at the Tony Shafrazi Gallery in New York, and was hugely successful. Pierre Keller met Haring a few months later and asked him to produce a Festival poster featuring a dancing figure. Haring came up with three designs, all of which were accepted. Keller and Nobs had the brainwave of inviting the New York artist to Montreux. As always, Haring painted constantly, producing murals on large blank panels on stage with the musicians and in the streets of Montreux.
6. Safe Sex, 1988
Haring's Safe Sex paintings took shape against this backdrop of desperate invention, importing the newly conceived discourse around sex, risk, and pleasure into the realm of high art. Although difficult to appreciate in retrospect, these works crossed a line in his practice, violating an unwritten rule—one carefully safeguarded in Haring's role as subway-graffiti writer—that language should not gain the upper hand over figuration. Extremely self-conscious about on-brand messaging, Haring had never previously inserted a slogan into his art (his ubiquitous FREE SOUTH AFRICA poster of 1985 followed the two Safe Sex paintings); and if the phrase SAFE SEX was not quite sloganeering, it nonetheless suggested an instruction to be followed, as illustrated by the two figures. More to the point, the particular message of these works was unlikely to have mass appeal, defying both mainstream homophobia and the culture wars of the Christian Right. Even the auctioneer who secured Safe Sex for the GMHC benefit worried over the fact that "it showed two male stick figures stroking each other," expressing concern that "this may appear in the New York Times."
7. Pop Shop III, 1989
Keith Haring's Pop Shop series brings together some of the artist's most recognisable motifs, rendered in his classic simplified and linear style filled with bright, block colours. In 1986, Haring opened the Pop Shop in downtown Manhattan, seeing the boutique primarily as an extension of his work where his art could be accessible to everyone. The Pop Shop series represents some of the works created over those years when the Shop was thriving between 1987 and 1990.
8. Andy Mouse, 1986
Entitled Andy Mouse, this characteristically playful set of prints is testament to the relationship between Keith Haring and Andy Warhol, the undisputed father of the Pop Art movement. Warhol's influence on Haring was undeniable, in Haring's own words, "Warhol's life and work made my work possible. … he was the first real public artist and his art and his life changed our conception of art and life in the 20th century".
Here Haring pays tribute to Warhol, depicting him wearing Mickey Mouse shorts – itself a tribute to his early education, which began with copying Walt Disney films and Dr Seuss cartoons – with his trademark spiky wig. Representing two of the most important figures of the Pop Art movement, this is one of the most sought after editions in Haring's oeuvre and a striking example of his mastery of screen printing as a medium.
9. Growing, 1988
Across the five prints in the Growing series, Haring depicts conjoined or stacked figures that evoke a striking sense of solidarity and community. The vibrant colours and strong lines seen throughout are typical of Haring's oeuvre along with the characteristic 'energy lines' emitted by the figures that evoke the power of people working together.
10. Barking Dog, 1990
The Barking Dog has become one of Haring's most iconic symbols, first appearing in his New York subway drawing series from 1980–85. It emerged as a symbol of oppression and aggression, acting as a warning to the viewer of the abuses of power that pervade everyday life in America and beyond. Traditionally used by artists to represent loyalty, companionship and obedience, Haring subverts the symbol of the dog to remind viewers to think critically about those who shout the loudest. Similarly, street artist Banksy can be said to have picked up Haring's mantle, appropriating symbols such as the barking dog to spread a new message of distrust in figures of authority.