The 10 Most Famous Artworks of Pablo Picasso
From Le Reve to Guernica to Dora Maar au Chat
You can also read this article in French or in Spanish.
Pablo Picasso was a Spanish artist born in Malaga on October 25, 1881, died on April 8, 1973 in Mougins, buried in the park of the Château de Vauvenargues, Bouches du Rhône. He is best known for his paintings, and is one of the major artists of the 20th century. He is, with Georges Braque, the founder of the cubist movement. Pablo Picasso (1916) His full name was Pablo Diego Jose Francisco de Paula Juan Nepomuceno Crispin Crispiniano de la Sentissima Trinidad Ruiz Picasso. Picasso's father, Don José Ruiz y Blanco, was a painter and drawing teacher at the Malaga school called "San Telmo". He is also curator of the municipal museum, coming from an old and well-regarded family in the province of Leon, in northwestern Spain, Picasso's mother, Dona Maria, is originally from Andalusia and has Arab origins.
Picasso thus began painting at an early age and produced his first paintings at the age of eight. In 1896 he entered the School of Fine Arts in Barcelona. Signing first with his father's name, Ruiz Blanco, he eventually chose to use his mother's name, Picasso, from 1901.
niood lists the 10 Most Famous Artworks of Pablo Picasso:
1. Le Reve, 1932
Le Rêve (The Dream in French) is a 1932 oil painting (130 × 97 cm) by Pablo Picasso, then 50 years old, portraying his 24-year-old mistress Marie-Thérèse Walter. It is said to have been painted in one afternoon, on January 24, 1932. It belongs to Picasso's period of distorted depictions, with its oversimplified outlines and contrasted colors resembling early Fauvism.
The erotic content of the painting has been noted repeatedly, with critics pointing out that Picasso painted an erect penis, presumably symbolizing his own, in the upturned face of his model.
2. Guernica, 1937
Probably Picasso's most famous work, Guernica is certainly his most powerful political statement, painted as an immediate reaction to the Nazi's devastating casual bombing practice on the Basque town of Guernica during the Spanish Civil War.
Guernica shows the tragedies of war and the suffering it inflicts upon individuals, particularly innocent civilians. This work has gained a monumental status, becoming a perpetual reminder of the tragedies of war, an anti-war symbol, and an embodiment of peace. On completion Guernica was displayed around the world in a brief tour, becoming famous and widely acclaimed. This tour helped bring the Spanish Civil War to the world's attention.
This work is seen as an amalgamation of pastoral and epic styles. The discarding of color intensifies the drama, producing a reportage quality as in a photographic record. Guernica is blue, black and white, 3.5 meters (11 ft) tall and 7.8 meters (25.6 ft) wide, a mural-size canvas painted in oil. This painting can be seen in the Museo Reina Sofia in Madrid.

3. Dora Maar au Chat, 1941
Dora Maar au Chat presents the artist's most mysterious and challenging mistress regally posed three-quarter length in a large wooden chair with a small black cat perched behind her in both an amusing and menacing attitude. The faceted planes of her body and the richly layered surface of brushstrokes impart a monumental and sculptural quality to this portrait. The painting is also remarkable for its brilliance of color and the complex and dense patterning of the model's dress. The powerful figure is set in a dramatic, yet simple setting composed of a vertiginously inclined plane of wooden floorboards and shallow interior space that is arranged in a manner reminiscent of Picasso's earliest manipulations of space in a cubist manner.
4. Jacqueline with Flowers, 1954
Jacqueline with Flowers, 1954 celebrates the entry of Picasso's new companion, Jacqueline Roque, into his painting. Antonina Vallentin calls the figure a "modern sphinx", and it is true that in this crouching position, with her long neck and almond-shaped eyes, Jacqueline has something of the mythic figure about her. She liked this particular position for sitting, and it will be seen again in later portraits, including the "Odalisques" series. When Picasso first met her, he was struck by her resemblance to the woman with the hookah in Delacroix's Women of Algiers. He saw in her the same classical, Mediterranean type of beauty that he had begun to paint in Gasol.
5. Figures at the Seaside, 1931
A series of bizarre erotic beach scenes, including The Kiss, was painted in the summer of 1931 at Picasso's French Riviera vacation resort, Juan-les-Pins. Said to be inspired by the 50-year-old painter's liaison with 19-year-old model, Marie-Therese Walter, the grotesque nature of the depicted forms reduces this moment of intimate contact to a level of crudity, probably more representative of his deteriorating relationship with his wife, Olga.
The praying mantis-like head of the two figures was a popular image with the Surrealists because the perverse concept of the female insect-eating her mate after intercourse provided another visual metaphor of the 'life and death' paradox. Here, the heads incorporate Picasso's obscene vagina dentatta teeth imagery, as well as penile tongues.
6. Les Demoiselles d'Avignon, 1907
Les Demoiselles d'Avignon marks a radical break from traditional composition and perspective in painting. It depicts five naked women composed of flat, splintered planes whose faces were inspired by Iberian sculpture and African masks. The compressed space they inhabit appears to project forward in jagged shards, while a slice of melon in the still life at the bottom of the composition teeters on an upturned tabletop. Picasso unveiled the monumental painting in his Paris studio after months of revision. The Avignon of the work's title is a reference to a street in Barcelona famed for its brothels.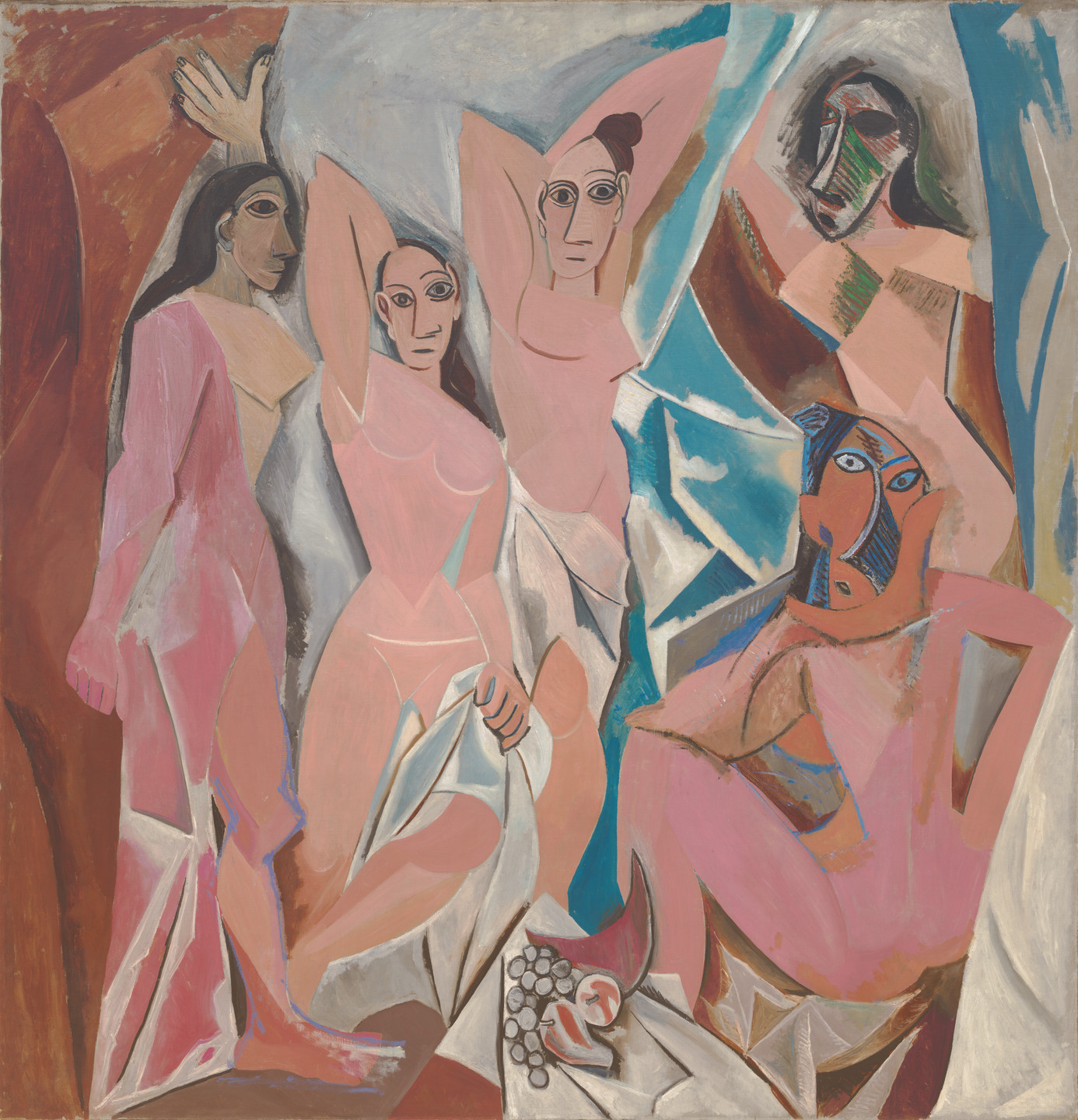 7. The Old Guitarist, 1903
This bent and sightless man holds close to him a large, round guitar. Its brown body represents the painting's only shift in color. Both physically and symbolically, the instrument fills the space around the solitary figure, who seems oblivious to his blindness and poverty as he plays. At the time the painting was made, literature of the Symbolist movement included blind characters who possessed powers of inner vision. The thin, skeleton-like figure of the blind musician also has roots in art from Picasso's native country, Spain. The old man's elongated limbs and cramped, angular posture recall the figures of the great 16th-century artist El Greco.
8. Minotaur With Dead Horse In Front Of A Cave Facing A Girl In Veil, 1936
In Minotaur with Dead Mare in front of a Cave, 1936, Picasso has represented the minatour emerging from a cave, carrying the body of a dead horse. Here he was clearly making on allusion to the contest to the death that characterizes bullfights. At the same time, however, he has brought together the violence of the struggle with the tenderness with which the victor bears the body of his victim,
9. Garçon à la Pipe (Boy with a Pipe), 1905
Pablo was a young, aspiring artist at the time of this painting – around 24 years old. It is seen as one of the most significant works from the early development of his career and shows how early Picasso moved into contemporary styles having initially studied classical art techniques.
Garcon a la Pipe raises more questions than it answers. Picasso touched on the beauty of youth in this painting which was out of character for his portraits of around this time. Elements of the pose are also inconclusive as to his thoughts behind the work, whilst the left arm is placed in an uncomfortable, unnatural position. Picasso found that Montmatre was awash with suitable models for his work, and with no shortage of people making their way in the entertainment industry, he was able to select all manner of interesting characters for his work. Many were more than happy to make a little supplementary income, whilst others were content just to be in and around a creative environment.
10. The Women of Algiers, 1955
Picasso's series The Women of Algiers was started within a month of the Nationalist uprising in Algeria in 1954 which lead to the eight-year long Algerian War of Independence.
France's history and politics in the post-war period was closely tied up with its relationship with its colonies and their bid for independence. In the midst of these events Picasso made the link with Eugène Delacroix's The Women of Algiers 1834. His dialogue with Delacroix can be traced back to a number of early drawings from 1940 and the famous 'Louvre' test of 1946 in which Picasso directly juxtaposed his work with masterpieces in the museum. Picasso would have been drawn to Delacroix's idea of the authenticity of antiquity in North Africa and to the relationship of Spanish culture to the period of Moorish domination.