The 10 Most Famous Artworks of Salvador Dali
From The Persistence of Memory to Swans Reflecting Elephants
You can also read this article in French or in Spanish.
Salvador Dalí, in full Salvador Felipe Jacinto Dalí y Domenech, (born May 11, 1904, Figueras, Spain—died January 23, 1989, Figueras), Spanish Surrealist painter and printmaker, influential for his explorations of subconscious imagery.
Born in Figueres, Catalonia, Spain, Dalí received his formal education in fine arts in Madrid. Influenced by Impressionism and the Renaissance masters from a young age, he became increasingly attracted to Cubism and avant-garde movements. He moved closer to Surrealism in the late 1920s and joined the Surrealist group in 1929, soon becoming one of its leading exponents.
Dalí's artistic repertoire included painting, graphic arts, film, sculpture, design and photography, at times in collaboration with other artists. He also wrote fiction, poetry, autobiography, essays and criticism. Major themes in his work include dreams, the subconscious, sexuality, religion, science and his closest personal relationships.
niood lists the 10 Most Famous Artworks of Salvador Dali:
1. The Persistence of Memory (1931)
Hard objects become inexplicably limp in this bleak and infinite dreamscape, while metal attracts ants like rotting flesh. Mastering what he called "the usual paralyzing tricks of eye-fooling," Dalí painted with "the most imperialist fury of precision," he said, but only "to systematize confusion and thus to help discredit completely the world of reality." It is the classic Surrealist ambition, yet some literal reality is included, too: the distant golden cliffs are the coast of Catalonia, Dalí's home.
Those limp watches are as soft as overripe cheese—indeed, they picture "the camembert of time," in Dalí's phrase. Here time must lose all meaning. Permanence goes with it: ants, a common theme in Dalí's work, represent decay, particularly when they attack a gold watch, and they seem grotesquely organic. The monstrous fleshy creature draped across the painting's center is at once alien and familiar: an approximation of Dalí's own face in profile, its long eyelashes seem disturbingly insect-like or even sexual, as does what may or may not be a tongue oozing from its nose like a fat snail.
2. Swans Reflecting Elephants (1937)
Swans Reflecting Elephants (1937) is from Dali's Paranoiac-critical period. Painted using oil on canvas, it contains one of Dali's famous double images. The double images were a major part of Dali's "paranoia-critical method," which he put forward in his 1935 essay "The Conquest of the Irrational." He explained his process as a "spontaneous method of irrational understanding based upon the interpretative critical association of delirious phenomena." Dali used this method to bring forth the hallucinatory forms, double images and visual illusions that filled his paintings during the Thirties.
3. Soft Construction with Boiled Beans (1936)
This painting expresses the destruction during the Spanish Civil War. The monstrous creature in this painting is self-destructive just as a Civil War is. This painting is not meant to depict choosing sides, although Dalí had many reasons to choose sides in the Spanish Civil War. His sister was tortured and imprisoned by communist soldiers fighting for the Republic and his good friend from art school, the poet Federico Garcia Lorca, was murdered by a fascist firing squad. Dalí also made this painting look very realistic and yet continued to bring in surreal concepts.
Although humans do not have the potential to look like the creatures in this painting, it retains a realistic feel, reminding the viewer of the gravity of the ideas behind it. Dalí also brought ideas of tradition to this piece with a beautiful Catalan sky, creating a contrast to the idea of revolution. There is a significant number of boiled beans in this painting. Dalí is quoted as saying the reason he included boiled beans was "one could not imagine swallowing all that unconscious meat without the presence of some mealy and melancholy vegetable." By this he meant that there were many hardships in the war so the Spanish citizens had to do their best to deal with their problems. He played with themes of love, eating, and the war and how they are all related.
4. The Great Masturbator (1929)
A nude female figure (resembling Dalí's then new muse, Gala) rises from the back of the head; this may be the masturbatory fantasy suggested by the title. The woman's mouth is near a thinly clad male crotch, a suggestion that fellatio may take place. The male figure seen only from the waist down has bleeding fresh cuts on his knees. Below the central profile head, on its mouth, is a grasshopper, an insect Dali referred to several times in his writings. A swarm of ants (a popular motif representing sexual anxiety in Dalí's work) gather on the grasshopper's abdomen, as well as on the prone face.
The painting may represent Dalí's severely conflicted attitudes towards sexual intercourse. In Dalí's youth, his father had left out a book with explicit photos of people suffering advanced untreated venereal diseases to "educate" the boy. The photos of grotesquely damaged diseased genitalia fascinated and horrified young Dalí, and he continued to associate sex with putrefaction and decay into his adulthood.
5. Metamorphosis of Narcissus (1937)
This painting is Dalí's interpretation of the Greek myth of Narcissus. Narcissus was a youth of great beauty who loved only himself and broke the hearts of many lovers. The gods punished him by letting him see his own reflection in a pool. He fell in love with it, but discovered he could not embrace it and died of frustration. Relenting, the gods immortalised him as the narcissus (daffodil) flower. For this picture Dalí used a meticulous technique which he described as 'hand-painted colour photography' to depict with hallucinatory effect the transformation of Narcissus, kneeling in the pool, into the hand holding the egg and flower. Narcissus as he was before his transformation is seen posing in the background. The play with 'double images' sprang from Dalí's fascination with hallucination and delusion.
6. The Dream Caused by the Flight of a Bee (1944)
In this "hand-painted dream photograph", as Dalí generally called his paintings, there is a seascape of distant horizons and calm waters, perhaps Port Lligat, amidst which Gala is the subject of the scene. Next to the naked body of the sleeping woman, which levitates above a flat rock that floats above the sea, Dalí depicts two suspended droplets of water and a pomegranate, a Christian symbol of fertility and resurrection. Above the pomegranate flies a bee, an insect that traditionally symbolizes the Virgin.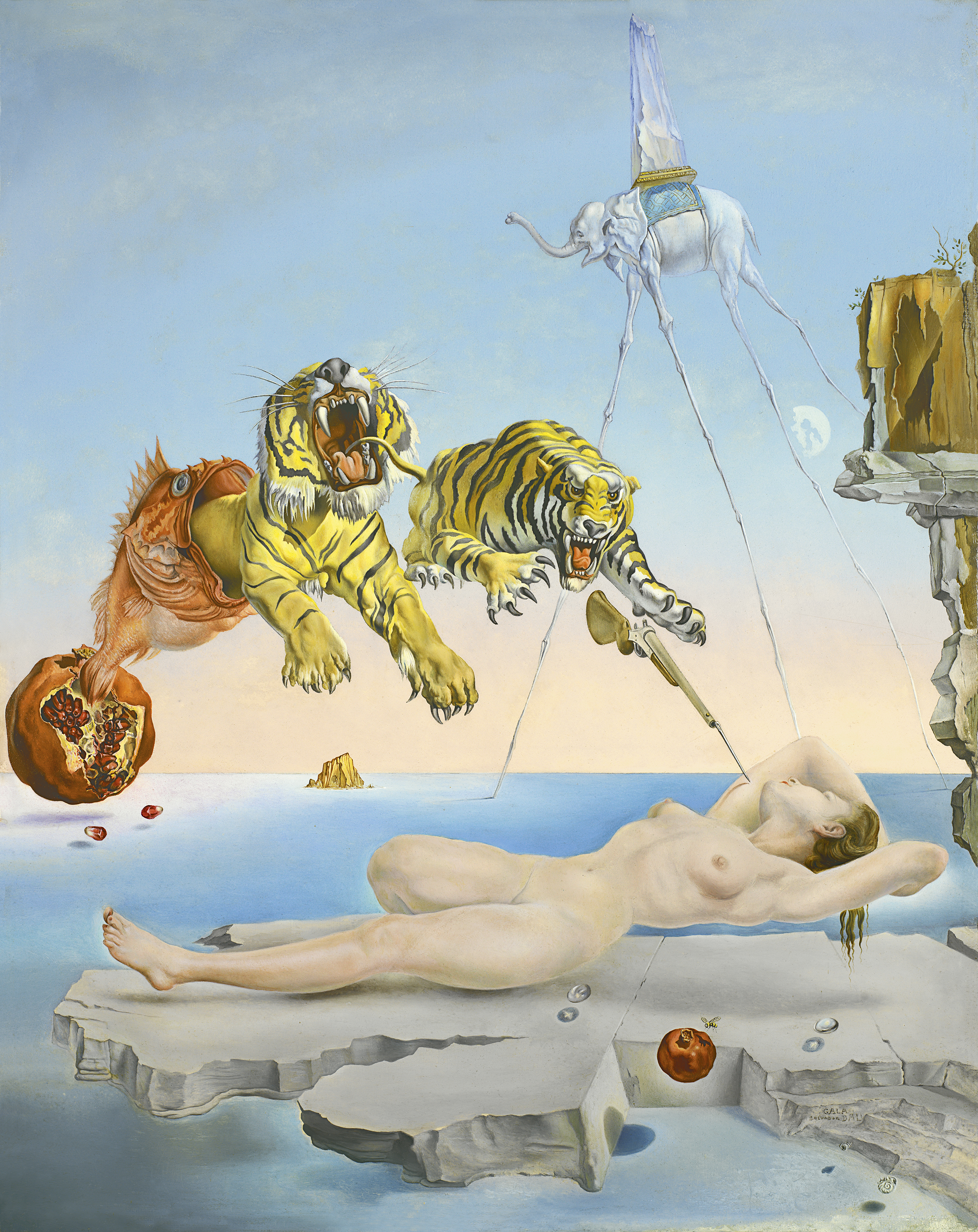 7. The Burning Giraffe (1937)
Dali painted Burning Giraffe before his exile in the United States which was from 1940 to 1948. Although Dali declared himself apolitical – "I am Dali, and only that" – this painting shows his personal struggle with the battle in his home country. Characteristic is the opened drawers in the blue female figure, which Dali on a later date described as "Femme-coccyx" (tail bone woman).
This phenomenon can be traced back to Sigmund Freud's psychoanalytical method, much admired by Dali. He regarded him as an enormous step forward for civilization, as shown in the following quote. "The only difference between immortal Greece and our era is Sigmund Freud who discovered that the human body, which in Greek times was merely Neoplatonic, is now filled with secret drawers only to be opened through psychoanalysis." The opened drawers in this expressive, propped up female figure thus refer to the inner, subconscious within man. In Dali's own words his paintings form "a kind of allegory which serves to illustrate a certain insight, to follow the numerous narcissistic smells which ascend from each of our drawers."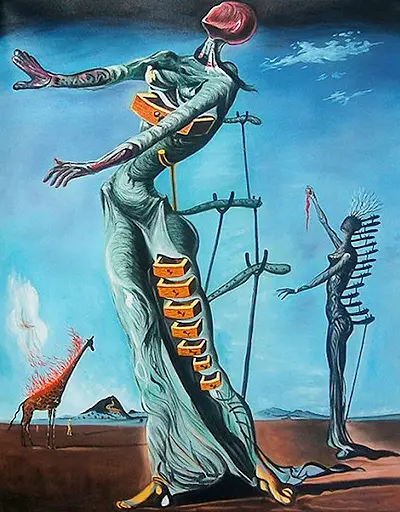 8. Mae West Lips Sofa (1937)
In 1935 Salvador Dalí, arguably the most famous of the Surrealist artists at the time, met a kindred spirit in the British collector and poet Edward James. James was Britain's most distinguished supporter of the Surrealist movement, and the pair struck up a deep friendship, with James becoming a collector of Dalí's work. In 1936 Dalí stayed with James at his London home, where they developed a number of ideas for Surrealist objects and furniture. It was James who suggested that they create a sofa based on Dalí's work, Mae West's Face which May be Used as a Surrealist Apartment (1934 – 35), which sees the scarlet lips of the Hollywood sex-symbol Mae West reimagined as seating for a fantastical room-setting.
9. Lobster Telephone (1936)
This is a classic example of a Surrealist object, made from the conjunction of items not normally associated with each other, resulting in something both playful and menacing. Dalí believed that such objects could reveal the secret desires of the unconscious. Lobsters and telephones had strong sexual connotations for Dalí. The telephone appears in certain paintings of the late 1930s such as Mountain Lake (Tate Gallery T01979), and the lobster appears in drawings and designs, usually associated with erotic pleasure and pain. For the 1939 New York World's Fair, Dalí created a multi-media experience entitled The Dream of Venus, which consisted in part of dressing live nude models in 'costumes' made of fresh seafood, an event photographed by Horst P. Horst and George Platt Lynes. A lobster was used by the artist to cover the female sexual organs of his models. Dalí often drew a close analogy between food and sex. In Lobster Telephone, the crustacean's tail, where its sexual parts are located, is placed directly over the mouthpiece.
10. Christ of Saint John of the Cross (1951)
It depicts Jesus Christ on the cross in a darkened sky floating over a body of water complete with a boat and fishermen. Although it is a depiction of the crucifixion, it is devoid of nails, blood, and a crown of thorns, because, according to Dalí, he was convinced by a dream that these features would mar his depiction of Christ. Also in a dream, the importance of depicting Christ in the extreme angle evident in the painting was revealed to him.