The 10 Most Sustainable Hotels in Aruba
For an Ethical and Sustainable Stay in Aruba
A Sustainability Ranking in partnership with ETIC Hotels
You're planning a trip to Aruba and you're trying to be as ethical and sustainable as possible?
niood lists you the 10 most sustainable hotels in Aruba:
1. Bucuti & Tara Beach Resort
From $350 per night

ETIC Hotels Green Score: 9.5/10
What makes Bucuti & Tara Beach Resort sustainable?
REUSE, REDUCE, RECYCLE
Water canteens and water coolers for guests to discourage the purchase of plastic bottles. 290,000 water bottles saved per year
Electronic signature at check-in instead of paper
Recycling bins for aluminum and green glass
Left-over food donated to local farmers
Old furniture is reused or sold for refurbishment
Purchase products in bulk
Dispensers for toiletries rather than individual packaging
WATER SAVING
Load washing machines to full capacity before use
Water saving faucets
Water saving toilets
Grey water used for irrigation in garden
Changing of bed linens only on Wednesday and Saturday and on request or check out
Sprinklers are on timers which are adjusted depending on amount of rainfall. We also collect rain water and use it for irrigation.
NATURE PRESERVATION
Monthly Beach Clean Ups with guests and employees
Farmed wood
Outdoor deck made of recycled materials
Use of eco-friendly cleaning products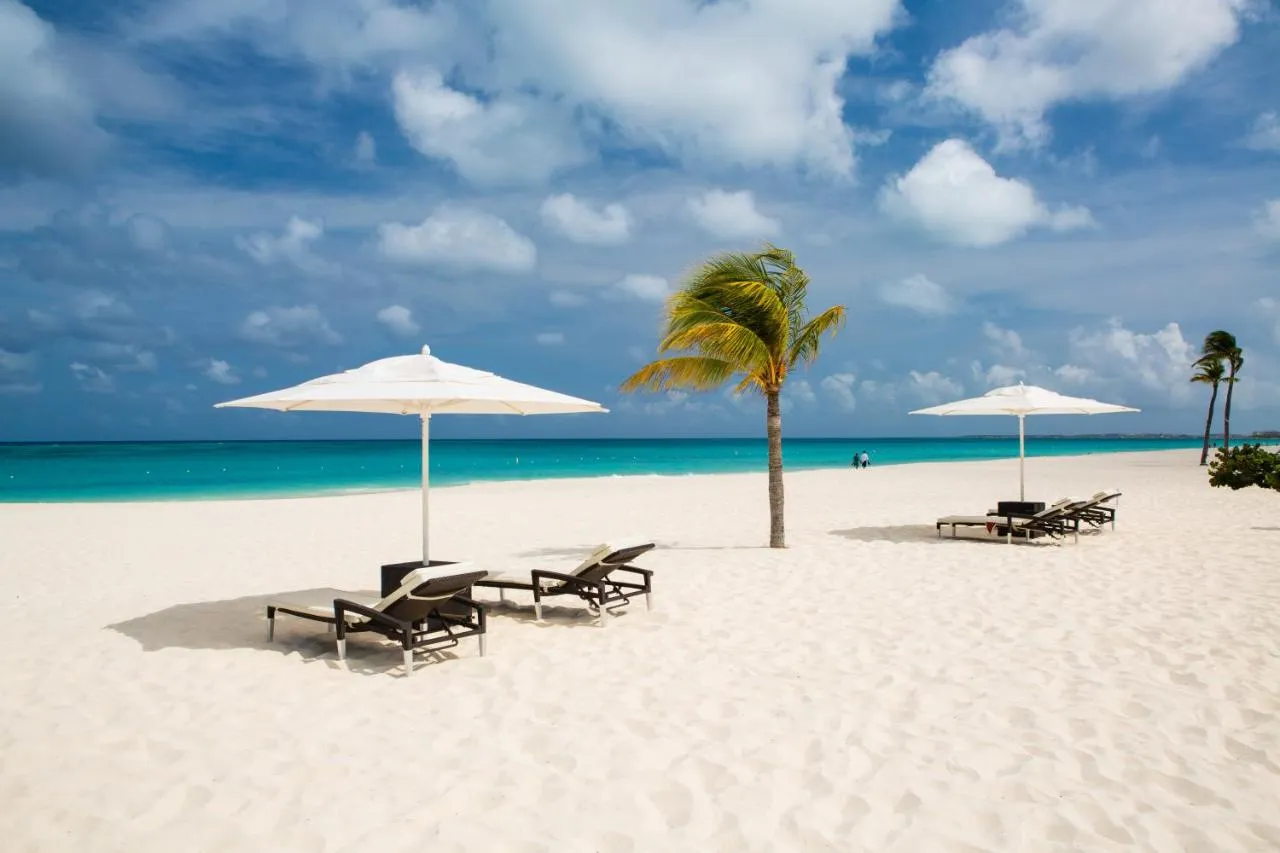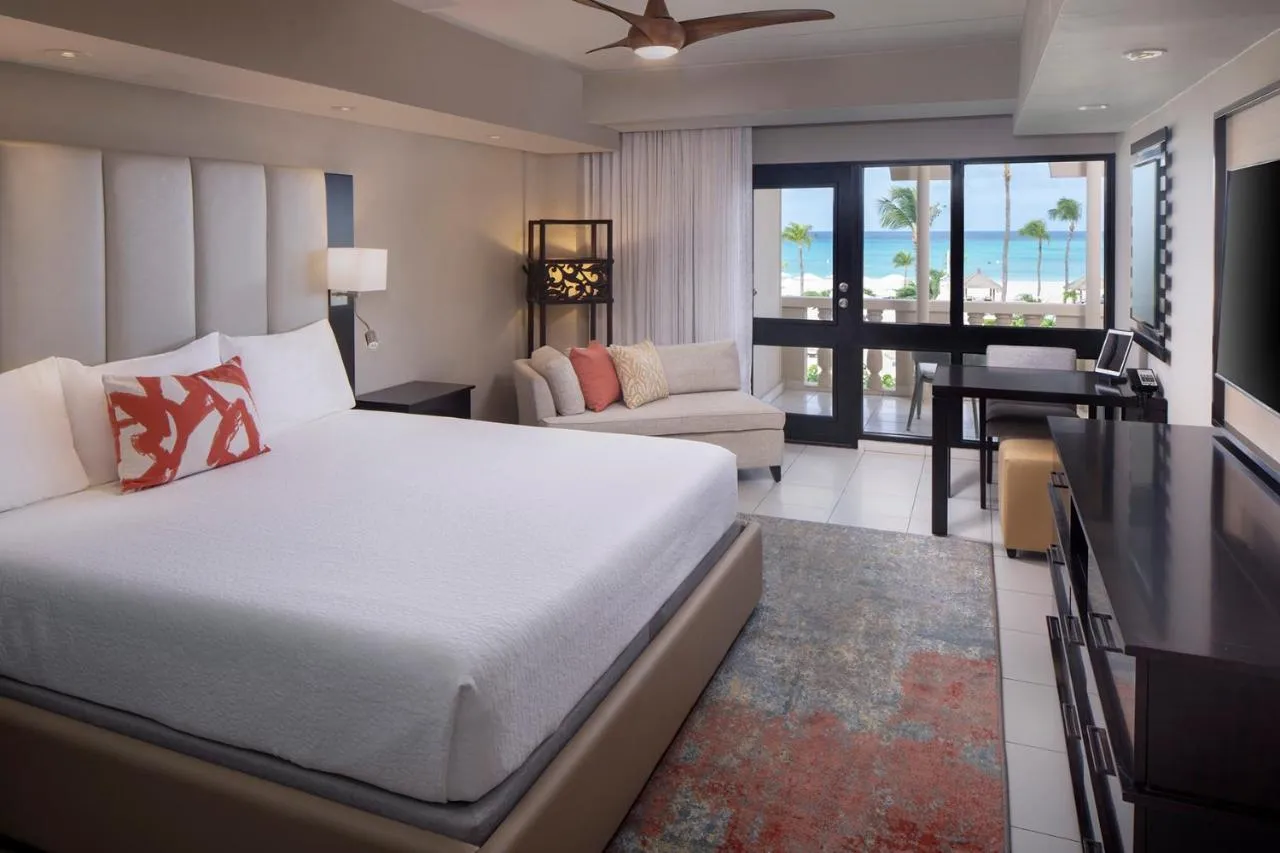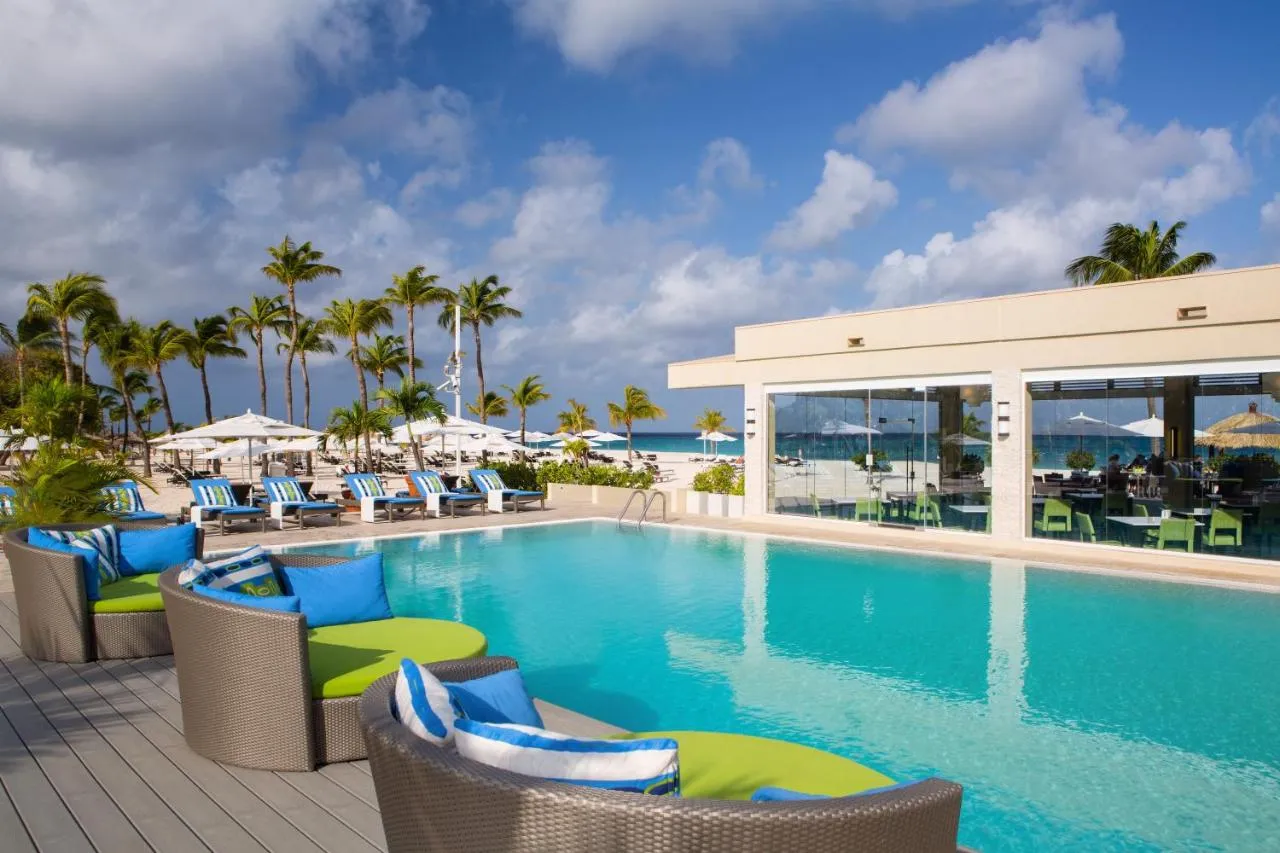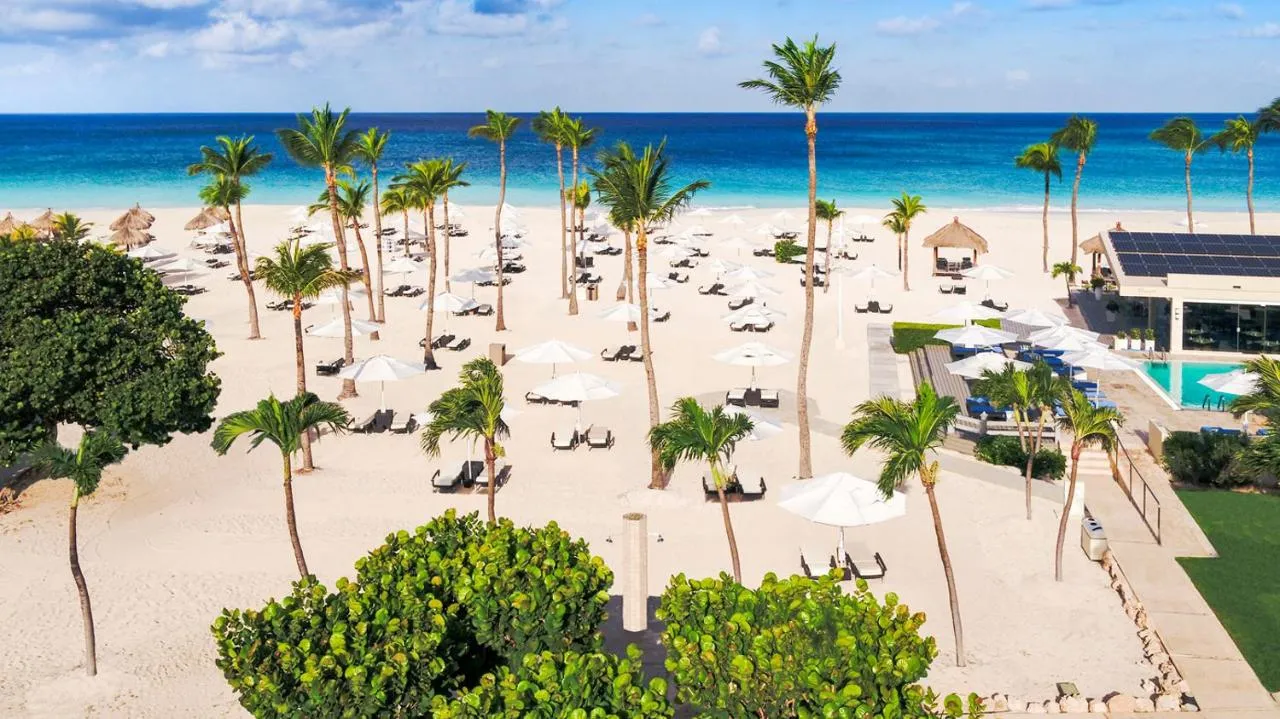 2. Manchebo Beach Resort & Spa
From $350 per night

ETIC Hotels Green Score: 9.5/10
What makes Manchebo Beach Resort & Spa sustainable?
Manchebo Beach Resort & Spa is a Platinum-certified Green Globe resort. We are committed to operating an eco-friendly resort and adhering to the best practices of sustainable tourism. Our initiatives include:
Annually reviewing our performance and improving year to year toward the industry's best practice levels.
Wherever possible, purchasing local products and services with minimal negative environmental impact.
Recording and tracking our operational performance in order to maintain an effective environmental sustainability plan.
Giving preference to employing local people wherever possible.
Reducing, reusing and recycling throughout the property to prevent and control pollution.
Educating our staff, guests, suppliers and community in order to build environmental awareness and action.
Lowering our utility costs by tracking the performance of current systems and technology
Introducing a measurement and monitoring system across the company.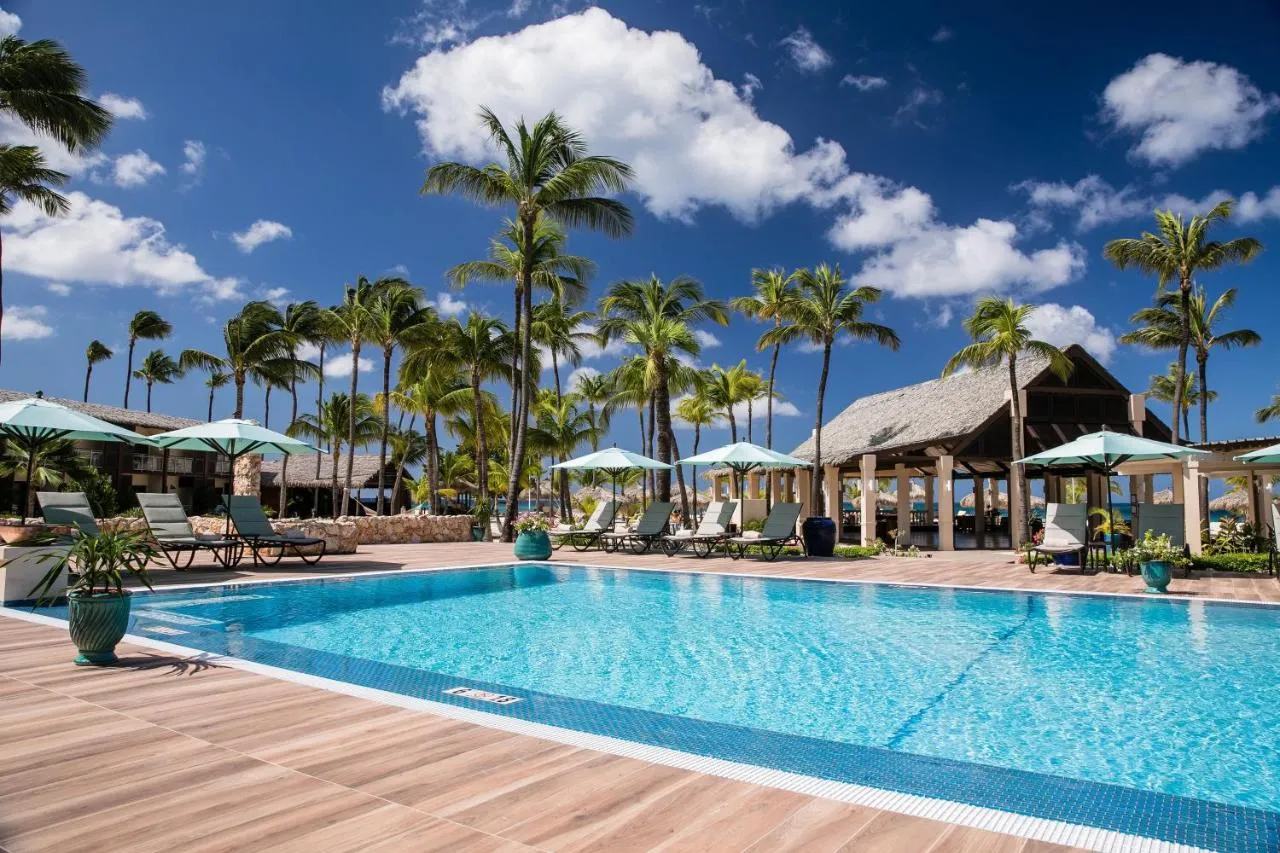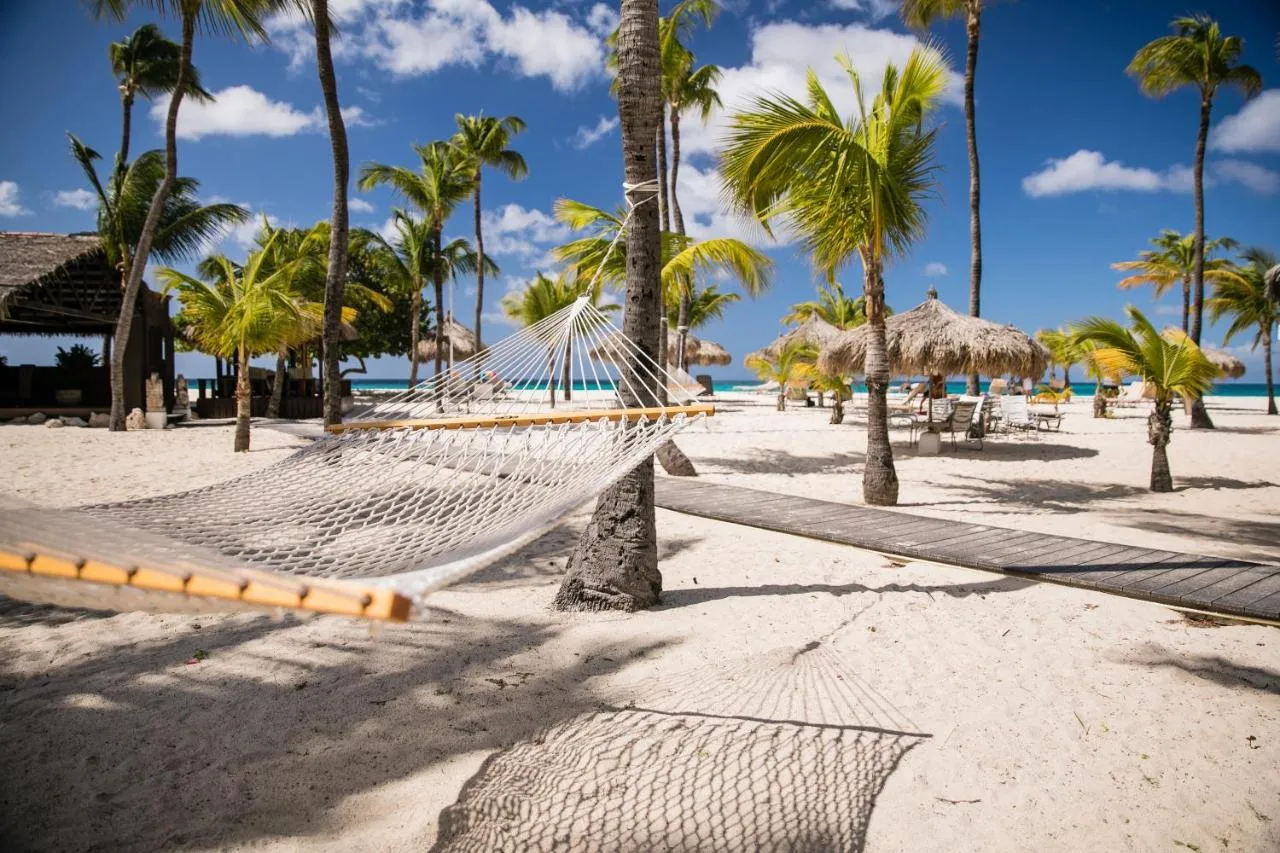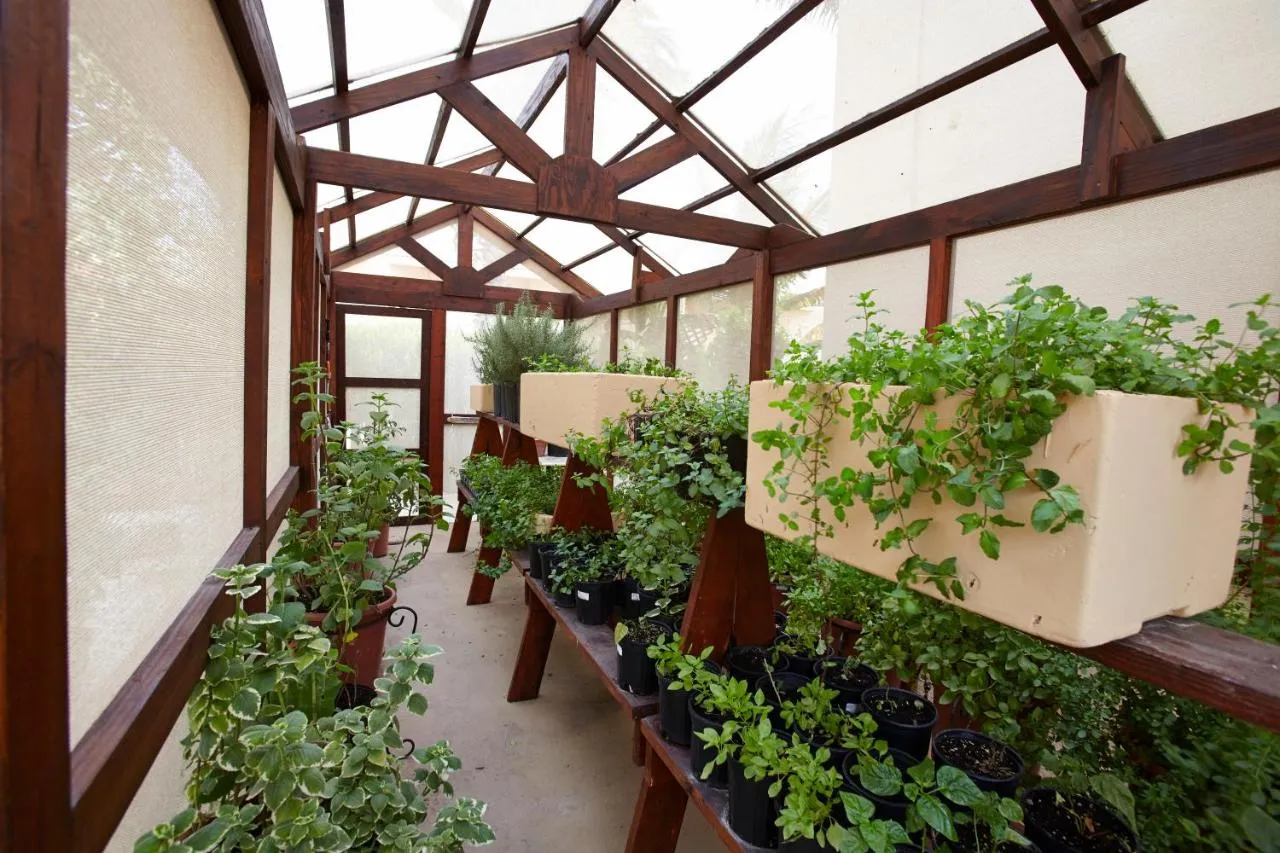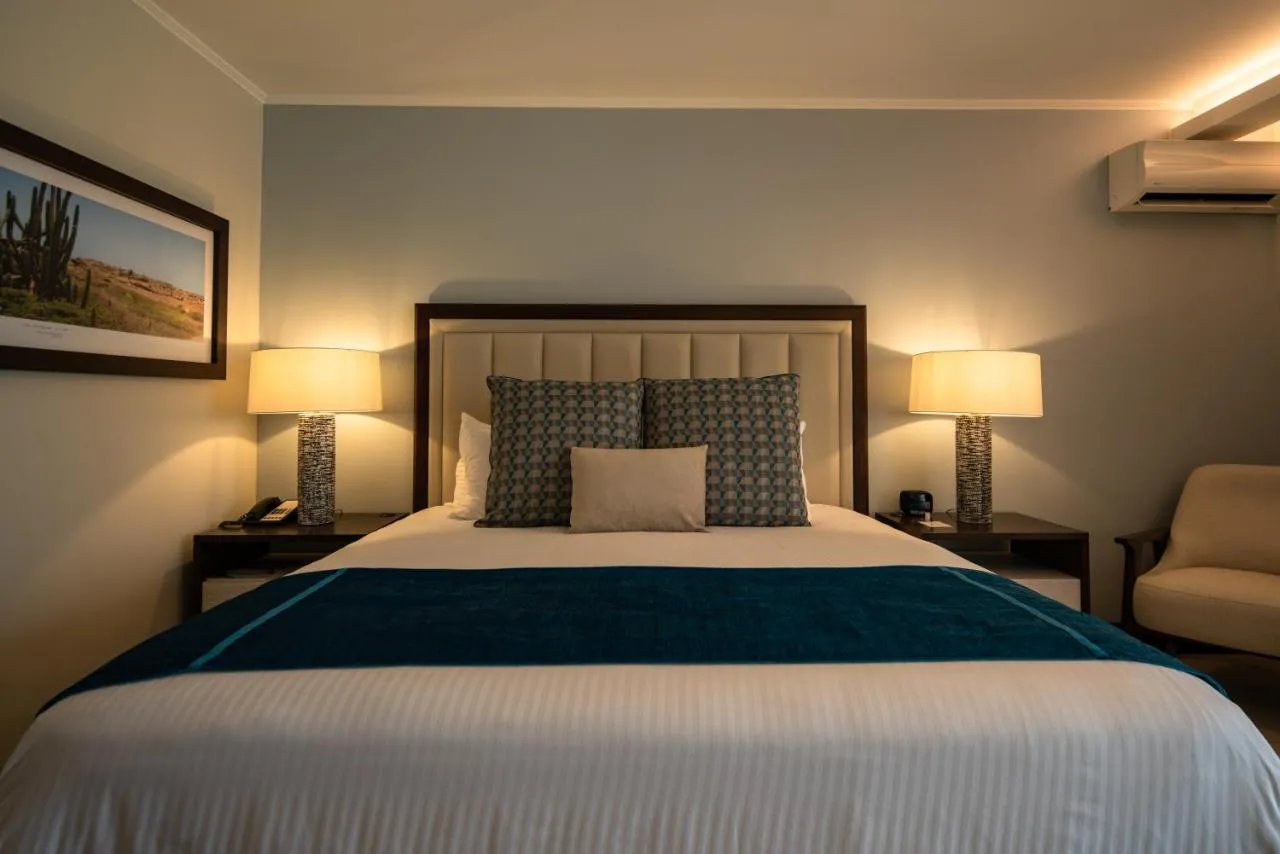 3. Amsterdam Manor Beach Resort
From $230 per night

ETIC Hotels Green Score: 9.5/10
What makes Amsterdam Manor Beach Resort sustainable?
At the Amsterdam Manor Beach Resort, we constantly find ways to innovate eco-friendly developments. Some of our main efforts include:
Saving water by using Aerators and Dual Flush Systems
Saving energy by using Solar Heaters and insulation doors and windows
Minimizing emissions and waste generation of regular and hazardous materials involved in our operations
Protecting and minimizing our impact on the air quality
Decreasing solid waste generation and, where possible, increasing re-use and recycling practices
Properly managing our waste water resources to minimize our impact on the environment
Encouraging and enhancing environmental awareness among our guests, staff, and the local community
Participating with NGO's (Non-Government Organizations) in conservation programs to protect local species and their habitat
Every year, sea turtles lay their eggs on Eagle Beach. To protect them from harm, we have our staff ensure that there is no human interference
4. Divi Aruba All Inclusive Resorts
From $1,200 per night

ETIC Hotels Green Score: 9.5/10
What makes Divi Aruba All Inclusive Resorts sustainable?
We monitor all of the water use on our properties, including water used for pools, guest rooms, kitchens, restaurants, dining areas and gray water for landscaping.
We use timers on our electrical equipment, including air-conditioning units, outdoor lighting for walkways, 100% energy saving light bulbs, refrigeration equipment in the kitchens and more.
Plastic constitutes 90% of all trash floating in the oceans. Straws are in the top 10 of items picked up during trash cleanups and affecting Aruba wildlife, turtles and other species. This is one of the main reasons we have eliminated the use of plastic straws and other paper and plastic goods throughout the properties. We have reduced our bottle usage by 60% by using BiB (bag in box) systems.
Hotel determines suitability of all products before they are purchased, and we provide full training for staff whenever new chemicals or equipment are purchased for use at any Divi property.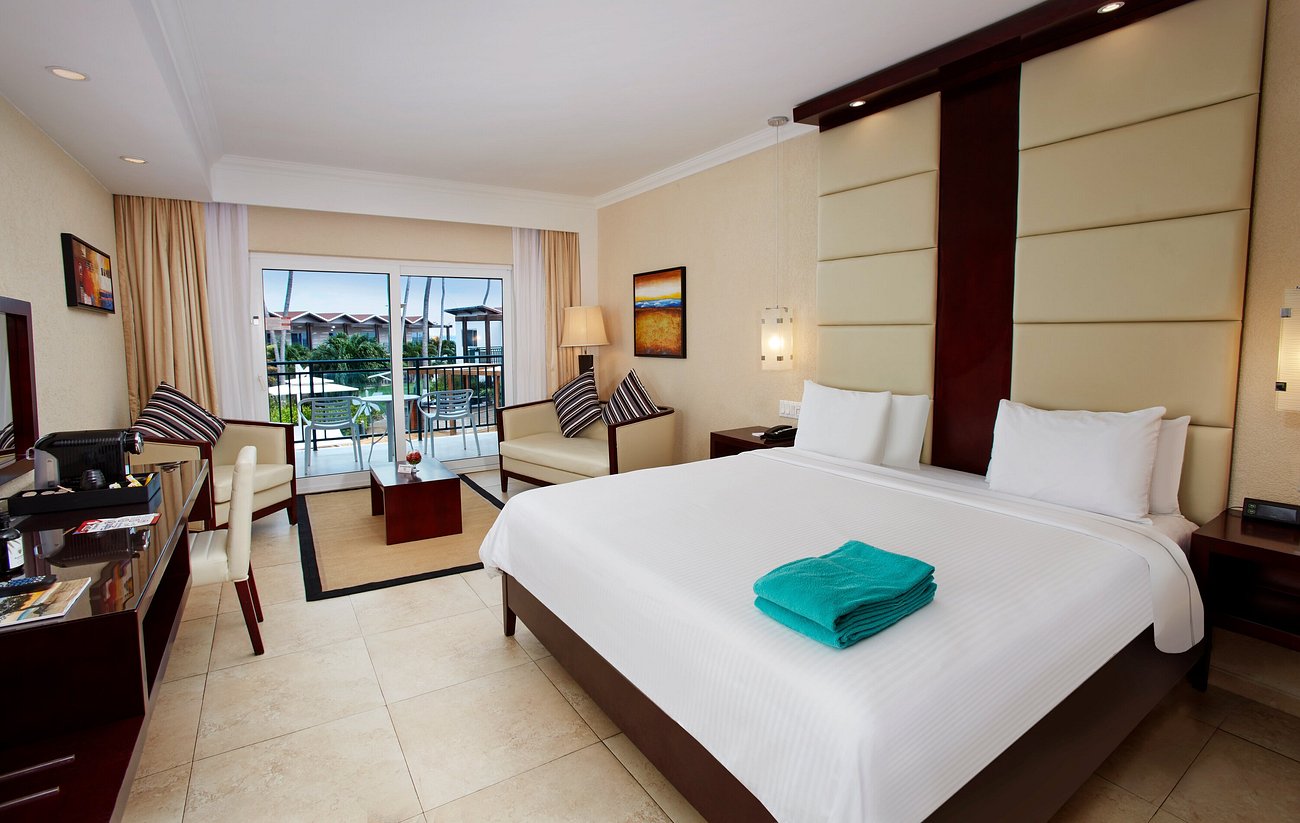 5. Hyatt Regency Aruba
From $400 per night

ETIC Hotels Green Score: 9.5/10
What makes Hyatt Regency Aruba sustainable?
Among standout practices, Hyatt Regency Aruba was lauded for: The "elegant" use of natural ventilation in the main lobby, befitting the resort's tropical location while resulting in "substantial energy savings."Use of premium environmentally friendly solutions, such as the planned introduction of biodegradable food trays instead of cheaper polystyrene trays.The roof garden with skylights for the Ruinas del Mar restaurant, hailed as "one of the few successful roof gardens in Aruba" in the Green Globe Certification Audit Report. Community work by employees done during work time.
6. Aruba Marriott Resorts
From $540 per night

ETIC Hotels Green Score: 9.5/10
What makes Aruba Marriott Resorts sustainable?
The Aruba Marriott Resort & Stellaris Casino continually strives to operate in an environmentally friendly way. It recently introduced new digital thermostats as well as LED lighting in all guest rooms. The hotel is in the process of installing new double-pane glass windows and doors. Other green initiatives already implemented include constant exhaust air regulators, a solar domestic hot-water system, domestic water booster bumps to regulate water pressure, energy recovery units, and a gray-water filtration system, which recycles zinc water for plant irrigation. The associates also participate in community beach cleanups and Earth Hour.
7. MVC Eagle Beach Resort
From $140 per night

ETIC Hotels Green Score: 9.5/10
What makes MVC Eagle Beach Resort sustainable?
At MVC Eagle Beach we care about the environment. Most of our actions take place in the back of the house so our guests don't really notice but you can be sure that by doing business with us you are helping care for the planet and can trust that we are doing everything possible to minimize the environmental footprint resulting from travels.
We are proud to have received two high ranked certificates for our input in helping the environment. MVC Eagle Beach successfully attained EarthCheck Silver Benchmarked status and the Travelife Gold status.
The Travelife scheme awards hotels who improve their environmental management and social policy by working with and contributing to the local community. To gain the EarthCheck certification, MVC Eagle Beach had to report their environmental footprint to independent auditors and adhere to internationally recognized standard of Best Practice.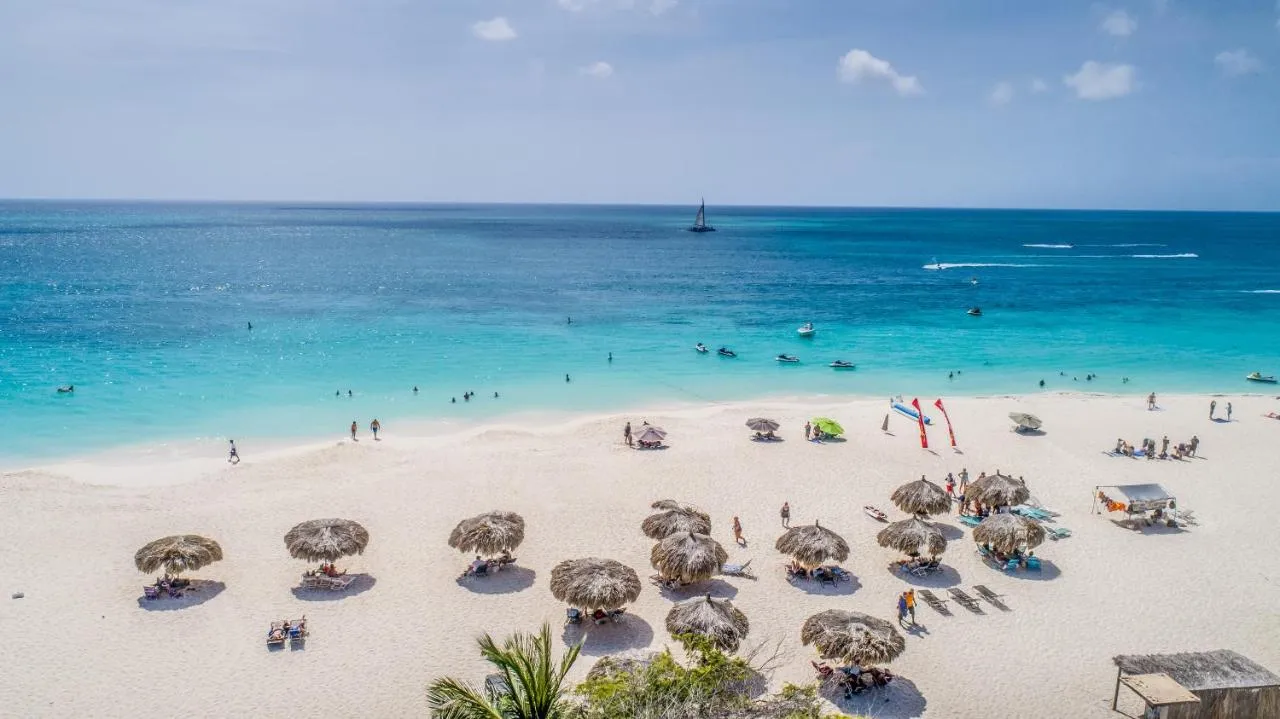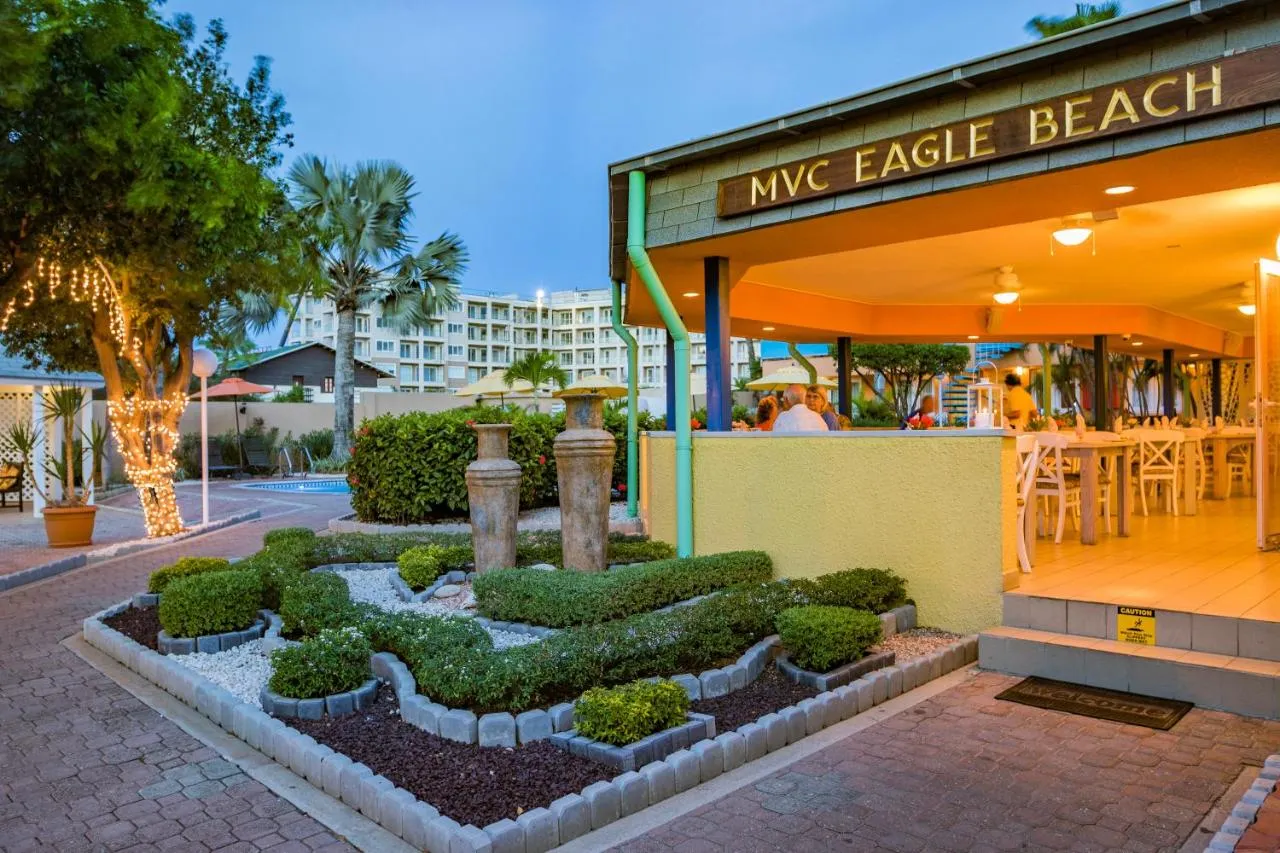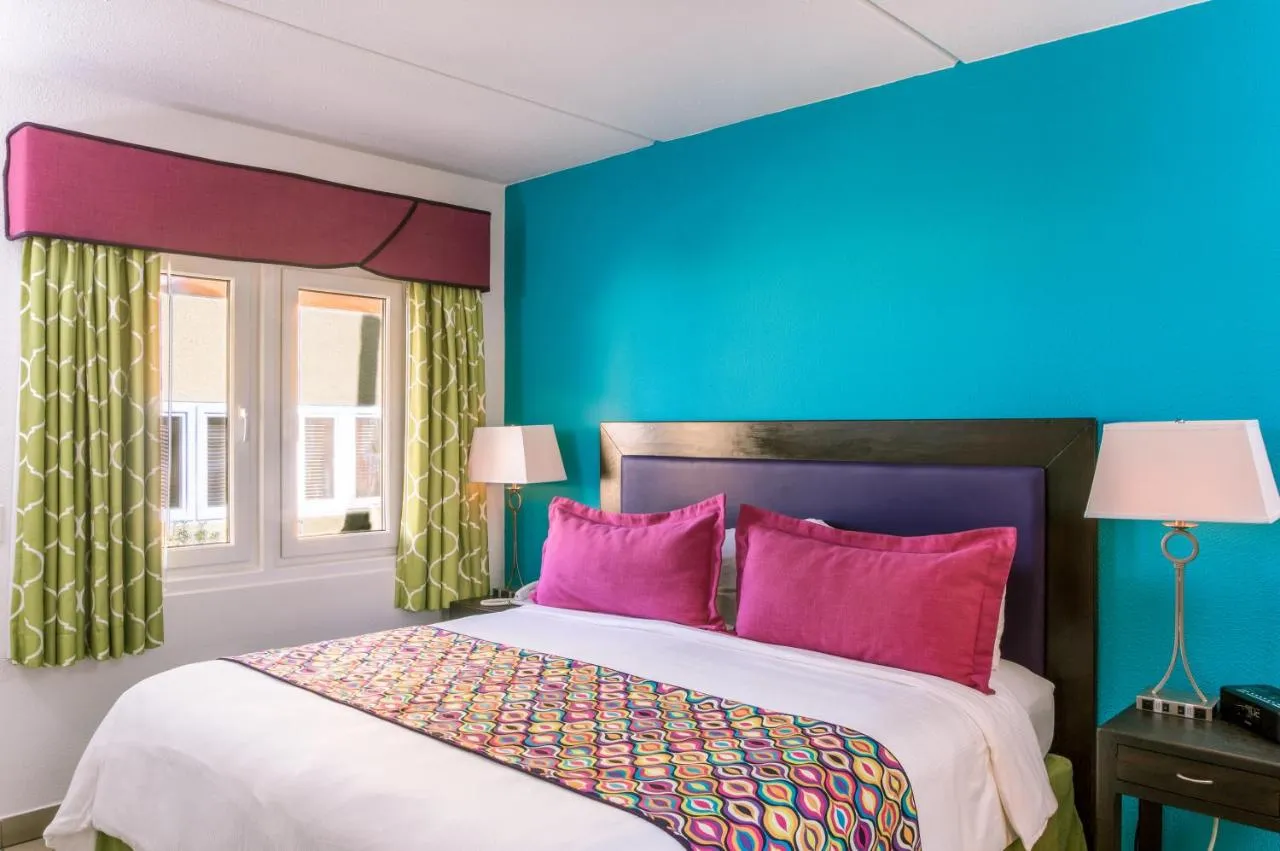 8. Renaissance Aruba Resort & Casino
From $140 per night

ETIC Hotels Green Score: 9.5/10
What makes Renaissance Aruba Resort & Casino sustainable?
Single-use plastic miniature shampoo, conditioner, and body wash bottles not used
Single-use plastic stirrers not used
Single-use plastic straws not used
Single-use plastic cups not used
Single-use plastic cutlery/plates not used
Water-efficient toilets
Water-efficient showers
Option to opt-out of daily room cleaning
Option to reuse towels
Energy and greenhouse gases
Most lighting throughout property uses energy-efficient LED bulbs
All windows are double-glazed
Destination and community
Invests a percentage of revenue back into community projects or sustainability projects
Tours and activities organised by local guides and businesses offered
Local artists are offered a platform to display their talents
9. La Cabana Beach Resort & Casino
From $220 per night

ETIC Hotels Green Score: 9.5/10
What makes La Cabana Beach Resort & Casino sustainable?
Coast Hotels are nestled in magnificent mountain ranges and spectacular cities, in quaint towns and coastal retreats. We want to keep those places beautiful. Our eco-friendly, hotel practices help protect our surroundings by encouraging sustainability in a variety of ways: recycling, composting, sustainable foods, bio-degradable cleaning supplies, energy-efficient lighting and more.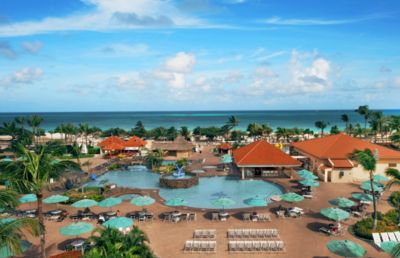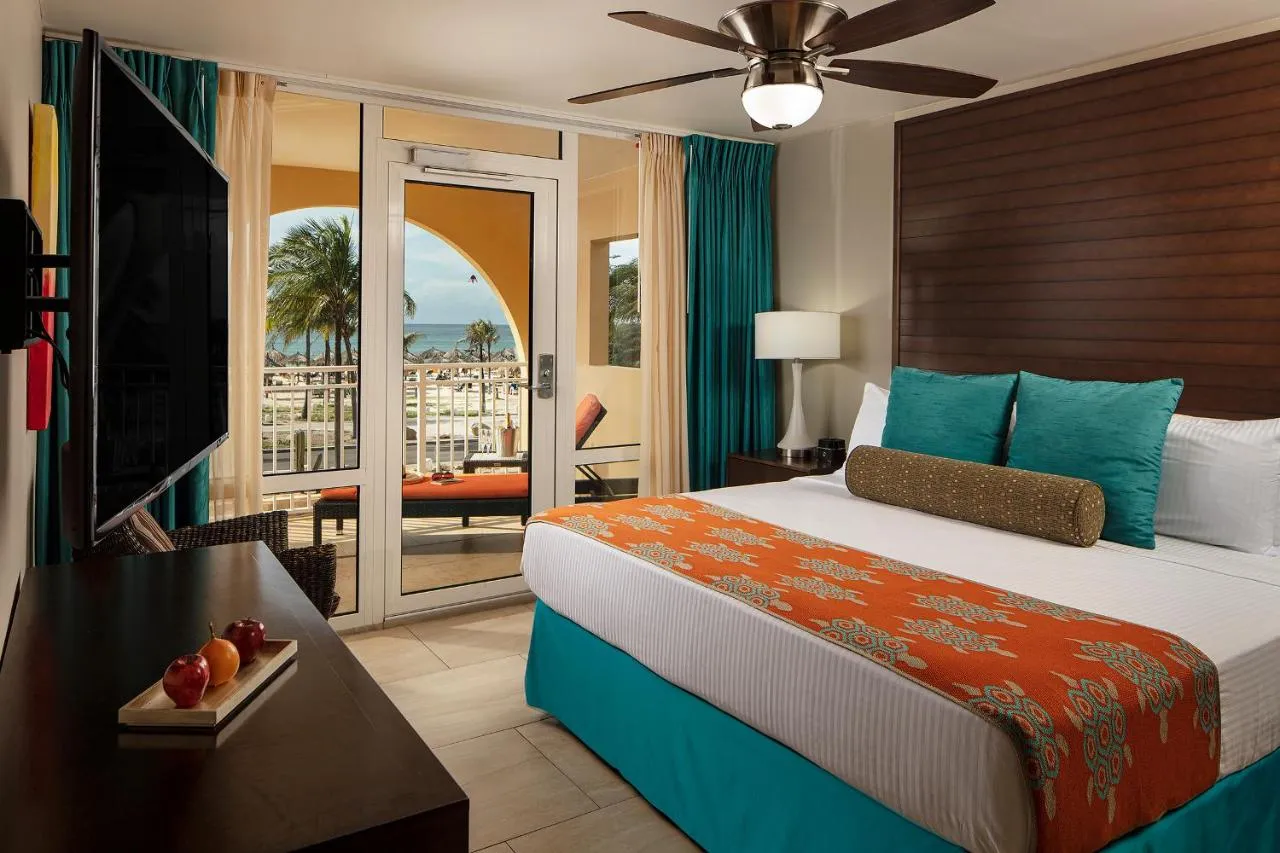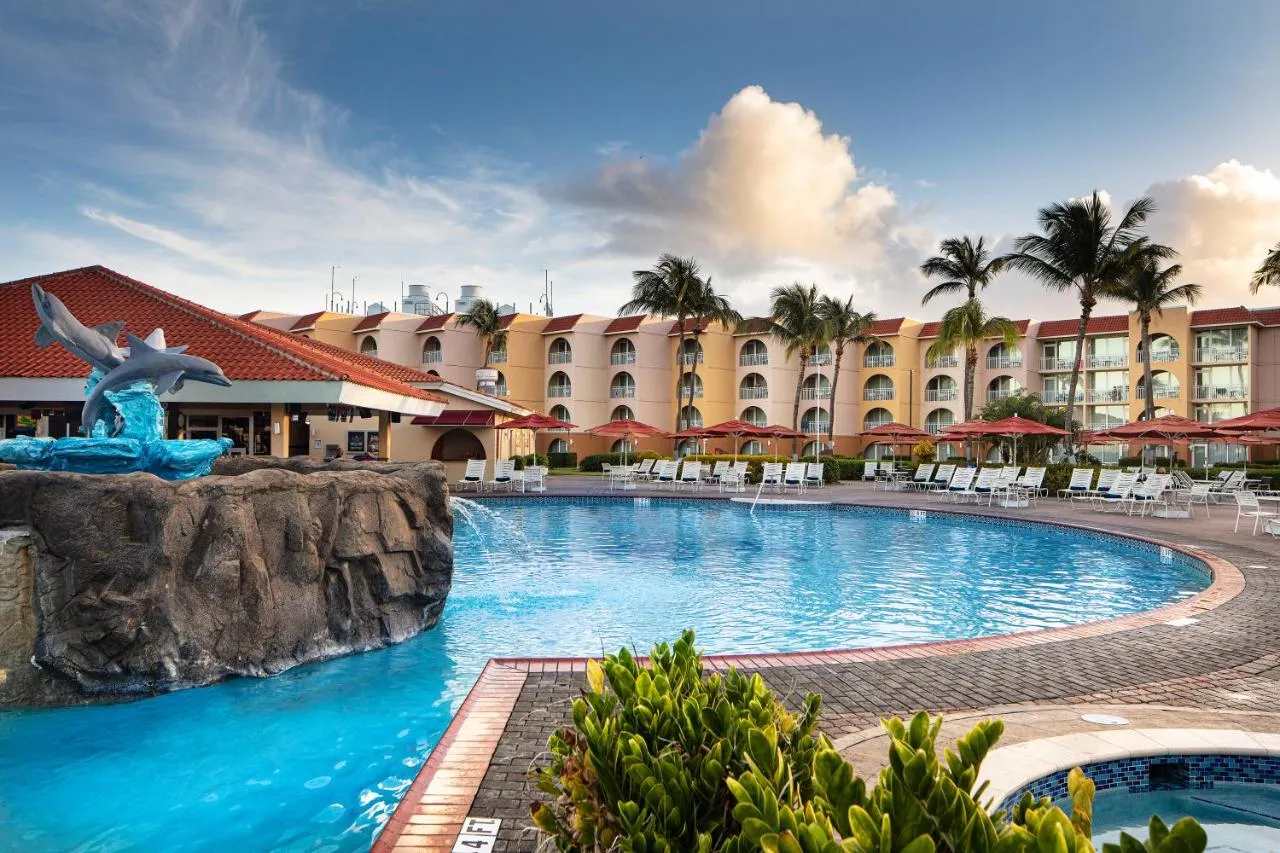 10. The Ritz-Carlton, Aruba
From $550 per night

ETIC Hotels Green Score: 9.5/10
What makes The Ritz-Carlton Aruba sustainable?
Sustain. Protect. Experience. These are the principles that guide The Ritz-Carlton Environmental Responsibility strategy and goals, including:
further reducing energy and water consumption 20% by 2020 (Energy 20 percent per kWh/conditioned m2; Water 20 percent per occupied room. Baseline: 2007);
increasing local and organic dining options by partnering with local farmers, growers and seafood purveyors;
sourcing environmentally preferred products;
empowering our hotel development partners to build green hotels;
engaging and inspiring our employees and guests in conservation efforts.
We are focused on integrating environmental sustainability throughout our business, including architecture and construction, hotel operations, and procurement. A comprehensive set of initiatives and practices are in place, designed to reduce energy use, water consumption and waste, while database and monitoring systems help us to track consumption and monitor progress against goals.