The 10 Most Sustainable Hotels in Australia
For an Ethical and Sustainable Stay in Australia
A Sustainability Ranking in partnership with ETIC Hotels
You're planning a trip to Australia and you're trying to be as ethical and sustainable as possible?
niood lists you the 10 most sustainable hotels in Australia:
1. Emirates One&Only Wolgan Valley
Wolgan Valley NSW 2790, Australia
From $2,000 per night

ETIC Hotels Green Score: 9.5/10
What makes Emirates One&Only Wolgan Valley sustainable?
Emirates One&Only Wolgan Valley is committed to achieving best practiced environmental and social sustainability and has partnered with EarthCheck, the world's leading benchmarking and certification provider, CarboNZero, a world leading carbon certification program and sustainability advantage, a New South Wales Government initiative to assist business in lowering their carbon footprint.
At Emirates One&Only Wolgan Valley, we recognise the activities of our Hotel may have the potential for negative impacts on the environment and community if not correctly managed. As such, we have implemented an Environmental Management System that meets the requirements of EarthCheck, CarboNZero and Sustainability Advantage Standards. Emirates One&Only Wolgan Valley is committed to continual improvement measured by way of annual benchmarking assessments.
2. Bamurru Plains, Northern Territory
Mary River Floodplai, Kakadu NT 0836, Australia
From $1,500 per night

ETIC Hotels Green Score: 9.5/10
What makes Bamurru Plains sustainable?
Bamurru Plains, consisting of just 10 bungalows in addition to the main safari lodge, makes minimal impact on the natural environment. Each suite blends with the surrounding bush and is shaded by native woodland and pandanus trees. Elevated on poles above the floodplain, with overhead fans and mesh walls on three sides to maximise breeze flow, the bungalows don't need air conditioning (though it is available at extra cost in three of the suites).
An array of 240 solar panels provides around 75 per cent of the lodge's power, which reduces both the carbon footprint and noise that could disrupt wildlife.
Each aspect of our properties has been carefully planned to minimise our impact on the land. We are constantly reviewing and improving our strategies.
Our linen is sand-coloured and, therefore, does not require harsh bleach or chemicals to maintain whiteness, but retain its luxe quality. Its composition allows for hang-drying with no ironing. Laundry detergents are eco-certified.
Cleaning products are eco-certified and chemical containers are re-used.
Drinking water is filtered bore water and re-usable bottles are provided for guest activities. Other glass bottles are recycled and we do not use plastic mineral water bottles.
Reliance on the diesel generator is kept to a minimum. Seventy-five per cent of power is solar generated, as well as all hot water. A hairdryer is available only on request, and only three rooms have air conditioning, which is available at a surcharge to cover the additional fuel burn required.
3. Ramada Eco Beach Resort
Great Northern Highway, 6725 Broome, Australia
From $150 per night

ETIC Hotels Green Score: 9.5/10
What makes Ramada Eco Beach Resort sustainable?
Ngaji gurrjin Yardoogarra buru – Hello everybody, welcome to Yardoogarra. We would like to share our cultural experiences and our land with you, as part of our journey together. As you move through this land, allow your body to relax, and tune into nature. Stop often. Look wide – listen, smell, have a feel of the rocks and shells. Let your senses come to life, and appreciate the environment. Our heritage and culture is deeply linked to the entire environment and the natural resources that sustain us – plants, animals, landscapes, waterholes and the sea. By respecting the environment, you are respecting our culture. Galiya (see you soon)!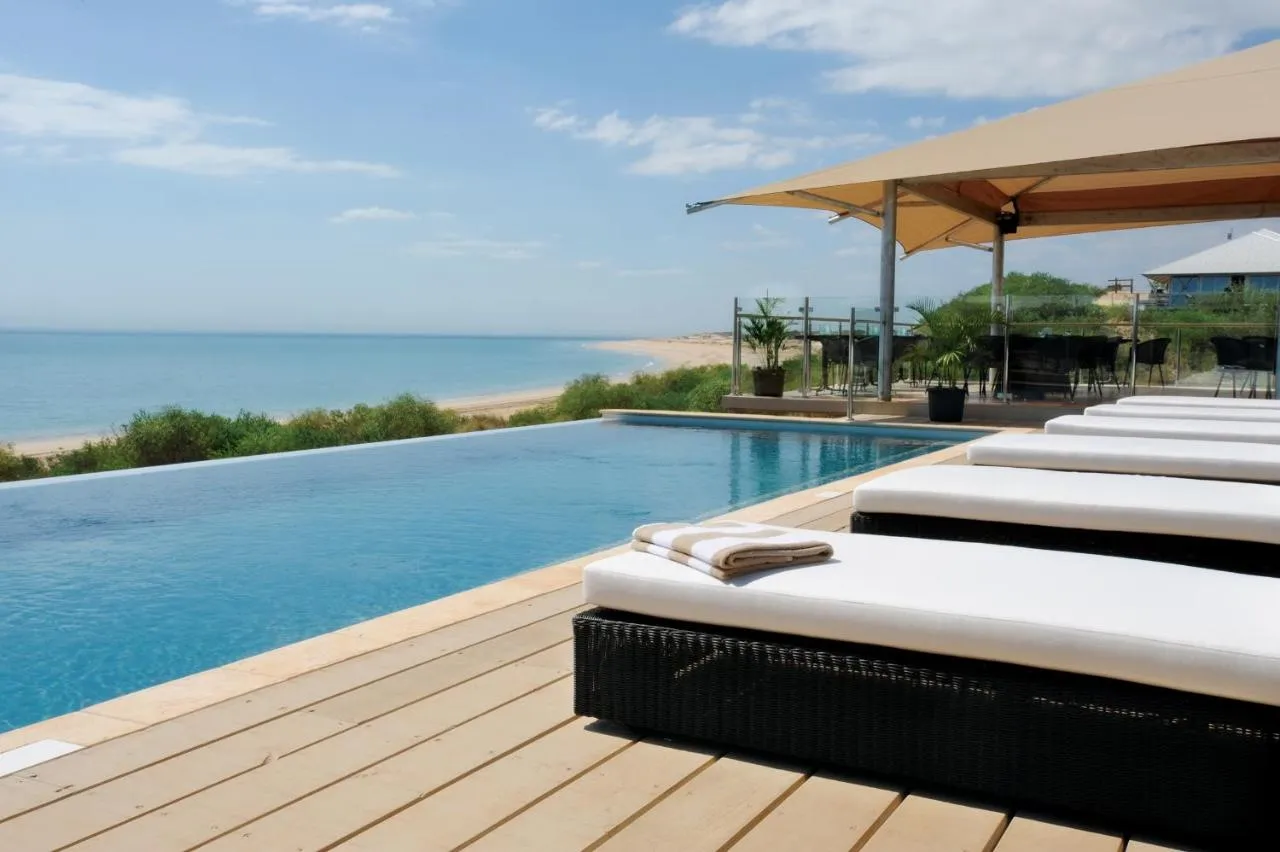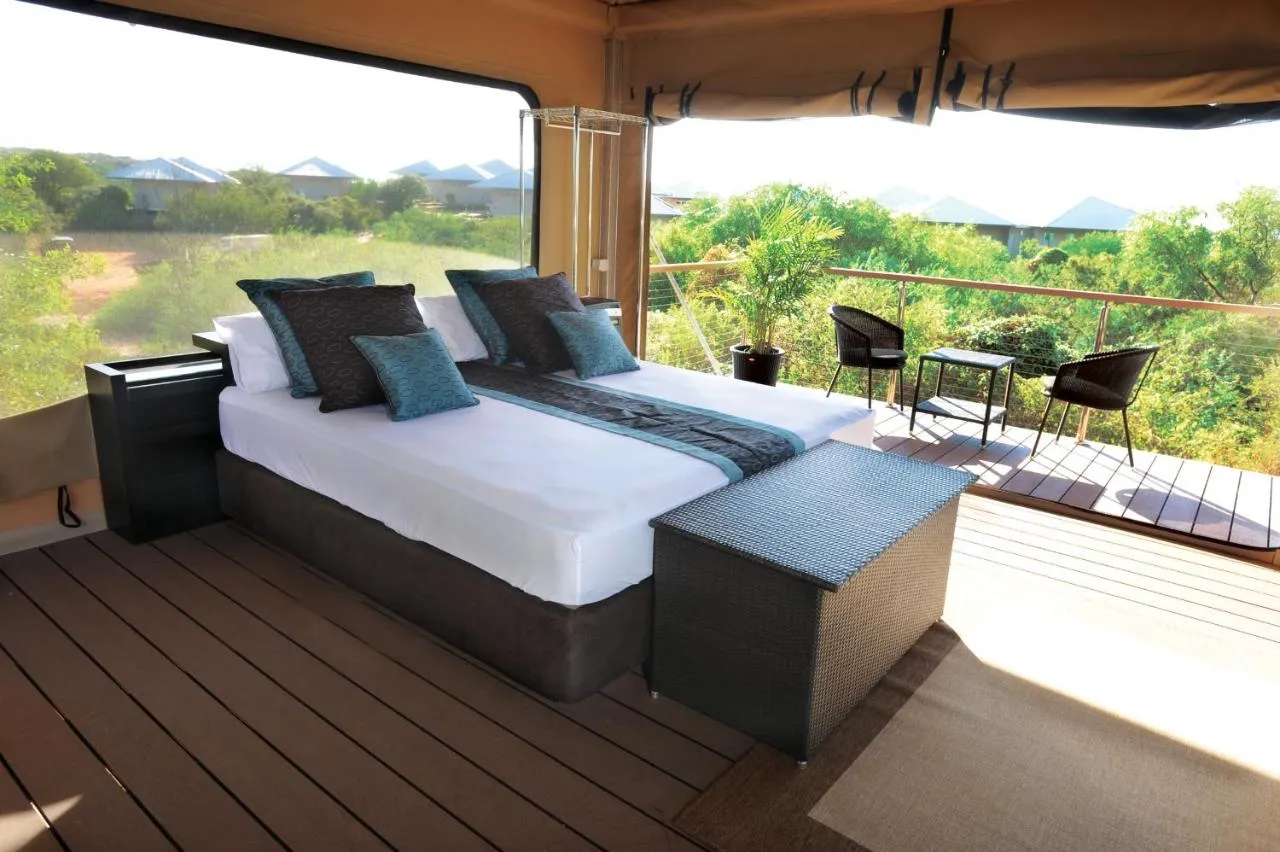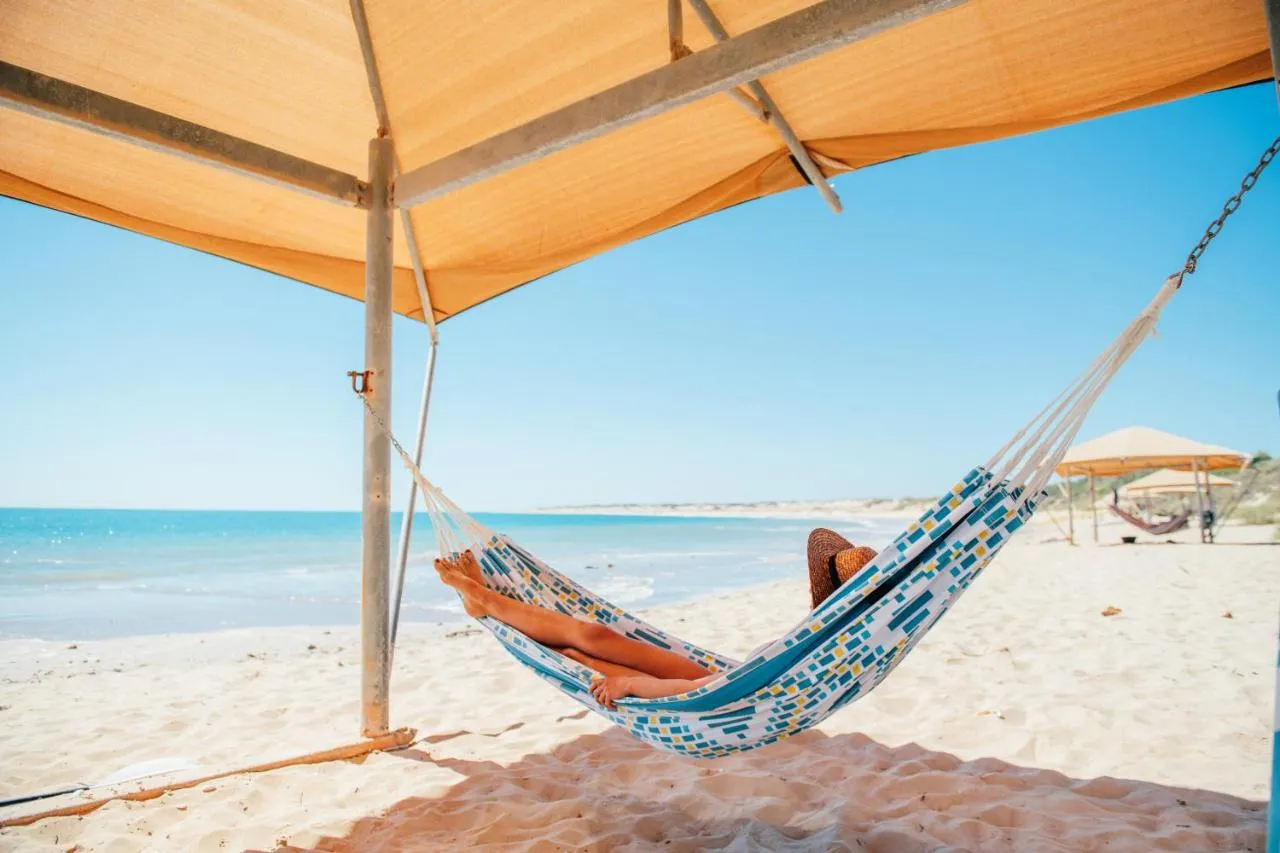 4. Wildlife Retreat Taronga, New South Wales
Mosman NSW 2088, Australia
From $500 per night

ETIC Hotels Green Score: 9.5/10
What makes Wildlife Retreat Taronga sustainable?
Taronga is committed to reducing fossil fuel, grid-based electricity consumption, which is responsible of over half of our total carbon footprint.
Taronga is committed to the conservation of wildlife through environmental sustainability. Some of our key achievements in sustainable waste and litter management at Taronga Zoo Sydney and Taronga Western Plains Zoo Dubbo include food waste, e-waste, general litter, plastic bottles, takeaway packaging and straws, coffee cups, balloons, plastic bags and sauce sachets.
Taronga works continuously to identify water saving opportunities at both its Zoos, by recycling and reusing water, and reducing the use of fresh water.
Taronga has a strong stance on environmental sustainability, animal welfare and conservation associated with food products it sells and serves at its various food outlets, functions and events.
Buildings and major infrastructure have a significant impact on the environment during demolition, construction and on an ongoing basis during operations. At Taronga, we incorporate Ecologically Sustainable Design principles in all new developments.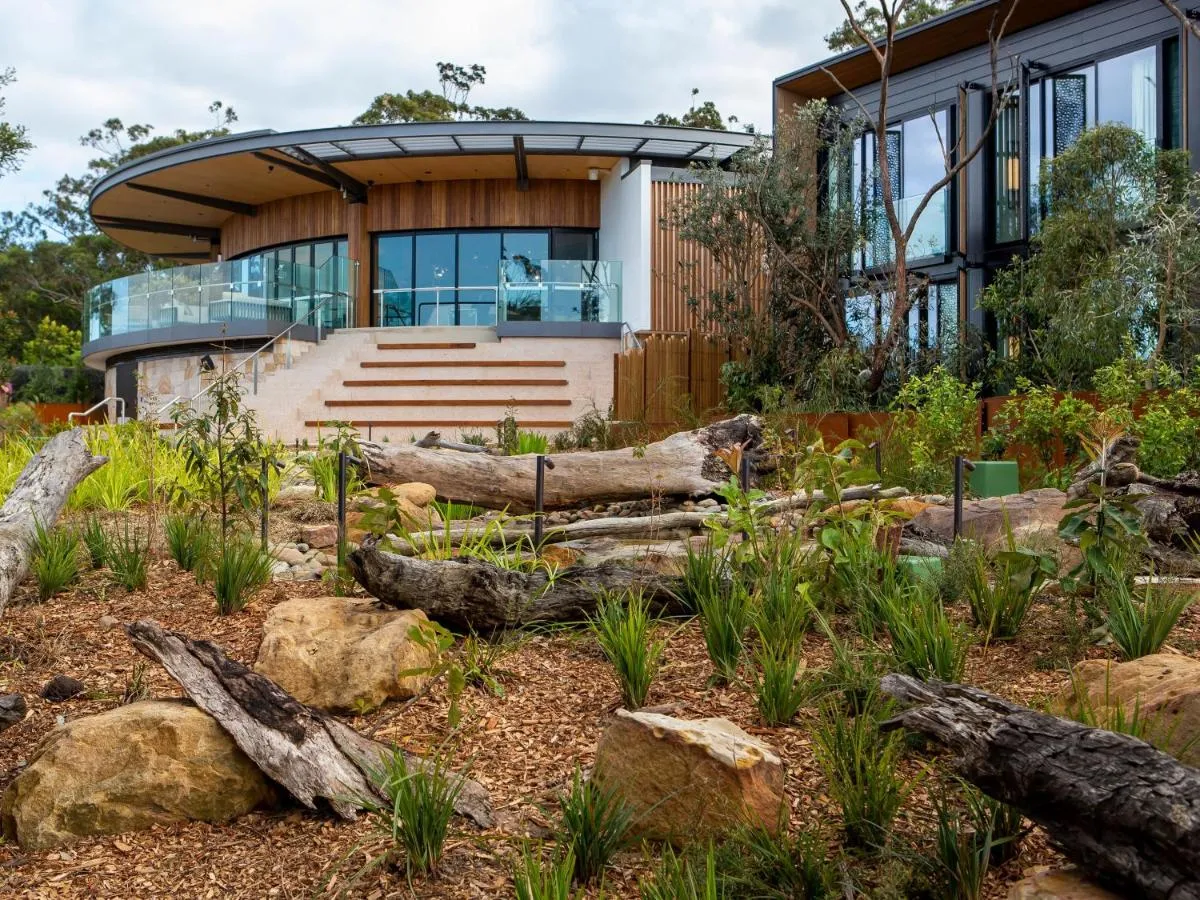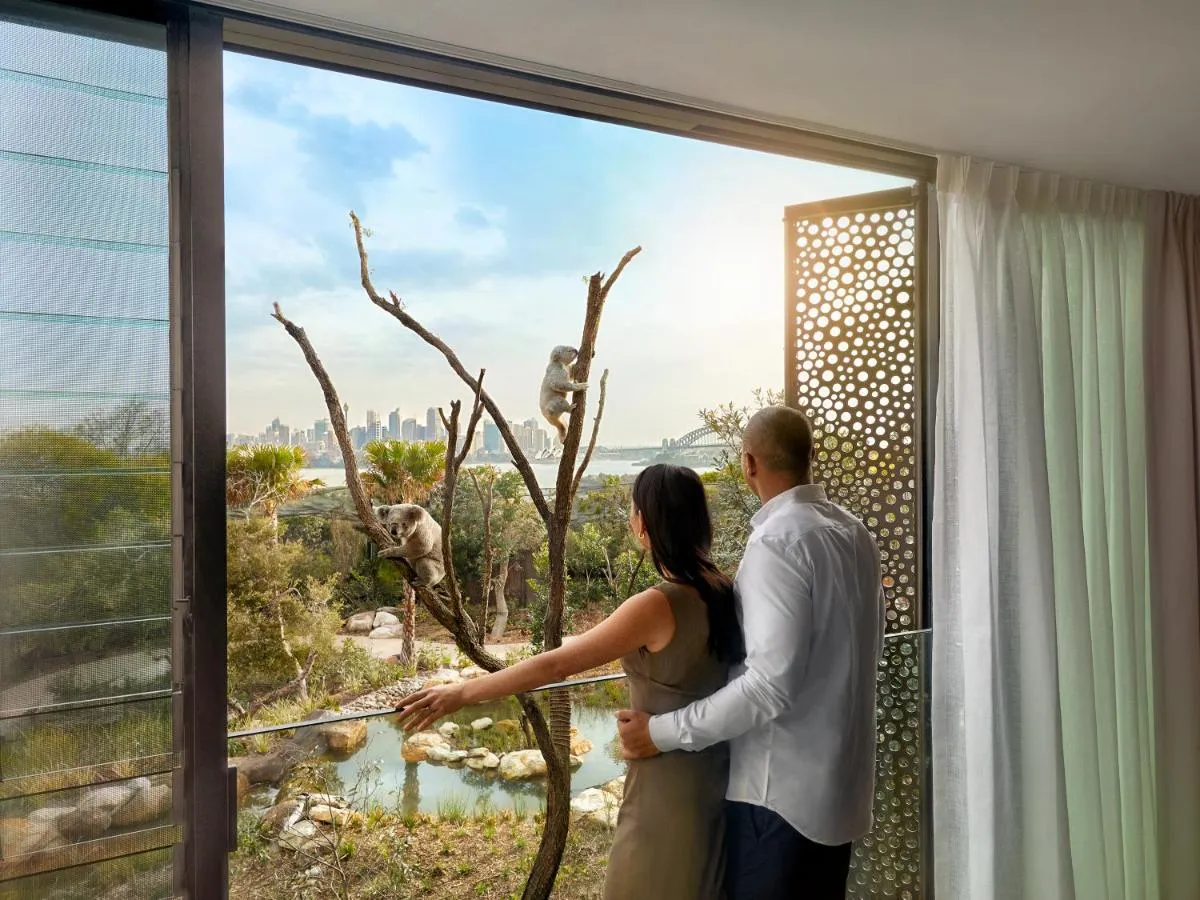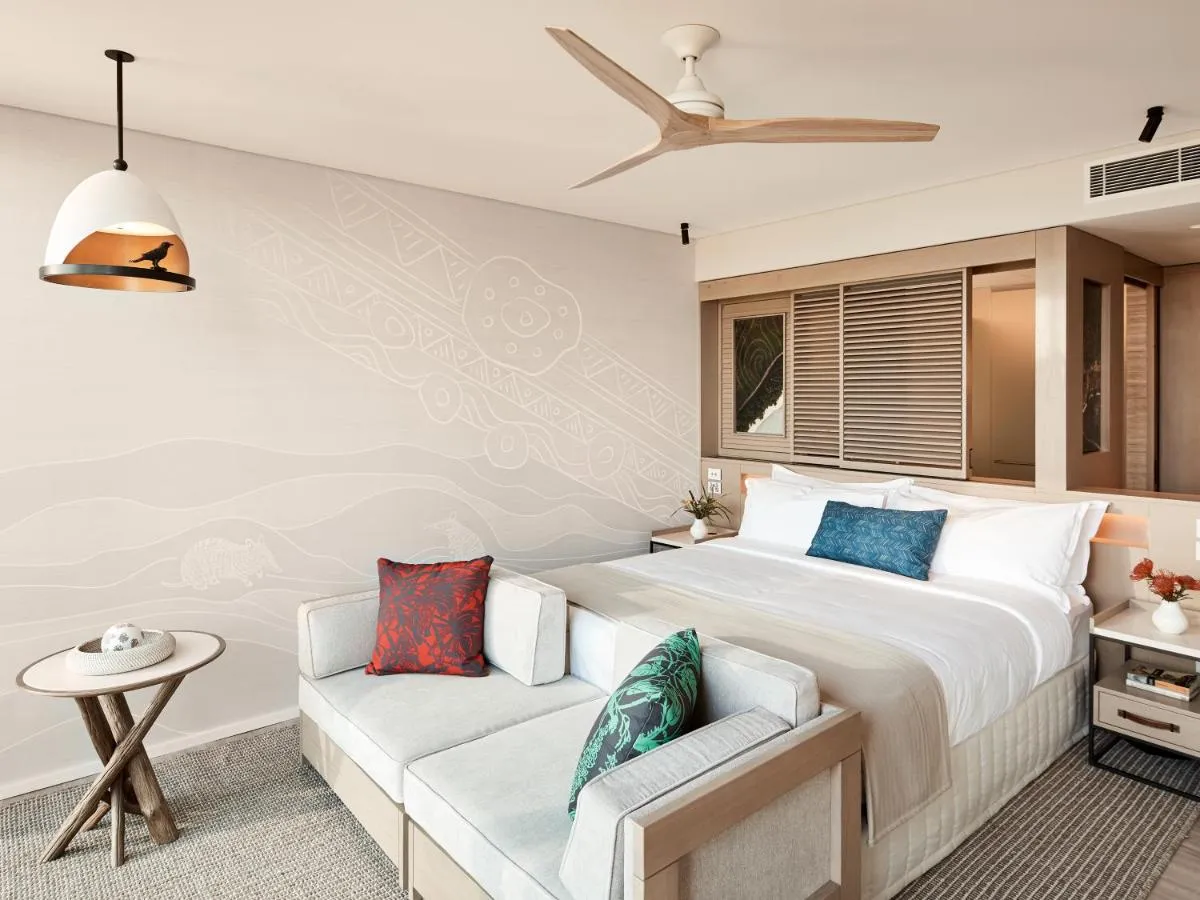 5. Freycinet Lodge, Coastal Pavilions, Tasmania
Coles Bay TAS 7215, Australia

From $200 per night

ETIC Hotels Green Score: 9.5/10
What makes Freycinet Lodge sustainable?
Over the past twenty-five years, Ecotourism Australia has become a world leader in promoting activities that reflect sustainable, ecologically-sound practices. In order to receive the highest level of recognition from Ecotourism Australia, Freycinet Lodge has developed innovative ways to promote energy efficiency, waste management, water conservation and protection of the National Park. Freycinet Lodge recognises its vital role in preserving the environment and educating guests about sustainable practices by:
providing cabins that have been designed to blend seamlessly with the natural forest setting
encouraging guests to follow a "leave no trace" philosophy
explaining that wildlife such as wallabies are to be appreciated from a distance, but not fed or treated as pets
leaving beaches undisturbed which includes resisting the temptation to collect shells
organising tours and activities which highlight the uniqueness and importance of Freycinet National Park's ecosystem and native heritage
regular audits to review and improve practices
6. The Villas Barossa, South Australia
Marananga SA 5355, Australia
From $420 per night

ETIC Hotels Green Score: 9.5/10
What makes The Villas Barossa sustainable?
Ecoshelta Villas constructed with fully modular frame and Structural Insulating Panel (SIPS) floor, wall and roofing systems
Double glazed windows and use of passive solar design to optimise heating and cooling.
Use of ceiling fans, 1 metre roof overhangs and cross-ventilation for cooling, with energy efficient reverse cycle air conditioning for temperature extremes
Use of energy-efficient lighting (LED & dimmable)
Use of solar-powered landscape lighting
Landscaping with native plants indigenous to Marananga and the Barossa
Rain water captured in tank and reticulated through The Villas via a UV purification filter. (South Australia is an extremely low rainfall state – in times when rain water is scarce, mains water is used in The Villas)
Installation of wastewater treatment facility and reticulation of all treated waste water to landscaping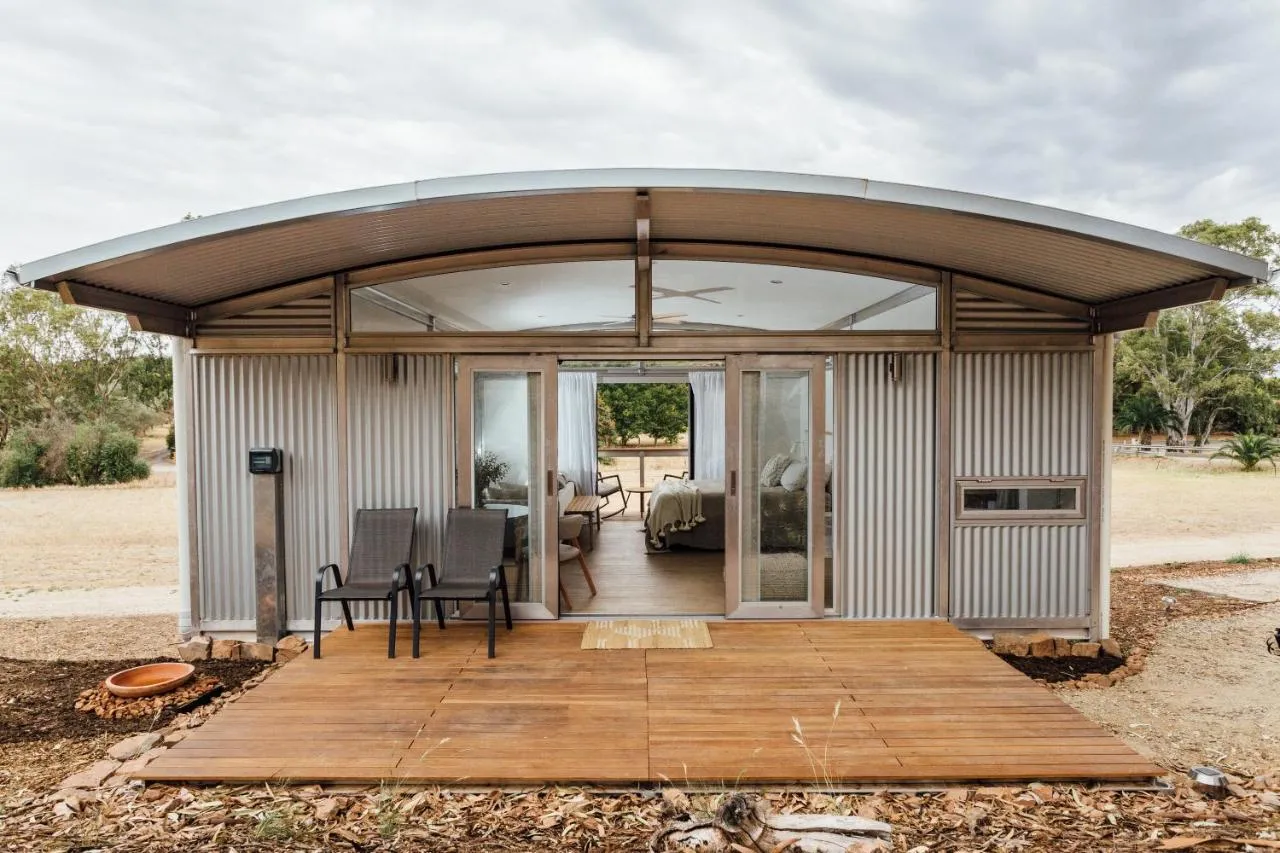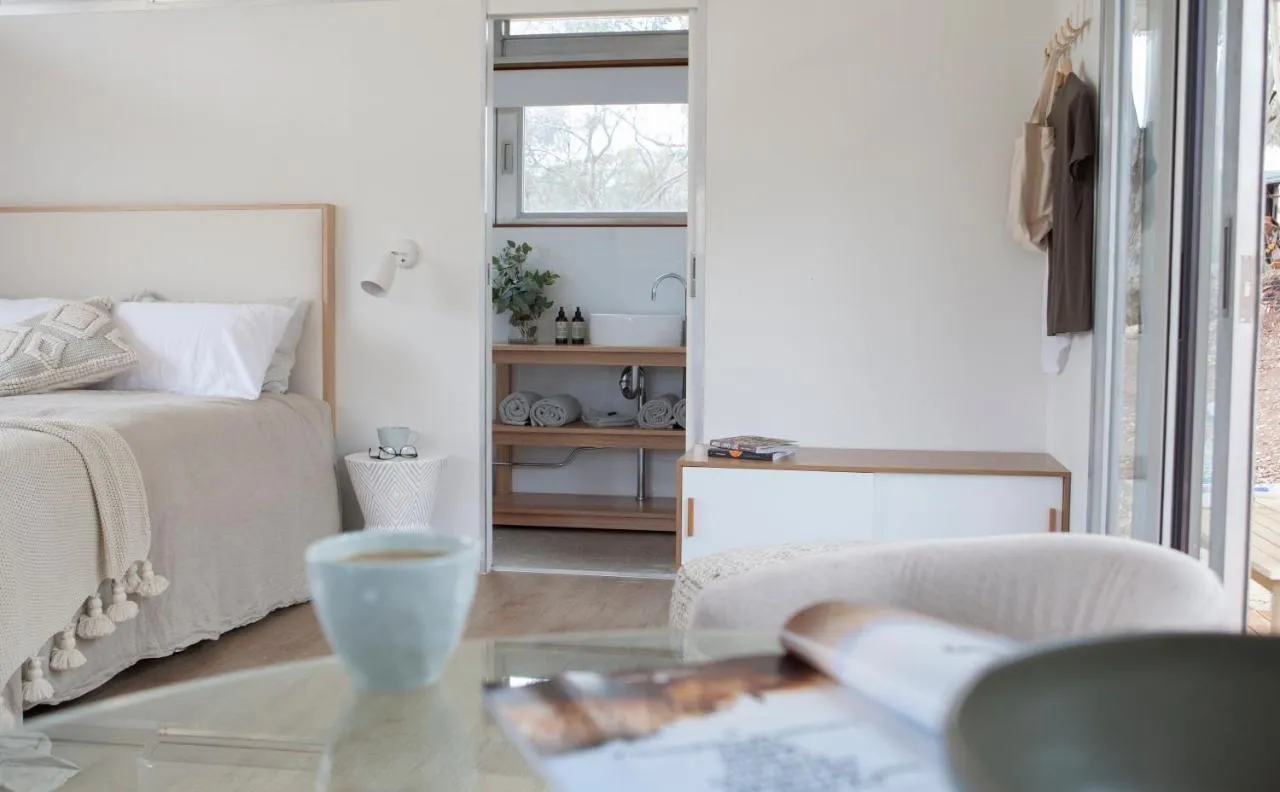 7. Crystalbrook Byron
Byron Bay NSW 2481, Australia
From $300 per night

ETIC Hotels Green Score: 9.5/10
What makes Crystalbrook Byron sustainable?
If eco-travelling excites you, then wait till you hear about their innovative sustainability initiatives. From housing their own honeybee colonies to providing staff with uniforms from a sustainable local fashion label to donating $2 from every Koala lager sold to the Byron Bay Wildlife Hospital. And of course, all their amenities oblige. Even the coat-hangers are made from 100 per cent recycled materials.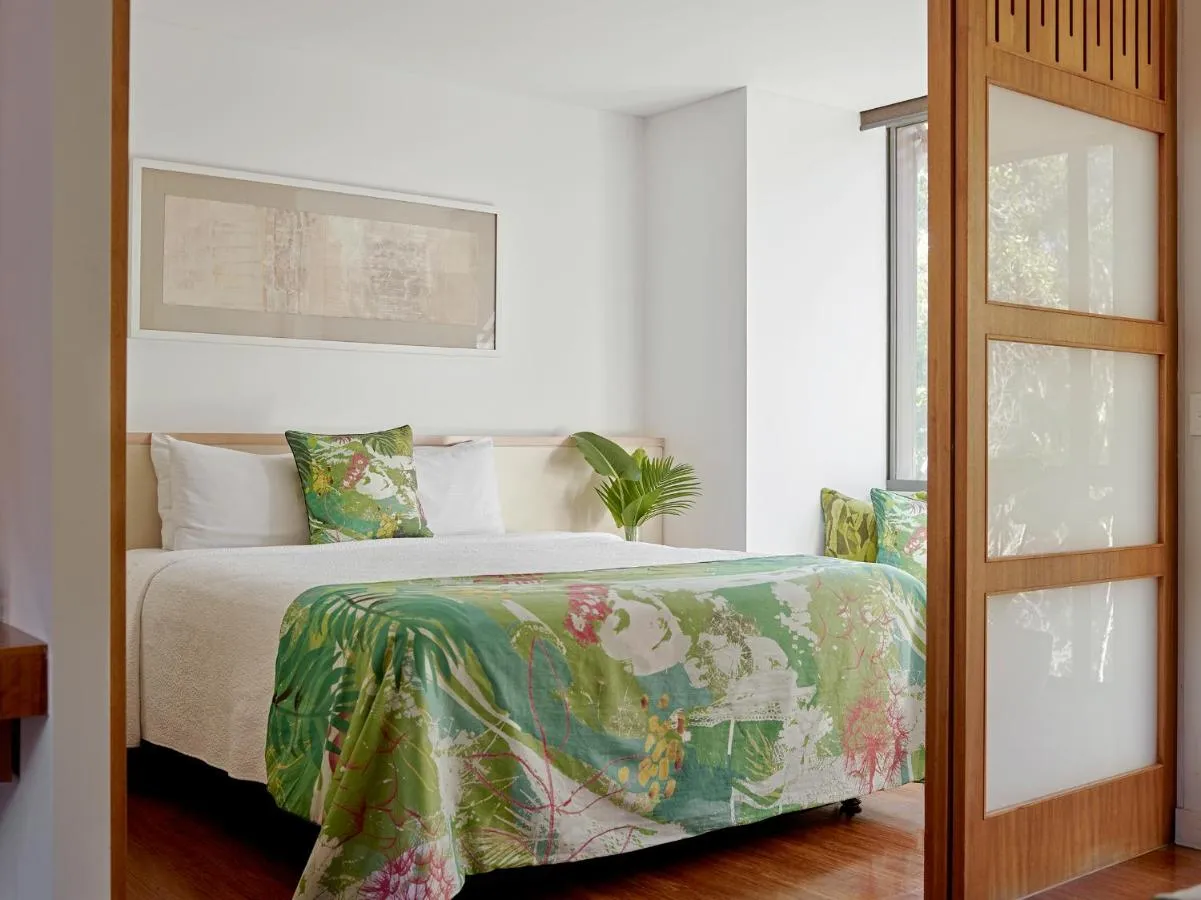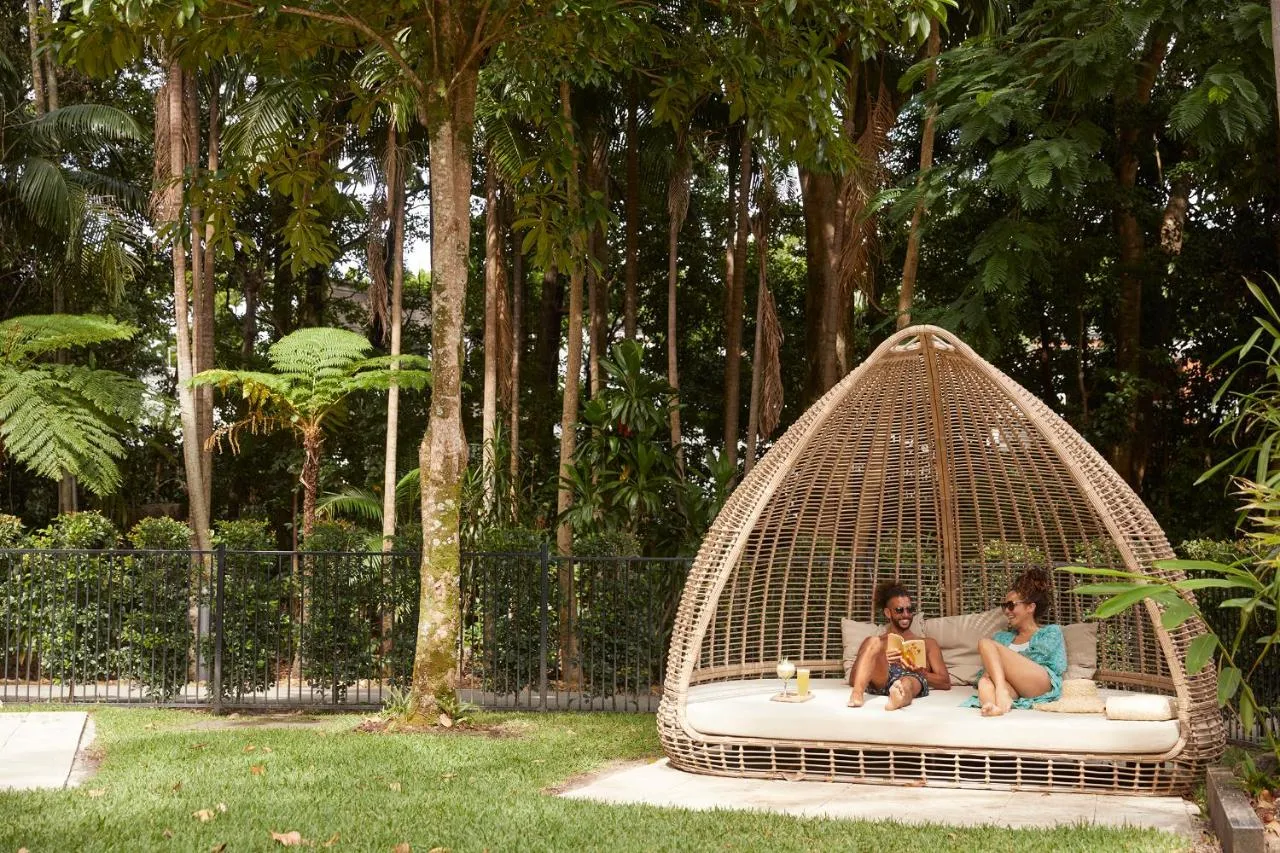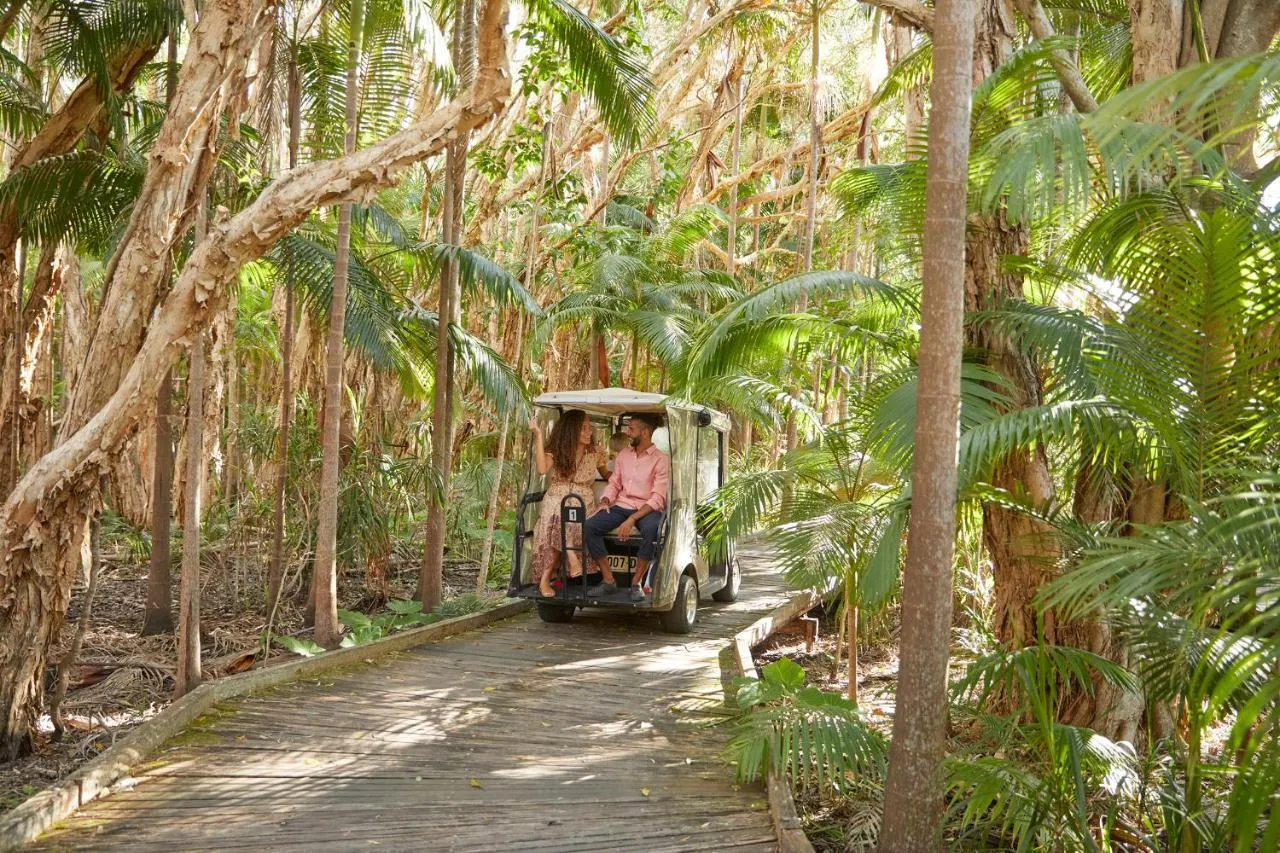 8. Sal Salis Ningaloo Reef, Western Australia
Cape Range National Park WA 6707, Australia
From $1,400 per night

ETIC Hotels Green Score: 9.5/10
What makes Sal Salis Ningaloo Reef sustainable?
Power Generation
Almost 100% of the camp's power is generated by the sun through an array of solar panels to ensure a predominantly clean source of energy and preserve the peace and quiet of this pristine area. There is no internet connection or signal at Sal Salis, so computers and mobile phones are not a distraction to guests. There is however a 220-volt power point available for guests to charge their camera batteries in the main lodge area.
Hot water is heated by gas, and the tents are not equipped with air-conditioning or hairdryers! All the tents face the ocean which allows the coastal breeze to naturally cool the interior and at the same time expose guests to the sights and sounds of the surrounding bush and ocean. Each en-suite bathroom has a Nature Loo (these very effective composting toilets are transported off-site to be cleaned) and the grey water from the showers and hand basins is carefully managed to ensure only filtered water is dispensed back into the ground.
Linen
The linen is supplied by EcoDownUnder, which is organic cotton and chemical free. All laundry is transported back to Exmouth for processing. Our sheets are a sand colour and are not bleached to maintain pure whiteness. Their composition means that we can hang dry and eliminate the need for ironing.
Water
In keeping with best practice ecosustainability, our landlords (The Department of Parks and Wildlife) requirements and our own sustainable policies, each tent is allocated 20 litres of water per person, per day. Restricting fresh water run-off not only reduces the likelihood of weed growth but protects the Ningaloo Reef, as ultimately the shower water will percolate through the soil, adding fresh water to our shoreline and to the Reef. Under normal circumstances and with judicious use, 20 litres of water should be ample for daily needs. We have a 3-minute shower time policy, and recommend a swim in the ocean as the best way to freshen up in the morning.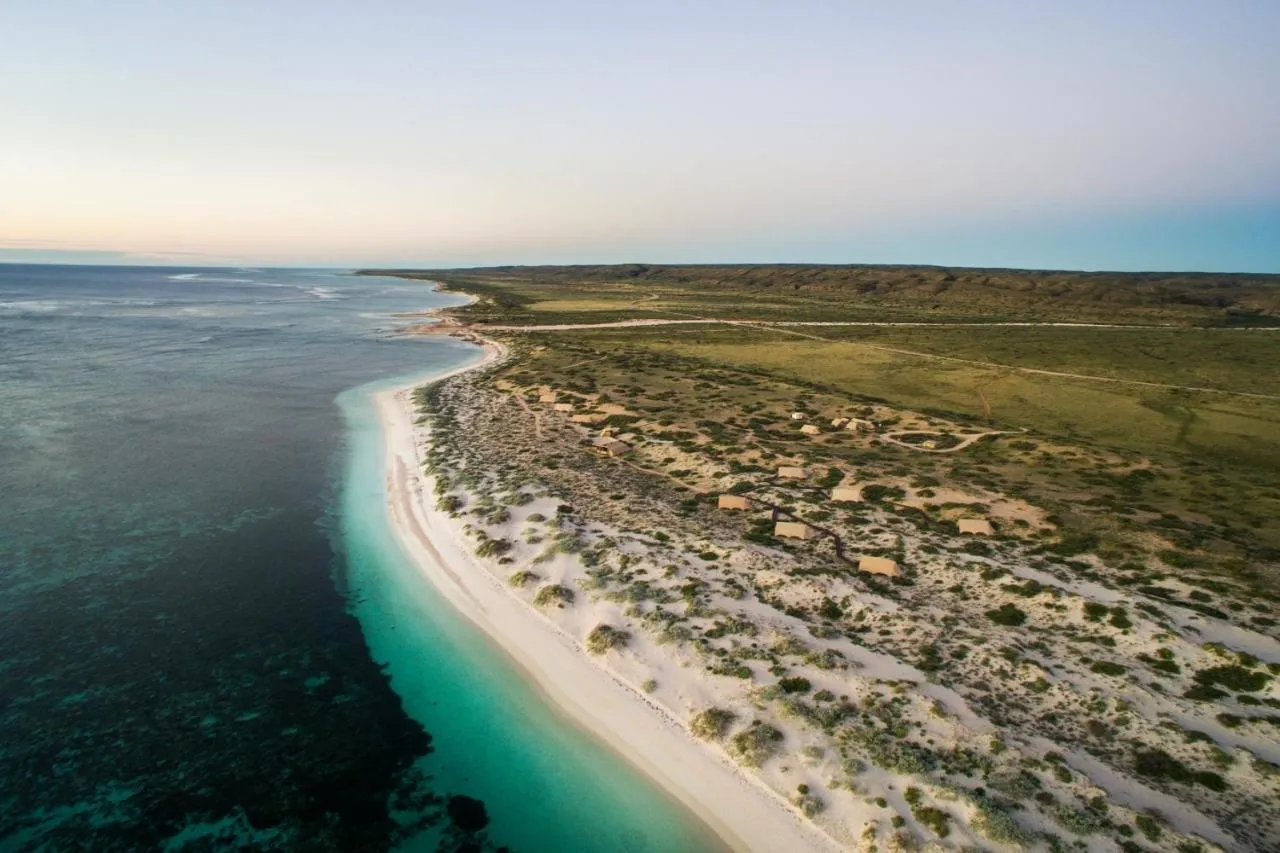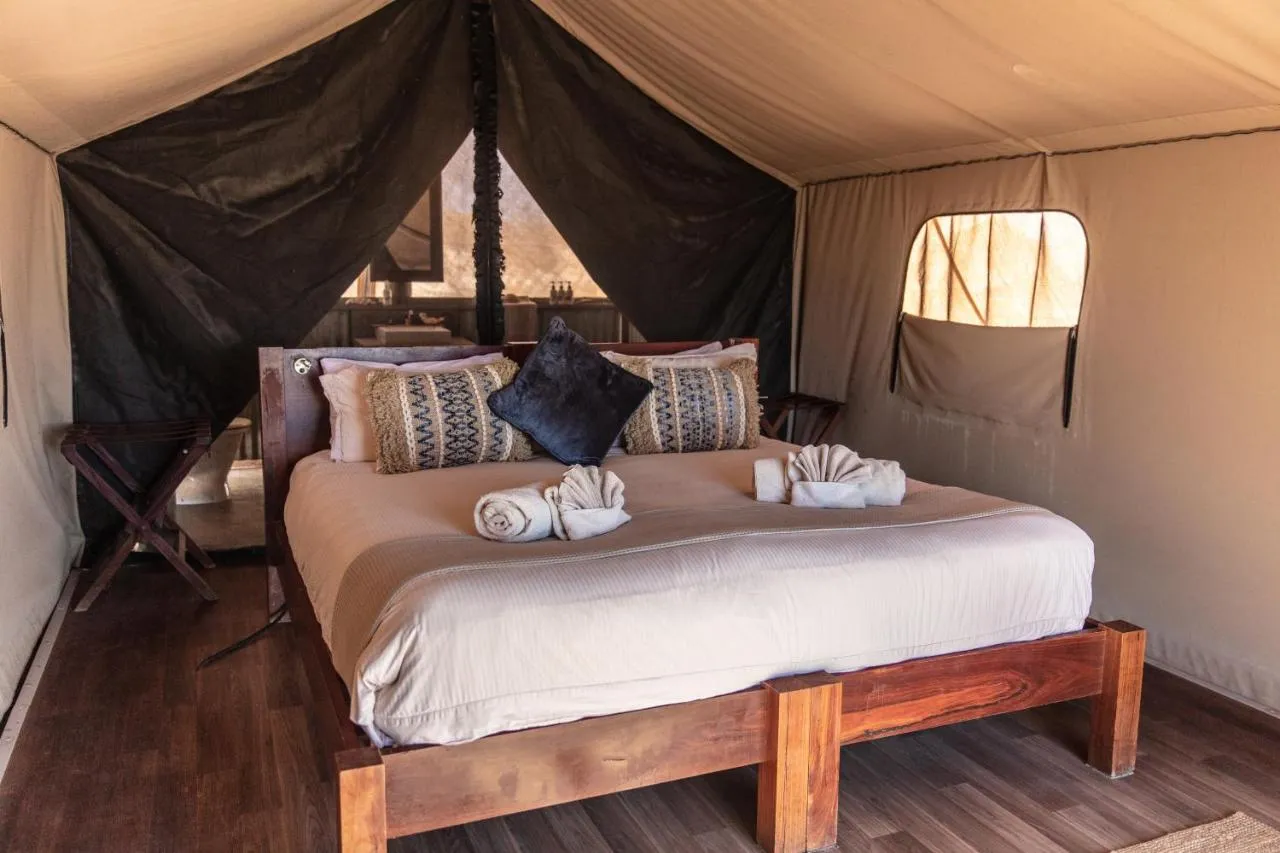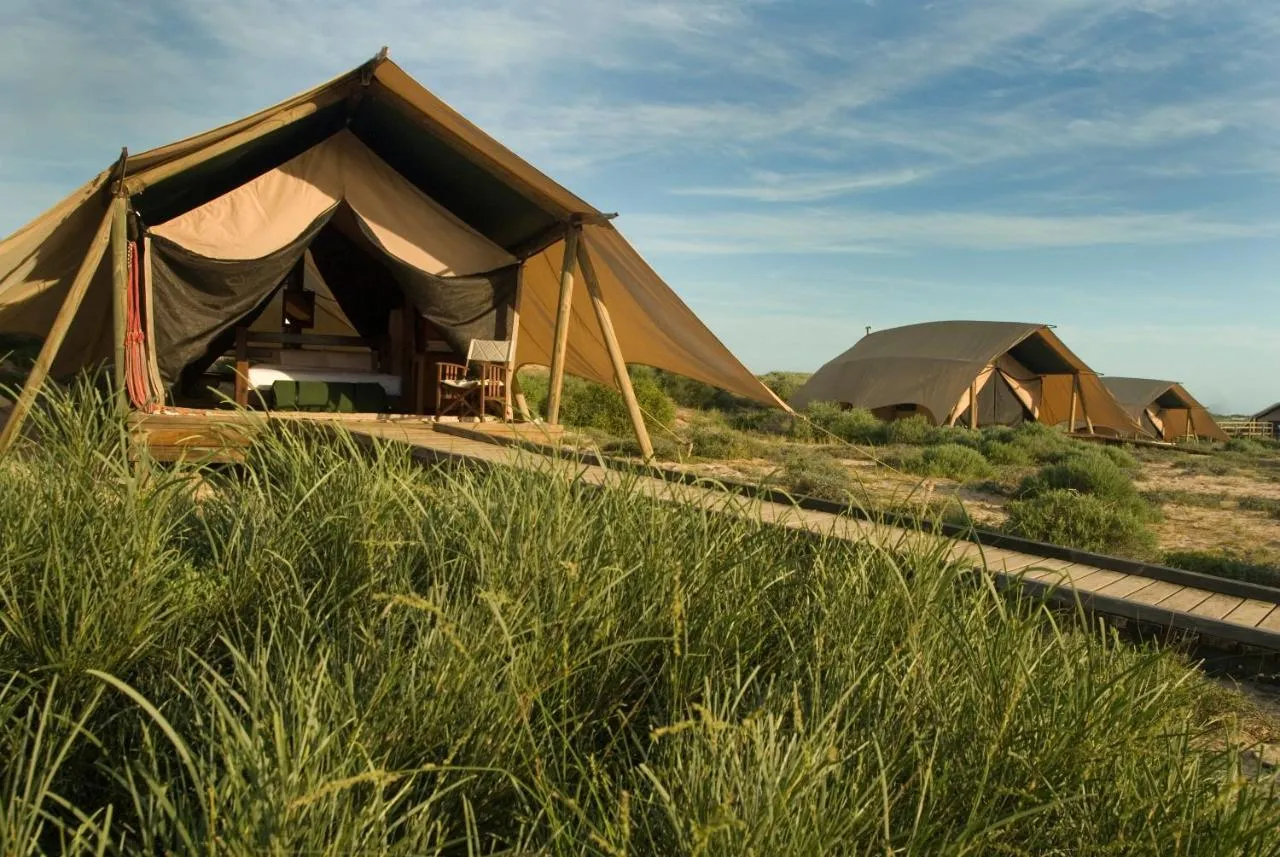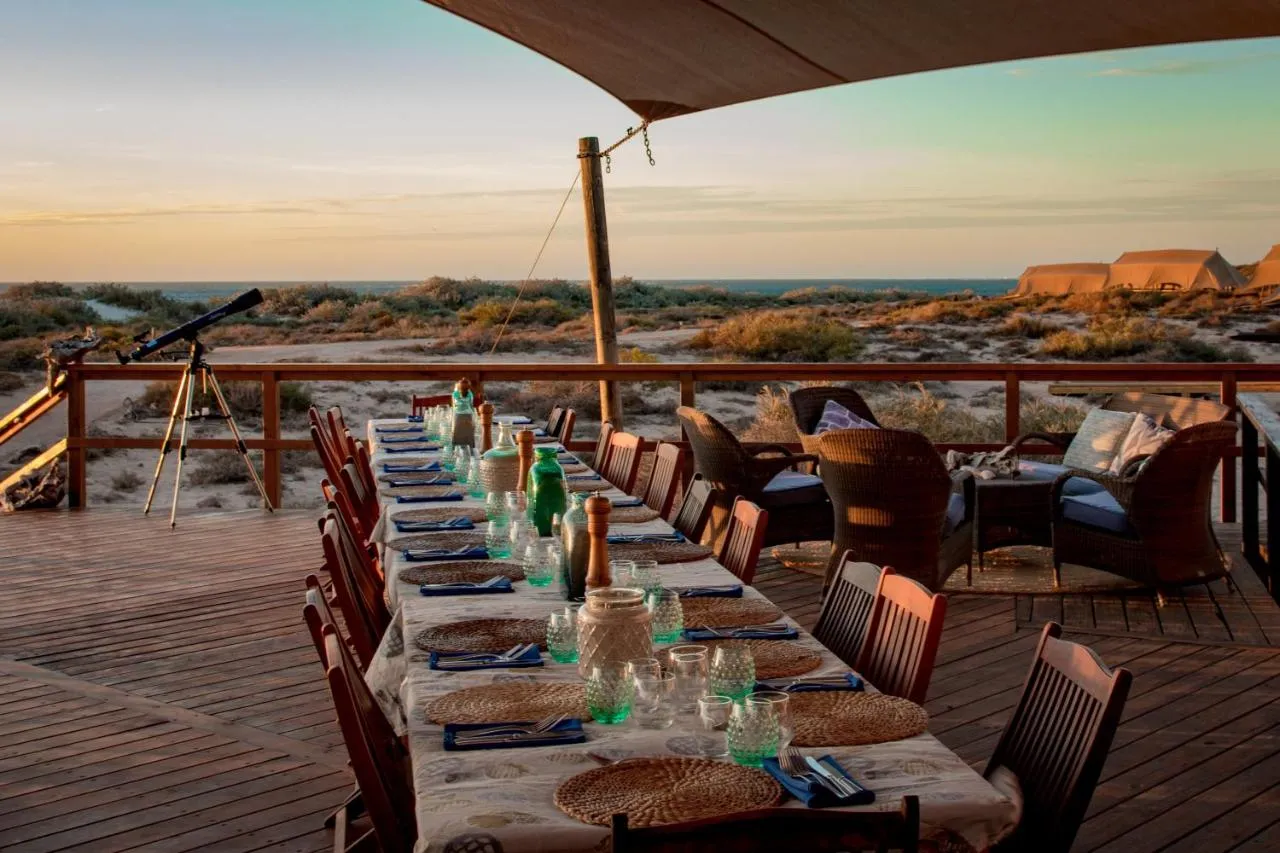 9. Boroka Downs, Victoria
Halls Gap VIC 3381, Australia
From $350 per night

ETIC Hotels Green Score: 9.5/10
What makes Boroka Downs Victoria sustainable?
The Residences have been designed and built with environmental sustainability as one of its main goals. To this end, the concept embraced the following initiatives:
Full insulation envelope in roof, walls and slab.
Shade Sails during Summer months
All windows double glazed and tinted.
Fully tinting on windows
Water efficient shower heads.
Rain water tank attached to each residence.
Ongoing environmental initiatives include:
A full recycling program with voluntary guest involvement.
Use of allergy-free cleaning agents and recycled paper products.
Sourcing local produce and goods where possible.
Installation of grey-water for laundry water to sustain house garden
Full solar powered laundry
An ongoing planting program which is evident around the property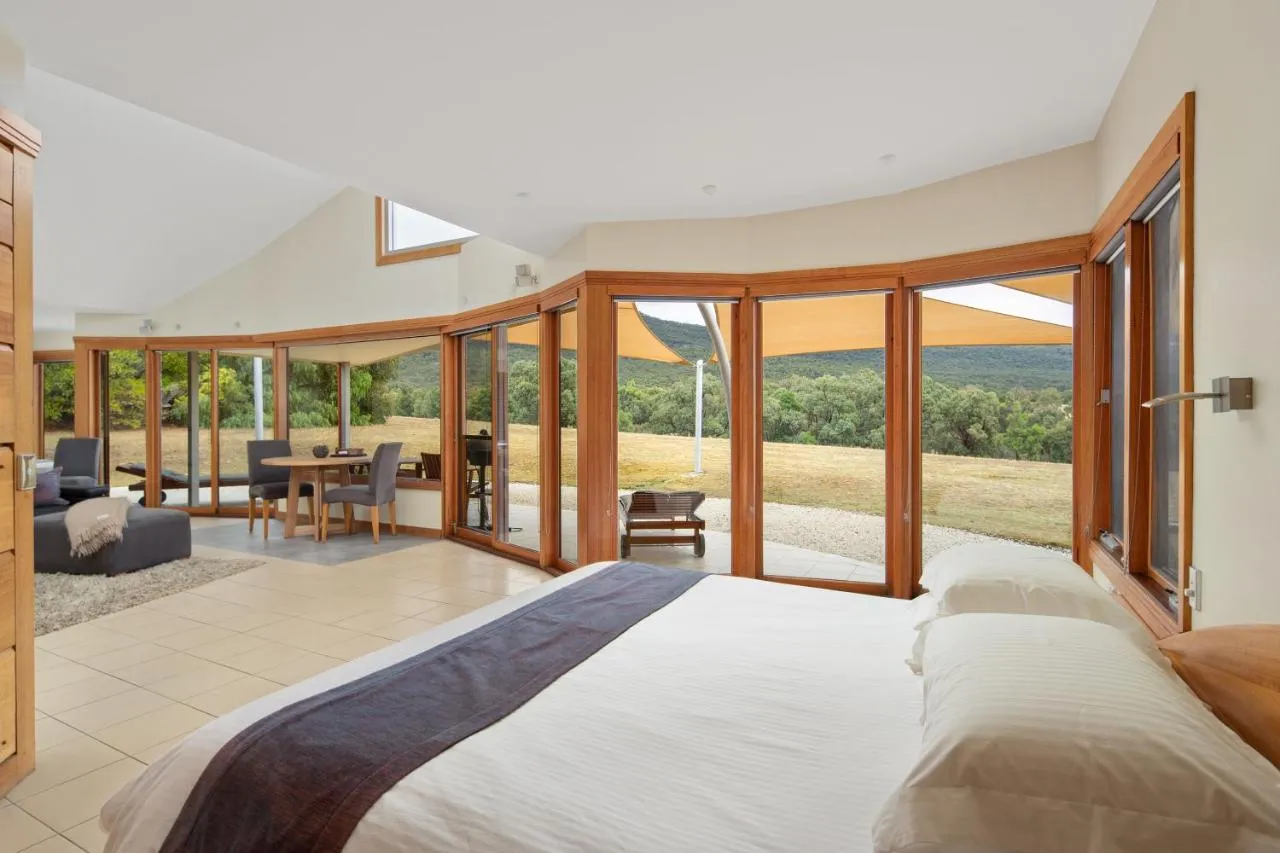 10. Daintree Wilderness Lodge, Queensland
Diwan QLD 4873, Australia
From $300 per night

ETIC Hotels Green Score: 9.5/10
What makes Daintree Wilderness Lodge sustainable?
WATER CONSERVATION AND TREATMENT
Spring water, which is accessed via a bore, supplies the entire resort with fresh water. It is completely safe to drink and is tested regularly. No chlorine is found in the water which makes it healthier to drink and reduces its environmental footprint.
THE BIO CYCLE
The Water Waste system manufactured by Bio Cycle was the first to be installed in the Wet Tropics area and has since been adopted by many other local businesses as their preferred waste-water system.
The system works with bacteria that break down disposal from the showers, toilets and sinks and has been working effectively for our lodge.
We request our guests not use any harsh chemicals or sanitary products during their stay. These include laundry detergents, strong bleaches or hair dyes and especially feminine hygiene products and wet wipes.
Our cleaning products are therefore all non-toxic, biodegradable and free of petrochemicals and phosphates.
OUR POWER SOURCE
The area located north of the Daintree River has no access to electricity or mains power. The entire region therefore runs on privately owned generated power. Daintree Wilderness Lodge is one of the few accommodations in the region which runs on a Stand-Alone Solar Array system with batter and generator back up. This allows visitors to enjoy a peaceful night's sleep without the incessant hum in the background and reduces our carbon emission into the atmosphere.
We use low-voltage and long-life LED globes, low voltage appliances and have installed a restricted use air conditioning system. Where possible we encourage staff and guests to practice a low energy consumption experience whilst staying with us.
WASTE
To reduce our environmental burden on our region and to mitigate climate impacts we choose to segment our waste through recycling and through our restaurant composting system. We also aim to reduce the use of single-use plastic, straws and do not encourage the use of single-use plastic water bottles at the Lodge.