The 10 Most Sustainable Hotels in Chicago
For an Ethical and Sustainable Stay in Chicago
A Sustainability Ranking in partnership with ETIC Hotels
You're planning a trip to Chicago and you're trying to be as ethical and sustainable as possible?
niood lists you the 10 most sustainable hotels in Chicago, Illinois:
1. Fairmont Chicago Millennium Park
200 N Columbus Dr, Chicago, IL 60601, United States
From $250 per night

ETIC Hotels Green Score: 9.5/10
What makes Fairmont Chicago sustainable?
Our guests are our livelihood and our goal is to always maintain the perfect balance of minimizing our diversion while exceeding our guests' expectations.
Change sheets every other day, minimizing water usage
Guestroom amenities that are not tested on animals, 100% vegan and do not contain parabens or preservatives
Paper products all meet LEED standards
Complimentary bicycle usage
Participate in the Meeting 21 program
Offer alternatives to plastic water bottles
Offer paper straws, upon request only
Our commitment begins with our building. Our engineering team works tirlessly to reduce our carbon footprint.
– Comprehensive hotel wide recycling program
– Comply with LEED water flow standards
– 100% of lighting utilizing CFLs or LEDs and Low traffic areas have been converted to motion sensitive lighting
– HVAC – state-of-the-art purge units cooling towers – eliminating coolant leaks and reducing energy usage
– Refrigeration units utilize EPA-approved
– 404a coolant Reclaim Laundry System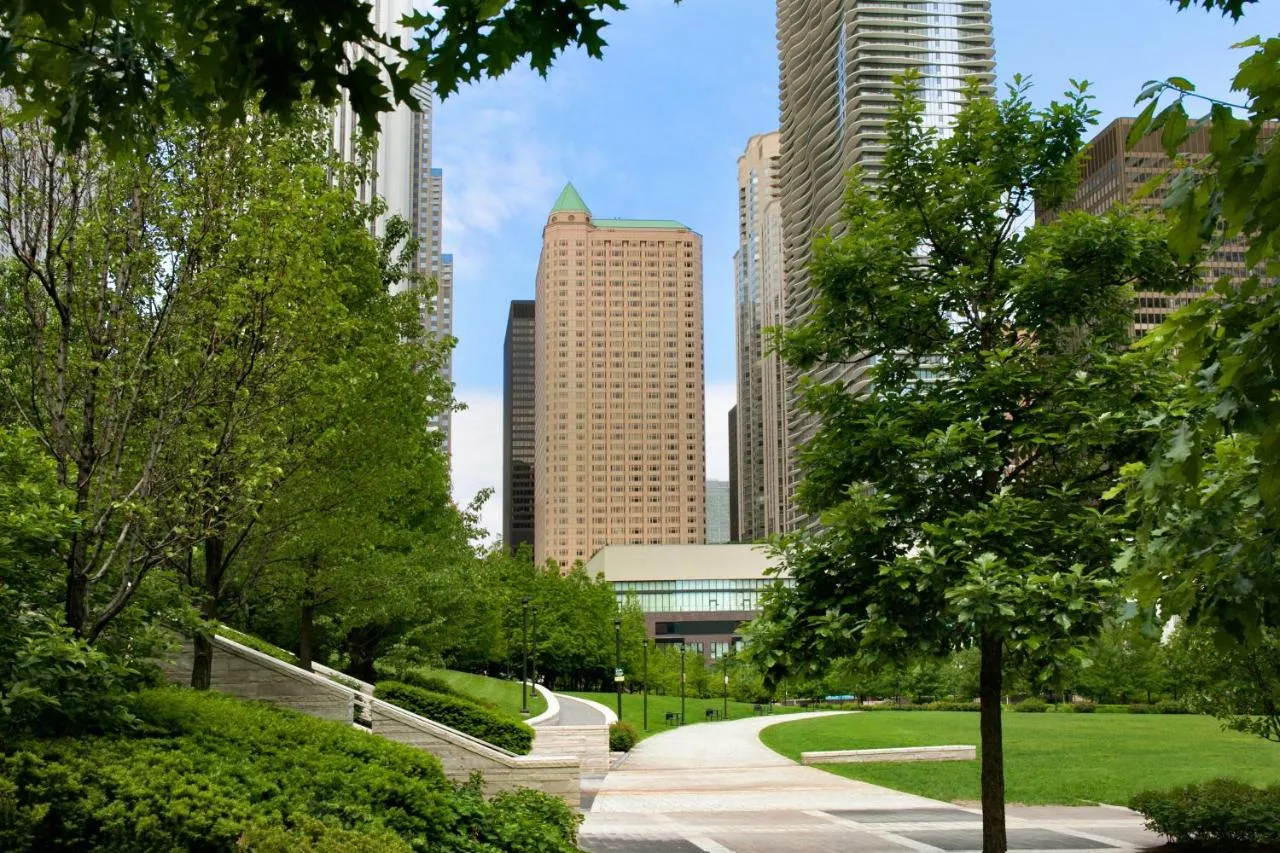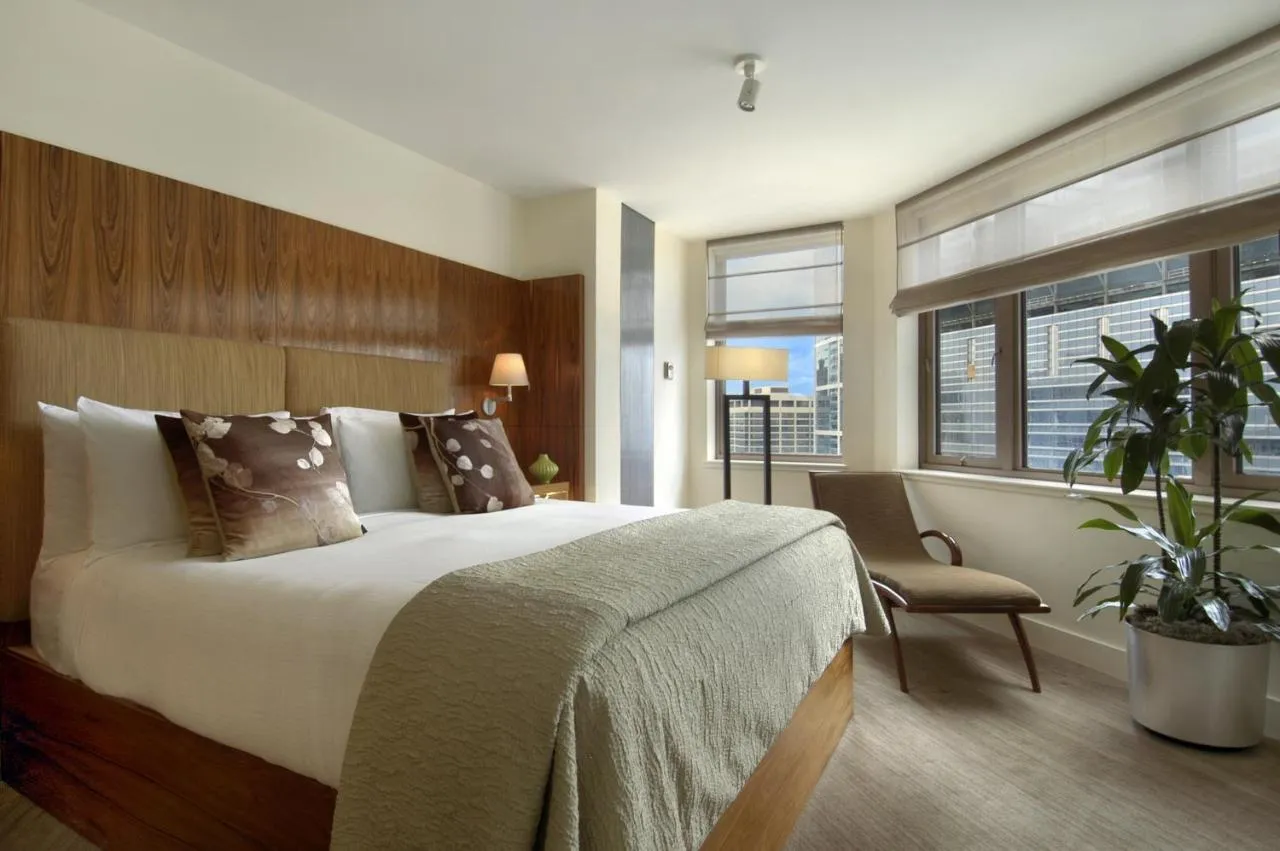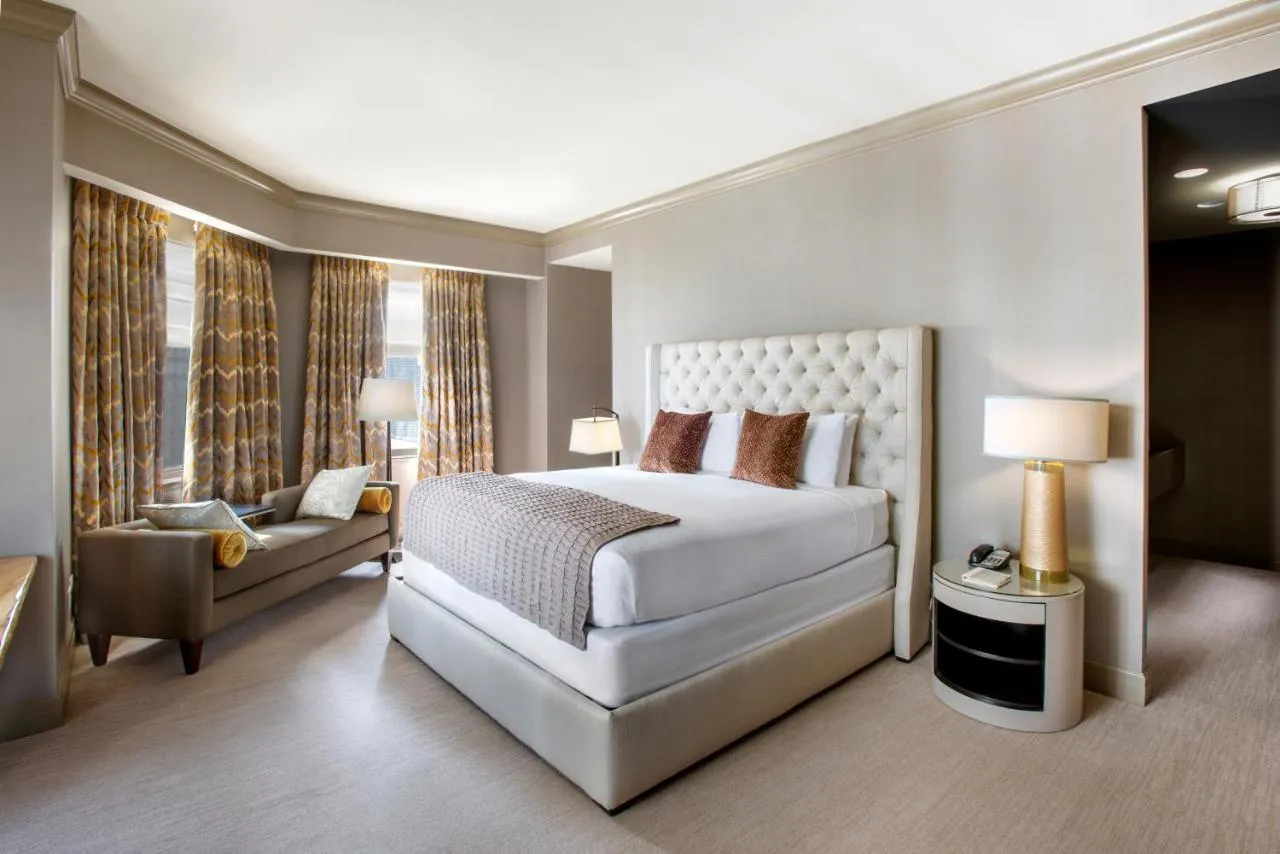 2. JW Marriott Chicago
151 W Adams St, Chicago, IL 60603, United States
From $230 per night

ETIC Hotels Green Score: 9.5/10
What makes JW Marriott Chicago sustainable?
JW Marriott Chicago is a proud partner of the United Nations, and most notably, their United Nations Sustainable Development Goals. This is an elaborate program that seeks to enlist the help of corporations worldwide in tackling a number of the biggest challenges facing the globe today—namely, the issue of environmental sustainability. In accordance with this program, Marriott has created its own program: 2025 Sustainability & Social Impact Goals. With this ambitious agenda in place, JW Marriott Chicago has been part of an effort that has seen energy usage drop almost 15% in the past decade; this notable decrease has been made possible through the extensive installation of energy-efficient appliances and a new policy of "shutting down" guestrooms when they are not occupied by visitors. These strides in sustainability are part of the 2025 Sustainability & Social Impact Goals, which see JW Marriott Chicago and Marriott International striving to (by 2025) make 100% of its hotels meet recognized/certified sustainability standards, while also reducing overall hotel waste by 45% and general carbon footprint by 30%.
3. Loews Chicago Hotel
455 N Park Dr, Chicago, IL 60611, United States
From $200 per night

ETIC Hotels Green Score: 9.5/10
What makes Loews Chicago sustainable?
At their in-house restaurants, they have partnered with Chicago Honey Co-op—who operates three different bee apiaries (bee farms) in the Chicago area, providing local honey and nectar to regional businesses and restaurants. Chicago Honey Co-op is the source of such products used at Loews Chicago Hotel's restaurants and spas.
Loews Chicago Hotel also participates in a variety of other activities designed to help efforts at fostering holistic sustainable practices. These endeavors include encouraging guests to reuse linens and towels; conducting in-house recycling efforts; utilizing eco-friendly inks, papers, and printing products; installing only low-flow shower heads and compact light bulbs; and employing solely environmentally friendly cleaning products. Loews Chicago Hotel also uses state-of-the-art sensors for controlling in-room temperatures when you leave your room; also, all room-service silverware and dishware are reusable products made of recyclable materials.
4. Royal Sonesta Chicago River North
505 N State St, Chicago, IL 60654, United States
From $170 per night

ETIC Hotels Green Score: 9.5/10
What makes Royal Sonesta Chicago River North sustainable?
Waste
Water
Option to opt-out of daily room cleaning
Option to reuse towels
Nature
Bicycle rental
Bicycle parking
5. Park Hyatt Chicago
800 N Michigan Ave, Chicago, IL 60611, United States
From $320 per night

ETIC Hotels Green Score: 9.5/10
What makes Park Hyatt Chicago sustainable?
In 2014, Hyatt launched its 2020 Vision to tackle the most pressing global environmental issues we can influence. It is based around goals for reducing energy and water consumption and greenhouse gas (GHG) emissions at our hotels, recycling and waste reduction, supply chain sustainability, and building efficiency – challenges that require collaboration with our industry, other businesses, and thought leaders.
While variability in municipal and commercial infrastructure presents challenges, we strive to reduce waste and increase recycling rates by supporting hotels with guidance and training materials. We also have a range of recycling and waste management strategies we apply, including steps like working with Clean the World to donate gently used soaps and shampoos.
Food waste is often a large part of a hotel's waste stream. In collaboration with other hotel companies, the American Hotel and Lodging Association, World Wildlife Fund, and with support from The Rockefeller Foundation, Hyatt contributed to the creation and launch of a toolkit developed to advance industry-wide food waste prevention. We also work with a variety of organizations that assist hotels in establishing donation programs for excess edible food.
6. The Langham Chicago
330 N Wabash Ave, Chicago, IL 60611, United States
From $420 per night

ETIC Hotels Green Score: 9.5/10
What makes The Langham Chicago sustainable?
OUR GREEN PLEDGES
We actively participate in the leading third party certification, EarthCheck, to benchmark our efforts regarding the environment and sustainability. We achieved the Silver Award of Earth Check in 2018.
BEST PRACTICES
– "Guests of the Earth" Programme offers a bed linen and towel reuse option for guests
– CONNECT Conference offers sustainable meeting solutions for event planners.
PUBLIC AREAS
– Energy efficient lighting
– Natural lighting
– Motion detectors for lighting
– Energy efficient heating and cooling systems
– Heat recovery and cogeneration equipment
– Low/dual flush toilets
– Auto-detect/Waterless urinals
– Recycle paper/metal/plastics/ glass/cooking oil
– Food/Garden Waste composting
– Food donation
– Used items donation
– Biodegradable/Ecolabelled cleaning products
– Biodegradable/Ecolabelled pesticides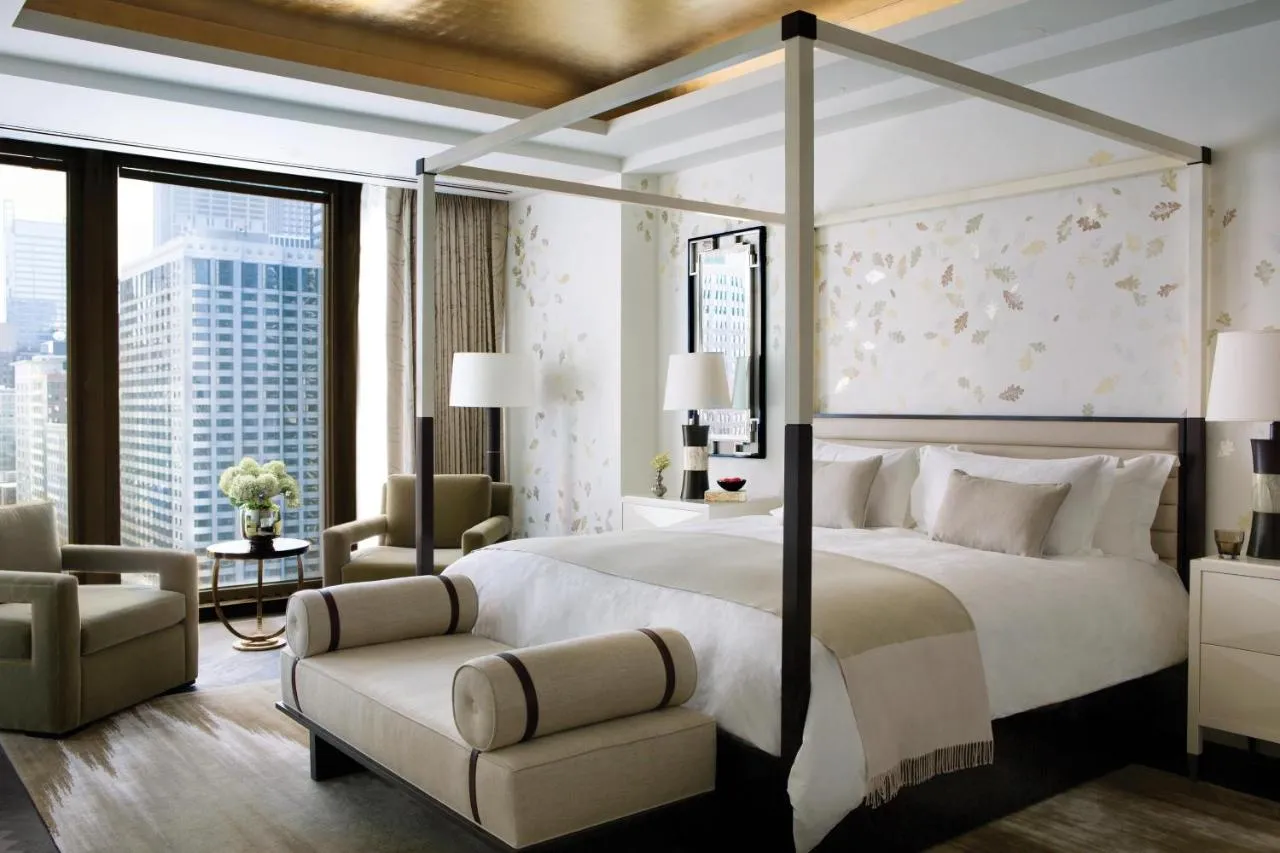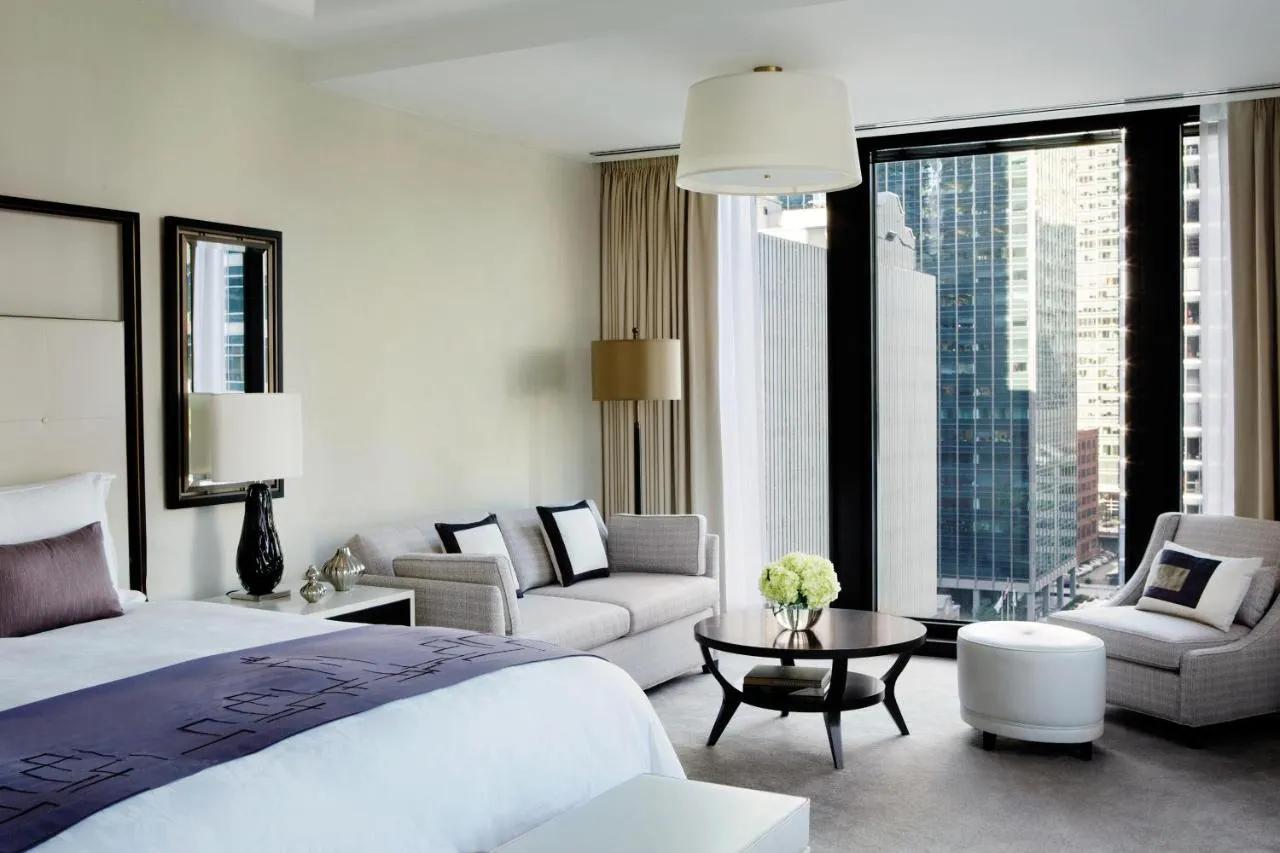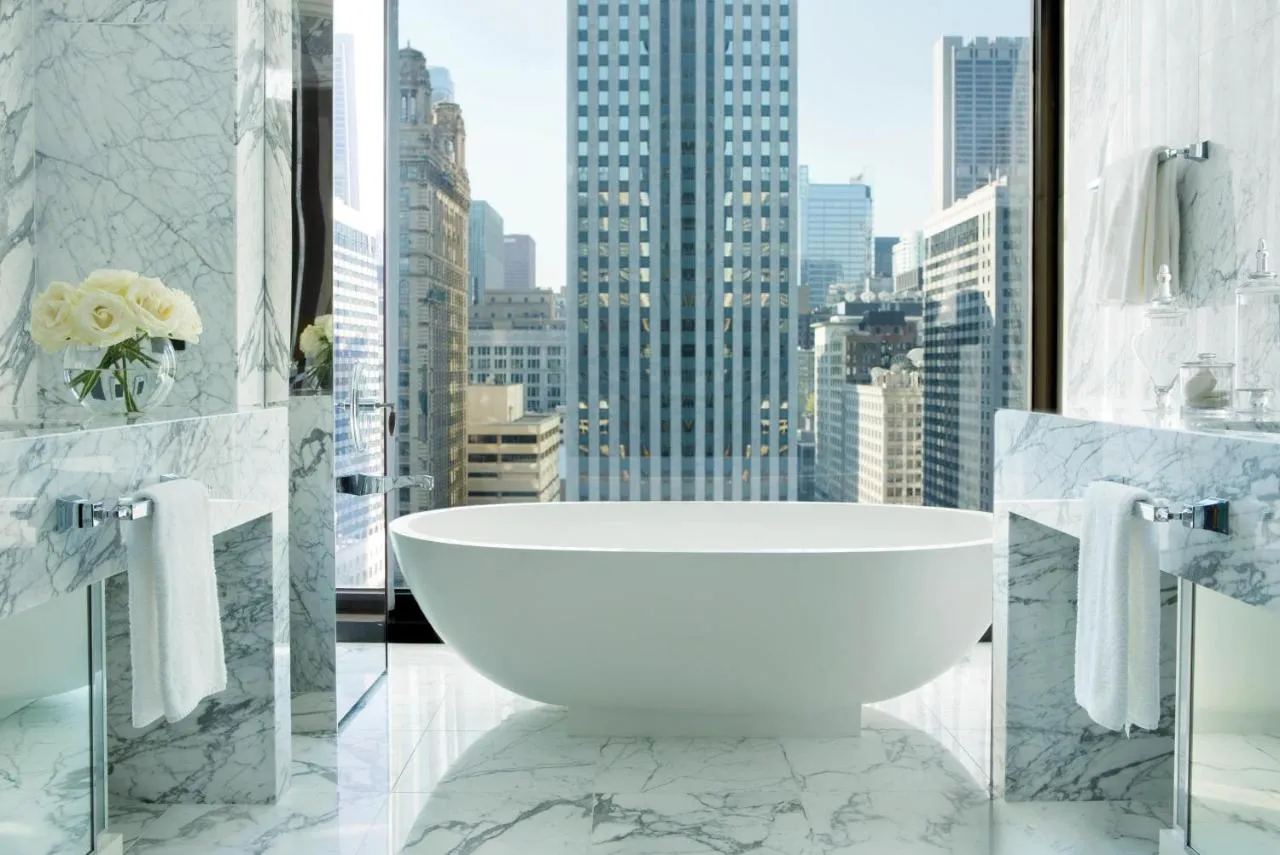 7. Sofitel Chicago Magnificent Mile
20 E Chestnut St, Chicago, IL 60611, United States
From $250 per night

ETIC Hotels Green Score: 9.5/10
What makes Sofitel Chicago Magnificent Mile sustainable?
Certification and sustainability programmes
Certified by: Green Key Global Eco-Rating
Part of the Accor sustainability programme: Planet 21 – Acting Here!
Waste
Recycling bins available to guests and waste is recycled
The property makes efforts to reduce their food wastage
Single-use plastic stirrers not used
Single-use plastic straws not used
Single-use plastic water bottles not used
Water
Energy and greenhouse gases
Electric car charging station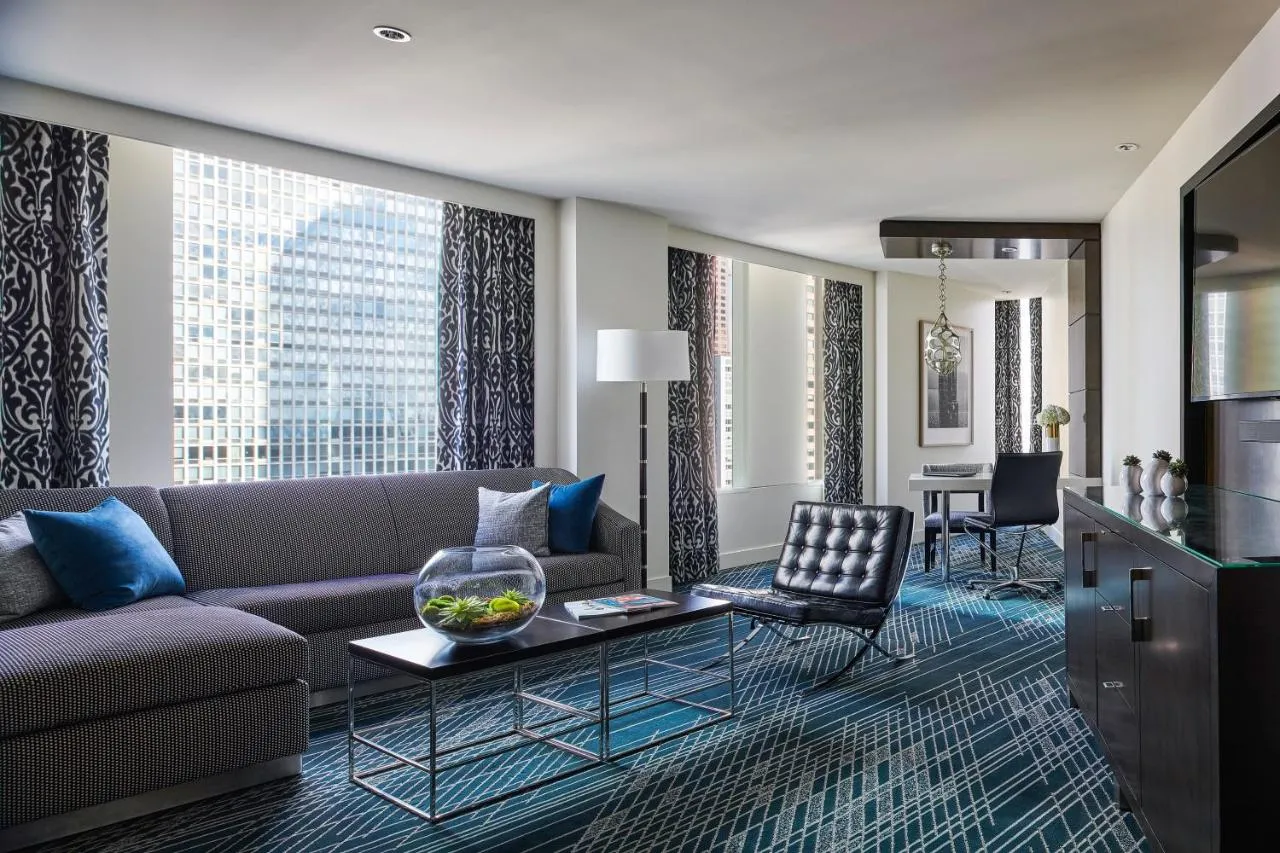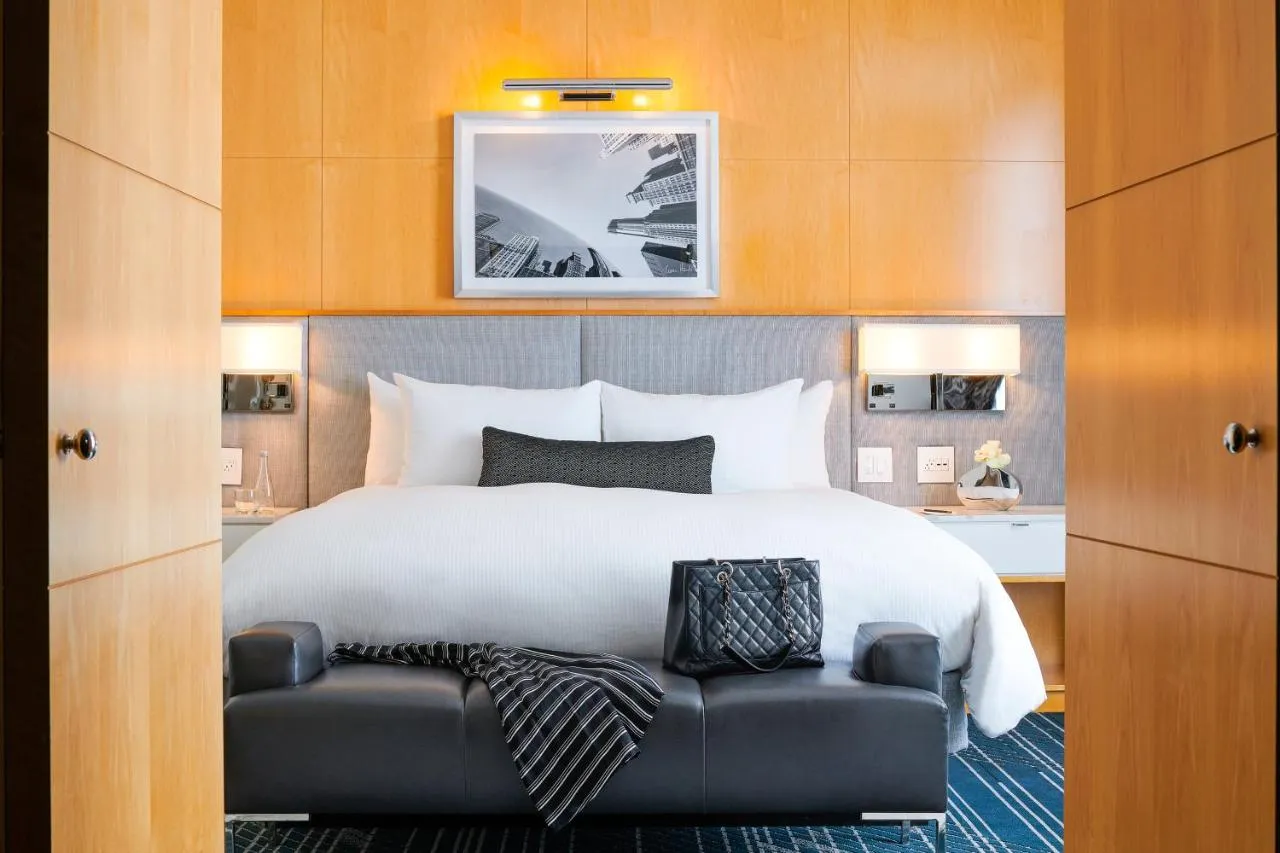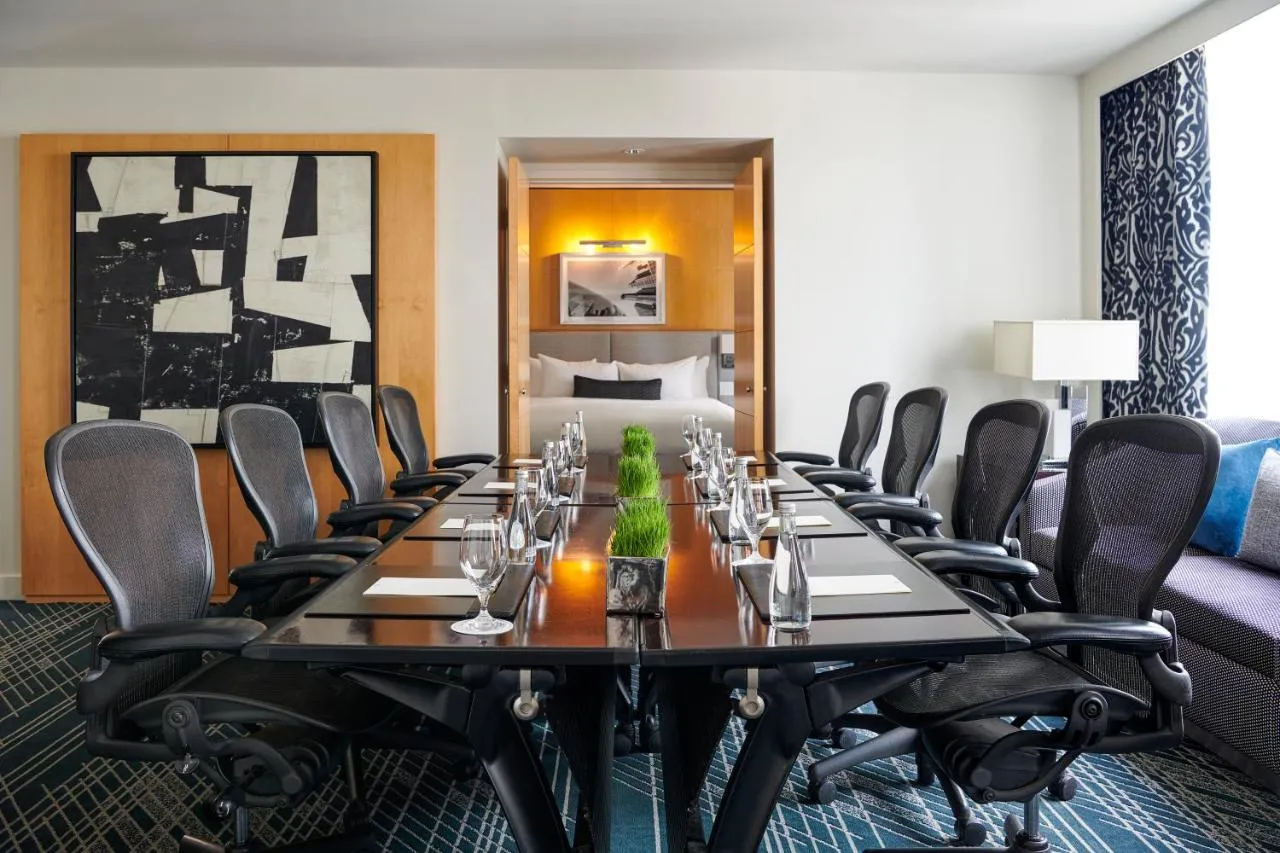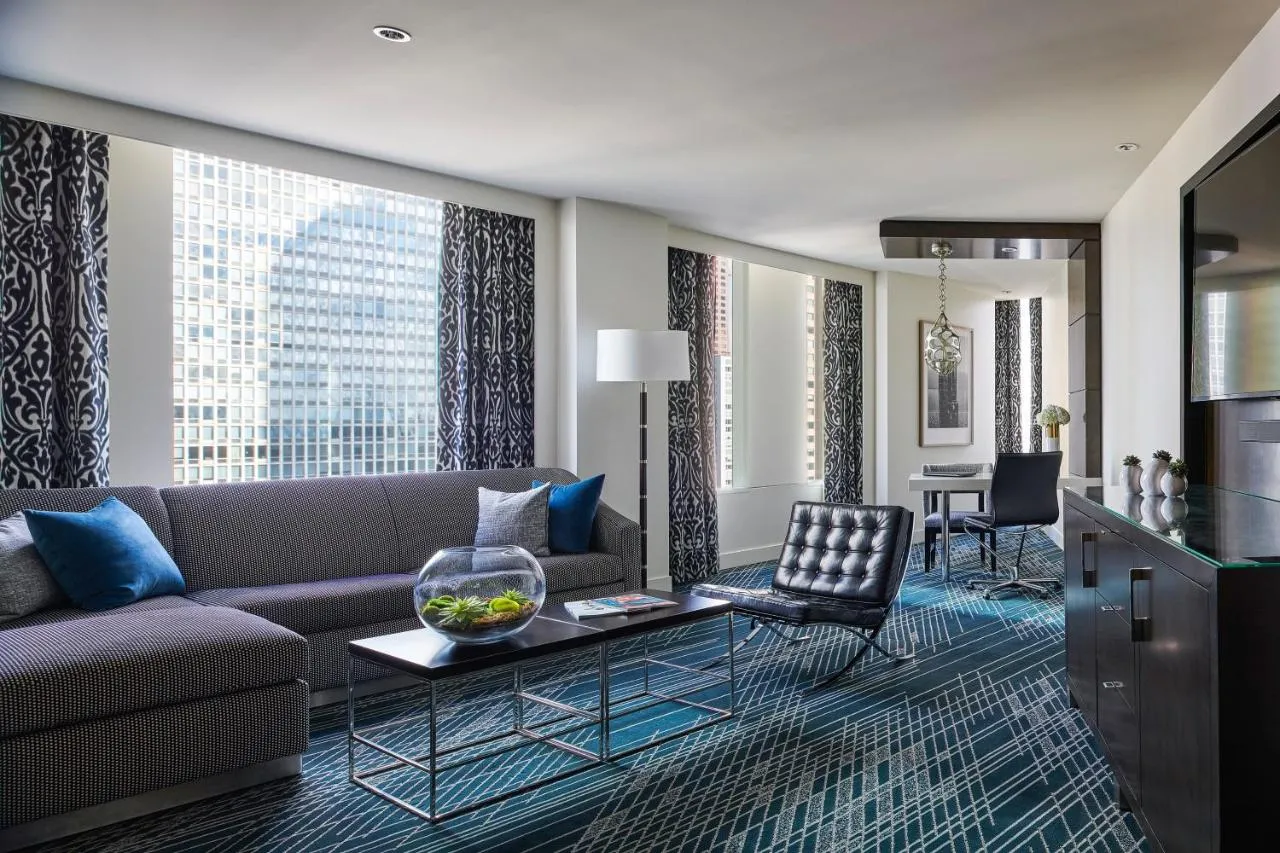 8. InterContinental Chicago Magnificent Mile
505 N Michigan Ave, Chicago, IL 60611, United States
From $220 per night

ETIC Hotels Green Score: 9.5/10
What makes InterContinental Chicago sustainable?
To start, the hotel has committed to purchasing "Green Sustainable Energy Credits" to supply 50% of its annual energy consumption, significantly reducing the carbon footprint of the facility ahead of the impact of the numerous other environmentally-focused initiatives. With plans to create a "Green Roof" during summer 2008 and attain LEED certification, the InterContinental Chicago is making a positive impact on the environment.
GREEN AMENITIES: Hotel guests are unlikely to notice the in-room modifications, though their consciences will be clear with green upgrades permeating the plumbing, electric and laundry systems. Hotel rooms are outfitted with energy efficient light bulbs and automated motion detectors to conserve energy while rooms are unoccupied. Aerators installed in guest room sinks reduce water use by 50% and toilet "tummies" in all historic tower guest rooms reduce water utilized when flushing. In the bathrooms, coreless toilet paper rolls minimize cardboard waste. Public restrooms also make use of solar-powered faucets. Most significantly, plans exist to install solar thermal panels on the rooftop to heat hotel water, one of the greatest sources of hotel energy use.
FOOD & BEVERAGE: Within the food and beverage program, efforts are being made to use non-disposable serving ware and cloth napkins, where possible, and are in the process of sourcing napkins made from recycled paper for use in the Lobby bar. The culinary team is reaching out to local purveyors to source organic meat and produce. Organic wine is also available at Eno, the hotel's chic wine, cheese and chocolate lounge. Food scraps from the hotel are being donated to composting sites and local farms for environmental reuse.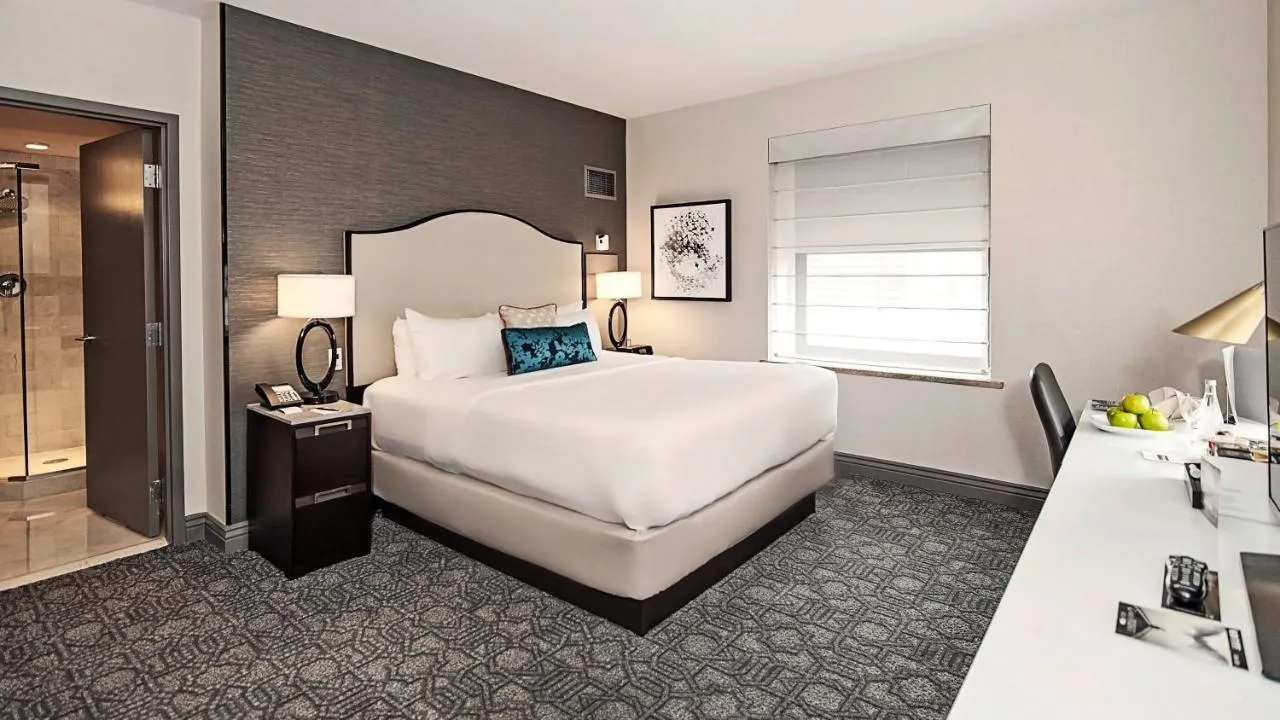 9. Embassy Suites by Hilton Chicago Downtown
600 N State St, Chicago, IL 60654, United States
From $150 per night

ETIC Hotels Green Score: 9.5/10
What makes Embassy Suites by Hilton Chicago sustainable?
The Embassy Suites Chicago Downtown/Lakefront features a 720-square-foot eco-friendly living green wall in the hotel's
sky lobby. The green wall – also referred to as a living wall or vertical garden – employs a tray system featuring an
energy-efficient computer-controlled irrigation system. It reduces noise levels (as plants absorb sound) and improves
energy efficiency by moderating indoor temperatures and humidity levels, and the oxygen it provides is equivalent to
that produced by 16 fourteen-foot-tall trees.
LightStay™ is a proprietary measurement system that analyzes performance across 200 hotel operational practices,
such as housekeeping, paper product usage, food waste, chemical storage, air quality and transportation, to reduce
overall environmental impact and improve hotel performance. Hilton Worldwide is the first multi-brand hospitality
company to make sustainability measurement a brand standard and recently earned ISO 9001 and 14001 certifications
for quality and environmental management – one of the largest volume certifications awarded for commercial
buildings. It is also one of the top 10 on the U.S. Environmental Protection Agency list of Green Power Partnership
organizations using renewable electricity
10. Hilton Chicago/Magnificent Mile Suites
198 E Delaware Pl, Chicago, IL 60611, United States
From $150 per night

ETIC Hotels Green Score: 9.5/10
What makes Hilton Chicago sustainable?
The Hotel is Part of the Hilton Worldwide sustainability programme: Travel with Purpose
We seek to operate and grow sustainably, reducing our consumption of natural resources. We are committed to fighting climate change, and we are proud to have set carbon reduction targets aligned with the Paris Climate Agreement. Learn more about the steps we are taking to cut our environmental footprint in half by 2030.
We foster inclusive growth by enabling everyone to participate in and benefit from travel. We contribute our time, skills and resources to building capacity and resilience in our destinations, and we are committed to fostering respect for human rights for all. Learn more about the steps we are taking to double our positive social impact by 2030.