The 10 Most Sustainable Hotels in Germany
For an Ethical and Sustainable Stay in Germany.
A Sustainability Ranking in partnership with ETIC Hotels
You're planning a trip to Germany and you're trying to be as ethical and sustainable as possible?
niood lists you the 10 most sustainable hotels in Germany:
1. HUBERTUS unplugged
Balderschwang, Germany
From $350 per night

ETIC Hotels Green Score: 9.5/10
What makes HUBERTUS unplugged sustainable?
The hotel's Stadel is 100 percent recyclable. From the outside, the Hubertus is planked with natural wood while the inside is designed straight. High-quality sustainable materials like stones, brushed wood, linen, and furs create a warm and cozy atmosphere.
2. Strandhaus Boutique Resort & Spa
Lübben, Germany
From $200 per night

ETIC Hotels Green Score: 9.5/10
What makes Strandhaus Boutique Resort & Spa sustainable?
Energy & Water Management
– Use of energy-saving bulbs or LEDs
– Gas-powered cogeneration units generate half of yearly electricity demand (conversion from natural gas to biogas planned in 2016)
– Green energy for remaining power supply
– Water softener and decalcifier limits water flow, thereby water is saved and use of detergents diminished
Waste Management
– Consequent separation of waste, either at point of origin or subsequently
– Waste avoidance: conscious renunciation of print products like brochures, flyer, notes etc.
– Regular staff trainings about waste separation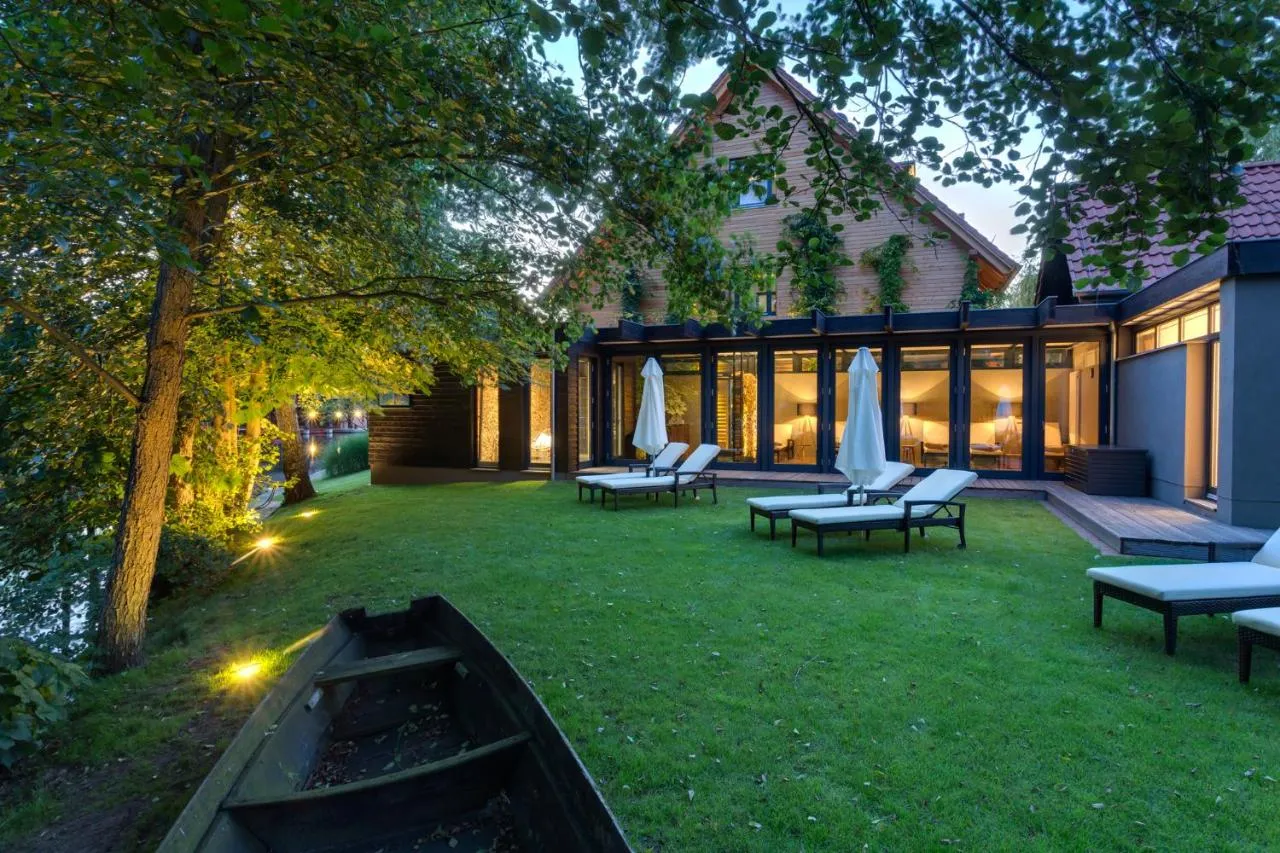 3. Living Hotel Das Viktualienmarkt
Munich, Germany
From $150 per night

ETIC Hotels Green Score: 9.5/10
What makes Living Hotel Das Viktualienmarkt sustainable?
– 100% green electricity in all hotels and the head office.
– We calculate the carbon footprint of all business trips, as well as the district heating consumption of the hotels and head office.
– We compensate for these "sins" by supporting environmental projects. In 2017, it was a rainforest project in Africa. We supported the organization Plant-for-the-Planet.org in 2018 and expect to continue to do so in the long term.
– Photocopy paper was replaced with recycled paper across the entire organization in 2018.
– All printed material, where possible, are produced on recycled paper.
– We've scrapped disposable coffee cups, also in the wellness areas.
– We've eliminated the use of plastic straws.
– With the exception of baked goods, we only serve palm oil-free products at breakfast.
4. Hotel Schwarzwald Panorama Bad Herrenalb
Bad Herrenalb, Germany
From $150 per night

ETIC Hotels Green Score: 9.5/10
What makes Hotel Schwarzwald Panorama sustainable?
Determining the annual CO₂ emissions with the goal of maximum reduction
Offset of the residual CO₂ emissions generated by your stay
Catering and meals with predominantly regional and seasonal products from our organic cuisine 11(70% organically certified and 30% slow food-share)
Development of meeting modules that promote the learning objectives and health-11consciousness
Integration of modern, user-friendly and energy-saving technology
Meeting and conference materials made of resource-efficient materials of fair-trade 00origin
Introducing paperless event management
Rubbish separation and reduction
Use of recyclable materials
Gradual integration of ecological cleaning agents, sustainably produced printed materials and 11other materials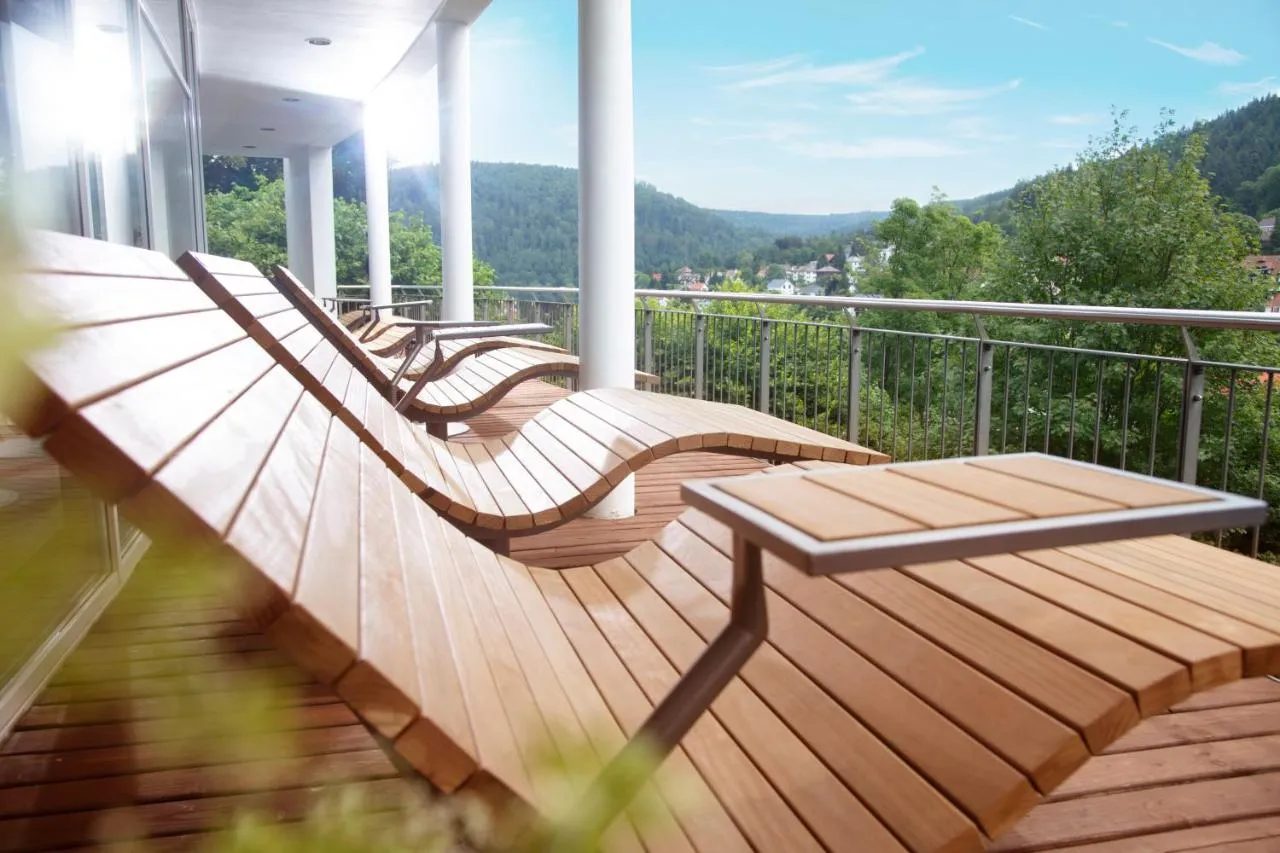 5. Mawell Resort
Langenburg, Germany
From $350 per night

ETIC Hotels Green Score: 9.5/10
What makes Mawell Resort sustainable?
Energy Consumption
– Own energy supply
– Cogeneration system (500 kW – peak load cover corresponds to a saving of 800,000 l of fuel oil)
– Gas fermentation system – microgas line / BHKW directly in the location; direct conversion on site performs 400 kW el (The rejected heat is used in the resort) surplus energy is ised for the outdoor swimming pool Ladenburg, school, town hall, kindergarten and Innopark)
– 6 Electric cars
Water Management
– Water Treatmant Plant with ultrafiltration
– Use of rain and well water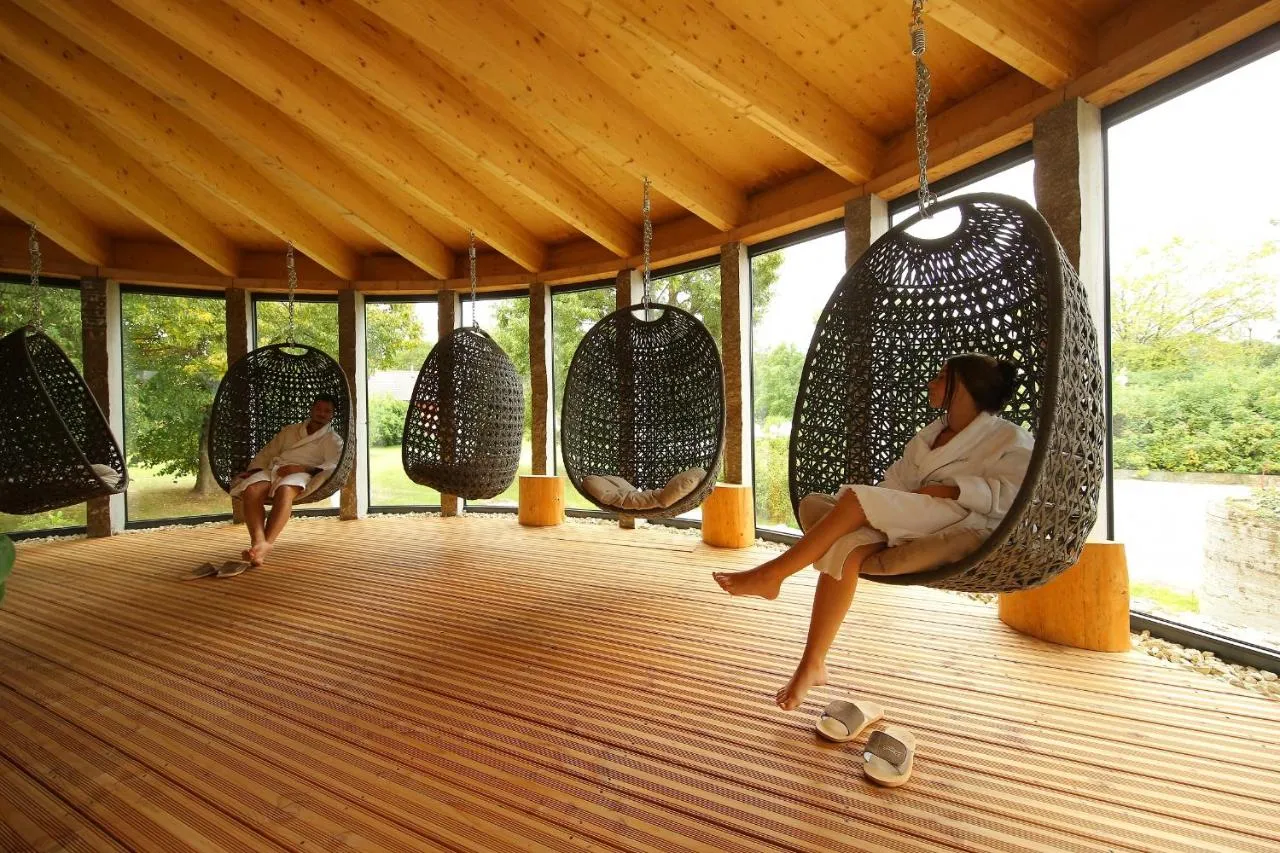 6. LIFESTYLE Resort Zum Kurfürsten
Bernkastel-Kues, Germany
From $250 per night

ETIC Hotels Green Score: 9.5/10
What makes LIFESTYLE Resort Zum Kurfürsten sustainable?
Energy
-Use of power-saving illuminants
-Careful utilization of resources, usage of the most modern technology for hotel's laundry
-Reduction of paper processes by high-class management
-Modern pool covers are used for the avoidance of unnecessary CO2 emissions
-With 3 BHKW's (a total of 46 kW) stream is generated by means of natural gas
-On this occasion, a reduction of the annual CO2 emission by 30% could be reached
-Excessive stream is fed into the electricity grid
Waste Management
-Avoidance of packaging waste
-Use of environmentally friendly packaging
-Waste separation incl. separation of residual waste and subsequent treatment to animal feed of regional farms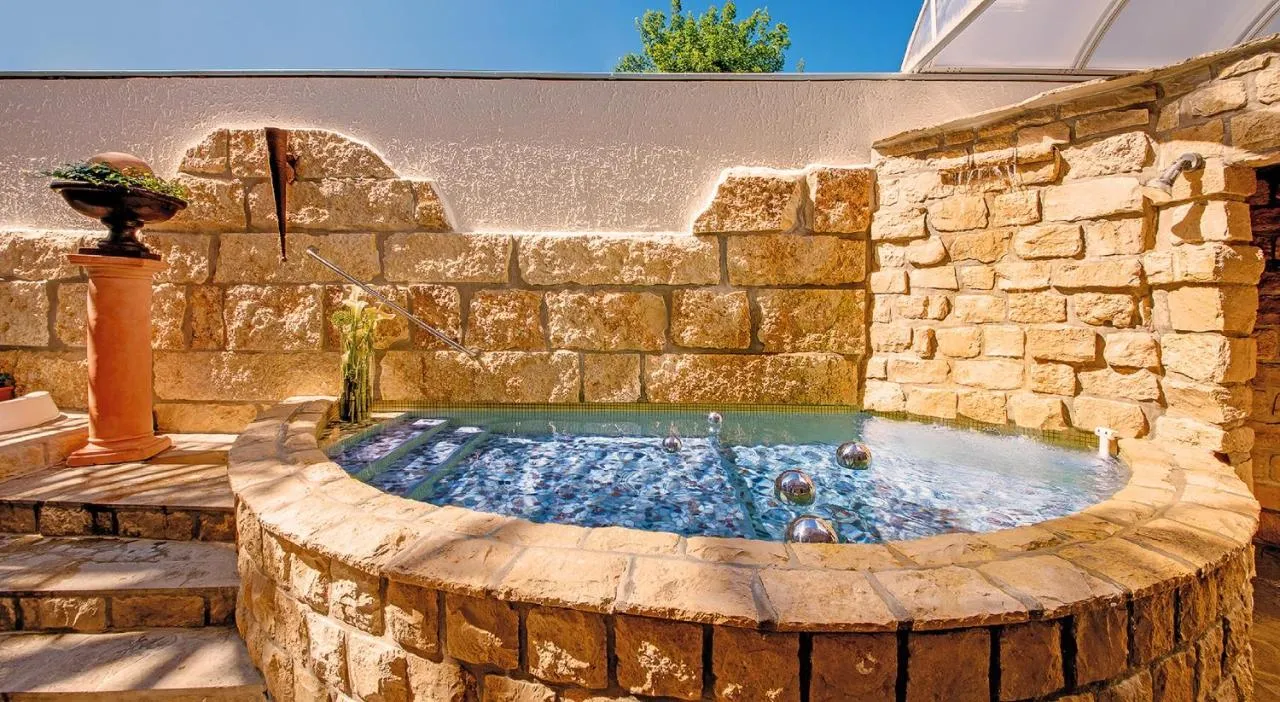 7. Berghotel Rehlegg
Ramsau bei Berchtesgaden, Germany
From $300 per night

ETIC Hotels Green Score: 9.5/10
What makes Berghotel Rehlegg sustainable?
Tourism and sustainability – is that possible? Yes ofcourse! In order for you to go on your vacation with a clear conscience, as a sustainable hotel we rely on renewable energies and try to avoid waste wherever possible. Clothing that you can buy in our hotel shop has been produced sustainably. Since 2017, overnight stays at the Rehlegg have been climate-positive, because we bind more CO2 than we emit. In order to compensate for our own residual emissions, we actively participate in afforestation in Panama. We were honored for this by Viabono, the specialist organization for environmentally friendly travel. We are also participating in the regional mountain forest offensive and are the first hotel in Germany to invest in humus certificates.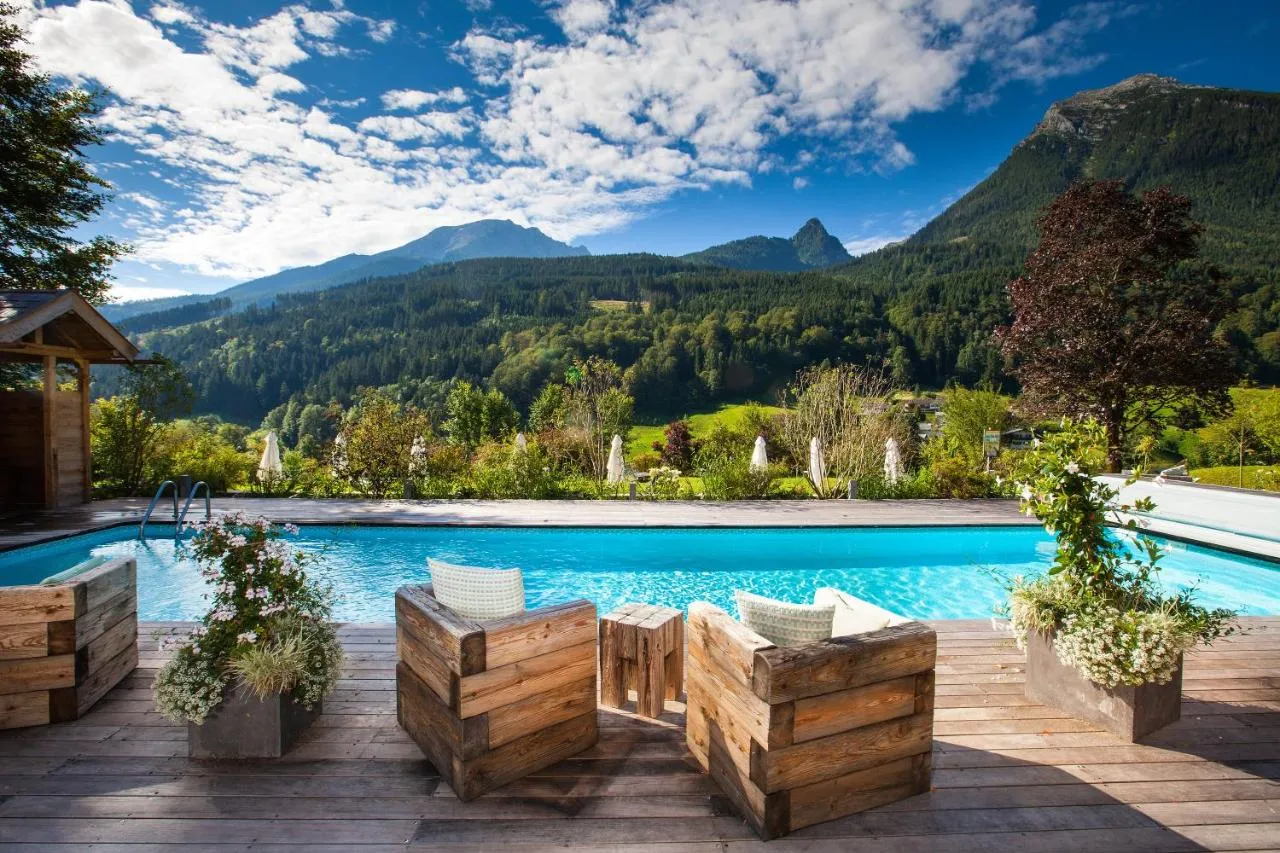 8. Biohotel Sturm – Bio & Wellness in der Rhön
Mellrichstadt, Germany
From $200 per night

ETIC Hotels Green Score: 9.5/10
What makes Biohotel Sturm sustainable?
As a certified member of the BIO HOTELS the host family Schulz-Dieckhoff contributes to the strict criteria: 100% organic kitchen, organic cosmetics, use of natural building materials and materials for the ongoing renewal of the hotel, ecological management of the garden and the natural swimming pond.
The Biohotel Sturm focuses on environmentally friendly and self-sufficient energy systems
Cogeneration unit
Solar Thermal Energy
Heat recovery systems from refrigeration engines
Photovoltaik Plant
High-efficiency pumps with low electricity demand
Brazed plate heat exchangers
Renunciation of chemical fertilizers in the hotel garden
100% natural makeup certificated in the spa area
Eco Swimming Pond with Granderwasser
When the host family Schulze-Dieckhoff planned a swimming pool, it very soon became obvious that the decision could only be a natural swimming pond. Together with a landscape gardener the eco swimming pond was installed in the garden of the Biohotel Sturm and filled with pure, animated Granderwasser. The swimming and regeneration zone of the natural pond forms a small ecosystem in the midst of the extensive hotel facilities.
9. Hotel Zoo Berlin
Berlin, Germany
From $150 per night

ETIC Hotels Green Score: 9.5/10
What makes Hotel Zoo Berlin sustainable?
THE GREEN GLOBE CERTIFICATION IS A STRUCTURED ASSESSMENT OF THE SUSTAINABILITY PERFORMANCE OF TRAVEL AND TOURISM BUSINESSES AND THEIR SUPPLY CHAIN PARTNERS. THE GREEN GLOBE STANDARD INCLUDES 44 CORE CRITERIA SUPPORTED BY OVER 380 COMPLIANCE INDICATORS. THE APPLICABLE INDICATORS VARY BY TYPE OF CERTIFICATION, GEOGRAPHICAL AREA AS WELL AS LOCAL FACTORS. THE ENTIRE GREEN GLOBE STANDARD IS REVIEWED AND UPDATED TWICE PER CALENDAR YEAR.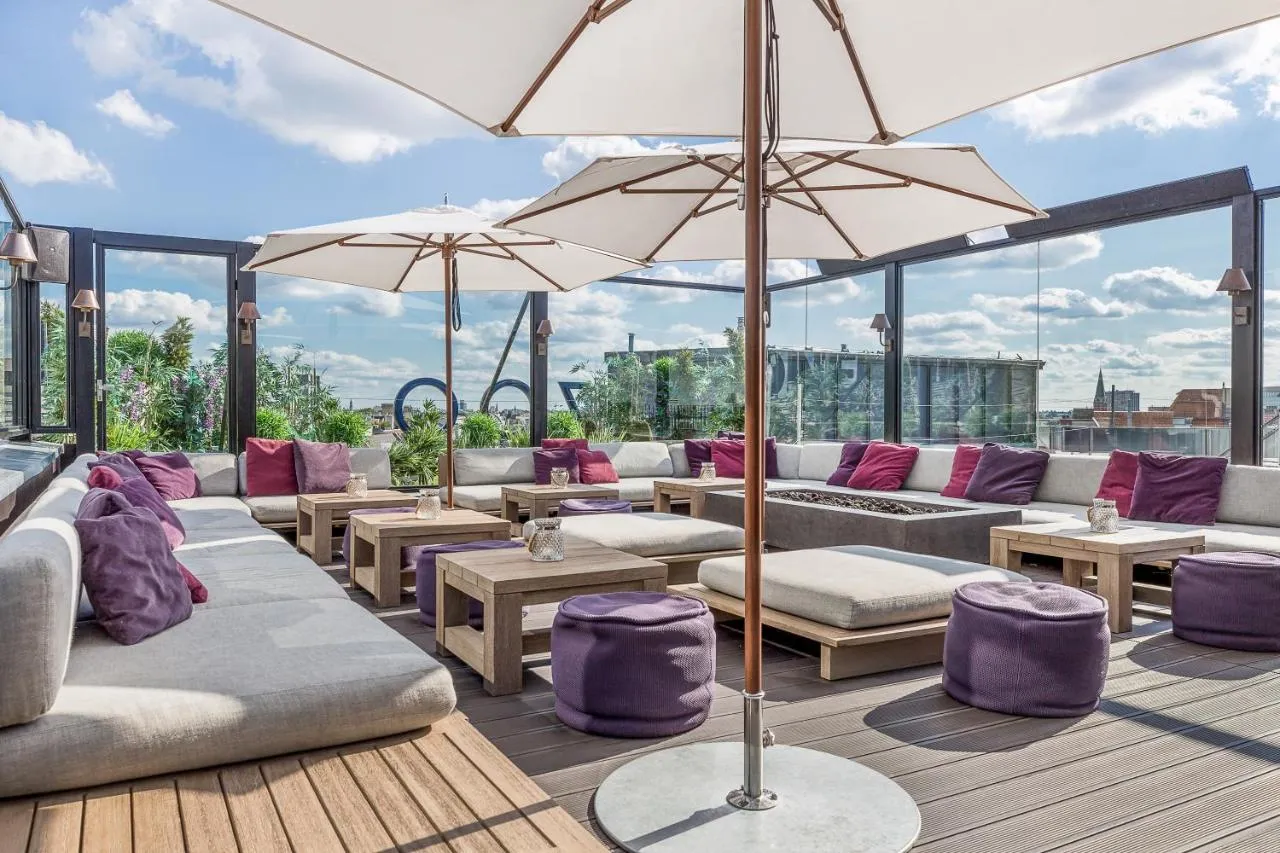 10. The Mandala Hotel
Berlin, Germany
From $200 per night

ETIC Hotels Green Score: 9.5/10
What makes The Mandala Hotel sustainable?
The hotel is so committed to sustainable excellence that it has adopted European Quality Standards methods to optimize operations and keep on the very top of its game. Working with corporate optimization programs like EFQM, they have frequent employee training programs and evaluations—something common in the corporate world but unusual in the hospitality business. Only one other hotel in Germany works with these methods. "It's a long-term thing," says Andresen. "You can't just do it for two or three years. Excellence has to be in the minds of the employees, not just a list of tasks to complete."