The 18 Most Sustainable Hotels in Indonesia
For an Ethical and Sustainable Stay in Indonesia
A Sustainability Ranking in partnership with ETIC Hotels
You're planning a trip to Indonesia and you're trying to be as ethical and sustainable as possible?
niood lists you the 18 most sustainable hotels in Indonesia:
1. Alila Ubud, Bali
Desa, Melinggih Kelod, Payangan, Gianyar, Bali 80572, Indonesia
From $80 per night

ETIC Hotels Green Score: 9.5/10
What makes Alila Ubud sustainable?
Did you know that all the fresh fruits and vegetables available in the hotel are supplied locally? Not only that, most of our room amenities and the products available in our Alila Living boutique, such as soaps, shampoo, slippers and the Spa Alila products, are produced in Bali and many of them through village co-operatives supported by Alila. Purchasing goods that are made locally benefits our own community economically, not to mention the environment, by reducing the need for transportation. For that reason, we prefer working with vendors who adopt a sustainable approach to their operations. We do so through encouragement, agreement and regular evaluation with our existing suppliers and new ones. We encourage our suppliers to reduce their packaging and waste when sending their goods to us by bulk purchase orders.
2. Amanwana, Moyo Island
Moyo Island, Labuan Aji, Labuhan Badas, Kabupaten Sumbawa, Nusa Tenggara Bar. 84313, Indonesia
From $1,300 per night

ETIC Hotels Green Score: 9.5/10
What makes Amanwana sustainable?
A low-impact island resort that harnesses local materials, Amanwana's green credentials are in keeping with its wild, pristine setting. Guests can contribute to its Moyo Conservation Fund which benefits nearby village communities and the environment.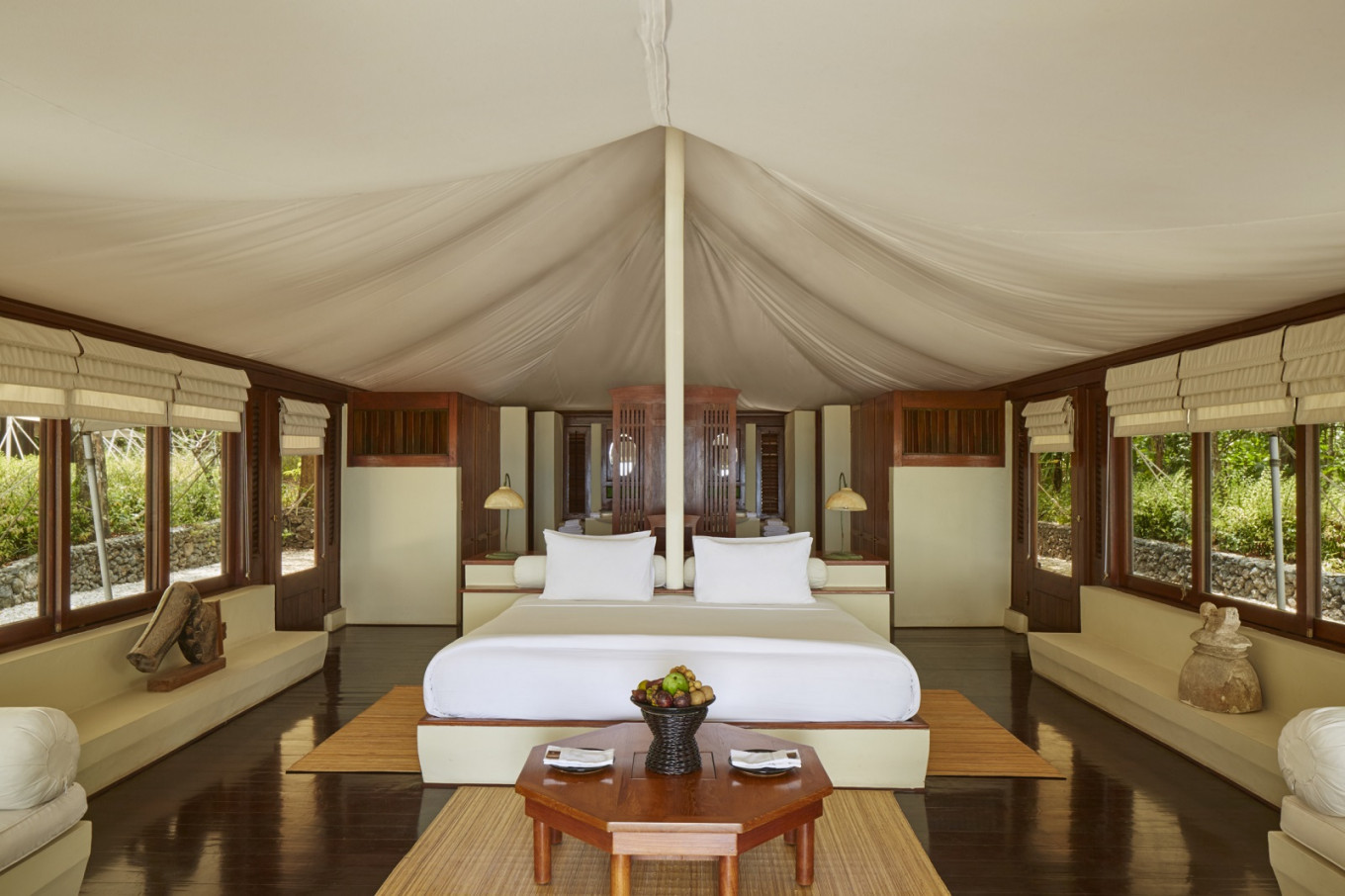 3. Alila Villas Uluwatu, Bali
Jl. Belimbing Sari Tambiyak, Pecatu, South Kuta, Badung Regency, Bali 80364, Indonesia
From $700 per night

ETIC Hotels Green Score: 9.5/10
What makes Alila Villas Uluwatu sustainable?
We are proud that Alila Villas Uluwatu has embraced environmentally sustainable design (ESD) principles and is the first resort in Indonesia to receive the highest level of certification from EarthCheck as a Best Practice Building Planning and Design (BPDS) development. We utilise many ESD measures, including use of local materials, water conservation with soaks and rain gardens and a waste water management system, using local plants from the special Bali savannah ecosystem, the deliberate use of sustainable/recycled materials, protection of the natural environment, and measured work practices throughout construction.
4. Soori Bali
Banjar Dukuh Desa Kelating, Kerambitan, Kelating, Kec. Tabanan, Kabupaten Tabanan, Bali 82161, Indonesia
From $800 per night

ETIC Hotels Green Score: 9.5/10
What makes Soori Bali sustainable?
The various structures that compose Soori Bali are designed and oriented in a way that facilitates the passing of filtered natural light into the buildings while minimising heat gain during daytime. A combination of indigenous volcanic rock and abundant greenery organically cools the villas. Furthermore, open courtyards provide natural ventilation and lighting, minimising the use of both air conditioning and artificial lighting. Soori Bali operates efficient lighting systems, with interior lighting using low mercury fittings with photo sensors, and carefully positioned lighting that minimises energy consumption.
Water efficiency is similarly a focus of the resort's construction and operations. In order to reduce water wastage, Soori Bali utilises a potable water supply that insures zero island groundwater abstraction for construction and operations. Water consumption is reduced through the use of water-efficient appliances in bathrooms, laundry and kitchens. A hydropneumatic system with a booster pump is installed to enable uniform water pressure throughout the resort. Water consumption is reduced by 50 percent with a separation line between gardening water and domestic water. Irrigation of natural vegetation and landscaped areas also involves the use of recycled water.
5. The Legian Bali
Jl. Kayu Aya, Seminyak, Kuta, Kabupaten Badung, Bali 80361, Indonesia
From $300 per night

ETIC Hotels Green Score: 9.5/10
What makes The Legian Bali sustainable?
The Legian supports community initiatives, such as the Team 8 programme, which helps schools with equipment and funding.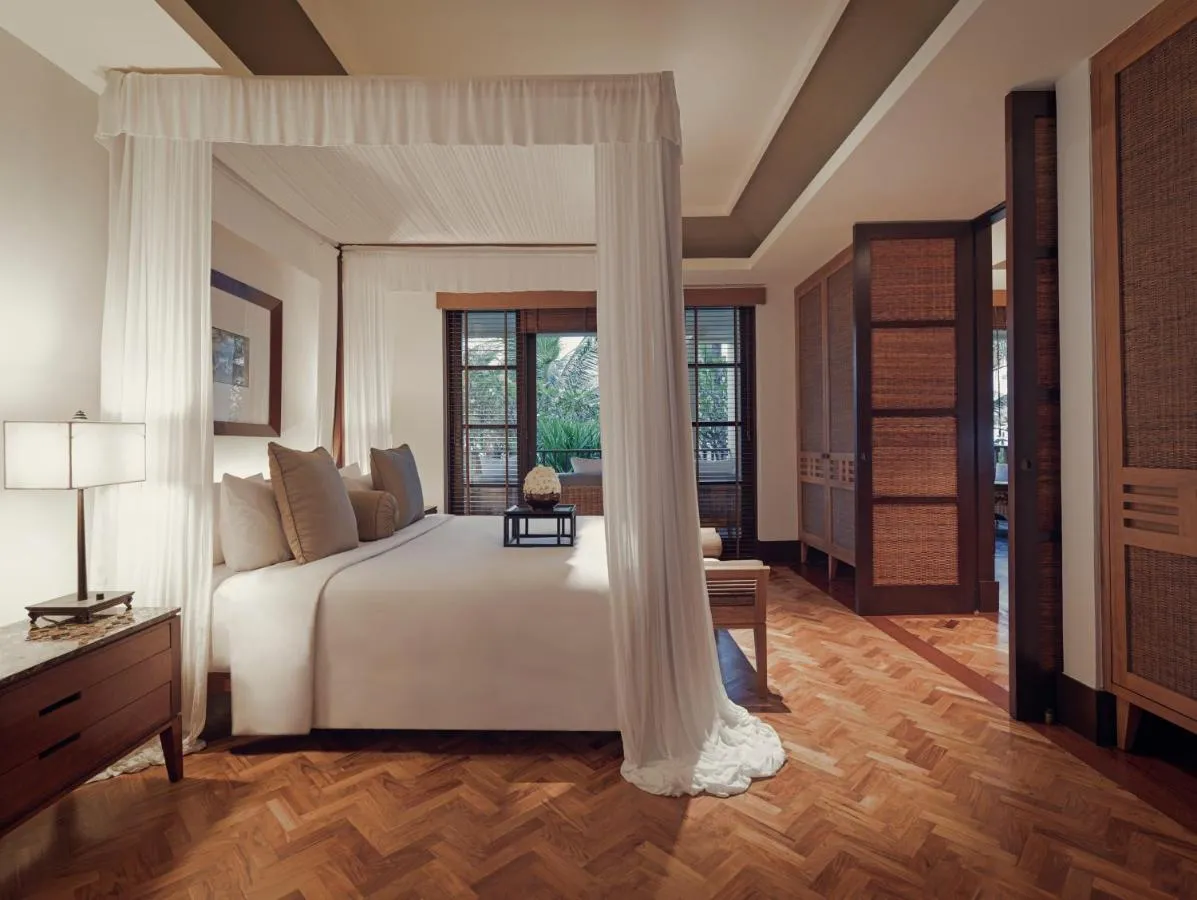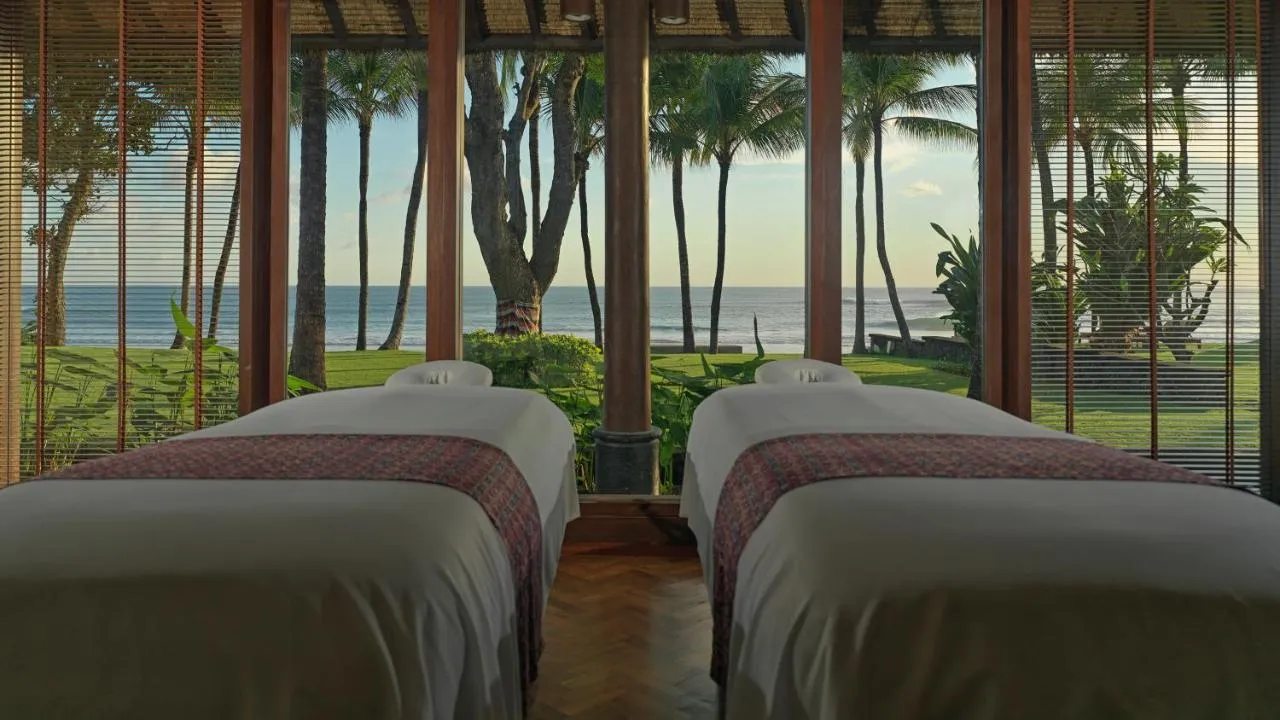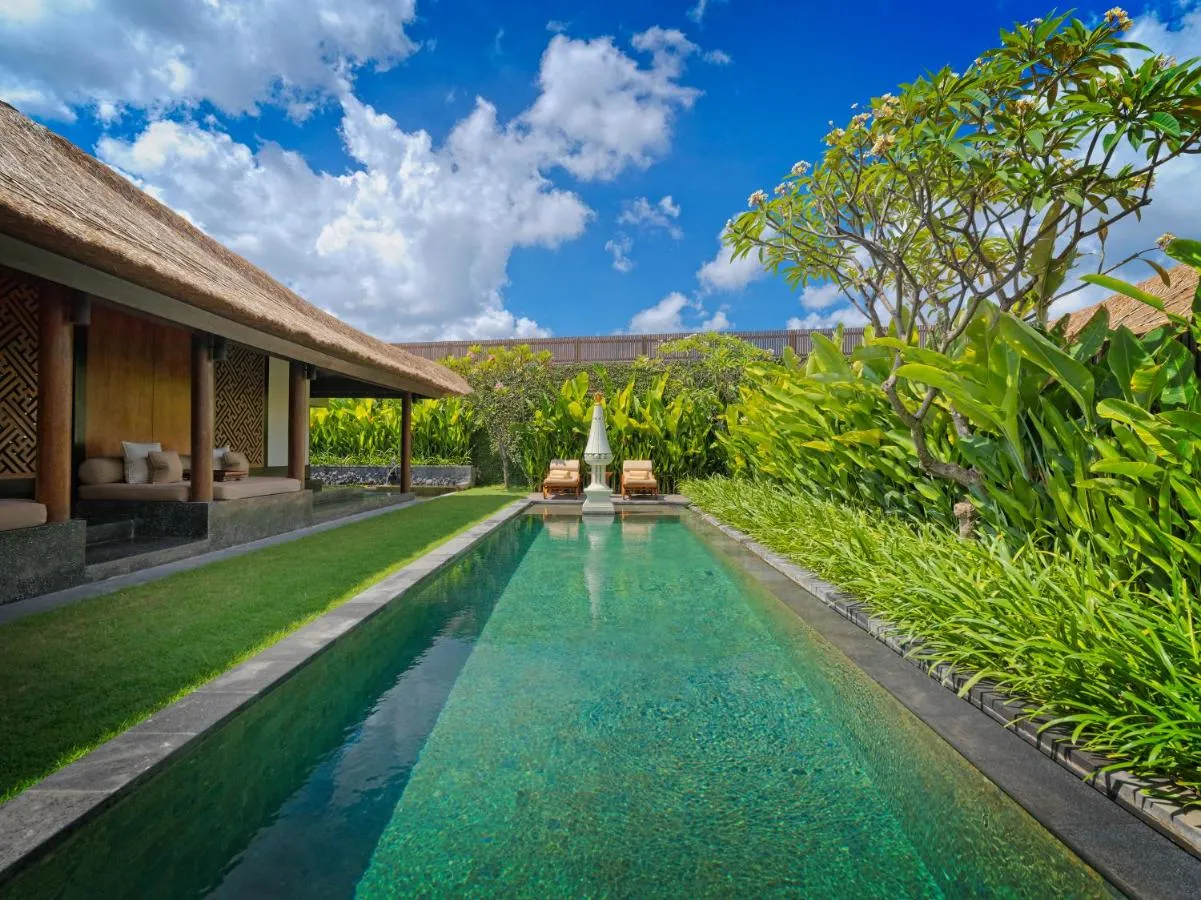 6. Nihi Sumba, Sumba
From $2,500 per night

ETIC Hotels Green Score: 9.5/10
What makes Nihi Sumba sustainable?
The Maringi Eco Resort is one of a kind, blending comfort and high-quality service with community education and environmental awareness. With a unique bamboo infrastructure and innovative design, the entire Eco Resort is solar powered and has a zero-waste policy. Its restaurant offers a mix of local and international dishes composed of fresh, organic ingredients sourced directly from the resort's permaculture garden. As a guest, you will be an important part of the Sumbanese students' progress as they receive concrete experience in an effort to achieve their dreams.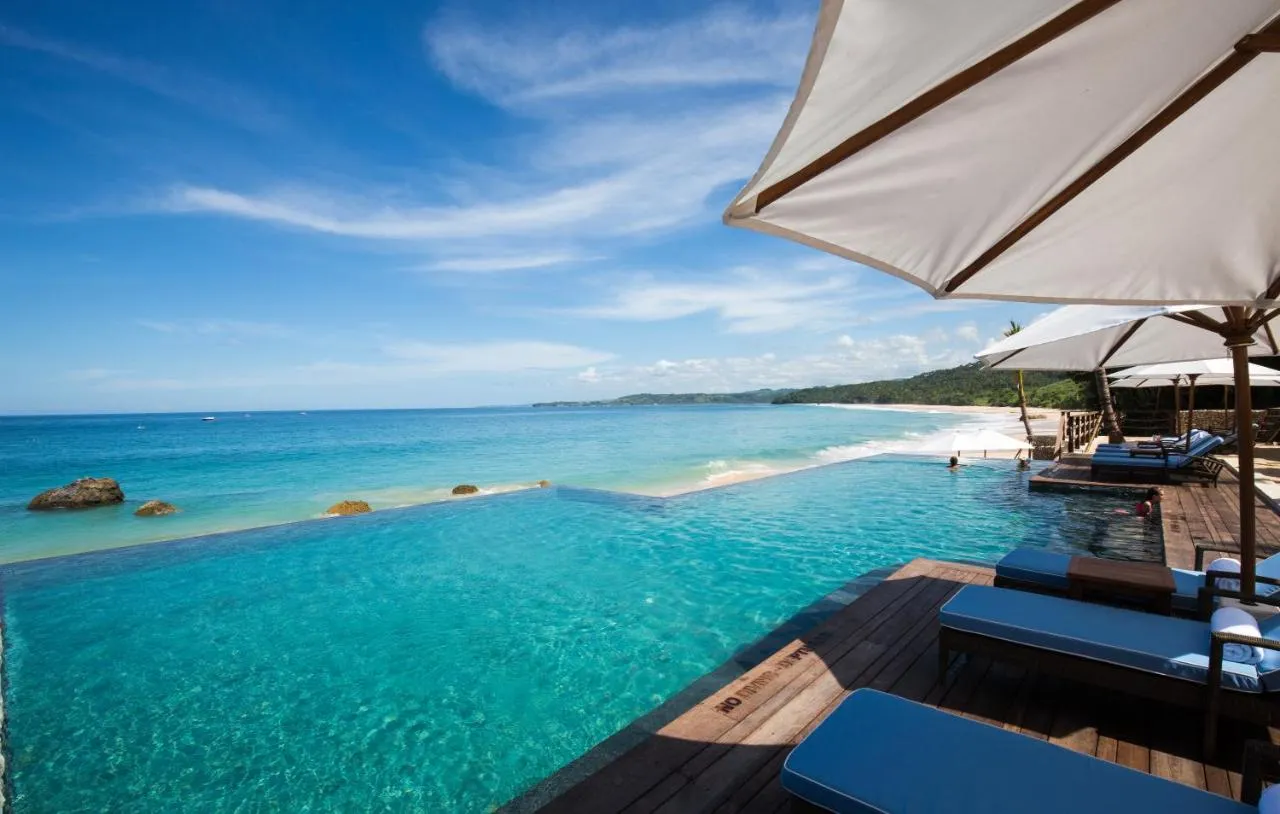 7. Plataran Menjangan Resort & Spa, Bali
West Bali National Park, Jl. Raya Seririt – Gilimanuk, Gerokgak, Pejarakan, Gerokgak, Buleleng Regency, Bali 81155, Indonesia
From $260 per night

ETIC Hotels Green Score: 9.5/10
What makes Plataran Menjangan Resort & Spa sustainable?
A tranquil hideaway cocooned within the protected sanctuary of West Bali National Park. Plataran Menjangan Resort & Spa offers an escape to nature at its most beautifully raw and untouched. Experience the epitome of luxury, privacy and comfort in the traditional Joglo villas of this unique eco retreat. Being the epicentre of ecotourism, Plataran Menjangan is blessed with 175 floras and 167 faunas (including the world endangered heritage birds – Bali starling) and its lush greeneries, calming blue ocean and majestic backdrops of mountains and hills surrounding the area.
Experience the epitome of luxury, privacy and comfort in the traditional Joglo villas of this unique eco retreat, at one with nature in the midst of the forest or right by the ocean. Dine along the oceanfront on a world of fresh flavours crafted from the treasures of the garden and sea. Listen to the song of the exotic Bali Starling while exploring the beauty of the wild, trekking through the jungle, kayaking through the mangrove canal, diving in crystal clear waters, or enjoying the romance of a sunset cruise.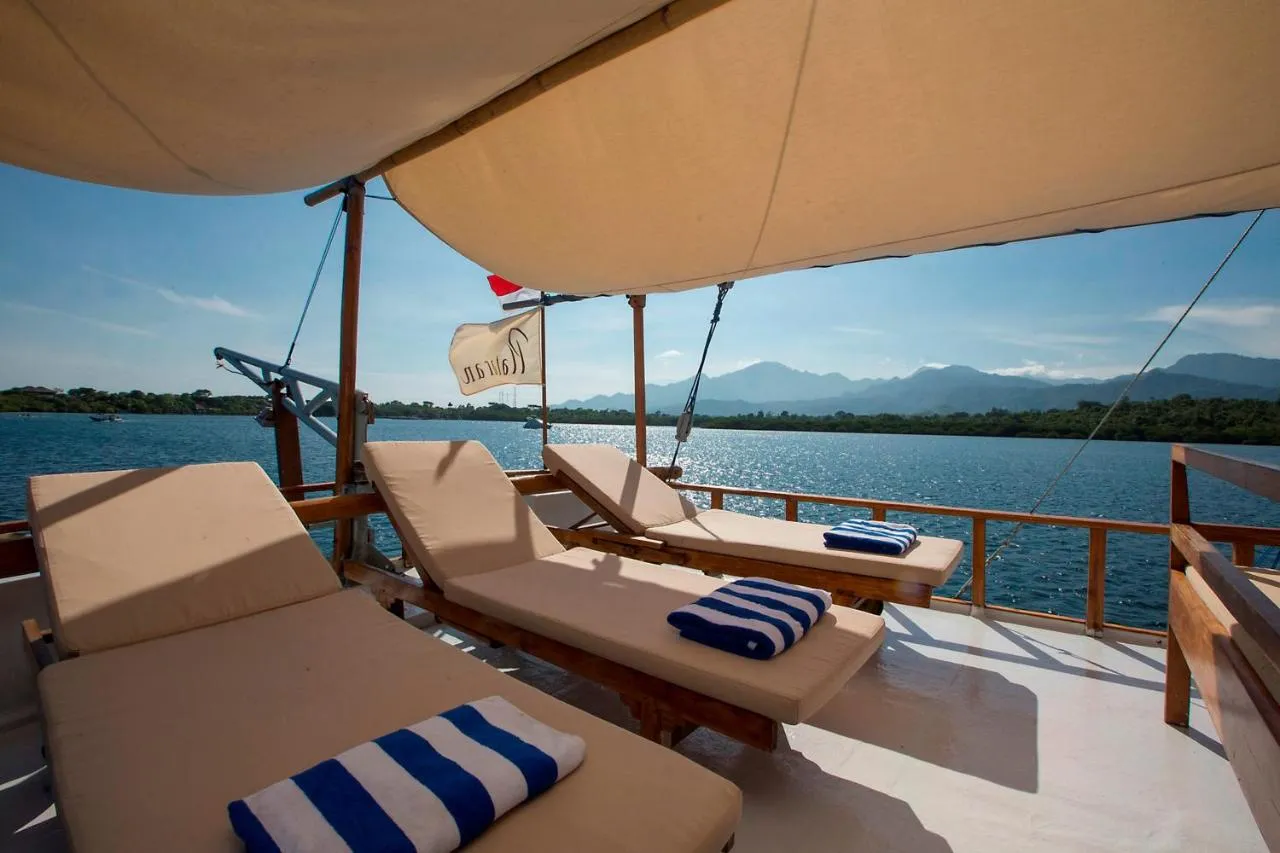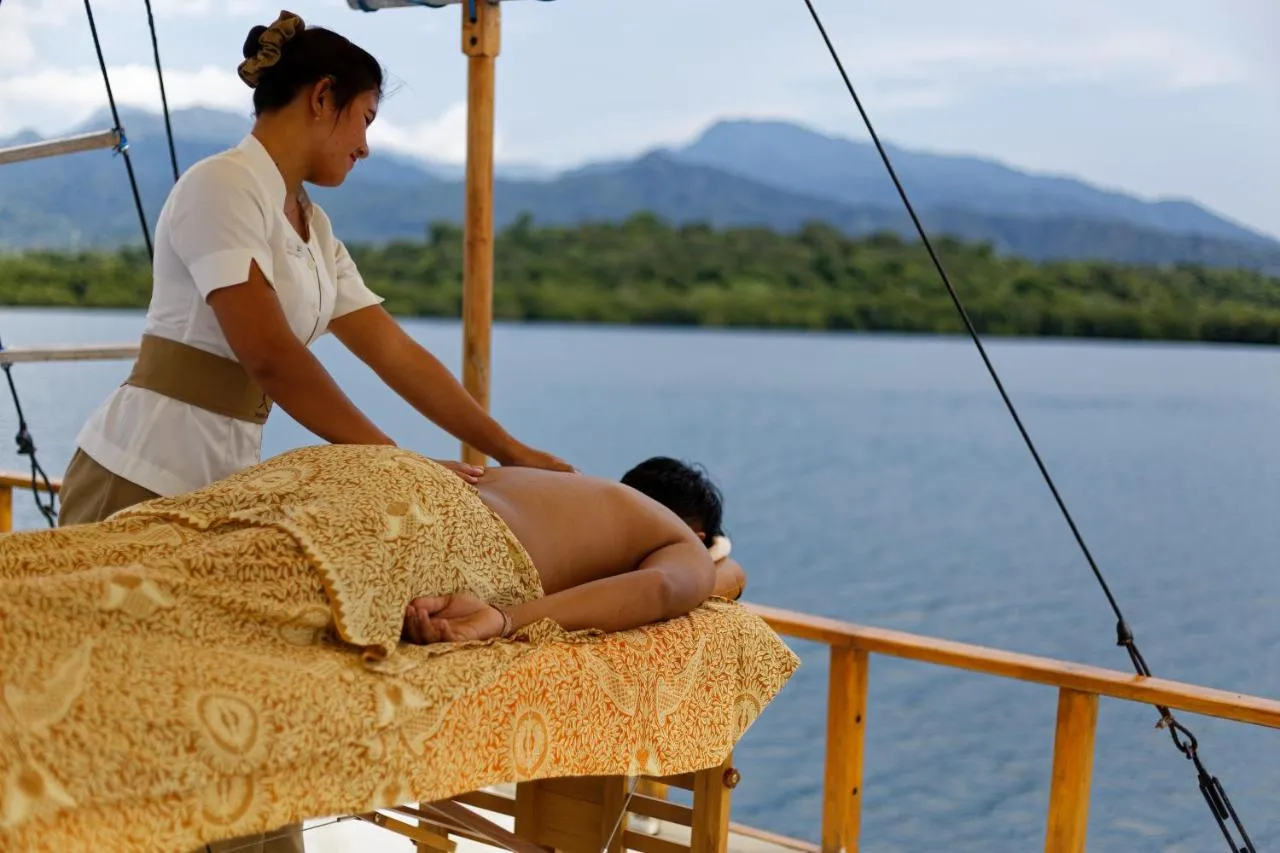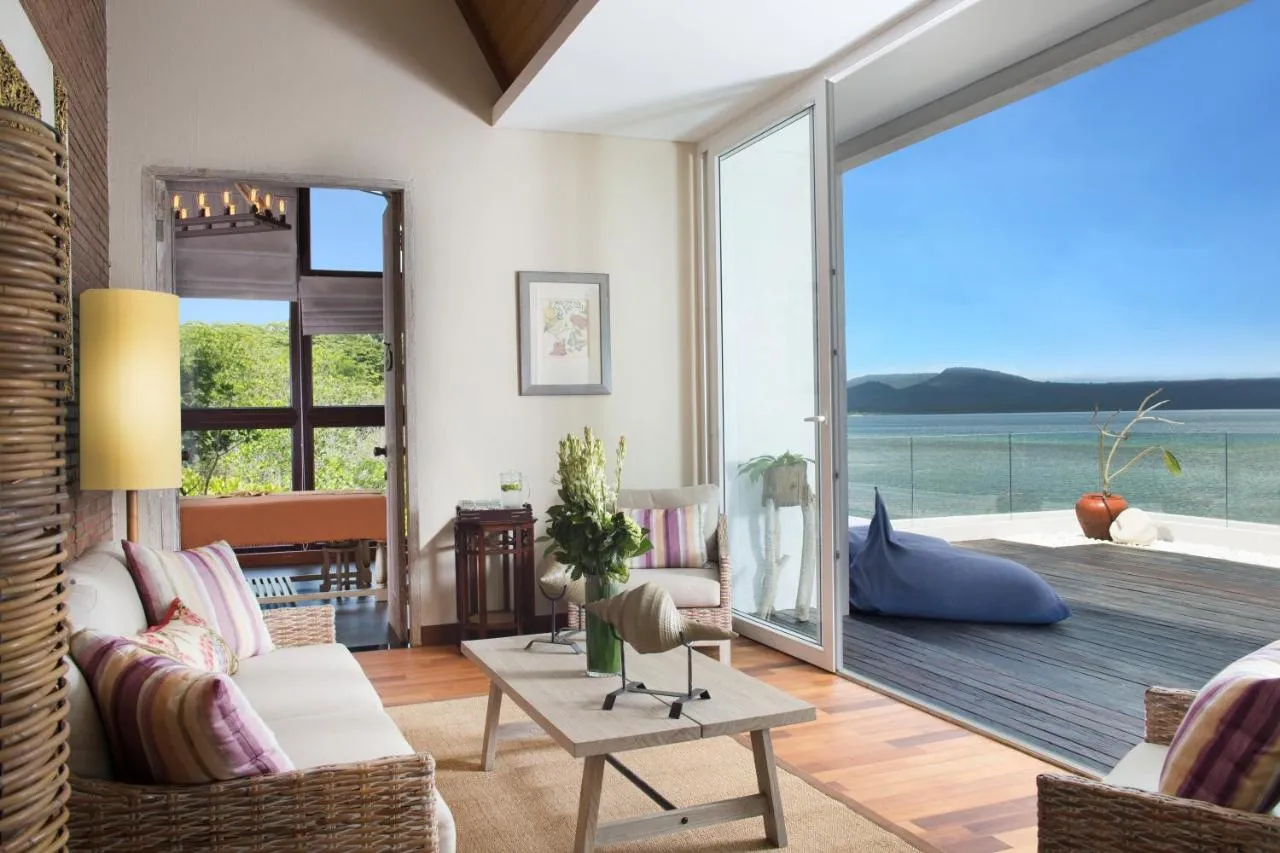 8. Bawah Reserve, Anambas
Bawah Reserve Anambas Kiabu, Pulau Bawah, Siantan Sel., Kabupaten Kepulauan Anambas, Kepulauan Riau 29791, Indonesia
From $4,000 per night

ETIC Hotels Green Score: 9.5/10
What makes Bawah Reserve sustainable?
The design of Bawah was based on a 'minimal impact' approach – only clearing what was needed along the shore of the main island, undertaking works without machinery and using bamboo and other locally sourced natural building materials such as stone that was quarried on the island for making into stairs, paths and foundations. All mirrors, sinks and bathtubs were made on the island using copper recycled from elsewhere in Indonesia. The iconic jetty was constructed over the coral reef that divides the two lagoons. To achieve this without damaging the coral, a team of specialist divers were employed to guide construction. The jetty is not precisely symmetrical, to avoid damaging areas of coral. Moorings were put in place in the lagoon to enable boat users to anchor without damaging the reef.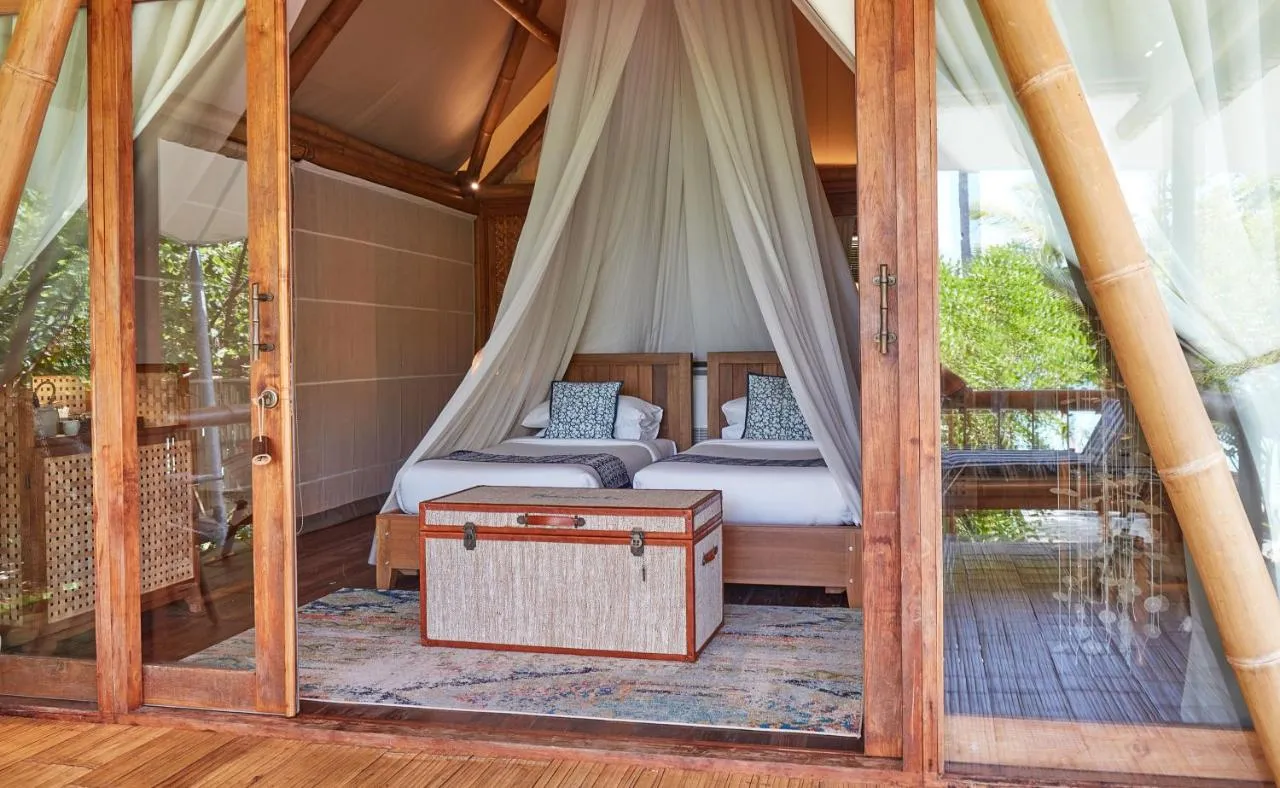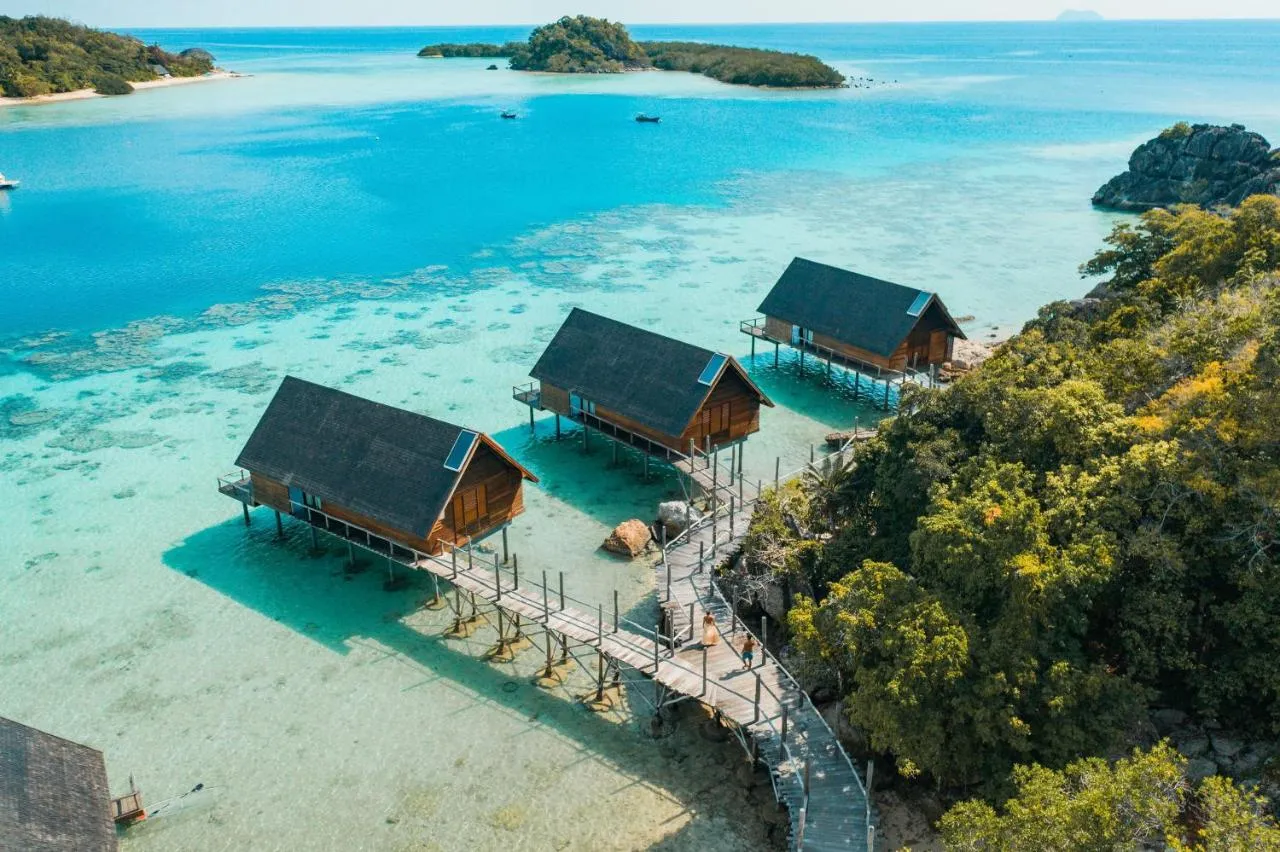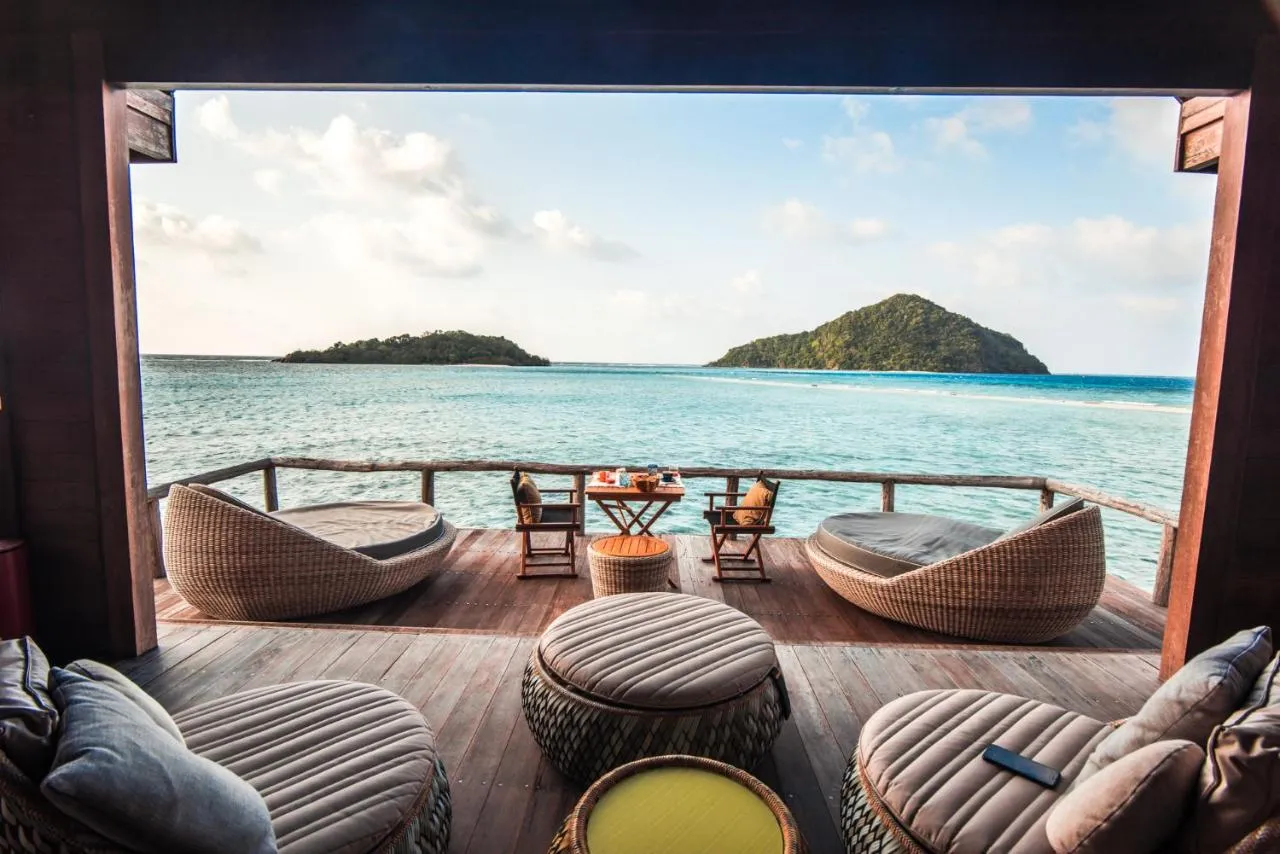 9. Grand Hyatt Jakarta
From $150 per night

ETIC Hotels Green Score: 9.5/10
What makes Grand Hyatt Jakarta sustainable?
Grand Hyatt Jakarta recently installed 45 photovoltaic panels on its helipad area in order to produce a more sustainable energy at its properties in Central Jakarta. Through a partnership with Plaza Indonesia Tbk and Xurya, Grand Hyatt responded to the Indonesian government's solar rooftop initiative by using solar panels to reduce their carbon footprint.
The five-star hotel has adopted sustainable strategy to tackle climate change and environmental destruction. Grand Hyatt has switched to efficient LED light bulbs and installed motion sensor lights in several areas of the hotel, ensuring eco-friendly practices to conserve energy.
10. W Bali – Seminyak
Jl. Petitenget, Kerobokan, Seminyak, Kabupaten Badung, Bali 80361, Indonesia
From $200 per night

ETIC Hotels Green Score: 9.5/10
What makes W Bali Seminyak sustainable?
Energy & Water Conservation:
High-efficiency lighting in guest rooms
High-efficiency lighting in public areas
Water conserving fixtures
Smart irrigation practices
Regular preventive maintenance
In-room lighting sensors controlled by timer & motion switch
Waste Minimization & Environmentally Responsible Purchasing:
Recycling
Organic waste composting
Elimination of styrofoam packaging
Environmentally preferred products
Alternatives to plastic bottled water
Enhanced Indoor Environmental Quality:
Green Housekeeping
Linen and towel replacement upon request basis for stay-over guests
11. The St. Regis Bali Resort, Bali
Kawasan Pariwisata, Nusa Dua, Blok Lot S6, Nusa Dua, South Kuta, Badung Regency, Bali 80363, Indonesia
From $550 per night

ETIC Hotels Green Score: 9.5/10
What makes The St. Regis Bali sustainable?
Based on an Onsite Certification Audit undertaken at The St. Regis Bali Resort on June 16th and 17th, 2016, this achievement comes from an audit process comprising of a self-assessment checklist and supporting evidence, verification of the benchmarking data, interviews with the EarthCheck Coordinator and staff, field observations including a review of site conditions and the local environment.
This is the first time the resort has achieved Gold Certification by EarthCheck. Previously, this beachfront Nusa Dua resort achieved Silver Certification for four consecutive years since 2012. This provides our guests, stakeholders and business partners with certainty that our commitment to reducing energy and water consumption is actually taking place and making a positive difference.
12. Misool Resort, West Papua
Yellu, South Misool, Raja Ampat Regency, West Papua 98483, Indonesia
From $200 per night

ETIC Hotels Green Score: 9.5/10
What makes Misool Resort sustainable?
Misool Resort is built on land leased from local landowners. The resort was built entirely from reclaimed wood which we milled ourselves; no trees were felled and no wood was purchased from lumberyards during initial construction. Many buildings have 'alang-alang' roofing, which is made from locally-sourced grass meaning we preserve traditional skills and knowledge from the local area. All organic waste is composted on-site and then used in our gardens. All recyclable waste is sent to our Community Recycling Project, Bank Sampah.
In 2017 we installed a solar system to reduce onsite diesel consumption. The system is a hybrid of the existing diesel microgrid with solar photovoltaic (PV) and Li-ion batteries and is one of the largest hybrid microgrids in the Raja Ampat area. Renewable energy powers 66% of our operations in season. During our maintenance and refurbishment period, renewables provide 100% of our energy needs. Low power appliances and air conditioners are installed throughout our resort, creating a very low power demand (less than 40KVA). We have installed timer-operated lights, where appropriate.
13. Surya Shanti Villa, Bali
Banjar Tebola, Sidemen, Telaga Tawang, Karangasem, Kabupaten Karangasem, Bali 80864, Indonesia
From $150 per night

ETIC Hotels Green Score: 9.5/10
What makes Surya Shanti Villa sustainable?
The Sidemen valley is one of Bali's last paradise, a "Shangrila", a secluded haven for the world-weary which must be preserved and ensured with a sustainable development of tourism in a responsible way.
While working closely with the inhabitants and the elected local officials, our goal is to bring a responsible and sustainable development of tourism to the area by creating and providing eco-friendly accommodation to travelers with modern comfort that respect the environment and bring awareness to the local population on how to protect their natural environment.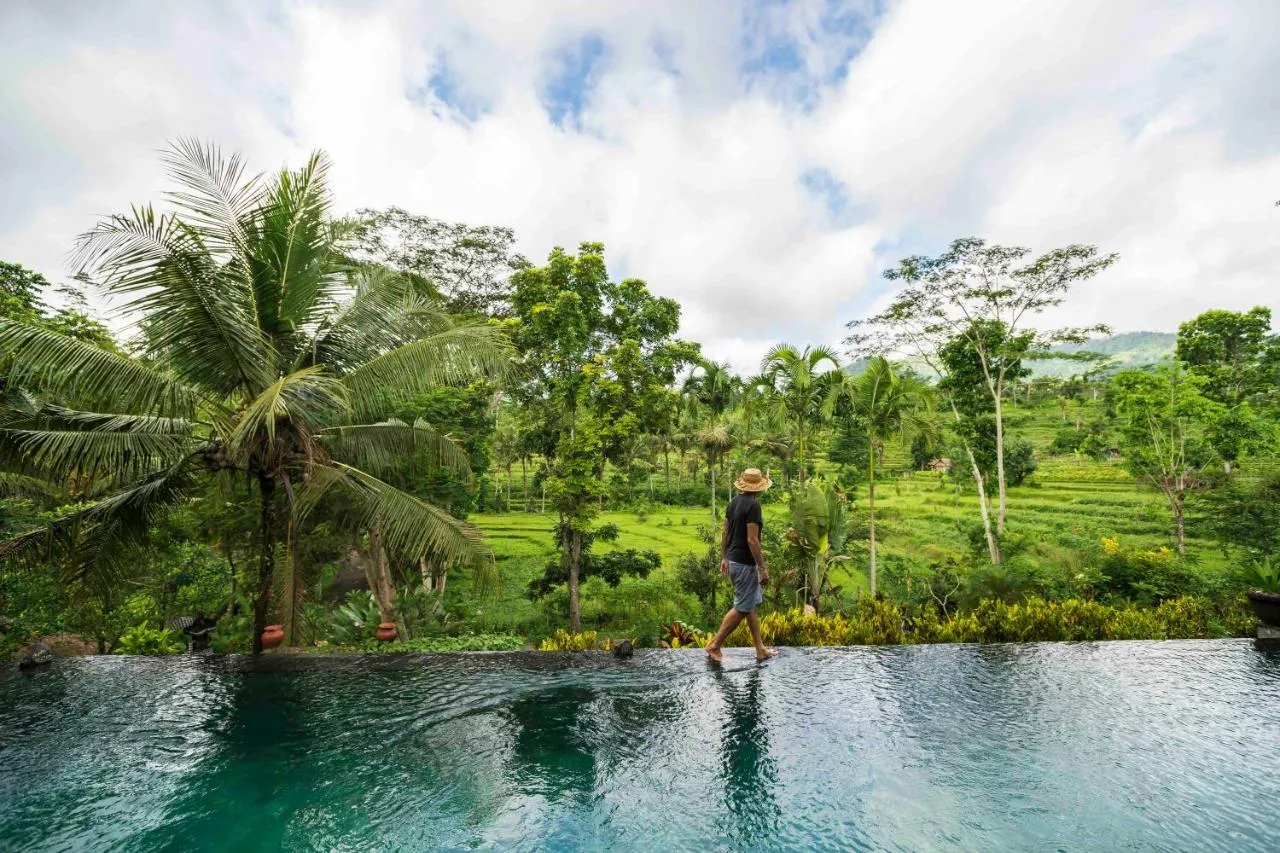 14. Weda Resort, North Maluku
Sawai Itepo, Central Weda, Central Halmahera Regency, North Maluku, Indonesia
From $60 per night

ETIC Hotels Green Score: 9.5/10
What makes Weda Resort sustainable?
Eco tourism in our opinion means more than putting a solar panel on your roof. Eco resort also means:
That most of the building materials are coming from a close range of the resort and whenever possible have been bought from the local communities
No trees out of a forest have been used at all. For every tree (coming out of gardens from the villagers) we replanted many more
The local community did most of the building and got training and education to improve their skills. For example training in installation of water and electricity
Ninety percent of the employees are people from Halmahera.
Our environmentally friendly technologies include:
Solar water heaters, providing hot showers in the resort.
Ultra low emission outboard engines for the dive boats.
Solar power and batteries, that provide much of our 24-hour electricity.
Wind turbine for top-up electricity.
Making drinking water with filters and UV technology.

15. Heaven on The Planet Resort, Nusa Tenggara Bar
Lendang Terak, Ekas Bay, Kec. Jerowaru, Pemongkong, Jerowaru, Kabupaten Lombok Timur, Nusa Tenggara Bar. 83672, Indonesia
From $80 per night

ETIC Hotels Green Score: 9.5/10
What makes Heaven on The Planet Resort sustainable?
Heaven on the Planet is an eco-friendly resort. The owners are independently engaged in environmental projects worldwide. The nearby forests are being nurtured by HOTP's gardeners who have planted over 15,000 trees, and they're grown from seed in Heaven's nursery. With financial help from the Wildlife Conservation Society and Planet, the resort built 22 small reefs in Ekas Bay to help the fish with habitat. Working with government and the Wildlife Conservation Society (WCS), the reef outside of the resort has been zoned for protection.
16. Komodo Resort, Sebayur
Komodo resort, Pulau Sebayur, Komodo, Flores, Labuan Bajo, Komodo, Kabupaten Manggarai Barat, Nusa Tenggara Tim. 86754, Indonesia
From $200 per night

ETIC Hotels Green Score: 9.5/10
What makes Komodo Resort sustainable?
It is a project that respects the environment and is a comfortable place at the same time. This year we have worked hard and followed closely the building of Komodo Resort. We achieved many tasks and many other will be done in the future like installing photovoltaic panels for 20 KWP in 2012.
When sailing at distance from Sebayur you will hardly notice the Resort. The Island still looks wild and uninhabited; the buildings mingle with the surrounding vegetation. This camouflage makes us more proud of our task and hard work.
The awesome back grown outside the water keeps all its fascination under the water. This small plot of sea, still not completely explored, is considered unanimously one of the most beautiful depths in the world. That's why, in late years, UNESCO has included the Komodo depths in the World Heritage Site and in Man and Biosphere Reserve.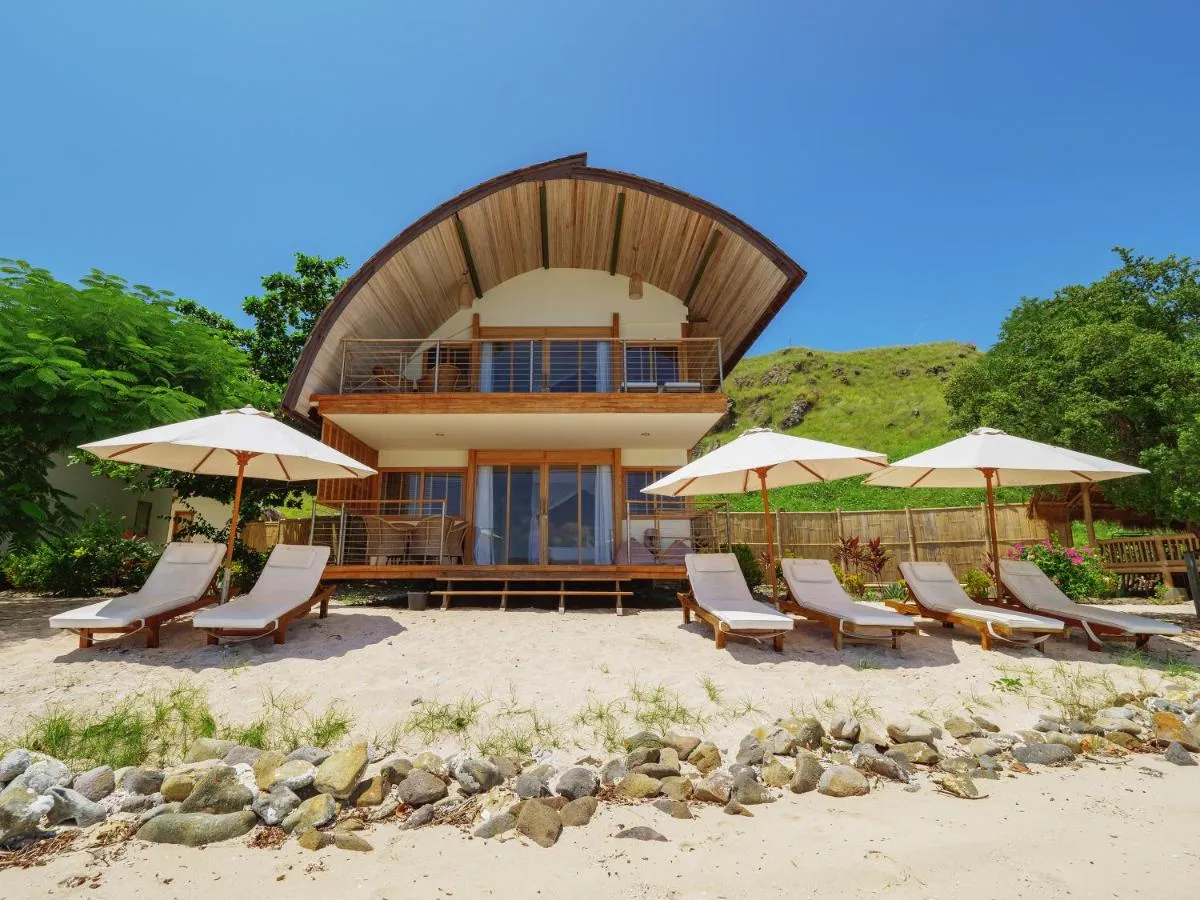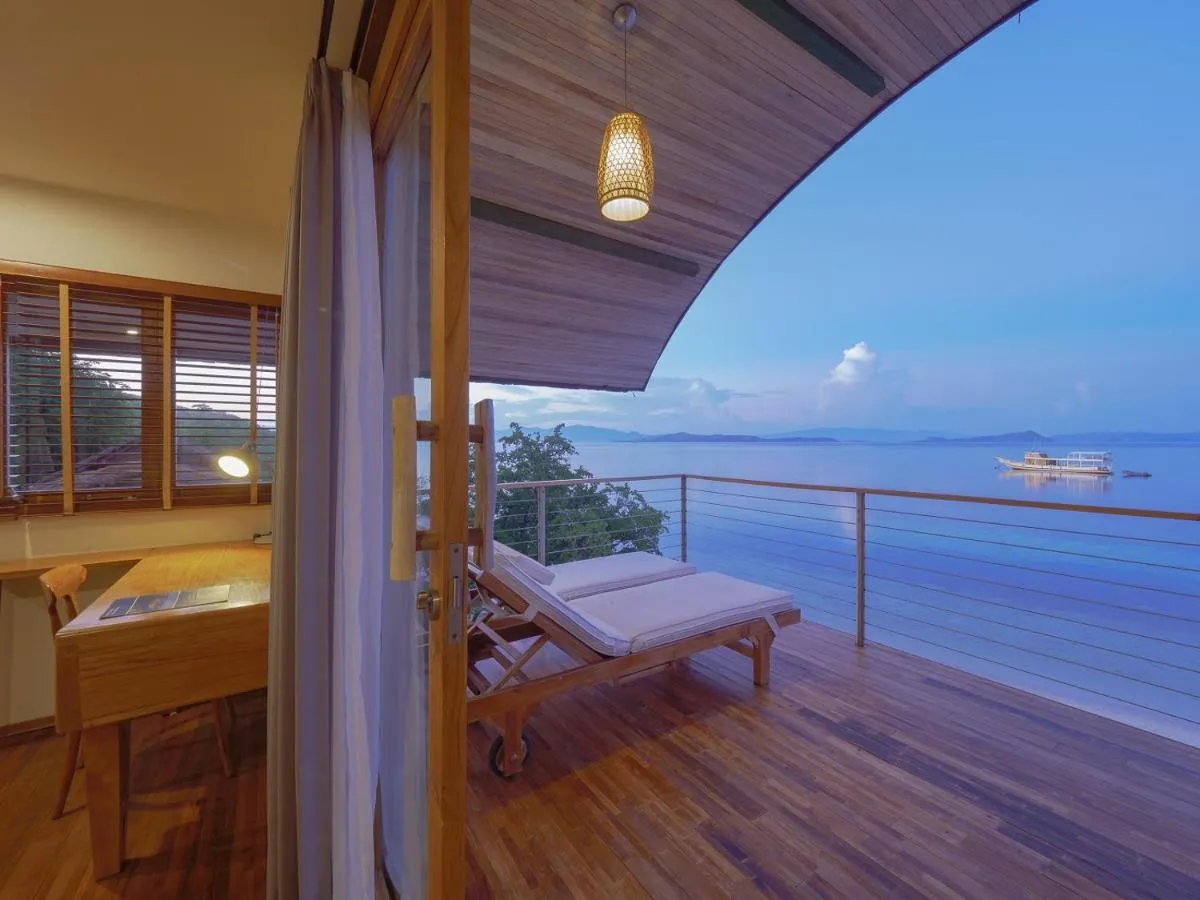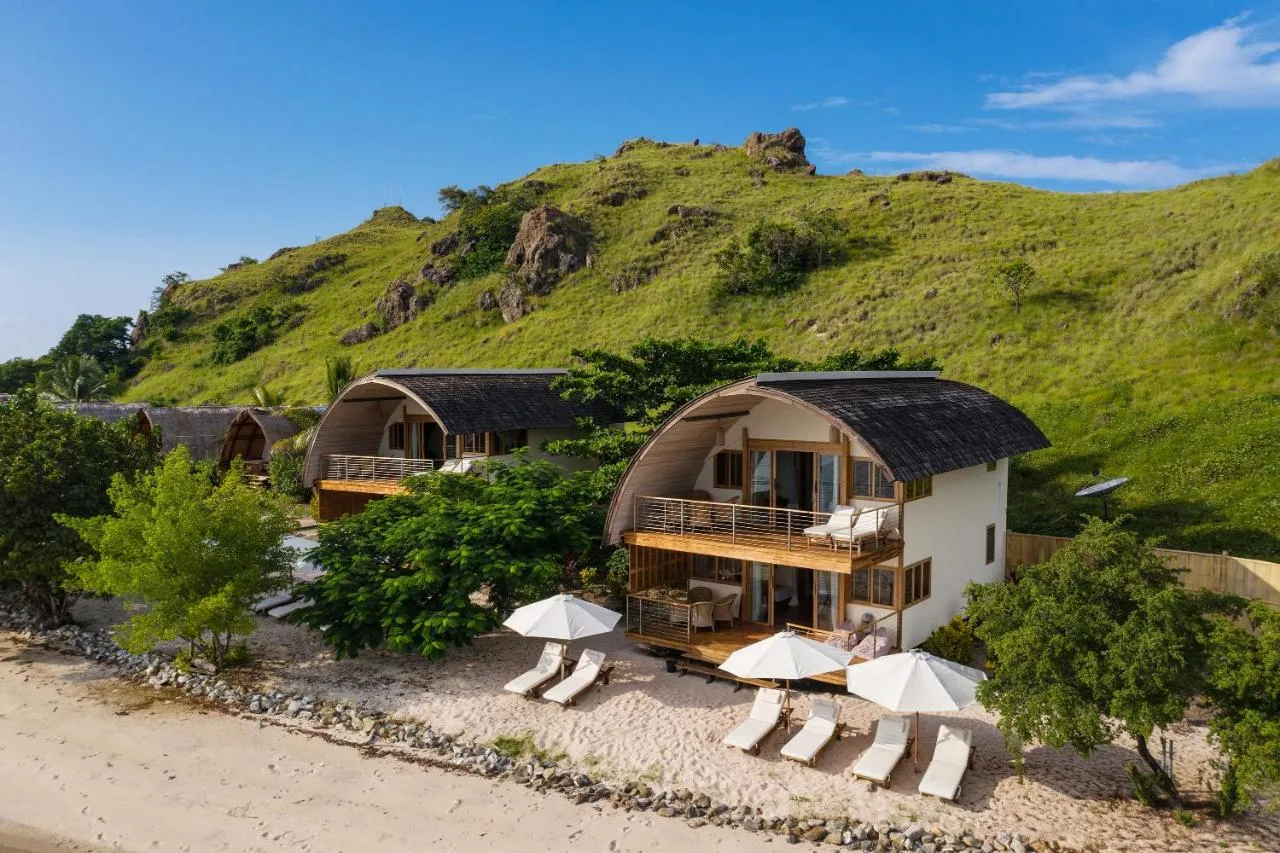 17. Mandapa, a Ritz-Carlton Reserve, Bali
Jl. Raya Kedewatan, Banjar, Kedewatan, Kecamatan Ubud, Kabupaten Gianyar, Bali 80571, Indonesia
From $700 per night

ETIC Hotels Green Score: 9.5/10
What makes Mandapa, a Ritz-Carlton Reserve, sustainable?
The traditional yet contemporary Balinese interiors have created a truly luxurious experience designed to allure the world's most discerning travellers. Every element of design at a Ritz-Carlton Reserve is naturally inspired and sustainably sourced.
In Mandapa, local providers have infused the retreat with natural materials that blend effortlessly into the natural surroundings. In addition to the villas, the retreat is also home to four restaurants and lounges offering an array of authentic Indonesian cuisine, Mediterranean dining, and tailored health-conscious menus for wellness and detox programmes incorporating the freshest local ingredients.
18. Kila Senggigi Beach Lombok, Nusa Tenggara Bar
Jalan Pantai Senggigi, Senggigi, Batu Layar, Kabupaten Lombok Barat, Nusa Tenggara Bar. 83355, Indonesia
From $50 per night

ETIC Hotels Green Score: 9.5/10