The 10 Most Sustainable Hotels in the Netherlands
For an Ethical and Sustainable Stay in the Netherlands
A Sustainability Ranking in partnership with ETIC Hotels
You're planning a trip to the Netherlands and you're trying to be as ethical and sustainable as possible? niood lists you the 10 most sustainable hotels in the Netherlands:
1. BOAT&CO
Amsterdam, Netherlands
From $140 per night

ETIC Hotels Green Score: 9.5/10
What makes BOAT&CO Amsterdam sustainable?
BOAT&CO has eco-friendliness built into its core. Quite literally: we built it according to Cradle-to-Cradle principles, using sustainable construction materials that produce zero waste. All the better for our ecological footprint.
Our maintenance, too, is eco-friendly. For example, the building has an innovative thermal energy storage system for sustainable heating and cooling. Moreover, it is covered in solar panels and home to lots of nesting boxes. It has water-saving showerheads, toilets, taps and faucets.
Also, we separate our waste and use ecologically friendly products and methods for cleaning and washing. Even our fire extinguishers are sustainable!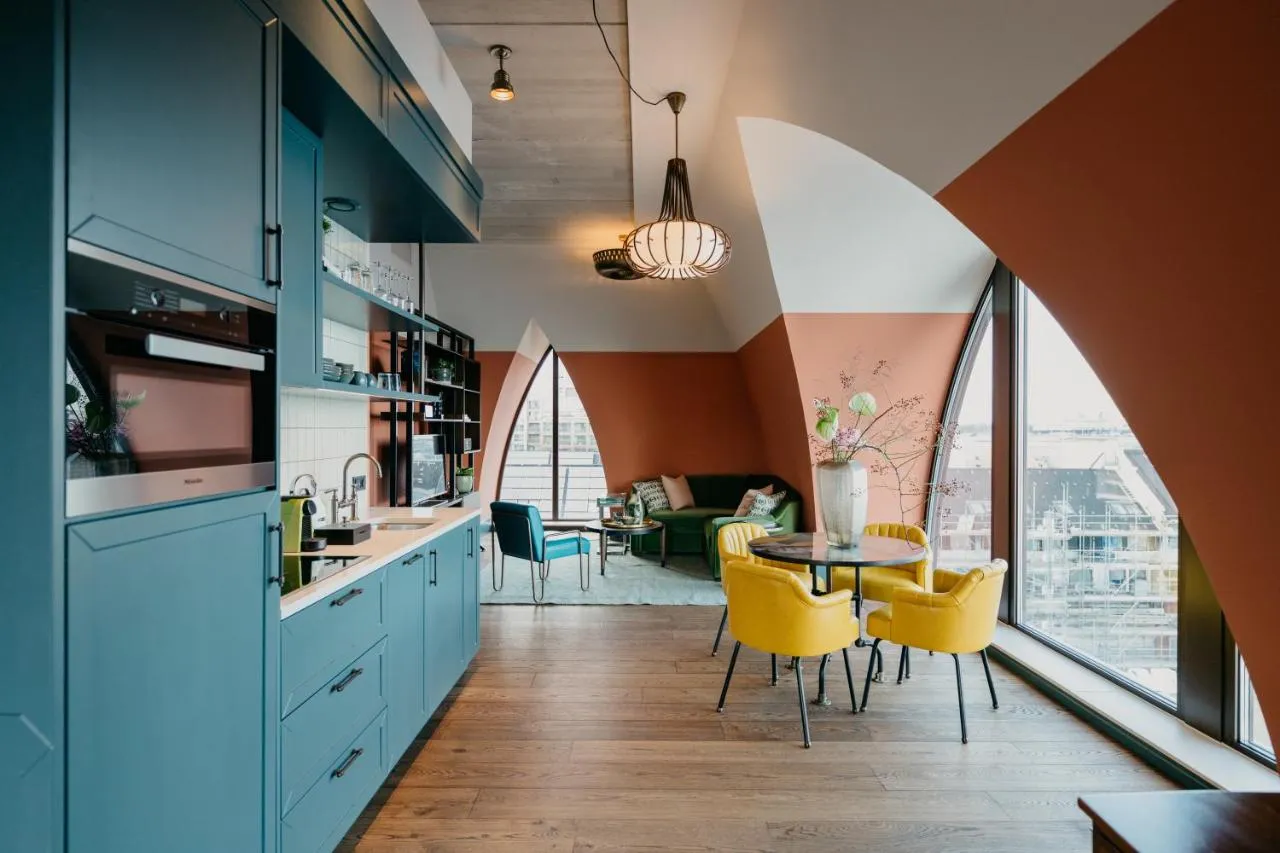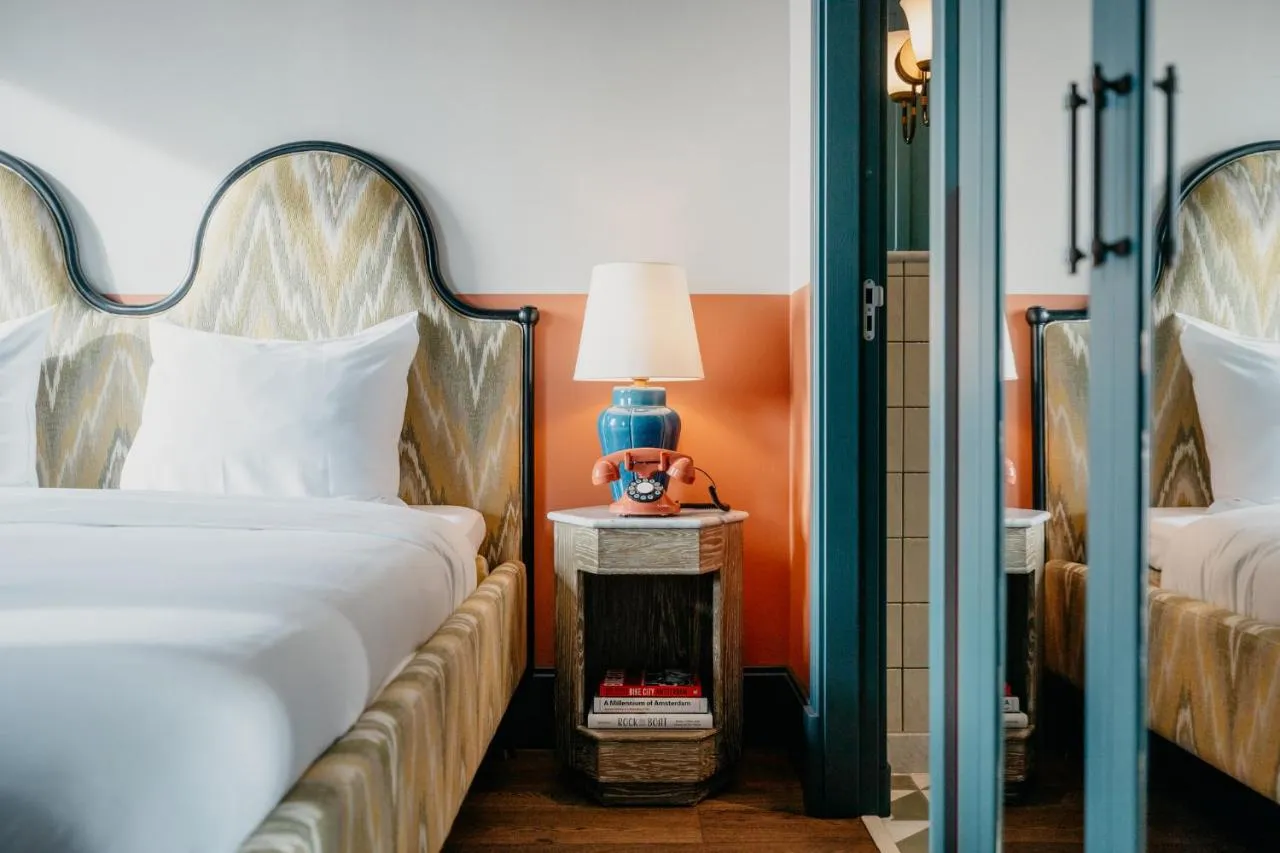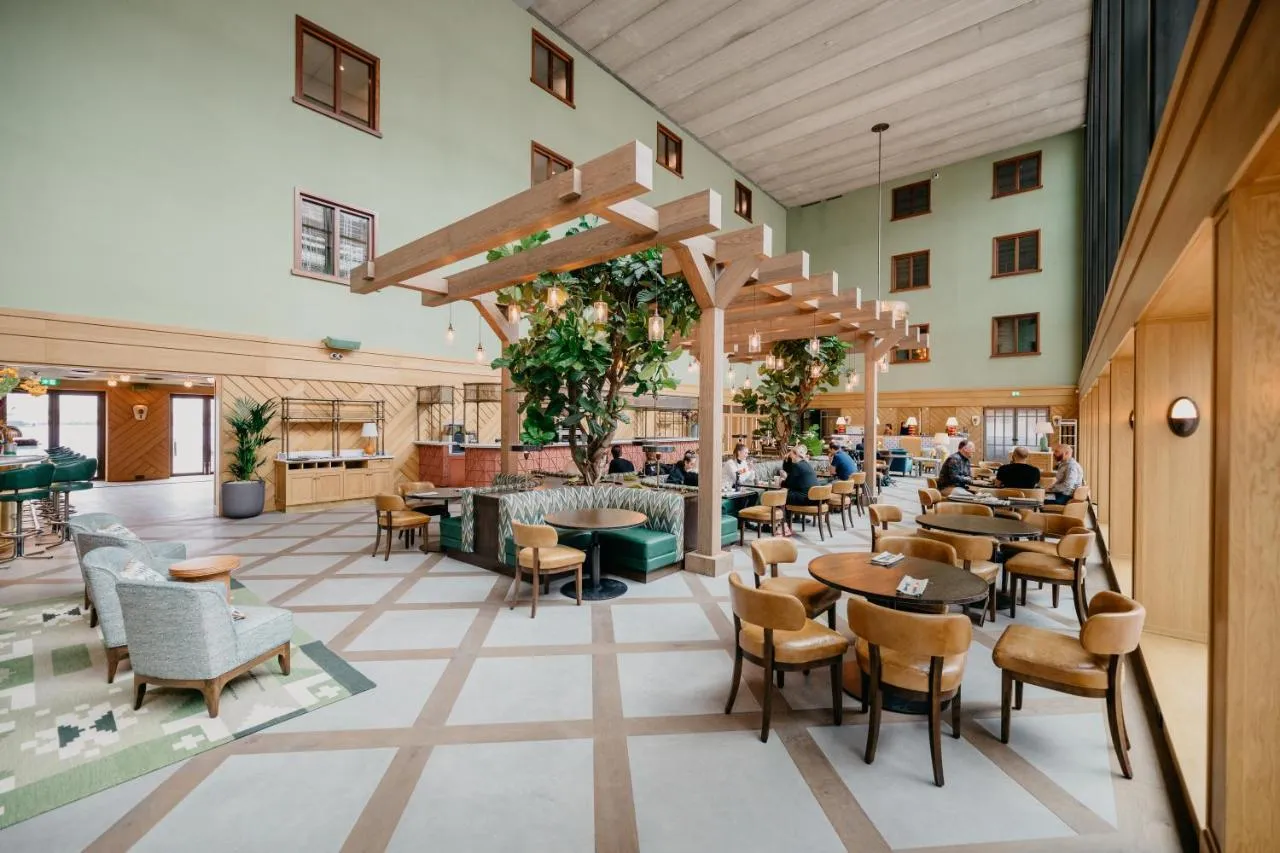 2. Hotel Jakarta Amsterdam by WestCord
Amsterdam, Netherlands
From $200 per night

ETIC Hotels Green Score: 9.5/10
What makes Hotel Jakarta Amsterdam sustainable?
Hotel Jakarta is a spectacular building with a sustainable, industrial character, lots of transparent glass facades and a unique 30 meter high wooden main support structure. The beams, columns and ceilings are made of natural wood. The materials chosen are durable and have the FSC or PEFC quality mark. Almost all the used elements that have a short life span or are recyclable are reused by disassembly.
Hotel Jakarta Amsterdam employs many energy-saving measures. Rainwater is collected to spray the subtropical indoor garden. PV panels in the facade and in the roof of the atrium collect, solar energy that is converted into electricity and heats the shower water. A warmth- and cold storage system will take care of heating and cooling the hotel.Even the staff will wear sustainably made company clothing, designed by fashion label By Rockland | HACKED by.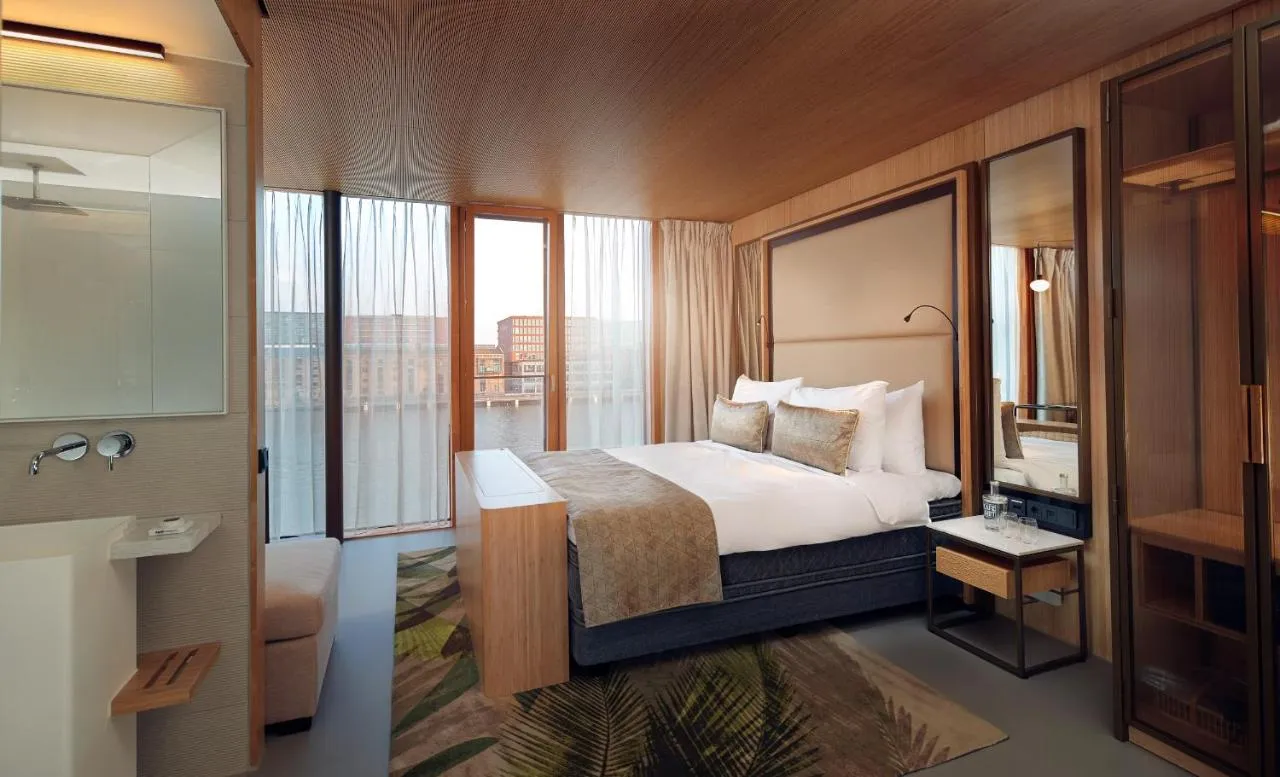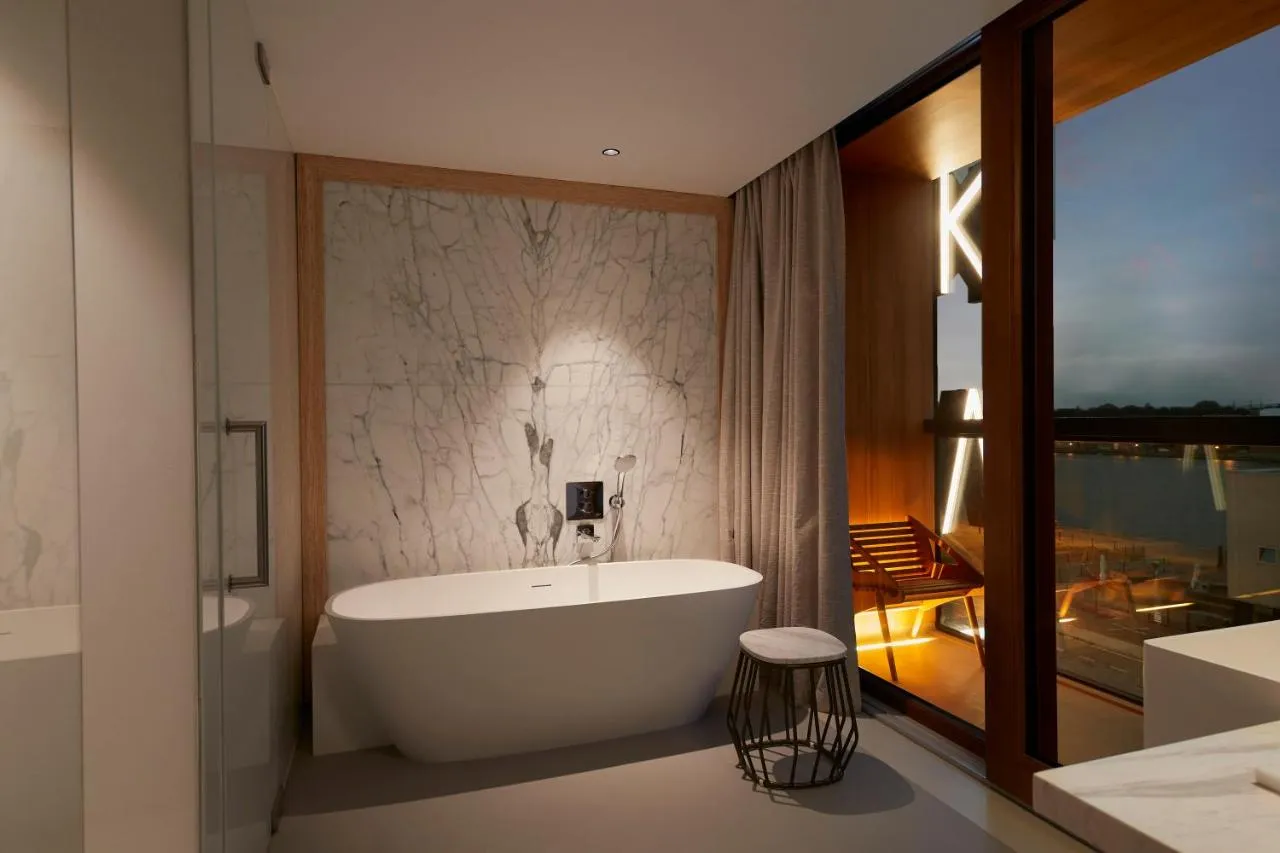 3. Element Amsterdam
Amsterdam, Netherlands
From $140 per night

ETIC Hotels Green Score: 9.5/10
What makes Element Amsterdam sustainable?
The Element Amsterdam works towards sustainability by incorporating eco-friendliness in their hotel design, as well as in their facilities. They feature a vehicle charging station and are firm on the use of recycled materials throughout the hotel's operation. Plus, they provide reusable water bottles instead of plastic ones.
4. Park Hotel Den Haag
The Hague, Netherlands
From $100 per night

ETIC Hotels Green Score: 9.5/10
What makes Park Hotel Den Haag sustainable?
We aim to reduce CO2 emissions by taking various measures, such as:
We ask our suppliers to deliver as efficiently as possible
We prefer local suppliers
We use a paper press to reduce the volume of paper waste, reducing the frequency of a truck driving up and down to the hotel
We encourage less environmental pollution
We have an agreement for green energy
We also contribute to reducing the release of chemicals through the use of:
Environmentally certified paper and other environmentally friendly products
Biodegradable cleaning products and dishwashing detergents
Dosing system for cleaning products to minimize the use of chemical substances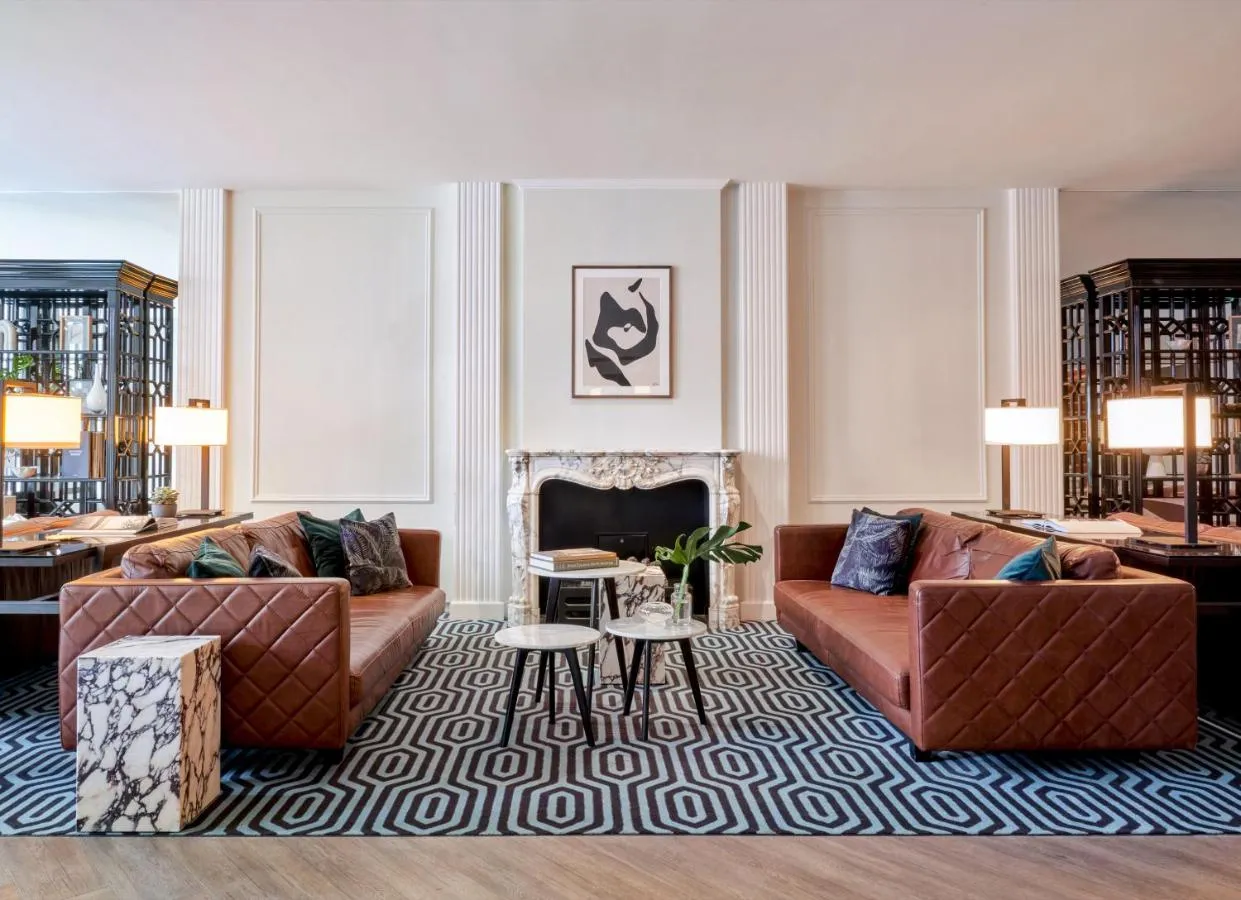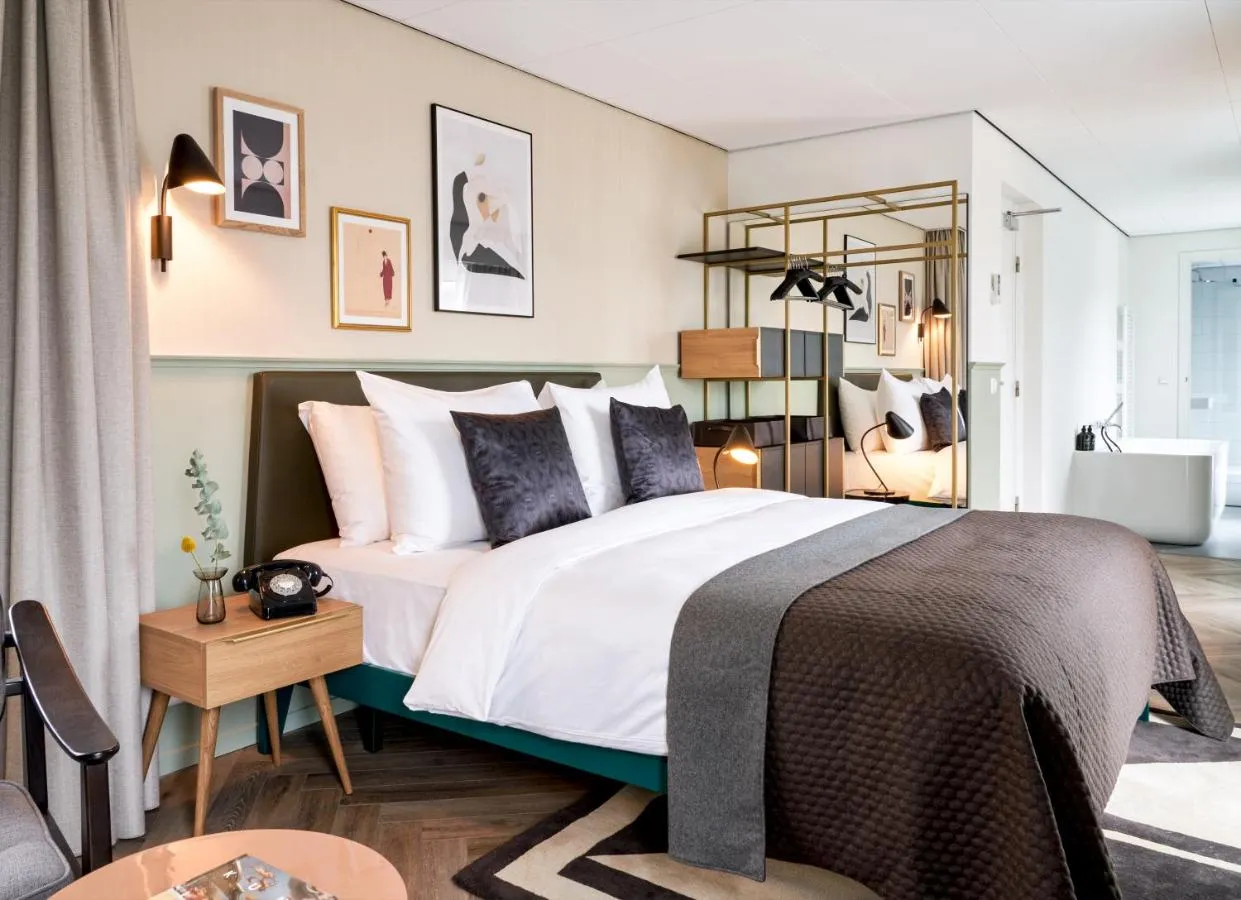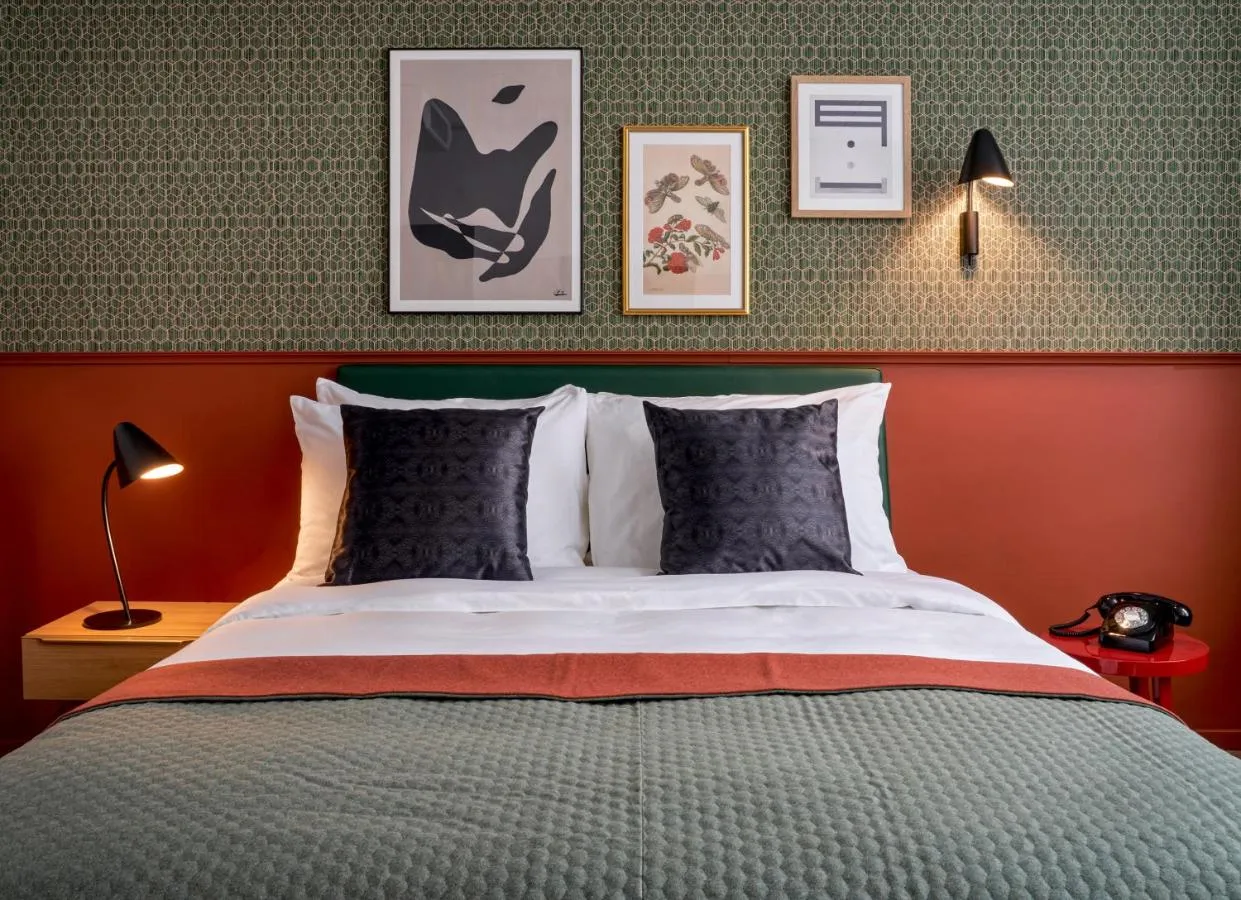 5. Townhouse Designhotel & Spa
Maastricht, Netherlands
From $100 per night

ETIC Hotels Green Score: 9.5/10
What makes Townhouse Designhotel & Spa sustainable?
The policy of Townhouse Designhotel is to:
Provide services that meet and exceed the expectations of visitors.
Conduct business operations in such a way that does not harm the environment and that guarantees the safety and health of its employees, visitors, suppliers, and the public.
Make a social contribution to people and society.
In order to realize this policy, Townhouse Designhotel observes the following rules:
We recognize the interests of the environment when making decisions regarding business and commercial opportunities.
We comply with environmental laws and regulations.
We train each employee and hold them accountable for their compliance with the policy.
We promote the continuous improvement of environmental performance.
We measure progress of environmentally friendly and sustainable policies through the implementation of a monitoring programme.
We minimize the production of waste, and carefully separate waste as much as possible.
6. Hotel V Frederiksplein
Amsterdam, Netherlands
From $70 per night

ETIC Hotels Green Score: 9.5/10
What makes Hotel V Frederiksplein sustainable?
In an effort to reinforce our commitment every year, we strive to reach the following goals:
We share our knowledge and experience with other hotels and peers in Amsterdam and the Netherlands in issues of sustainability in the hotel industry.
We inform our busi­ness rela­tions and V-guests that we are a socially respon­si­ble and socially-minded company. Suggestions from guests and employees are welcome and actively considered.We are transparent regarding both the quality that we obtain from suppliers and that which we provide to guests.
We take social impact seriously and wherever possible contribute to a better community, also actively limiting those actions which could have a negative impact on the social health of our community.
We are in this for the long haul, and so all of Hotel V's business practices and relationships have sustainability as a common factor.
We vol­un­tar­ily contribute to social goals by dona­tions, spon­sor­ing and vol­un­tary work.We con­tin­u­ously work on reduc­ing Hotel V's envi­ron­men­tal impact.
We con­tin­u­ously evaluate ways to improve our product offering when services or products from equally environmental or socially-conscious labels become available.
7. Andaz Amsterdam Prinsengracht – a concept by Hyatt
Amsterdam, Netherlands
From $320 per night

ETIC Hotels Green Score: 9.5/10
What makes Andaz Amsterdam Prinsengracht sustainable?
The property makes efforts to reduce their food wastage
Water cooler/dispenser
Single-use plastic stirrers not used
Single-use plastic straws not used
Single-use plastic beverage bottles not used
Single-use plastic cups not used
Single-use plastic cutlery/plates not used
Option to opt-out of daily room cleaning
Option to reuse towels
Energy and greenhouse gases
Most food provided at the property is locally sourced
Most lighting throughout property uses energy-efficient LED bulbs
All windows are double-glazed
Key card or motion-controlled electricity
Electric car charging station
Destination and community
Invests a percentage of revenue back into community projects or sustainability projects
Tours and activities organised by local guides and businesses offered
Provides guests with information regarding local ecosystems, heritage and culture, as well as visitor etiquette
Wild (non-domesticated) animals are not displayed/interacted with while captive on the property or harvested, consumed, or sold.
Bicycle rental
Bicycle parking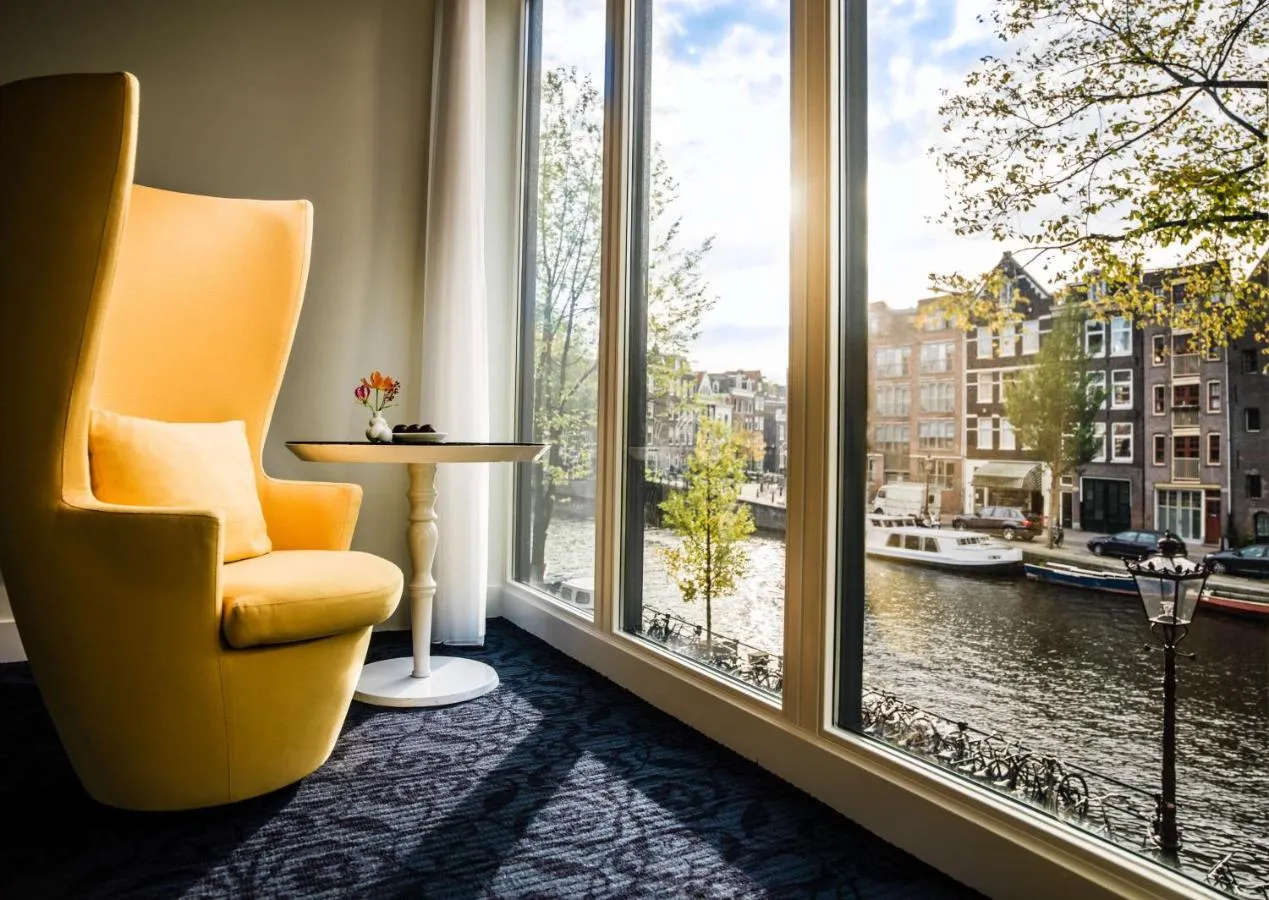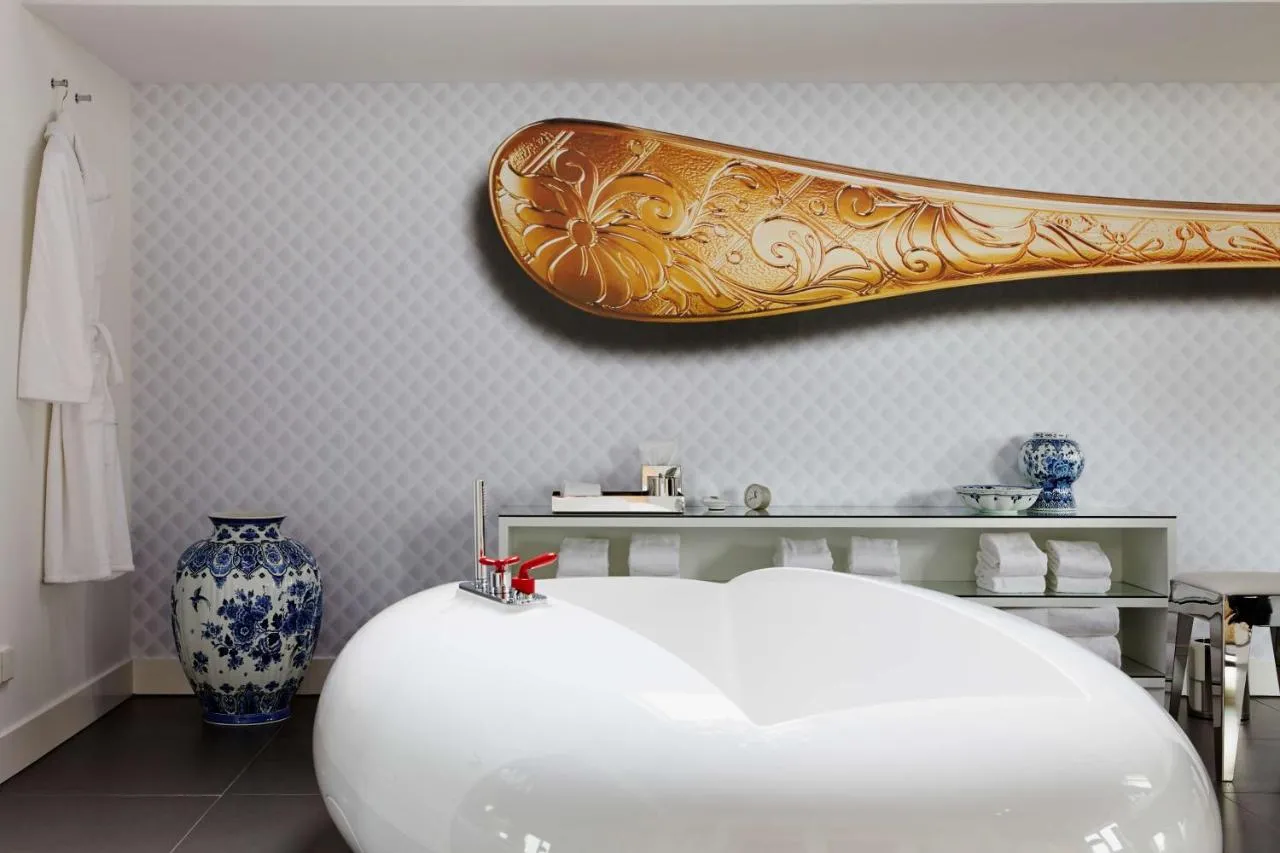 8. Hotel Okura Amsterdam – The Leading Hotels of the World
Amsterdam, Netherlands
From $220 per night

ETIC Hotels Green Score: 9.5/10
What makes Hotel Okura Amsterdam sustainable?
We are delighted to offer Green Globe certified hotel facilities. Green Globe is the global certification for sustainable tourism. Its members save energy and water resources, reduce operational costs and positively contribute to local communities and their environment.
Hotel Okura Amsterdam wants to contribute as much as possible to help tackle social issues. We do this by supporting local initiatives and national organisations in our field of expertise, financially and materially.
9. InterContinental Amstel Amsterdam
Amsterdam, Netherlands
From $450 per night

ETIC Hotels Green Score: 9.5/10
What makes InterContinental Amstel Amsterdam sustainable?
Energy conservation
InterContinental Amstel Amsterdam has taken the following steps to ensure that our ways of working are 'as green as possible'
Implementation of energy-efficient L.E.D. lights
100% induction equipment in the kitchen
Energy-saving building management system, for air treatment throughout the building, named P.R.I.V.A
Double windows
Draft strips and draft curtains
Environmentally-friendly televisions
Environmentally-friendly housekeeping tools
Energy A-label washing machines
Towel and linen system, where guests can decide when they would like to have them replaces
Services
Availability of green transportation options, such as (electric) bicycles, boats, and transfers with a Tesla
Sustainable bleaching for the pool (electrolysis)
Durable power cabinets
Water management: daily disinfection and control routine
Waste is compressed where possible before collection (Waste compactors)
Chemicals are safely stored in a separate room.
Emissions
Waste separation in different ways
Conversion of waste into sustainable energy by ICOVA
Reuse of office paper (double-sided printings)
Reduction of paper use, through digitization
Adjustable taps in rooms for taps and showers (min/max controllers)
10. Conservatorium Hotel
Amsterdam, Netherlands
From $550 per night

ETIC Hotels Green Score: 9.5/10
What makes Conservatorium Hotel Amsterdam sustainable?
Conservatorium is very proud to have attained an excellent rating from BREEAM. BREEAM is the world's leading sustainability assessment method for masterplanning projects, infrastructure and buildings. It recognises and reflects the value in higher performing assets across the built environment lifecycle, from new construction to in-use and refurbishment.
The Conservatorium hotel has been Green Globe certified since its opening in 2011. Green Globe is a worldwide organisation that audits its members according to internationally accepted sustainability criteria.
Windows feature secondary double glazing or tinting for superior thermal insulation
Movement responsive lighting and air conditioning for energy efficiency in bedrooms. Air conditioning in public areas is controlled by timers and set to mirror the opening hours of the spaces
Significant investment is being made to exchange all light bulbs from halogen to LED. This drastically reduces energy consumption as LED bulbs are more efficient and the air conditioning won't have to work so hard to cool rooms being heated by the side effect of the halogen bulbs
At Conservatorium, the air conditioning system uses stored energy from a wheel heater exchange, resulting in 100% fresh air generated by renewable energy
Reduced frequency of linen and towel change to use less energy and water. We encourage guests to reduce their ecological footprint by reusing their linens and towels, maintaining a recommended room temperature and minimizing waste
Reducing the use of single use plastics. Plastic packaging, straws and cups have been removed from our hotels
Reduced frequency of linen and towel change to use less energy and water. We encourage guests to reduce their ecological footprint by reusing their linens and towels, maintaining a recommended room temperature and minimizing waste
Reducing the use of single use plastics. Plastic packaging, straws and cups have been removed from our hotels