The 11 Most Sustainable Hotels in California
For an Ethical and Sustainable Stay in California.
A Sustainability Ranking in partnership with ETIC Hotels
You're planning a trip to California and you're trying to be as ethical and sustainable as possible?
niood lists you the 11 most sustainable hotels in California:
1. The Ranch at Laguna Beach
Laguna Beach, California, USA
From $350 per night

ETIC Hotels Green Score: 9.5/10
What makes The Ranch at Laguna Beach sustainable?
As the stewards of an incredible natural landscape, The Ranch at Laguna Beach is committed to being at the forefront of sustainability and charitable efforts in our region. We take great care to minimize our impact on the environment and maximize our impact on those in need.
For example, we have changed how our property uses water, reduced the need for produce deliveries (along with the resources required to make those deliveries) and joined forces with other organizations to serve the hungry and other vulnerable populations.
To us, it's simply part of the responsibility that comes with living and working in one of the most scenic places in the world. See below for more details on our specific initiatives.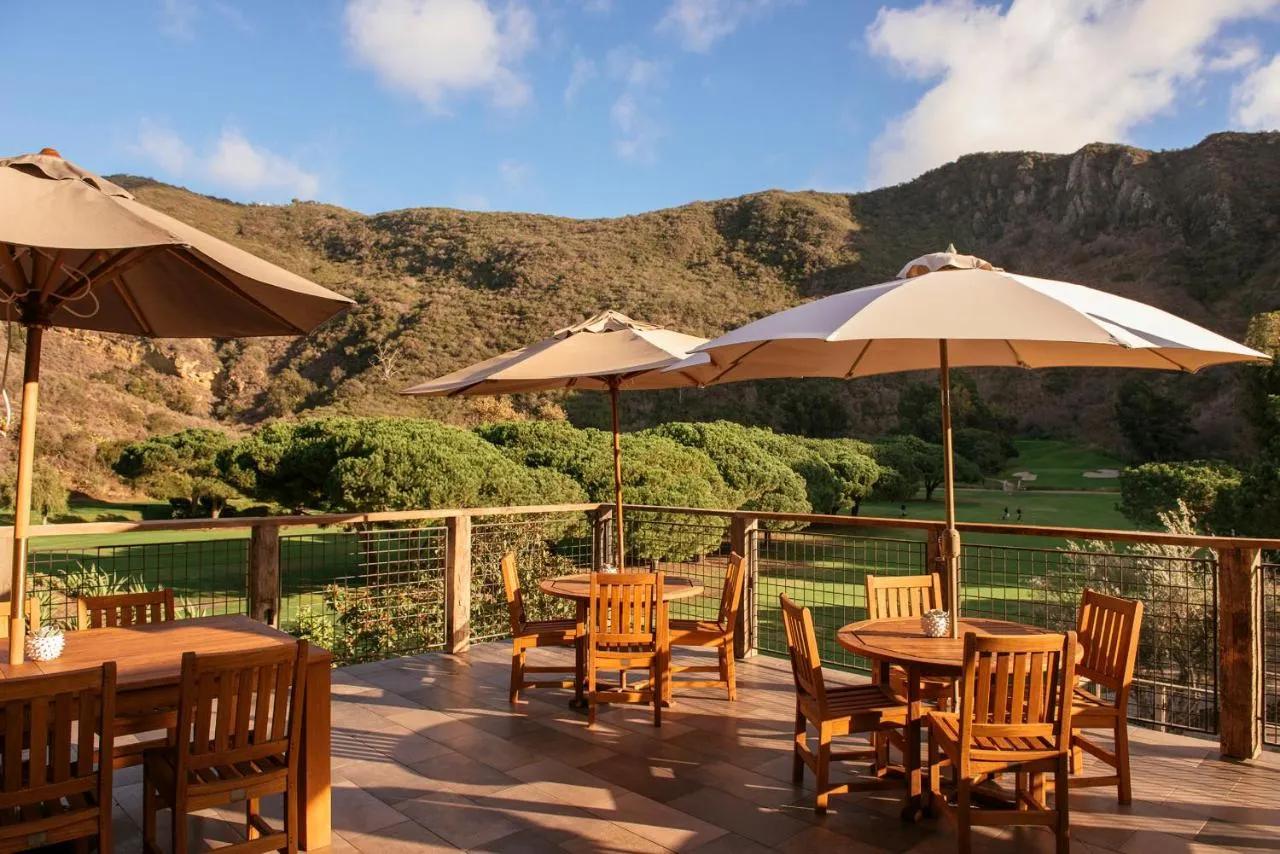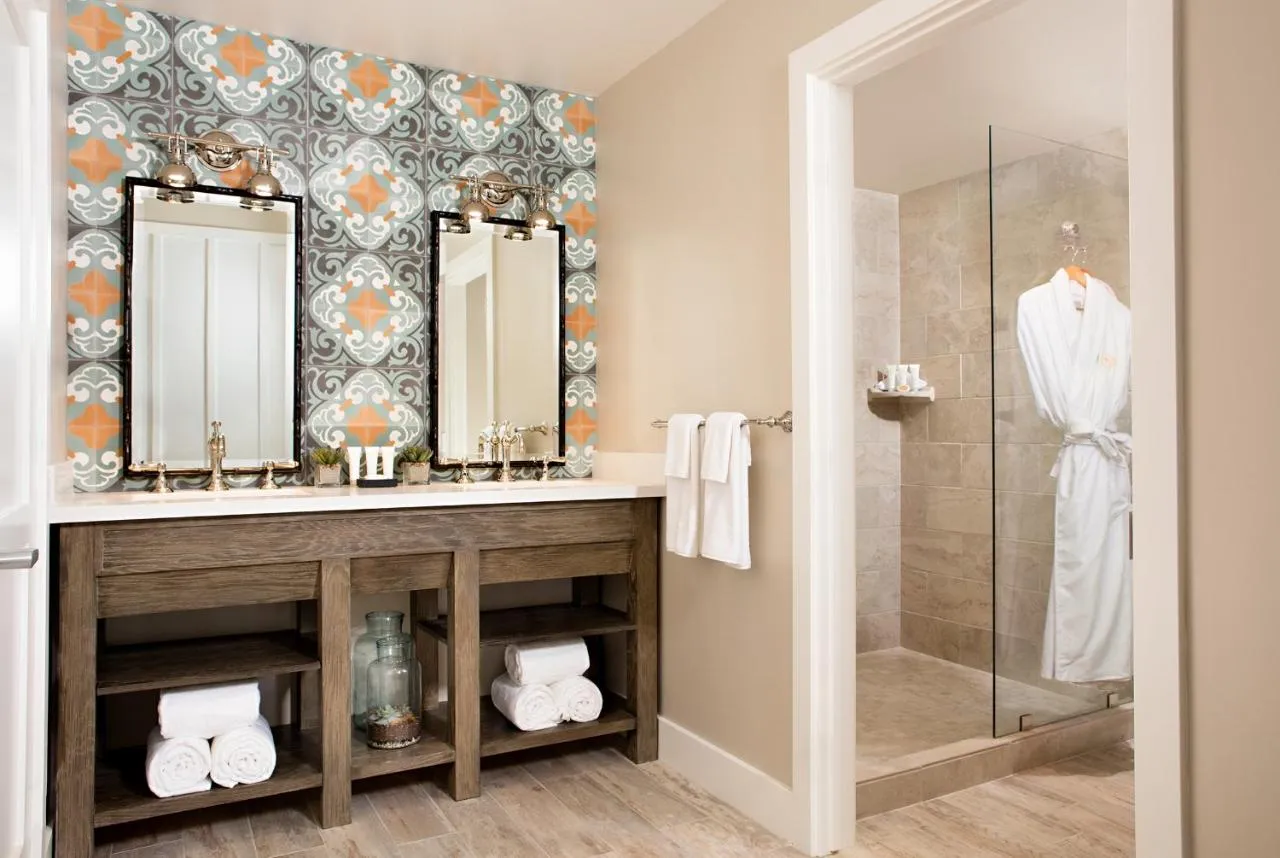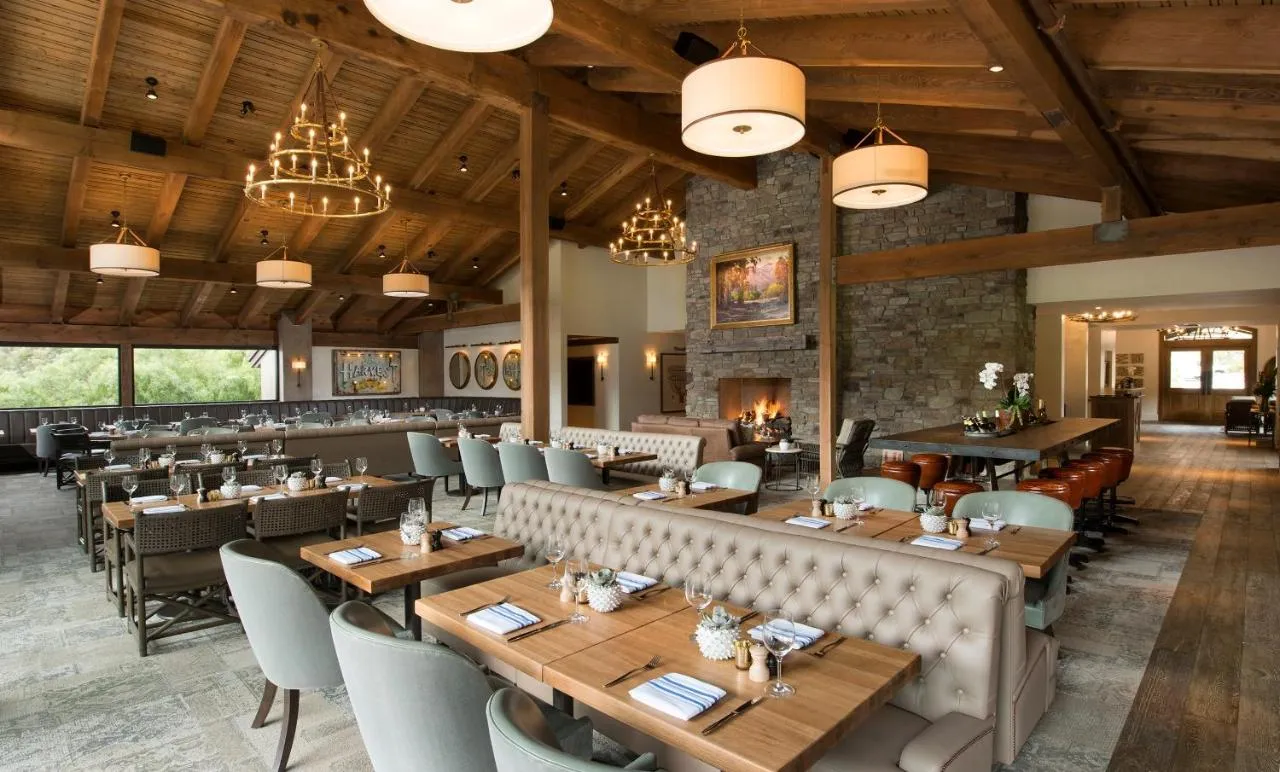 2. Ventana Big Sur
Big Sur, California, USA
From $2,200 per night

ETIC Hotels Green Score: 9.5/10
What makes Ventana Big Sur sustainable?
At Ventana Big Sur, we recognize that we have a responsibility to this incredible natural setting we call home. Operations at our eco-friendly resort include a number of green initiatives, such as property-wide recycling programs, the use of native landscaping elements and more.
We're committed to expanding our knowledge as well, which is why we're celebrating General Manager Kristina Jetton's certification as an EarthCheck Coordinator. EarthCheck helps businesses, communities and governments deliver clean, safe and healthy destinations for travelers and residents alike—and Kristina is now poised to lead our sustainable efforts.
Our organic garden is one such effort: It provides the freshest local ingredients for our cuisine, and in May, we will begin composting. We're also in the process of building a future home on the site for our 30 chickens.
We are excited about helping to preserve the landscape of Big Sur while proving that sustainability and luxury can go hand in hand. Congratulations, Kristina, for your role in creating a better future for the planet.
3. h2hotel
Healdsburg, California, USA
From $350 per night

ETIC Hotels Green Score: 9.5/10
What makes h2hotel Healdsburg sustainable?
All lights, fans and air conditioners are controlled by occupancy sensors to reduce electricity use when guest rooms are empty.
The windows in the public space feature dual panes, low E glazing and shading devices that reduce heat gain. The glazing and window shades are cradle-to-cradle certified, complying with rigid environmental standards through production and future recyclability.
Solar panels on the roof are used to heat the swimming pool and hot water in the guest rooms, reducing electricity consumption.
The gearless traction EcoSpace elevator uses 60% less electricity than a standard hydraulic elevator.
An independent commissioning consultant reviewed the design and installation of the mechanical and plumbing systems to ensure efficiency. h2h is designed to use 27.8% less energy than the standard hotel in California.
h2hotel promotes waste reduction through reusable recycling bins in all the rooms, recycling and compost containers for staff in service areas, and available educational resources.
During its building, more than 85% of the hotel's construction debris was recycled … and many of the materials used to build the hotel—from steel to concrete to glazing—contain a high percentage of recycled content.
The custom furnishings, exterior wood decking, main stair, and meeting room floor are made from salvaged lumber in percentages far exceeding the LEED standard.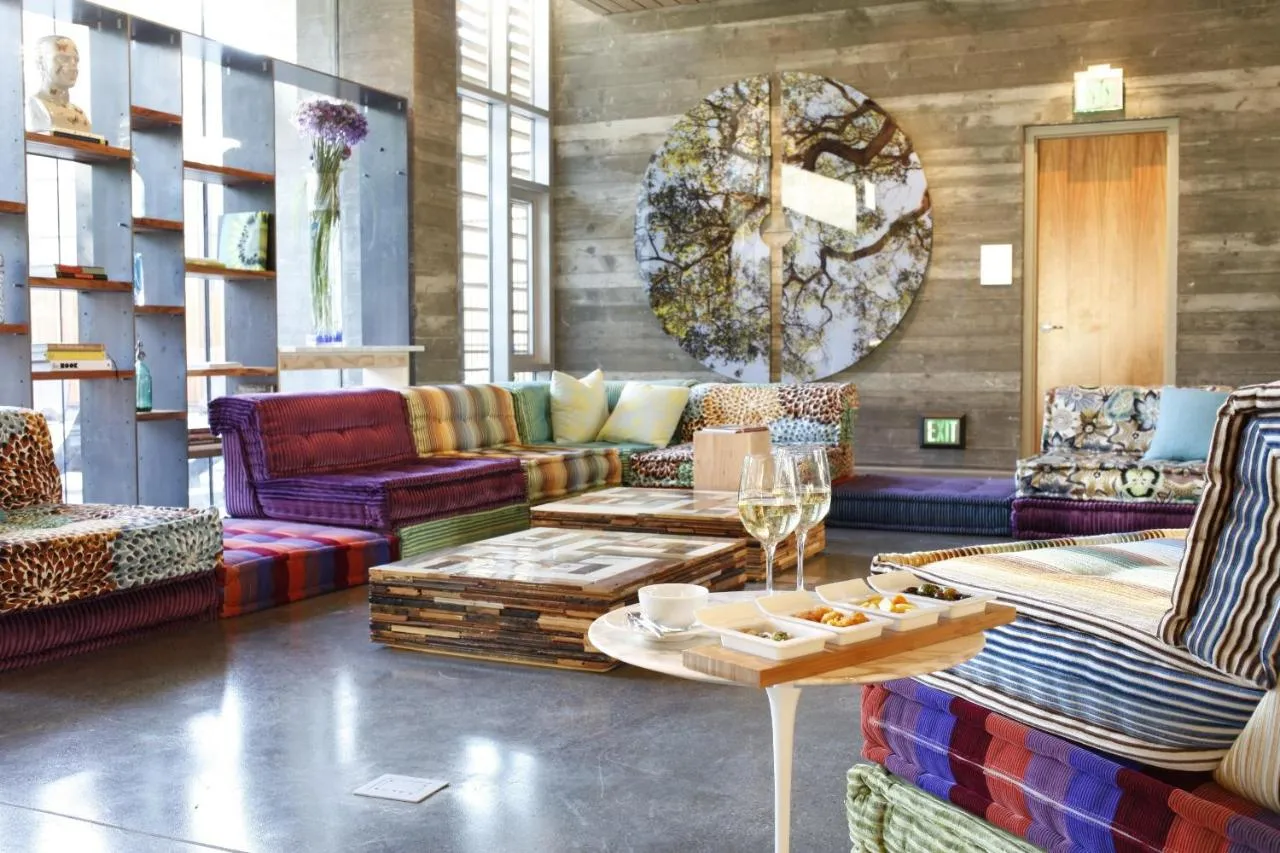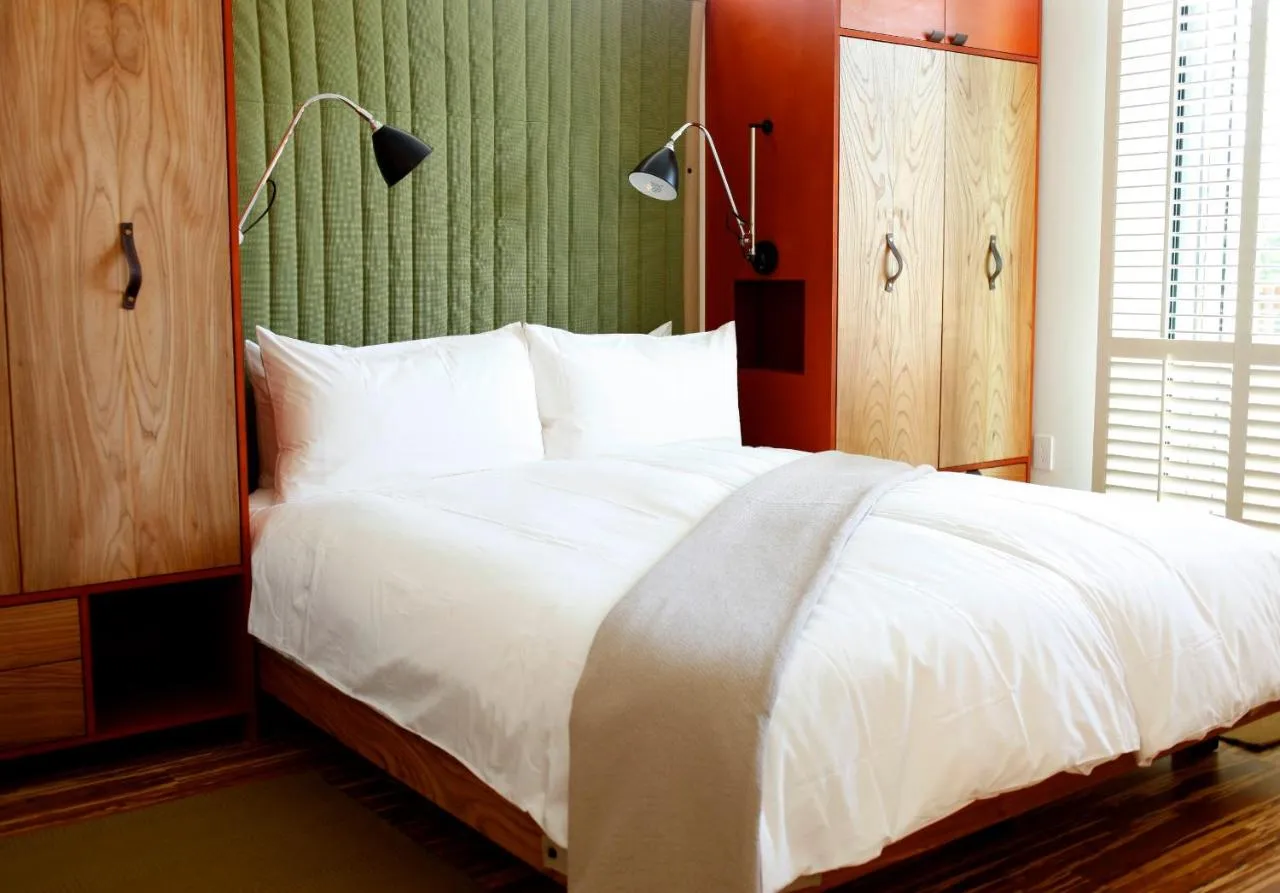 4. Orchard Garden Hotel
San Francisco, California, USA
From $200 per night

ETIC Hotels Green Score: 9.5/10
What makes Orchard Garden Hotel sustainable?
While there are many shades of "green" in the hotel business, ours is the deepest. From our construction practices to décor, food and beverage, daily operation and much more, we've never wavered from our commitment to Mother Earth.
The Orchard Garden Hotel achieved a tremendous 'green' certification, earning LEED-NC® (Leadership in Energy & Environmental Design) certification for a building by the U.S. Green Building Council (USGBC). San Francisco's first hotel to earn this honor, The Orchard Garden Hotel was the second hotel in California and fourth hotel in the United States with this LEED certification. LEED is the USGBC's system for operating high performance buildings dedicated to whole-building cleaning and maintenance issues, recycling programs, exterior maintenance programs and systems upgrades.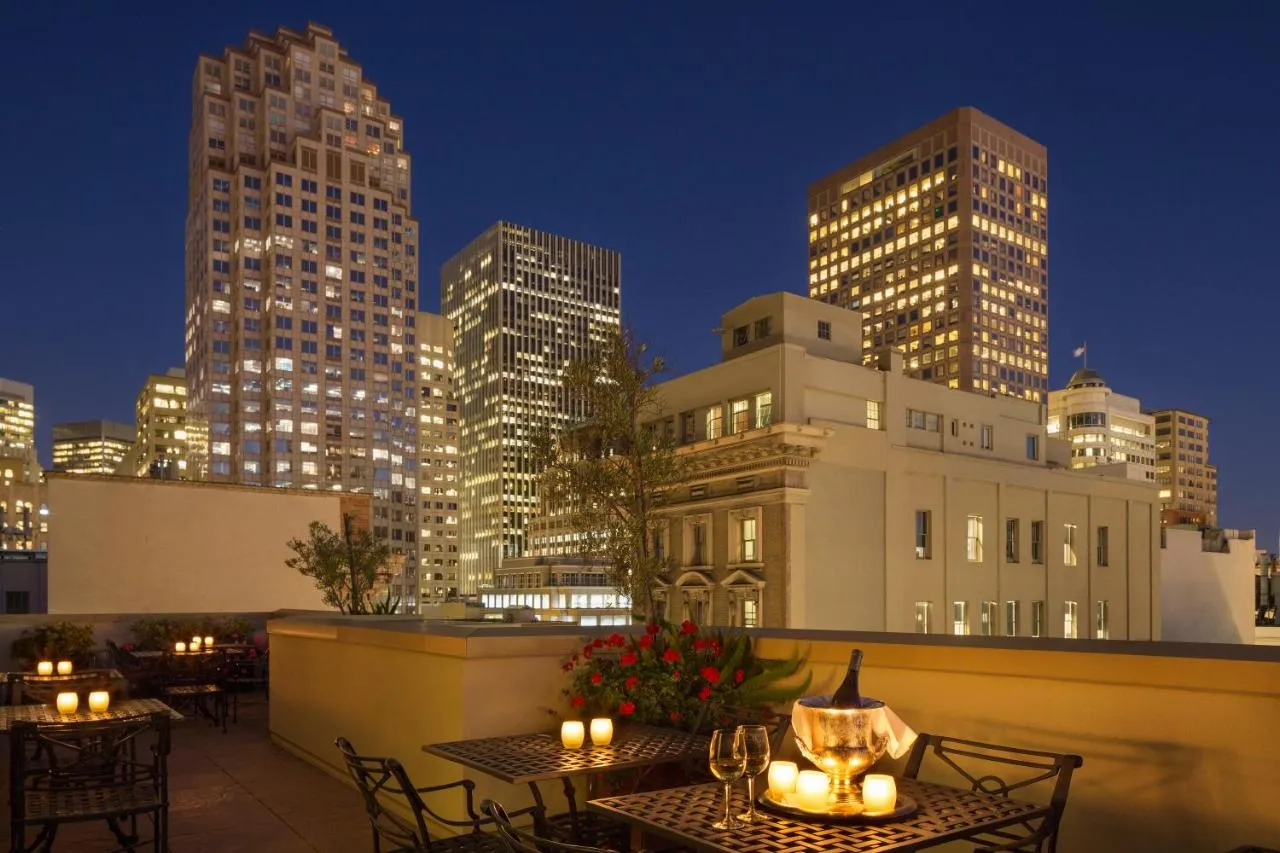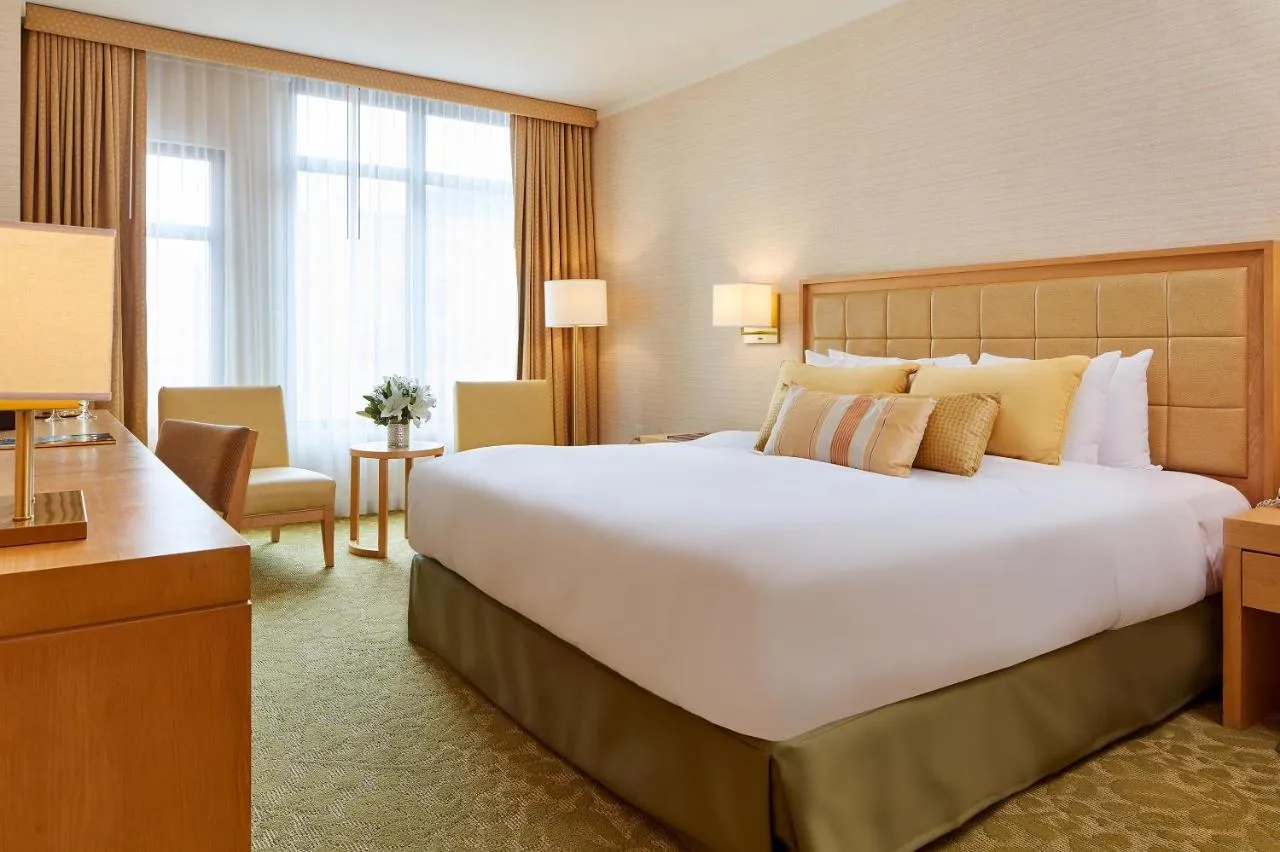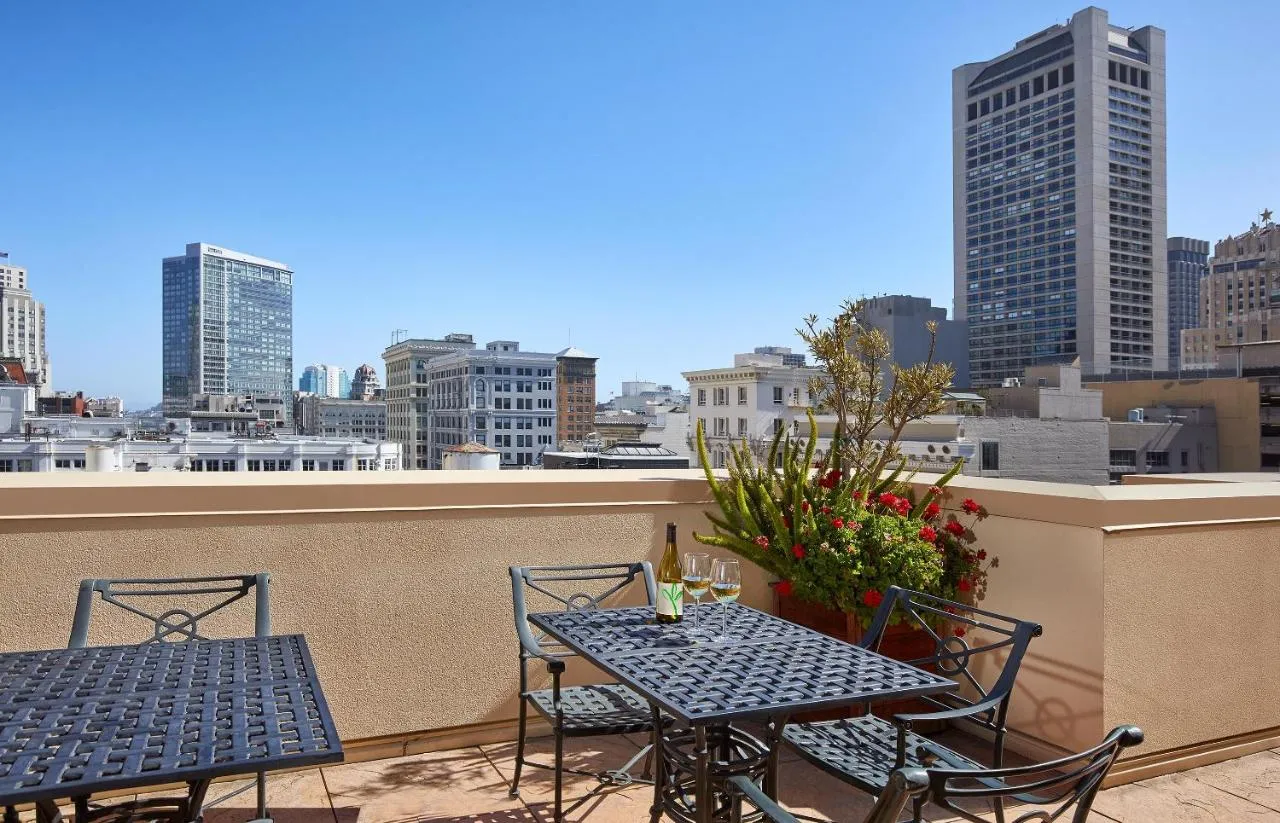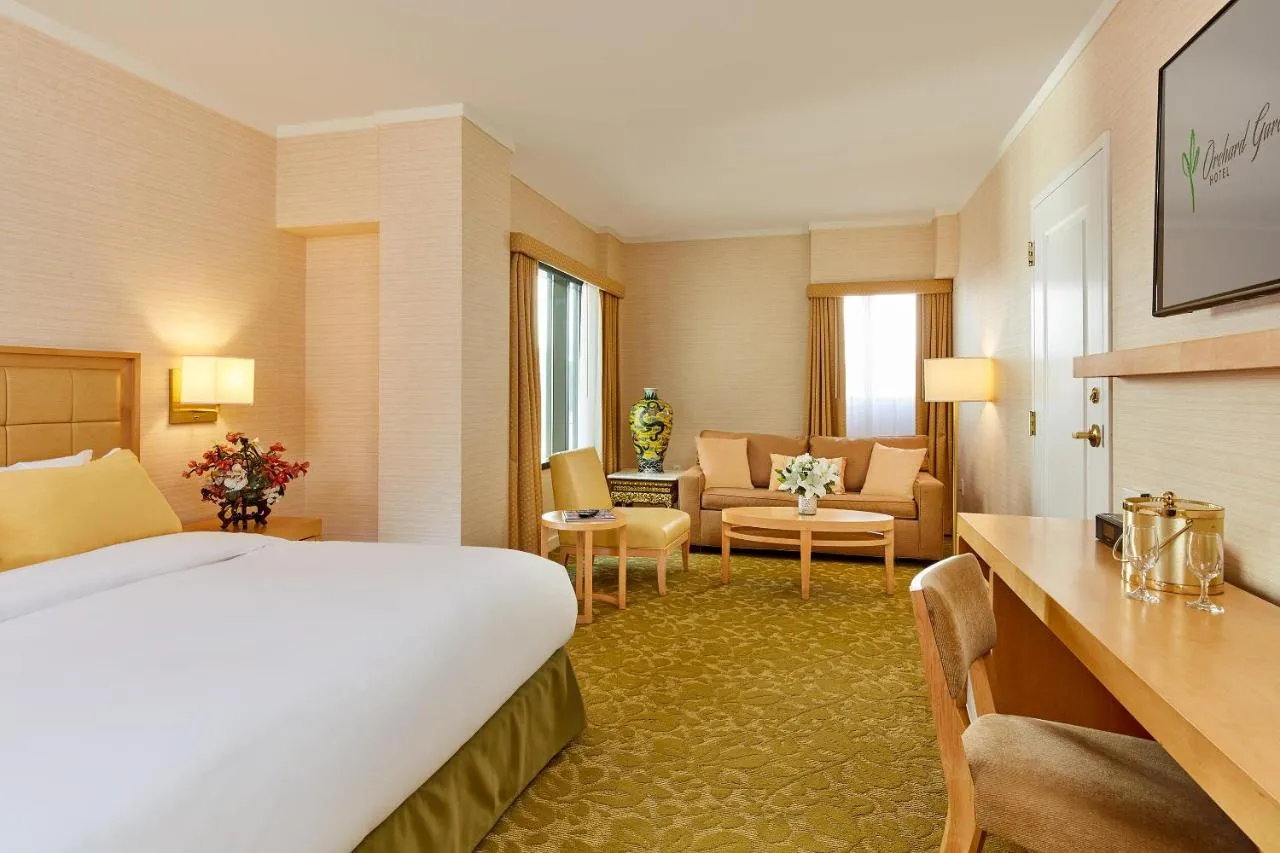 5. L'Auberge Del Mar
Del Mar, California, USA
From $600 per night

ETIC Hotels Green Score: 9.5/10
What makes L'Auberge Del Mar sustainable?
In an effort to reduce waste and to keep our oceans clean and free from plastic and trash, L'Auberge Del Mar will only offer straws to our guests upon request.
At L'Auberge Del Mar we are happy to offer complimentary bikes for usage to our guests. Bicycle riding uses minimal fossil fuels and is a pollution-free mode of transport. It conserves roadway and residential space, thereby providing opportunities for less concrete and more plant life in urban areas.
The Food & Beverage Department is guided by the principles of sustainability. Local produce and sustainable seafood are prepared and served daily. The kitchen is equipped with 100% recycled vinyl/pvc flooring, energy efficient lighting and earth friendly equipment and our to-go boxes are biodegradable.
We run a Recycling Program and Linen Reuse Program in our guestrooms. All guestrooms use energy efficient light bulbs to reduce the impact of depleting energy sources.
In addition to the Diversity and Inclusion compliance training on VENZA, our team on property has an Engagement Committee that focuses on several areas, including recognition and engagement for all employees. This team works to create an inclusive culture at L'Auberge Del Mar with in-house events, luncheons, and celebrations of different cultural holidays.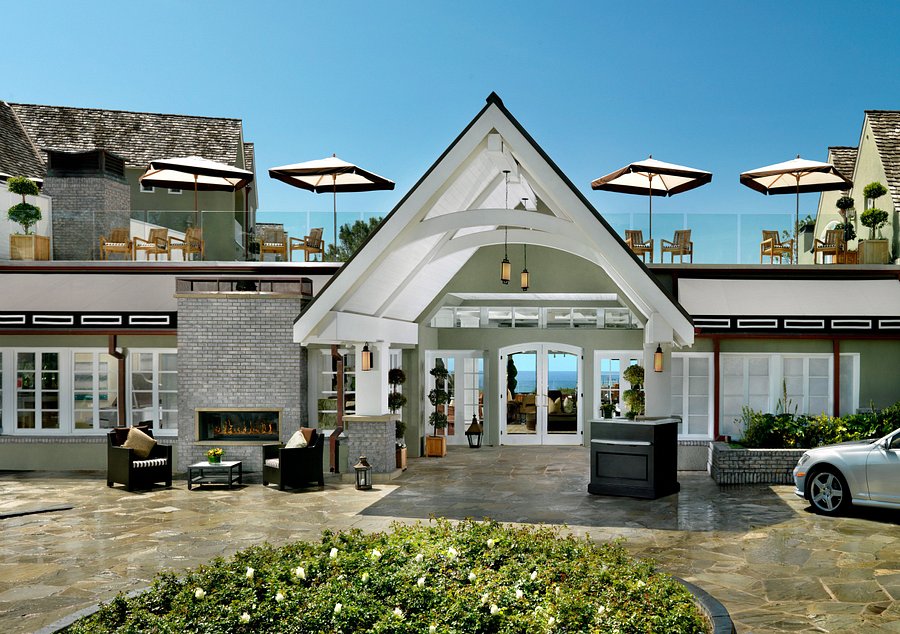 6. Bardessono
Yountville, California, USA
From $700 per night

ETIC Hotels Green Score: 9.5/10
What makes Bardessono sustainable?
Bardessono has an effective recycling and composting program. The goal, naturally, is to put as little material into the waste stream as possible. All planted areas are managed organically; vegetable food waste is composted in an "Earth Tub" and reused as organic compost for maintaining landscaped areas. The hotel utilizes organic and locally produced food products wherever and as often as possible. Mere steps from the restaurant kitchen, Lucy's onsite, certified organic garden yields daily inspiration and ingredients to the Liquid Artists behind the bar at Lucy, utilizing fresh herbs and garnishes to create hand-crafted libations.
Fruits, vegetables, and meats for the restaurant are supplied by local organic purveyors. Paper products used at the hotel have a high recycled content. Dispensers for shower products are used to avoid the excessive waste of small plastic bottles provided by most hotels. The bath products are completely organic and handmade. Laundering is done using organic detergents and water saving methods. Housecleaning staff use only organic products. Electric and hybrid vehicles are used by the hotel to minimize air pollution.
Indoors, bathroom fixtures with low water flow have been installed, along with dual flush toilets and waterless urinals. Outdoors, native and drought tolerant plants have been chosen for landscaping in order to minimize water demand. In turn, the drip irrigation system is also designed for maximum efficiency, minimizing water waste. All grey and black water is treated and recycled for irrigation use by the Town of Yountville.
7. Two Bunch Palms Resort
Desert Hot Springs, California, USA
From $350 per night

ETIC Hotels Green Score: 9.5/10
What makes Two Bunch Palms Resort sustainable?
Reduce Water Use. We discovered within the past few years that while the property is blessed with natural hot springs that literally bubble to the surface, we have a sincere obligation to capture as much as possible and ensure we are not wasting public supply. During our recent round of property improvements, we replaced grassy areas with a substantial amount of drought-resistant and tolerant flora and fauna, requiring significantly less irrigation. This investment of sustainable landscaping is part of a long term (30-year) propagation plan.
Carbon-Neutral Electricity. In being carbon neutral for electricity, we have a net-metering agreement requiring all the electricity generated by our four-acre solar field be sent directly to the grid. Then, we take electricity directly from the grid to satisfy our demand. The amount of electricity we produce exceeds our need, making us carbon neutral and making a big difference for the environment.
Build Green. A sizable quantity of natural and eco-friendly building materials were appointed in guest room refurbishments for both the Soulstice Room upgrade of 2014 and Springside Room upgrade of 2016, another example of an exceptional efforts towards maintaining sustainability.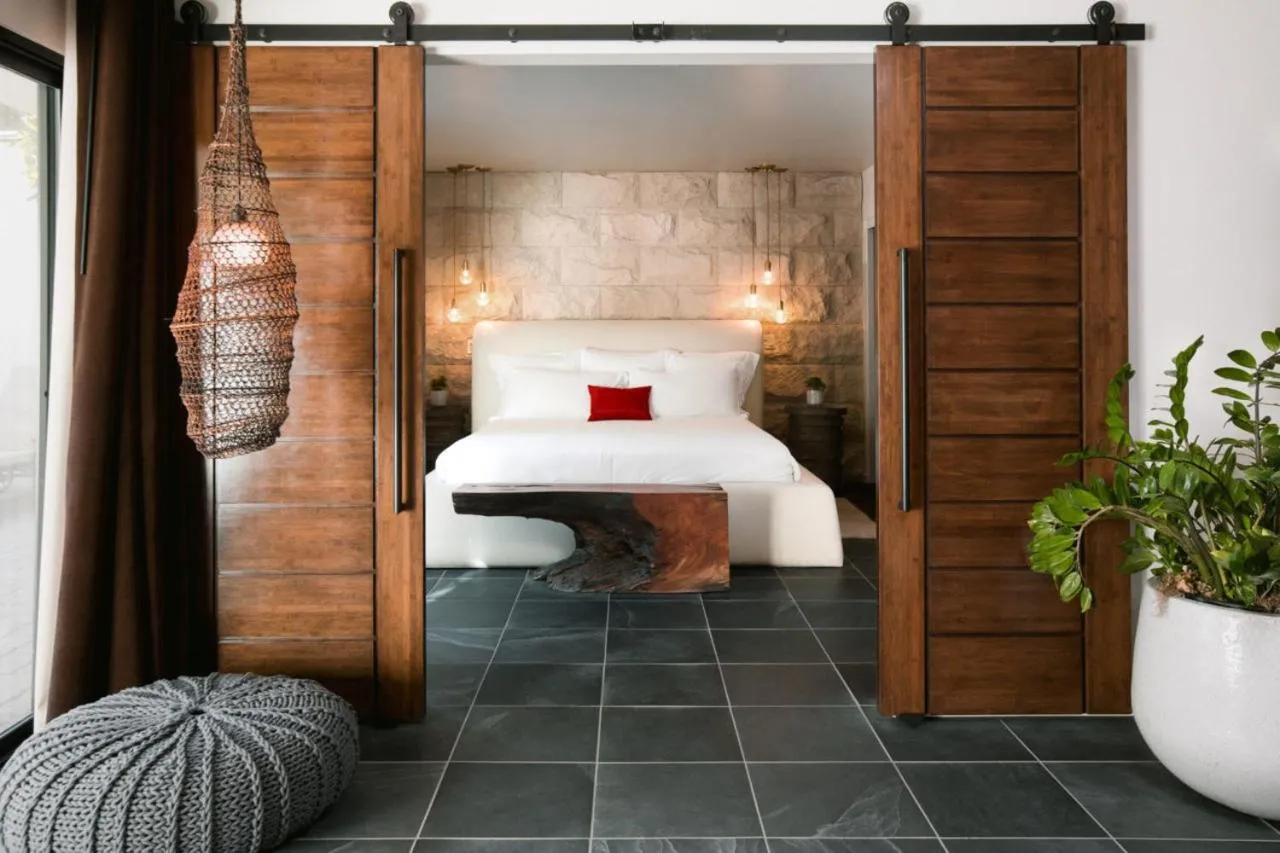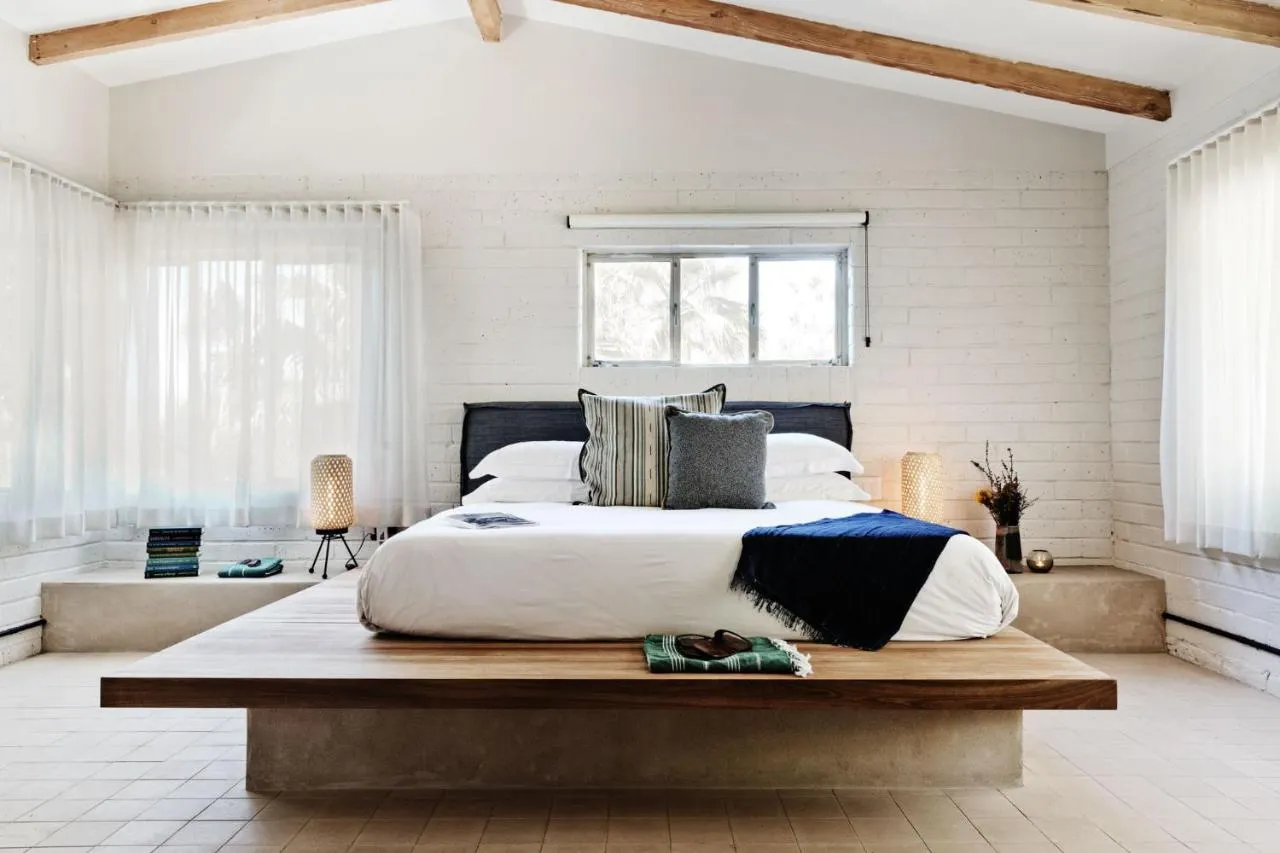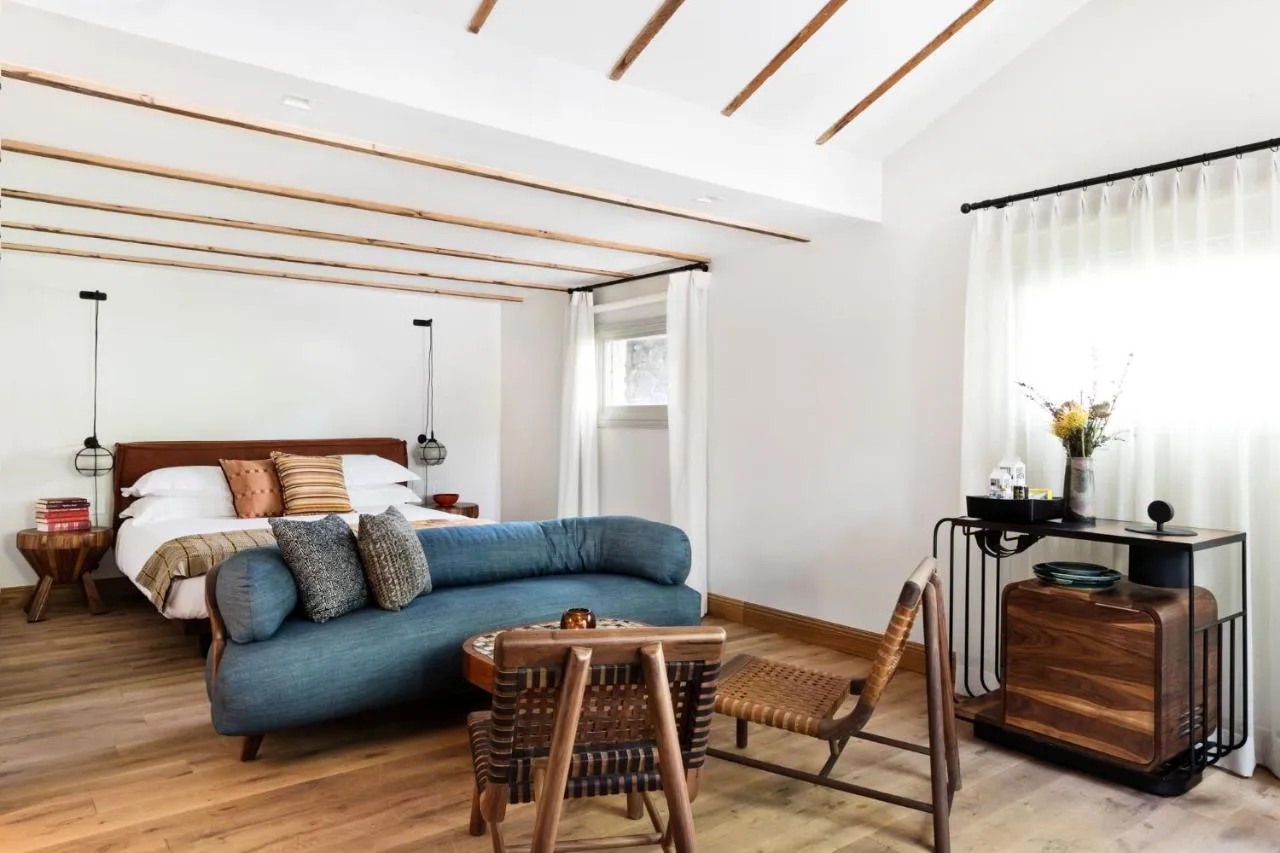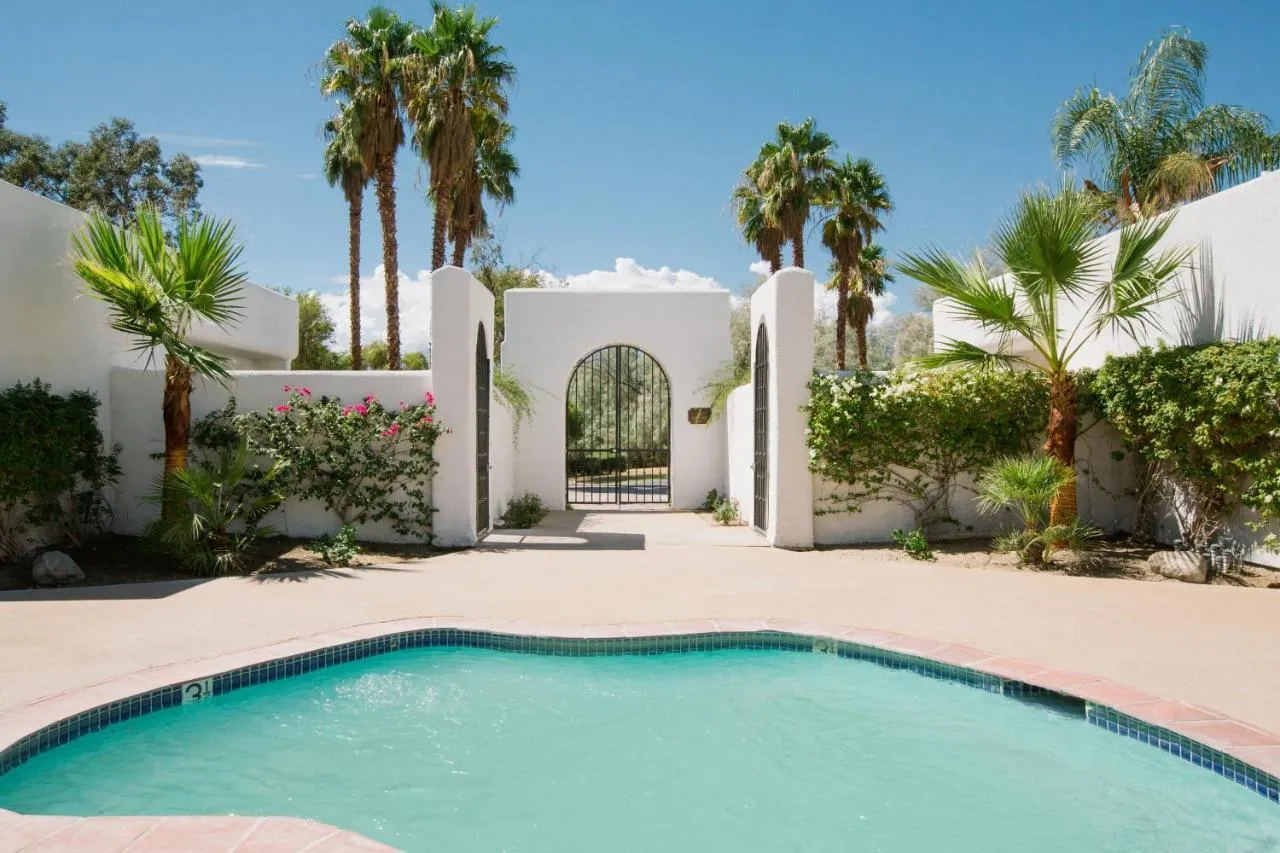 8. Hotel Indigo San Diego Gaslamp Quarter
San Diego, California, USA
From $140 per night

ETIC Hotels Green Score: 9.5/10
What makes Hotel Indigo San Diego Gaslamp Quarter sustainable?
For the environmentally-conscious, it's the first LEED certified hotel in downtown San Diego with eco-friendly containers, low water consumption, and a green roof. It's also pet-friendly, with dog beds and treats. Like other hotels in the Indigo chain, work desks with extra outlets, Wi-Fi, and extensive meeting facilities make the hotel a good choice for business travelers.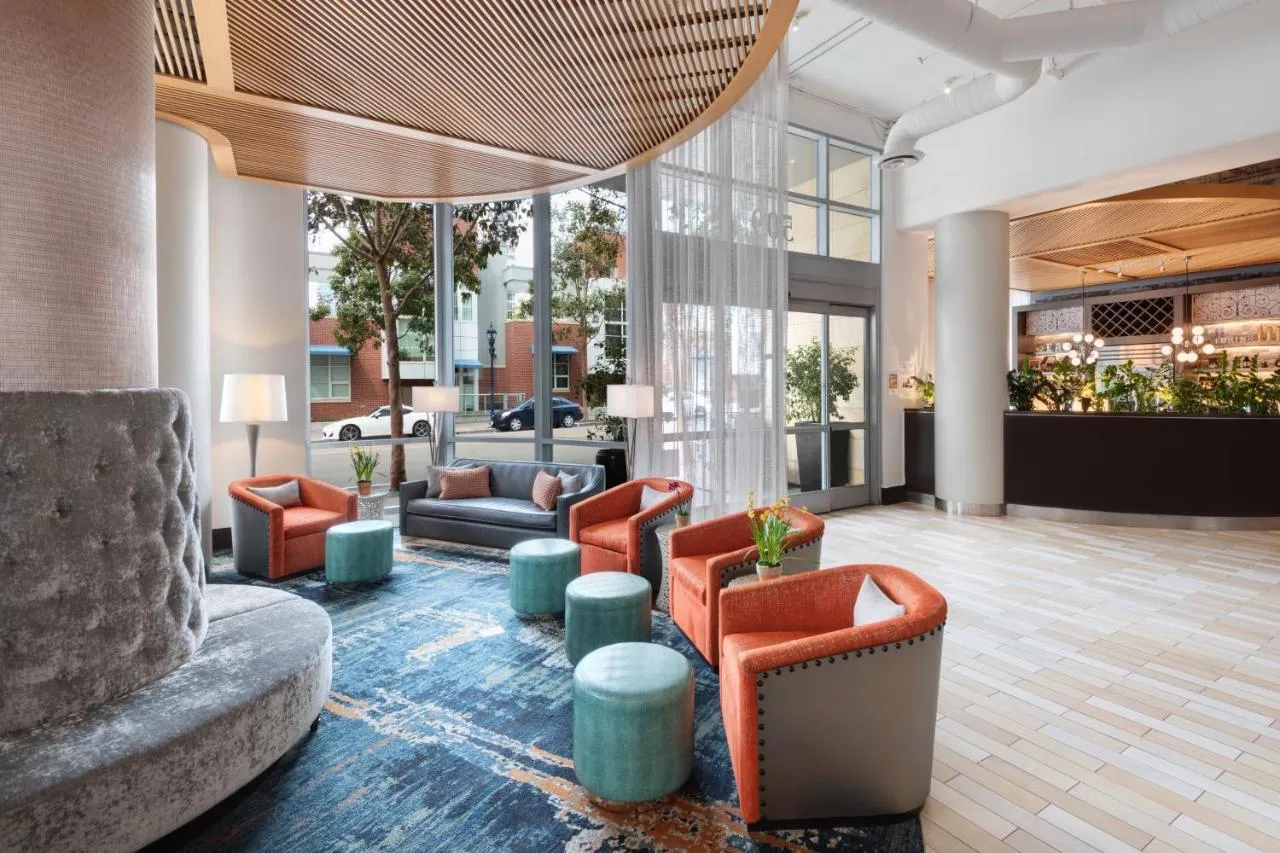 9. Stanford Inn & Resort on the Mendocino Coast
Mendocino, California, USA
From $500 per night

ETIC Hotels Green Score: 9.5/10
What makes Stanford Inn & Resort on the Mendocino Coast sustainable?
Ecological cleaning products
More than 80% waste recycling
Energy saving lights
Green building
Organic or Local Food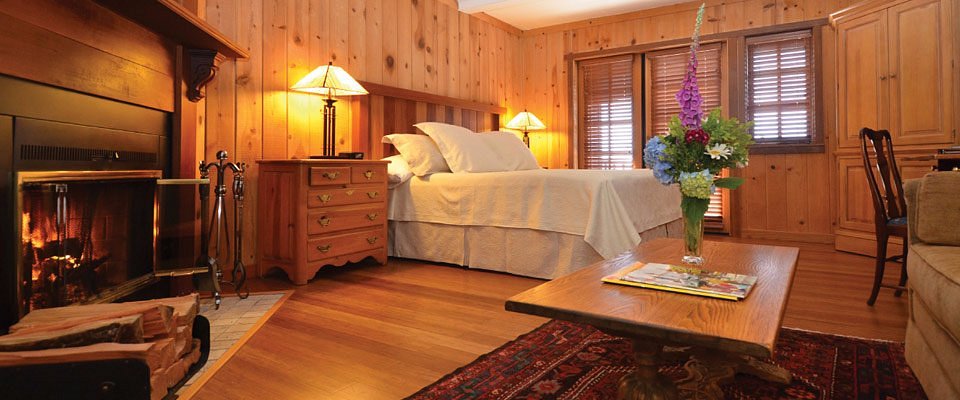 10. Treebones Resort
Big Sur, California, USA
From $200 per night

ETIC Hotels Green Score: 9.5/10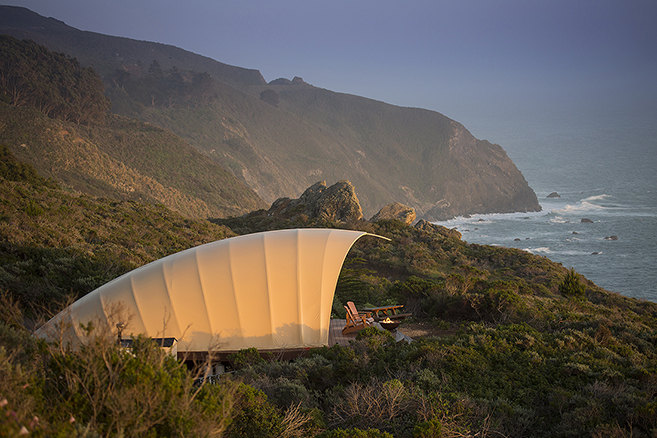 11. Cheshire Cat Inn & Cottages
Santa Barbara, California, USA
From $300 per night

ETIC Hotels Green Score: 9.5/10
What makes Cheshire Cat Inn & Cottages sustainable?
Option to opt-out of daily room cleaning
Option to reuse towels
Energy and greenhouse gases
Electric car charging station