The 12 Best Boutique Hotels in Santorini, Greece
This includes Canaves Oia Suites, Canaves Oia Epitome, Cosmopolitan Suites...
A Sustainability Ranking in partnership with ETIC Hotels
You're planning a trip to Santorini this Summer and you're trying to be as ethical and sustainable as possible?
niood lists you the 12 best boutique hotels in Santorini, Greece:
1. Canaves Oia Suites
Oia, Santorini, Greece
From $500 per night

ETIC Hotels Green Score: 9.2/10
Canaves Oia Suites invites guests seeking luxury accommodation in Oia Santorini to relish in the elegance of a most cherished holiday retreat.
Enveloped by the emerald Aegean and the awe-inspiring dramatic beauty of Santorini, Canaves Oia Suites welcomes guests to a world of exquisite elegance. Blending spectacular vistas of the charming Caldera with over the top accommodation and impeccable service, those luxury suites in Oia, Santorini will charm even the most eclectic guests.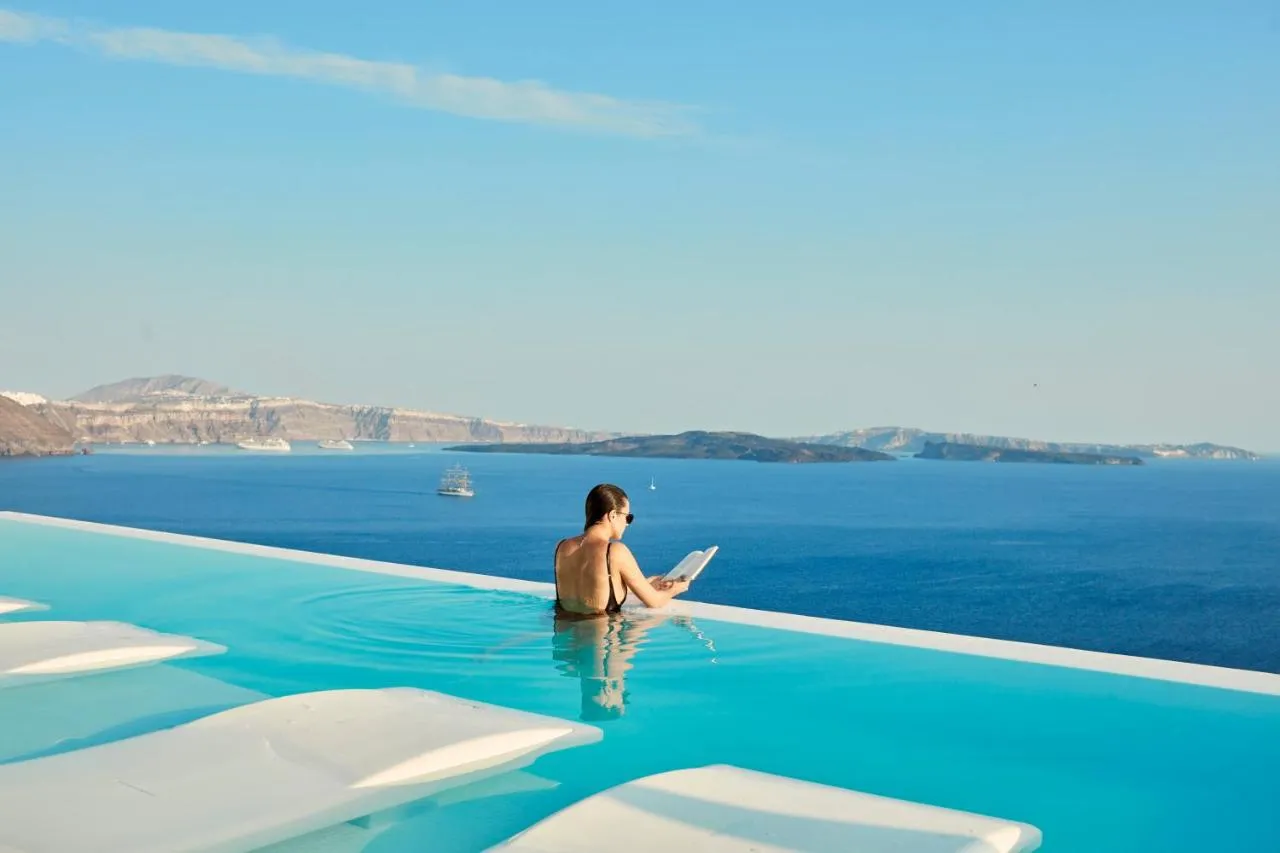 2. Canaves Oia Epitome
Oia, Santorini, Greece
From $500 per night

ETIC Hotels Green Score: 9.2/10
In May 2018, Santorini welcomes a new kind of luxury in form of Canaves Oia Epitome. Perched above the picturesque fishing town of Ammoudi, the property is inspired by traditional Cycladic architecture, combining natural and earthy materials with modern design and style.
It is the only property on the island that offers both sea and sunset views from the privacy of each of the 24 luxury villas. Canaves Oia Epitome invites you to experience life's finest things.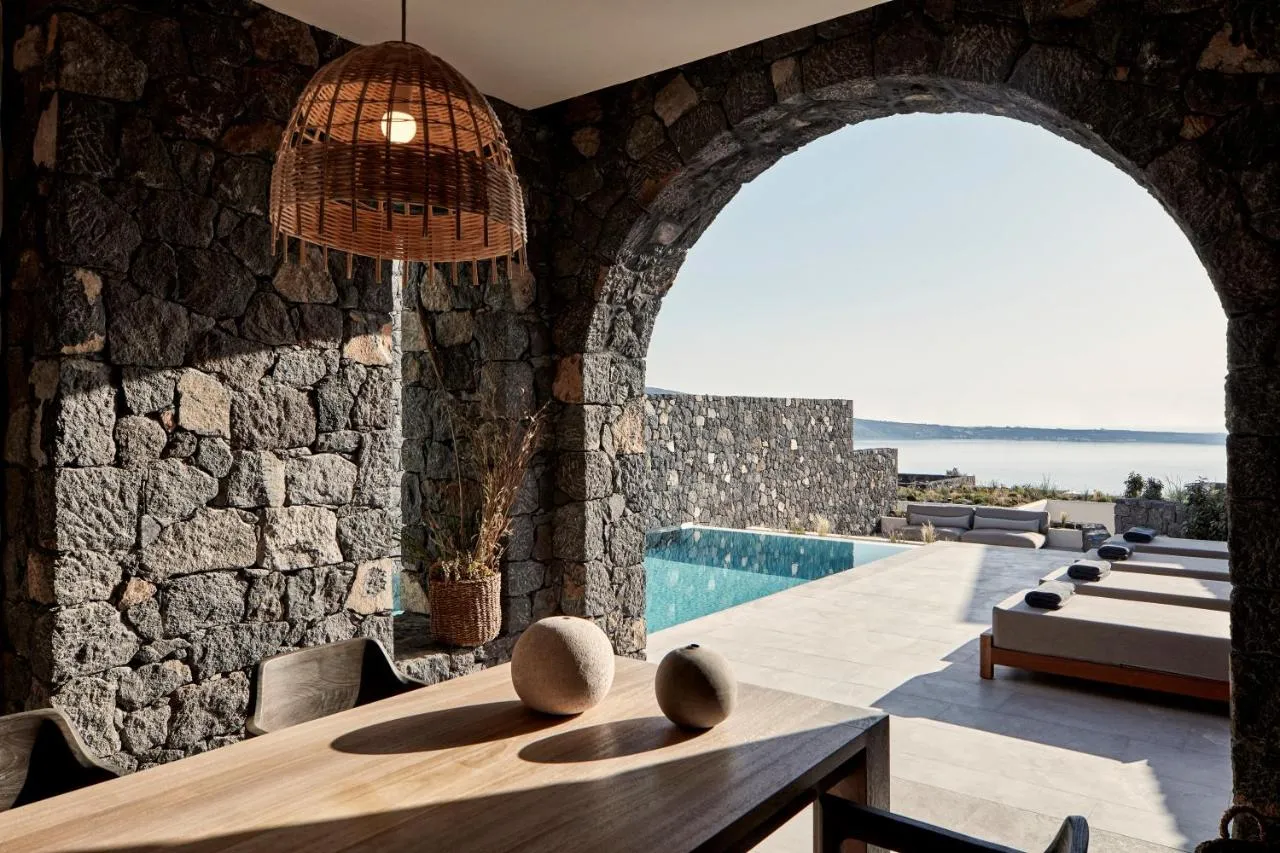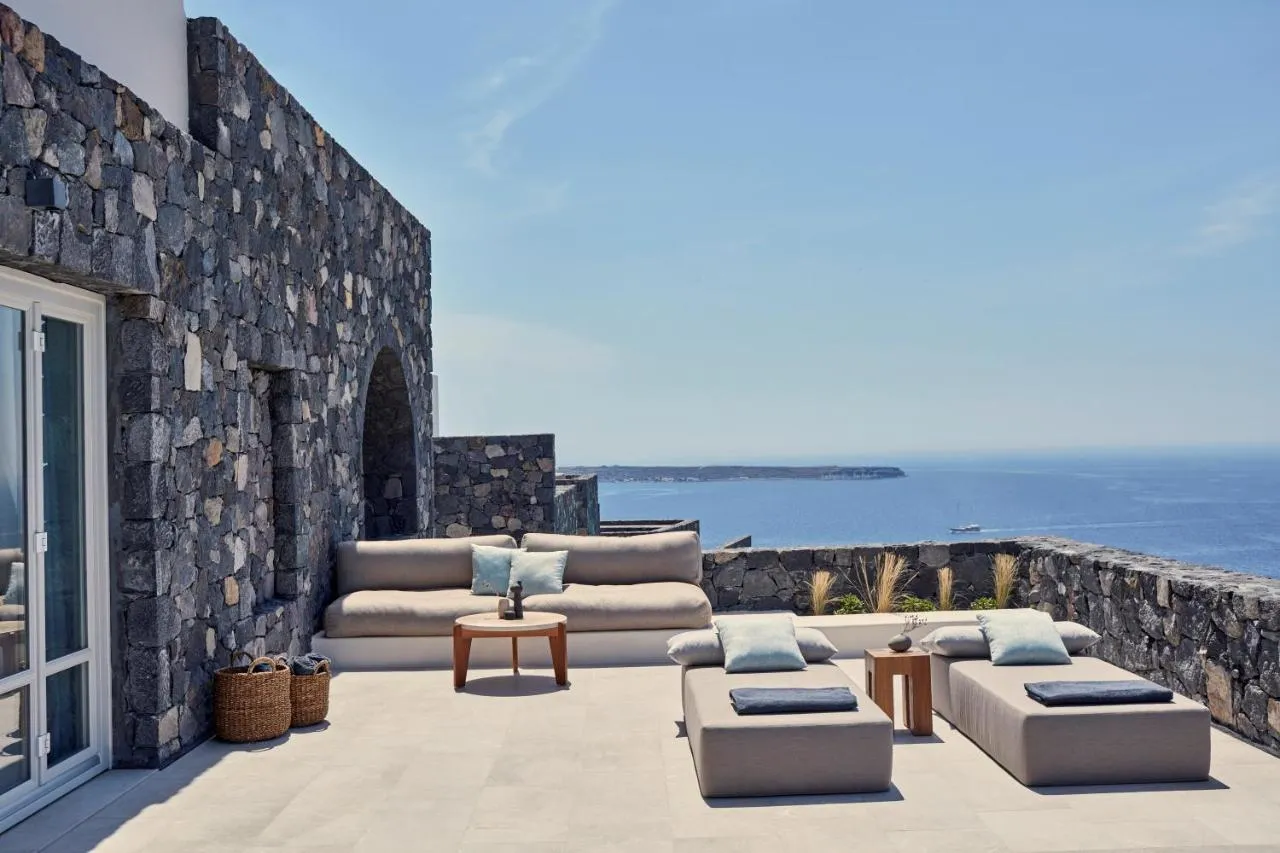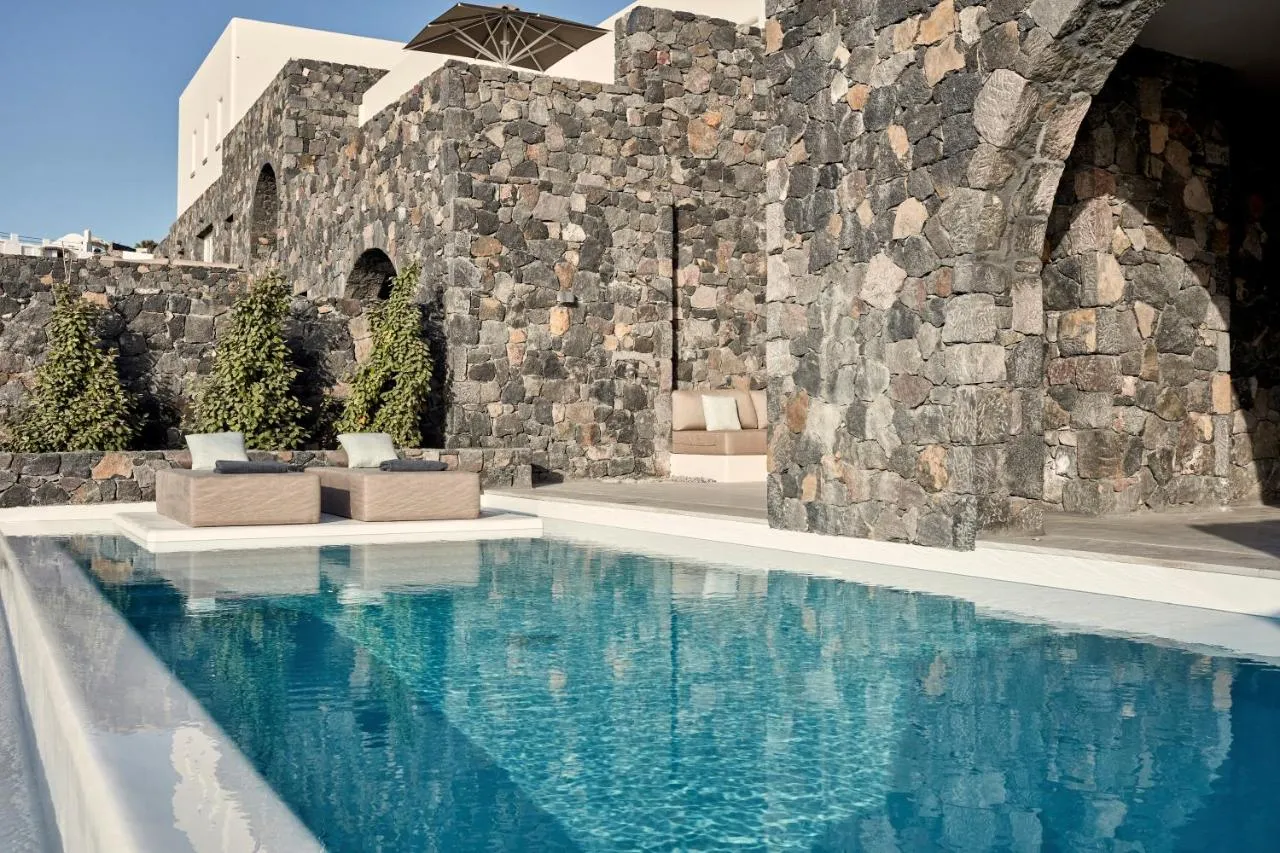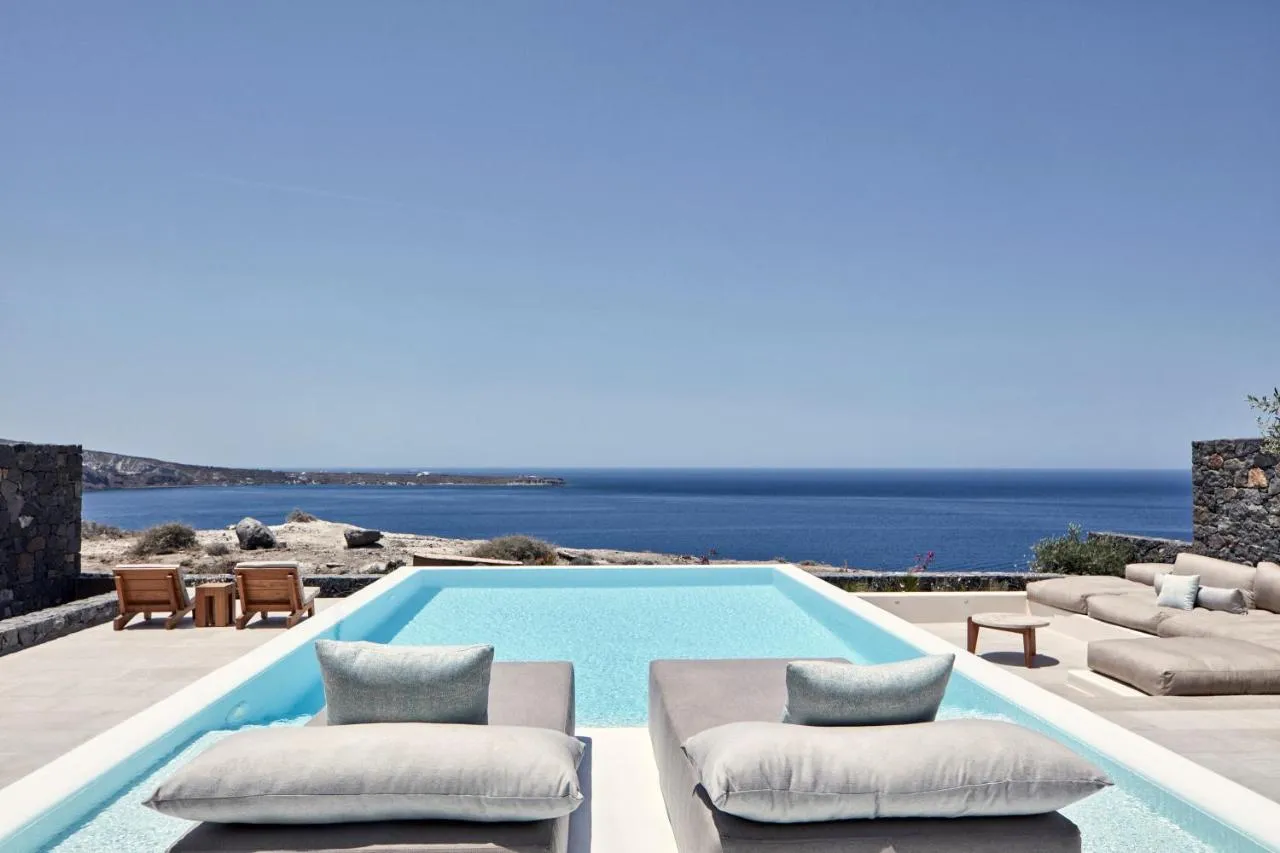 3. Cosmopolitan Suites
Fira, Santorini, Greece
From $320 per night

ETIC Hotels Green Score: 9.2/10
Perched on the lip of the Caldera, Cosmopolitan Suites 4 star boutique hotel is a small luxury hotel in Santorini with an astonishing sea view right in the centre of Fira, the vivacious capital of Santorini Island in Greece. This small luxury hotel in Santorini is an excellent choice for discerning guests and for couples seeking luxury Caldera view accommodation and tailor-made service in the enchanting Santorini Island of the Cyclades islands complex in Greece.
The Cosmopolitan boutique sea view hotel in Fira is ideally situated close to the capital's restaurants and bars, with easy access to all public transportation and the island's cable car providing great links to to Santorini's most renowned attractions. The hotel's privileged central location and the quality of its customized service, together with its genuine welcoming atmosphere, make Cosmopolitan the perfect relaxing holiday accommodation for couples wishing to explore the Cyclades island of Santorini and experience the island's legendary nightlife.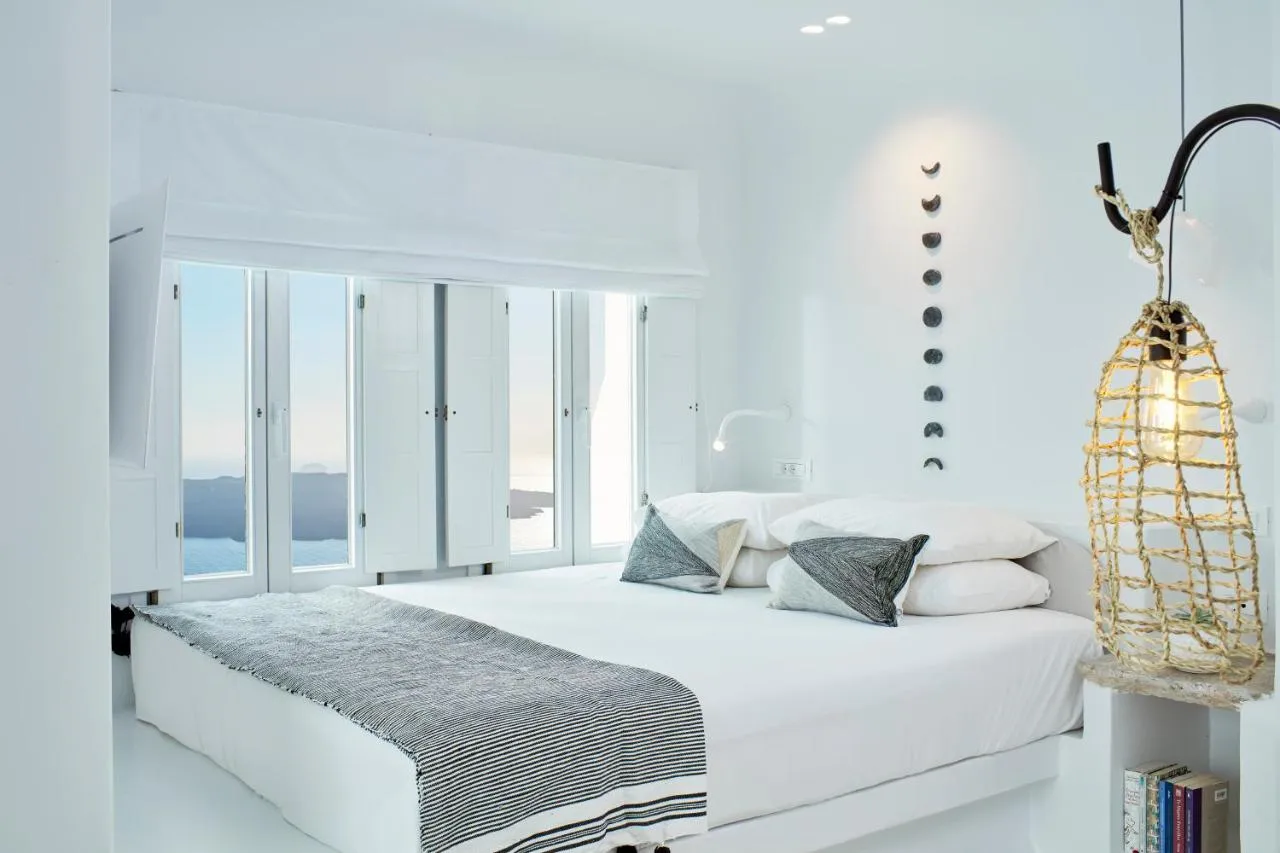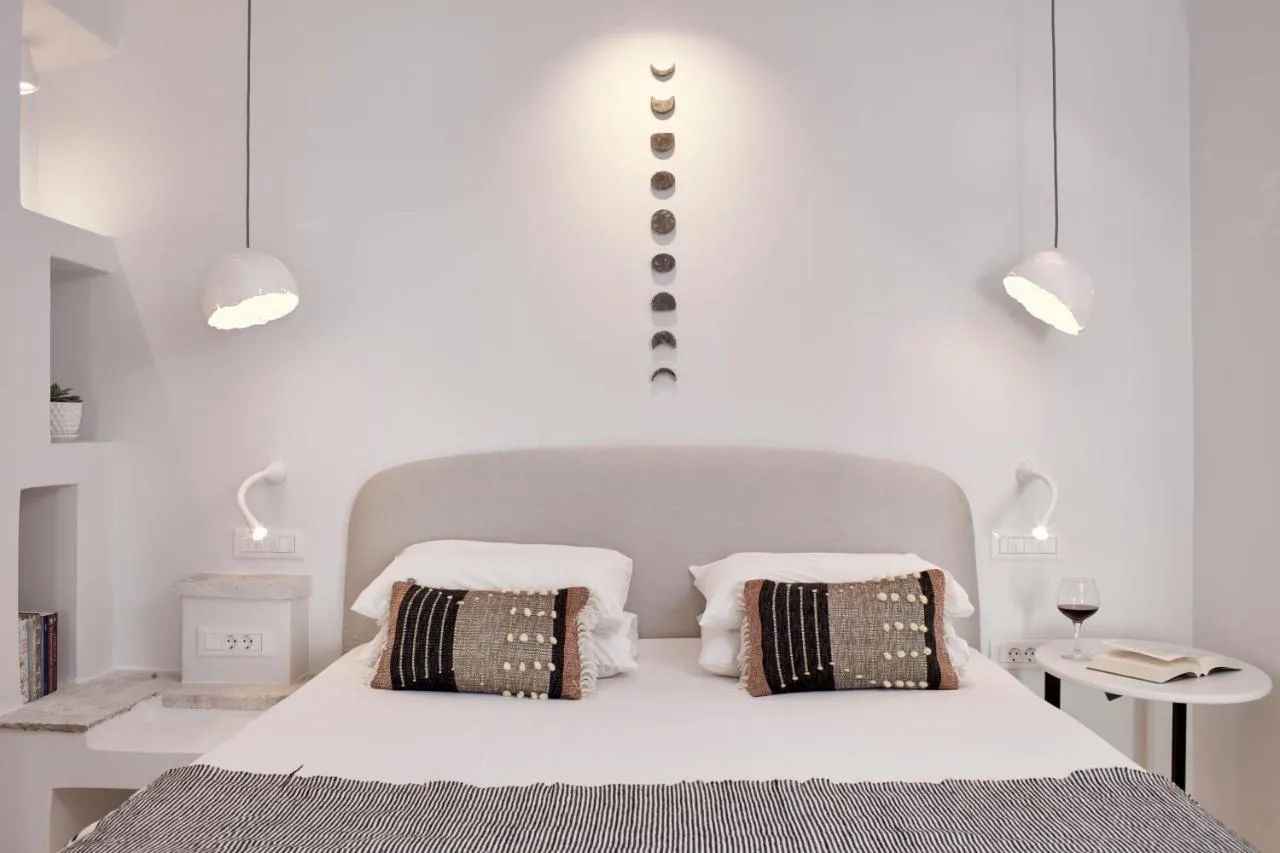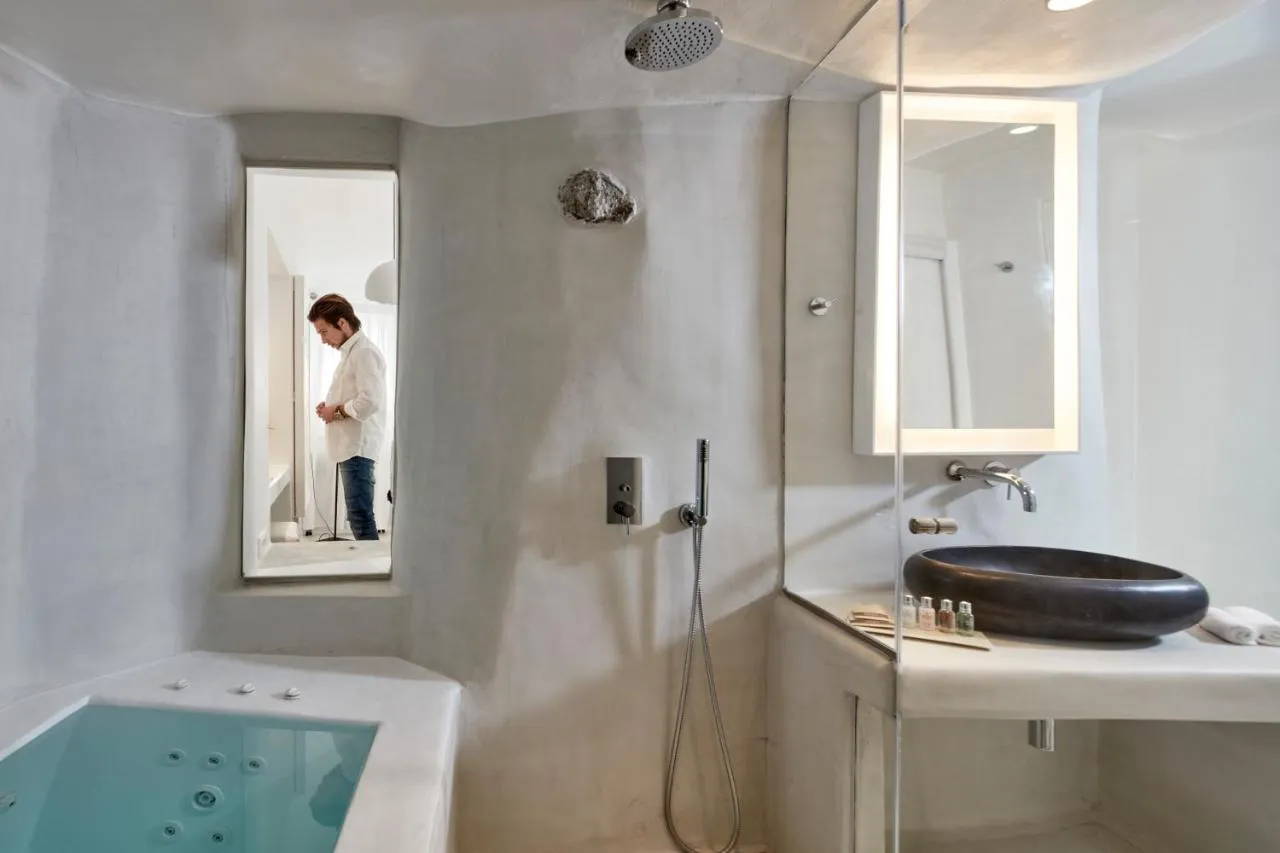 4. Santo Maris Oia Luxury Suites & Spa
Oia, Santorini, Greece
From $350 per night

ETIC Hotels Green Score: 9.2/10
Santo Maris Oia Luxury Suites & Spa is a private, spacious, architecturally beautiful hotel, with a stylish yet unpretentious interior decor, surrounded by greenery, whitewashed domed suites, picturesque alleys and 5 dazzling infinity pools.
5. Santorini Heights Luxury Suites
Pirgos, Santorini, Greece
From $550 per night

ETIC Hotels Green Score: 9.2/10
Welcome to the highest spot in Santorini (480 m.); a spot where a mesmerizing view of the entire island unfolds right at your feet, a spot where living in harmony with nature meets the luxury of beautifully appointed facilities and genuine hospitality. Welcome to Santorini Heights. On the very top of the island, near the traditional village of Pyrgos and right in the heart of a "Natura 2000″ Protected Area, this complex of five individual, luxurious suites offers a new take in private, yet comfortable and homely, accommodation that will transform your holidays in Santorini into the unforgettable experience of a lifetime! The wildness of the scenery blended with local, natural construction materials and craftsmanship, as well as eco-friendly infrastructure and technologies, has created a fusion of luxury and tradition guaranteed to please even the most eclectic of visitors. Your trip begins now. Welcome to Santorini Heights.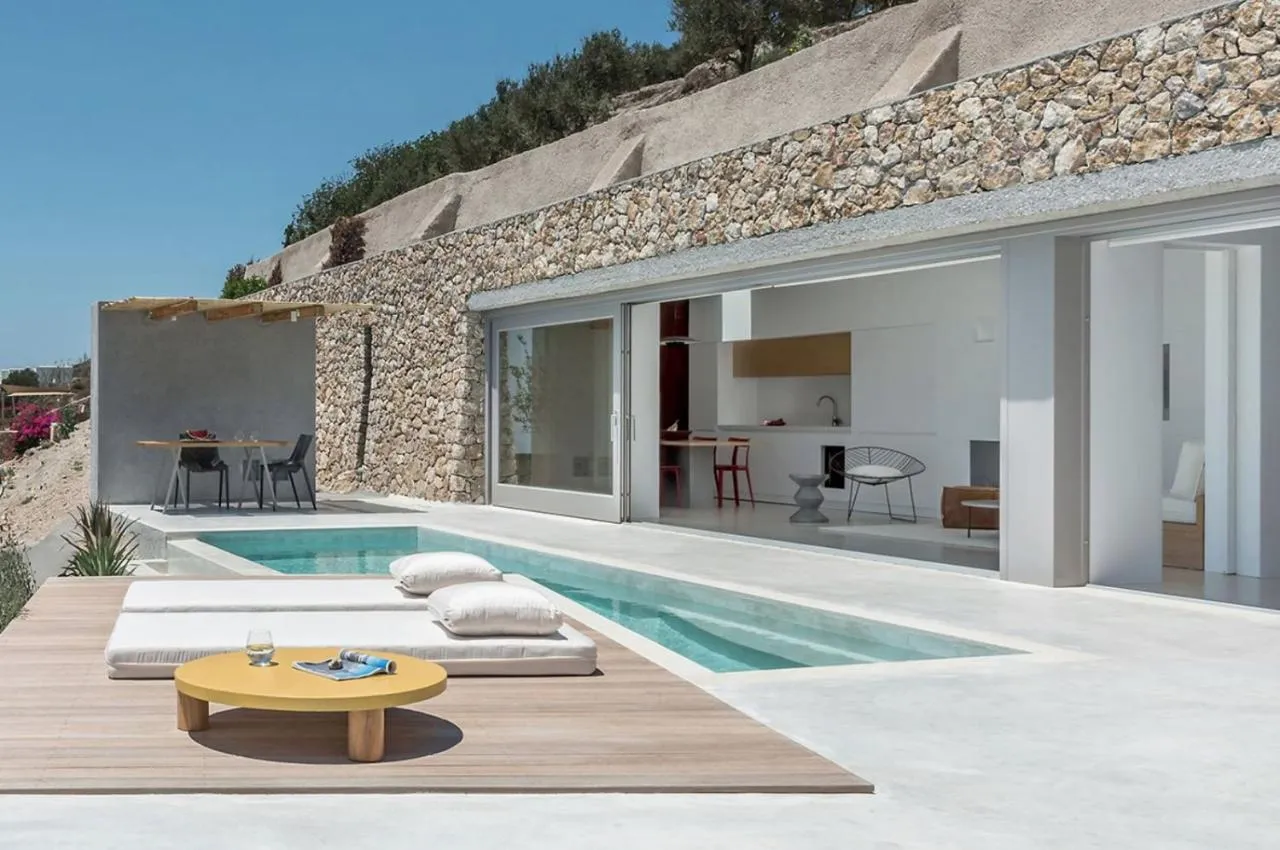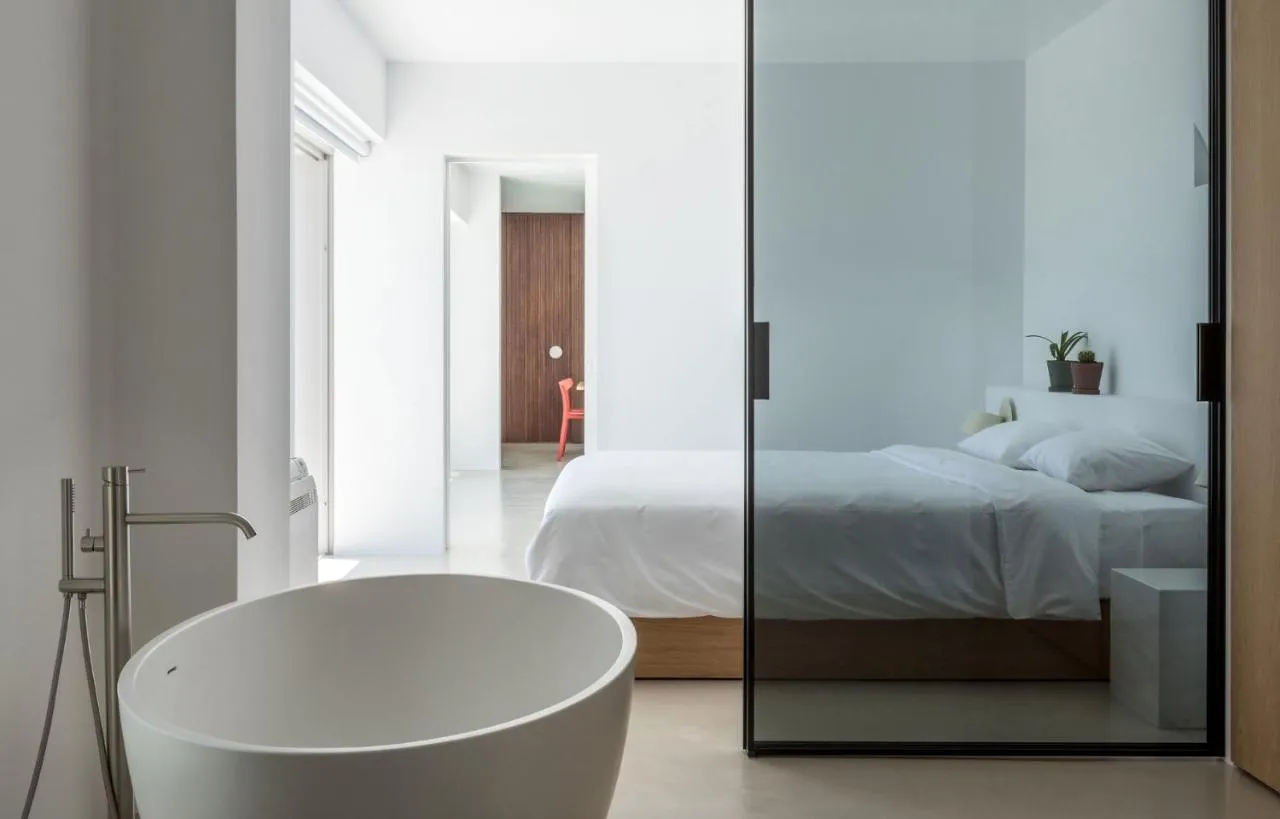 6. Gold Suites
Imerovigli, Santorini, Greece
From $200 per night

ETIC Hotels Green Score: 9.2/10
The newly established Gold Suites Hotel in Santorini of the Cyclades islands complex in Greece is a sanctuary of romanticism for couples, perched atop the highest point of Imerovigli near Fira amidst the placid azure sky and the indigo Aegean Sea. Inspired by the enchanting architecture of the Cyclades Islands of Greece the luxury suites in Imerovigli established in 2010 has set a new benchmark in refined luxury.
Set amid Santorini's volcanic splendor the luxury suites in Imerovigli offer an intimate haven of privacy infused with unmatched elegance and class. Reflecting the island's spirit in a harmonious blend of tradition and lavish modernity, this sublime suites hotel in Santorini embraces every conceivable service to enhance the island experience in high end luxury and offers uninterrupted views of the cerulean Aegean and the dramatic red rock of Skaros.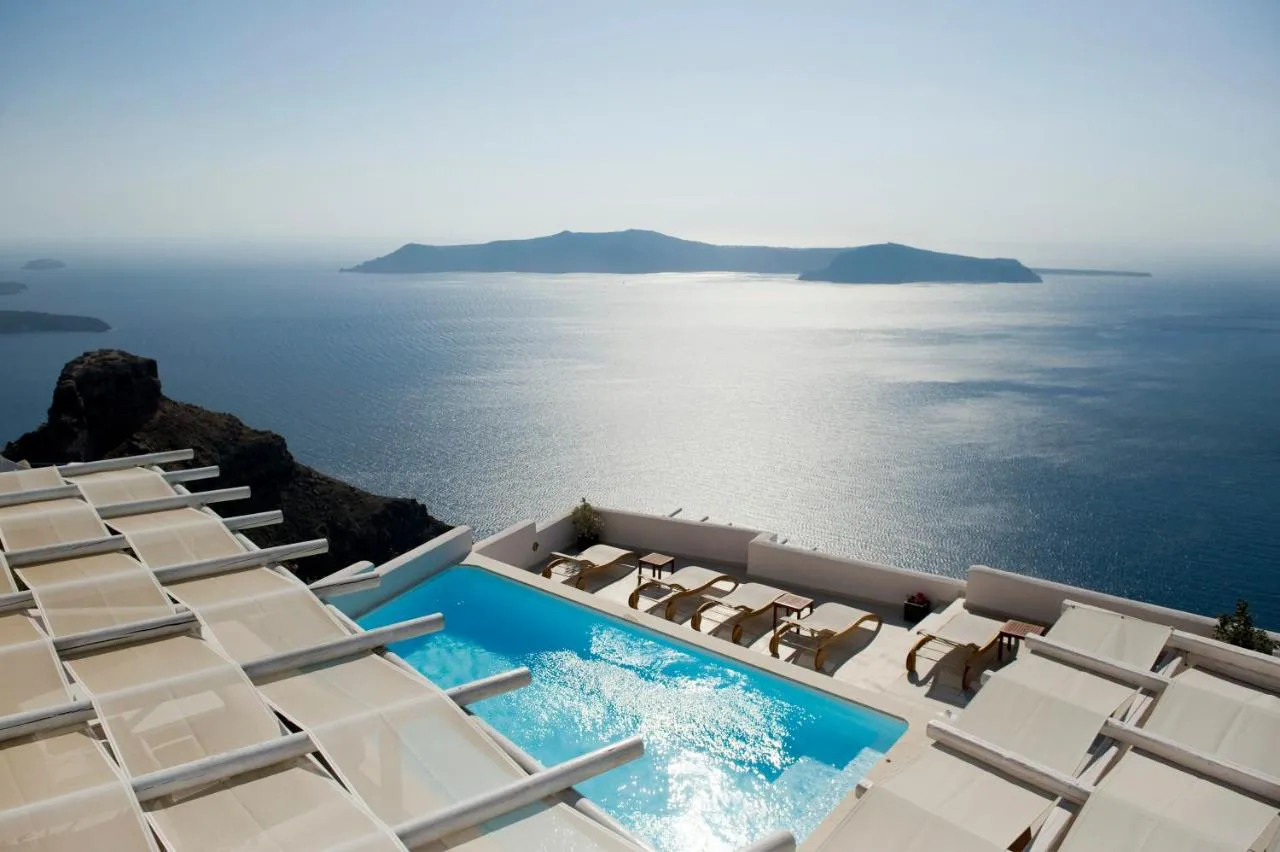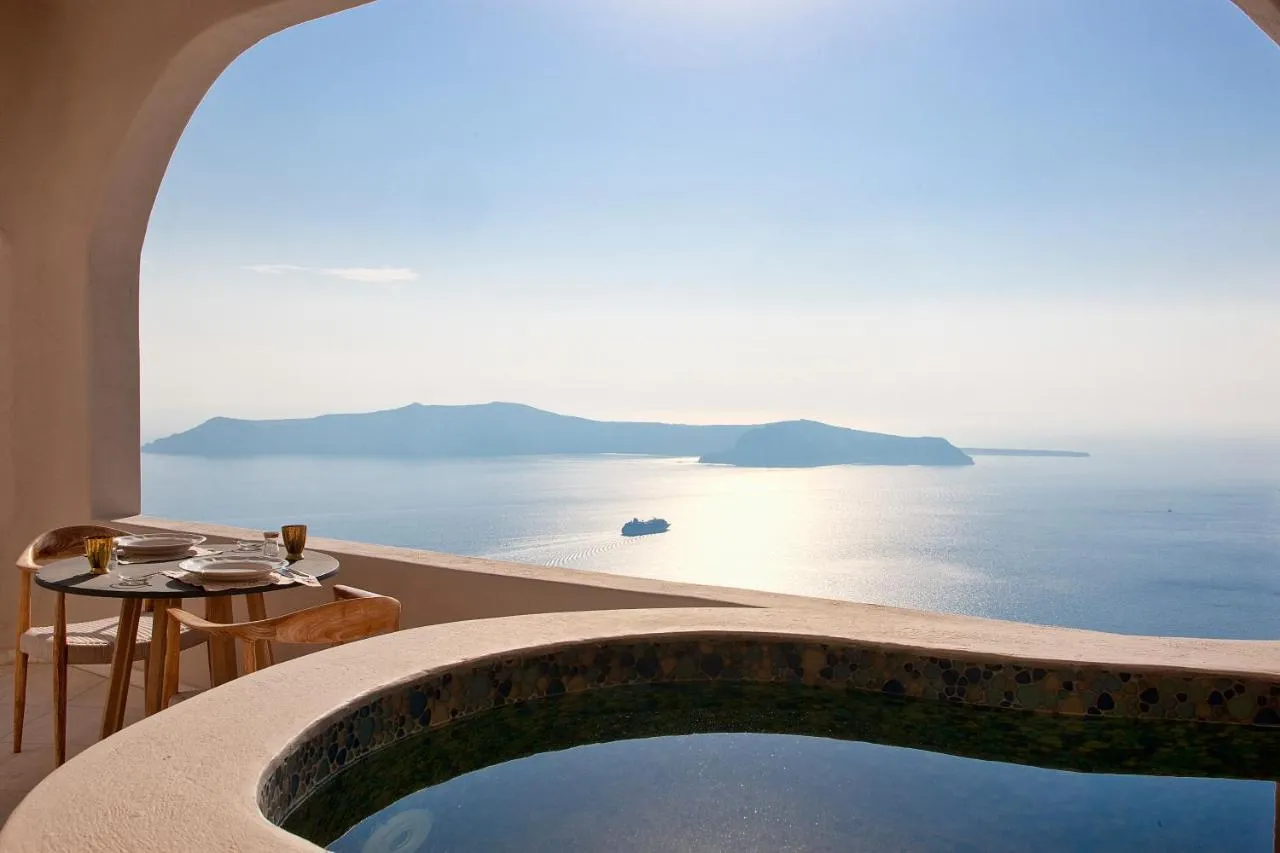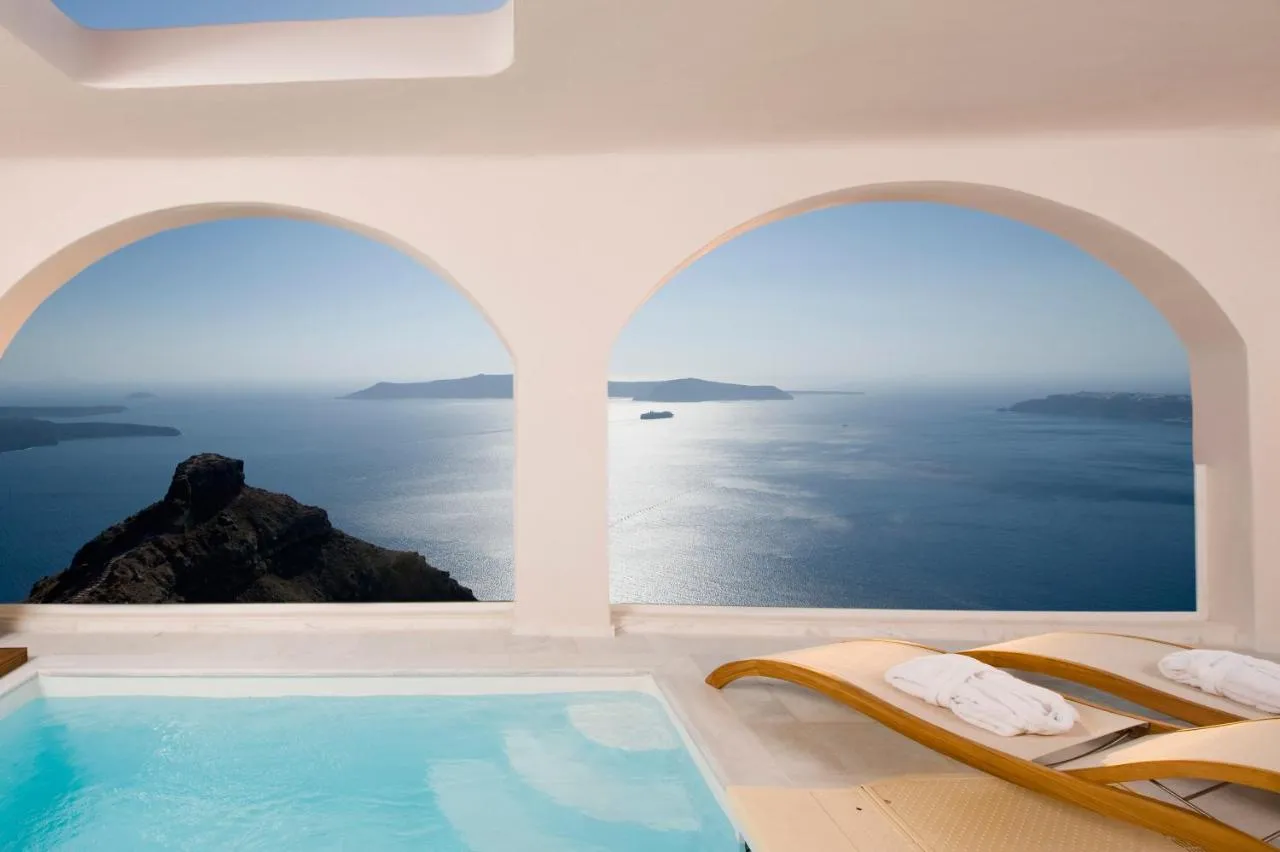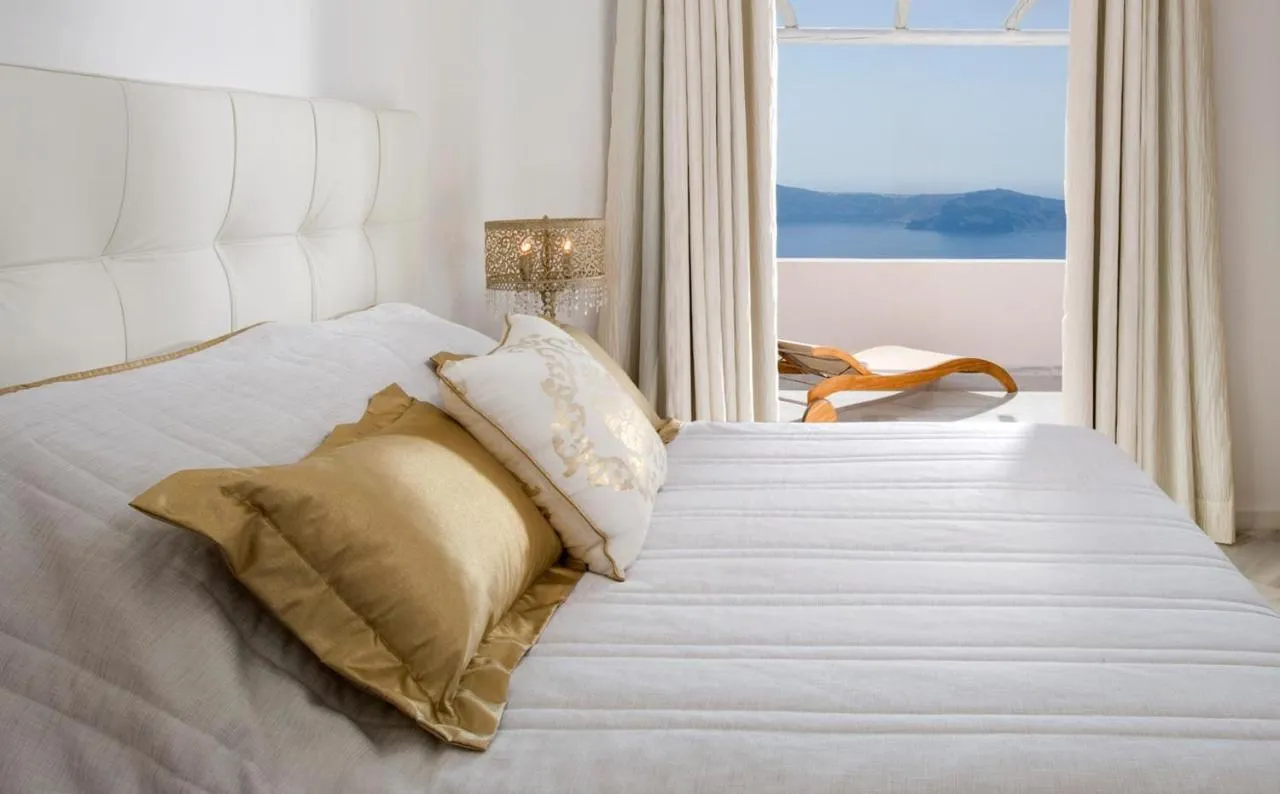 7. San Antonio
Imerovigli, Santorini, Greece
From $320 per night

ETIC Hotels Green Score: 9.2/10
San Antonio is a distinctively impressive luxury 4 star hotel with Caldera view in the narrowest point of Santorini in Greece. Like a fine diamond, this majestic luxury hotel rests on a natural volcanic plateau in the picturesque village of Imerovigli and near the Unesco Heritage Village of Oia. San Antonio 4 star boutique hotel in Imerovigli, Santorini is a luxury retreat with an unrivalled sea view of the azure Aegean Sea and the volcanic Caldera. Nestled in Santorini's delicate neck in the popular village of Imerovigli, this inimitable 4 star boutique hotel in Santorini, Greece offers a sublime luxury hotel experience in the most intense natural surroundings.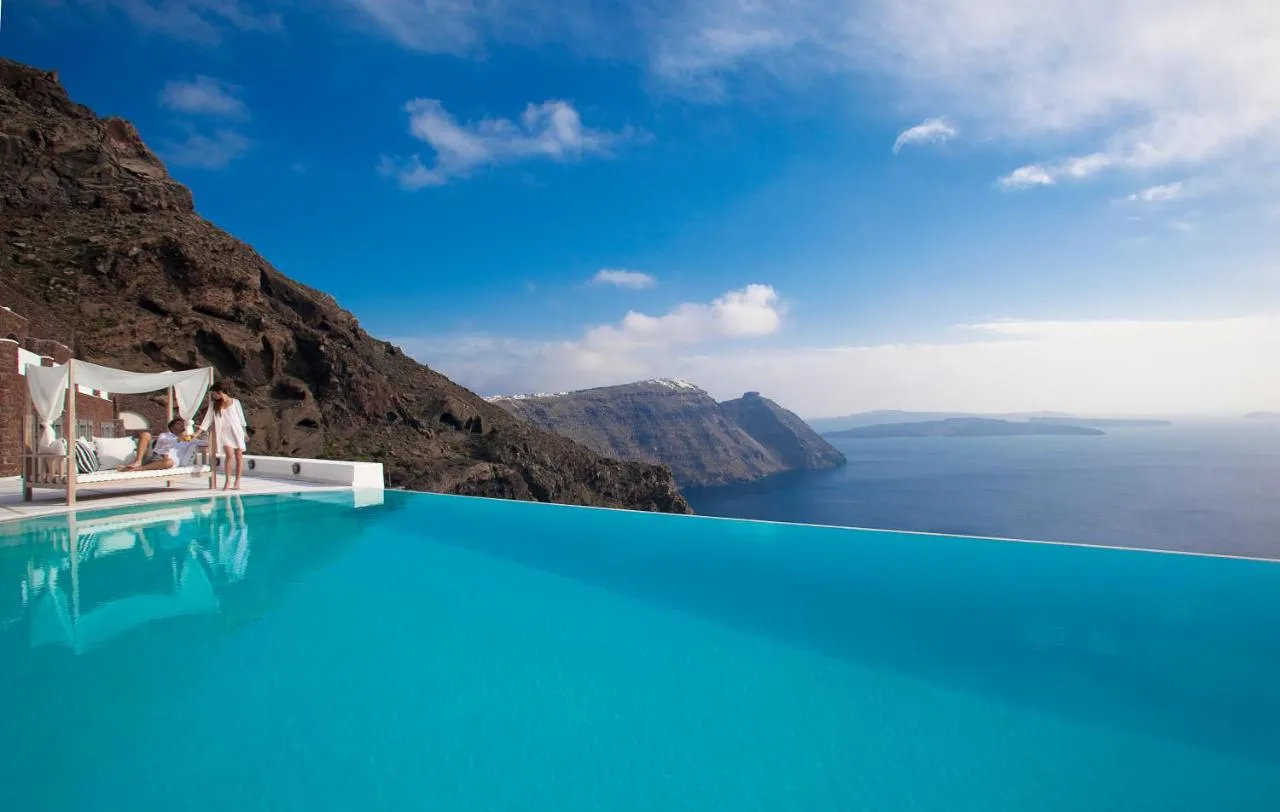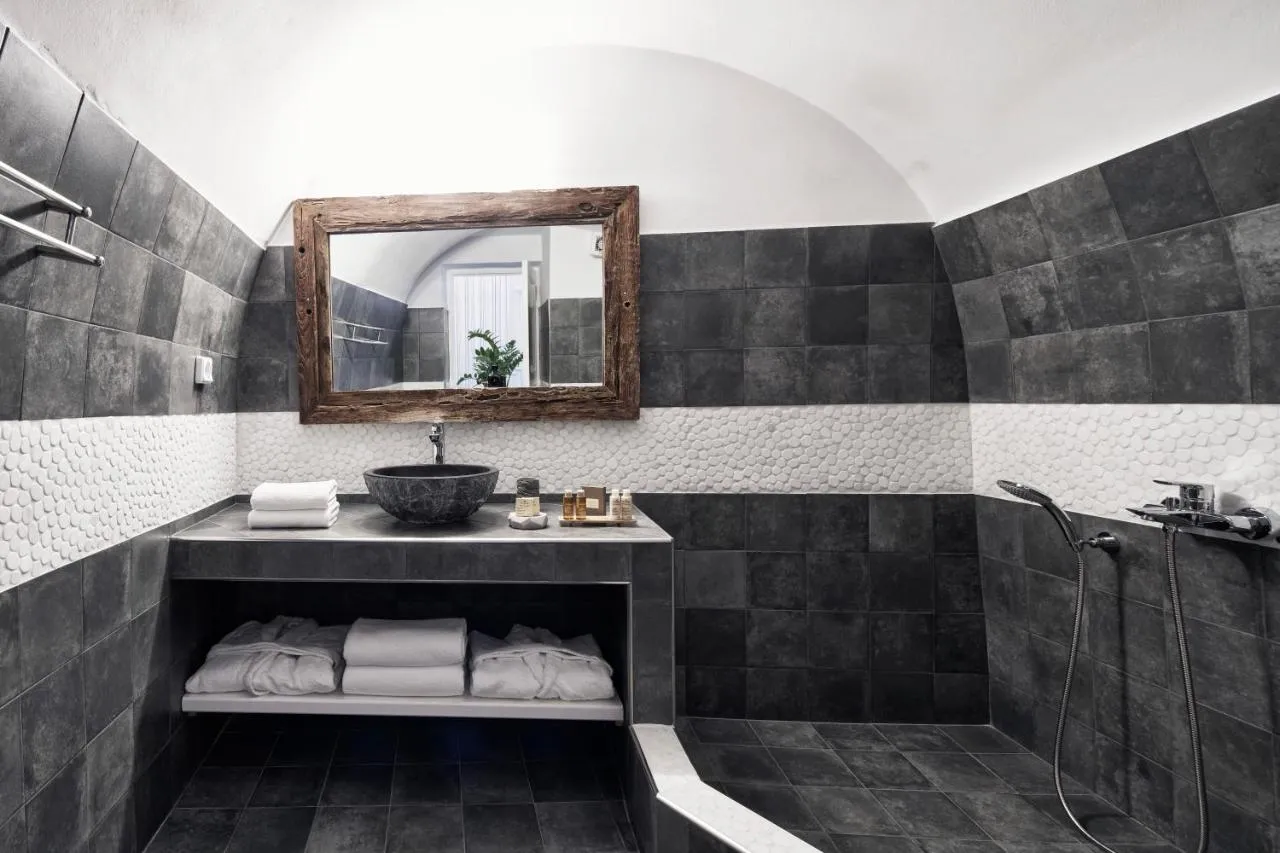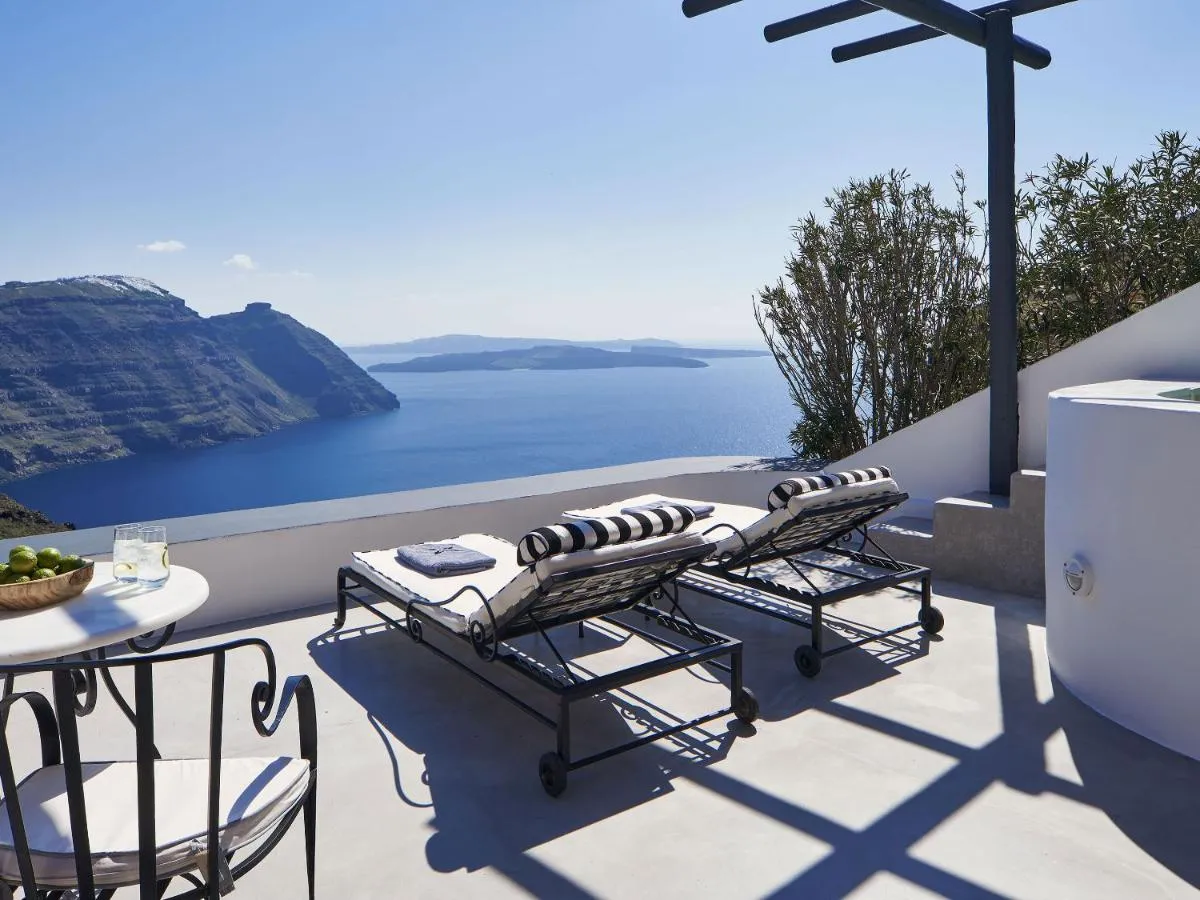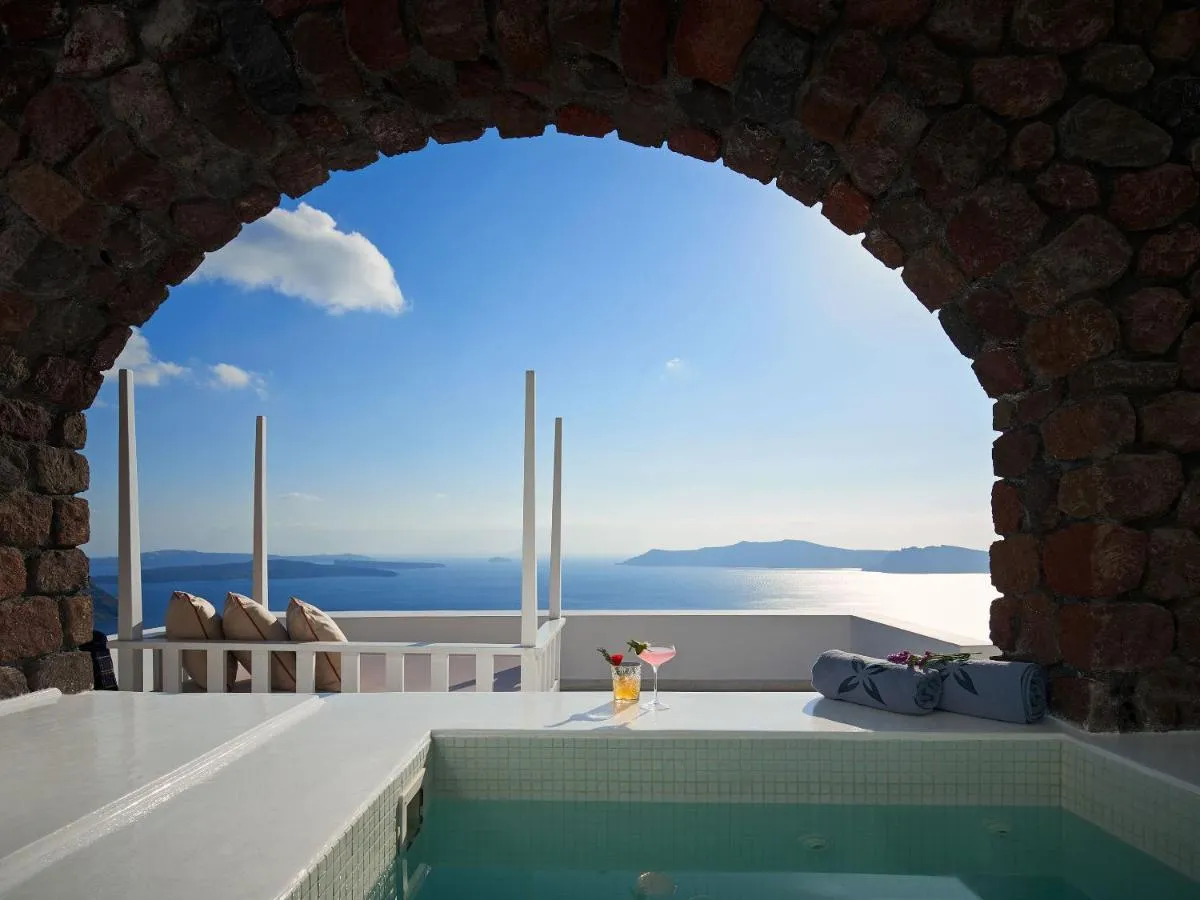 8. Santorini Secret Suites & Spa
Oia, Santorini, Greece
From $550 per night

ETIC Hotels Green Score: 9.2/10
If you seek a Santorini 5 star hotel with private pool, look no further than our private pool suites for securing a holiday made of privacy and Cycladic dreams. Across all our luxury accommodation options, you can instantly immerse yourself into the beauty of one of the world's most unique islands while experiencing the exclusivity and tranquility that Santorini Secret Suites & Spa generously provide. The beautiful suites and villas stay true to traditional Cycladic island architecture, invigorating your senses by incorporating a contemporary twist with splashes of bright colours within the stylish decor.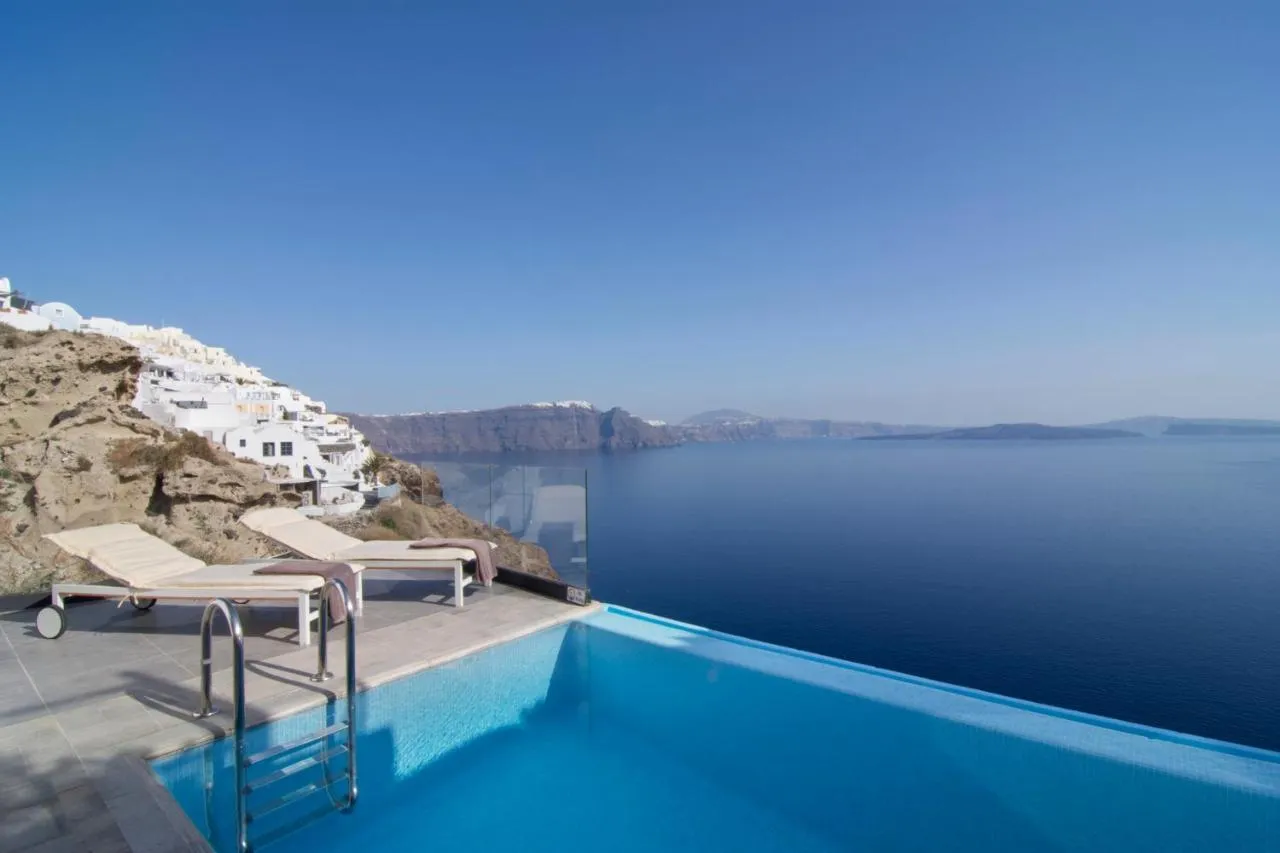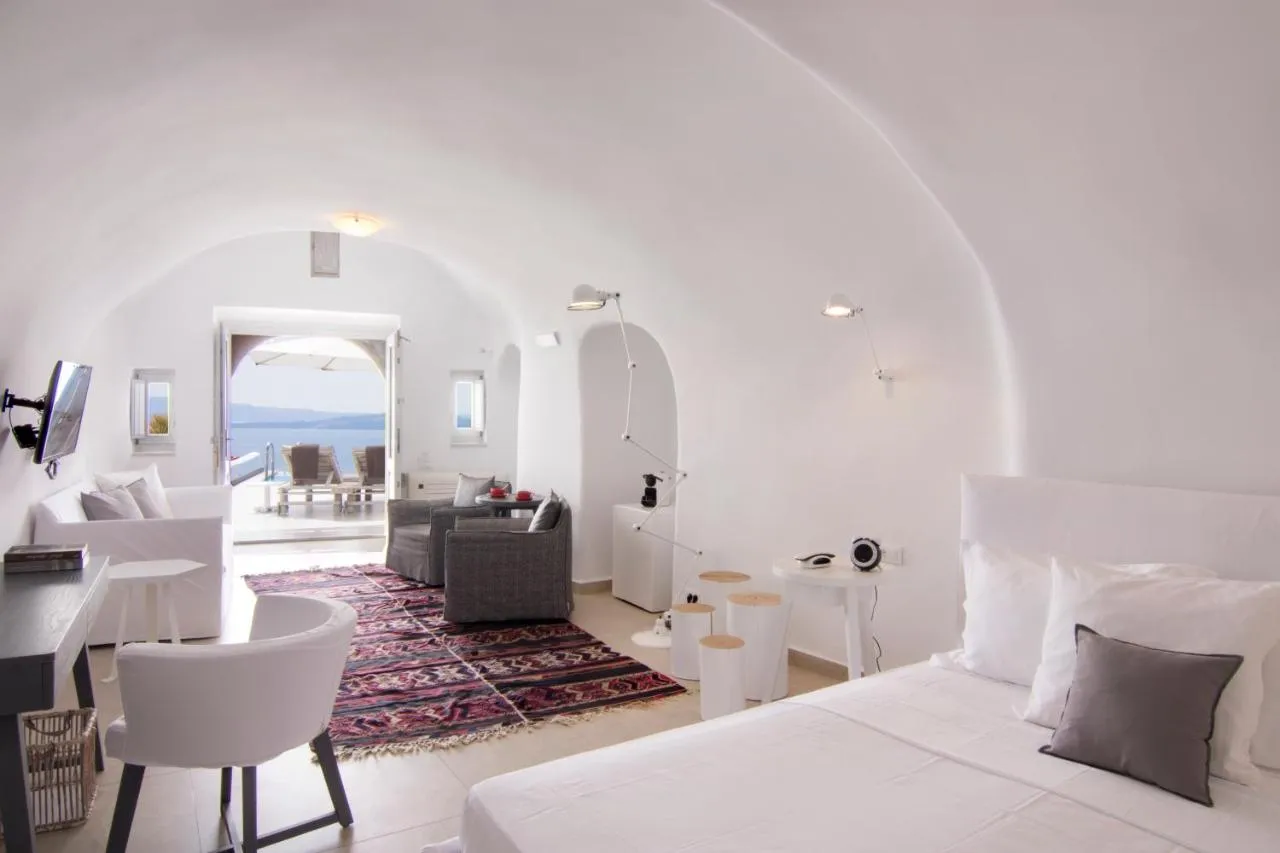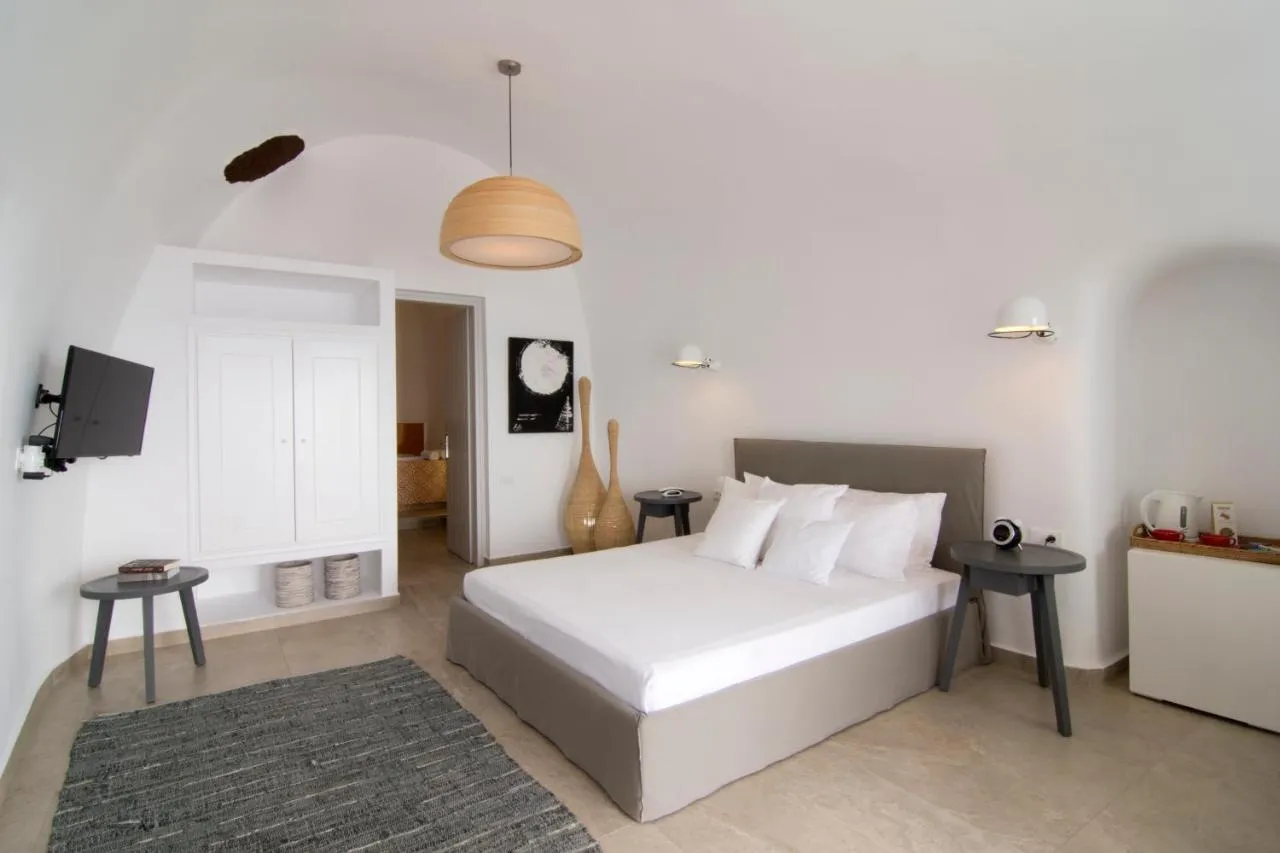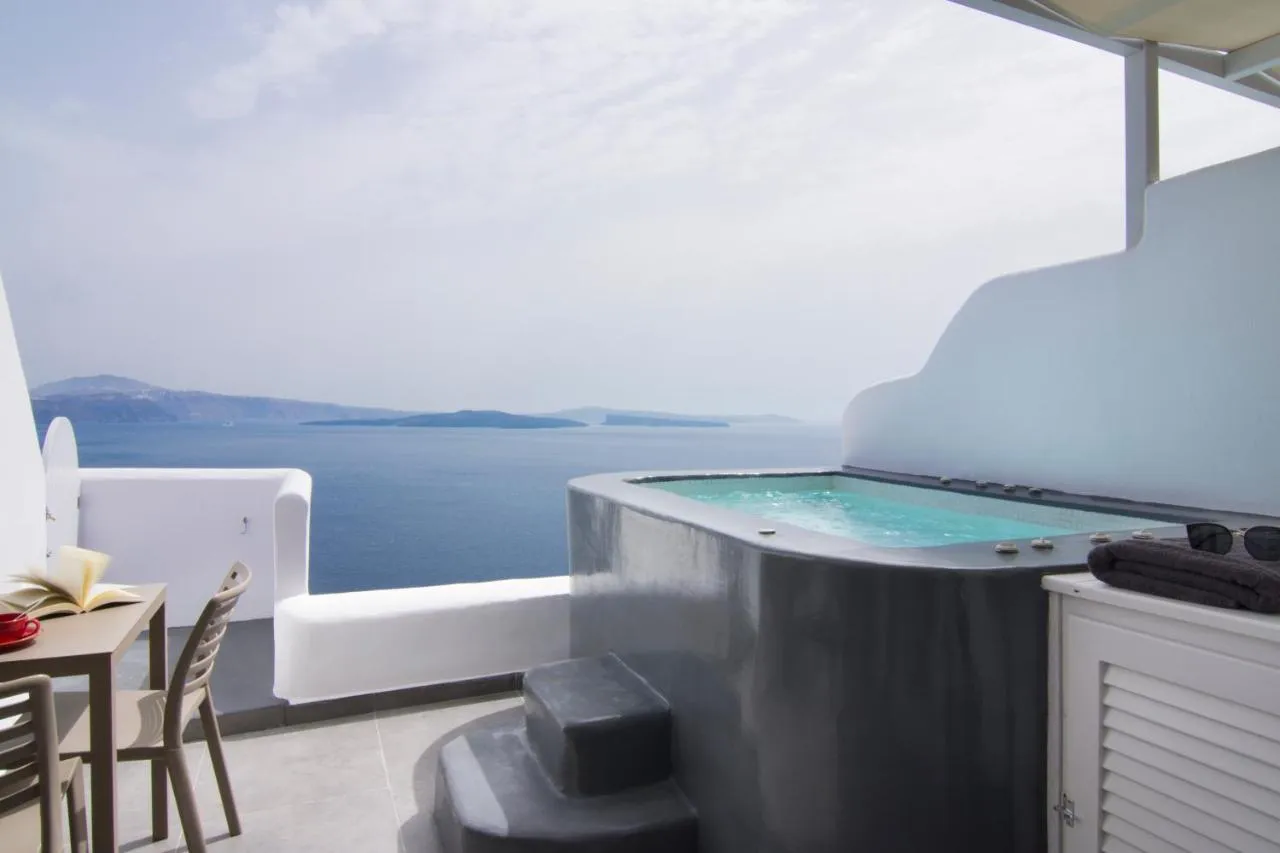 9. Aressana Spa Hotel and Suites
Fira, Santorini, Greece
From $140 per night

ETIC Hotels Green Score: 9.2/10
The Aressana Spa Hotel and Suites in the town of Fira, Santorini, provides guests with fairytale-like vacations from the moment they step through the design hotel's entrance.
Emulating the serenity of Cyclades life coupled with the exciting buzz of Fira, Santorini, guests are welcomed like old friends with heartfelt sincerity.
One of the most genuine Santorinian hotels in Fira where the senses are gently provoked reflecting the inextricable beauty of Fira and Santorini, a strong emphasis is placed on enveloping all who enter in absolute luxury and beauty.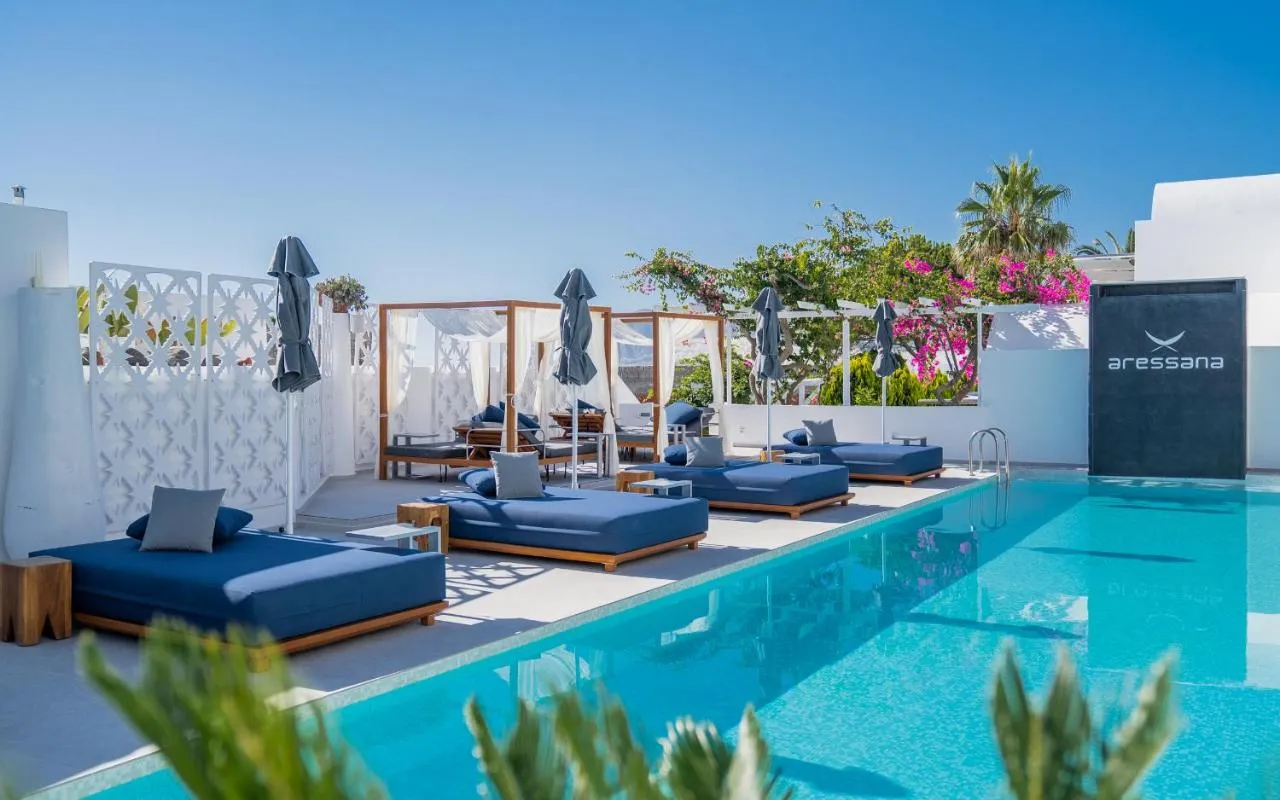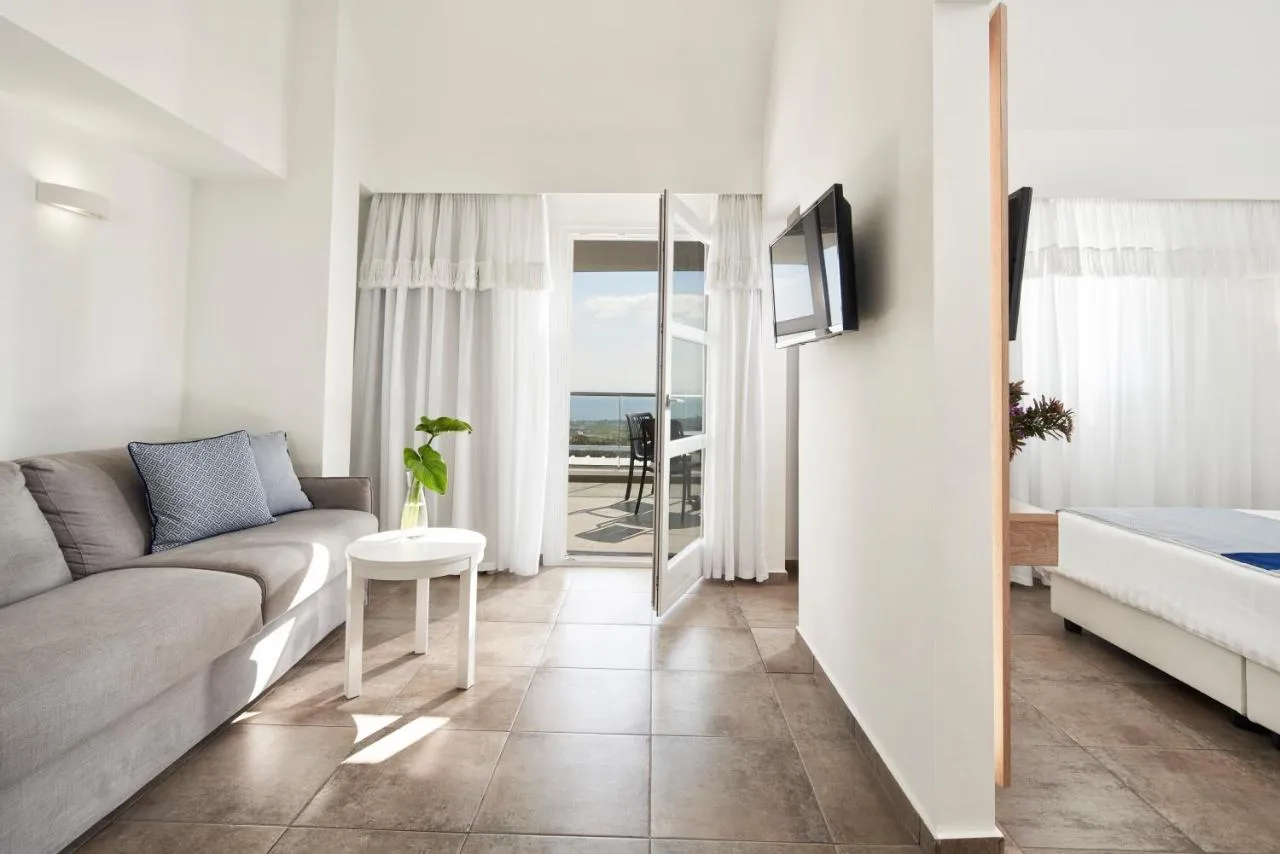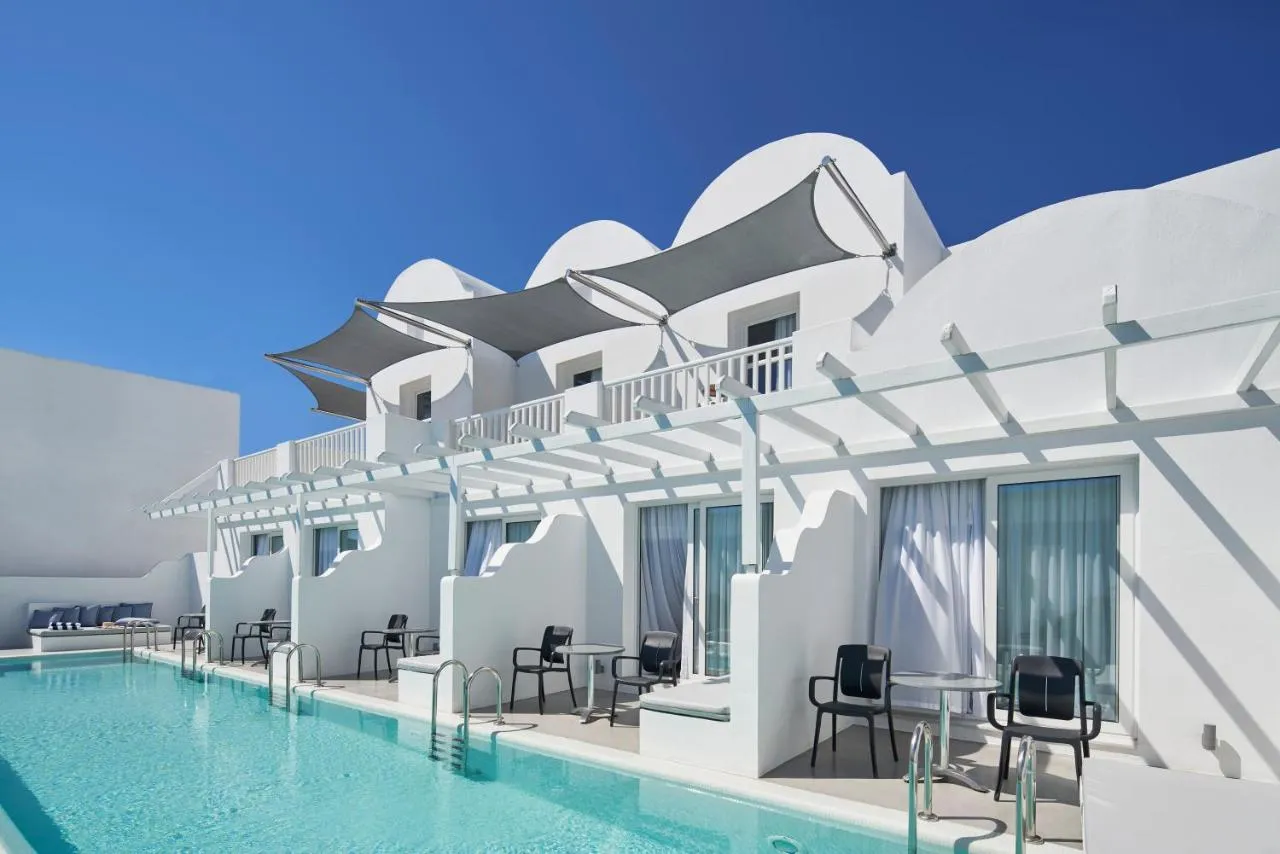 10. Kapari Natural Resort
Imerovigli, Santorini, Greece
From $350 per night

ETIC Hotels Green Score: 9.2/10
With a history of over 300 years, Imerovigli, was one of the most picturesque settlements of Santorini, until about the mid 1950's. Unfortunately, a devastating earthquake in 1956 destroyed that architectural wonder and the Army Core of Engineers was called in to cover the rubble with dirt. It took passion, inspiration and meticulous work from some people, who decided to unearth the destroyed homes and restore them for the old glory of Imerovigli to shine again. Two of these people, Rena and Takis Adamidis shared that passion: 40 years ago, they chose to create their own sanctuary, by restoring one of the few old dwellings that survived the devastation. Fast forward to 2010, where their son Philip Adamidis gave new shape to the family vision, by transforming their estate into a luxury resort: He used the most technologically advanced restoration methods to combat the humidity effect of the earth and completely cancel the "mildew feeling" that is typical of underground structures. With full respect to the aesthetics and the distinctive characteristics of the cycladic architecture he created a modern building. The "green" logic and "smart home" concepts for the buildings together with high level amenities, offer the ultimate comfort of the 21st century.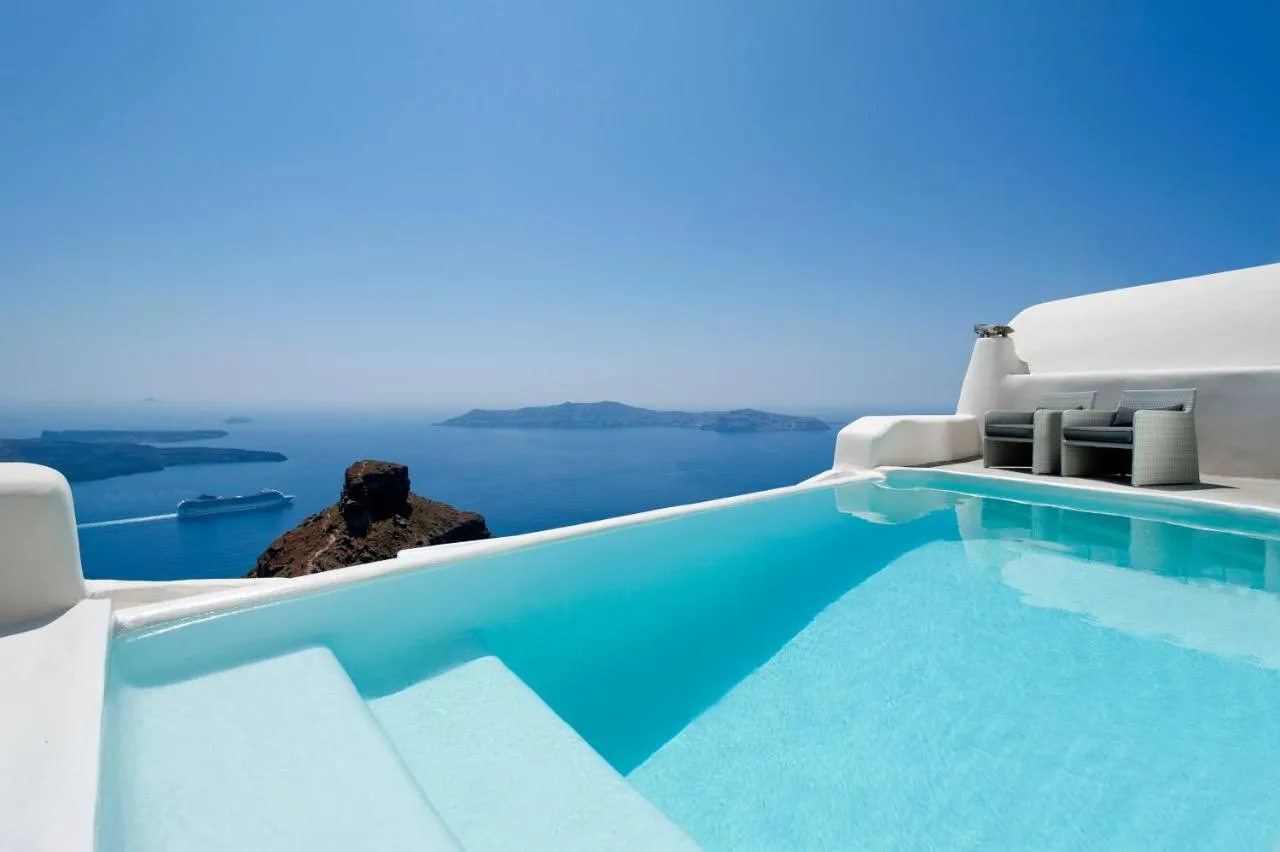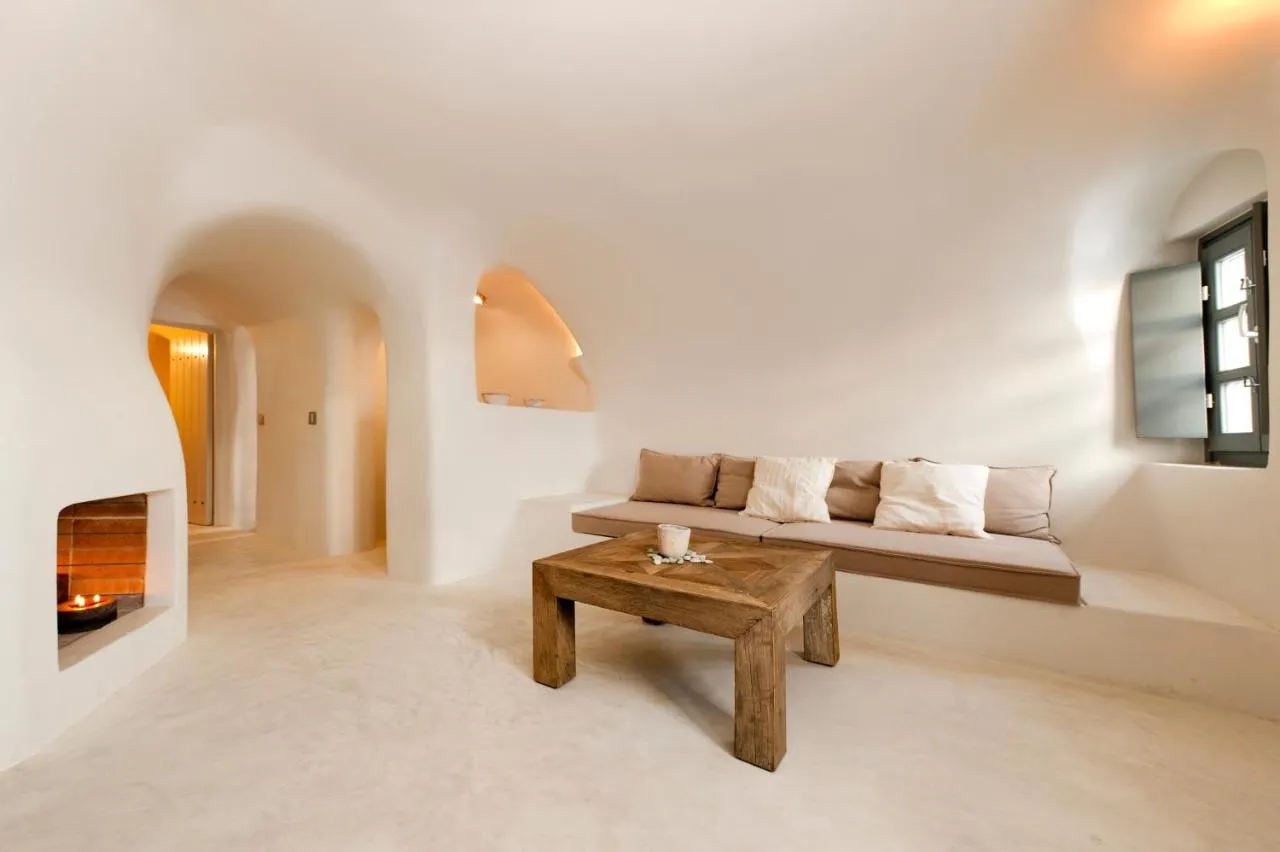 11. Predi Son Jaumell
Oia, Santorini, Greece
From $300 per night

ETIC Hotels Green Score: 9.2/10
Comfort and close attention to detail best define the service provided by the staff in our rural hotel. In our rooms, you'll find a hydro-massage bathtub, rain showers, coffee machines, an audio system that you can connect to your smartphone, soft towels and bathrobes, and an endless array of details that will turn your stay into a dream come true. Each room is a world of its own. Layout, location, gardens and terraces, entrances: renovating and adapting these spaces that have more than 300 years of history has allowed us create rooms that are unique, original and brimming with personality. They will truly impress you.
12. Charisma Suites
Oia, Santorini, Greece
From $200 per night

ETIC Hotels Green Score: 9.2/10
Charisma Suites is an all-suites hotel, located in Oia, on the tranquil Greek island of Santorini. Nested into the cliff, where sun sets into the endless blue of Aegean Sea, this romantic hotel is a portrait of design perfection. In the heart of the serene village of Oia, Charisma Suites is located about 20km away from the airport and port.
Guests can enjoy spectacular caldera views whilst taking a refreshing dip in the hotel's main pool. As evening draws in, guests can admire Santorini's famous sunset in the privacy of their suite's veranda. Where style meets nature, these luxury suites symbolise the typical Cycladic allure. Each suite boasts a private balcony with panoramic views, while some of the suites feature private outdoor Jet Tub or private pools.