The 12 Most Sustainable Hotels in South-East Asia
For an Ethical and Sustainable Stay in South-East Asia
A Sustainability Ranking in partnership with ETIC Hotels
You're planning a trip to South-East Asia and you're trying to be as ethical and sustainable as possible?
niood lists you the 12 most sustainable hotels in South-East Asia:
1. Alila Villas Uluwatu
Bali, Indonesia
From $700 per night

ETIC Hotels Green Score: 9.5/10
What makes Alila Villas Uluwatu sustainable?
We are proud that Alila Villas Uluwatu has embraced environmentally sustainable design (ESD) principles and is the first resort in Indonesia to receive the highest level of certification from EarthCheck as a Best Practice Building Planning and Design (BPDS) development. We utilise many ESD measures, including use of local materials, water conservation with soaks and rain gardens and a waste water management system, using local plants from the special Bali savannah ecosystem, the deliberate use of sustainable/recycled materials, protection of the natural environment, and measured work practices throughout construction.
2. Mango Bay Resort, Ong Lang Beach
Phú Quoc, Vietnam
From $80 per night

ETIC Hotels Green Score: 9.5/10
What makes Mango Bay Resort sustainable?
At Mango Bay we have a long term view as a sustainable resort, seeing ourselves as custodians of the tropical idyll we have found on Phu Quoc.
Natural air circulation and fans – no air conditioning
No TV on property or telephone in bungalows
Use of natural light during the day
Minimum use of fuel powered vehicles, machines and equipment
Hot water heated through solar power
Energy efficient appliances
Low wattage light bulbs
Pump and treat fresh water from shallow wells
Low water use toilets
Use table mats that can be wiped and not laundered
Grey water is naturally filtered through a reed bed system with the resulting treated water used to irrigate the gardens and tree nurseries.
Buy fresh and local daily to reduce packaging and emissions from transportation
Purchase in bulk to reduce packaging
Recycle paper and glass
Compost organic matter and use for animals
Limit paper based marketing and other administration to a minimum
Use septic tanks for waste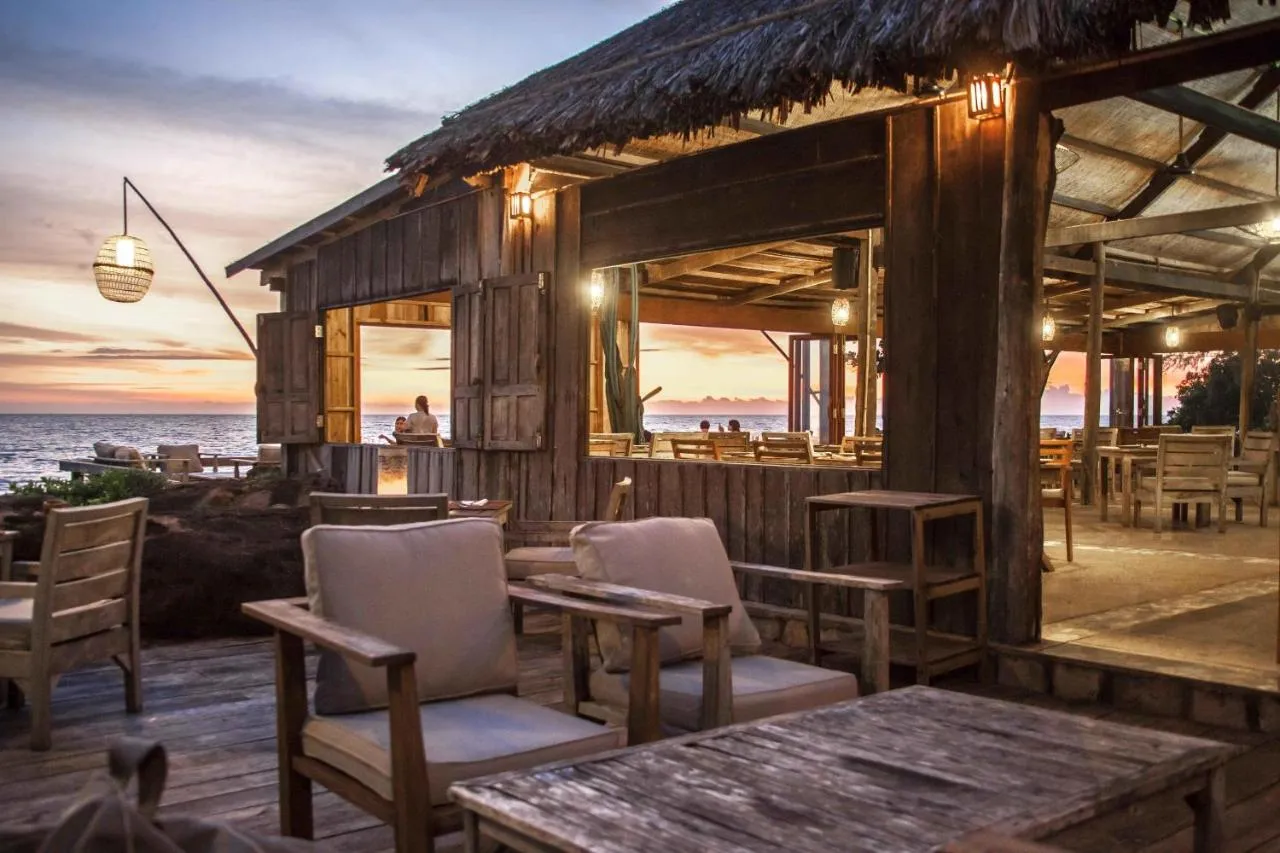 3. Eden Eco Village
Kampot, Cambodia
From $60 per night

ETIC Hotels Green Score: 9.5/10
What makes Eden Eco Village Kampot sustainable?
Bicycle rental
Bicycle parking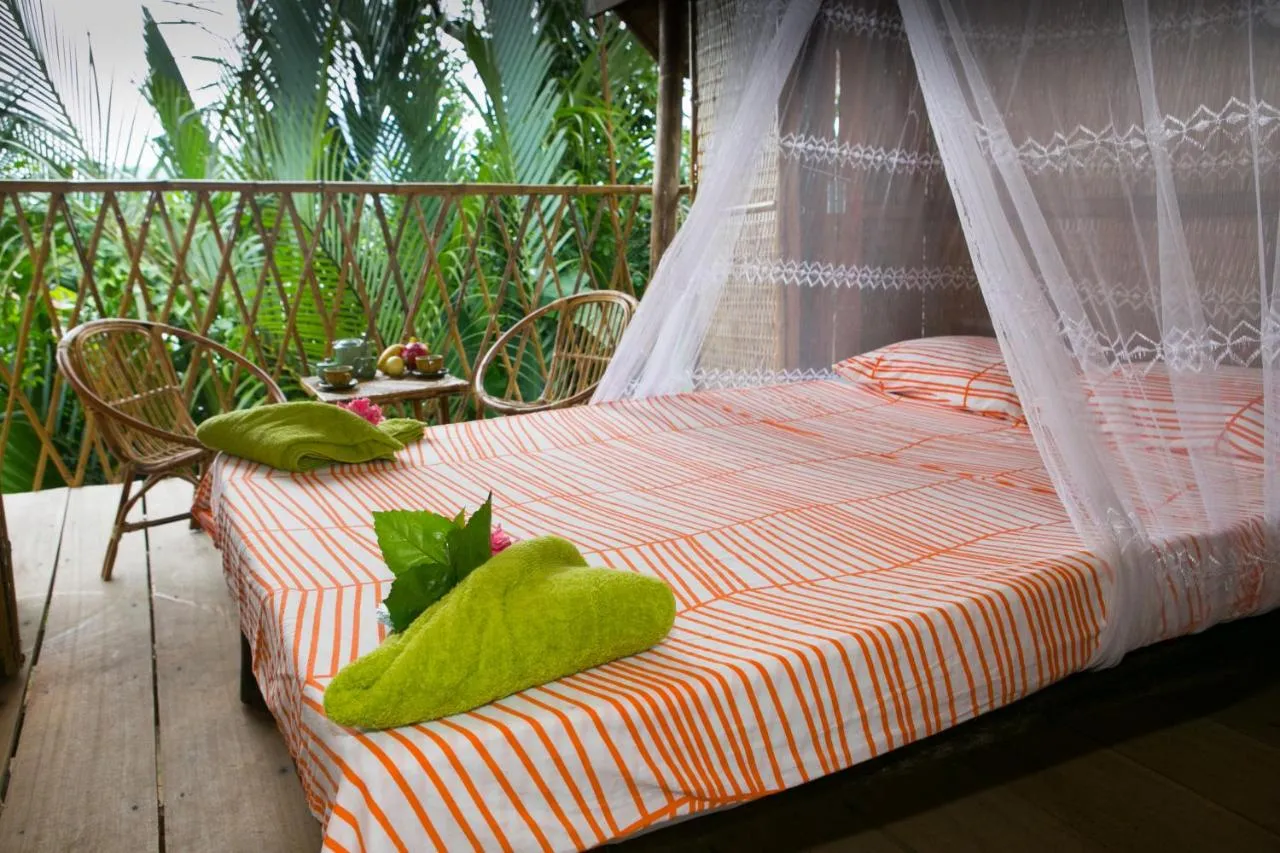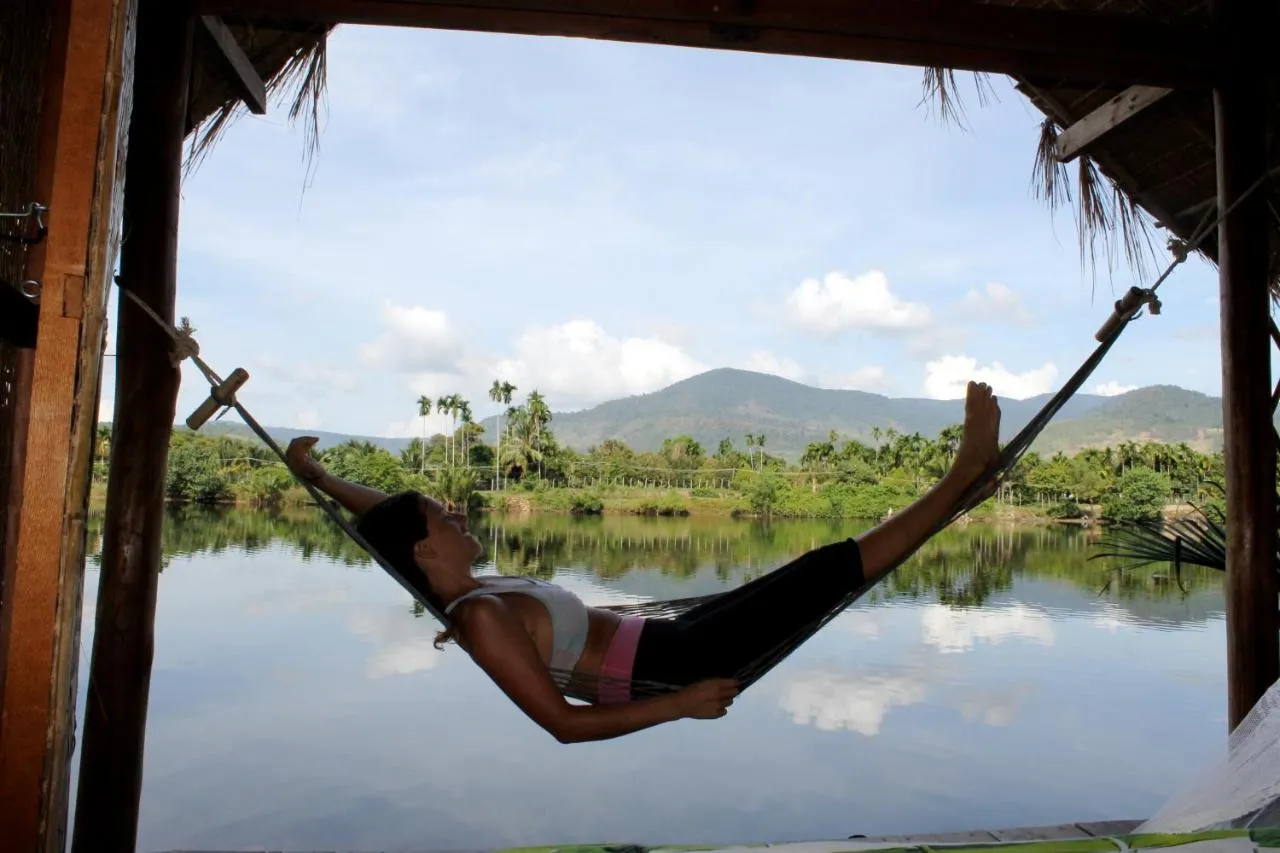 4. Bawah Island
Kepulauan Riau, Indonesia
From $2,000 per night

ETIC Hotels Green Score: 9.5/10
What makes Bawah Island Kepulauan Riau sustainable?
The design of Bawah was based on a 'minimal impact' approach – only clearing what was needed along the shore of the main island, undertaking works without machinery and using bamboo and other locally sourced natural building materials such as stone that was quarried on the island for making into stairs, paths and foundations. All mirrors, sinks and bathtubs were made on the island using copper recycled from elsewhere in Indonesia. The iconic jetty was constructed over the coral reef that divides the two lagoons. To achieve this without damaging the coral, a team of specialist divers were employed to guide construction. The jetty is not precisely symmetrical, to avoid damaging areas of coral. Moorings were put in place in the lagoon to enable boat users to anchor without damaging the reef.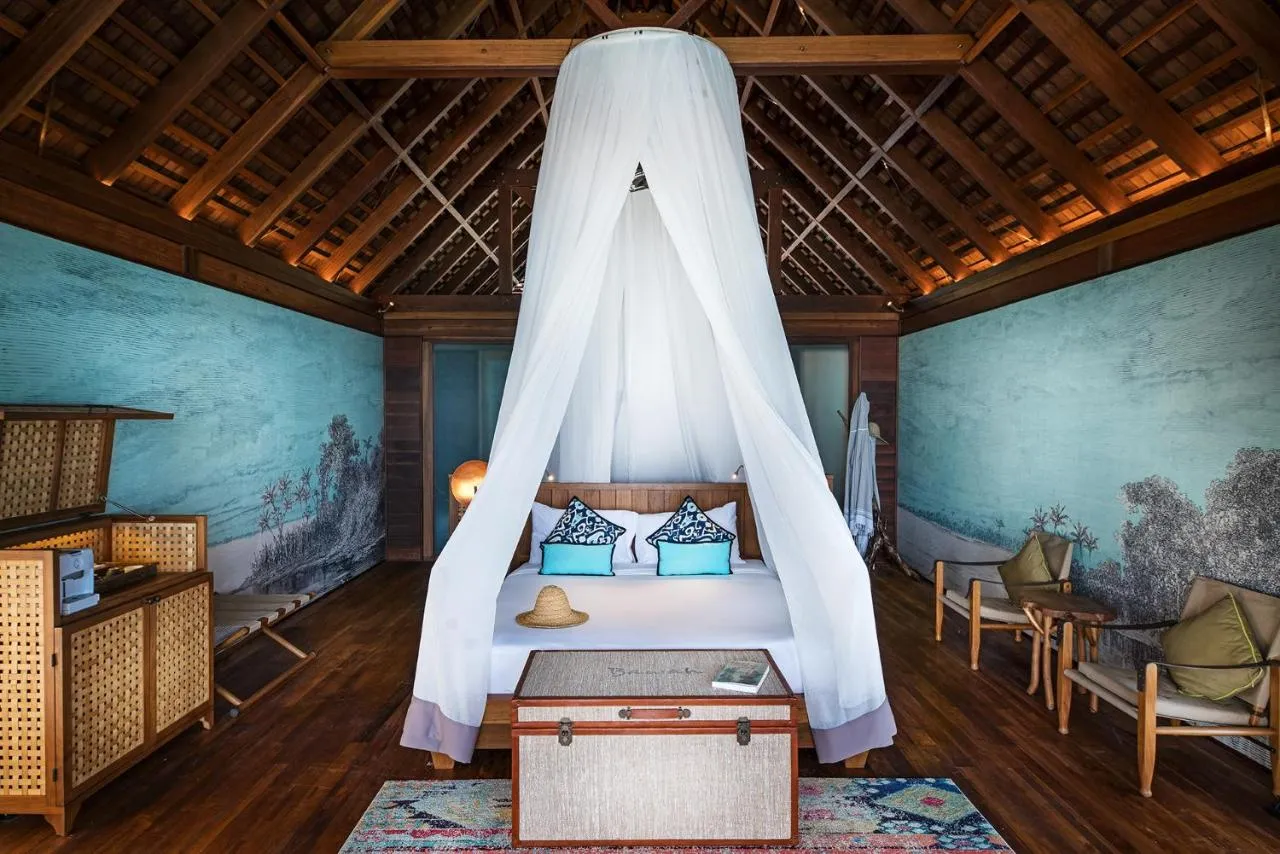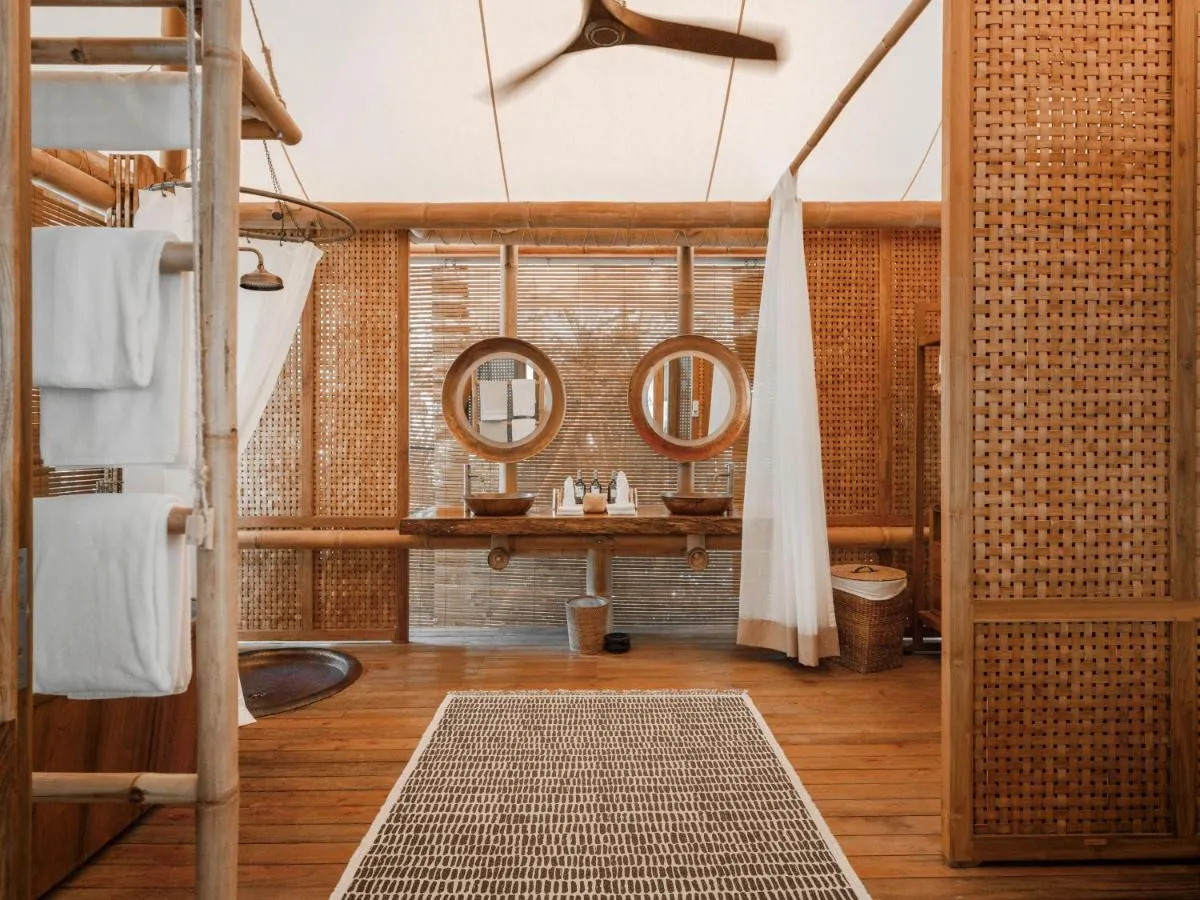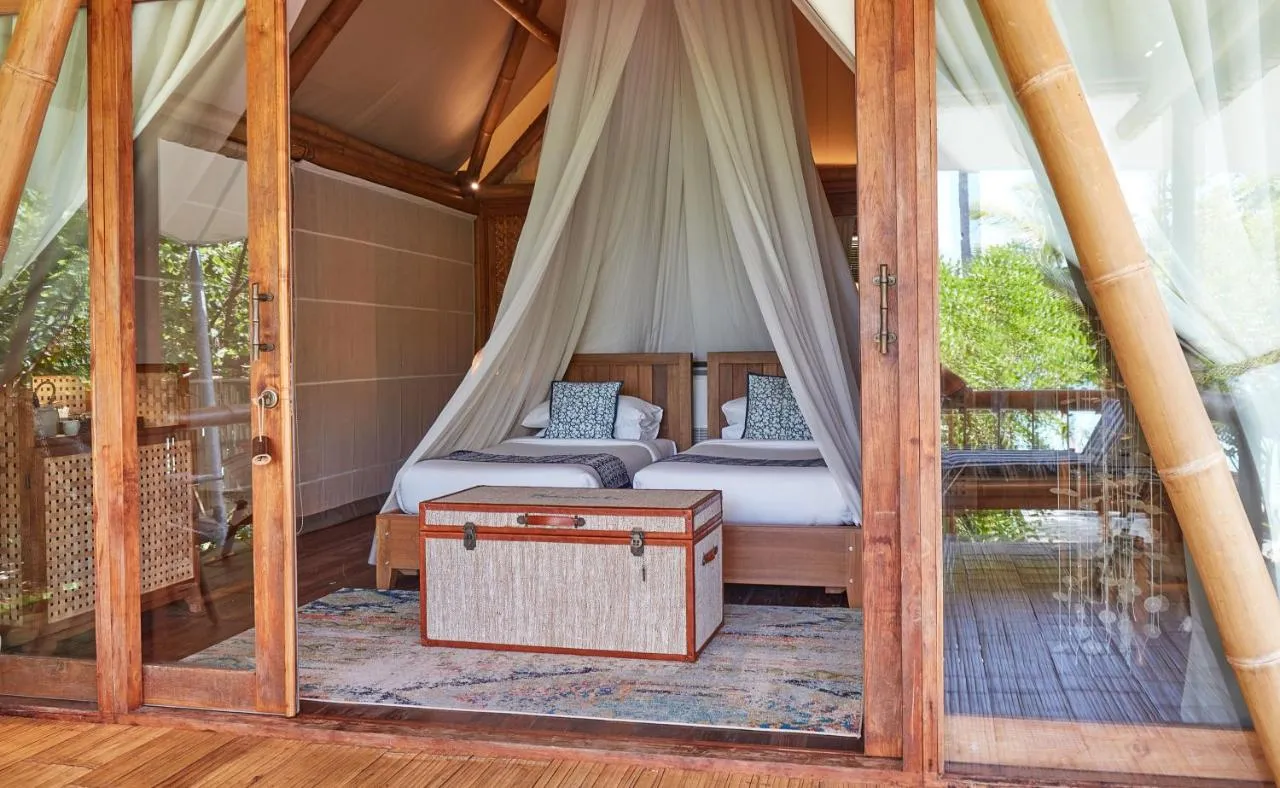 5. The Frangipani Langkawi Resort and Spa
Langkawi, Malaysia
From $60 per night

ETIC Hotels Green Score: 9.5/10
What makes The Frangipani Langkawi Resort sustainable?
As a resort, we understand inevitability of leaving behind significant carbon footprints on the island's natural eco-system. However, as conservation remains our number one priority, we strive to minimize our overall impact on the environment.
We do this by putting in place a good number of green policies and practices. Today, we had developed approximately 300 ways to reduce our carbon footprint.
As you know, one of the primary cause of oceanic pollution is the fact that most beach-side resorts lack proper waste water treatment facilities. As such, this effects the health and longevity of the surrounding marine ecosystem including both flora and fauna.
At the Frangipani Langkawi Resort & Spa, we pride ourselves on our zero waste-water system. A 100% all-natural filtration system which utilizes aquatic plants to treat waste water, turning into Grade-A drinking water which we then use to keep our plants hydrated and healthy.
Guests at the Frangipani Langkawi Resort & Spa will be able learn more about our one of a kind filtration system, and perhaps gain hands on experience with our daily complimentary Eco-Walk. Be sure to book your tour at the reception.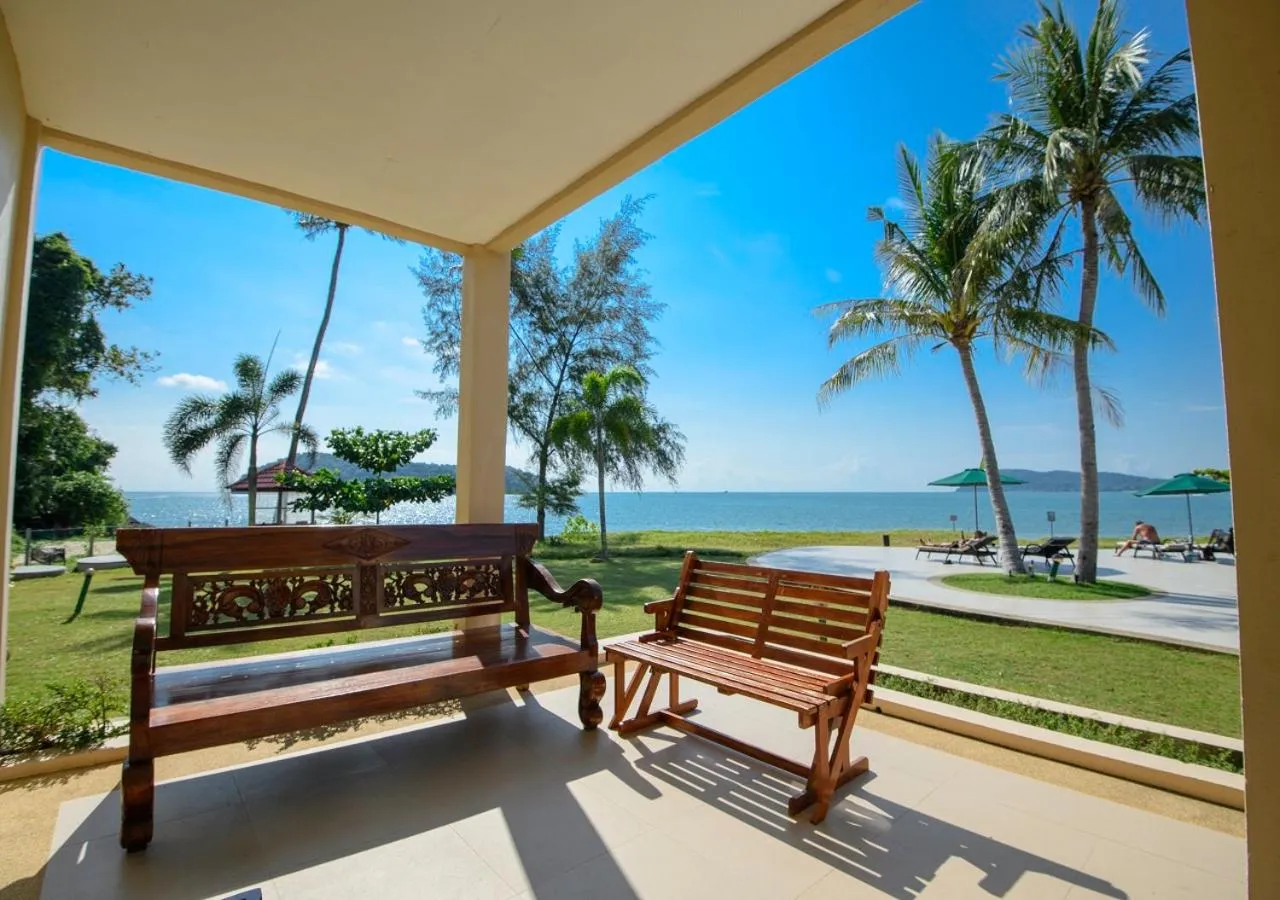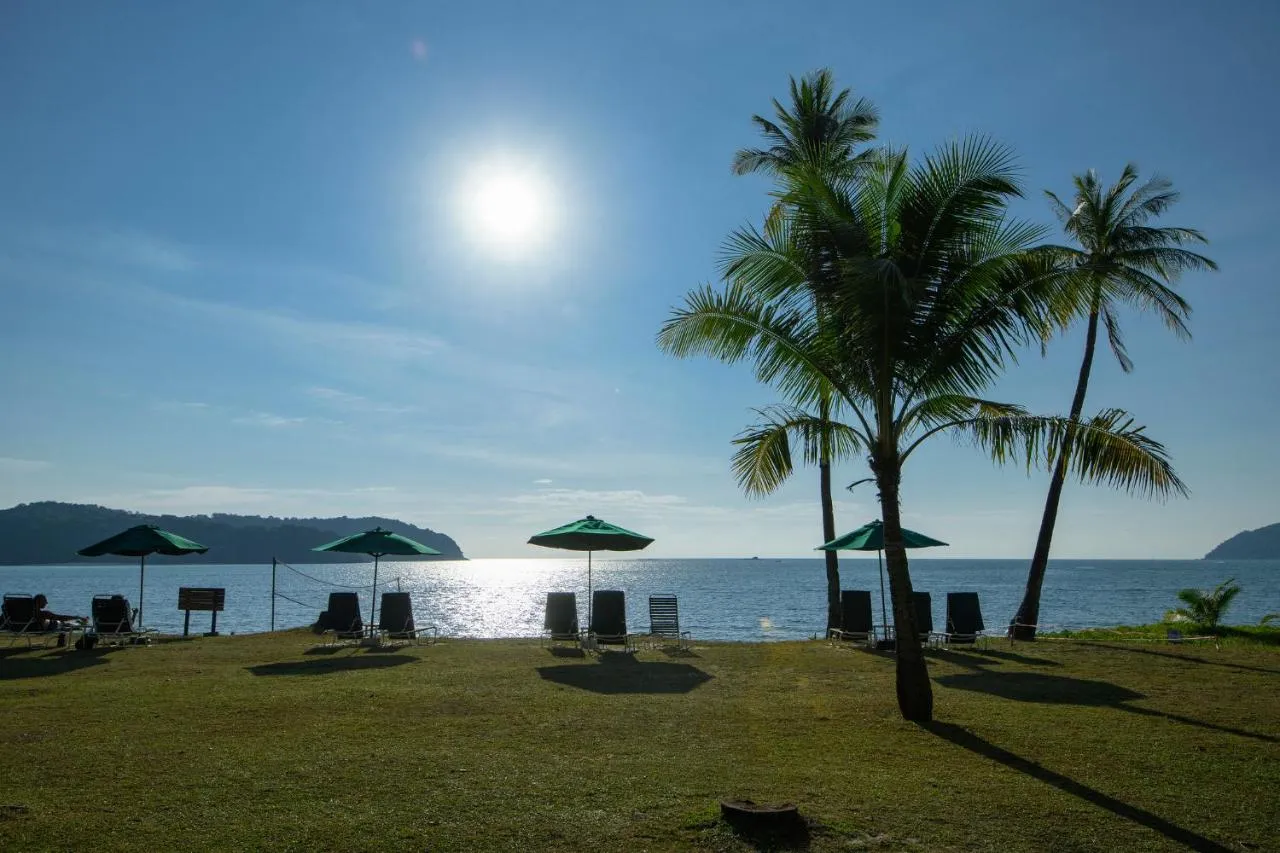 6. Oasia Downtown
Singapore
From $140 per night

ETIC Hotels Green Score: 9.5/10
What makes Oasia Downtown sustainable?
Planters are connected by an automatic irrigation system to minimize wastage and ensure timed watering twice a day. The massive vertical garden reintroduces biodiversity into the city and effectively compensates for the lack of green in surrounding buildings—indicative of the architects' belief that even buildings in high-density areas can amplify living greenery within urban space. The plants and aluminum act as a sun break, absorbing heat and providing self-shading to combat the greenhouse effect in rooms.
The building has a structural core in each corner, making room for the open gardens and sky terraces that allow natural cross-ventilation and lighting to increase efficiency in the hotel's 314 rooms and 100 office units. The hotel's enclosed spaces are cooled by a highly efficient variable chilled water system with variable speed driven chilled water and condenser water pumps. An advanced building management and control system are provided for measurement, control, and verification of chilled water systems operation.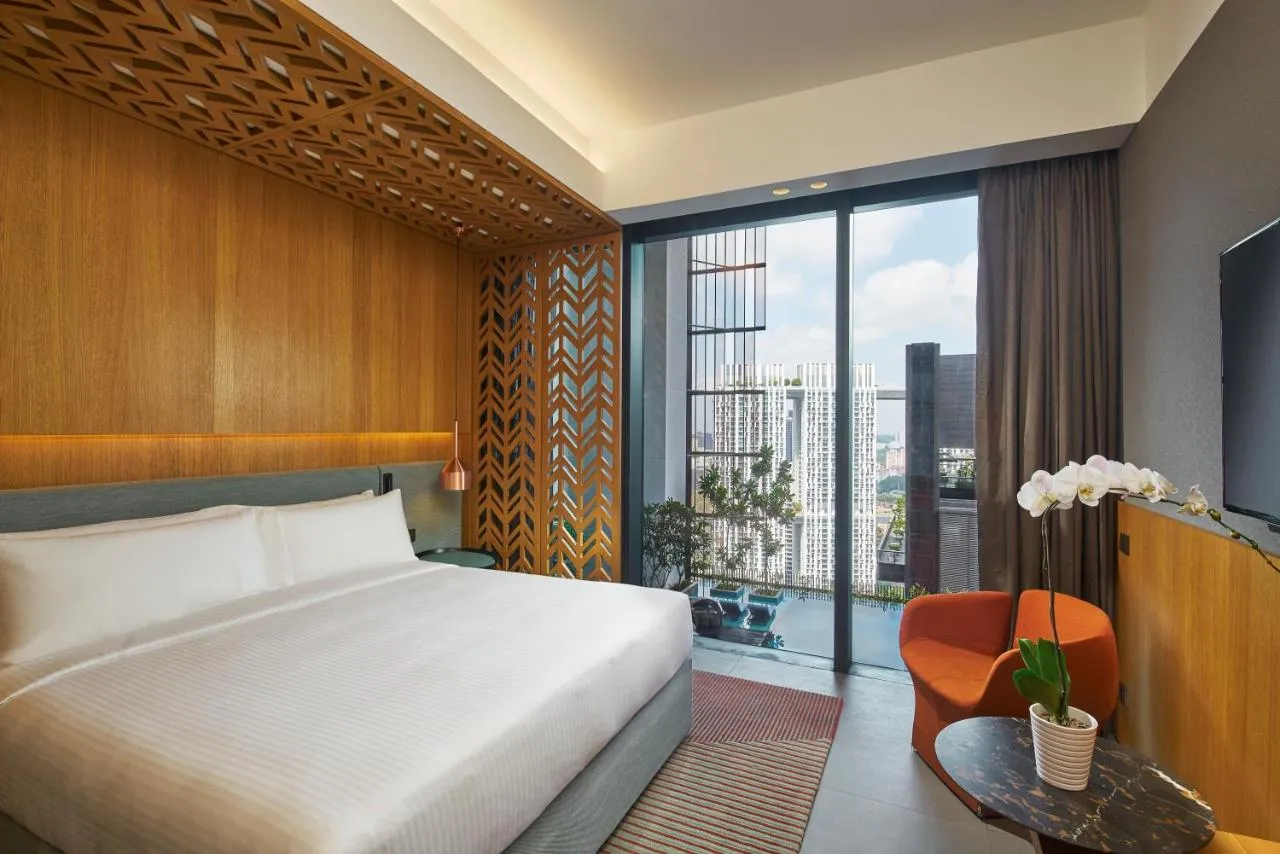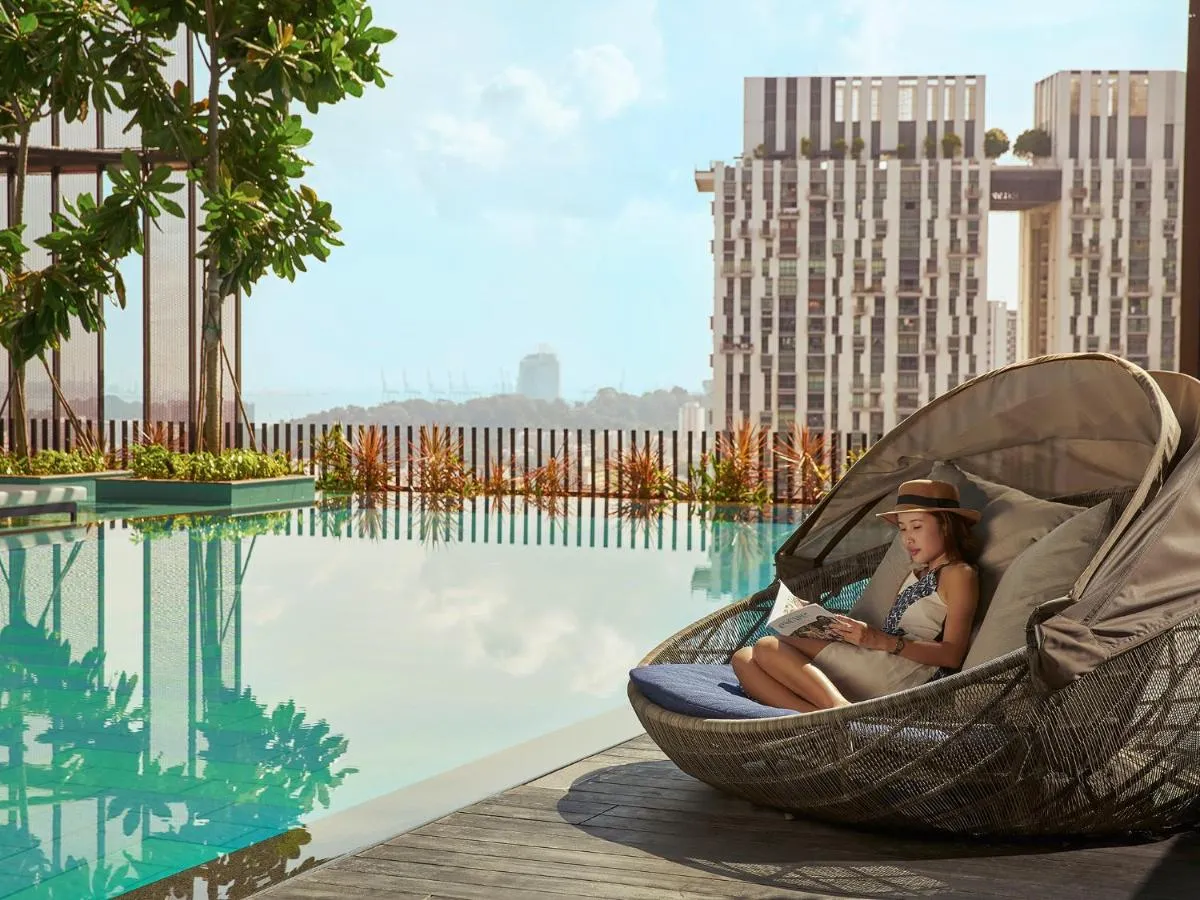 7. Song Saa Private Island
Cambodia
From $930 per night

ETIC Hotels Green Score: 9.5/10
What makes Song Saa Private Island sustainable?
In line with its promise of being an eco-friendly resort, Song Saa Private Island staff embark on plastic recovery and beach cleaning expeditions twice a day, with guests more than welcome to participate if they so desire. An alternative cathartic ecotourism activity is afforded to guests who partake in kayaking or sailing, with Song Saa staff offering guests reclamation bags crafted from recycled fishing lines, aimed at collecting stray debris encountered in the water, which will then be recycled by the Song Saa team. Staying true to its sustainable tourism development ethos, Song Saa Private Island has been a strong proponent of the Refill Not Landfill cause, with merchandise and water bottles available in the eco-friendly resort island.
Through the Song Saa Foundation, the eco-destination strives towards the protection of ocean habitats and marine life throughout the Cambodian coastline. Song Saa's marine life commitment is of particular focus, considering the lavish resort is surrounded by Cambodia's first marine park. Ongoing projects range from the support of community fisheries, development of a coral nursery, and a tropical marine conservation programme. These causes champion the conservation of sea turtles, mangroves, and Cambodia's rare seagrass meadows.
8. Cempedak Island
Indonesia
From $300 per night

ETIC Hotels Green Score: 9.5/10
What makes Cempedak Island sustainable?
What we can't grow on our farm, we will source as much as possible from local markets and small traders. This means Cempedak is able to obtain the freshest ingredients which whilst they might not be certified as organic it is known to have been organically farmed. We employ a full-time Sustainability Manager to help implement our policies.
An important aspect to Cempedak's approach to responsible tourism has been to ensure that we not only help protect the environment but where possible help to restore it. An important task in protecting the environment is to educate both Cempedak's guests and the local population.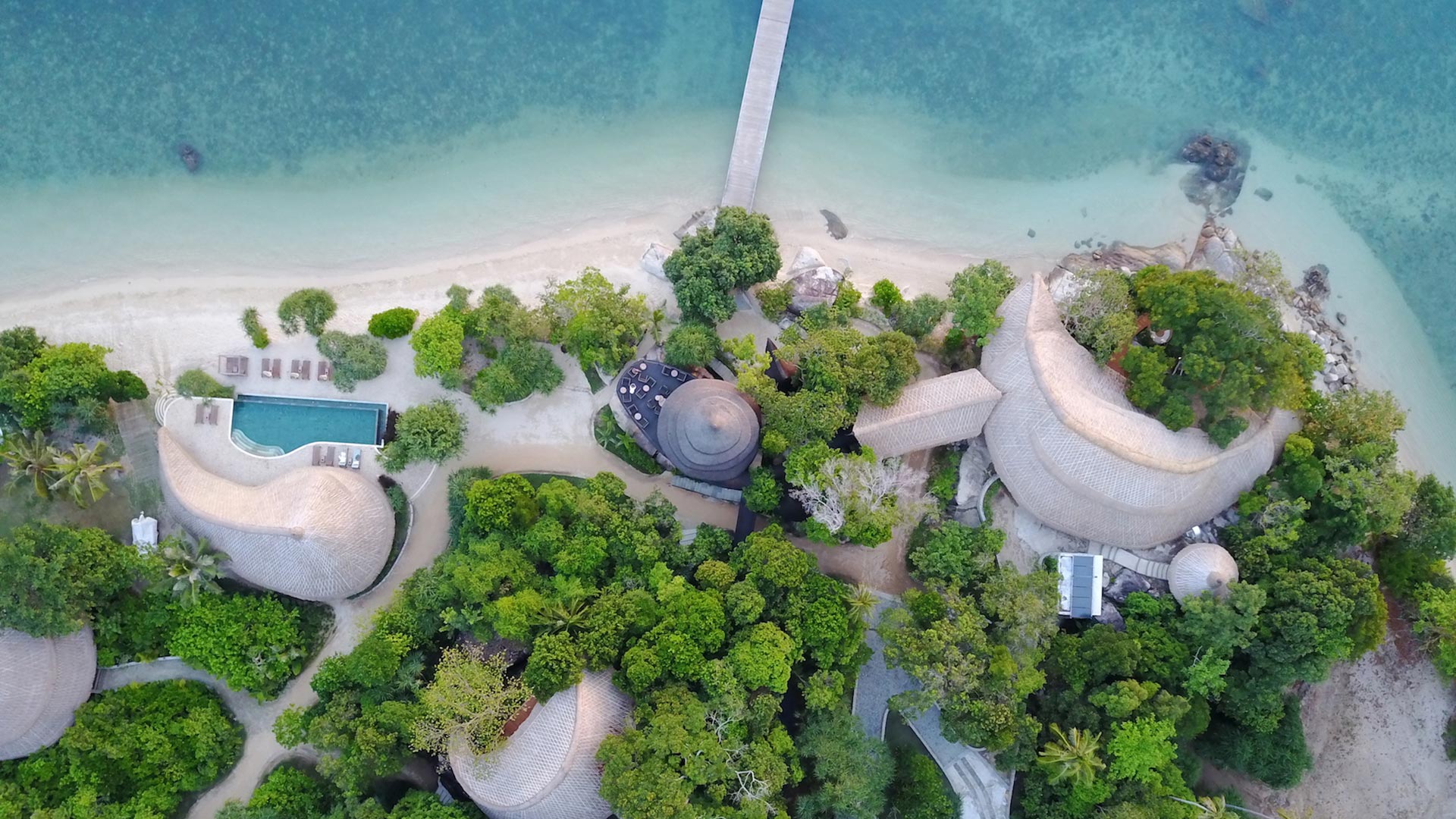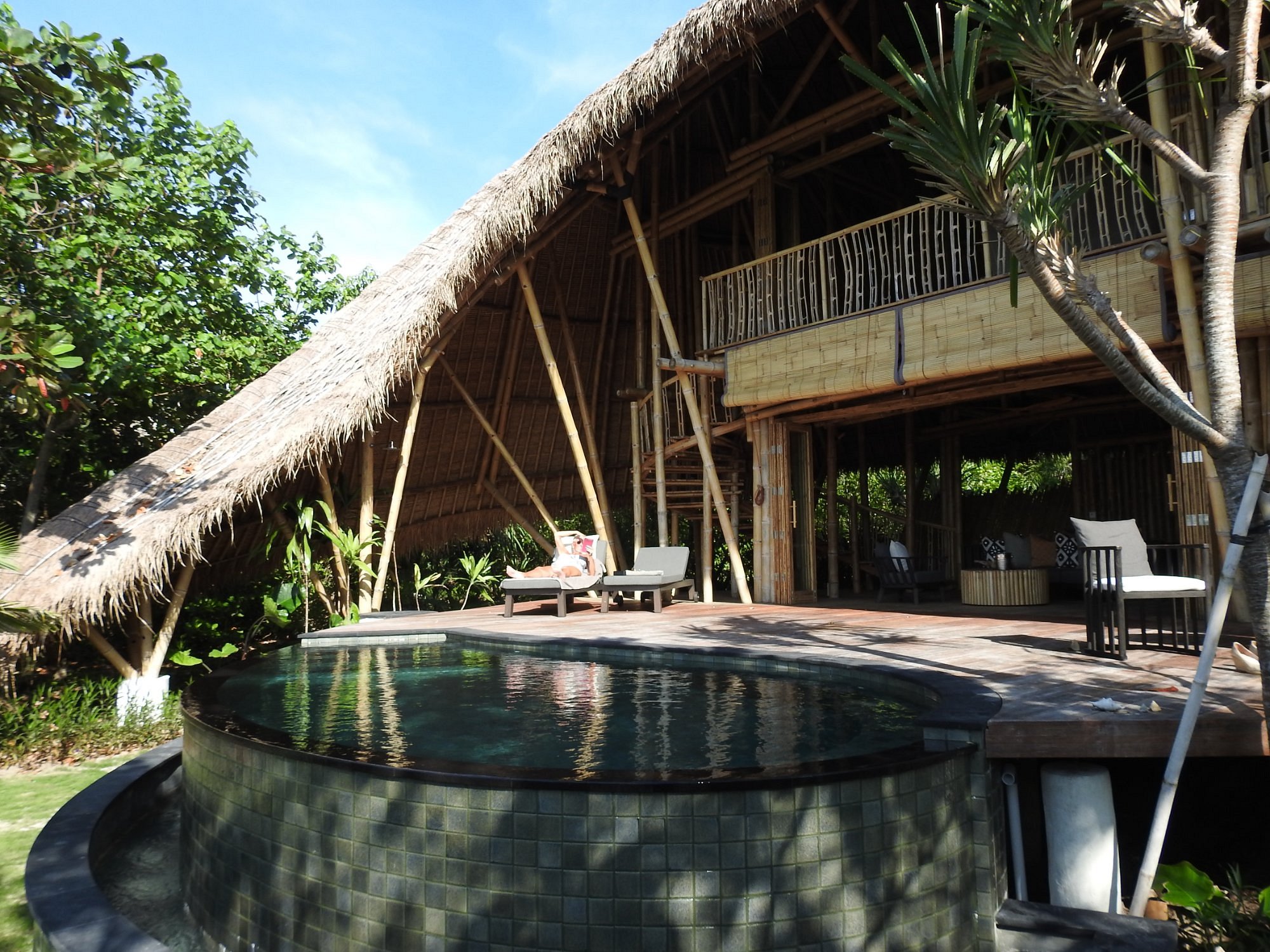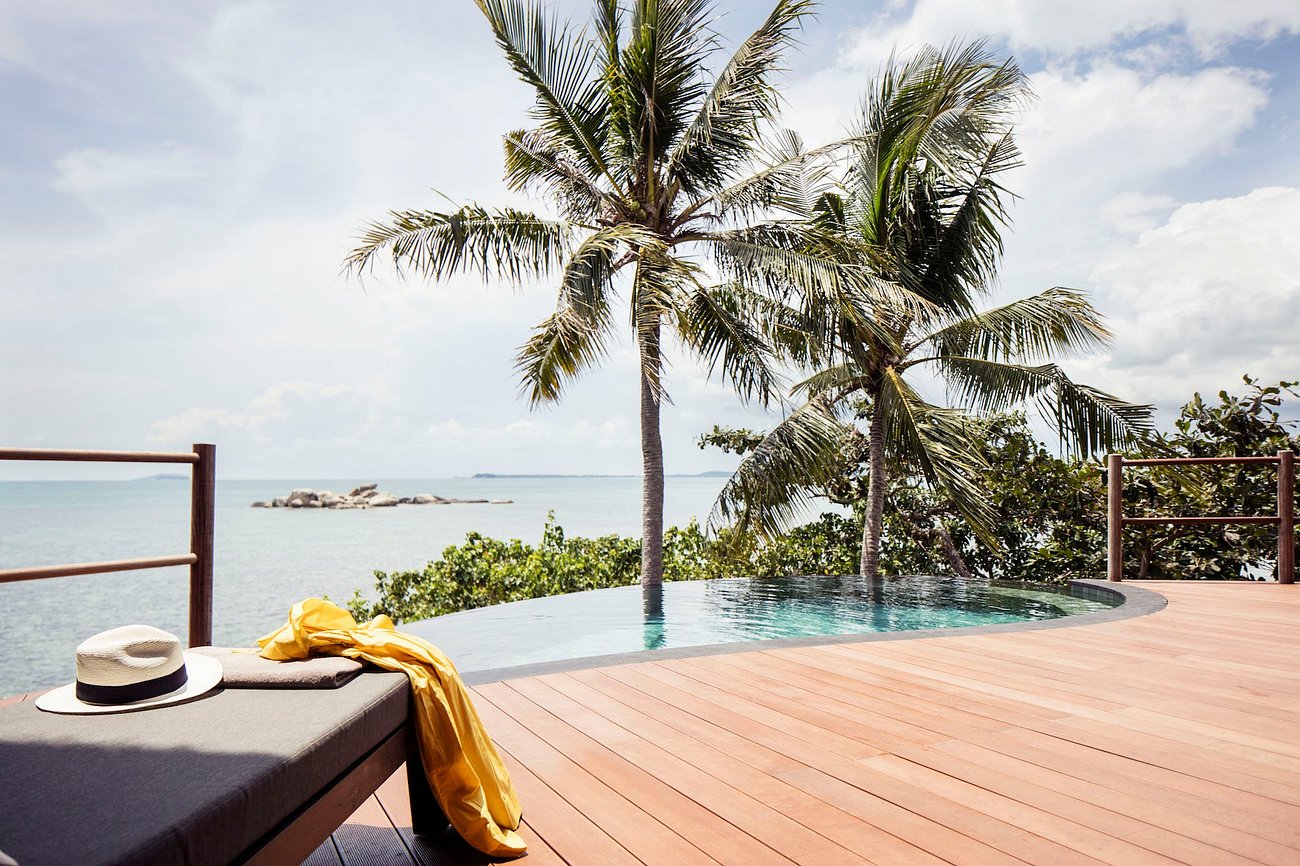 9. Keemala Phuket
Phuket, Kamala Beach, Thailand
From $1,200 per night

ETIC Hotels Green Score: 9.5/10
What makes Keemala Phuket sustainable?
A large part of our overall brand and design concept is respect for the environment and to cultivate practices that have less impact for our planet overall. Wherever possible and continually we are seeking to use techniques to lessen our carbon footprint through the following best practices:
Every villa has its own water treatment system. The quality of the treated water that is released back to the environment is in line or even exceeds the government standard.
To ensure the quality of the treated water, it is analyzed in a laboratory monthly.
The efficiency of water heating system is carefully selected to reduce electrical energy loss.
Methane that is released from the waste management system is directed into the ground to reduce 'greenhouse effect' that the gas would have released into the air.
Waste and rubbish is classified and treated efficiently including recycling and other methods.
Water circulation of the natural water stream, pond and other water resources is implemented to increase level of oxygen.
Greywater is reused to water the gardens and landscape.
We've reduced usage of natural materials, for example wood, by using environmental friendly synthetic material instead to help prevent further deforestation and other environmental impact including release of CO2 as a result of materials transportation.
In an effort to reduce plastic waste, only glass-bottled water is provided in the villas, paper straws are used instead of plastic straws, and as much as possible packaging for toiletries are made of cloth materials and recycled paper.
The design has been carefully considered to protect existing ecosystem. Contours, soil, trees and natural water resources are kept either in their original form or have been utilised with minimal change.
10. Nihi Sumba
Indonesia
From $1,500 per night

ETIC Hotels Green Score: 9.5/10
What makes Nihi Sumba sustainable?
The Maringi Eco Resort is one of a kind, blending comfort and high-quality service with community education and environmental awareness. With a unique bamboo infrastructure and innovative design, the entire Eco Resort is solar powered and has a zero-waste policy. Its restaurant offers a mix of local and international dishes composed of fresh, organic ingredients sourced directly from the resort's permaculture garden. As a guest, you will be an important part of the Sumbanese students' progress as they receive concrete experience in an effort to achieve their dreams.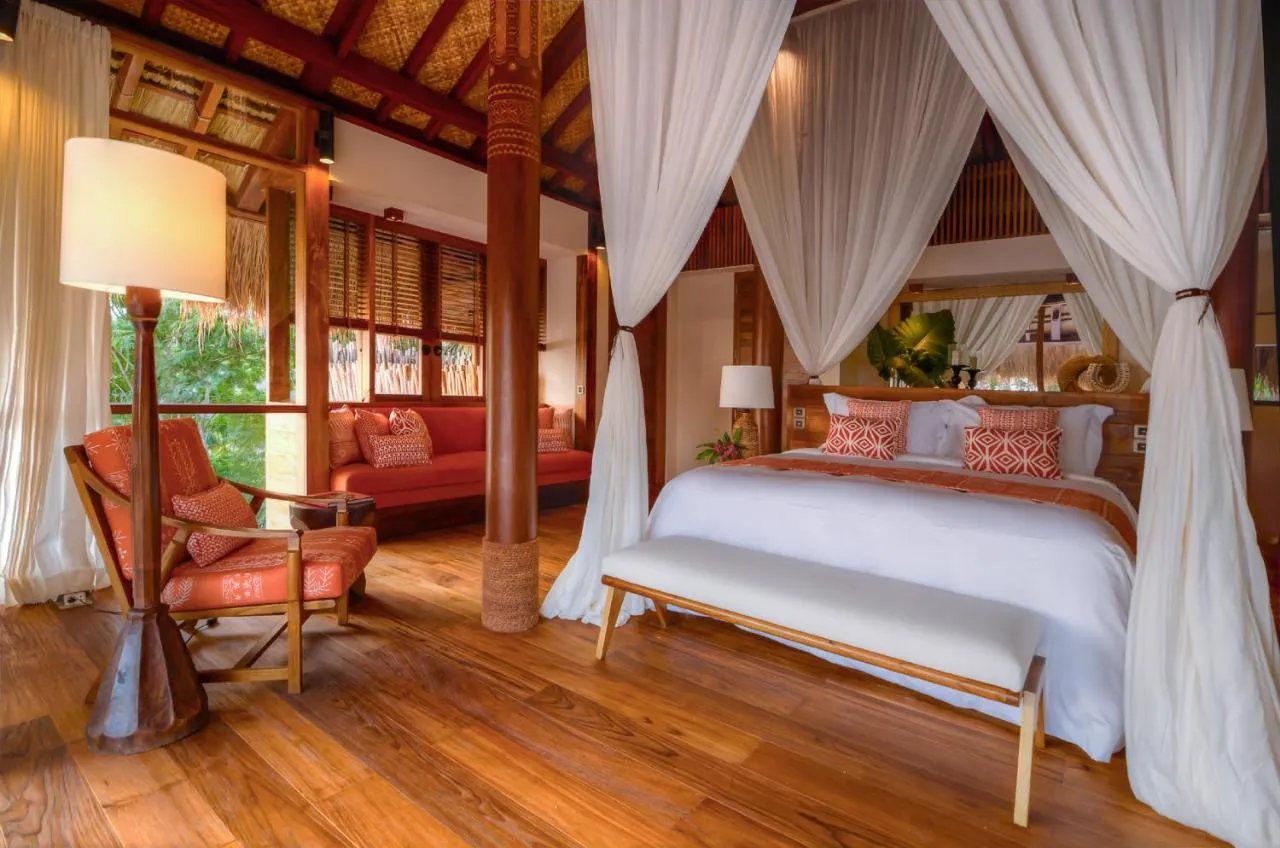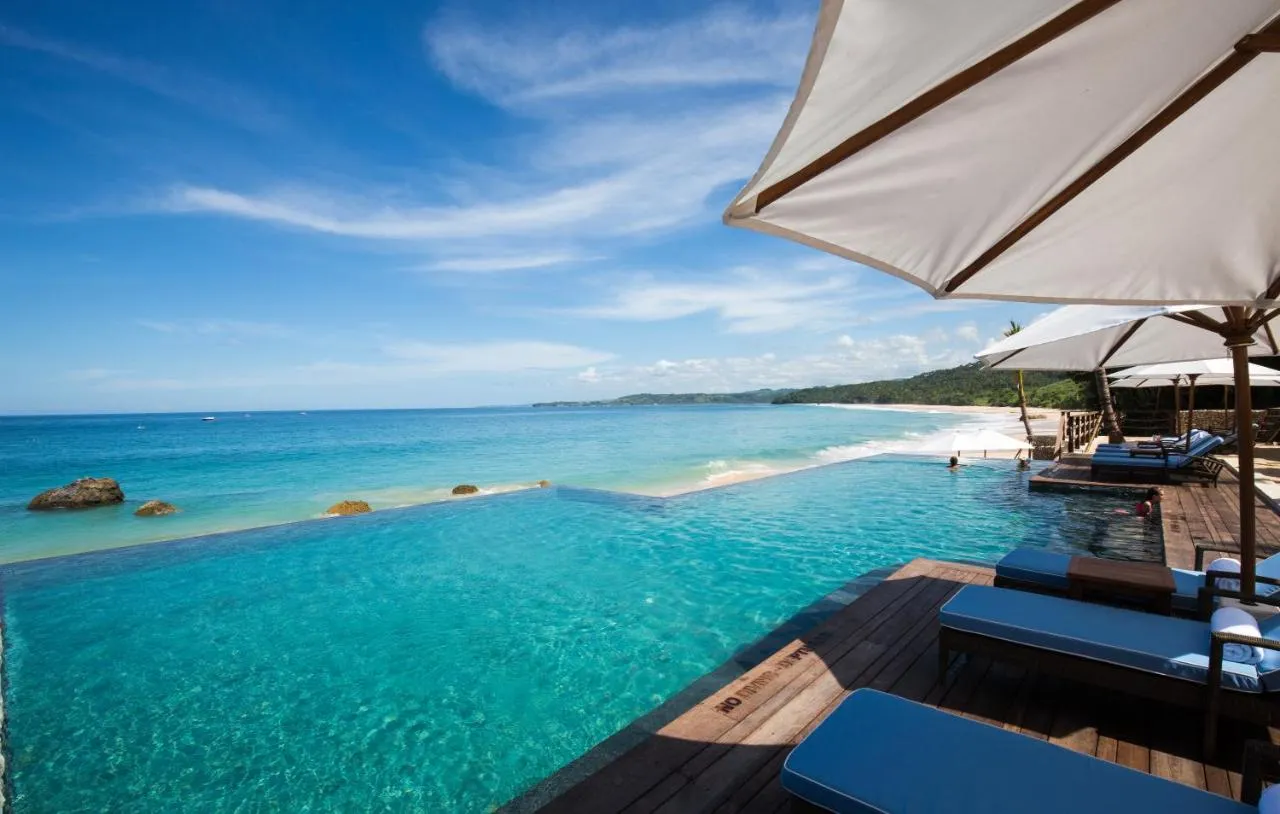 11. El Nido Resorts
Philippines
From $100 per night

ETIC Hotels Green Score: 9.5/10
What makes El Nido Resorts Miniloc Island sustainable?
Sewage Treatment Plant
El Nido Resorts operates a state-of-the-art sewage treatment plant (STP) combined with native reed bed filters. This ensures that no raw sewage and grey water are discharged into sea. Treated water is utilized in flushing toilets, watering the plants, and supplying fire hydrants. This directly reduces consumption of water, which otherwise have to be produced through energy-intensive desalination processes or sourced in the region's water sources.
Materials Recovery Facility
Solid wastes go through strict segregation before reaching the resort's full cycle materials recovery facility (MRF). The MRF receives recyclable and organic wastes from the resorts and is looked after by the Garden Department. After segregation, the recyclable waste is stored in holding bins for pick-up by a local junk shop dealer for recycling, while the organic waste is composted onsite and later packed for use in the resort gardens or organic farms in El Nido mainland. Recognizing the negative impact of using non-recyclable wastes, El Nido Resorts implemented a refillable drinking water system in 2008 to try to eliminate the purchase of bottled waters during activities. The Kitchen Department also implemented its own refilling system, whereas instead of buying cooking oils in new containers, they just send the old containers to the supplier for a refill.
Water Conservation
El Nido Resorts operates a rainwater catchment system to capture, filter, and store rainwater for use in the guest rooms and staff quarters. Water saving devices such as low-flow showerheads and low-flush toilets are also in place.
Desalination Plant
There is a very limited supply of fresh water in island resorts. El Nido Resorts operates a desalination plant to convert salt water into fresh water suitable for human consumption. The desalination plant enables us to avoid depleting mainland water sources and competing with local communities for water supply.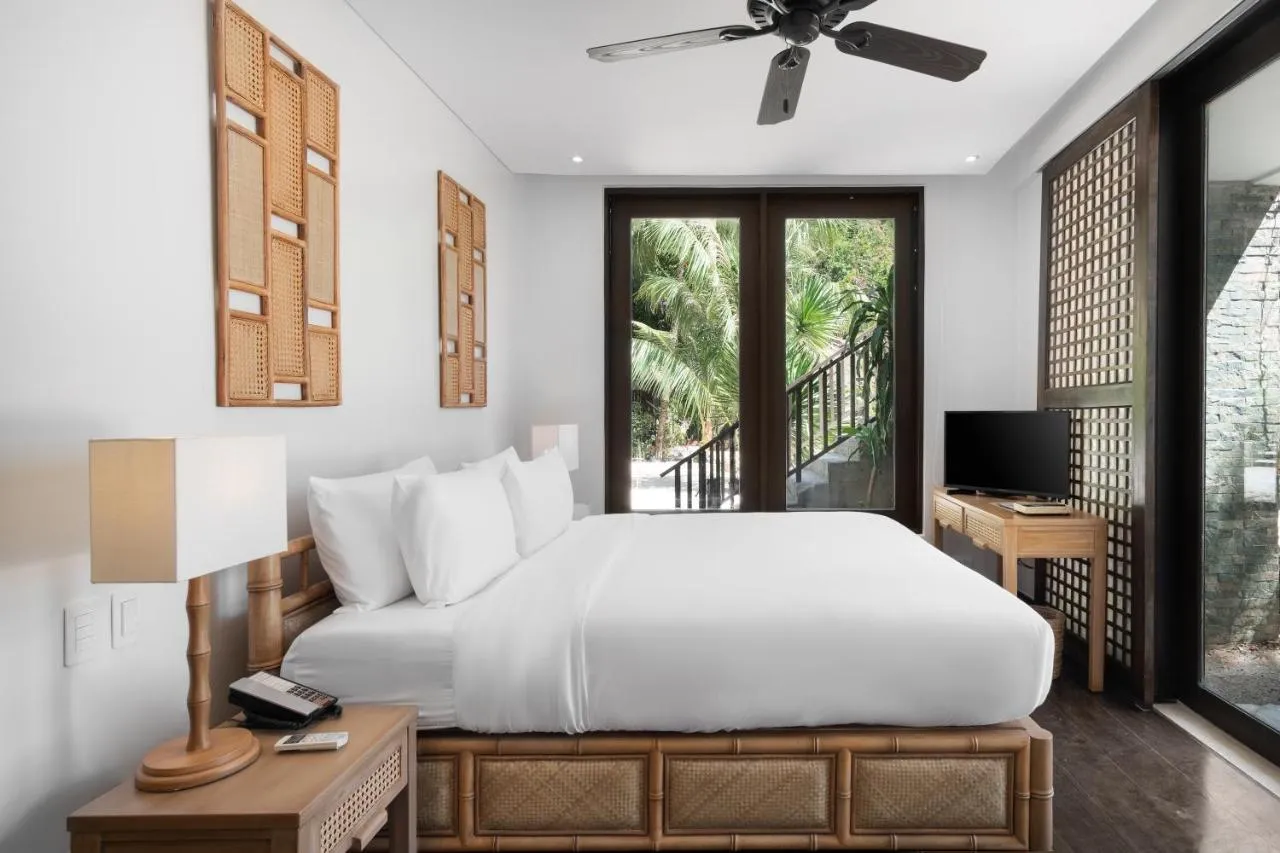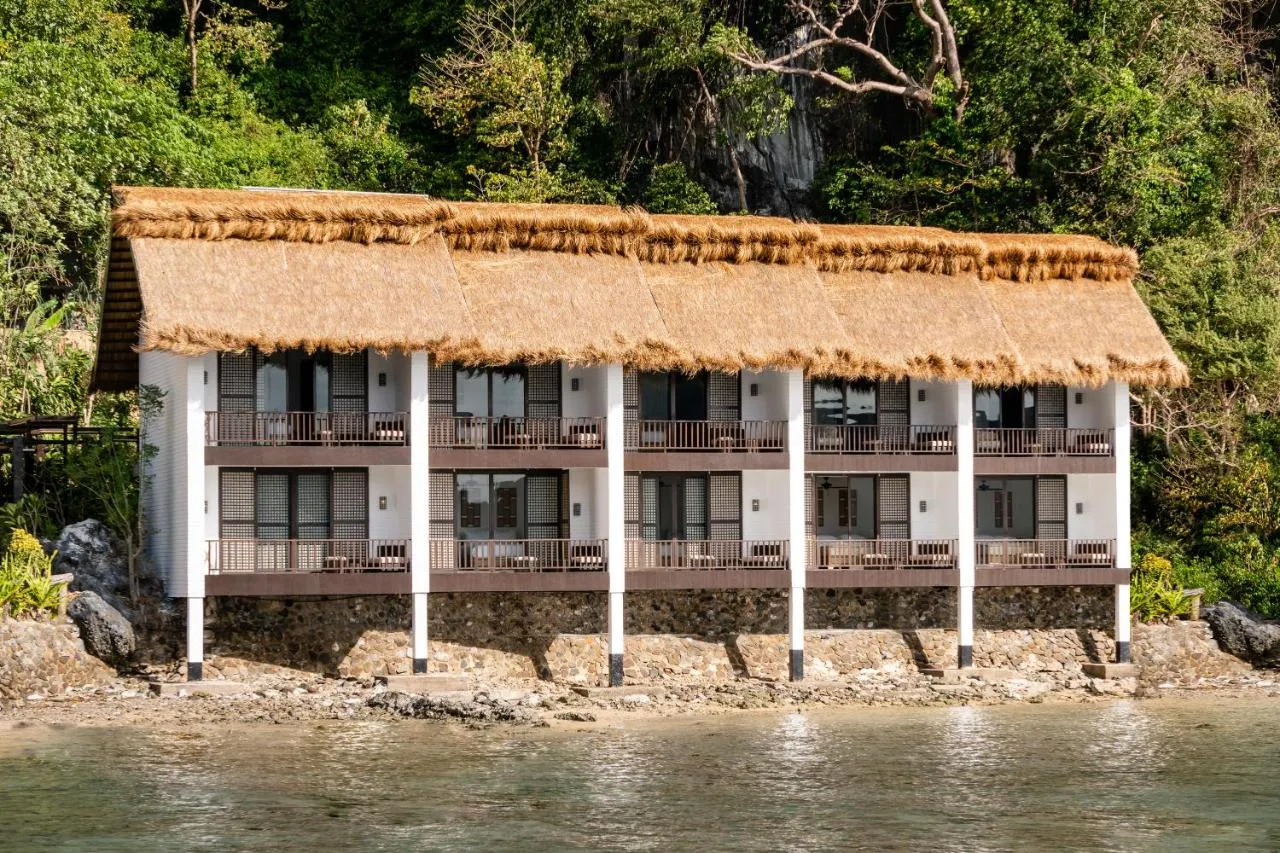 12. Sekeping Serendah
Malaysia
From $100 per night

ETIC Hotels Green Score: 9.5/10
What makes Sekeping Serendah sustainable?
From well-worn wooden planks to salvaged road signs, the Sekeping retreats often employ the use of recycled and rescued materials. There is a clearly identifiable Sek San design sensibility – a lot of exposed brickwork and concrete; glass and wood; natural greenery that's allowed to grow wild. Nothing is overly finished.