The 15 Most Sustainable Hotels in Bali
For an Ethical and Sustainable Stay in Bali, Indonesia.
A Sustainability Ranking in partnership with ETIC Hotels
You're planning a trip to Bali, Indonesia and you're trying to be as ethical and sustainable as possible?
niood lists you the 15 most sustainable hotels in Bali, Indonesia:
1. Alila Ubud
Desa, Melinggih Kelod, Payangan, Gianyar, Bali 80572, Indonesia
From $80 per night

ETIC Hotels Green Score: 9.5/10
What makes Alila Ubud sustainable?
Did you know that all the fresh fruits and vegetables available in the hotel are supplied locally? Not only that, most of our room amenities and the products available in our Alila Living boutique, such as soaps, shampoo, slippers and the Spa Alila products, are produced in Bali and many of them through village co-operatives supported by Alila. Purchasing goods that are made locally benefits our own community economically, not to mention the environment, by reducing the need for transportation. For that reason, we prefer working with vendors who adopt a sustainable approach to their operations. We do so through encouragement, agreement and regular evaluation with our existing suppliers and new ones. We encourage our suppliers to reduce their packaging and waste when sending their goods to us by bulk purchase orders.
2. Alila Villas Uluwatu
Jl. Belimbing Sari Tambiyak, Pecatu, South Kuta, Badung Regency, Bali 80364, Indonesia
From $700 per night

ETIC Hotels Green Score: 9.5/10
What makes Alila Villas Uluwatu sustainable?
We are proud that Alila Villas Uluwatu has embraced environmentally sustainable design (ESD) principles and is the first resort in Indonesia to receive the highest level of certification from EarthCheck as a Best Practice Building Planning and Design (BPDS) development. We utilise many ESD measures, including use of local materials, water conservation with soaks and rain gardens and a waste water management system, using local plants from the special Bali savannah ecosystem, the deliberate use of sustainable/recycled materials, protection of the natural environment, and measured work practices throughout construction.
3. Soori Bali
Banjar Dukuh Desa Kelating, Kerambitan, Kelating, Kec. Tabanan, Kabupaten Tabanan, Bali 82161, Indonesia
From $800 per night

ETIC Hotels Green Score: 9.5/10
What makes Soori Bali sustainable?
The various structures that compose Soori Bali are designed and oriented in a way that facilitates the passing of filtered natural light into the buildings while minimising heat gain during daytime. A combination of indigenous volcanic rock and abundant greenery organically cools the villas. Furthermore, open courtyards provide natural ventilation and lighting, minimising the use of both air conditioning and artificial lighting. Soori Bali operates efficient lighting systems, with interior lighting using low mercury fittings with photo sensors, and carefully positioned lighting that minimises energy consumption.
Water efficiency is similarly a focus of the resort's construction and operations. In order to reduce water wastage, Soori Bali utilises a potable water supply that insures zero island groundwater abstraction for construction and operations. Water consumption is reduced through the use of water-efficient appliances in bathrooms, laundry and kitchens. A hydropneumatic system with a booster pump is installed to enable uniform water pressure throughout the resort. Water consumption is reduced by 50 percent with a separation line between gardening water and domestic water. Irrigation of natural vegetation and landscaped areas also involves the use of recycled water.
4. The Legian Bali
Jl. Kayu Aya, Seminyak, Kuta, Kabupaten Badung, Bali 80361, Indonesia
From $300 per night

ETIC Hotels Green Score: 9.5/10
What makes The Legian Bali sustainable?
The Legian supports community initiatives, such as the Team 8 programme, which helps schools with equipment and funding.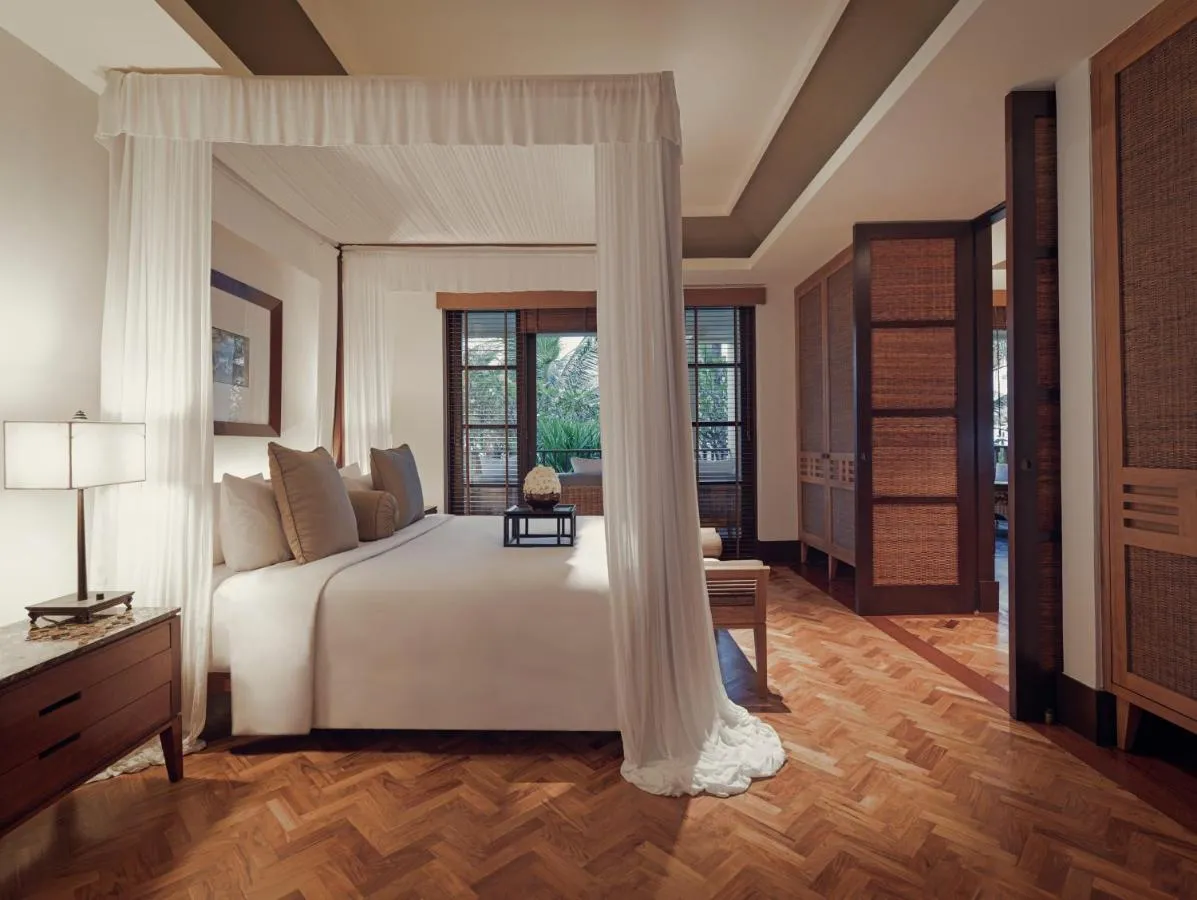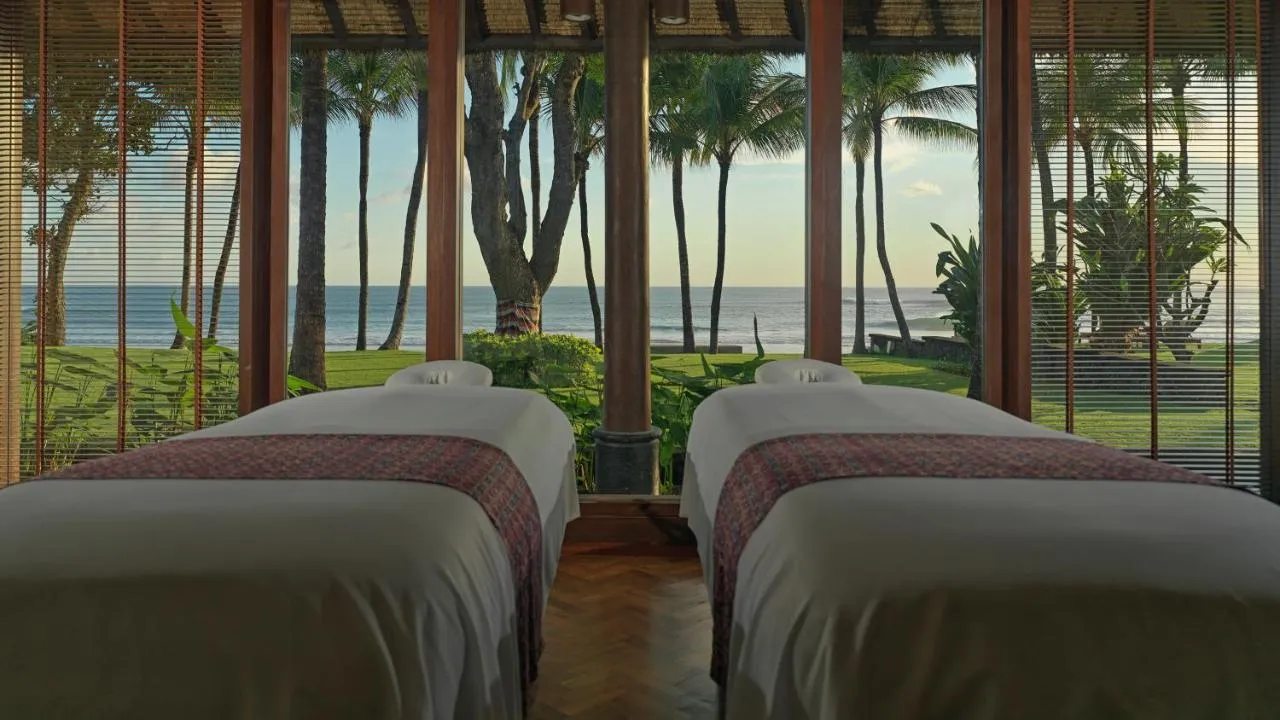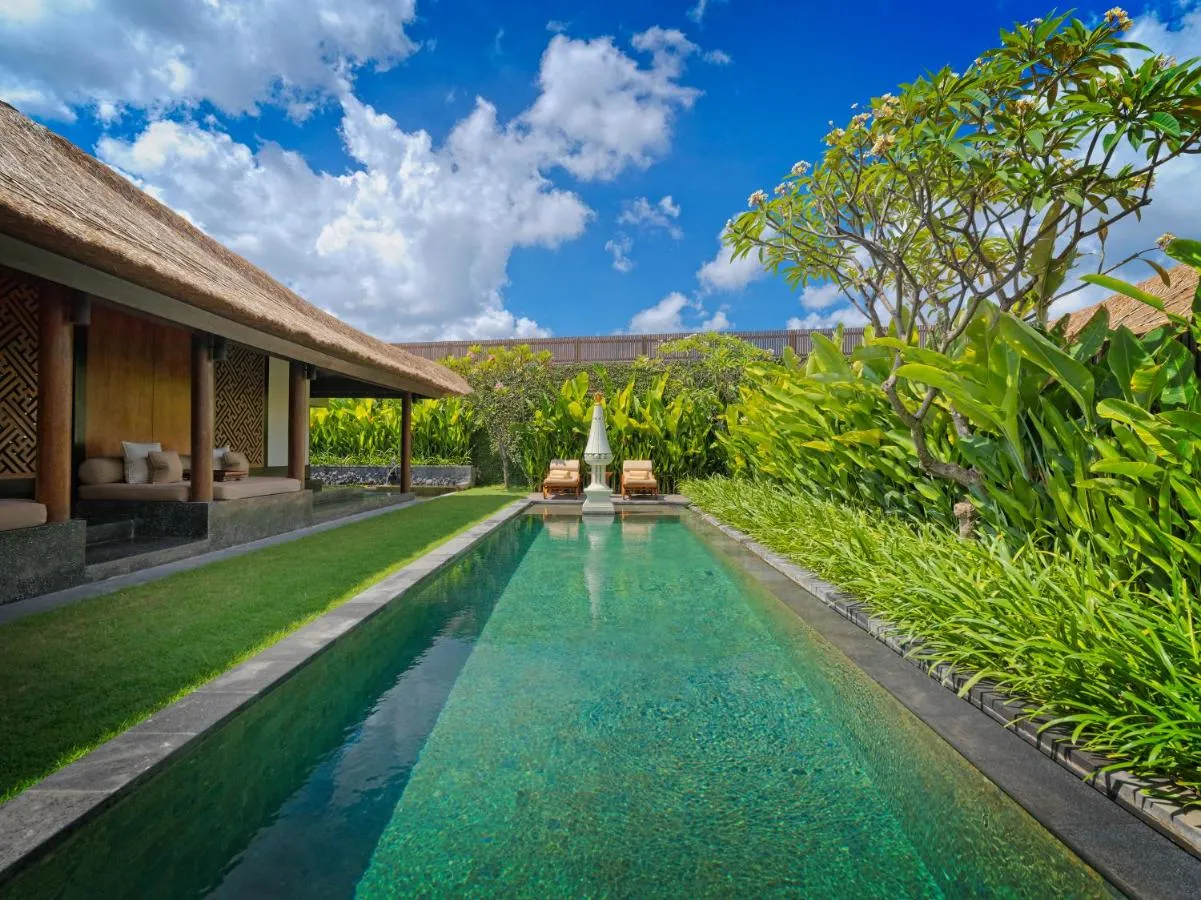 5. Plataran Menjangan Resort & Spa, Bali
West Bali National Park, Jl. Raya Seririt – Gilimanuk, Gerokgak, Pejarakan, Gerokgak, Buleleng Regency, Bali 81155, Indonesia
From $260 per night

ETIC Hotels Green Score: 9.5/10
What makes Plataran Menjangan Resort & Spa sustainable?
A tranquil hideaway cocooned within the protected sanctuary of West Bali National Park. Plataran Menjangan Resort & Spa offers an escape to nature at its most beautifully raw and untouched. Experience the epitome of luxury, privacy and comfort in the traditional Joglo villas of this unique eco retreat. Being the epicentre of ecotourism, Plataran Menjangan is blessed with 175 floras and 167 faunas (including the world endangered heritage birds – Bali starling) and its lush greeneries, calming blue ocean and majestic backdrops of mountains and hills surrounding the area.
Experience the epitome of luxury, privacy and comfort in the traditional Joglo villas of this unique eco retreat, at one with nature in the midst of the forest or right by the ocean. Dine along the oceanfront on a world of fresh flavours crafted from the treasures of the garden and sea. Listen to the song of the exotic Bali Starling while exploring the beauty of the wild, trekking through the jungle, kayaking through the mangrove canal, diving in crystal clear waters, or enjoying the romance of a sunset cruise.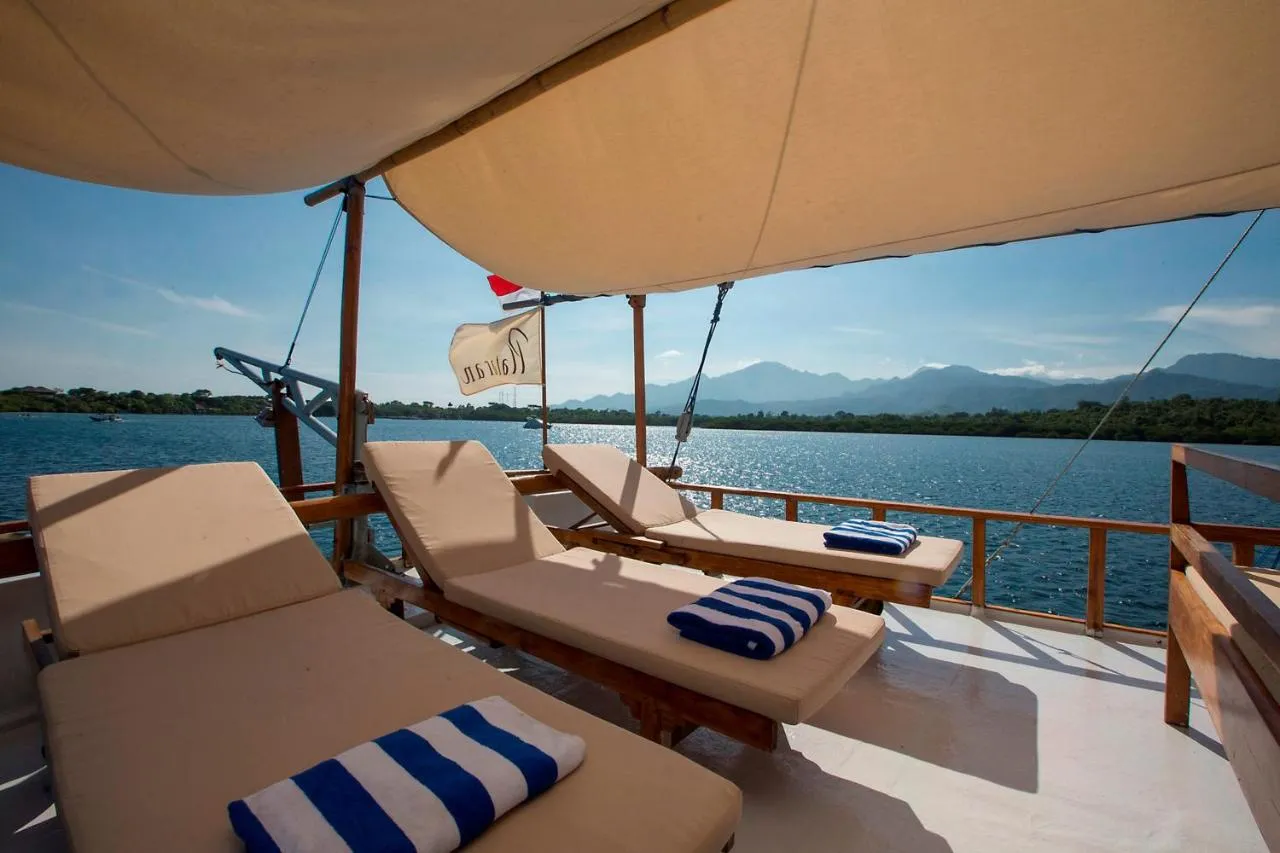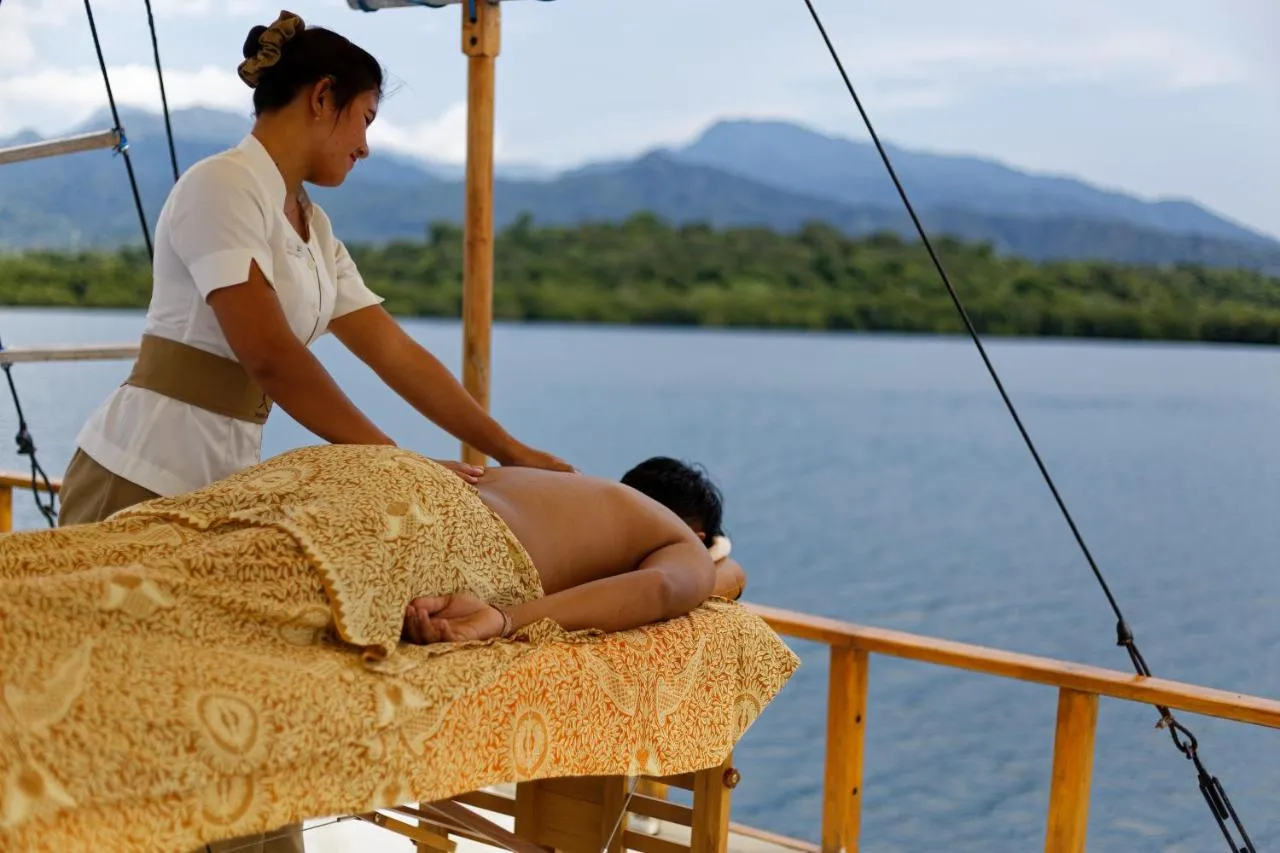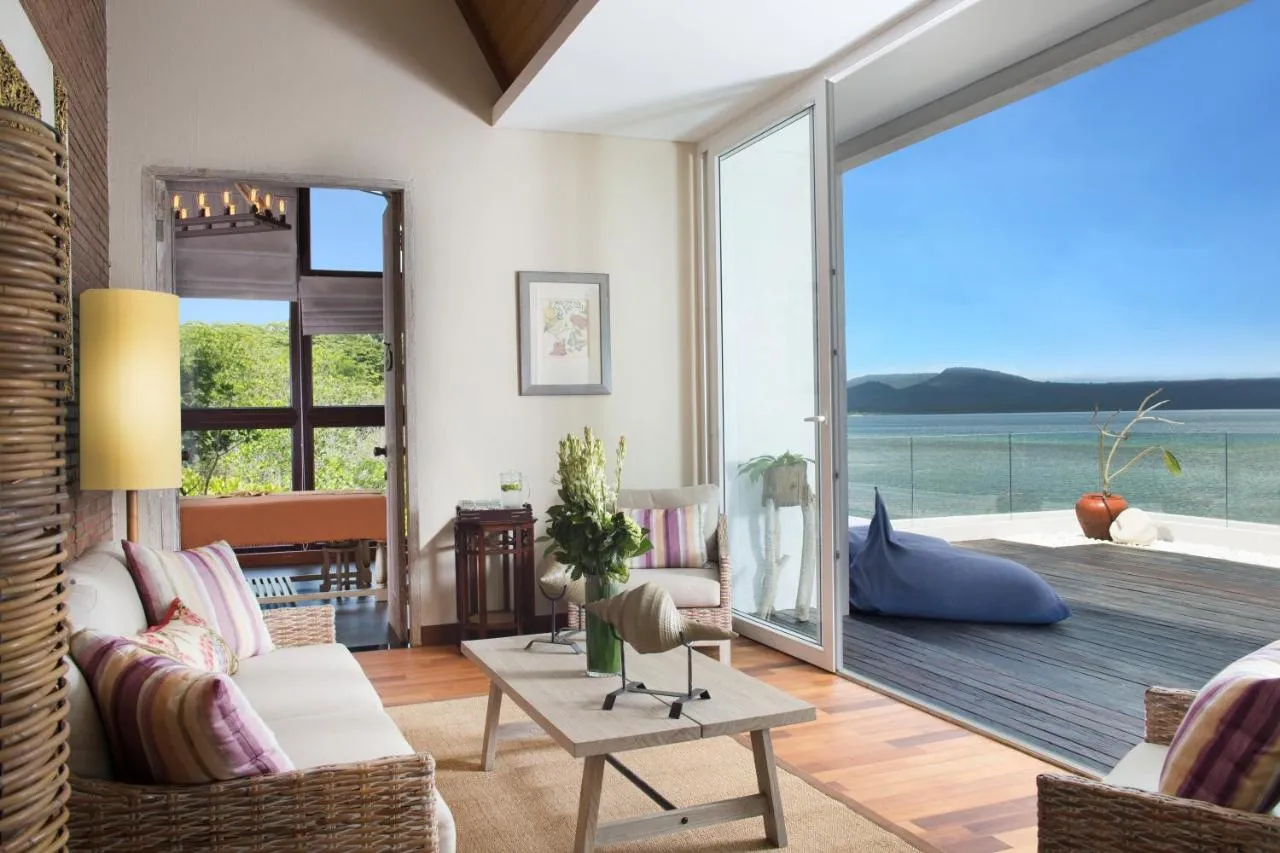 6. W Bali – Seminyak
Jl. Petitenget, Kerobokan, Seminyak, Kabupaten Badung, Bali 80361, Indonesia
From $200 per night

ETIC Hotels Green Score: 9.5/10
What makes W Bali – Seminyak sustainable?
Energy & Water Conservation:
High-efficiency lighting in guest rooms
High-efficiency lighting in public areas
Water conserving fixtures
Smart irrigation practices
Regular preventive maintenance
In-room lighting sensors controlled by timer & motion switch
Waste Minimization & Environmentally Responsible Purchasing:
Recycling
Organic waste composting
Elimination of styrofoam packaging
Environmentally preferred products
Alternatives to plastic bottled water
Enhanced Indoor Environmental Quality:
Green Housekeeping
Linen and towel replacement upon request basis for stay-over guests
7. The St. Regis Bali Resort, Bali
Kawasan Pariwisata, Nusa Dua, Blok Lot S6, Nusa Dua, South Kuta, Badung Regency, Bali 80363, Indonesia
From $550 per night

ETIC Hotels Green Score: 9.5/10
What makes The St. Regis Bali Resort sustainable?
Based on an Onsite Certification Audit undertaken at The St. Regis Bali Resort on June 16th and 17th, 2016, this achievement comes from an audit process comprising of a self-assessment checklist and supporting evidence, verification of the benchmarking data, interviews with the EarthCheck Coordinator and staff, field observations including a review of site conditions and the local environment.
This is the first time the resort has achieved Gold Certification by EarthCheck. Previously, this beachfront Nusa Dua resort achieved Silver Certification for four consecutive years since 2012. This provides our guests, stakeholders and business partners with certainty that our commitment to reducing energy and water consumption is actually taking place and making a positive difference.
8. Surya Shanti Villa, Bali
Banjar Tebola, Sidemen, Telaga Tawang, Karangasem, Kabupaten Karangasem, Bali 80864, Indonesia
From $150 per night

ETIC Hotels Green Score: 9.5/10
What makes Surya Shanti Villa sustainable?
The Sidemen valley is one of Bali's last paradise, a « Shangrila", a secluded haven for the world-weary which must be preserved and ensured with a sustainable development of tourism in a responsible way.
While working closely with the inhabitants and the elected local officials, our goal is to bring a responsible and sustainable development of tourism to the area by creating and providing eco-friendly accommodation to travelers with modern comfort that respect the environment and bring awareness to the local population on how to protect their natural environment.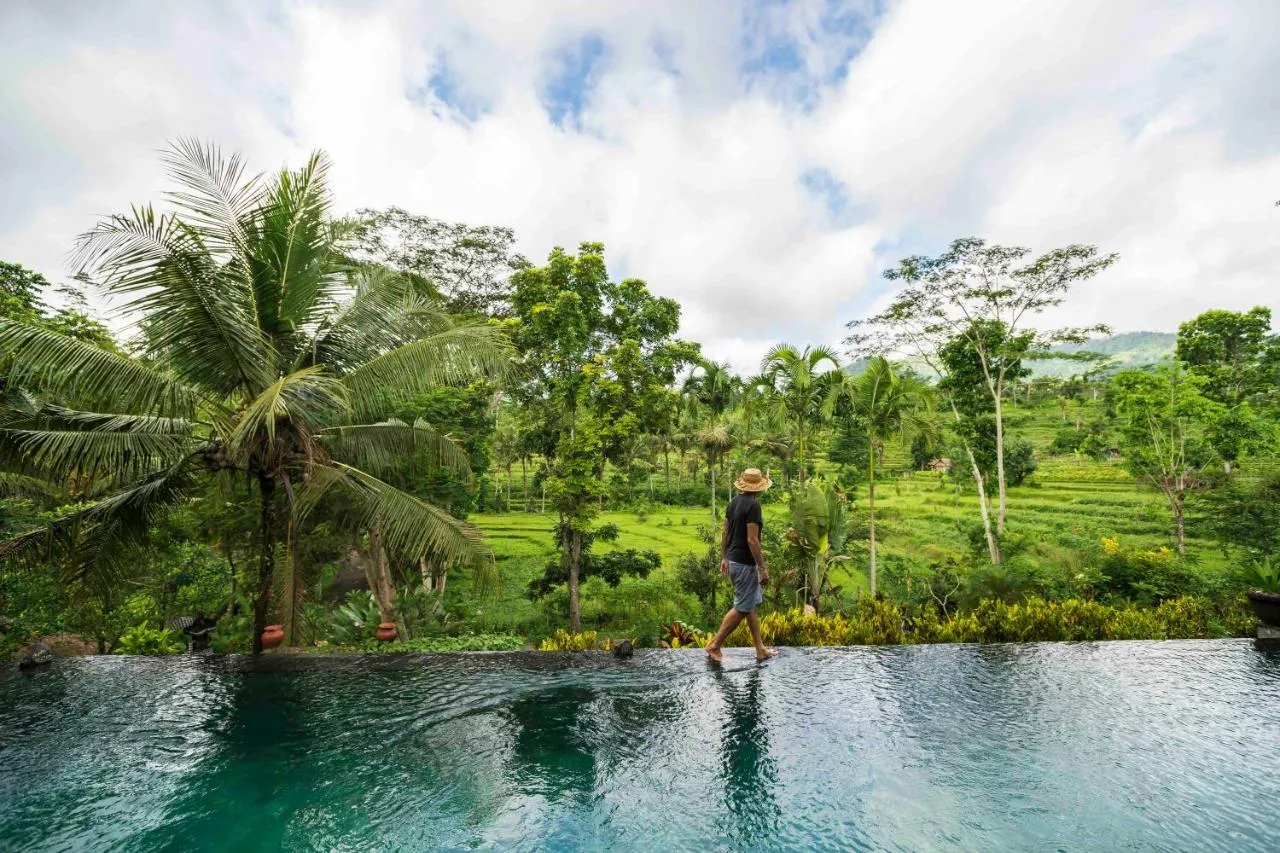 9. Mandapa, a Ritz-Carlton Reserve, Bali
Jl. Raya Kedewatan, Banjar, Kedewatan, Kecamatan Ubud, Kabupaten Gianyar, Bali 80571, Indonesia
From $700 per night

ETIC Hotels Green Score: 9.5/10
What makes Mandapa Ritz-Carlton Bali sustainable?
The traditional yet contemporary Balinese interiors have created a truly luxurious experience designed to allure the world's most discerning travellers. Every element of design at a Ritz-Carlton Reserve is naturally inspired and sustainably sourced.
In Mandapa, local providers have infused the retreat with natural materials that blend effortlessly into the natural surroundings. In addition to the villas, the retreat is also home to four restaurants and lounges offering an array of authentic Indonesian cuisine, Mediterranean dining, and tailored health-conscious menus for wellness and detox programmes incorporating the freshest local ingredients.
10. Camaya Bali
Banjar Dinas Pandangaji Kawan Desa Padang Aji Kedesaan, Pering Sari, Selat, Kabupaten Karangasem, Bali 80862, Indonesia
From $230 per night

ETIC Hotels Green Score: 9.5/10
What makes Camaya Bali sustainable?
Located well off-the-grid in Karangasem, this eco-friendly stay is home to five individual bamboo houses, each with their own unique, sustainable design.
11. Suarga Padang Padang, Bali
JL. Pantai Labuan Sait, Br Dinas Labuan Sait, Pecatu, Kec. Kuta Sel., Kabupaten Badung, Bali 80361, Indonesia
From $150 per night

ETIC Hotels Green Score: 9.5/10
What makes Suarga Padang Padang sustainable?
Suarga Padang Padang is built upon the three pillars of sustainability: environmental, social, and economical. In the spirit of inspiring others, and as a responsible service provider, Suarga Padang
Padang strives for each guest to experience something timeless – instilling an insatiable desire to be part of the solution, starting with the implementation of small lifestyle changes. Offering a different kind of luxury,
Suarga Padang Padang invites today's 'rough luxury travellers' to experience modern comfort and deserved indulgences, yet at minimal expense to the surrounding environment.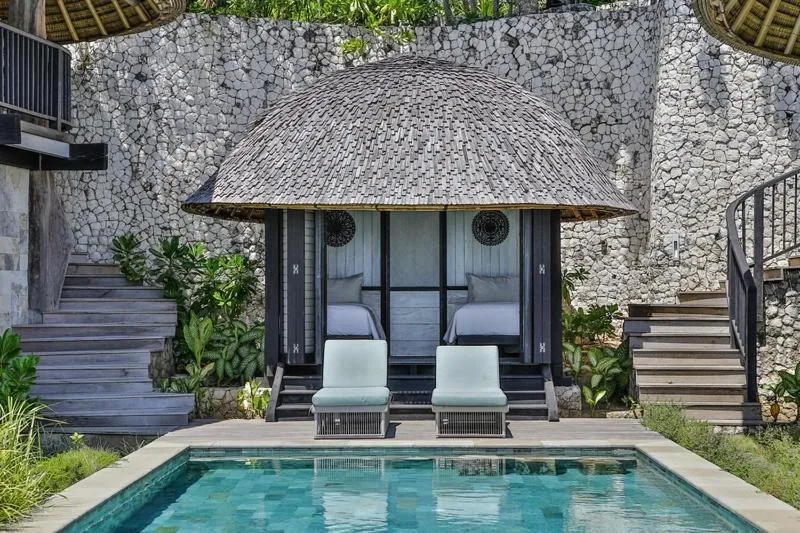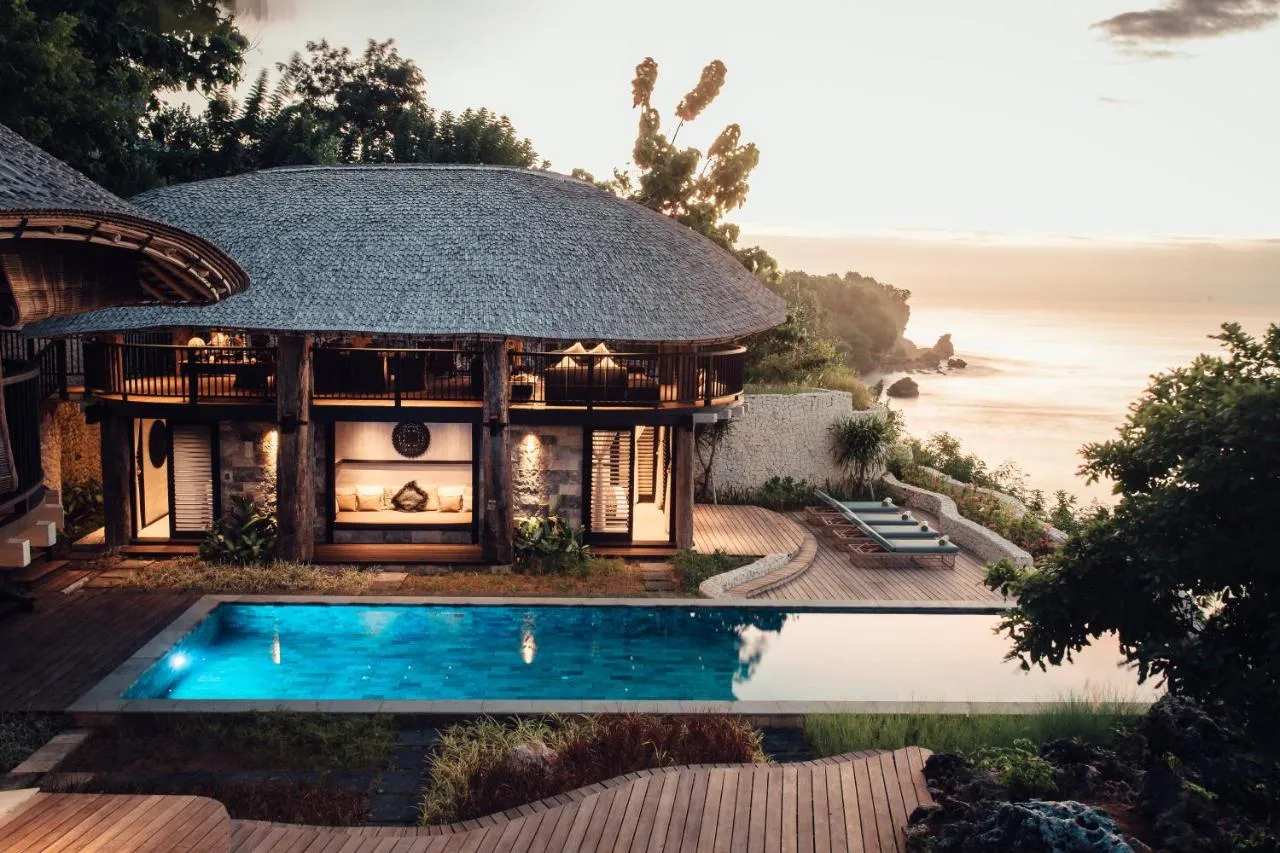 12. Sumberkima Hill Retreat, Bali
Sumberkima, Gerokgak, Buleleng Regency, Bali 81155, Indonesia
From $50 per night

ETIC Hotels Green Score: 9.5/10
What makes Sumberkima Hill Retreat sustainable?
At Sumberkima Hill Retreat, we uphold the principles of sustainability, conducting our business with people, planet and profit in mind. Our villas are privately owned by individuals from all around the world, all of whom have one thing in common: a deep love for this pristine corner of Bali. With that love comes a sense of preservation and protection far into the future. We do our best to grow in harmony with the environment and the community that lives here and works with us.
Rather than claiming to be an eco-resort, we devote ourselves to respect and regeneration. We have set up a reforestation project to regreen the hills in a bid to stop the forest fires of the dry season from damaging the ecology. We have also set up Metamorfosa, a reef restoration project in the bay that has unique features like an underwater art gallery and a wish tree! We have also started English classes in the village to make the larger world more accessible for the children. Our concern is not limited to our villas alone but extends to all of Sumberkima – the bay, the reef, the mountains and the people we share this paradise with.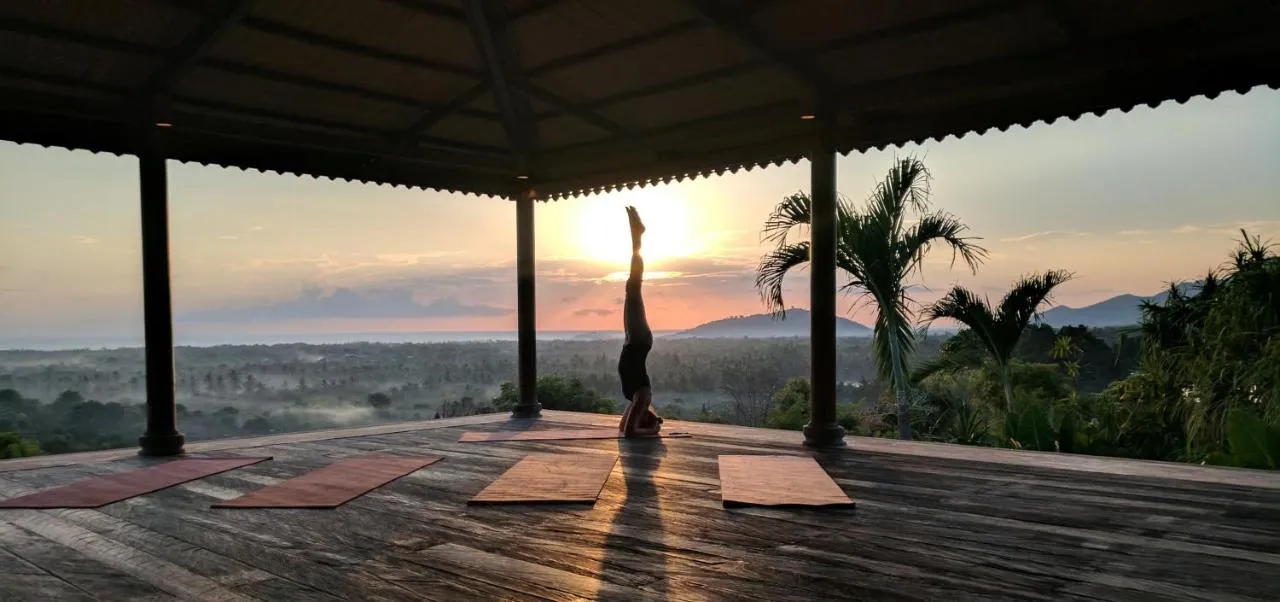 13. Fivelements, Bali
Mambal, Abiansemal, Badung Regency, Bali 80352, Indonesia
From $130 per night

ETIC Hotels Green Score: 9.5/10
What makes Fivelements sustainable?
We realize this vision through cultivating of our uniquely human-centred wellness culture. When we focus our attention on three pillars of Resilient Living: Personal Wellness, Net-Positive Impact, and Social Harmony, transformation not only becomes possible but inevitable.
Our design approach is exploratory, experimental and collaborative. This creative process enables for an authentic concept to shine through, followed by intentional design and high impact programme development. It continues through to our family of operations and management with the contributions of our curators, staff members and guests as they activate our spaces through daily use.
Fivelements is leading the way for rapid growth of Wellness Culture through stunning sustainable design, healthy lifestyle offerings, and supply of clean and conscious products. We are moving beyond the eco-focus of Sustainability to a broader policy of "well-being" and "living well."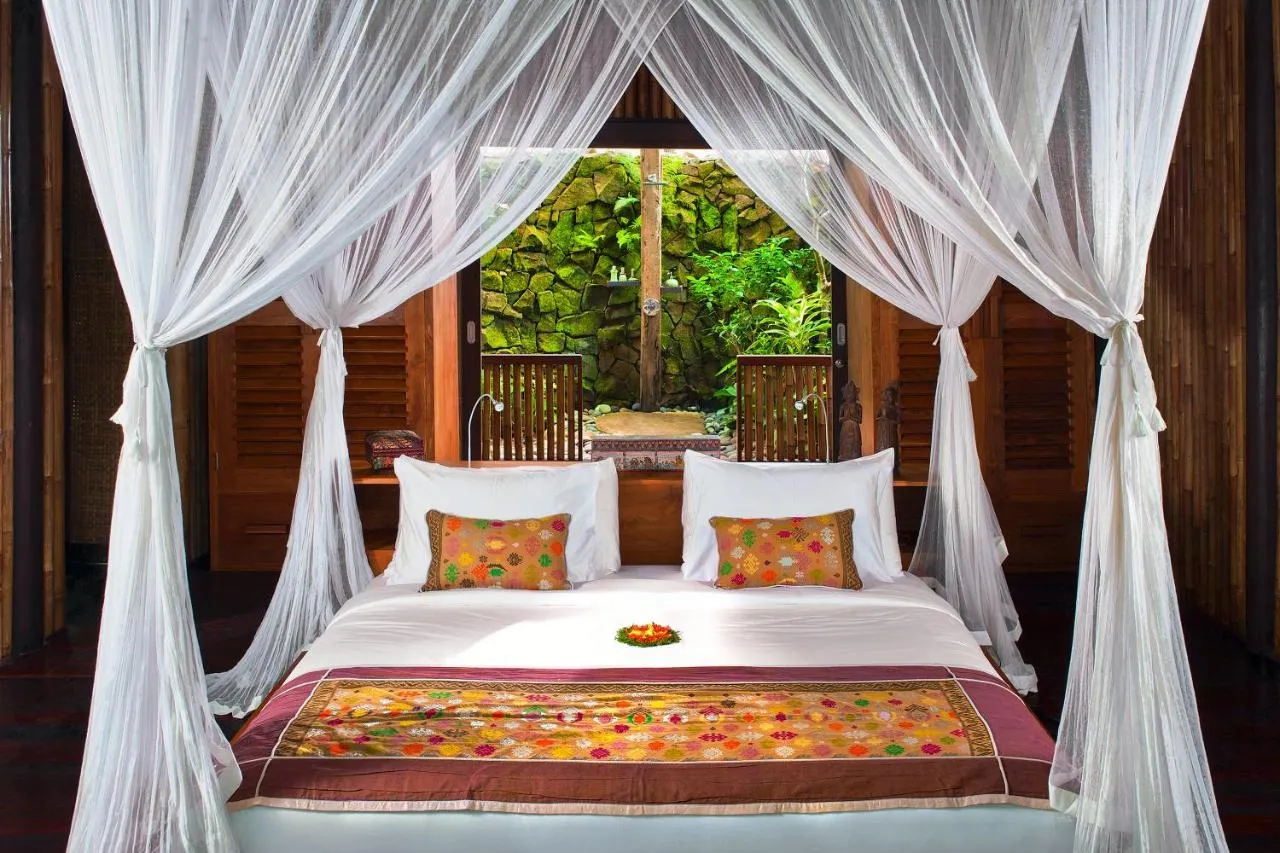 14. Sarinbuana Eco Lodge, Bali
Jalan Arjuna, Br. Biyahan Desa Wanagiri, Dalang, Kec. Selemadeg Tim., Kabupaten Tabanan, Bali 82152, Indonesia
From $70 per night

ETIC Hotels Green Score: 9.5/10
What makes Sarinbuana Eco Lodge sustainable?
No Chemicals
– Our Swimming Pool is all Natural without the use of chemicals
– Natural cleaning products are used only on our property & guest rooms
– Natural and locally produced soaps in our guest rooms
– Energy consumption through mains power is limited to a max of 7,500 wt at anytime for our entire property including our family area (this is 1/2 the consumption of a normal house hold in developed countries)
– Every transfer to and from the lodge includes the cost of offsetting the carbon it emits. To do this we are working with The Australian Orangutan Project, planting trees in Sumatran rainforests.
– We encourage guests to turn off their lights when not in use
– Energy saving LED light bulbs are used only throughout our property
Waste Management
– No plastic straws are used in our restaurant
– Recycled kitchen oil is used for candles at dinner time
– Edible kitchen food is feed to our rescued monkeys daily
– Sewage & wastewater is treated through vegetated leachfields
– Glass, plastic bottles & cardboard are recycled at the refuse depot
15. Mana Earthly Paradise, Ubud
Jl. Raya Sayan Banjar Mas, Gang Mas, Sayan, Ubud, Gianyar, Bali 80571, Indonesia
From $80 per night

ETIC Hotels Green Score: 9.5/10
What makes Mana Earthly Paradise sustainable?
Mana Eco Villas embody innovation, sustainability, and style. Using natural materials, six earth-bag domes have been carefully crafted from recycled wood, bamboo and natural stone, blending seamlessly with the surrounding environment.