The 20 Most Stunning Infinity Pools in the World
This includes Alila Ubud, Grace Hotel Santorini, and Caruso Ravello...
A Sustainability Ranking in partnership with ETIC Hotels
Do you want to get goosebumps while swimming in the most infinity pools in the world? niood lists the 20 best and most stunning infinity pools in the world:
1. Alila Ubud
Bali, Indonesia
From $80 per night

ETIC Hotels Green Score: 7.2/10
Alila Ubud lies 15 minutes from Ubud, which has reigned for over a century as the centre of Balinese arts and culture. Stay at our luxurious Ubud villa resort and discover Ubud's rich history, artistic energy and cultural heritage.
Located high above the Ayung River, Alila Ubud hotel has been laid out as a Balinese hillside village complete with its own community centre and pedestrian lanes. The resort's rooms and villas stand above a ravine on stilts like tree houses and are set into the banks of the river valley.
2. Grace Hotel, Auberge Resorts Collection
Imerovigli, Santorini, Greece
From $3,000 per night

ETIC Hotels Green Score: 7.2/10
Whitewashed abodes, cobalt-domed churches, and black- and red-sand beaches mark the isle of Santorini, an alluring Mediterranean oasis mired in mythology. Believed to be the remaining link to the Lost City of Atlantis, rest in splendor during a luxurious stay in our clifftop retreat in Imerovigli, a village home to Santorini's most emblematic views. Legend has it Euphemus, son of Poseidon created the island following a dream where he made love to a nymph – and after you enjoy your first sumptuous sunset from our infinity pool overlooking the Caldera, you will experience for yourself how easy it is to become entangled in the spell of Santorini.
3. Caruso, A Belmond Hotel, Amalfi Coast
Ravello, Italy
From $750 per night

ETIC Hotels Green Score: 7.2/10
Set on a cliff edge 1,000ft above sea level, Caruso is your private balcony over the Amalfi Coast.
This former 11th-century palace boasts all the worldly luxuries anyone could desire. Marbled hallways lead to rooms brimming with antiques and paintings by old masters. Cascading down the mountain, past lemon groves and olive vines, is Ravello, the mesmerising 'city of music'. Paradise, found.
4. Four Seasons Safari Lodge Serengeti
Tanzania
From $1,200 per night

ETIC Hotels Green Score: 7.2/10
Join us deep in the heart of the world's most celebrated wildlife reserves, where the Big Five – the lion, the leopard, the buffalo, the elephant and the rhinoceros – run free on the endless, untamed landscape. Perched on a series of elevated platforms and walkways, our Lodge sits next to an animal watering hole, where you can watch a family of elephants stop for their morning drink as you sip your own out on your room's private balcony. Under the constant protection of local Maasai tribes people, we'll take you in the bush for an exhilarating game drive, or you can soar high in the sky on a hot-air balloon safari. However you spend your day, our Spa is waiting to help you rehydrate, restore and re-energize for your next adventure. Our only question – where would you like to begin?
5. Hotel Villa Honegg
Ennetbürgen, Switzerland
From $750 per night

ETIC Hotels Green Score: 7.2/10
The 23 rooms and suites offer plenty of privacy, tranquillity and comfort in a phenomenal mountain setting. Boasting breathtaking panoramic views and a popular excursion destination, the Bürgenstock is on a peninsula surrounded on three sides by Lake Lucerne.
Footpaths and MTB trails lead through dense forest and across glorious flowering meadows or to the famous Cliff Path and Hammetschwand Lift.
The mountains and Lake Lucerne can also be reached from the hotel without great effort. With its luxurious rooms, heated outdoor pool and panoramic terrace, the Villa Honegg offers guests a wealth of opportunity for unwinding and taking things easy.
The Boutique Hotel Villa Honegg has already received many awards and labels.
6. Hanging Gardens Of Bali
Bali, Indonesia
From $450 per night

ETIC Hotels Green Score: 7.2/10
Overlooking the Ayung River gorge, travelers find Hanging Gardens of Bali: 44 gorgeously-designed Balinese villas with thatched alang alang roofs, outdoor showers, private plunge pools, and spectacular views of the mountains and winding Ayung River.
7. Marina Bay Sands, Singapore
Singapore
From $350 per night

ETIC Hotels Green Score: 7.2/10
Indulge in the best experiences at Singapore's most iconic hotel – home to the world's largest Infinity Pool. Lounge in your luxurious room and soak in unparalleled views of the city, or explore the integrated resort's attractions, restaurants and shops.
8. 137 Pillars Suites & Residences Bangkok
Bangkok, Thailand

From $300 per night

ETIC Hotels Green Score: 7.2/10
Offering luxurious suites, 137 Pillars Suites Bangkok features plush furnishings and free WiFi. This 5-star property is 0.6 miles from Phrom Phong BTS Skytrain Station and the endless shopping options at Em District. Additionally, a free shuttle service is provided to those spots for the convenience of guests.
With some of Bangkok's best restaurants and trendy spots nearby, the property is a 18.6 miles drive from Suvarnabhumi Interational Airport and airport transfers can be arranged.
9. Cavo Tagoo Mykonos
Mykonos, Greece
From $450 per night

ETIC Hotels Green Score: 7.2/10
Within proximity of Chora in Mykonos, the awarded hotel Cavo Tagoo features an infinity pool with a 40 yards aquarium bar, and a fully equipped spa with indoor pool. Most rooms enjoy sea views.
The spacious and minimal guest rooms, suites and villas are individually decorated and some feature a spa bath. In-room amenities include bathrobe and slippers, flat-screen TV and Simmons bed mattresses. Some units also feature a private pool. Free WiFi is available throughout.
The Cavo Tagoo Golden Spa offers traditional body and face treatments, plus chromatotherapy, sauna, steam bath and salon services. Located adjacent to the spa, the fitness centre allows guests to keep in top shape during their stay.
10. Burj Al Arab Jumeirah
Dubai, U.A.E.
From $1,450 per night

ETIC Hotels Green Score: 7.2/10
Burj Al Arab Jumeirah – which stands at 321m – is 14m taller than the Eiffel Tower and only 60m shorter than the Empire State building.
Located 280m off the shores of Dubai, Burj Al Arab was built on a man-made island. Guests access it via a bridge road that is 340m long.
Construction began on the iconic landmark in 1994. It took two years to create the island, and then three years to build the hotel itself.
In addition to being the tallest all-suite hotel in the world, in 2008 Burj Al Arab also broke the Guinness World Record for the most expensive cocktail, valued at 27,321 AED. It also created the world's largest tin of caviar in 2016, which contained 17kg of Empress caviar – the world's only fully-certified organic caviar from native-raised sturgeon.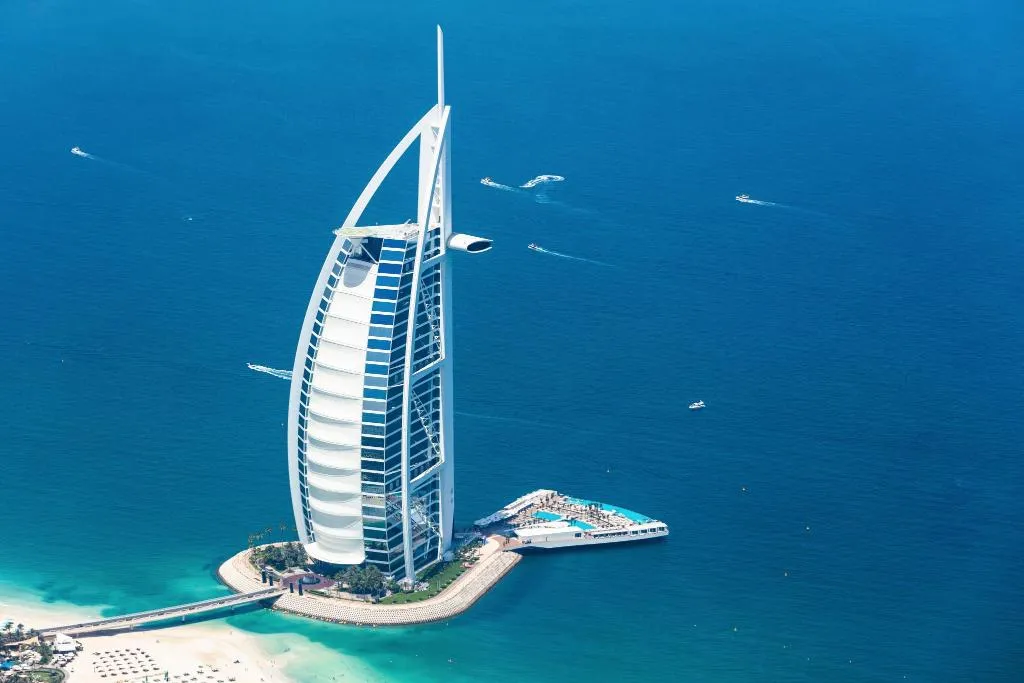 11. Six Senses Yao Noi
Ko Yao Noi, Thailand
From $750 per night

ETIC Hotels Green Score: 7.2/10
Phang Nga Bay has to be one of the world's most spectacular seascapes and it sets the stage for your magical stay on Koh Yao Noi. Just 45 minutes from Phuket, this Six Senses island resort in Thailand is as close to nature's luxury as you can be. Here, we're not just green, but every shade of blue and we're ready and waiting for you. It's Thailand reimagined.
You've seen the Bond movie, now experience the real thing. The surreal backdrop to your Thailand island resort holiday includes fantastical limestone pinnacles rising from the bay, adding to your sense of adventure.
12. Amankila
Bali, Indonesia
From $850 per night

ETIC Hotels Green Score: 7.2/10
Amankila (meaning: "Peaceful hill") is a luxury coastal hotel situated on the green hill of Indrakila, near Manggis in Karangasem Regency in eastern Bali, Indonesia. It is operated by Aman Resorts and was opened in March 1992. Lonely Planet describes Amankila as "one of Bali's best resorts".
13. andBeyond Tengile River Lodge
Sabi Sand Private Game Reserve Sabi Sand, South Africa
From $250 per night

ETIC Hotels Green Score: 7.2/10
The Sabi Sand Game Reserve benefits from a great diversity of wildlife including, the Big Five as it neighbours and shares a 50 km (31mi) unfenced boundary with the Kruger National Park. World-renowned for its prolific leopard sightings, strict vehicle limits at sightings ensure the exclusivity of an up-close game viewing experience with game drives traversing an area of 10,500 hectares (26,000 acres).
This magnificent lodge features nine enormous, air-conditioned, secluded suites, dotted in the dappled shade of the bushveld, each with panoramic river views. In addition to a master bedroom, bathroom and outdoor shower, there is a lounge, dining area, fully-stocked bar, coffee station and outdoor seating and dining area that guaranteed to take your breath away. A private lap pool on your spacious private deck comes complete with sunken outdoor lounge looking out onto the famed Sand River. For families, two of the lodge's suites are joined by a covered walkway to create a family suite.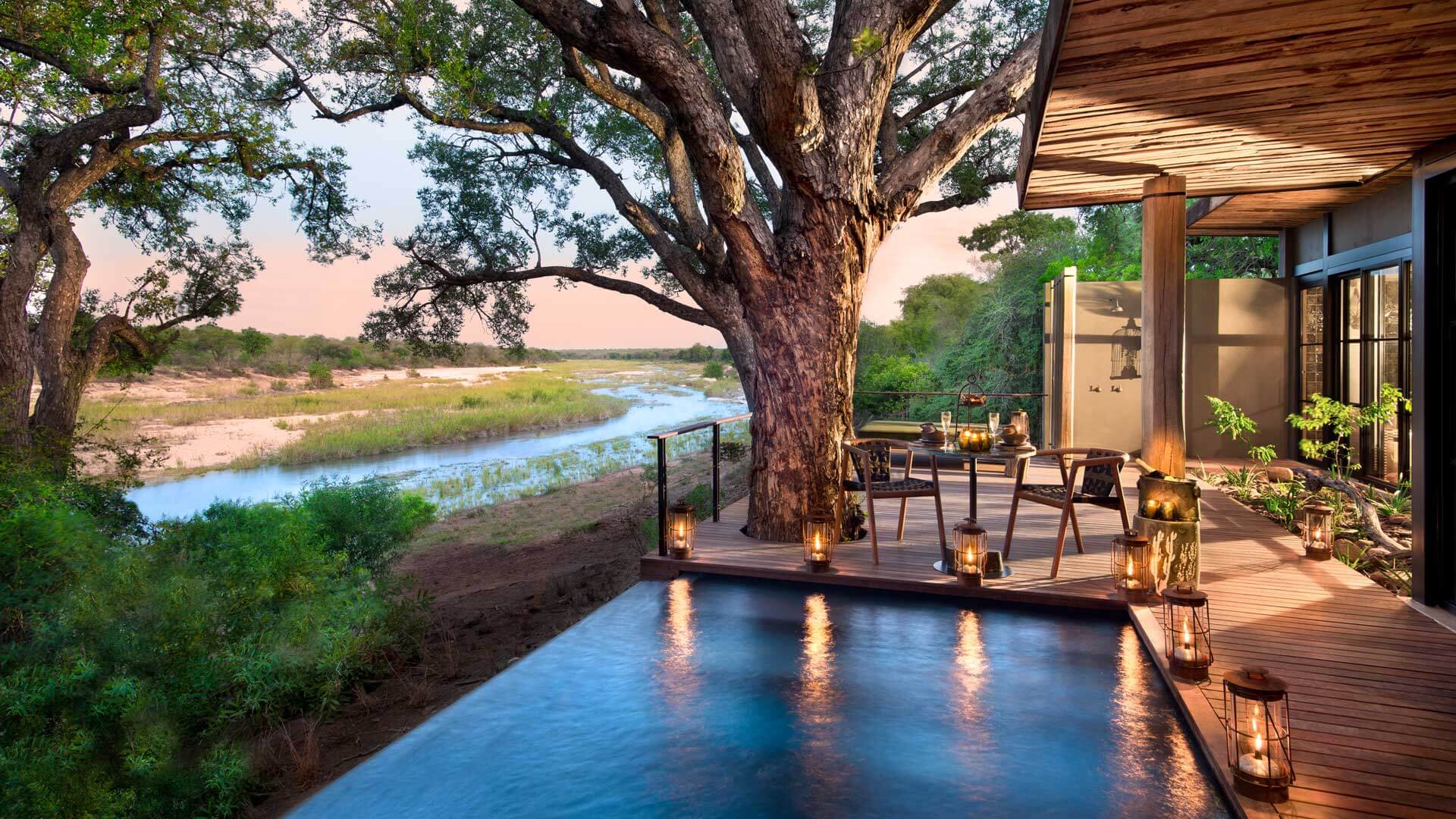 14. Mandarin Oriental, Canouan
St Vincent & the Grenadines
From $1,200 per night

ETIC Hotels Green Score: 7.2/10
Nestled along a white powder stretch of Godahl Beach, Mandarin Oriental, Canouan promises impeccable attention to detail. The resort is home to a collection of atmospheric restaurants offering a variety of culinary delights accompanied by stunning ocean views. Offering just 26 suites and 13 villas, Mandarin Oriental, Canouan is an all-ocean view luxury hideaway perfect for families and friends.
15. The Joule
Dallas, Texas, U.S.A.
From $260 per night

ETIC Hotels Green Score: 7.2/10
The Joule is a revitalized 1920s neo-Gothic landmark building set in the heart of Dallas' central business district.
With dramatic art installations, unique retail boutiques, a world-class spa, clever design, award-winning food and drinks and some of the best service in town, The Joule is seen as the city's cultural epicenter.
Adjacent to the Dallas Arts District and the flagship Neiman Marcus, the hotel is perfectly positioned when guests finally do venture out of the hotel's communal embrace.
16. Anantara Golden Triangle Elephant Camp & Resort
Chiang Rai, Thailand
From $320 per night

ETIC Hotels Green Score: 7.2/10
Perched on a ridge in northern Thailand overlooking the border with Myanmar and Laos, among the finest Chiang Rai hotels, Anantara Golden Triangle immerses you in once-in-a-lifetime experiences.
Bond with elephants at our mahout camp. Spa in the jungle. Cruise down the Mekong River, exploring the unique cultures of three countries.
17. il Sereno Hotel
Lake Como, Italy
From $1,300 per night

ETIC Hotels Green Score: 7.2/10
Bringing new meaning to luxury and modern design, Il Sereno Hotel breathes fresh air into the iconic, bucket list item, that is Lake Como. The, award-winning designer, Patricia Urquiola has combined the natural ambiance of the surrounding environment with comfort and luxury, resulting in a design that embodies all spectrum's of luxurious accommodation.
From the banks of Lake Como's eastern shore, Sereno Hotels welcomes the newest addition to the family, the much-anticipated Il Sereno Lago di Como. Embodying the same ethos as it's sister property Le Sereno, St Barths, Il Sereno is 450 feet of simple elegance along the pristine Lake Como shoreline. With exceptional service, world-renowned design and unmatched placement, Il Sereno offers you the chance to step out of the ordinary, and into a world of effortless relaxation and simple beauty.
18. Four Seasons Resort Seychelles
Seychelles
From $2,000 per night

ETIC Hotels Green Score: 7.2/10
A gentle ocean breeze floats up the granite hillside and into your tree-house villa, reminding you to take it slow. Here in Seychelles, we want you to experience our secluded island Eden at your own pace, whether it's just the two of you or the whole extended family. Spend your days lounging by your private pool and playing in the turquoise waters of Petite Anse bay, or find your bliss at our hilltop Spa before sitting down for a sunset meal on a deserted beach. However paradise might look for you, we guarantee you'll find it here.
19. Princeville Resort Kauai
Princeville, Hawaii, U.S.A.
From $500 per night

ETIC Hotels Green Score: 7.2/10
Princeville Resort property carries a name that is synonymous with elegance and excellence in every way. And after a multi-million dollar renovation, they have certainly lived up to the reputation of their name. After all, they just have been named to Conde Nast Traveler's 2011 Gold List, an unbelievable honor. Add a setting that has to be one of the most beautiful spots on earth, blessed by Mother Nature with unforgettable views throughout the resort. But it is the resort itself you will remember always.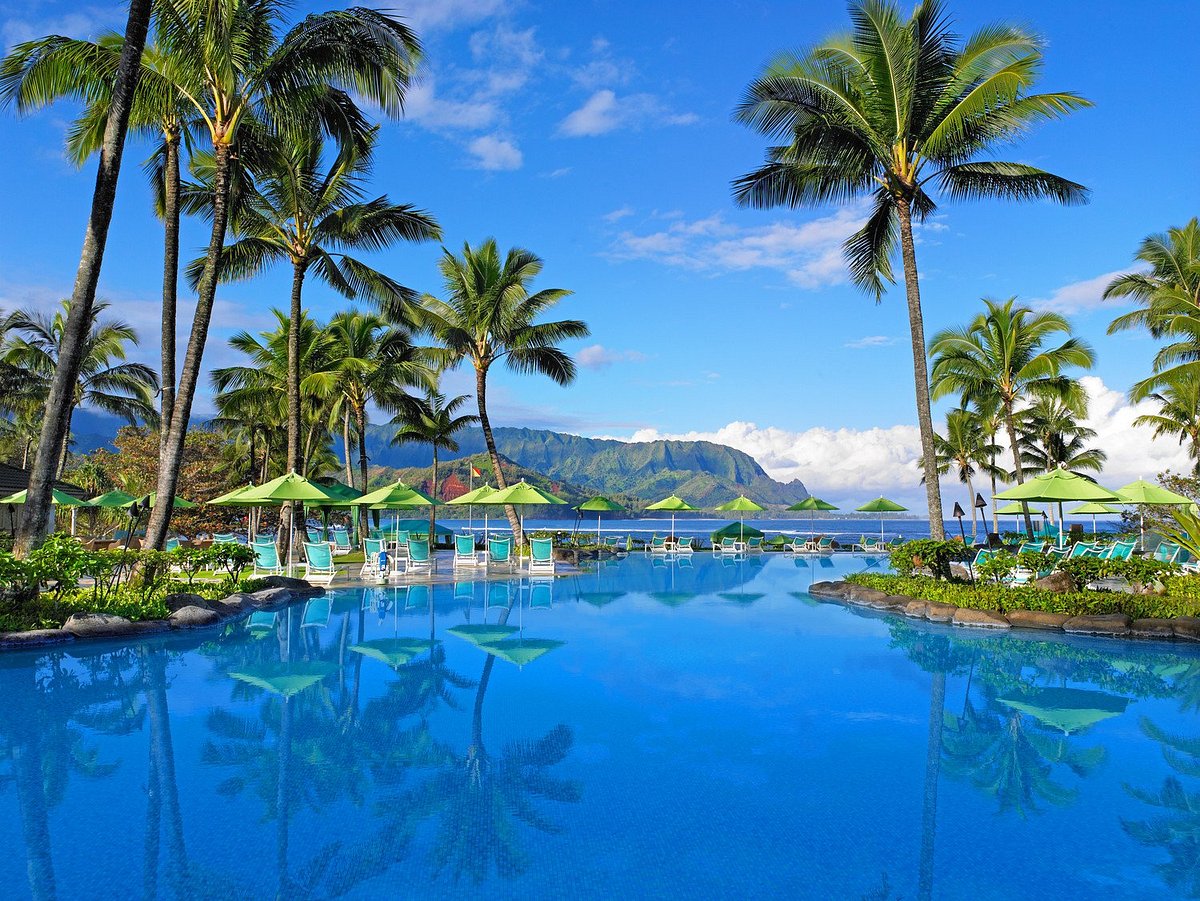 20. TWA Hotel
New York, NY, U.S.A.
From $100 per night

ETIC Hotels Green Score: 7.2/10
MCR and MORSE Development have reignited the magic of Eero Saarinen's landmark 1962 TWA Flight Center at JFK Airport, restoring and reimagining it as a first-class hotel. At the center of the hotel is Eero Saarinen's iconic TWA Flight Center, where restaurants, bars and retail outlets have taken flight. Two hotel wings, designed to reflect and defer to the landmark TWA Flight Center, sit behind the historic building and contain 512 guestrooms with views of JFK's runways and the TWA Flight Center.