The 20 Most Sustainable Hotels in Costa Rica
For an Ethical and Sustainable Hotels in Costa Rica.
A Sustainability Ranking in partnership with ETIC Hotels
You're planning a trip to Costa Rica and you're trying to be as ethical and sustainable as possible? niood lists you the 20 most sustainable hotels in Costa Rica:
1. Pacuare Lodge
Limón, Costa Rica
From $1,000 per night

ETIC Hotels Green Score: 9.5/10
What makes Pacuare Lodge sustainable?
The Pacuare Lodge was built with minimal impact on the surrounding forest and river. No trees were cut to accommodate the bungalows and main lodge; our buildings use lumber from a reforestation project run by small farmers. The thatch roofs were made by local Cabécar Indians in their traditional style using palm leaves collected in our forest reserve.
Bungalows are illuminated with lanterns and candles and what little electricity used at the lodge is clean energy generated by a turbine in a nearby stream.
The lodge's bathrooms are equipped with biodegradable soap and shampoo and the water for their showers is solar heated. All the lodge's wastewater flows into state-of-the-art septic systems to avoid pollution of the nearby river.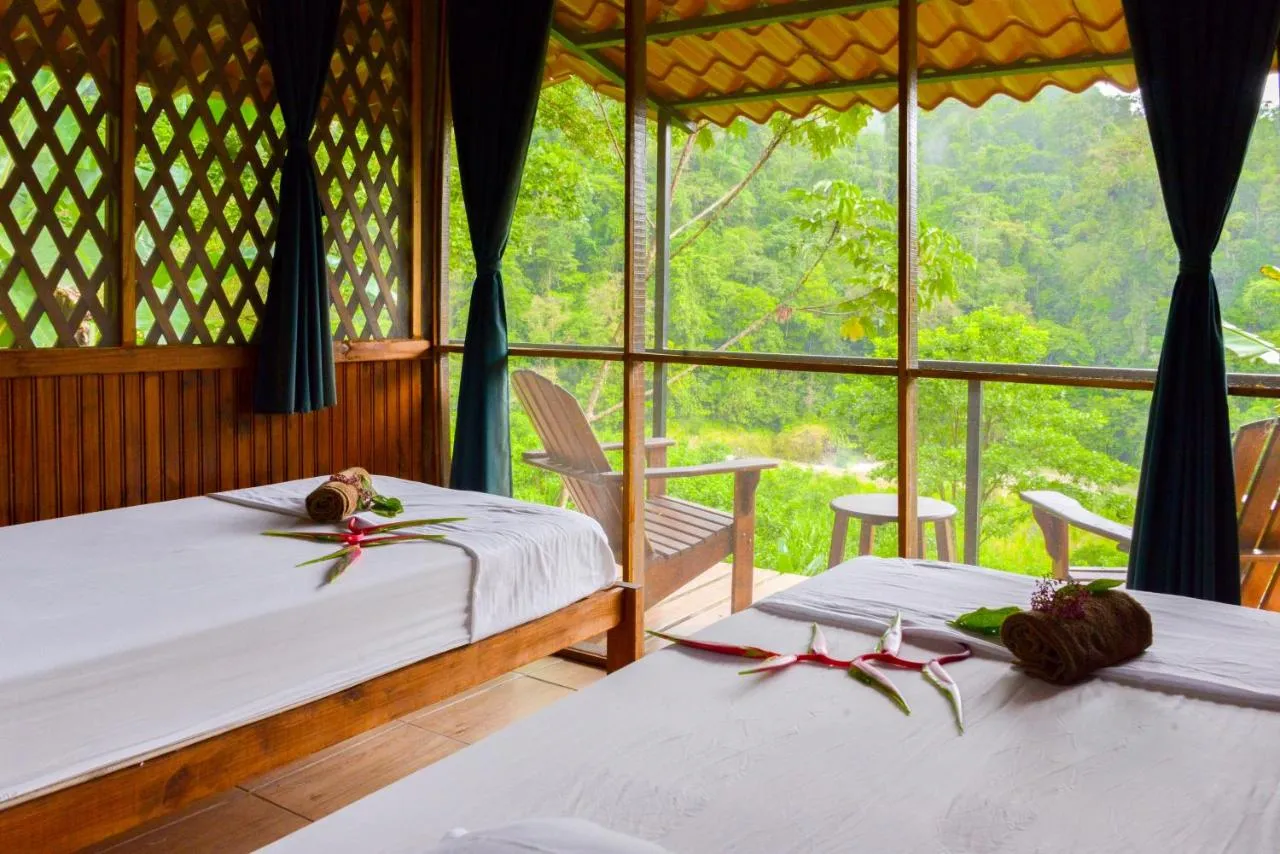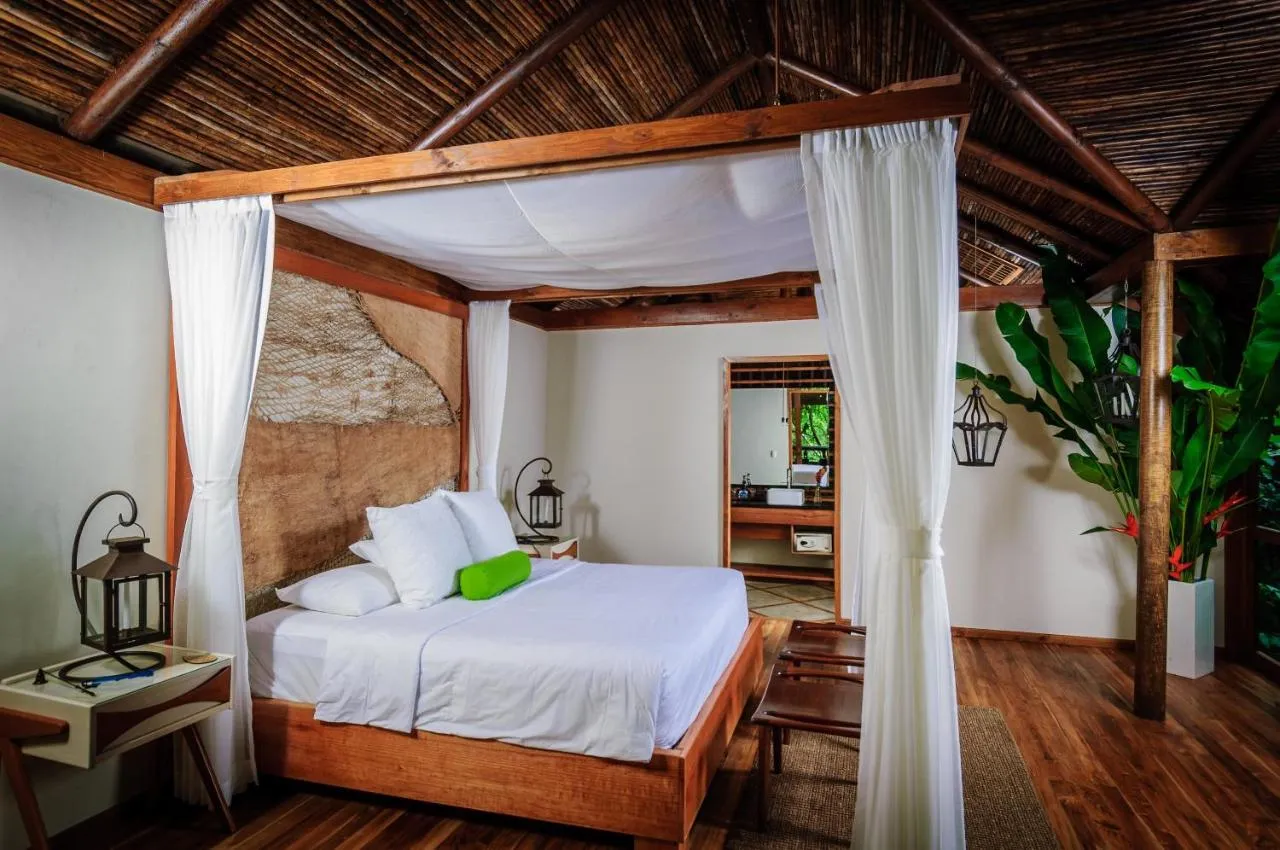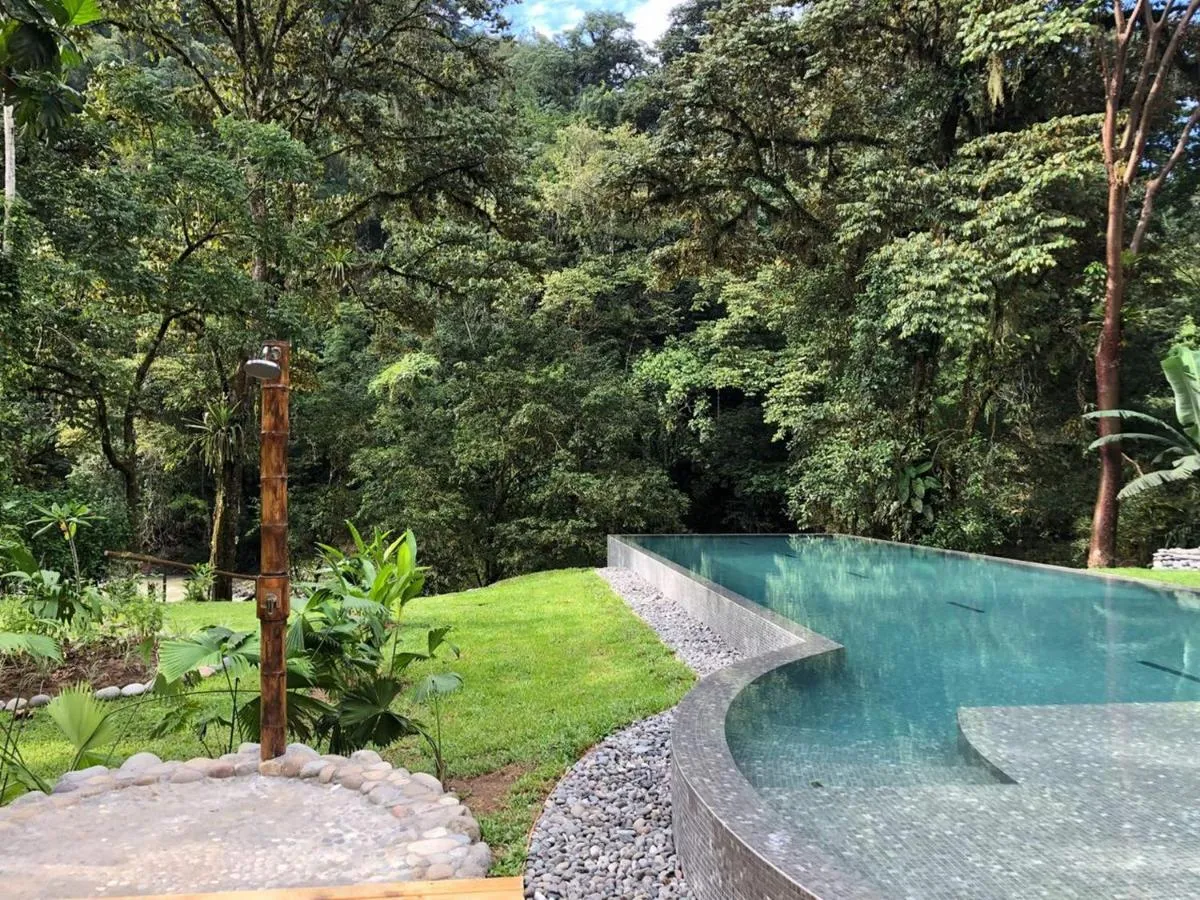 2. El Silencio Lodge & Spa
Alajuela, Costa Rica
From $450 per night

ETIC Hotels Green Score: 9.5/10
What makes El Silencio Lodge & Spa sustainable?
We envision a tourism model that protects its stunning natural surroundings, fosters the personal growth of staff, and promotes the development of neighbor communities. Harmonizing the well-being of all stakeholders is key to El Silencio's uplifting experience, fully reflecting Costa Rica's happiness mantra. Engaging the services of Responsible Business Alliance, El Silencio Lodge & Spa has designed a sustainability model that is perfectly tailored to its natural setting and social context El Silencio Lodge & Spa authentically reflects the cultural legacy and traditions of Sarchí, Zarcero, Naranjo, and other landmark regional towns. More than 95% of our staff is local, imprinting the guest's experience with the signature hospitality that characterizes our human context. In turn, El Silencio Lodge & Spa gives back through employment opportunities, local purchases, and the growing relationship with its closest neighbor, the Los Bajos del Toro community.
El Silencio Lodge & Spa is proud to hold the maximum Five-Leaf Rating in Costa Rica's Certification of Sustainable Tourism. This initiative, championed by the CostaRican Tourism Board (ICT), is a globally-respected tool to rate, monitor, and guide the country's tourism industry. Its rigorous evaluation process contemplates water management, energy conservation, waste disposal and recycling, positive relations with surrounding communities, cultural authenticity, and guest safety.
3. Hotel Punta Islita, Autograph Collection

Guanacaste,
Costa Rica
From $250 per night

ETIC Hotels Green Score: 9.5/10
What makes Punta Islita sustainable?
​Hotel Punta Islita is fully committed to a holistic sustainability model that supports an array of local environmental and community initiatives.
As part of Grupo Islita, Hotel Punta Islita underscores that we are all stakeholders in our planet's health and prosperity. Understanding and embracing our role is enriching. It fosters a caring attitude that permeates every endeavor. And we are thus better empowered to protect the environment, champion economic opportunity, and celebrate the cultural differences that color the fabric of human experience.
Hotel Punta Islita opened its doors in 1994 and was developed in full synergy with its local neighbors, prompting wildlife conservation, reforestation, and local employment opportunities. Art programs and complementary education further provided empowering tools for the local communities. Today, Hotel Punta Islita is not only a globally recognized sustainable travel destination, but also a thriving region characterized by a healthy natural environment and a dynamic collective of travel professionals, community artists, and micro-entrepreneurs.
We believe travel should be planet-friendly, people-positive and we thank you for your interest in sustainability.
4. Florblanca Resort
Provincia de Puntarenas, Costa Rica
From $400 per night

ETIC Hotels Green Score: 9.5/10
What makes Florblanca Resort sustainable?
Environment Policy
• Make a responsible waste management to prevent water, air and soil pollution.
• Optimize the use of water and energy, through saving and the use of alternative technologies.
• Protect, respect and promote wildlife habitat and species.
• Keep gardens and structures free of agrochemicals or chemical substances harmful to human and wildlife health. Encourage the use of organic fertilizers and the enrichment of soils in a sustainable and natural way.
• Share with visitors, neighbors, suppliers and the hotel staff, our knowledge and experiences in environmental issues.
Purchasing Policies
• Inform and create actions to encourage our suppliers to participate in programs of environmental and social improvement.
• Promote local production.
• Reduce waste production and prefer reusable, recyclable or biodegradable products.
• Prefer fresh, natural and organic products.
Social Policies
• Develop employment opportunities for the community and contribute to their professional growth through training.
• Encourage guests to participate in recreational and cultural activities that our community offers.
• Support sports, culture, education, health and security programs in our community
• Respect our traditional and existing living cultures in the environment where we are and we operate. Encourage our customers and staff to promote and
respect our origins.
5. Finca Rosa Blanca Coffee Farm And Inn
Santa Bárbara, Costa Rica
From $300 per night

ETIC Hotels Green Score: 9.5/10
What makes Finca Rosa Blanca Coffee Farm sustainable?
Reduce our impact

We reduce our impact through many initiatives, including solar-powered electricity and solar-heated hot water, a chemical-free ionized swimming pool, an ambitious plan of recycling and regeneration, and avoiding toxic chemicals.

Prioritize conservation and regeneration

We support conservation, reduced biological impact, and regeneration, focused on reforestation and organic agriculture to reduce our ecological footprint and mitigate our impact on climate change. Over the last 25 years, we have planted more than 5,000 native trees and were one of the first carbon-neutral hotels in Costa Rica.

Promote education and training

We embrace environmental consciousness and ecological practices. We protect our local ecosystem. We reduce our environmental stressors (ex. our demand on water and electricity); we preserve air and water quality; and we defend the integrity of Costa Rica's natural resources and we educate and train our employees, guests and community about how to be better stewards of our environment.

We are involved in our community

We train our staff and inform our visitors, to promote social education, sustain human health, promote environmental justice, and protect basic resources.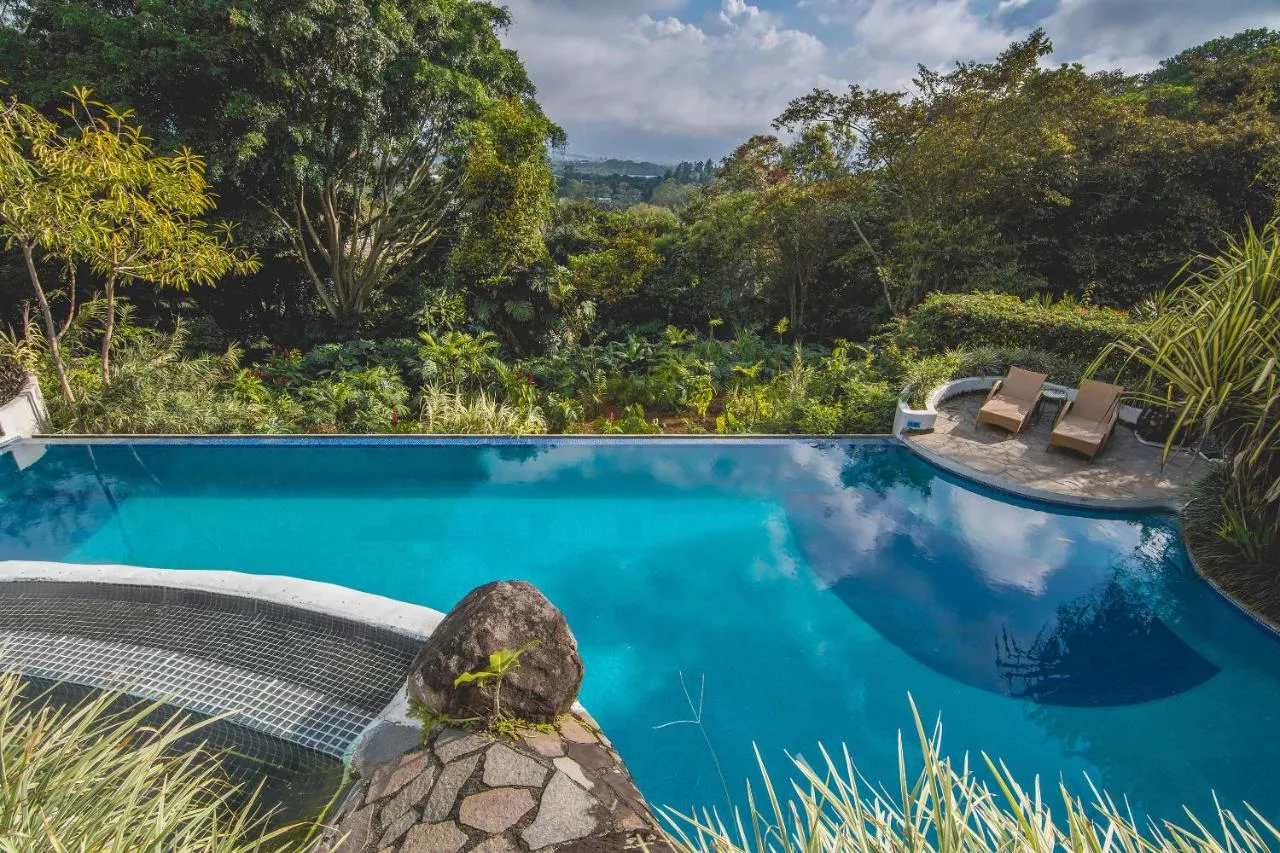 6. Arenal Springs Resort
San Carlos, Costa Rica
From $150 per night

ETIC Hotels Green Score: 9.5/10
What makes Arenal Springs Resort sustainable?
Electric car charging station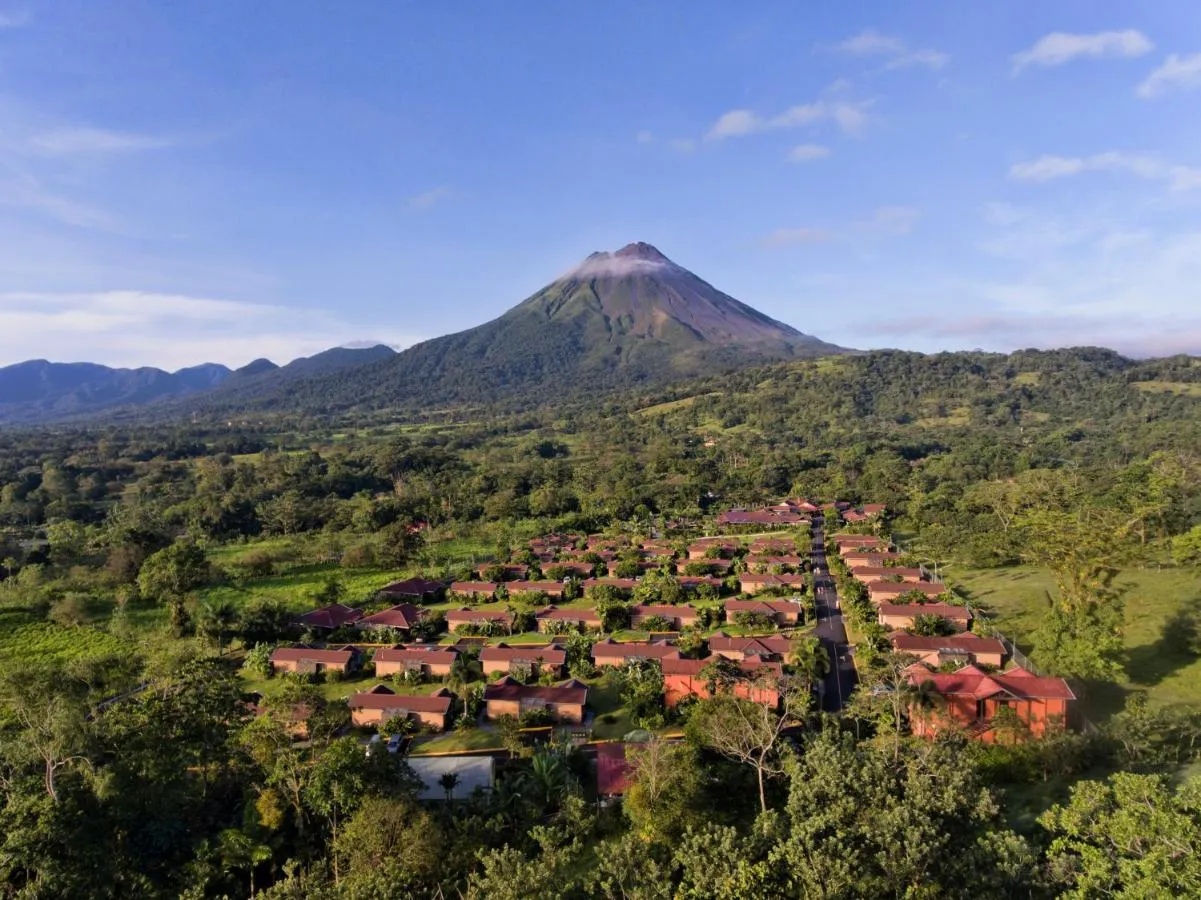 7. Hotel Belmar
Provincia de Puntarenas, Costa Rica
From $200 per night

ETIC Hotels Green Score: 9.5/10
What makes Hotel Belmar sustainable?
For past few months the Hotel Belmar has been working hard together to construct a greenhouse on the property. The purpose of which is to provide another level of sustainability within our hotel operations, and also the ability provide our guests with fresh and organic high quality fruits, vegetables, and herbs.
8. Si Como No Resort, Spa & Wildlife Refuge
Provincia de Puntarenas, Costa Rica
From $200 per night

ETIC Hotels Green Score: 9.5/10
What makes Si Como No Resort sustainable?
We recycle glass, plastic, paper, and aluminum cans across all hotel operations utilizing the local recycling center in each community. Fruit and vegetable waste is recycled for compost to fertilize hotel gardens. Meat, fish, and poultry waste is collected daily for farm animals, reducing demands on local waste disposal facilities. We have also eliminated plastic shampoo bottles and have limited soap bars to the vanity sinks. All soap bar wrappers are recyclable and banana paper is used wherever possible for printed material.
Greentique Hotels use their own wells to irrigate hotel gardens in the summer. Practicing indigenous landscaping also helps reduce water demand throughout the dry season. All Greentique properties use both water saving showerheads and faucets throughout their hotels.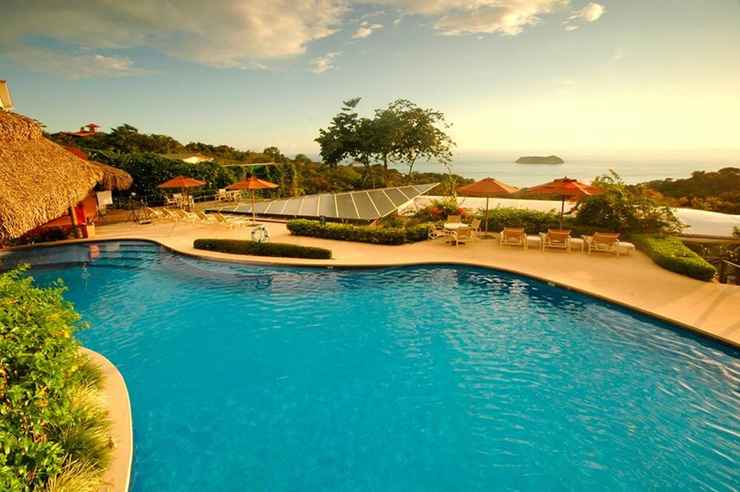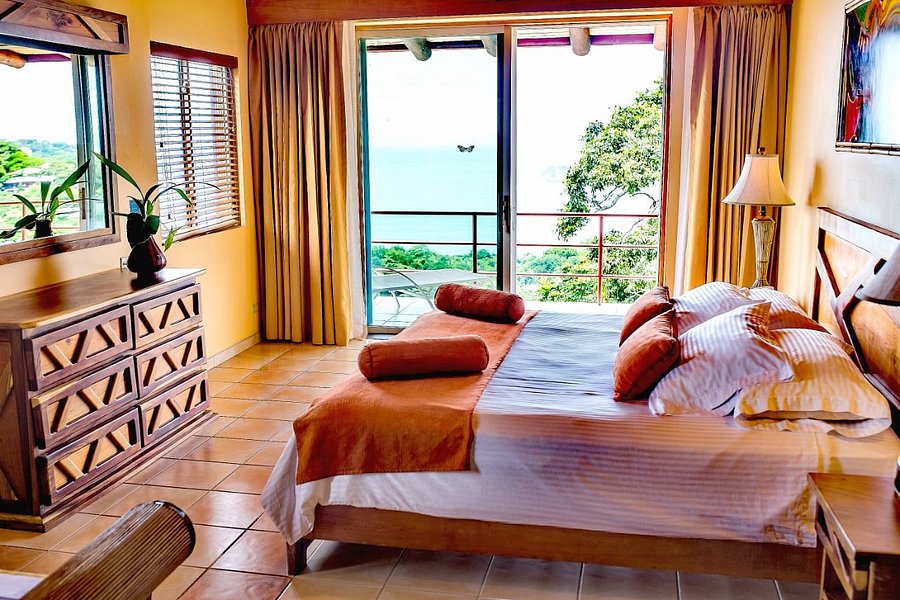 9. Parador Resort & Spa Manuel Antonio
Quepos, Costa Rica
From $200 per night

ETIC Hotels Green Score: 9.5/10
What makes Parador Resort & Spa Manuel Antonio sustainable?
Parador Resort & Spa is certified as sustainable by the Costa Rican Tourism Board reaching the highest level achievable (Elite) under their strict certification program. The certification for sustainable tourism is a process by which Costa Rican companies and organizations analyze their operations striving for efficiency, productivity, quality, environmental impact and customer satisfaction. It is a rigorous program that seeks to categorize and certify each tourism company per the degree to which its operations comply with a model of sustainability, established by the Costa Rican Tourism Board.
Parador Resort & Spa has received the prestigious Ecological Blue Flag for several consecutive years for "Actions Against Climate Change," achieving top scores.
10. Capitán Suizo Beachfront Boutique Hotel
Provincia de Guanacaste, Costa Rica
From $200 per night

ETIC Hotels Green Score: 9.5/10
What makes Capitán Suizo Beachfront sustainable?
Policy of protection of the Flora and Fauna
At Hotel Capitán Suizo, we are aware of the value that biodiversity possesses for sustainable development and for the future of Costa Rica. This is put into practice through our love for all forms of life, and we make thoughtful decisions and actions considering our delicate location on the border of National Park Marino Las Baulas, which was created for the protection of the sea Leatherback Turtles (an endangered species) and as a transit area and habitat for many other species of wildlife such as raccoons, howler monkeys, iguanas, squirrels, porcupines, anteaters, birds and many more. We encourage and take the following measures for the protection of flora and fauna:
Policy in support of the protection of wildlife
Hotel Capitán Suizo provides support for the Ministry of Environment and Energy in terms of caring for wounded wildlife.
Policy on merchandizing and extraction of wildlife
At Hotel Capitán Suizo we reject any merchandizing and/or extraction of wild flora and fauna and if we are aware of a case we will make the corresponding complaint.
Artificial lighting
The artificial lighting of the hotel was chosen carefully, through its style and location, it does not alter the natural environment nor does it disturb wildlife behavior.
11. El Remanso Lodge
Osa Peninsula – Puerto Jimenez, Costa Rica
From $500 per night

ETIC Hotels Green Score: 9.5/10
What makes El Remanso Lodge sustainable?
We are proud to be one of the few hotels in Costa Rica to rely 100% on renewable energy for the full operation of the lodge. We generate our electricity with our own hydroelectric system and solar panels.
Furthermore, the hot showers you will enjoy are a result of our solar hot-water system which covers all of our demand for hot water.
The staff you'll meet at El Remanso grew up here, or near here. After all, one of the basic principles of sustainability is to enhance local economic vitality; another is to promote equity. Your stay at El Remanso contributes to both – to supporting local families and to help them work toward a better future, both for their families and for generations to come.
El Remanso is run with integral sustainability practices that go from the 100% renewable energy use, to strict waste management process where we stand by the "three Rs": Reduce, Reuse, Recycle. The waste we do produce, we do our best to reuse: We turn our non-cooked organic waste into compost for our garden, and cooked waste is destined to nearby farms to feed the pigs.
12. Arenal Observatory Lodge & Spa
La Fortuna, Costa Rica
From $120 per night

ETIC Hotels Green Score: 9.5/10
What makes Arenal Observatory Lodge & Spa sustainable?
Sustainable maintainance of 270 acres (109 hectares) of our property as natural forest and 400 acres (162 hectares) in reforestation with pine and eucalyptus.
Use of pristine mountain spring water in the hotel which is certified by a laboratory approved by the Costa Rican Health Ministry.
Plant our gardens and green areas with species native to the region which attract birds and wildlife. We have identified many shrubs and trees with labels indicating their scientific and common names.
Use natural and biodegradable products to maintain the gardens.
Use indirect lighting in natural areas to avoid disturbing wildlife.
Control the run-off of rainwater to prevent soil erosion.
Installation of proper sewage treatment plants to prevent contamination to the environment.
We encourage energy and water conservation practices among our employees and guests by asking that lights be turned off when not in use, that towels be reused, etc. We have installed water saving devices such as low flow toilets, shower heads and faucets, and low energy lighting.
We use low volumes of chlorine in our pool, and have the pool water quality certified by a laboratory regularly.
When possible we hang linens and clothing to dry rather than using dryers.
We recycle and re-use when possible, including using organic waste as food for local farm animals.
We use fresh products instead of canned goods whenever possible in our restaurant.
The hotel uses refillable containers for shampoo, soap, etc. in guest rooms, and we use biodegradable cleaning products.
In our community, we hire local personnel and help the local school with donations of books, building materials and supplies for events, etc. We help the community with road maintenance, drainage systems, and cleaning and dredging of the river.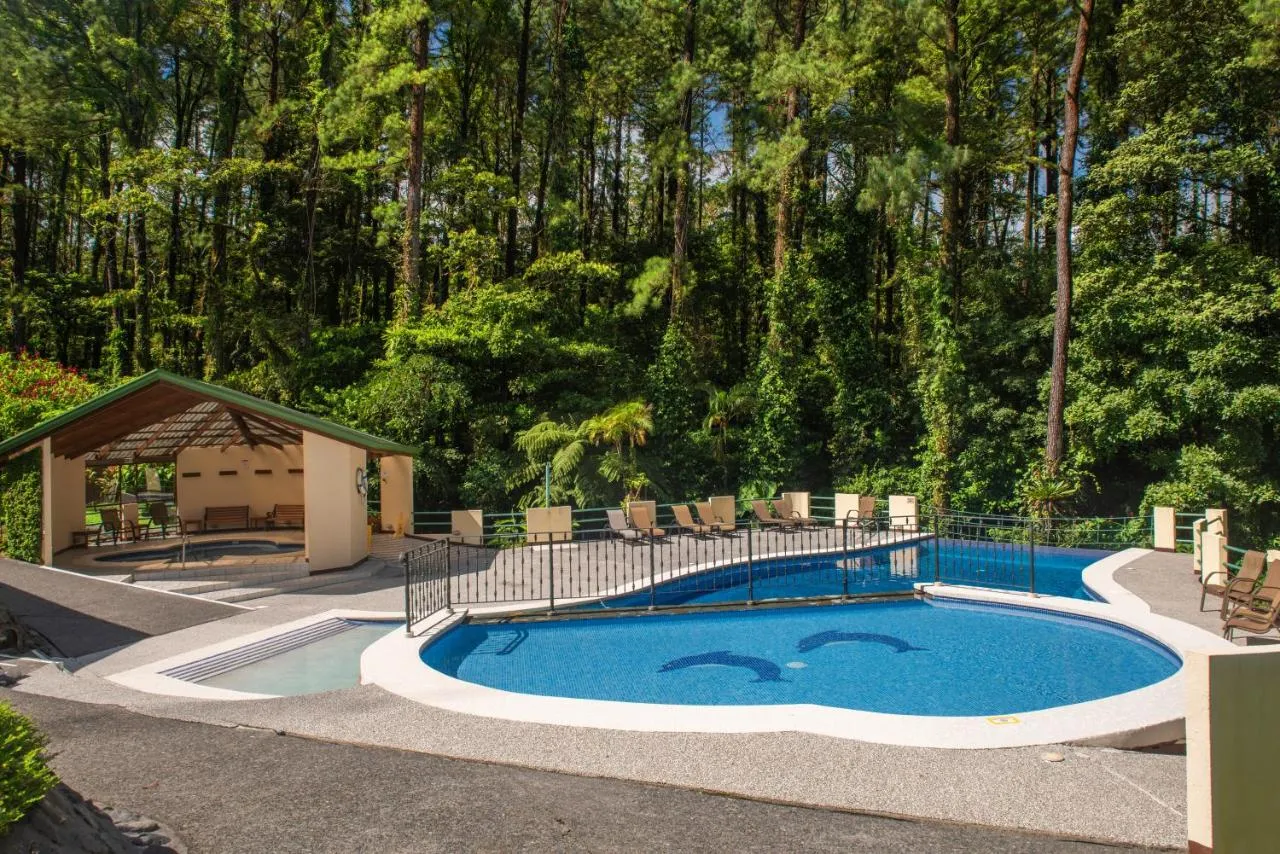 13. El Establo Mountain Hotel
Monteverde Costa Rica, Costa Rica
From $130 per night

ETIC Hotels Green Score: 9.5/10
What makes El Establo Mountain Hotel sustainable?
The hotel's elegant facilities include international restaurant "Las Riendas" (seating 180 people) and international restaurant "Laggus" (seating 100 people). El Establo is the first hotel in the area with an "eco-friendly" sewage deposit plant, private water system, a natural spring water supply exclusive to the hotel, an auxiliary power plant, and computer-assisted underground electrical system.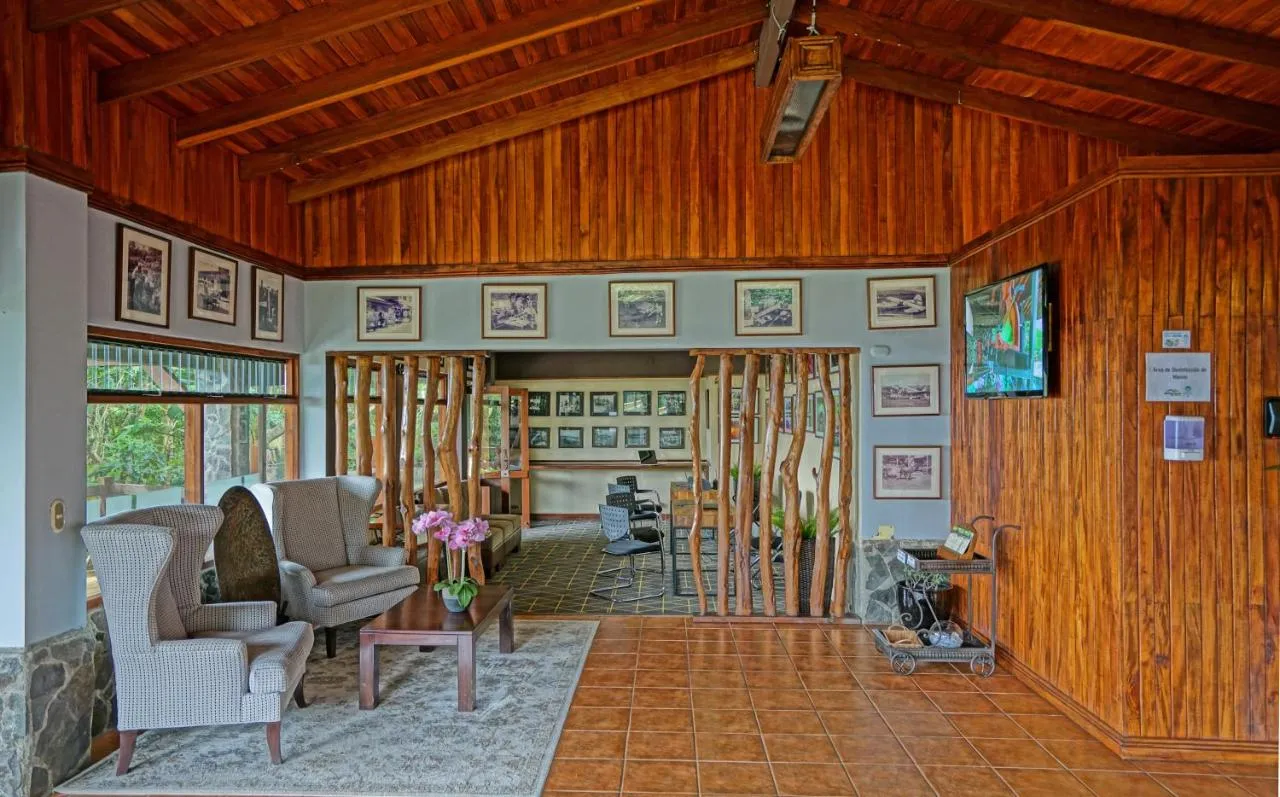 14. Hotel Playa Espadilla
Quepos, Costa Rica
From $150 per night

ETIC Hotels Green Score: 9.5/10
What makes Hotel Playa Espadilla sustainable?
Hotel Playa Espadilla offers an eco-friendly hotel option within walking distance of Manuel Antonios main beach. Guests of this affordable and quaint 16-room hotel will enjoy the beautiful scenery, a relaxing vibe while, and gorgeous pool and lounge area. Hotel amenities include nature trails, restaurant and bar, tennis court, swimming pool, tropical gardens, souvenir shop, and WiFi in some areas.
15. Sarapiquí's Rainforest Lodge
Sarapiqui, Costa Rica
From $80 per night

ETIC Hotels Green Score: 9.5/10
What makes Sarapiquí's Rainforest Lodge sustainable?
Sarapiquis Rainforest Lodge is built in the style of a pre-Columbian village, designed and developed as an eco-model project using locally sourced sustainable technologies.
There is a beautiful infinity pool, restaurant, bar and 24 comfortable rooms providing spacious accommodation with en suite facilities. The on site museum and botanical gardens provide an educational experience of the surrounding rainforest, flora and fauna.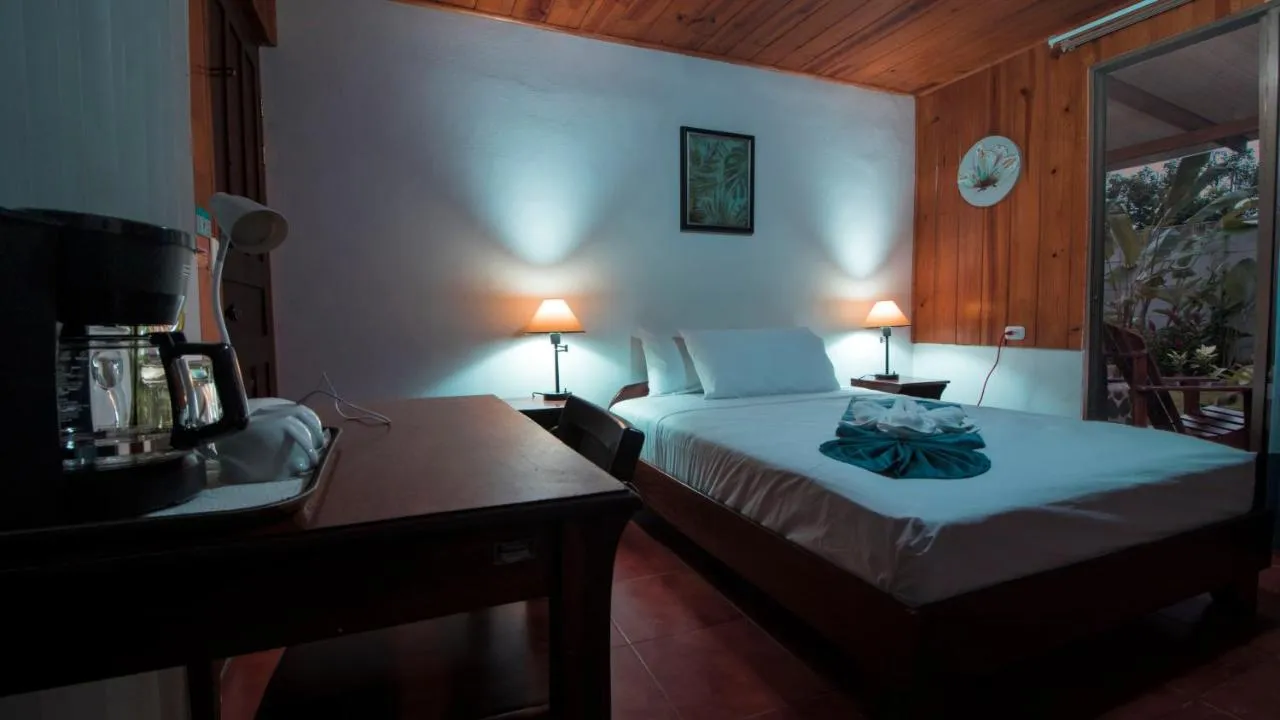 16. Mawamba Lodge Tortuguero
Pococí, Costa Rica
From $110 per night

ETIC Hotels Green Score: 9.5/10
What makes Mawamba Lodge Tortuguero sustainable?
As Mawamba Lodge is very aware of its potential impact on the environment and local society, they have implemented their own Environmental Management System (EMS); the agoal being the reduction and mitigation of all environmental and social impacts that the company may produce as a result of their activities.
Grupo Mawamba has also decided to opt for the Costa Rican certification for sustainable tourism, showing their commitment to the sustainability standards they have always upheld.
17. La Paloma Lodge
Puntarenas Province, Costa Rica
From $110 per night

ETIC Hotels Green Score: 9.5/10
What makes La Paloma Lodge sustainable?
One of our fundamental missions is to maintain the pristine habitat in Drake Bay. We support local private reserves, the turtle conservation project, the National Park and Isla Reserve clean up projects and the Corcovado Foundation.
The original La Paloma property was a cow pasture when purchased in the 1980s. To visit today is to see how conscious planting can regrow rain forest habitat. We have been involved in reforestation efforts not only on the 24 acres of La Paloma Lodge property, but also around the local school. We are committed to maintaining viable animal corridors. Toward that goal, we are currently involved in efforts to keep motorized vehicles out of pristine areas that are currently in use not only by humans on foot, but also by elusive wild cats and other species threatened by loss of habitat.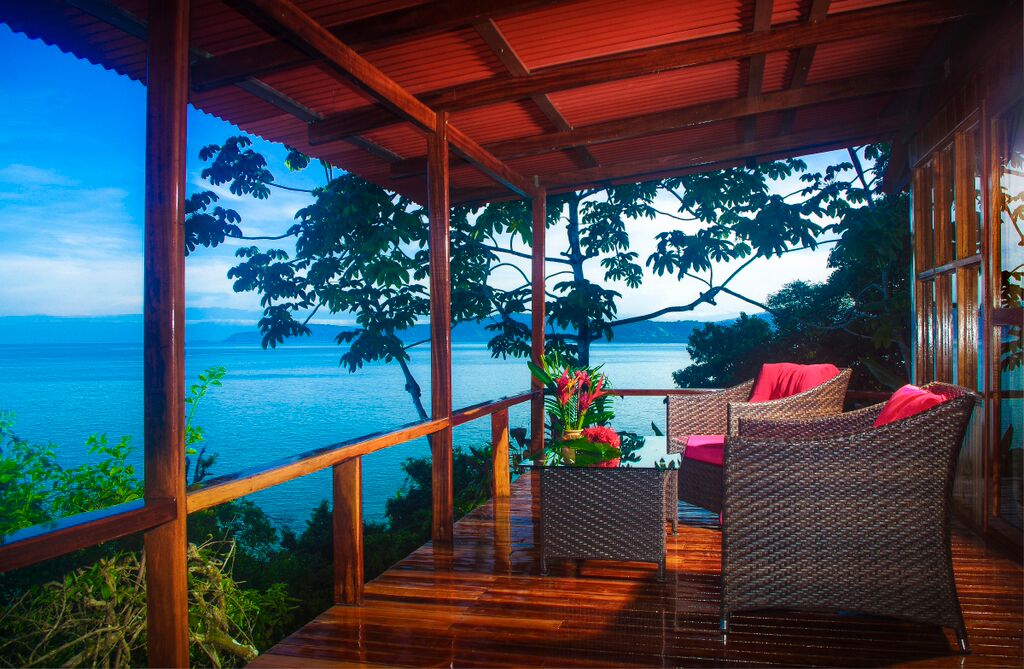 18. Playa Nicuesa Rainforest Lodge
Osa Peninsula, Costa Rica
From $230 per night

ETIC Hotels Green Score: 9.5/10
What makes Playa Nicuesa Rainforest Lodge sustainable?
Construction was performed by local labor from the coast and the towns of Puerto Jimenez and Golfito
Lodge buildings are located on less than 2% of property – 98% is a Private Protected
Use of recycled construction materials such as: roof tiles on the lodge and cabins are made of recycled plastics including banana bags
Wood used throughout Playa Nicuesa is either naturally fallen and permitted by the government to be pulled out of the forest by oxen or farmed
Environmentally friendly design features: design of the cabins and lodge is unique and in context with the natural environment and, the orientation of the cabins and lodge maximizes natural ventilation of air from the mountains and the beach through the structures
Separation of gray water and black water and use of organic micro-organisms to clean septic system of toxins and diseases
Little to no disturbance to the natural landscaping to protect the natural habitat
Worked with Costa Rican architect to design all lodge structures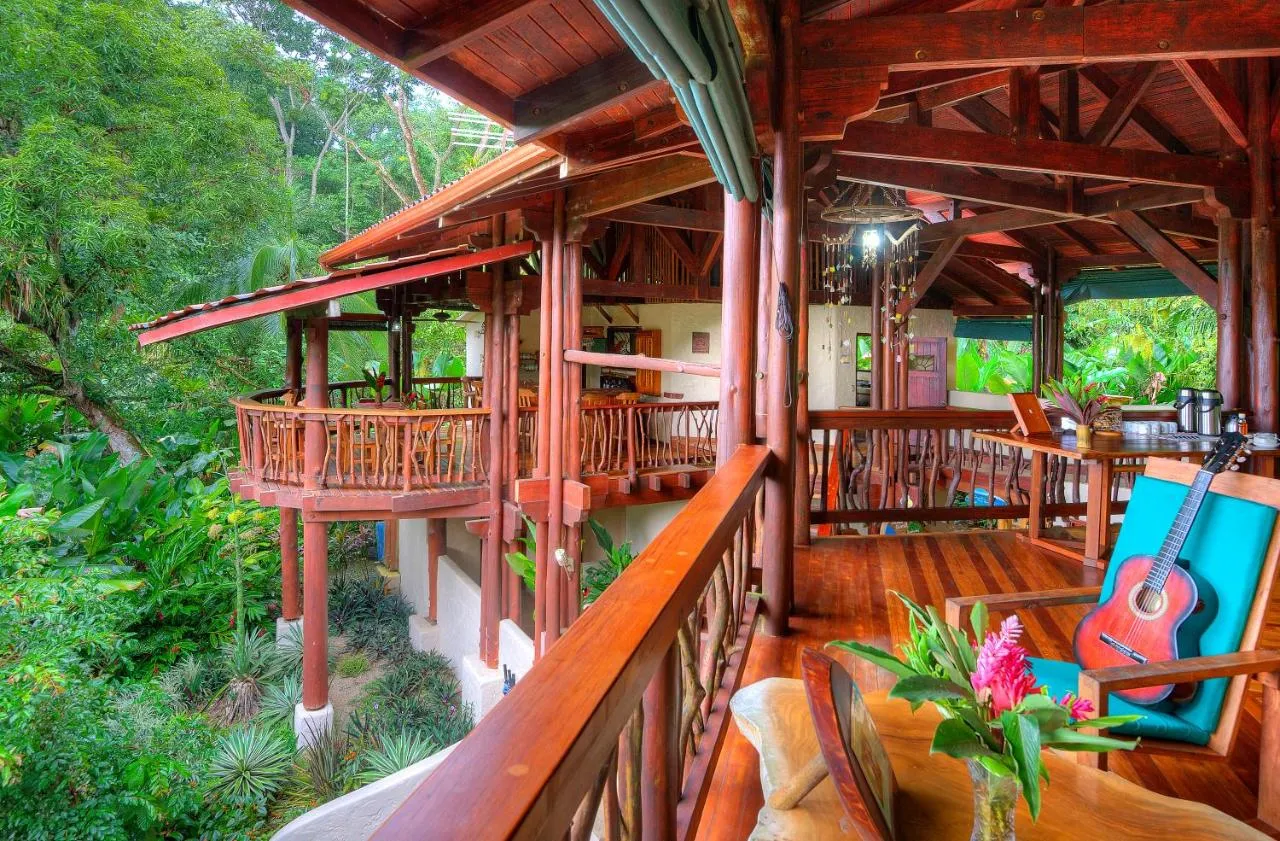 19. Hotel Aguti Lodge & Reserve, Monteverde, Costa Rica
From $200 per night

ETIC Hotels Green Score: 9.5/10
What makes Hotel Aguti Lodge & Reserve sustainable?
The Aguti Reserve currently develops several conservation and research projects, such as the reforestation of our endemic tree (Ocotea monteverdensis), which at this moment is in danger of extinction and its fruit is preferred by birds such as the bell bird and the quetzal.
Our restaurant maintains standards of social responsibility that allow us to bring to your palate products of very high quality craftsmanship. We are committed to buy only local producers who, in turn, work in a sustainable way to preserve natural resources, this includes responsible fishing.
20. Aninga Lodge
Tortuguero, Costa Rica
From $230 per night

ETIC Hotels Green Score: 9.5/10
What makes Aninga Lodge sustainable?
We Apply and promote the "3 R's of Recycling" throughout our operation, from our offices to the transport of customers to the hotels and throughout your stay. The tour guide and our partners promote the proper collection of wastes in the different bins located in the offices, buses, boats, rooms, restaurants and public areas.
Also, in Tortuguero has a recycling center located at Pachira Lodge in which are stored on a weekly basis all the previously separated waste in every hotel for that after are brought to the center of the community. Currently collects plastic, glass, cardboard and tetrapack, paper, oil for cooking and motor vehicles.
In our offices exist in each floor a recycling point with the respective bins for the separation of wastes. Weekly waste is collected by the Municipality of San Jose.
We Are Looking For the efficient use of energy through the use of ceiling fans instead of air-conditioning systems, the progressive replacement of fluorescent lighting by LED, the medium-term installation of solar panels for energy independence and the promotion of good habits of consumption in our partners through processes of awareness and labeling in the building.